Thassos island does not have an airport. Closest Airport is Kavala International Airport "Alexander the Great" (KVA).
How do I get from Kavala to Thassos Greece?
If you are flying to/from Kavala Airport, the transfer to Thassos is shorter, faster, and cheaper than from Thessaloniki Airport. However, the operating season at Kavala Airport is shorter: it usually runs from May to October with fewer flight options than Thessaloniki airport. Most are charter flights organized by big international tour operators. These operate from June to September. Please also note that Kavala airport is actually 30 kilometres away from Kavala city and the transfer time by car/taxi is 30 minutes.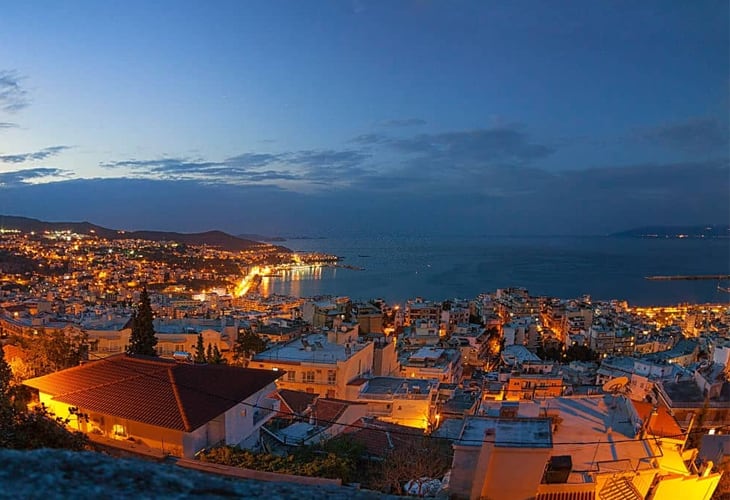 The closest port to Thassos with the most frequent ferry operations is actually Keramoti port. If you wish to travel through Kavala city, please send us your request and we will make you an offer for a customized transfer.
The road from Kavala Airport to Keramoti port passes through a few traditional but pretty villages in the Chryssoupoli area. The economy of the whole area is dependent on agriculture and tourism. The highlight of the road trip is definitely the storks' nests on the top of the bell tower in the village of Agiasma. The storks arrive with the first charter flights every year and it is claimed that they depart with the last tourists in October!
Transfers from Kavala airport - Pick up from Thassos Greece
Our dedicated team will wait for you in front of the arrivals hall, near to the airport exit doors and will be holding a sign with your name. In just 20 minutes you will be at Keramoti ready to board to the ferry boat to Thassos island!
Flight delay at Kavala Airport Greece
If you face a delay or last-minute changes, our drivers will still wait for you at no additional cost! It is very important that you provide us with the correct arrival information when booking your transfer in order for us to monitor flight delays and better respond to your needs!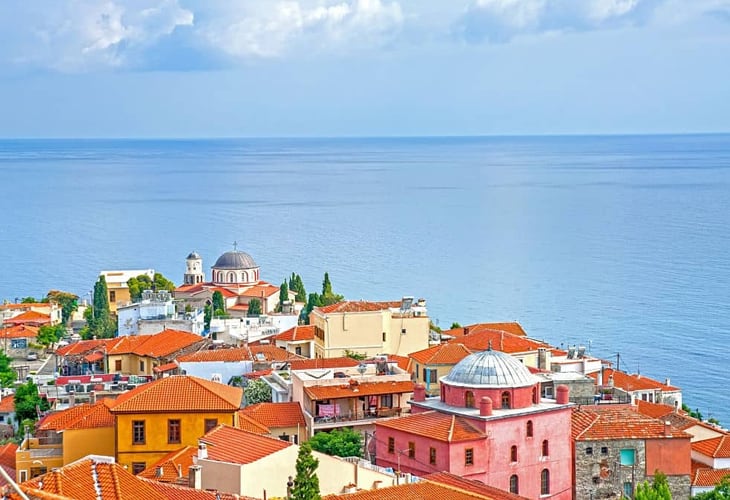 The transfer from Kavala Airport to Keramoti port is only 11 kms and takes around 20 minutes time. If you are arriving on an evening flight, we advise you to check that there is still a ferry operating to Thassos after the scheduled pick up time from the airport.
Ferry operations from Keramoti port to Thassos town
As the ferry timetables change on a weekly basis we suggest you to check the following link http://dromologia-kavalas-thasou.blogspot.com/ a couple of days before the flight or simply ask for our assistance! We can also drive you to your hotel / accommodation in Keramoti / Kavala if you need to stay overnight. In this case please provide us with the exact name, address of your accommodation and location (hotel, Airbnb).
If you happen to miss a particular ferry, there are plenty of cafes, snack bars and restaurants in Keramoti where you can take a break, try the local Greek cuisine and enjoy the wonderful views of Thassos. Ask our drivers for insider's tips! They will be happy to share them with you! There is also an ATM machine in Keramoti and some small supermarkets and souvenir shops.
Our friendly drivers are always there to help you with your luggage when you board the ferry boat. When you travel by ferry, we advise you to leave your heavy luggage downstairs on the car deck near to/under the stairs in order to facilitate your disembarkation on arrival in Thassos. Thefts almost never happen but it's always advisable to keep an eye on your luggage and to carry valuables with you at all times.
Kindly also be informed that there is no possibility of moving your luggage or strollers, wheelchairs etc. moved up by lift to a higher deck.
Please note that drivers/vehicles don't actually cross on the ferry with you but on arrival at your destination point, you will be met from the ferry by one of our team who will be holding a sign with your name.
Delays, strikes or last-minute changes to the ferry time tables rarely ever happen during the summer season. Nevertheless, our team always takes extra time when calculating pick-up/drop off times in order to avoid stress and the risk of missing your flight! For this reason, please provide us with your exact flight details (flight number, arrival/departure time) and correct contact details by e-mail or mobile phone (the number must be accessible in Greece) when booking your transfer with us!
Transfer from Kavala airport to Thassos
Please mention at the time of booking if you are travelling with only hand luggage. Otherwise, please inform us exactly how many pieces of luggage and hand luggage you will be carrying. Bigger equipment or your pet can be carried upon request at additional costs.
Infant/Baby/Child seats are free of charge but you must inform us in advance as to the age/weight of your child. Children are considered passengers.