Arriving from Keramoti port in the capital of Thassos, Limenas, which is also known as Thassos Town, has never been easier! Your transfer will continue after the ferry has docked. As you disembark, our driver will be waiting for you as close to the ferry as possible and will be holding a paper sign with your name.
The port consists of a relatively big quay, several kiosks that sell ferry tickets, and the maritime police office. During embarkation and disembarkation, Limenas port gets really busy. When you are leaving Limenas Thasos for Keramoti port, we advise you to leave your luggage downstairs on the car deck near to or under the stairs in order to facilitate your speedy disembarkation on arrival at your destination port (Keramoti).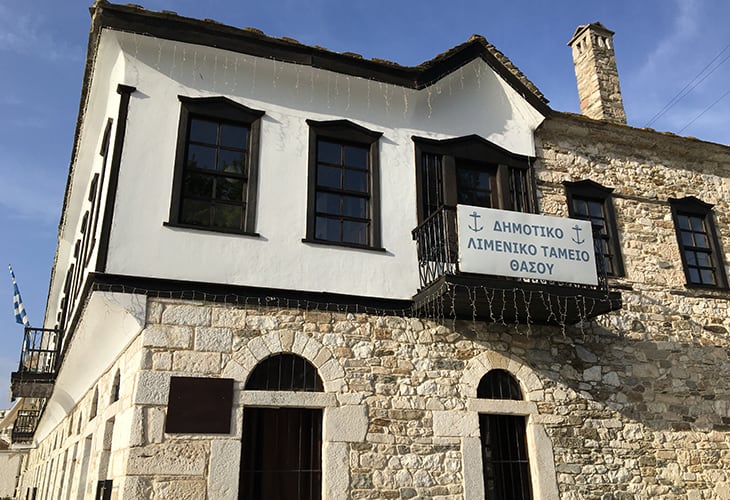 Thefts rarely happen but it's always advisable to keep an eye on your luggage and keep your valuables with you at all times. Kindly be also informed that there is no possibility of having your luggage wheelchairs or strollers etc. moved by lift to a higher deck.
We also recommend that our customers arrive at least 15 min before the ferry boat is due to depart so that there is enough time to buy ferry tickets and proceed with the payment. Advanced online purchase of ferry tickets is not possible.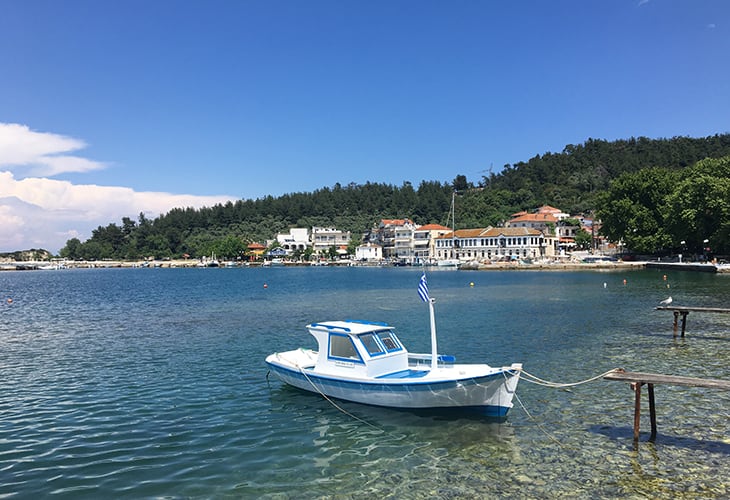 In Limenas Thassos port area, there are some cafes, restaurants, and a bakery shop in case you wish to buy some supplies for the journey. The bus/taxi station is situated exactly opposite the port if you wish to continue your journey by bus/taxi. Also, if you are interested in hiring a car in Thassos, our Limenas branch office is located directly opposite the port just 20 metres away on foot. We strongly recommend that you pre-book your transfer/taxi/car in order to find availability and select the most suitable vehicle for you at the best price.
About Limenas / Thassos town
The main attraction in Limenas is the old port with its picturesque Kalogeriko building and fantastic promenade - ideal for relaxing seaside walks. Don't miss the chance to walk to the little church of Agioi Apostoloi from where you will get spectacular sunset views! Limenas offers luxurious accommodations as well as less expensive studios and rooms to let. There are many traditional as well as fine dining restaurants on the beach. These offer fantastic dishes like fresh fish and seafood. You will find many shops in the area, especially on the pedestrian street, where you can buy traditional Greek products and souvenirs!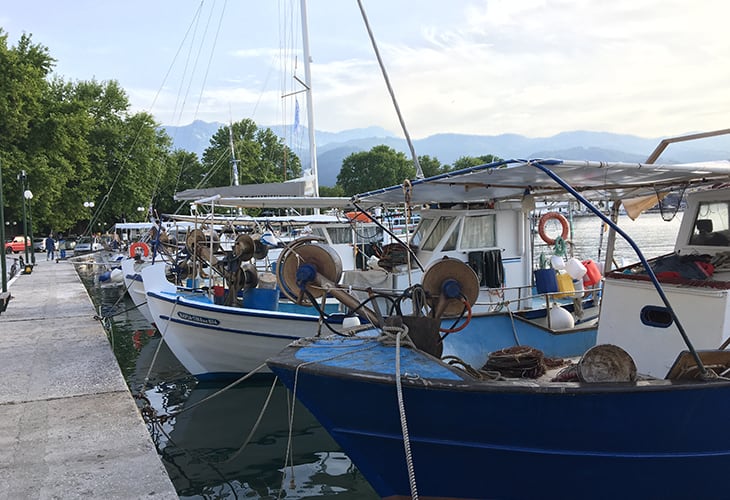 The main archaeological attractions of Limenas are the archaeological museum located in the heart of the village close to the pedestrian street, the ancient agora (market), and the ancient's theatre up on the hillside. The views are just spectacular! Limenas also has a fantastic nightlife with great cocktail bars and authentic local restaurants –some with live Greek music- as well as dance clubs! During the day there are many interesting tours/activities on offer from sailing/boat/fishing trips to diving. Also for bike lovers, Limenas is the right place for you to explore due to its flat roads.
General information about your transfer
When arranging your transfer, we ask for your understanding and cooperation in meeting us at the closest convenient place in the proximity of your accommodation. Please let us know in advance if you have special needs or if you are carrying extra equipment with you. It is also very important that you provide us with the correct accommodation details/pick up location. As in Thassos, we don't have street addresses, it is very useful to send us the "google map" location. Apart from big hotels, there are many private properties/houses for rent in Thassos which are not always easy to locate.
Ηow to meet our drivers?
Our driver will pick you up at the agreed place and time by holding a paper sign with your name. If you have any difficulties in finding him, stay calm and contact us on our customer service line 24/7 +30 698 301 48 99. Viber/Whatsapp is also available for your convenience.
When picking you up from your hotel/accommodation in Thassos you should expect our driver to meet you at the main entrance/reception of your accommodation. The driver will either be holding a paper sign with your name or he will ask for you at the reception of the hotel.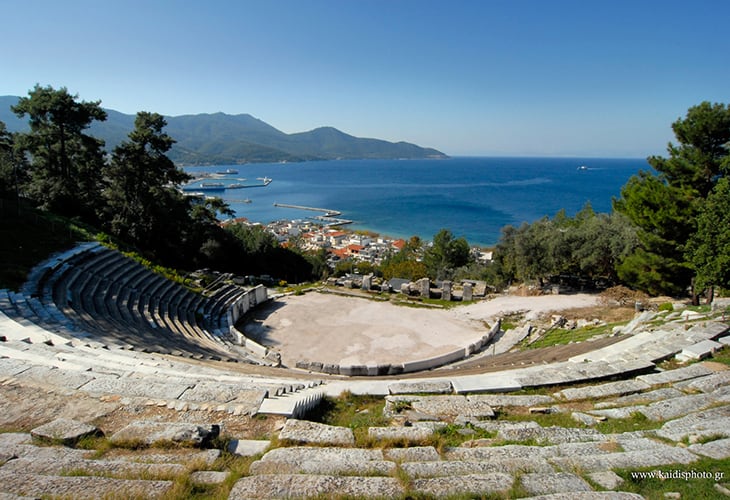 One day before the arrival/departure our team will contact you to confirm the pick-up/drop-off times based on current ferry timetables. Please check your e-mails and provide us with the correct mobile phone number (which must be accessible in Greece).
Last but not least, all our drivers are English speakers while some of them also speak German. If you have any difficulties before or during your transfer, don't hesitate to contact us! We will be happy to assist you!
Ferry Crossing in Limenas Thassos
Our friendly drivers are always there to help you with your luggage when you board the ferry boat. Please note that drivers/cars don't actually cross on the ferry with you but on arrival at your destination port, you will be met from the ferry by one of our team who will be holding a sign with your name. Our drivers will pick you up and drop you off just in front of the dock and, depending on what you have already arranged with us, they can also purchase your ferry tickets from the kiosk for you.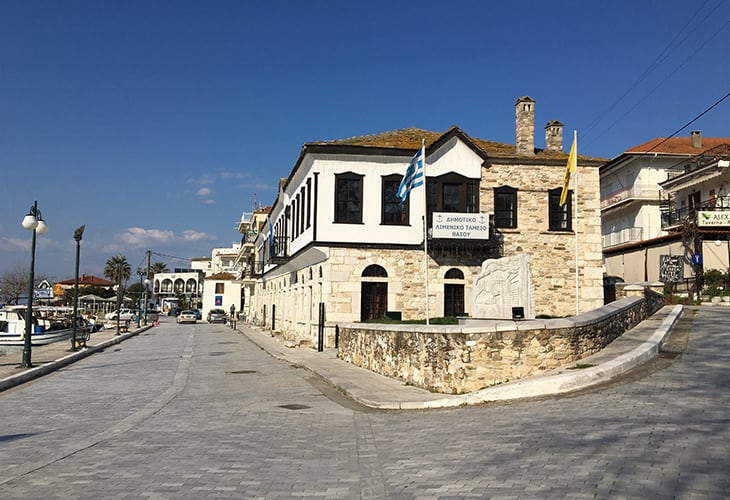 Delays, strikes, or last-minute changes to the ferry time tables rarely ever happen during the summer season. Nevertheless, our team always takes extra time when calculating pick-up/drop off times in order to avoid stress and the risk of missing your flight at the airport.