Easily accessible on foot from the port town Limenaria, this breathtaking beach with its pliable sand and pebbles is a sight for sore eyes. The gradual and gentle descent into the crystal-clear waters of the Aegean Sea and the calm aura will make every second on this beach worthwhile. It is also known as the 'Medalia Beach' and is ideal for tourists looking to find solace and peace. Surrounded by hills and greenery, the beach is situated far off from the hustle of the town. Due to the absence of a shoal, the beach often has no children, which further makes the ambiance quiet and relaxing.
Where is Metalia Beach?
Located at the foot of a village in Limenaria, Metalia Beach is located 39km southwest of Limenas, the capital town of Thassos. The beach is organised and easily accessible, with multiple commute options. If you would like to explore the area, you can reach the beach on foot, making a half an hour's walk, or rent a car for a five minutes drive.
History Behind Metalia Beach
Metalia has a rich history. It is famous for its caves carved in the cliff that lines the beach. Mythology has it that Zeus, guising himself into a bull, brought Princess Europa on his back to this beach. Historians believe that the caves served as tombs in the Roman and Christain eras.
The name 'Metalia' is attributed to an old iron mining company that was situated on this island. Limenaria is symbolised by a building named Palataki, which looks like an old castle. This building was used as an administrative office for the German company Speidel which exploited iron ore from Thassos during World War II. The company started in 1903, and the Germans withdrew in 1963. Currently, this building symbolises cultural heritage.
Also read:
▸ 10 Best Historical Sights and Landmarks In Thassos
▸ Atspas beach: Highlights, Access, Accommodation & Rental Cars
▸ Paradise Beach: Highlights, Access, Accommodation and Car rental
▸ Psili Ammos Beach Thassos: Highlights, Access, Accommodation & Rental Cars
▸ Skala Prinos beach: Highlights, Accommodation & Rental Cars
▸ Skala Rachoni Beach: Highlights, Access, Accommodation & Rental Cars
▸ Skala Kallirachi: Highlights, Access, Accommodation & Rental Cars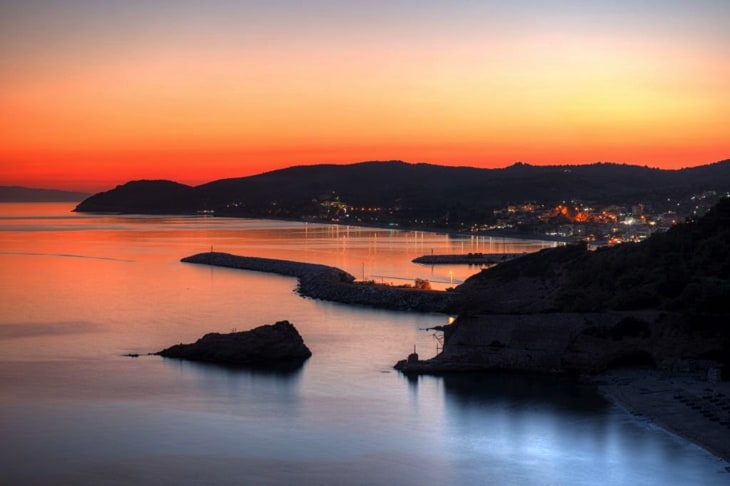 Facilities in Metalia Beach
Apart from the provision of basic facilities such as showers, food & drinks from an adjoining snack outlet, the beach offers sunbeds and umbrellas, along with a parking facility close to the area. Moreover, Metalia is among 400 beaches in Greece that have been awarded the Blue flag, which is an exclusive eco-label indicating that Metalia has maintained strict cleanliness protocols and provides safe bathing areas. In addition to this, a lifeguard and first aid facilities are also available on the beach. The beach also offers sports facilities as well as activities for children. In case you are adventurous and want your visit to be more thrilling, you can rent a car, bicycle, and motorbike from near the beach.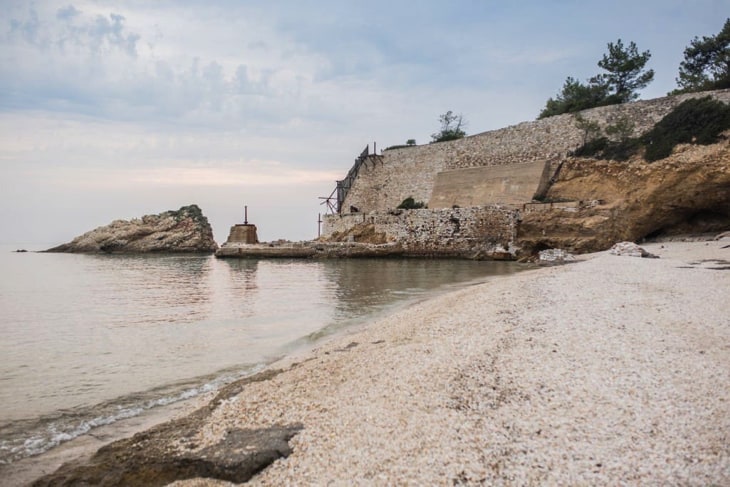 How to get to Metalia Beach?
To reach Thassos, you will have to arrive at one of the two International Airports on the nearby mainland. The arrival airport depends on where you are coming from; however, Kavala International Airport "Alexander the Great" (KVA) is the closest to Thassos island. Once you are at the airport, a mere 15 minutes drive will take you to the ferry port in Keramoti, from where you can reach the island. The ferry will take you to Limenas; from there, getting to Metalia is easy via a car or intra-island buses.
By Foot
Once in Limenaria, you can reach the beach on foot by climbing up the hill leading to Palataki. From there, you can descend via a steep footpath to the beach. Walking to the beach will be an enjoyable experience, as it allows exposure to the local culture and cuisine.
By Car
Reaching the beach via car is the easiest and quickest method. While travelling from Limenaria to Potos, you will find the sign "Metalia" on your right. Be wary of the narrow and steep road leading to the beach. Once there, you can park your car in the shade on the beach or the main road.
By Bus
If you wish to travel from Kavala International Airport to the ferry ports via bus, you might find yourself in a bit of a pickle. There are no bus services between this route. If you are touring on a budget and coming via Thessaloniki International Airport, you can take a bus from the airport to the city's central bus station. From there, you can purchase a ticket for Kavala's central bus station. The ferry port in Kavala is just a 10-minute walk from the bus station.
Once in Limenas, you will find an extensive bus service on the island, which can take you to Limenaria.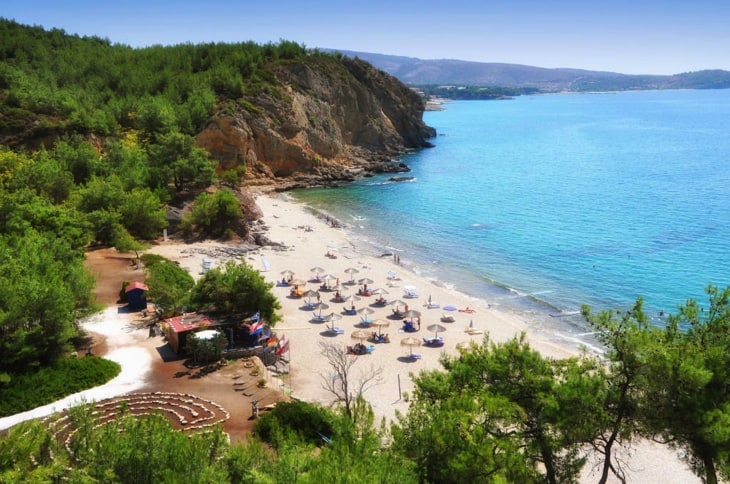 Where to stay near the beach?
There are countless options for cost-effective accommodations, providing quality facilities.
The Dome Luxury
If you're looking for brand new luxury accommodation in the area, the Dome Luxury hotel is the answer. The breathtaking views and aesthetically designed room will make your stay memorable and exquisite. For queries and visit:
Address: Limenaria 64002, Thassos
Phone: (+30) 25930 52927
Website: https://www.thedome-hotel.gr/
Grecian Sea
These newly renovated apartments provide top-notch facilities, including rooms with mountain views, private balconies, and impeccable food services. The apartments are a stone's throw away from the beach. For queries and visit:
Address: Evaggelistrias 82, Limenaria, Limenária, Greece
Phone: +30 695 304 1490
Website: https://greciansea.wixsite.com/homepage​​
Grand Beach Hotel
If living in luxurious accommodation, with spacious rooms and adjoining balconies, is your priority, this is the right hotel for you. Offering an open-air restaurant and a beach bar, this hotel will make your stay in Thassos a memorable one. The plus point: Most rooms enjoy sea views. For queries and visit:
Address: Limenaria, Thasos, 64002, Greece
Phone: +30 2593053470
Website: https://www.grand-beach-hotel.gr/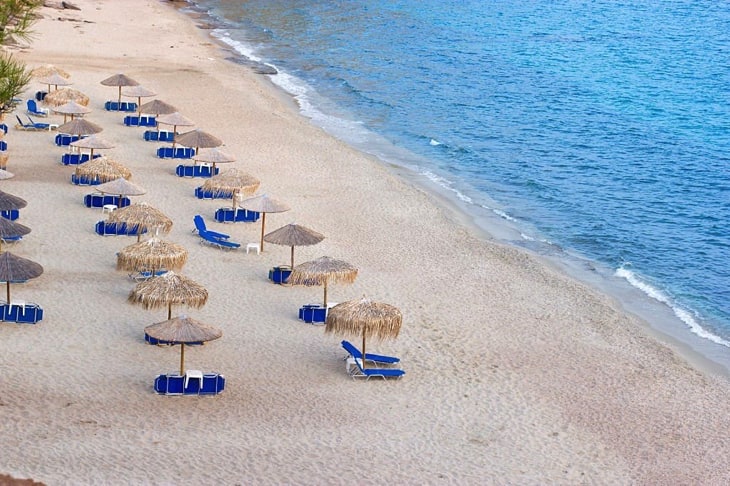 Can you rent a car and visit Metalia Beach?
If you are travelling on a budget, commuting via bus from Limenas to Limenaria would be a wise decision. However, this may get tedious as you will have to keep tabs on the schedule and will not have the freedom to make pit stops. On the contrary, renting a car in Limenaria will provide you with the freedom to stop and enjoy the panoramic view on the way to the beach. Moreover, if you are travelling with family, renting a car will prove to be more convenient.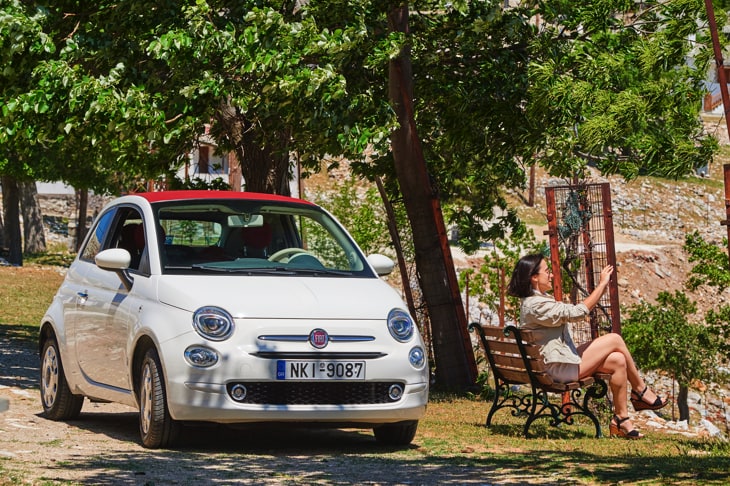 How much is the cost to hire a car in Thassos?
Renting a car is an excellent choice for you if you want to enjoy the comfort of travelling in a car, without any hassle. There is a wide array of choice of cars you can choose from and that gives you the flexibility of hiring a car which fits your budget. For an economy car, you will have to pay around €18 per day and around €130 per week while for a medium car you will be charged around €28-€35 per day and around €200-220 per week. For an SUV rental or a minibus rental, you will be paying approximately €70 per day and an approximate amount of €500 per week.