Thassos Marble Beach: As "Marble Beach" or in Greek "Saliara" has become the number one beach to visit on Thassos and everyone wants to visit it, here are our best tips of how to reach this not so easy accessible place.
Where is Marble Beach in Thassos?
First of all, Marble Beach is located in the North and is accessible via 3 dirt roads, one from Makryammos, one from Golden Beach and the other from Panagia. All roads are rough dirt roads but with a 4×4 vehicle driven carefully and slowly you will be able to get there safely! If you rent a car with Potos Car Rentals please note normal cars (jeeps excluded) are not allowed on unpaved (non-asphalt) roads.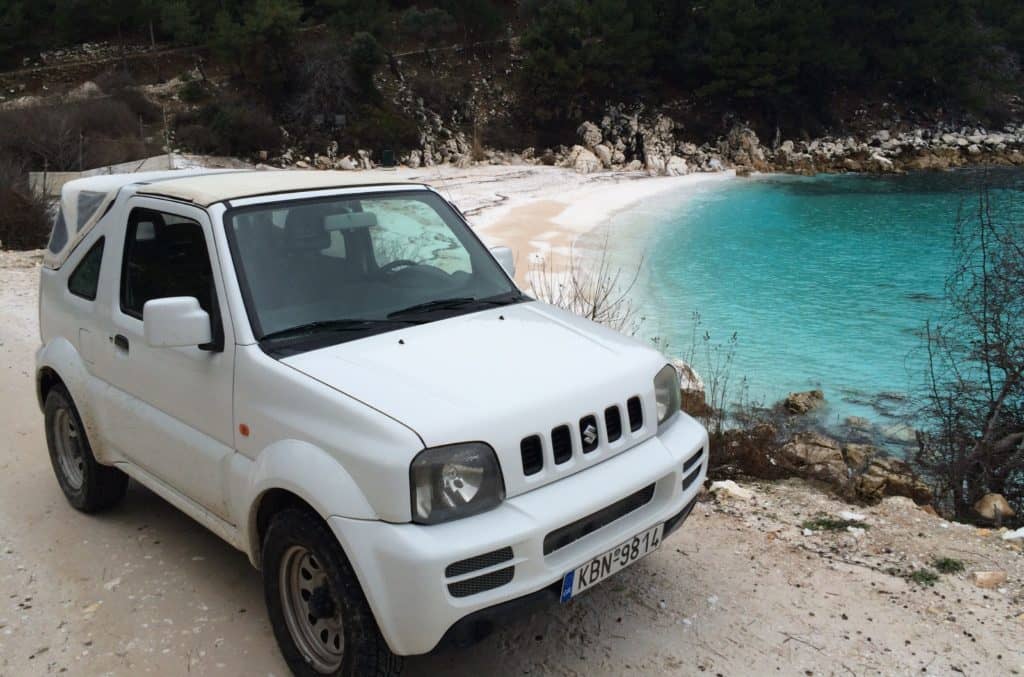 We highly recommend you to pre-book a Suzuki Jimny 2-3 days before the pick-up either by booking online on www.rentacarpotos.gr or by visiting one of our branch offices on Thassos.  For the exact locations see please the following link: https://www.rentacarpotos.gr/locations.html
Best way to get to Marble Beach in Thassos
Moreover, we recommend our customers to use the road from Makryammos as the roads from Panagia and Golden Beach are steeper and narrower making it very difficult to turn back or stop in case you meet an oncoming vehicle.
Also read: Nudist beaches in Thassos
What you should know before visit
Furthermore the roads to Marble Beach are covered in a fine, white powder like dust, so be prepared to get dirty, especially if you are travelling in a group and have the top open on your Suzuki Jimny! We suggest that you close everything up on your vehicle and even recommend that you do not use the Aircondition during the journey. Driving from Makryammos to Marble Beach takes approximately 10 minutes and the distance is 8 kilometers long.
For those of you who are not interested in renting a Jeep or do not have a driving license, there are two alternative options.  The first option is to walk to Marble Beach, which will take approximately 1 hour from Makryammos. If you decide to choose this option we suggest that you wear comfortable sneakers and take plenty of water with you. It is also advisable to start very early in the morning in order to avoid the heat and the crowds as well.
Taxi Boat Service to Marble Beach
The second option and a much more relaxing way to travel is to use the Taxi Boat Service that runs every day from the marina at Limenas -Thassos Town.
The ticket including return costs 10 euro per adult and for children up to 10 years old there is a 50% discount. Advance booking is not required just arrive at the marina by 10.00am. The boat leaves every day (and on weekends) at 10.30am and comes back at 6.00pm.
Please note the price does not include any breakfast or meal as you are just paying for the transport.  Last but not least, the boat anchors at Porto Vathi, which is the beach bar next to Marble Beach, offering the same beautiful waters and marble stones. Once you have arrived it is just a short 7 minute walk to Marble Beach.
For more information feel free to contact Diamond Tours the company, which owns the Taxi Boat by visiting their website https://www.diamondtours.gr/index.php/en/ or by calling at +30 6936 889 004 & +30 698 326 5805.
So those were our tips on how to reach Marble Beach! We hope you found our post useful!
Have you visited Marble Beach? How did you like the place? Please leave us a comment below!
Are you looking for more nice beaches to visit on Thassos? Find the Top 5 beaches in Thassos!