The northern part of Thassos holds some of the most beautiful and popular tourist spots on the island. In addition to the stunning coastline, this region is also home to a number of traditional villages that are worth exploring. You are certain to have a memorable vacation if you decide to visit North Thassos. However, before you head out on your adventure, knowing everything about the region is essential.

From how to get there, what to expect, and what to do, we have you covered. Read on below to learn more:
How to get around in North Thassos
Getting Around in North Thassos By Car
The best and most cost-effective way to explore North Thassos is by rental car. Fortunately, hiring a car in Thassos is not difficult (you can even book online). You can find all sorts of cars to rent, from small sedans to large SUVs, so you can easily find one that fits your needs and budget.
Exploring North Thassos with a car allows you to visit any spot you want without having to rely on public transportation. It also gives you the freedom to explore the island at your own pace and make stops whenever you please. You can easily visit famous spots such as Marble Beach (Saliara), or Skala Rachoni. Whatever your interests are, renting a car is the best way to make sure you see Northern Thassos.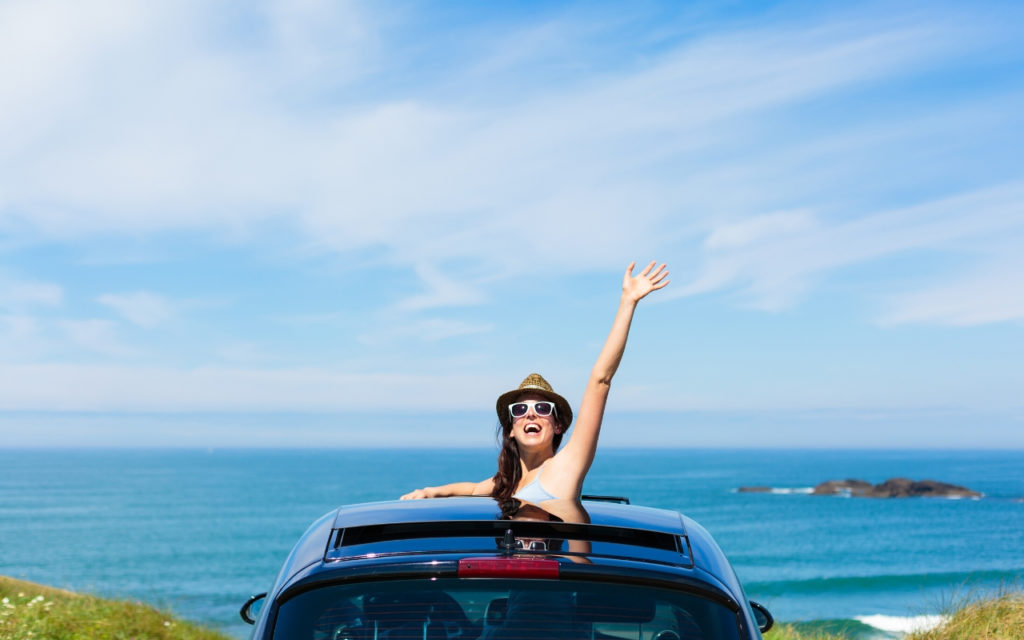 Getting Around in North Thassos By Taxi
Even though taking a taxi in Thassos to explore North Thassos is not as cost-effective as hiring a car, they are still a viable option. It's great for individuals who don't intend to visit all of North Thassos' attractions. You may easily find a taxi near the city center or in any of the region's major areas.
Getting Around in North Thassos By Bus
If you're traveling on a budget, taking the bus is a good option. Many buses go to different areas of North Thassos, and they're very affordable. However, keep in mind that waiting for a bus can often be time-consuming due to stopovers, so it's not ideal if you're in a hurry. Bus stations can be found in almost every major village in North Thassos, so finding one shouldn't be so difficult.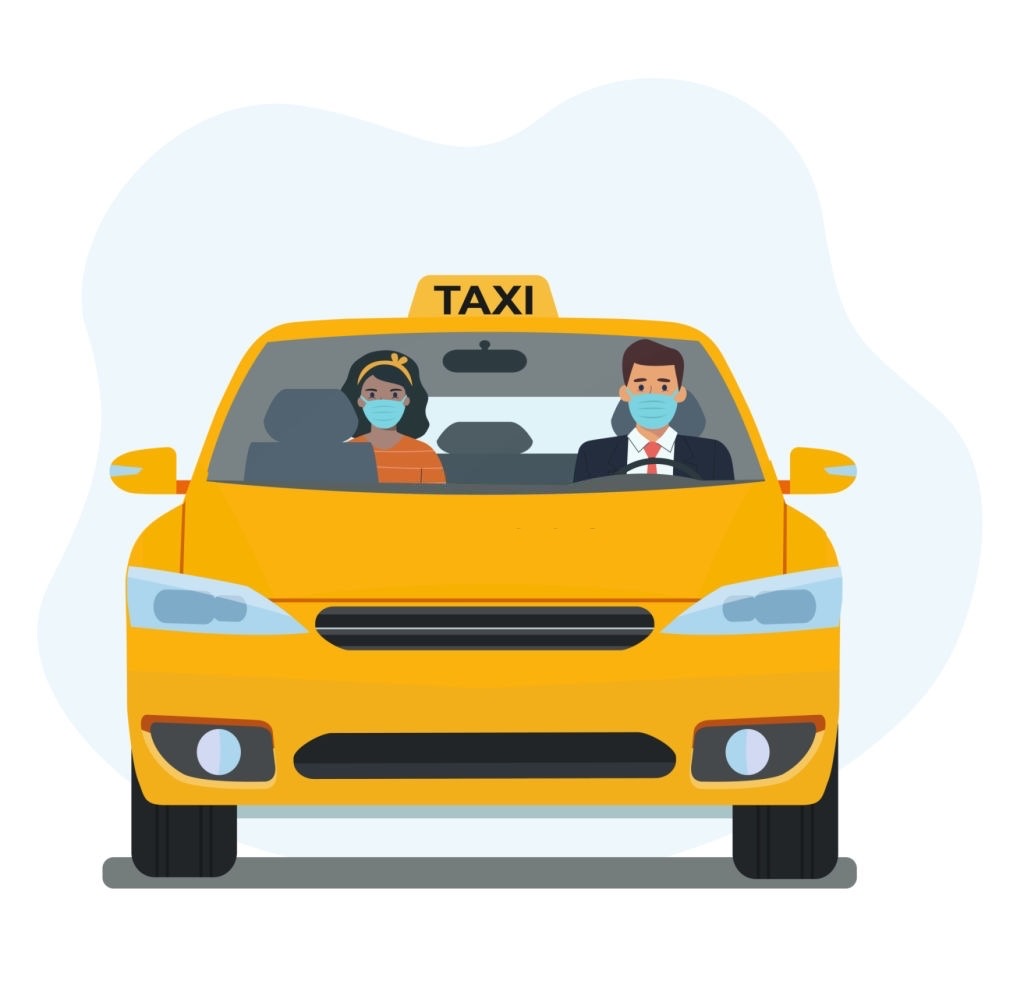 ▶ ALSO READ: What Is the Best Way to Get Around Thassos?
Best Things to Do in North Thassos
You're certain to never run out of things to do while in North Thassos. With so many villages, beaches, and historical landmarks to explore, you'll be kept busy from morning until night. Here are some of the best things to do in this region:
Explore Beaches
When it comes to beaches, North Thassos certainly doesn't disappoint. With its crystal-clear waters, and soft sand beaches, you'll be spoiled for choice. Some of the most popular beaches in this region are Skala Rachoni Beach, Marble Beach and Golden Beach. Spending a day or two lounging on these beaches is the perfect way to relax and soak up the sun.
Visit the Local Traditional Villages
North Thassos is home to a number of traditional villages that are worth exploring. From the lively village of Panagia, which is full of cafes, tavernas / restaurants, and shops, to quiet villages like Prinos, there's something for everyone. Walking around these villages is a great way to get a feel for the local culture and see some of the stunning architecture.
Check Out Historical Landmarks
There are also many historical landmarks scattered throughout North Thassos. The most popular ones include Thassos Ancient Theater, Acropolis walls, Archaeological museum and the Kalogeriko museum in Limenas. These places are definitely worth a visit if you're interested in learning more about the history of Thassos.

Best Sights in North Thassos
Several villages with tourist spots in Northern Thassos provide visitors with an unforgettable experience of the island. Some of these places worth mentioning are:
Rachoni
Rachoni is located on the edge of the mountain, earning it the nickname 'the Rock Edge.' The village is surrounded by spectacular and diverse flora, which includes trees, olive trees, fruit trees of all kinds, bushes, and shrubs. If you wish to take a walk and explore the natural environment, Rachoni is an excellent place to start.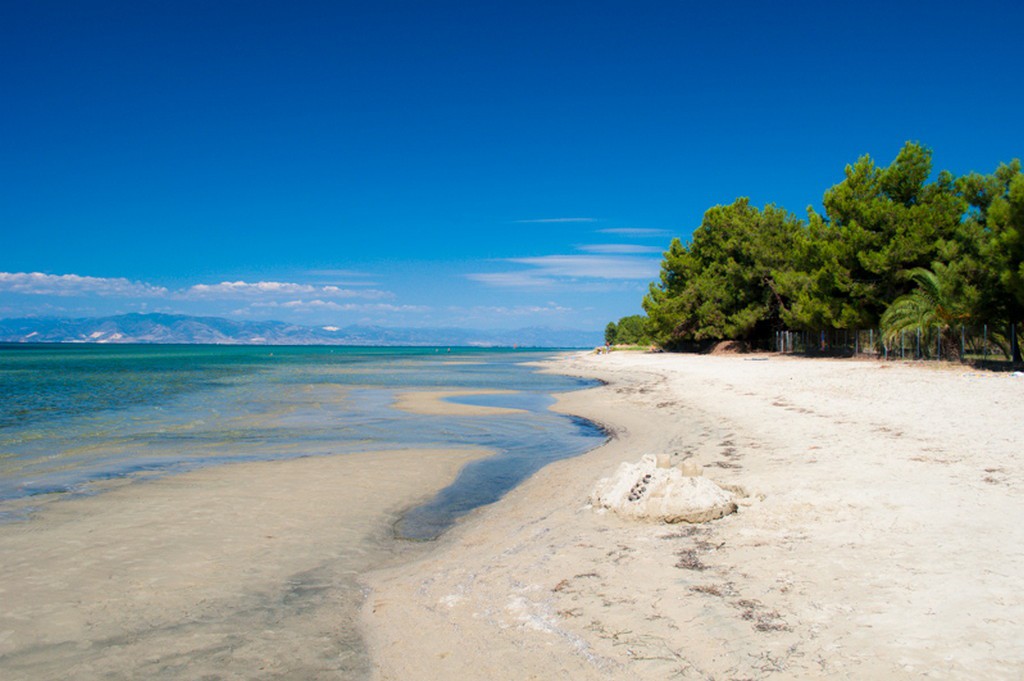 Skala Prinos
Skala Prinos is among the largest villages in Thassos and is located on the northwestern side of the island. The village offers wonderful beaches and a harbor where several restaurants are located. Skala Prinos Beach is a top tourist destination. You can indulge in water sports, horse riding or simply relax on the sand and take in the stunning views.
Limenas
Limenas is the main town on the island and is located in the north. The town's architecture reflects its Venetian past with narrow streets, arches, and balconies. There are many shops, cafes, bars, and restaurants where you can enjoy your time. If you're looking for a lively place to spend some time, Limenas is the perfect spot.
Also read: South Thassos – Explore the other past of Thassos
Best Beaches in North Thassos
The ever-beautiful beaches of North Thassos are definitely worth a visit. With their dramatic cliffs, crystal-clear waters, and soft sand beaches, you'll be spoiled for choice. Some of the most popular beaches in this region are:
Golden Beach
Golden Beach is also called Chrysi Ammoudia, which makes it one of the busiest beaches in North Thassos. It is one of the most popular tourist destinations on the island and is known for its clear waters and golden sand. On the beach, you can find several amenities like sun loungers, parasols, and a few beach bars.
Saliara Beach
If you want to get off the beaten path, Saliara Beach is the perfect spot. Saliara (Marble Beach) is located on Thassos' northern coast, with Limenas only being 5 kilometers away. The beach is breathtaking, with white little pebbles and a brilliant blue tint in the ocean. It is a well-organized beach that has become increasingly popular in recent years.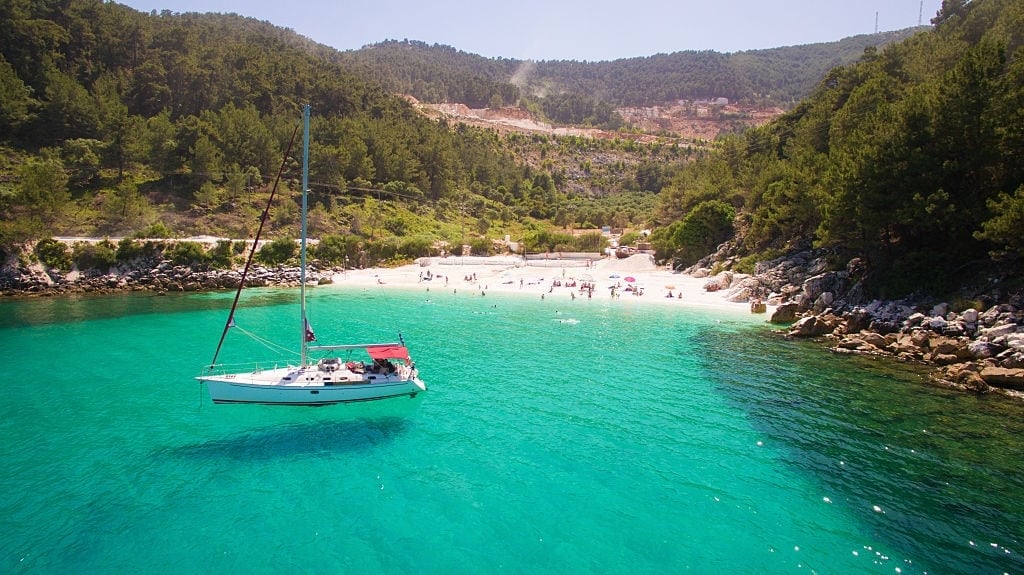 Pachis Beach
Located 9 km away from Limenas, this white, fine-sanded beach is one of the most popular in the area. The beach has crystal-clear waters and several taverns where you can enjoy a meal or a drink.
Also read: Nudist beaches in Thassos
Best Tours in North Thassos
What way to fully enjoy North Thassos than by taking a tour? There are many different tours that you can take, which will allow you to see the best of what the island has to offer.
Thassos Island Tour
There's a lot to see and do on North Thassos, from historical sights to traditional and picturesque villages. By going on an island tour, you'll be able to explore all these places and more. The tour will last for 8 hours (9:00 AM to 5:00 PM) and comes with a guide who will be able to show you around and tell you all about the history of Thassos.
Book this tour
Boat Tour Around the Island
One of the best ways to see North Thassos is from the water. There are many different boat tours that you can take, which will allow you to see the island in a whole new light. The tours usually last for around seven hours and will take you to some of the most popular sights. Plus, you can also go diving so you can see what the underwater world of North Thassos has to offer.
Book this tour