Another popular destination in the South is Potos. Our brand name is called after this village as our very first retail shop was opened here! Potos is one of the well-known villages on the island and is located 43 kilometres away from Limenas. Taxi service to Potos lasts approximately 50 minutes from Limenas port (Thassos town).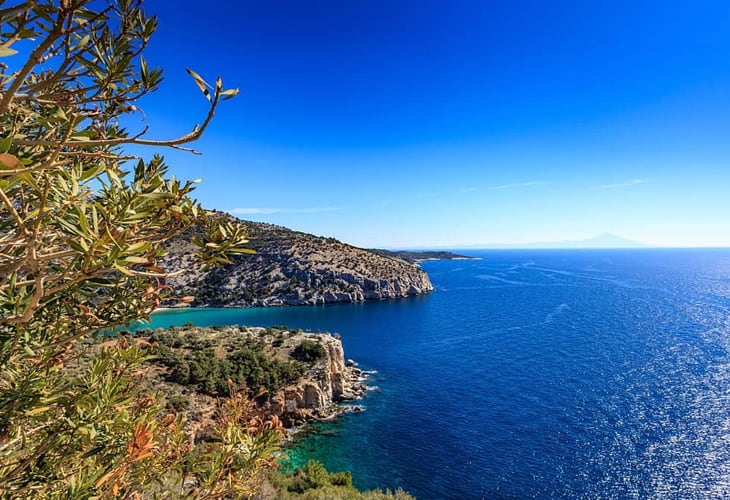 As Potos is relatively densely populated in some parts –especially in the centre, it is sometimes difficult to drive through the village with larger vehicles i.e. with a long minibus. When arranging your taxi/transfer, we ask for your understanding and cooperation in meeting us at the closest convenient place in the proximity of your accommodation. Please let us know in advance if you have special needs or if you are carrying extra equipment with you. It is also very important that you provide us with the correct accommodation details. As in Thassos, we don't have street addresses, it is very useful to send us the "google map" location. Apart from big hotels, there are many private properties/houses for rent which are not always easy to locate.
Our driver will pick you up at the agreed place and time by holding a paper sign with your name. If you have any difficulties in finding him, stay calm and contact us on our customer service line 24/7 +30 698 301 48 99. Viber / Whatsapp is also available for your convenience.
About Potos Thassos
Potos is one of the most lively villages in Thassos. One can find a lovely sandy beach there with a large selection of fish taverns, cocktail bars and cosy cafes. In the alleys of Potos, you will discover small souvenir shops, clothes shops, and even an art gallery. Near to Potos, on the east side there is also the sandy San Antonio beach with a seaside complex and water sports. In the other direction, Pefkari beach is located just to the west of Potos, a fine, pebble beach with a wonderful underwater world just waiting to be discovered. If you are interested in diving, this beach is a must. Diving courses are available in Potos and Pefkari.
Other popular beaches near Potos in the south part of Thassos are Rosogremos beach, Notos beach and Psili Ammos. However, to reach those, you may need a taxi / car / scooter / ATV as they are not within walking distance.
If you are looking for some physical exercise during your holidays, there is a specially constructed walkway beginning in Potos and continuing west through Pefkari - ultimately leading you to Metalleia beach. This pathway, which is approximately 4 kilometres long, is a lovely route for both walkers and runners and has amazing sea views.
Last but not least, close to Potos, you will find the famous, traditional mountain village and ancient capital of Thassos, Theologos. The distance from Potos to Theologos is 11 kilometres - approximately 15 minutes driving time. You may reach Theologos by car, bus or taxi. Here, you will find traditional Macedonian architecture, beautiful stone houses, narrow stone alleys, and rich flora! The village has also two traditional big orthodox churches Saint Dimitrios and Saint Paraskevi - an interesting folklore museum and amazing waterfalls called Kefalogournas! This village has a long history and is considered to be one of the most beautiful places in Thassos! It is also famous for its tasty, local cuisine!