Thessaloniki is a lively city in northern Greece on the eastern coast of the Thermaic Gulf. As Greece's second-largest city, it has a rich history, iconic landmarks, and a busy urban centre. Its position makes it a significant hub in the region, connecting the mainland and the neighbouring countries. Parking in Thessaloniki operates under specific rules and regulations. The city is divided into various parking zones marked with colour-coded lines or signs. Blue zones are designated for short-term parking, while yellow zones offer medium-term parking options. Visitors and residents must adhere to these guidelines to avoid violations and fines.
When it comes to finding parking spots in Thessaloniki, there are several options available. Popular areas, including the city centre, offer street parking, although limited due to high demand. Additionally, dedicated parking garages and lots are scattered throughout the city, providing more secure and long-term parking solutions. Parking spaces are available for those visiting the city's beaches but might come with their own rules or fees depending on the specific location. Various tools can prove useful for individuals seeking assistance in locating available parking spaces. Mobile parking applications are popular tools for finding real-time parking availability, costs, and restrictions. These apps often allow users to pay directly, offering a convenient solution for drivers. Additionally, asking locals or visiting tourist information centres can provide valuable insights into less-known parking spots or areas where parking is easier during specific times.
As for the cost of parking in Thessaloniki, parking spaces are not universally free. The city has implemented paid parking systems in several zones to manage traffic and ensure the smooth flow of vehicles. The average hourly fee for street parking typically falls between €1 to €2, though prices can vary based on the specific area and time. It's always recommended for drivers to check local signage and apps for accurate pricing before parking.
Where is Thessaloniki?
Thessaloniki is 502 kilometres (312 miles) to the north of Athens, the capital of Greece. It is a major city in northern Greece, located on the eastern coast of the Thermaic Gulf. Thessaloniki's urban area spans approximately 30 kilometres (19 miles) from Oraiokastro in the north to Thermi in the south, extending toward Chalkidiki. Mount Chortiatis borders Thessaloniki to the southeast, and its location near mountain ranges, hills, and fault lines has historically made it susceptible to seismic activity.
To the west of Thessaloniki lies the city of Katerini, approximately 68 kilometres (42 miles) away. Katerini is a popular destination known for its beautiful beaches along the Thermaic Gulf and as a gateway to Mount Olympus, Greece's highest mountain. In the north, Thessaloniki is relatively close to Veria, about 70 kilometres (43 miles) away. Veria is known for its well-preserved Byzantine and Ottoman-era architecture. It's also culturally important due to its connection to early Christianity. To the east of Thessaloniki is the region of Chalkidiki, known for its stunning beaches, clear waters, and villages. The closest part of Chalkidiki, the Kassandra Peninsula, is just around 70 kilometres (43 miles) from  Thessaloniki. This area is a popular summer destination for both locals and tourists.
Thessaloniki is served by Thessaloniki Airport (SKG), which is located 15 kilometres (9 miles) southwest of the city centre. This airport, also known as "Macedonia International Airport," is the primary gateway for air travellers to and from the region. It offers domestic and international flights, making it convenient for travellers coming to Thessaloniki from various destinations. Another option for travellers is the Kavala International Airport (KVA), located further east, 170 kilometres (106 miles) from Thessaloniki. While this airport is farther away from the city, it can be considered an alternative for those exploring eastern parts of northern Greece or nearby locations like Kavala. Additionally, Sofia in Bulgaria has an international airport, Sofia Airport (SOF), about 300 kilometres (186 miles) north of Thessaloniki. Although it's more distant, it could be a choice for travellers looking for alternative routes into the region. However, Thessaloniki Airport remains the primary and most convenient airport for accessing the city and its surroundings.
How Far is the Airport to Thessaloniki?
Thessaloniki's primary airport is Thessaloniki Airport (SKG), also known as "Macedonia International Airport." The airport is approximately 15 kilometres (9 miles) southwest of the city centre.  For travellers in Heraklion who wish to reach Thessaloniki Airport, one of the most straightforward ways is to take a flight from Heraklion International Airport (HER), also known as "Nikos Kazantzakis Airport." Numerous direct flights connect these two cities, and the flight duration is typically over an hour. Booking in advance often results in more choices and potentially lower fares.
Upon landing at Thessaloniki Airport, multiple transportation options exist to reach the city centre. Buses are a popular and economical choice. The city's bus service, OASTH, operates the No. X1 route, which connects the airport with the central railway station. The bus journey takes around 40 minutes under normal traffic conditions. For those who prefer a more private mode of transport, taxis are readily available at the airport. The trip by taxi to the city centre usually takes about 20 to 30 minutes, depending on traffic. There's a designated taxi queue outside the arrivals hall, and rates are standardised, although it's still a good practice to ask for an estimated fare before starting the journey. Additionally, Thessaloniki car rentals are available at the airport for travellers who prefer to drive themselves. It provides flexibility and might suit those planning to explore more than just the city. The drive to the city centre is straightforward, mainly along the A25 and A2 highways.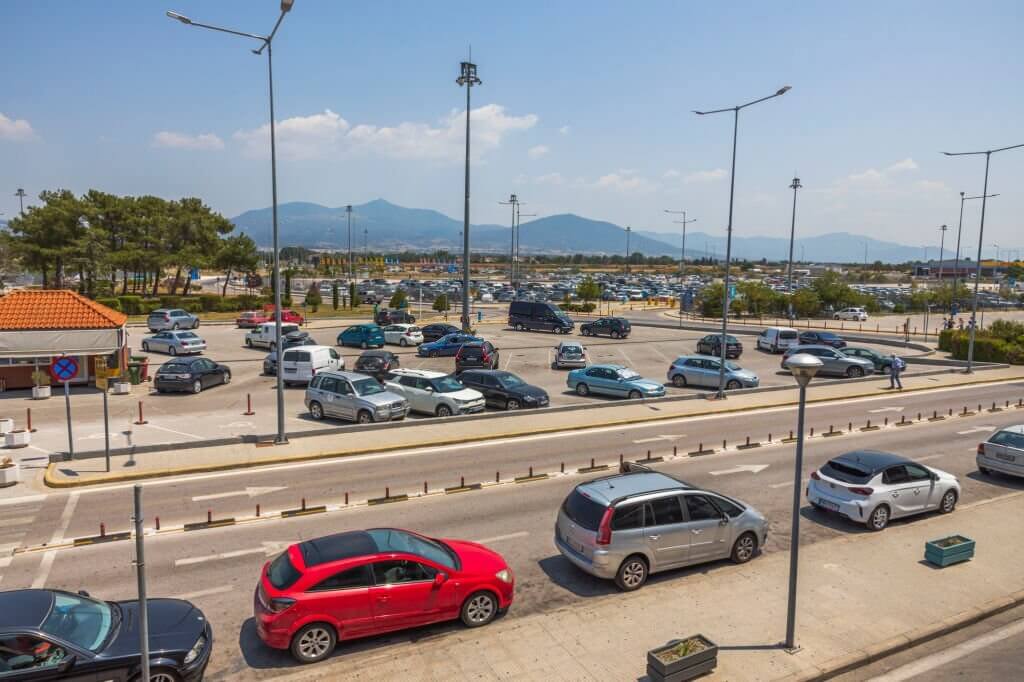 What are the Rules for Parking in Thessaloniki?
Listed below are the rules for parking in Thessaloniki:
Parking Zones: Thessaloniki has designated parking zones, each with different time limits and tariffs. Zones are typically marked by colour-coded lines on the road or pavement.
Paid Parking: In most city areas, parking is paid during specific hours, usually from Monday to Friday and on Saturdays. Payment can be made at nearby parking meters or through mobile apps.
Blue Zones: Blue zones are for short-term parking. The maximum allowed parking time in these zones is usually 1 to 2 hours.
Yellow Zones: Yellow zones are typically for medium-term parking. The allowed parking duration in yellow zones varies but is often longer than in blue zones.
Residential Parking Permits: Some areas allow residents to park for longer durations. Non-residents are restricted from parking in these zones without the appropriate permit.
Parking Discs: In some zones, drivers may be required to use parking discs to indicate their arrival time. Parking discs are typically available at local shops or kiosks.
Parking Fines: Violating parking rules can result in fines and penalties. Illegally parked vehicles may be towed away at the owner's expense.
Public Holidays: On official public holidays, parking rules and restrictions may differ, and parking may be free or less regulated.
Disabled Parking: There are designated parking spaces for disabled individuals, and using them without the appropriate permit can lead to fines.
Parking Garages: Thessaloniki offers various parking garages for long-term and secure parking options. Prices and availability may vary depending on the garage's location.
Where to Park in Thessaloniki?
In Thessaloniki, parking is organised into specific zones, each distinguished by its regulations and tariffs. These zones are often indicated by colour-coded lines on the road or signs. The most common zones are the blue zones, which allow short-term parking, and the yellow zones, which typically permit medium-term parking. Both zones usually require payment during specified hours, which can be done at nearby parking meters or through mobile applications. In addition to these zones, special parking areas are designated for residents. These residential zones often require a specific permit, ensuring that local inhabitants have priority in parking near their homes.
Parking in Thessaloniki is not unrestricted. There are certain areas where parking is strictly prohibited, including pedestrian zones, bus stops, areas near intersections, and places that block driveways or access routes. Ignoring these restrictions, parking in zones without appropriate payment, or exceeding the permitted time can lead to penalties. Illegally parked cars risk receiving a ticket and, in some cases, might even be towed, resulting in additional fees and inconveniences for the vehicle owner.
For those who prefer a more secure parking option or intend to leave their vehicle longer, Thessaloniki offers several parking garages throughout the city. These garages typically charge fees based on the length of stay and provide a safe alternative to street parking.
How to Find Parking Spaces in Thessaloniki?
Listed below are the best ways to find parking spaces in Thessaloniki:
Parking Signs and Color-coded Zones: Throughout Thessaloniki, parking zones are marked with specific colour codes. Blue zones indicate short-term parking, usually for 1 to 2 hours. Yellow zones denote medium-term parking, offering longer parking durations. Always check signs nearby for any restrictions, payment requirements, or specific instructions related to the zone. Avoid areas with no markings or with signs indicating parking is prohibited.
Mobile Parking Apps: Several mobile apps can assist drivers in locating available parking spaces in real time. These apps usually provide details about parking costs, restrictions, and availability. Some apps allow users to pay for parking directly, eliminating the need to use physical parking meters.
Parking Garages and Lots: Thessaloniki has several parking garages and lots throughout the city. These facilities typically charge based on the duration of parking. Garages and lots are ideal for long-term parking or those seeking secure spots for their vehicles. Most garages display a sign outside indicating whether they're full or have available spaces. Locations and rates of these garages can often be found online or through local directories.
Ask Locals or Shop Owners: The best guidance can sometimes come from local residents or shopkeepers. They might be aware of less-known parking spots or areas where parking is easier during specific times. Friendly inquiries can yield valuable tips and save time searching for a space. Some local businesses may have private parking areas, allowing customers to use them. It's always courteous to ask before parking in areas that might belong to businesses or residents.
Tourist Information Centers: Thessaloniki's tourist information centres can provide maps and details about parking facilities. They can offer guidance on the most convenient parking areas for popular attractions or areas of interest. These centres often have pamphlets or materials with parking information. Staff members at these centres are usually knowledgeable and can provide insights based on specific needs. Using the information from these centres can also help tourists plan their itineraries with parking in mind.
Are the Parking Spaces in Thessaloniki Free?
No, parking spaces in Thessaloniki are not generally free. Thessaloniki has implemented paid parking systems in various zones, denoted by colour-coded lines or signs, to manage traffic flow and generate revenue for municipal services. This paid parking scheme helps regulate the limited parking spaces in the city, particularly in busy urban areas, ensuring that vehicles do not occupy spaces for excessive durations and discouraging congestion. The revenue generated from parking fees is often reinvested into maintaining and improving local infrastructure, such as roads, public transportation, and urban development projects.
Is there an App to Find Parking Spaces in Thessaloniki?
Yes, mobile apps are available to help find parking spaces in Thessaloniki. Some recommended parking apps for Thessaloniki include Parkopedia, ParkMan, and EasyPark. These apps provide real-time information on parking availability, pricing, and restrictions in different zones throughout the city. They often allow users to pay for parking directly through the app, making it a convenient tool for locals and visitors looking for parking solutions in Thessaloniki.
Do Rental Cars Provide Designated Parking Maps?
Rental car providers typically do not offer designated parking maps as a standard service. While some rental car agencies such as Potos Car Rentals may provide general guidance or information about parking in the city where one rents the car, such as the location of major parking garages or general parking regulations, they do not usually offer detailed maps specific to parking spaces. Travellers are encouraged to obtain parking information and maps from local sources, such as tourist information centres, parking apps, or municipal websites, to navigate parking options effectively in their destination city.
What are Known Hotels in Thessaloniki that has a good Parking Spaces?
Listed below are the known Hotels in Thessaloniki that has a good Parking Spaces:
Daios Luxury Living: Daios Luxury Living is a well-known Thessaloniki hotel in the City Centre. It offers on-site parking facilities for guests, making it convenient for those with vehicles. Parking availability may be limited, so it's advisable to inquire about parking when booking. Daios Luxury Living is known for its upscale amenities, waterfront views, and proximity to major attractions. Guests can enjoy a comfortable stay and easy vehicle access during their visit.
ONOMA Hotel: ONOMA Hotel is a popular hotel choice in Thessaloniki, known for its modern design and excellent location. It provides on-site parking options for guests, ensuring convenience and security for their vehicles. Parking spaces are subject to availability, so guests should check with the hotel in advance. ONOMA Hotel offers a stylish and comfortable stay, with easy access to Thessaloniki's lively centre and attractions. Guests can enjoy the added benefit of hassle-free parking during their stay.
Egnatia Flat: Egnatia Flat is an apartment-style lodging accommodation option in Thessaloniki. While it may not have on-site parking, guests can find public parking options nearby. Parking regulations and fees should be considered when using public parking. Egnatia Flat provides self-catering facilities and a comfortable base for exploring the city. Guests should be prepared for parking arrangements separate from the accommodation.
Archeological museum view: Archeological museum view is an apartment-style accommodation in Thessaloniki. Like Egnatia Flat, it may not have on-site parking, but public parking facilities are available nearby. Visitors should know local parking regulations and fees associated with public parking. Archeological museum view offers a convenient location for exploring the city and its attractions. Guests may need to make separate parking arrangements during their stay.
Villa Korais Luxury 3br apt with sea view: Villa Korais Luxury 3br apt with sea view is an apartment option with sea views in Thessaloniki. While it may not provide on-site parking, public parking options are nearby. Guests should be mindful of local parking rules and potential fees in public lots. Villa Korais Luxury 3br apt with sea view offers guests a comfortable and scenic stay.
The Met Hotel Thessaloniki, a Member of Design Hotels: The Met Hotel Thessaloniki, part of the Design Hotels group, is a luxury hotel in the city. It offers secure on-site parking for guests, providing convenience and peace of mind. Parking availability is typically assured for guests staying at the hotel. The Met Hotel is known for its upscale amenities and contemporary design. Guests can enjoy both luxury accommodations and easy vehicle access during their stay.
Where are the Free Parking Spots in Thessaloniki?
The table below shows the free parking spots in Thessaloniki:
Location
Address
Contact Number
Opening Hours
Sapfous 15
Sapfous 15, Thessaloniki 546 27, Greece
+30 231 331 7777
24/7
Santaroza 16-18
Santaroza 2, Thessaloniki 546 27, Greece
+30 231 331 7777
24/7
Filippou 35-31
Panagia Chalkeon

33 Philippou

1st Community of Thessaloniki

54631 Thessaloniki

+30 231 231 5404
24/7
Thessaloniki 546-31
Courts Square

Philippou 30

1st Community of Thessaloniki

54631 Thessaloniki

+30 231 231 5404
24/7
How Much is the Average Parking Fee for Paid Parking Spots in Thessaloniki?
The average parking fee of paid parking in Thessaloniki typically falls within the range of €1 to €2 per hour. However, specific rates can vary depending on the location within the city and the designated parking zone. Drivers must check local signage, parking meters, or mobile apps for precise pricing and potential variations, as different areas may have established parking service tariffs.
Is It Hard to Find Parking Spots in Thessaloniki?
Yes, finding parking spots in Thessaloniki can be challenging, primarily due to the city's high population density and limited available space for parking. Thessaloniki is a crowded urban centre with a high demand for parking, both from residents and visitors. Thessaloniki's historical layout also contributes to the difficulty, as many narrow streets were not originally designed to accommodate modern traffic volumes.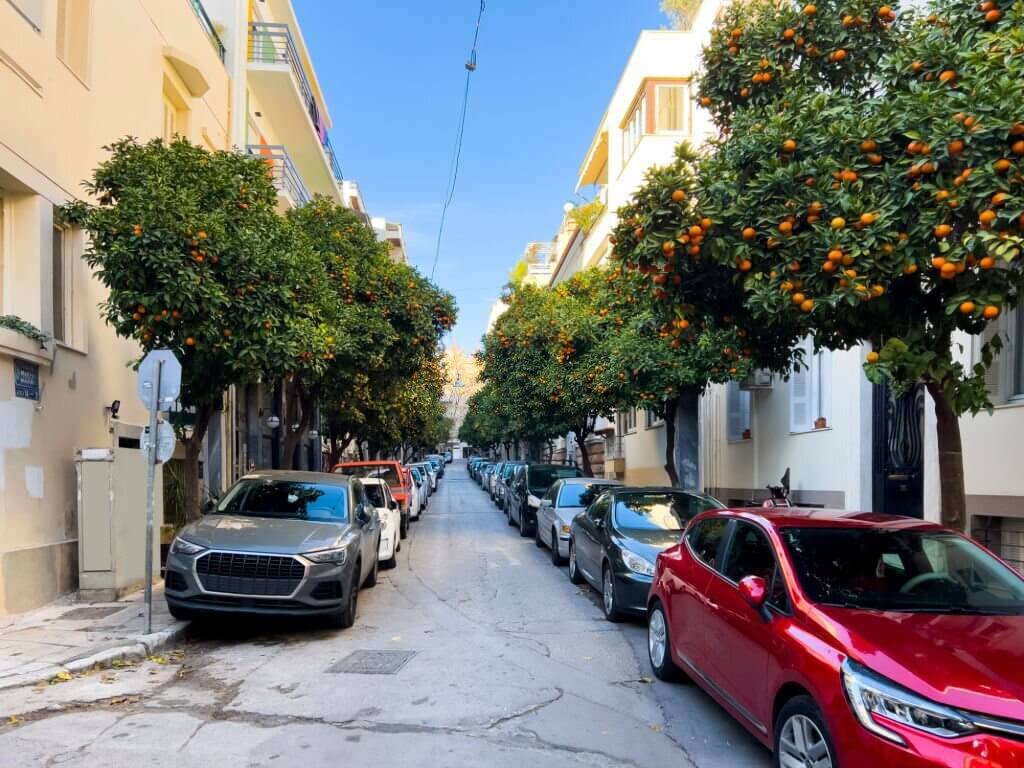 Can I Park Near the Thessaloniki Beaches?
Yes, it is possible to park near the Thessaloniki beaches, but the availability of parking spaces and the regulations governing beachfront parking may vary depending on the specific beach and location. Some Thessaloniki beaches offer on-site parking facilities or designated parking areas, allowing visitors to park their vehicles conveniently. However, it's important to note that many popular beach areas in Thessaloniki may have limited parking space due to their proximity to the waterfront and high demand, especially during peak seasons. Additionally, parking near beaches may involve fees or time restrictions, so it's advisable to check local signage, pay any required parking fees, and adhere to relevant regulations when parking near Thessaloniki's beaches.
Is it Safe to Park in Thessaloniki?
Yes, parking in Thessaloniki is safe. Like many urban areas, Thessaloniki has its share of regular traffic and parking-related challenges, such as congestion and limited spaces, especially in the city centre. However, it maintains a presence of local law enforcement and traffic authorities who help enforce parking regulations and ensure public safety. Visitors should be aware of standard safety precautions, such as securing their vehicles and valuables, locking car doors, and following parking regulations to avoid fines. While crime can occur in any urban environment, Thessaloniki, as a popular tourist destination, has a vested interest in ensuring the safety of residents and visitors, making it safe to park in the city when following safety practices.
Is it easy to drive in Thessaloniki?
No, driving in Thessaloniki is not easy, especially for those unfamiliar with the city. One of the primary reasons is the dense and chaotic traffic, often characterised by narrow streets, limited parking options, and the presence of aggressive local drivers. Navigating these challenges requires patience and attentiveness. Pedestrians, motorcycles and other vehicles often jostle for space, creating a dynamic and somewhat unpredictable driving environment. The historical centre has a maze-like layout, making it easy for unfamiliar drivers to get lost. Modern navigation tools can be helpful fir frequent congestion and regular changes to traffic patterns due to construction or events can make real-time navigation difficult. Visitors who plan to drive in Thessaloniki should be prepared for a potentially stressful experience and always exercise caution.