The beaches around Thessaloniki offer an array of landscapes, atmospheres, and activities. Visitors to these beaches also enjoy the convenience of nearby accommodations, a range of dining options, and proximity to the city centre. The Thessaloniki region is a perfect blend of beach life and city comforts. Agia Triada Beach and Kalamaria Beach cater to different crowds, with Agia Triada drawing families with its community events and beach sports. At the same time, Kalamaria is a retreat in a wealthier suburb, less crowded and ideal for relaxation. Asprovalta Beach is known for its white sands, clear waters, and vibrant beach life, with cafes and restaurants along the shore. Perea Beach, located near the city centre, is popular with its blend of socialising and relaxation, featuring many bars and taverns. Vrasna Beach provides a serene escape with its azure waters and golden sands surrounded by lush vegetation. Other beaches that attract tourists are Stavros, Epanomi, Angelochori, and Potamos Beach. Stavros Beach, known as Zorba's Beach, is renowned for its clean waters, golden sands, and breathtaking mountain views. Epanomi Beach, known for its white sand and clear waters, is great for activities like paragliding or surfing. Angelochori Beach is an unspoiled, clean beach with golden sand and clear, calm waters. Potamos Beach is large and family-friendly, with calm and shallow waters, perfect for swimming or snorkelling.
Each beach in Thessaloniki carries a unique allure, offering varied landscapes and activities for different types of tourists. Whether for family outings, sports activities, social gatherings, or peaceful retreats, the beaches near Thessaloniki provide opportunities for relaxation and fun under the sun. Renting a car in Thessaloniki opens up a world of sun, sand, and sea. The convenience of a private vehicle allows easy access to several beautiful beaches, perfect for soaking up the Greek sun. A car rental in Thessaloniki is an efficient way to experience the city and its surrounding areas. Several car rental companies operate in the city. Companies such as Potos Car Rentals offer a range of vehicles to meet varying customer needs – from compact cars for city driving to larger vehicles like SUVs, perfect for families or groups travelling together. The rental process is generally simple, with many companies offering online booking systems. One of the key advantages of renting a car in Thessaloniki is its flexibility. Visitors can create schedules and take impromptu trips without relying on public transportation timetables. It also allows easier access to the numerous beaches in the Thessaloniki area. With a rental car, one can conveniently travel from one beach to another, exploring the diverse landscapes and attractions each has to offer.
Listed below are the best beaches in Thessaloniki:
Agia Triada Beach: Agia Triada Beach is a local favourite spot. Its sandy shores and clear, shallow waters make it a popular family choice. It is also known for its lively atmosphere, often hosting beach volleyball tournaments and other community events.
Kalamaria Beach: Kalamaria Beach is one of Thessaloniki's most affluent suburbs. Its location, away from the city's bustling centre, means it is typically less crowded, providing the perfect spot for quiet relaxation.
Asprovalta Beach: Asprovalta Beach is recognised for its expansive stretch of white sand and crystal clear waters. It's a popular spot for sunbathing and water sports, and its shoreline is lined with many cafes and restaurants, adding to its appeal for tourists and locals alike.
Perea Beach: Perea Beach is a busy spot close to Thessaloniki's city centre. Its numerous bars and tavernas offer a vibrant atmosphere, making it a perfect place for those seeking relaxation and socialising.
Vrasna Beach: Vrasna Beach is a serene coastal retreat. Its shallow, azure waters and golden sands surround lush vegetation, creating a calm and scenic environment. Its tranquillity makes it an ideal spot for visitors seeking a peaceful beach day.
1. Agia Triada Beach
Agia Triada Beach is in the beautiful town of Paleokastritsa in Corfu, Greece. It's a peaceful pebble-covered beach just a 10-minute walk from the town's centre. This beach is great for families and allows pets to join the fun. Despite a slightly smaller sandy area due to rising sea levels, the beach still attracts people who like to sunbathe. The water is a bit cooler because of currents from the nearby sea, which can be a nice break from the hot sun.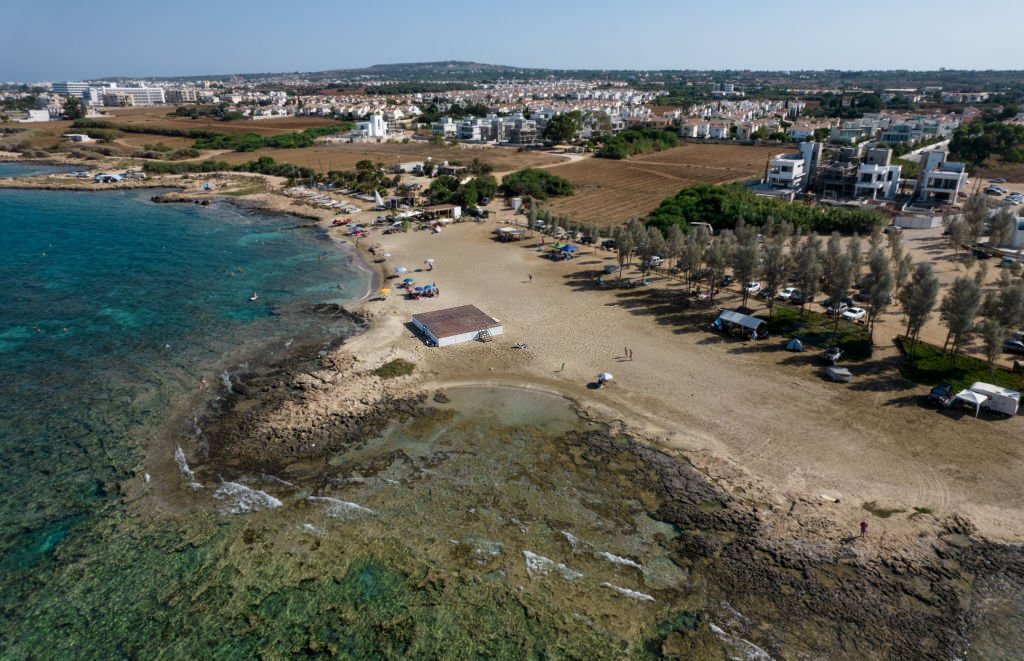 Agia Triada Beach is conveniently located in the suburb of Thessaloniki. It is just a short drive from the city centre, making it easily accessible by car or local bus. For added convenience, there's a parking area nearby, snack bars for food and drinks, and sunbeds for relaxing. There are also clean showers and toilets available for visitors. For those wanting to explore more, the nearby villages of Nea Michaniona and Epanomi and the beaches of Halkidiki to the south offer more options for things to see and do.
2. Kalamaria Beach
Kalamaria Beach is in the coastal region of Thessaloniki. It is a sandy place perfect for relaxation under a scenic mountain view. The beach is a hub for a wide array of fun water activities. Visitors enjoy surfing and paragliding in warm weather, while rowing and sailing are popular in cooler seasons. Various large shops, restaurants, and amenities near the beach enhance the beach day experience.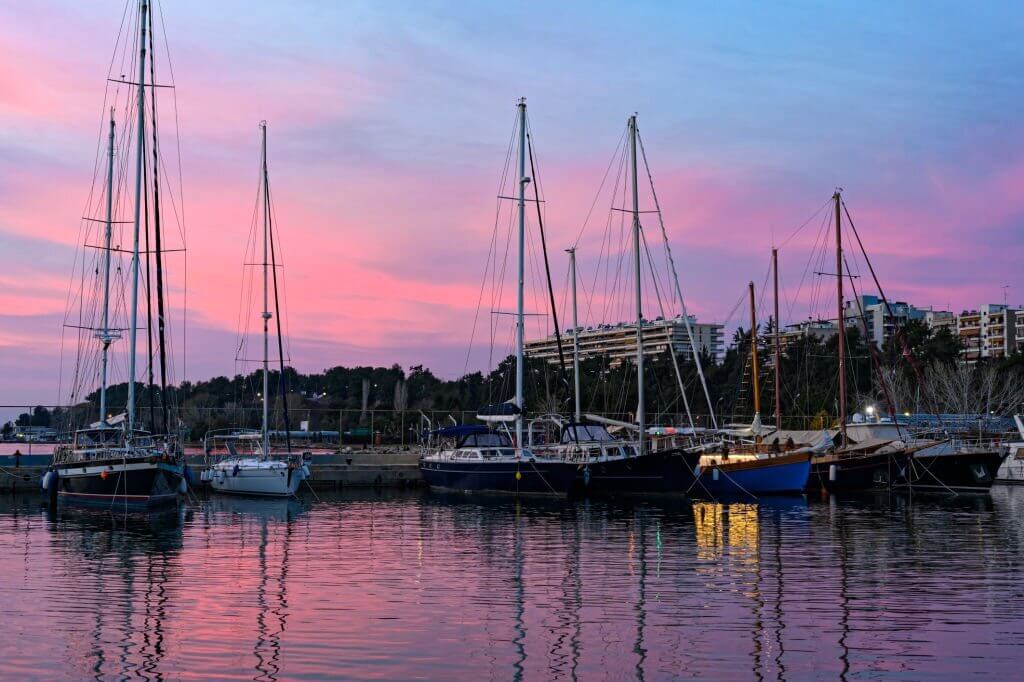 For accommodation, Melon Suites in Kalamaria provide a comfortable place to stay, and nearby attractions include the Exhibition Museum, Archaeological Museum, and White Tower. Offering more than a spot for water activities, Kalamaria Beach provides breathtaking views and beautiful sunsets. As a popular destination, it tends to be busy in summer, suggesting that an early visit may be the best way to enjoy the beach.
3. Asprovalta Beach
Asprovalta Beach is located on the outskirts of Thessaloniki Cit. It is a dynamic beach destination that offers a mix of social interaction and beach sports. Asprovalta Beach is located on the outskirts of Thessaloniki and is accessible by both car and public bus, with various routes connecting the city to the beach. Due to its popularity, the beach area has various accommodation options, including hotels and holiday homes. The wide sandy beach has plenty of room for sunbeds, a playground, and a sandcastle building, making it a perfect place for children to play volleyball games and participate in water sports. Tall trees lining the beach provide natural shade against the strong sun for those looking to relax.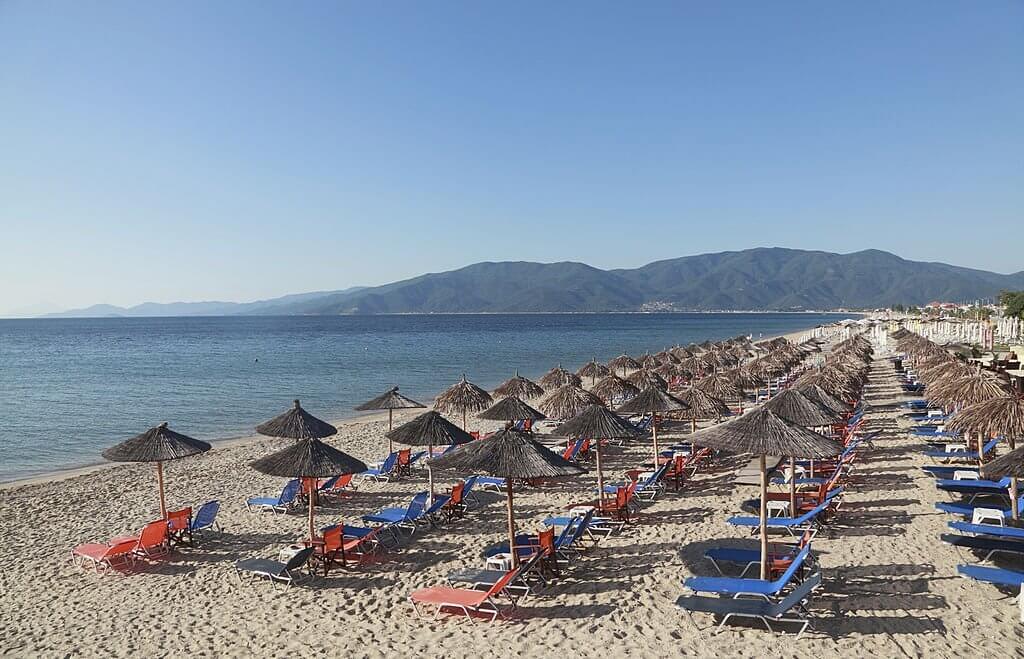 A family-friendly and budget-conscious accommodation option is the Saint George Hotel, conveniently located just 100 meters from the beach and close to the town centre. This hotel also allows pets. Although this tourist spot is more relaxed than other resorts near Thessaloniki, it remains popular, especially for families. The beach has a mix of pebbles and fine sand, and a promenade invites visitors for leisurely walks and coffee breaks. Many cafes and restaurants are scattered across the landscape, and the beach has facilities for visitor comfort. Its waters are safe for children to enjoy.
4. Perea Beach
Perea Beach is located in a village near Thessaloniki, extends nearly two kilometres and proudly showcases the prestigious Blue Flag award, like its two closest neighbours. Open all year and liked by locals and tourists, this well-organized beach often fills with visitors. Even with the heavy traffic from passenger and cargo ships at the Thessaloniki port, tourists often choose the clearest waters for swimming, a feature well-met by Perea Beach. The fairly small beach is covered by fine dark sand, and while the water might not have the typical sky-blue colour, its quality is top-notch.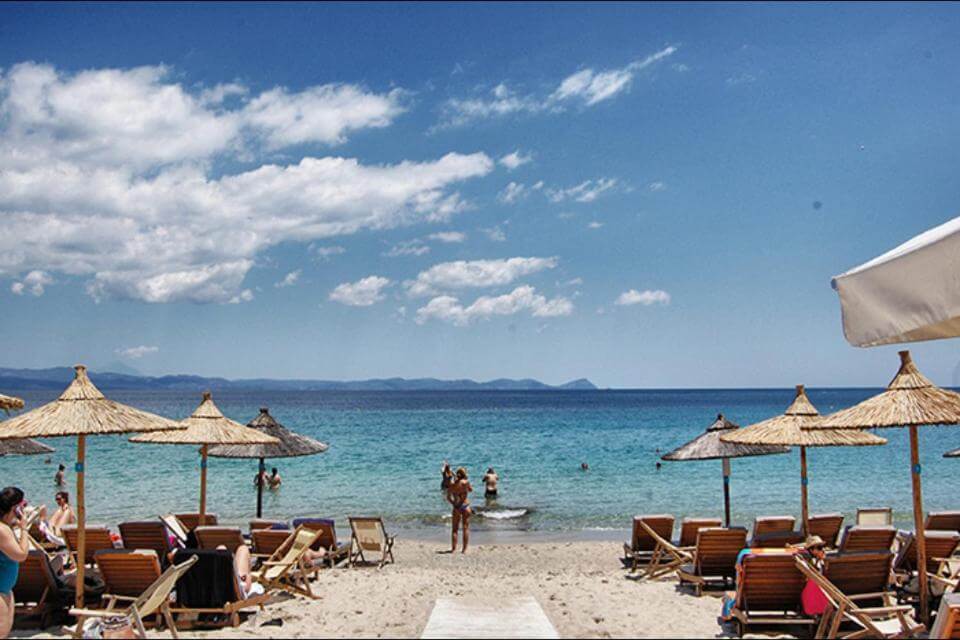 The beach slope gradually leads to a sudden increase in depth, making the beach suitable for both children and diving fans. Nearby cafes and taverns provide a break from the heat, with a bought drink securing access to a deck chair and umbrella for the day, often arranged along the beach's edge under the cooling shade of nearby pine trees. The highlight of Perea Beach is its energetic atmosphere, with active groups, constant music, afternoon beach meetings over coffee, and sunset parties in taverns. Many visitors choose day trips, soaking up the sun, swimming, dining, and watching children play in the water. Next to the beach are numerous food shops, boutiques, sweet shops, and arcade games, while the long pier calls for endless leisurely walks.
5. Vrasna Beach
Vrasna Beach is a tourist spot close to big cities like Thessaloniki, Kavala, Serres, and Drama in Central Macedonia. This well-kept beach has earned a "Blue Flag" award from the European Union, highlighting its clean and well-maintained status. Visitors to this beach can swim in the clear waters of Strymonikos Bay. The beach has sun loungers where visitors can relax and enjoy an iced coffee which is free to use with a minimum order at the beach cafe.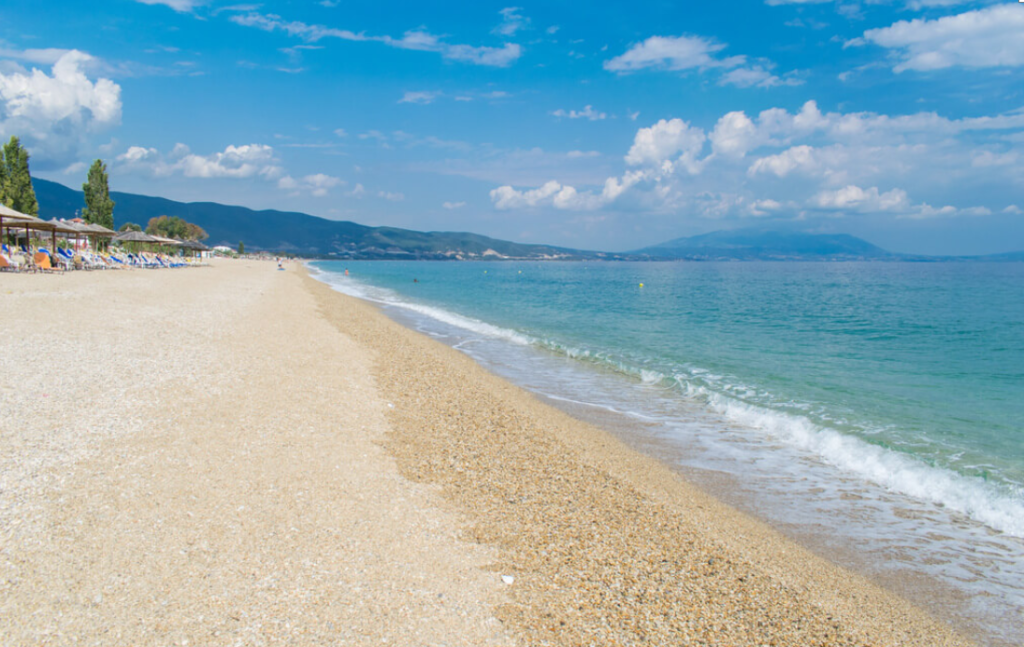 At night, Vrasna Beach offers fun activities to match its daytime beauty. Visitors can enjoy a slow or fast-paced night at the beach's restaurants, cafes, and bars. The beach is known as the longest European beach as it spans 10 km long. Its turquoise water is so clear it can reach up to 30 metres from the shore.
6. Stavros Beach
Stavros Beach in Strimonikos Bay,  just a 40-minute drive from Thessaloniki airport. Stavros Beach is a part of a 10km stretch of coastline divided into two parts by a small port and a dock. Depending on personal preference, visitors can choose between sandy or rocky areas. Some cafes provide free deck chairs and umbrellas with any purchased drink. It's worth noting that the beach is well-equipped with showers, changing rooms, and lifeguard services, ensuring a safe and comfortable experience for all visitors. It also offers easy access for disabled people. This beach is a decent choice for those seeking a relaxing holiday destination.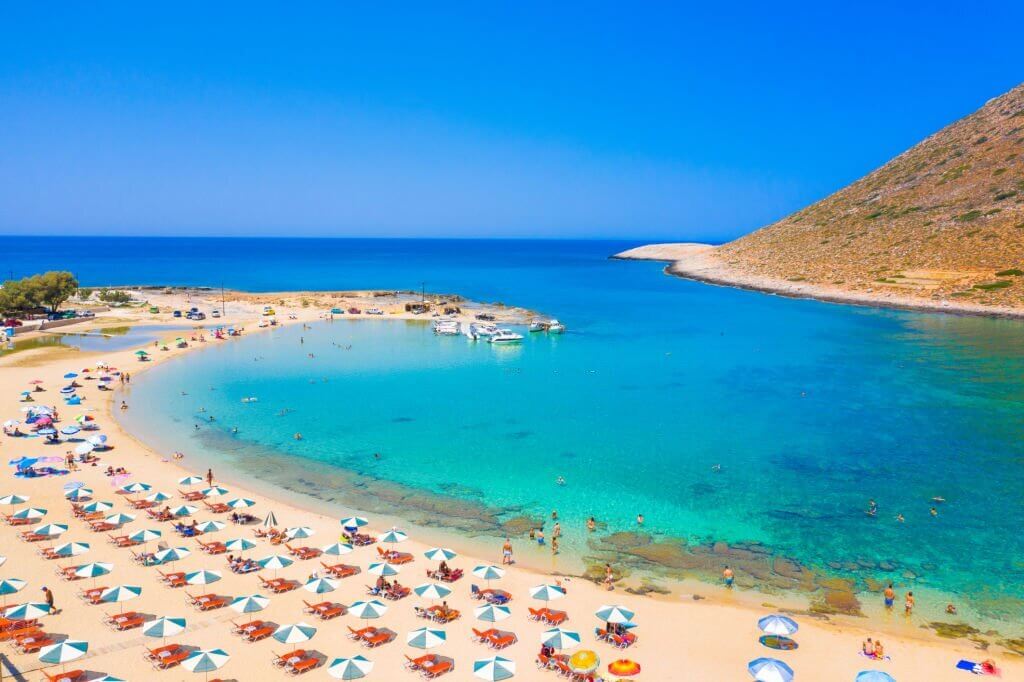 Despite being somewhat stoney, the calm and clear water of Stavros Beach is one of its main attractions. Visitors are encouraged to bring aqua shoes for comfort. The beach has a noticeable onshore breeze around 2pm, adding to its soothing atmosphere. For beachgoers interested in exploring nearby attractions, Coachella Beach and Neo Faliro come highly recommended. Coachella Beach, known for its cleanliness and good value food, is a popular choice during the day. In the evenings, many prefer to head to Neo Faliro for ocean-side dining. For stunning views and excellent seafood, Agnanti Restaurant and Lefteris seafood restaurant are worth visiting.
7. Epanomi Beach
Epanomi Beach is a large beach known for its white sand and clear waters. The beach is well organised, with sunbeds and umbrellas for visitors to relax. This beach is so windy, making it great for activities like paragliding or surfing. The beach is surrounded by tall trees and green plants, making it a mix of nature and fun activities and a popular place to visit. The Royal Hotel is a short walk from the beach for those looking for a place to stay. It's also near the airport, and the hotel has rooms with mountain or sea views. There are also bigger rooms for families or large groups.
8. Angelochori Beach
Angelochori Beach is a quiet, less crowded beach near Thessaloniki. This untouched beach remains clean, and its sand has a golden colour. The water is clear and calm, making it a perfect place for a peaceful day at the beach. A beach bar and a place to eat nearby add to the beach's charm. Even though the beach is well set up for visitors, it's good to bring everything you might need as there are few stores around.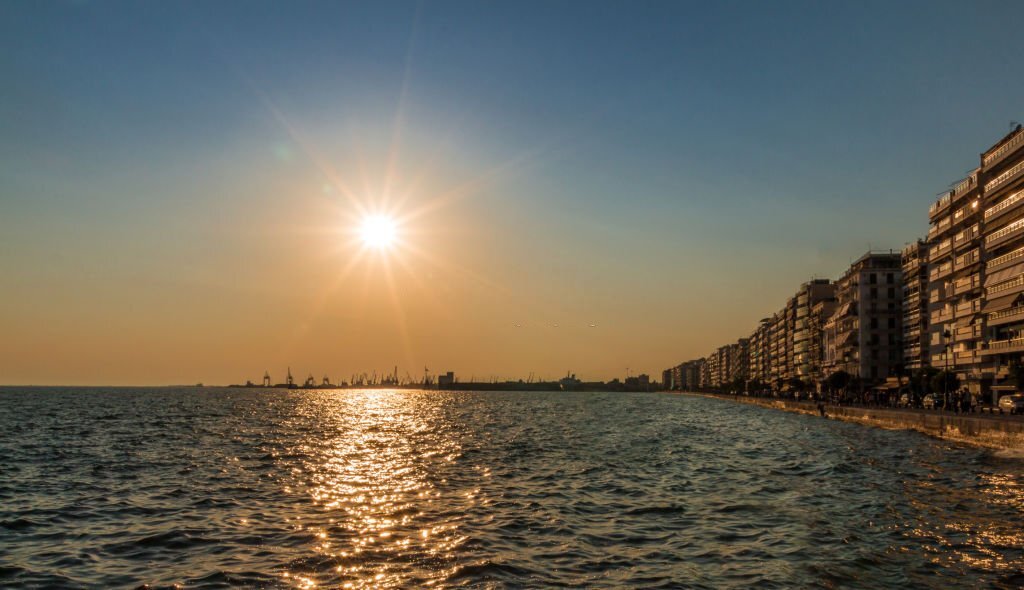 For those looking for a place to stay, the Hotel Almira is just 3 kilometres away from the beach and close to Agia Triada Beach. There are few hotels in the area because the beach is mostly visited by locals. But the Hotel Almira has rooms and apartments for visitors who want to stay close to the beach. This beach's unique beauty is perfect for those looking for a quiet place away from the crowd.
9. Potamos Beach – Epanomi
Potamos Beach offers a range of attractions for different types of visitors. The beach is big, and well set up for families, with many sunbeds available. The water is calm and shallow, perfect for swimming or snorkelling. Couples also enjoy the beach bars and restaurants with views of the sea. There are quieter parts of the beach for those looking for a peaceful place to relax.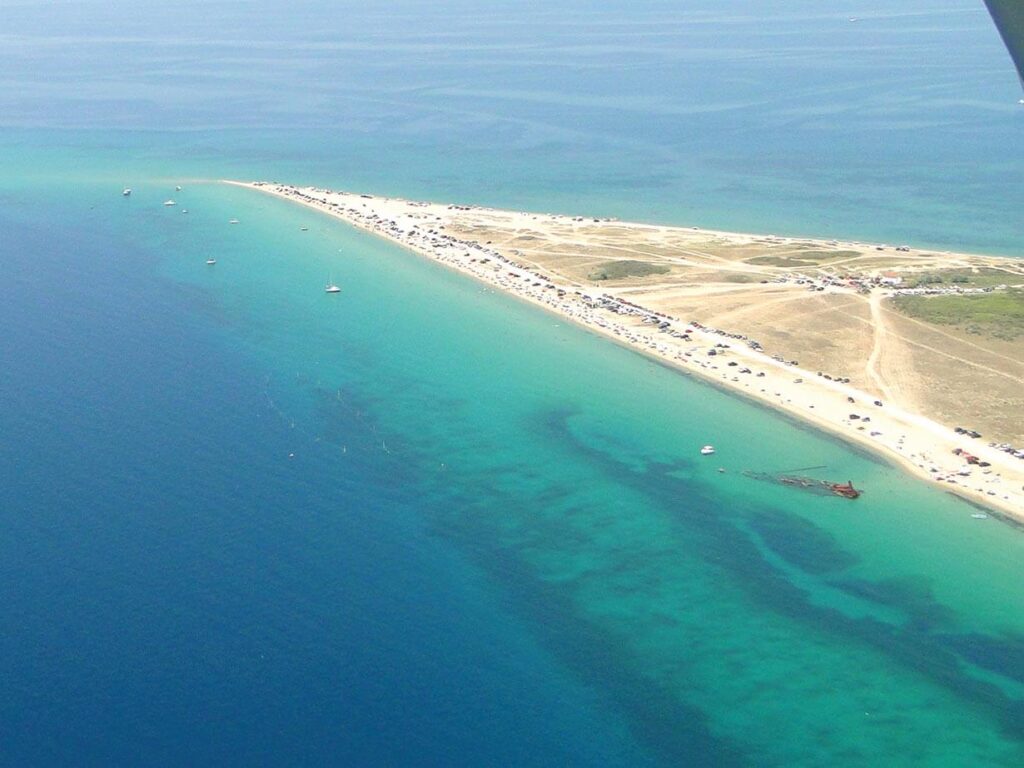 The beach is close to the centre of Thessaloniki, so it's easy to reach the city's shops and other places to visit. There are many places to stay close to the beach, such as the Enagron Ecotourism Village, Eleonas, Keramos, Delina Mountain Resort, and Perachori Boutique Studios, all within about 5 to 10 miles of the beach. There are also many places to eat near the beach, like Arodamos, Kafenio Filio, Vegera, Aravanes Taverna, and Melange Cafe. Potamos Beach offers relaxing beach time, fun activities, and easy access to the city.
10. Nea Kallikrateia Beach
Nea Kallikratia Beach, a top spot on the West Coast, attracts tourists with its long golden sands, bright clear waters, and vast, shallow shores, ideal for families with young kids. This place has two different beaches. One stands in front of the village, and the other, known as "Sahara," is at the end of the village. Both beaches have access to disabled people and lifeguard services, offering a safe and inclusive beach visit. This beach is close to Thessaloniki, only 38.4 km away, and it's right next to the centre of Nea Kallikrateia, only 0.3 km away.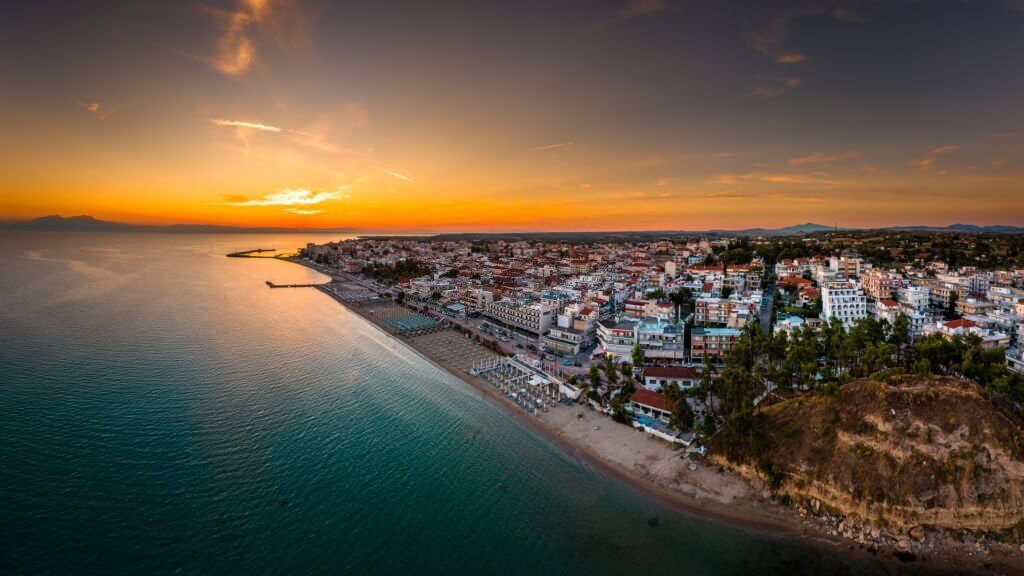 The straight coastline of the beach shows bright blue waters meeting soft golden sands. The water is shallow at the shore, perfect for all visitors, from solo travellers to families. Even in the busy season, much of the beach is free for anyone to use. Facilities like sun loungers, umbrellas, a beach restaurant, changing rooms, showers, and toilets are mostly for resort guests. Lifeguards are on duty during the season, adding to the beach's safety. The beach also hosts a range of activities. The ease of access, with the beach close to the road and parking on-site, adds to its appeal.
11. Flogita and Nea Plagia
Nea Flogita and Nea Plagia Flogita and Nea Plagia belong to Halkidiki and sit about a half-hour drive from Thessaloniki. Thessalonians own many of the town's houses and villas and frequently spend weekends here, making weekdays less crowded. The beach, spanning several kilometres, offers tourists peaceful and relaxing enjoyment. Visitors find a range of amenities, including various souvenir shops, boutiques, cafes with arranged gardens, restaurants, taverns, pizzerias, fast food joints, and pastry shops.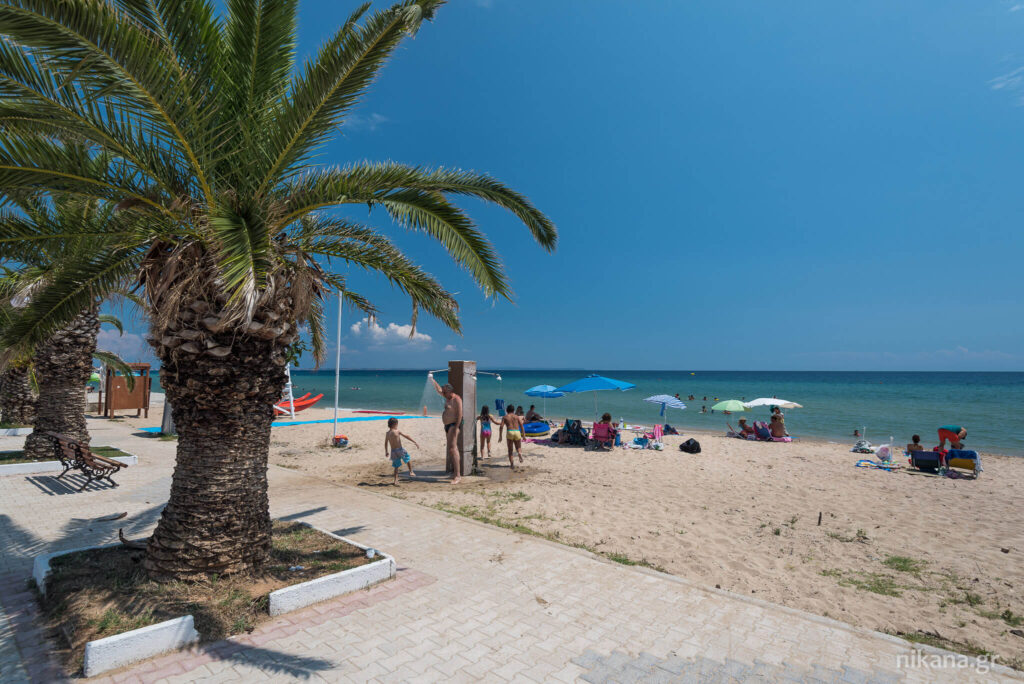 Both places have beautifully landscaped long beaches, palm trees, paved promenades, and stunning parks. A green market in Nea Flogita provides fresh fruits and vegetables. The beaches at Nea Flogita and Nea Plagia stand out with their vast sandy expanse, fine sand or gravel, and gradual depth, making them ideal for young children. The area also offers water sports and other beachside activities. Regarding supplies, the best supermarkets are Arvanitidis at Nea Plagia's entrance and Lidl's Carrefour near Nea Moudania. These towns offer easy access to Thessaloniki, the Waterland aqua park, and the Sithonia and Kassandra peninsula.
12. Agios Mamas Beach
Agios Mamas beach stretches 3,500 metres along the Toroneos Gulf. The bright blue sea calls to swimmers, while the warm sun promotes a restful environment. Visitors can access beach bars and small food places, open all day and night, offering drinks, local food, and a calming setting. The beach's clean, shallow waters and expansive sandy landscape earn it the Blue Flag eco-label each year.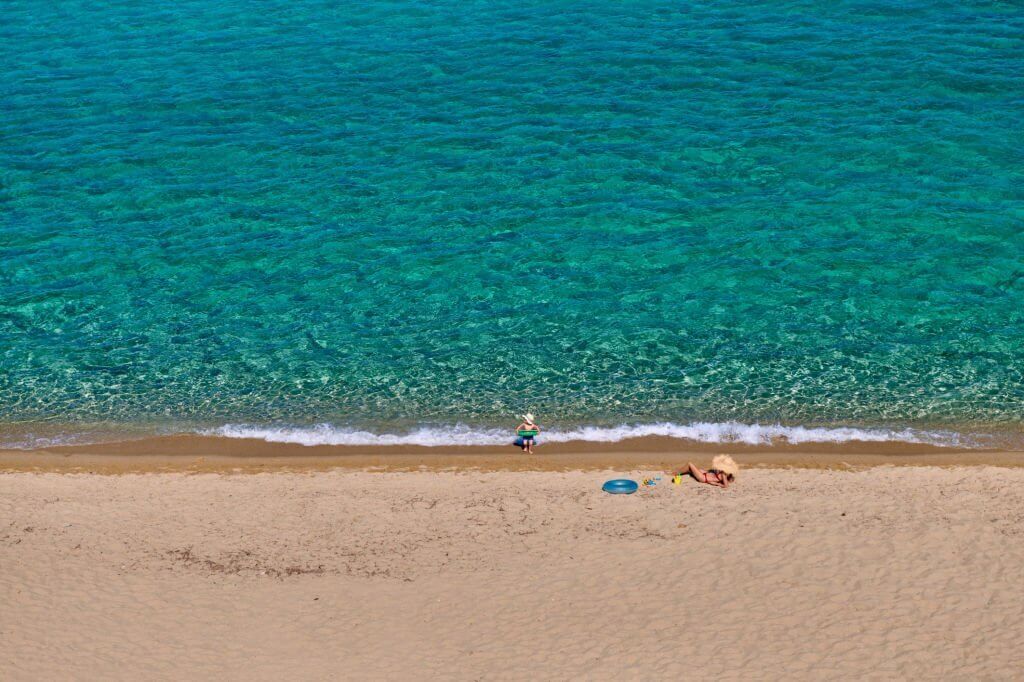 Agios Mamas beach caters to various preferences and is organised with beach bars and some new spots. It ensures safety and accessibility by offering lifeguard services and facilities for disabled individuals. The large sandy beach attracts locals and tourists with its beautiful waters. People can rent sunbeds and umbrellas for their comfort. The nearby village of Agios Mamas provides additional facilities and holds a big party every year in late August.
13. Afytos Beach
Afytos Beach is famed for clear waters, has the Blue Flag for cleanliness and ranks among the neatest beaches in Halkidiki. The beach includes four parts; Central Beach has many rocks, and getting in the water is tricky but clean. Mudunu Beach, to the right of the central one, stretches two kilometres and is a great spot for divers. It has many bars, and getting in the water is easy despite some rocks. Liosi Beach, in the middle of green hills, provides a calm setting with a small coast full of pebbles. Lastly, Verkes Bay in Afytos has a sandy seabed with calm water and an easy water entry, making it a calm retreat. Even in the busy season, Afytos Beach is not packed due to its size, ensuring a lovely spot in the sun.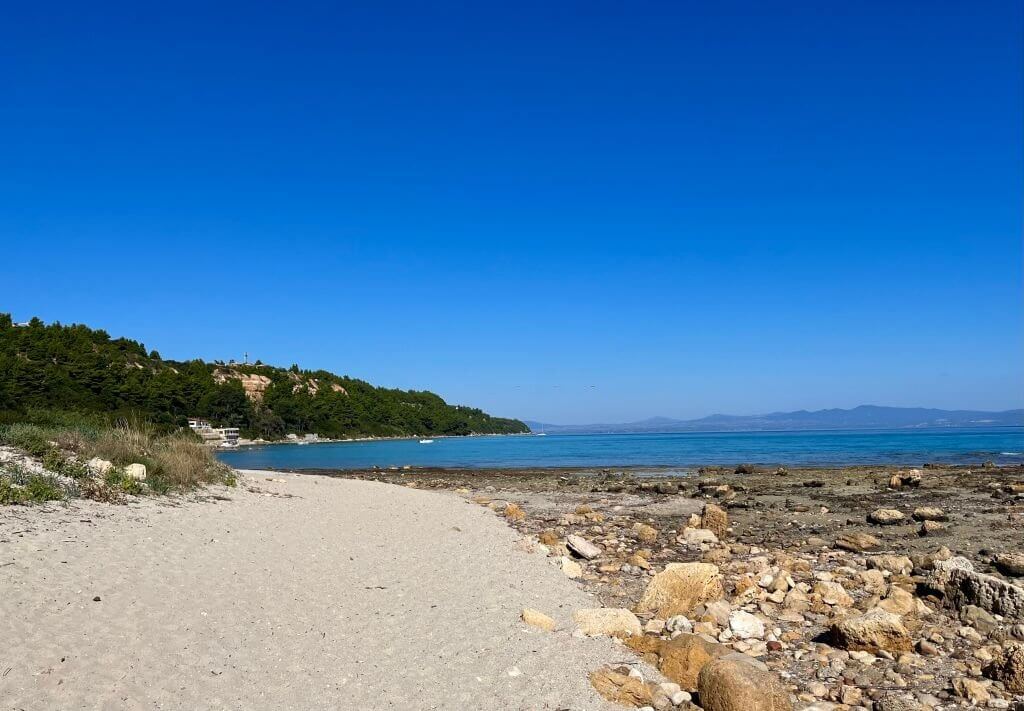 Many taverns and bars stay open late, offering cocktails and Greek food. The beach has sun loungers, umbrellas, a volleyball court, and mini-markets nearby. However, it does not have a lot of water activities and is not easily accessible for those with disabilities. The nearby village of Afytos, with unique architecture, quiet streets, and a relaxed atmosphere, offers more attractions, like the main temple, a folklore museum, and shopping opportunities. Afytos is often known as the "stone balcony of Halkidiki," as it has an observation deck with a wide coastline view.
14. Sithonia
Exploring Sithonia in Halkidiki, Greece, unveils an array of captivating beaches, each with unique charm and allure. The top beaches in Sithonia stand out for their white sand, clear turquoise waters, and generally serene ambience. Kavourotrypes Beach, often called the "Hawai of Sithonia," amazes visitors with its small white sand coves, crystal clear water, and rock formations. The beauty of the beach is amplified by the green pines that reach down to the beachfront. At the same time, Karlovasi Beach is an isolated treasure between two capes. This remote beach, located in the northern part of Sithonia, is a haven for those seeking tranquillity and privacy. The crystal-clear water and soft sand and the surrounding pine trees offer an enchanting experience. Porto Koufo Beach, considered the largest natural harbour in Greece, is also part of Sithonia's allure. This beach boasts calm, deep blue waters, making it a safe harbour for boats. The surrounding high cliffs protect the bay and provide a dramatic backdrop to the beach.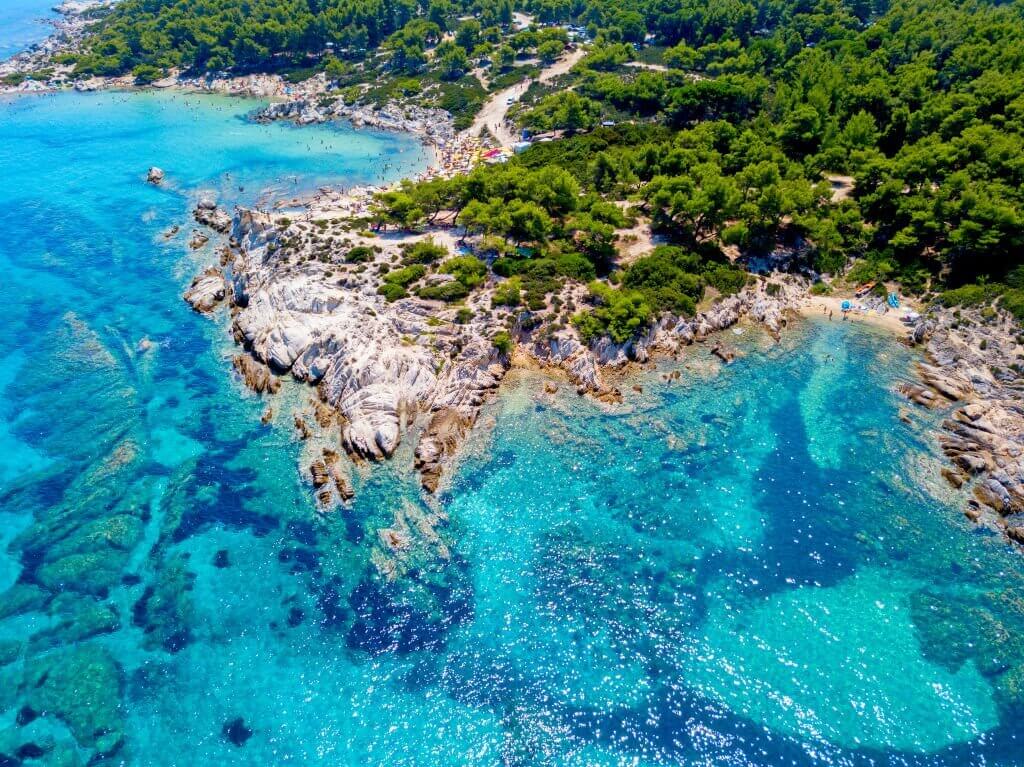 Sarti Beach, one of the longest beaches in Sithonia, stretches out with its golden sand and azure waters, offering stunning views of Mount Athos. Numerous facilities, including beach bars and water sports rentals, add to the convenience of visitors. Finally, Orange Beach, known as Kavourotrypes or Portokali, is one of Sithonia's most famous beaches. Its name derives from the orange-coloured rocks that frame the beach. The water exhibits varying shades of blue, creating a mesmerising spectacle against the white sand.
15. Kallithea Beach (Kassandra)
Kassandra, the westernmost peninsula of Halkidiki in Greece, is home to some charming and noteworthy beaches, despite being less recognised for its coastal attractions than Sithonia and Thassos. Urbanisation and construction along the coast have altered its natural landscape, rendering some of its most beautiful areas less accessible to visitors. Sani Beach, located in Sani, has been subjected to significant development but still offers a remarkable coastline. Sani Beach is surrounded by pine forests, creating a refreshing and calming environment. The beach features golden sand and clear, shallow waters, making it an ideal family spot.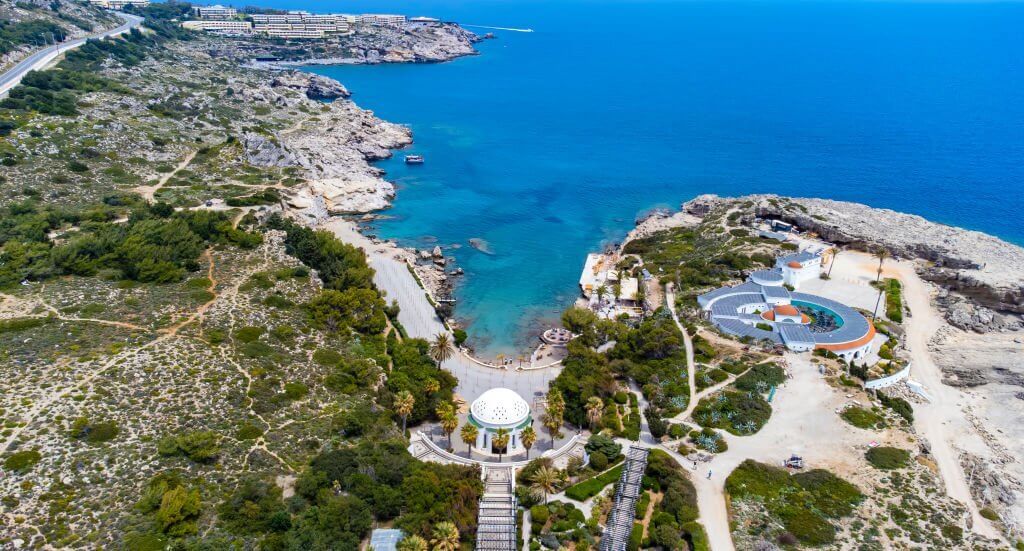 Kallithea Beach, in the heart of Kassandra, is another excellent spot. Well-known for its vibrant nightlife, Kallithea Beach attracts many young tourists. The beach is organised, offering numerous sunbeds, umbrellas, and water sports facilities. Lastly, Polychrono Beach is a Blue Flag awarded beach renowned for its turquoise waters and golden sand. This beach provides a quiet and relaxing environment, and its clear waters make it a perfect spot for snorkelling.
16. Kalamitsi Beach
Kalamitsi Beach is located on the southern tip of Sitonia and shares borders with Toroni, Sarti, and Sykia. At this beach, people can rent boats to explore nearby shores, and its soft sand provides comfort for barefoot strolls or resting on towels. It also features many beach bars where visitors rent sunbeds and umbrellas and purchase refreshing beverages or ice cream. Rates for a sunbed and umbrella set range from €5-10, excluding the drinks. Kalamitsi attracts scuba divers due to its proximity to premier underwater locations and clubs offering fast-track courses and organised undersea excursions. Though the beach lacks organised parking, the roadside adjacent to the beach offers sufficient spaces. But, in the high season, from mid-July to late August, early arrival around 10 AM increases the likelihood of finding a spot. Often, a pleasant breeze graces Kalamitsi Beach, offering a refreshing retreat on hot summer days.
17. Sarti Beach
Sarti Beach has held the Blue Flag for cleanliness over many years and stands as a sandy spot for all ages to enjoy beach activities. It is a safe playground for kids, providing ample opportunities for those who want to swim and play water sports. Among the biggest beaches in Sithonia, Sarti stretches around 3 kilometres. Some areas of the beach have chairs and umbrellas, but the beach's large size allows for quiet, peaceful spots. The sight of Mount Athos from the beach adds to the beauty, towering over the horizon. An easy reach and a calm wind, particularly during the hot months of July and August, make Sarti popular for families. Moreover, Sarti offers the best view of Mt. Athos.
18. Platanias Beach
Platanias Beach rests in the village of the Platanias, just 11km west of Chania in Crete. This area has bloomed so much that it now blends with Chania, forming a suburb. Built on a hill, Platanias village gives stunning sea sights. Summer evenings see a bustling activity hub, buzzing with locals and tourists partying till daybreak. Merging with Agia Marina Beach, Platanias forms a vast, beloved vacation spot in Crete.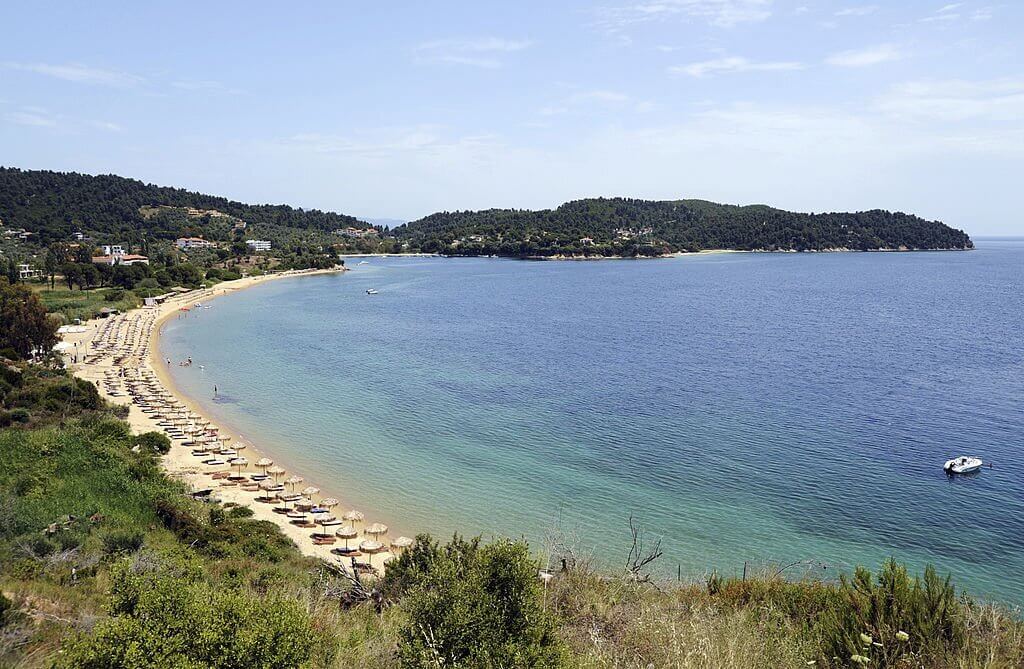 Surrounding Platanias Beach offers an ideal spot for seaside holidaymakers. This beach, one of the largest in Crete, expands east and west from Platanias, covering an entire stretch of 7 kilometres. On windy days, swimming near Agia Marina, east of the local harbour, proves quite pleasant. Although Platanias draws people who seek vibrant fun, it also invites many families with young children to savour their holidays.
19. Agia Paraskevi
Agia Paraskevi is a small village in Kassandra, the westernmost peninsula of Halkidiki in Greece. The region is known for its gorgeous beaches that boast clear, turquoise waters and golden sandy shores. The main beach of Agia Paraskevi offers a beautiful natural landscape, with olive trees providing shade and adding to the beach's relaxing ambiance. It is organised, providing sun loungers and umbrellas for visitors seeking comfort during their beach day. The waters are typically calm, making it ideal for families with children or those who prefer serene swims.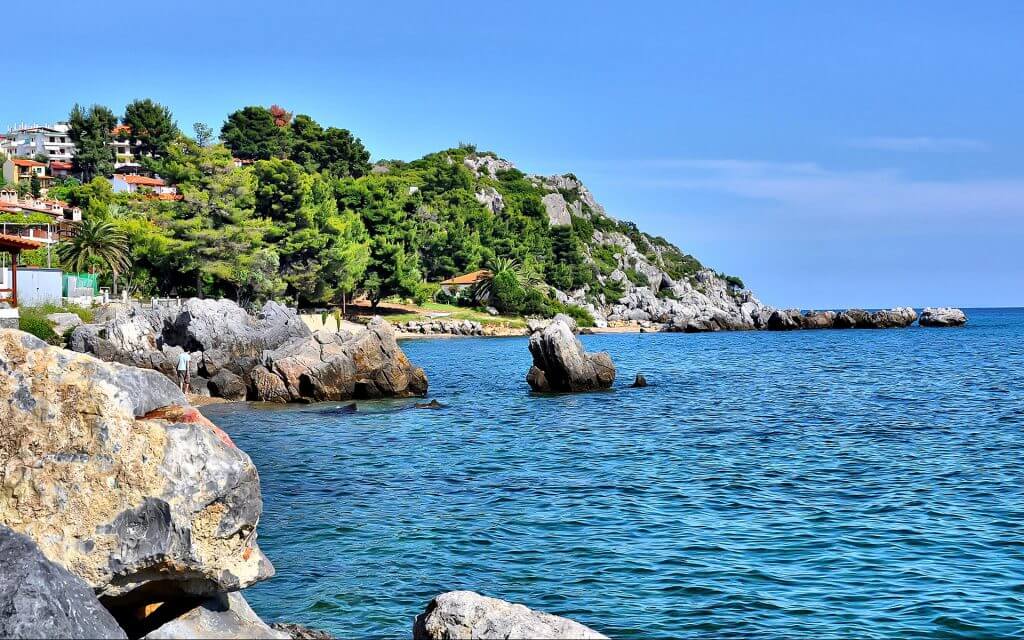 Loutra Agias Paraskevis Beach, located near the village, is more than just a seaside spot; it is a place of historical and health interest. The beach is famous for its thermal springs, which have been used since the Byzantine era and are believed to have therapeutic properties. While swimming in the clear sea waters, visitors can enjoy the unique experience of coming across hot water spots due to the thermal springs beneath. Finally, another beach part of the Agia Paraskevi area is the small yet enchanting beach of Mola Kaliva. This beach offers a more secluded atmosphere with crystal-clear waters and a pebbly shore. Mola Kaliva is less organised than the other beaches, making it perfect for those seeking a more private beach experience.
20. Nikiti Beach
Nikiti Beach is a popular destination in Sithonia, Halkidiki. At 103 km from Thessaloniki and 36 km from Polygyros, the peninsula's capital, Nikiti Beach has been recognised with the "Blue Flag" award by the Foundation for Environmental Education (FEE), making it an especially appealing destination for families with children. Once a hidden gem known mostly to local Greeks, Nikiti Beach has gained popularity over the years due to its serene, beautiful environment and its shallow waters that stretch along the coastline. The beach spans nearly 4 km, offering a sandy strip around 10 metres wide. Despite the crowd during peak season, the beach's southern outskirts offer a quieter and more secluded experience. Nikiti Beach offers a gentle water entrance and mostly clean, white sand, with the occasional pebble or stone. A small pine forest is bordering the beach, offering a shaded retreat for those wanting a break from sunbathing.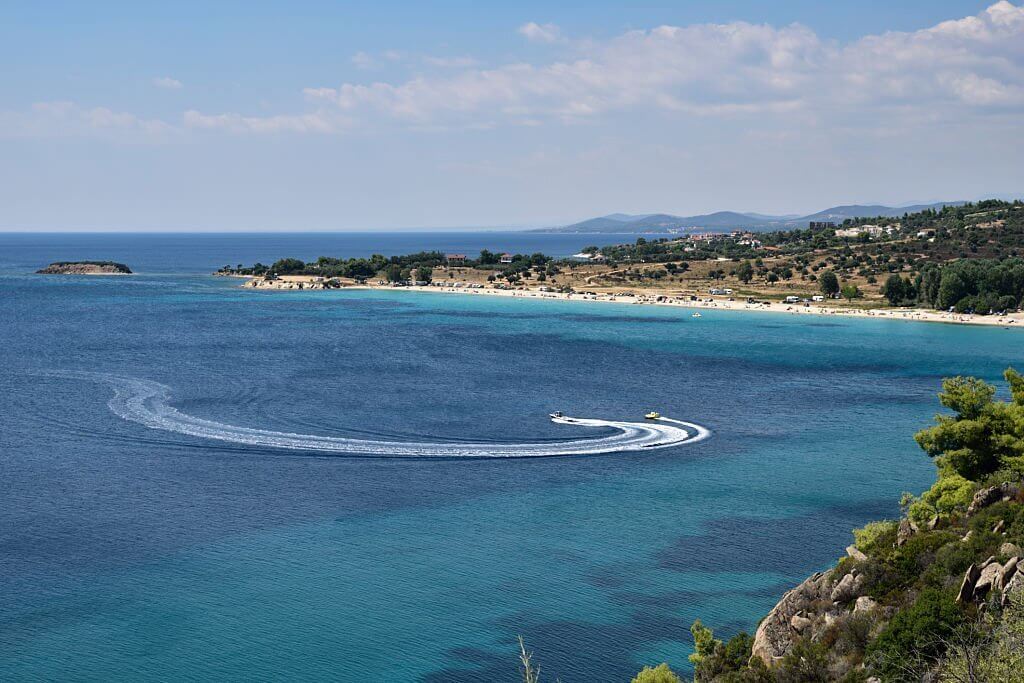 The promenade of Nikiti Beach offers a wide selection of dining options. Restaurants, taverns, and cafes line the stretch, serving local Greek cuisine, freshly caught seafood, and Greek wines and cheeses. Dessert lovers can enjoy homemade ice cream at Gelateria Ksilaki, while Mare Nostrum and Gyromania offer savoury seafood and fast-food options, respectively. As the sun sets, the terraces of Stamnagathi, PARIS Restaurant, and Barbouni Seafood offer captivating views of the Toroneos Gulf.
21. Possidi Beach
Possidi Beach allows visitors to relax and enjoy the coastal charm without feeling crowded. The beach features a unique lighthouse that stands at the cape of Possidi, adding a picturesque element to the landscape. The waters of Possidi Beach are known for their calmness and clarity, making it a favourite for families with children and those looking to enjoy a peaceful swim. The beach is known to maintain its cleanliness and order, contributing to the overall pleasant ambience. Being a well-organised beach, Possidi offers an array of facilities for the convenience of its visitors. Many sunbeds and umbrellas are available for rent, ensuring comfort for those spending the day at the beach.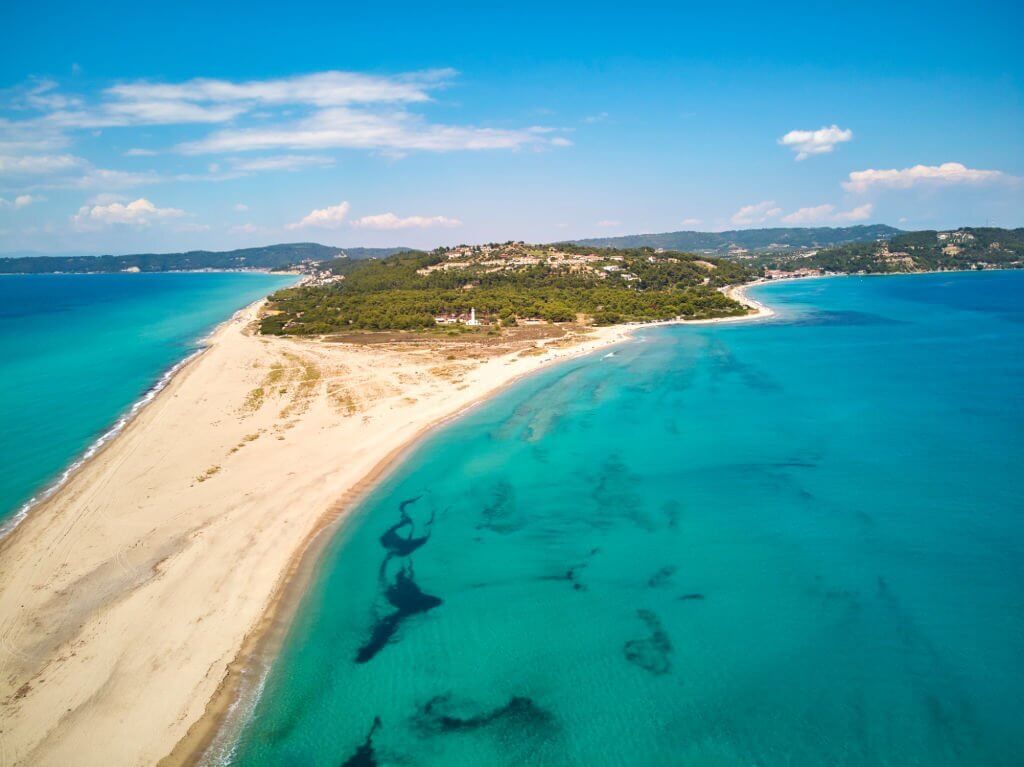 Adjacent to the beach, there's a variety of taverns and cafes serving a range of culinary options, from local Greek cuisine to international fare. The options cater to various tastes, ensuring every visitor has a satisfying dining experience. Possidi Beach's surrounding area also offers accommodation options, with various hotels and apartments available for visitors planning an extended stay. Besides, the beach is relatively close to the town of Kassandra, allowing visitors the opportunity to explore the local shops, markets, and other attractions.
Which are the best beaches in Thessaloniki?
Listed below are the best beaches in Thessaloniki.
Perea Beach: Perea Beach is a popular destination located about 15 kilometres southeast of Thessaloniki's city center. This well-organised beach offers a vast sandy area, where beachgoers can enjoy the sun and the clear waters of the Aegean Sea. Cafes, restaurants, and beach bars line the coast, offering a variety of food and drink options to visitors. The view of Mount Olympus on clear days enhances the natural beauty of Perea Beach.
Nea Irakleia Beach: The beach of Nea Irakleia offers a peaceful retreat from the bustling city life. Its clear waters and fine sand make it a favourite among both locals and tourists. Its shallow waters make it safe for children, and the surrounding area features several tavernas where visitors can enjoy local Greek cuisine.
Angelochori Beach: Angelochori Beach, located approximately 30 kilometres west of Thessaloniki, provides a unique beach experience. This sandy beach is particularly popular for kite and windsurfing due to the favourable winds in the area. The beach also boasts a lively atmosphere with beach bars playing music throughout the day. It's a great location for people looking for a beach that offers both relaxation and activity.
Potamos Epanomi Beach: Potamos Epanomi Beach is located about 25 kilometres southwest of Thessaloniki and is another favourite among locals and tourists. This beach is known for its wide expanse of golden sands and it's clear, shallow waters, making it ideal for families. In the surrounding area, there are several vineyards and wineries, which offer tours and tastings to visitors, adding to the overall appeal of the area.
Agia Triada Beach: Agia Triada is a sandy beach located approximately 20 kilometres southeast of Thessaloniki. Offering a blend of natural beauty and good amenities, this beach attracts both families and younger crowds. It is well-organised with beach bars, restaurants, and tavernas nearby, serving a variety of food and drinks to suit different tastes.
Which are the most famous beaches in Thessaloniki?
Thessaloniki, Greece's cultural capital, also holds the distinction for its famous beaches that draw visitors from all corners of the world. These include the serene Angelochori Beach, the bustling Epanomi Beach, and the picturesque Aretsou Beach. Each of these beaches not only offers inviting, crystal-clear waters and golden sands but also a slice of Thessaloniki's vibrant local life, making them popular destinations for both locals and tourists alike. These beaches collectively represent the coastal allure of Thessaloniki, adding another dimension to the city's diverse appeal.
Listed below are the most famous beaches in Thessaloniki.
Peraia Beach: Peraia Beach is among the region's most famous spots, just a short distance from Thessaloniki's city centre. This beach is praised for its vast sandy stretches and clear Aegean waters. Visitors can enjoy the beachfront cafes, restaurants, and bars, contributing to a lively atmosphere. The remarkable view of Mount Olympus from this beach enhances its allure, making it a must-visit location.
Nea Irakleia Beach: Nea Irakleia is known for its serene, clear waters and fine sand, making it an ideal spot for families and anyone seeking a peaceful beach experience. Several nearby tavernas offer an opportunity to taste local Greek cuisine, adding to the charm of Nea Irakleia Beach.
Agia Triada Beach: Agia Triada Beach, approximately 20 kilometres southeast of Thessaloniki, is famous for its beautiful sandy stretches and the amenities it offers. This well-organised beach features several beach bars, restaurants, and tavernas, making it popular among families and younger crowds. The beach's natural beauty and various amenities make it a popular choice for beachgoers.
Which are the most scenic beaches in Thessaloniki?
Thessaloniki embraces some of the most scenic beaches that perfectly blend azure waters, golden sand, and stunning landscapes. From serene seclusion to thriving seaside towns, the beaches around Thessaloniki cater to various tastes.
Listed below are the top scenic beaches in Thessaloniki:
Angelochori Beach: Angelochori Beach, located approximately 30 kilometres from Thessaloniki, is known for its picturesque views. Offering a panoramic view of the Thermaic Gulf and Mount Olympus, this beach is a treat for the eyes. The beach's tranquil atmosphere and the surrounding wetlands, home to numerous bird species, augment the beauty of this location.
Epanomi Beach: Epanomi Beach, just about 25 kilometres southeast of Thessaloniki, offers a serene and scenic seaside spot. With its golden sand and crystal-clear waters, this beach provides a stunning relaxing setting. The dunes and surrounding vineyards enhance the area's scenic beauty, making it a favourite among nature lovers.
Aretsou Beach: Aretsou Beach, in the Kalamaria district of Thessaloniki, provides striking views of the city's coastline. This beach, with its long stretch of sand and clear, shallow waters, is a wonderful place to enjoy a day by the sea. The view of the city lights at night adds an extra touch of beauty to the overall scene.
Which is the best month to visit Thessaloniki?
Thessaloniki, with its Mediterranean climate, is a year-round destination. However, the best month to visit is considered to be September. During this month, the city enjoys moderate temperatures, ranging from 18°C (64°F) to 28°C (82°F). This relatively mild weather allows visitors to comfortably explore the city's ancient sites, indulge in its vibrant street life, and enjoy the beautiful beaches. The city is also less crowded in September, as the peak tourist season of July and August has ended, providing a more relaxed atmosphere. Additionally, the Thessaloniki International Film Festival takes place in September, offering movie enthusiasts an opportunity to enjoy a variety of films from around the world.
What are the top things to do in Thessaloniki besides the beaches?
Thessaloniki, beyond its picturesque beaches, brims with diverse attractions. Visitors can delve into the city's history at the iconic White Tower, housing a museum and offering panoramic city views from its peak. The Rotunda is a testament to Thessaloniki's rich cultural past, transitioning from a Roman mausoleum to a mosque and now serving as an Orthodox church. A walk through Ano Poli, the old town, unveils traditional houses, Byzantine walls, and stunning vistas. Meanwhile, the Archaeological Museum of Thessaloniki hosts an array of Macedonian artefacts, illuminating the region's ancient history. Aristotelous Square, the city's main hub, teems with shops, cafes, and restaurants, creating an ideal locale for shopping, dining, or simply people-watching. The award-winning Museum of Byzantine Culture boasts a comprehensive collection of Byzantine artefacts, encapsulating the city's vibrant Byzantine heritage. The Church of Agios Dimitrios, dedicated to the city's patron saint, Saint Demetrius, is a major pilgrimage site distinguished by its exquisite mosaics and relics. With great historical sites, museums, cultural venues, and markets, Thessaloniki ensures a fulfilling exploration experience.
What do you need to know about Thessaloniki as a tourist?
Tourists considering Thessaloniki as their next destination might find the following points helpful:
Historic Landmarks: Thessaloniki, rich in history, houses numerous historical landmarks. Notable sites include the White Tower, Rotunda, and the ancient city walls in Ano Poli.
Delicious Cuisine: Thessaloniki, often called the culinary capital of Greece, is known for its delicious local dishes. The Modiano and Kapani markets are excellent spots for tasting local produce and street food.
Convenient Transportation: Some public transportation in Thessaloniki is not available. The best option for tourists is to rent a car to explore and experience the island fully.
Weather: Thessaloniki has a Mediterranean climate. The best time to visit is spring or fall when the weather is mild and pleasant.
Festivals: Thessaloniki hosts numerous festivals annually, including the Thessaloniki International Film Festival and the Thessaloniki Food Festival.
Currency: Greece uses the Euro as its currency. Credit cards are widely accepted, but having cash on hand is advisable for smaller establishments.
Shopping: Thessaloniki offers a variety of shopping options. From the luxury shops in Tsimiski Street to the boutiques in Proxenou Koromila and the traditional markets, there's something for every shopper.
Museums: The city is home to many museums, including the Archaeological Museum of Thessaloniki and the Museum of Byzantine Culture, each displaying unique aspects of the region's rich history.
How to get around Thessaloniki?
Thessaloniki provides a range of transportation options to get around Thessaloniki that suit different needs. Public buses offer convenience and affordability, taxis offer quick and metered rides, and car rental services provide flexibility for independent exploration. Car rental services are widely available in Thessaloniki for those seeking flexibility and independence. Renting a car allows you to explore the city and its surrounding areas at your own pace, offering convenience and the ability to visit remote locations. Various car rental companies operate in the city, offering various vehicles to cater to individual preferences.
Potos Car Rental is known for providing the best Thessaloniki car rental service. They have been in the car rental business since 1988, with a friendly staff, a great collection of cars and a good insurance package. They have the most reliable drivers in all of Thessaloniki. Also, they provide you with the best and most luxurious cars so you travel comfortably with style.
Do you need to rent a car to visit the Thessaloniki Beaches?
Yes, renting a car is necessary when travelling to the beaches of Thessaloniki. Some beaches are not accessible by public transportation, but a car can. Renting a car when visiting a beach will also guarantee the safety and comfort of travelling with companions. Also, cars can take anyone to any beach as long as it has a road and is perfect for other sightseeing plans.
What are the things to consider while renting a car in Thessaloniki?
Here is a list of things you must consider while renting a car in Thessaloniki:
Insurance. It is necessary that you have a working debit or credit card and Collision Damage Waiver insurance while renting a car to guarantee that the owner will get it back in the same condition. If you do not have either of them, then you have to pay extra money to guarantee safety. Also, any insurance does not cover the glass and mirror destruction, so if it happens, we would suggest that you call for help and stay there.
Drivers Age. The driver must be over 21 years old and have a valid driver's licence to drive the car. There are some companies as well whose age limit starts from 23 years.
Driver's Gender. Thessaloniki does not discriminate between a man and a woman. Both men and women can drive or rent a car in Thessaloniki.
Car Type. You must look at how many people and luggage you have before renting a car. You can inform the rental service provider about it, and then they will send the car which will be suitable for all of you.
Required Documents. The rental car provider will need your credit card details and driver's licence under the name of the driver to avoid any unnecessary disaster. If the first driver does not have a valid driving licence, the second driver's licence must be needed.
How much does a car rental cost in Thessaloniki?
On average, renting a standard car for a week in Thessaloniki would cost around €280. However, it's important to note that prices can range from €154 to €595 per week, depending on factors such as the size of the car, additional features (like automatic or manual transmission), and the number of people it can accommodate. Car rental in Thessaloniki is mainly served by the Airport as the main pick-up and drop-off location for most companies in the area. Most rental packages include unlimited mileage, allowing customers the freedom to explore the region without additional charges. It's worth mentioning that rented cars typically need to be returned with the same amount of fuel to avoid extra fees.