Thessaloniki is a city that offers a variety of brunch and breakfast options at its vibrant cafes, each providing its unique spin on dining experiences. Among them, Estrella stands out for its globally inspired dishes, particularly its innovative bougatsa, and boasts an all-day breakfast menu with various options. Le Jardin Extraordinaire Café charms with a dessert or appetiser with every coffee or beer in a smoke-free environment, while the SKYLINE – OTE Tower provides a distinctive dining experience with a panoramic cityscape view. Oberon is praised for its modern ambience and extensive brunch menu, and Brunchsin is known for turning brunch into an event with its artful presentations and creative dishes. Cafés like Le Nouveau Café, Lena's Bistro, and La Nina Frida impress with their prime locations and unique offerings. Le Nouveau Café, with its sea view and bustling Aristotelous Boulevard, presents a mushroom sandwich and a complimentary bottle of water. Lena's Bistro stands out for its personalised service and its homemade lemonade. In contrast, La Nina Frida offers an artistic ambience reminiscent of European cities, with praised offerings including homemade sweets and sandwiches. Other cafes, such as Byzantio Skybar & Bistro and Menta, bring unique experiences to the culinary scene of Thessaloniki. Each cafe contributes to Thessaloniki's rich and diverse brunch and breakfast scene.
In Thessaloniki, several car rental services offer convenient and flexible ways to explore the city's vibrant cafe scene. Well-known local car rental agencies, such as Potos Car Rentals, maintain a strong presence in the city. These companies offer a diverse fleet of vehicles, from compact cars for city driving to larger vehicles for families or groups. For those planning a cafe-hopping itinerary in Thessaloniki, renting a car provides the freedom to discover hidden gems scattered across the city at a leisurely pace. The route might start from the city centre with visits to popular brunch spots like Estrella and Le Jardin Extraordinaire Café. A drive along the coast would lead to Oberon Cafe · Bar · Restaurant, famous for its sea view. Further exploration could lead to Byzantio Skybar & Bistro, known for its panoramic city view. In short, a rented car offers the flexibility to visit these cafes based on personal preferences and schedules.
Listed below are the best Cafes for Brunch and Breakfast in Thessaloniki:
Estrella: Estrella has gained fame as a favourite brunch spot for reinventing the beloved bougatsa with innovative fillings. With a laid-back, contemporary atmosphere, this cafe serves a variety of globally-inspired dishes alongside its signature bougatsa.
Le Jardin Extraordinaire Café: Le Jardin Extraordinaire Café captivates with its enchanting garden setting and warm, inviting ambience. Patrons can enjoy a range of brunch items, from traditional Greek pastries to hearty sandwiches and fresh salads.
SKYLINE – OTE Tower: Offering panoramic views of Thessaloniki, SKYLINE – OTE Tower provides a brunch experience like no other. Visitors can take in the stunning cityscape from this iconic tower as they dine on the delectable offerings.
Oberon Cafe · Bar · Restaurant: Oberon boasts a spacious, modern interior and an extensive brunch menu that caters to a wide range of preferences. Oberon stands out as a versatile brunch destination with everything from classic egg dishes to vegetarian options.
Brunchsin: Known for its artful presentations and creative dishes, Brunchsin turns brunch into an event. This stylish cafe serves a variety of flavorful options, including pancakes, omelettes, and unique sandwiches, each plated with an attention to detail that adds to the dining experience.
1. Estrella
Estrella has gained global attention with its all-day breakfast and brunch menu, boasting various options from eggs cooked to perfection to pancakes, burgers, pasta, and fresh juices, available from early morning to late evening. Its signature dish is the bougatsan, a croissant with hot bougatsa cream. Other standout dishes include the pizza made with yeast from the famous Thessaloniki Koulouri and the Ottoman burger.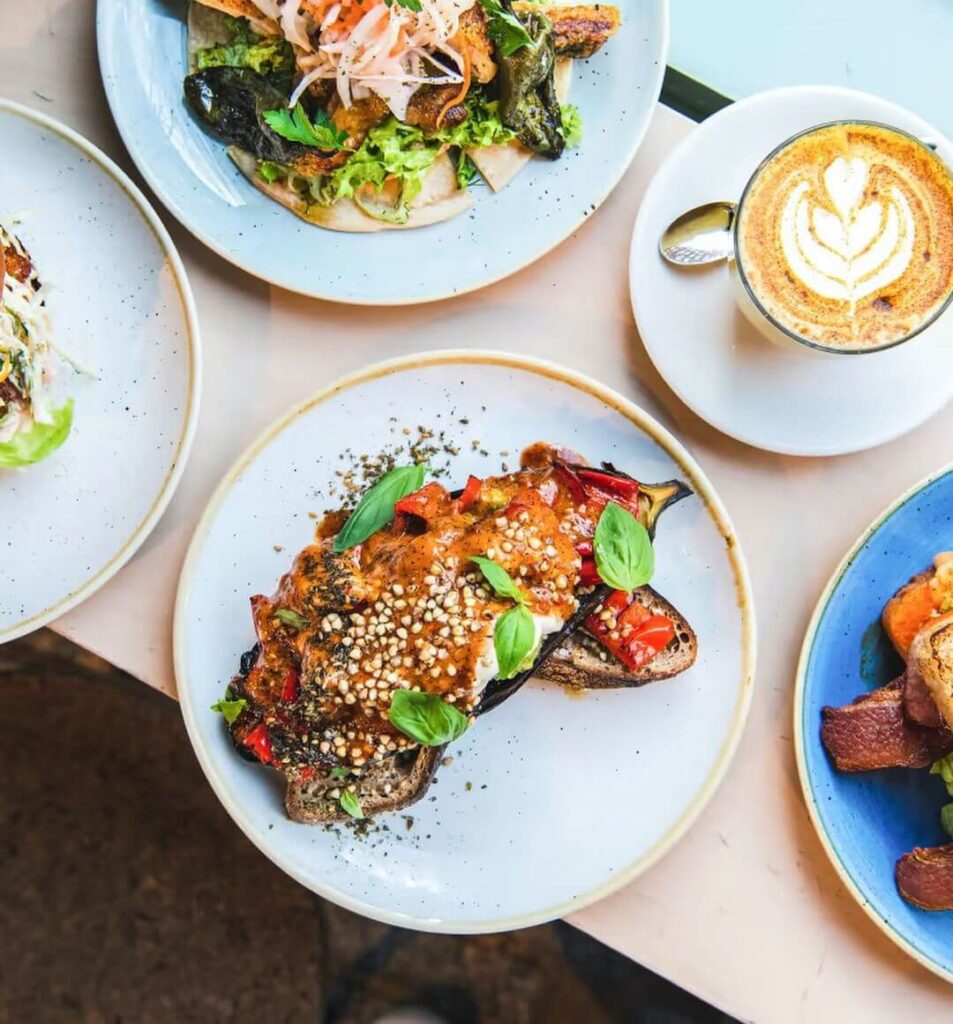 For beverage options, Estrella offers healthy seasonal fruit juices, speciality 3rd generation private roasting coffee, and a selection of 12 types of Greek herbs. Established in March 2013, the first Estrella World Street Food restaurant is conveniently located next to the beautiful church of Agia Sofia in Thessaloniki. Its prime location near Kastoria Lake makes it the perfect ambience for a satisfying meal after a relaxing walk. Estrella's central location also means limited parking availability. Guests may have to park a few hundred metres away from the restaurant. Estrella operates from 8 am to 11 pm Monday to Saturday and until 10:30 pm Sunday. Given the restaurant's busy atmosphere, any time of day is an excellent time to visit, whether for a morning breakfast, a late lunch, or a relaxed dinner.
2. Le Jardin Extraordinaire Café
Le Jardin Extraordinaire Café occupies a prime location in the city's heart. This café has earned a reputation for its unique menu – a free dessert or appetiser with every coffee or beer. In line with health consciousness, it promotes a smoke-free environment until 1 pm.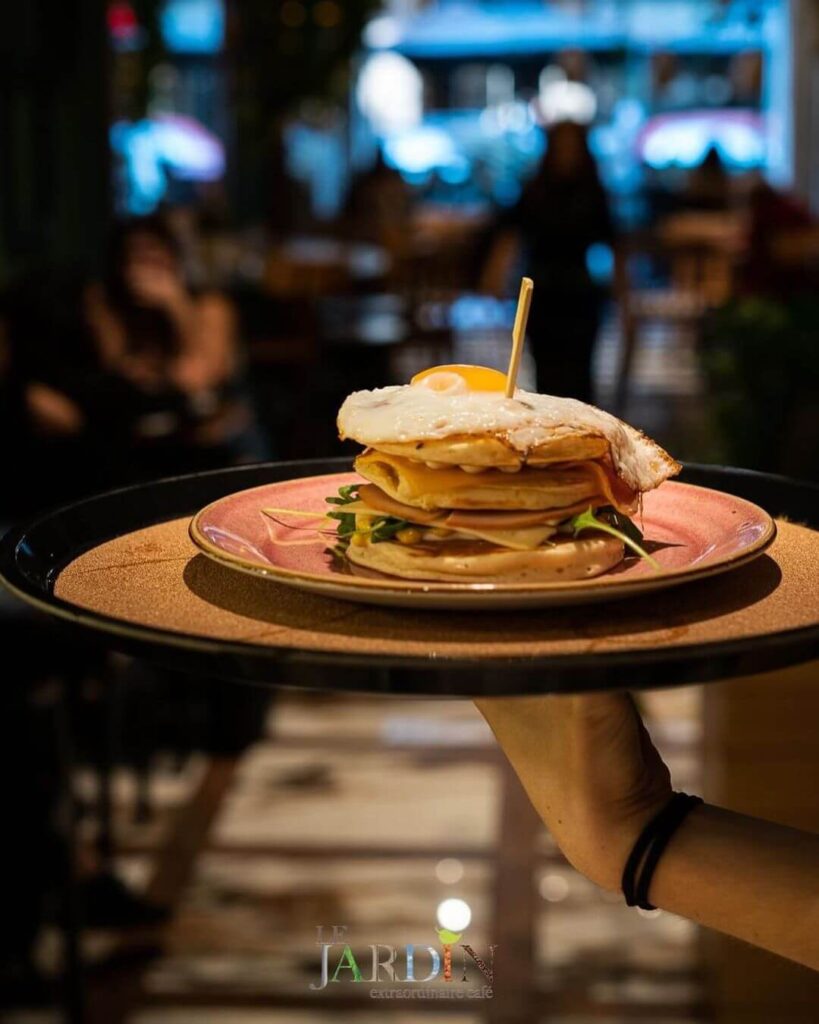 The popularity of Le Jardin Extraordinaire Café stems from its customer-friendly policies and charming ambiance. The interior ambience is tastefully decorated, creating a cosy atmosphere that many guests appreciate. In addition to the café's excellent service, the idea of serving a pastry of choice and a cup of coffee attracts a steady stream of regular customers. This successful approach has sustained its operation for a decade, marking a milestone in the café's history. The anniversary was celebrated with the launch of a surprising catalogue, a testament to the bond between the café and its customers. In addition to in-person dining, Le Jardin Extraordinaire Café offers takeaway service and partners with e-food platforms for deliveries, extending its reach beyond the café's physical location.
3. SKYLINE – OTE Tower
Skyline Café-Bar, recently renovated, stands at the heart of Thessaloniki city. It is uniquely positioned on the top floor of the OTE Tower, providing a spectacular 360-degree view of the city. The café-bar, offering a range of cuisines such as bar snacks and cafe dishes, is a hotspot for breakfast, brunch, and drinks.
For an hour, patrons can take a panoramic view of the city. The drinks are slightly higher priced, starting at €7 for a beer bottle, reflecting its exclusive location and menu. Although the structure of the building limits the size of the kitchen, the café-bar provides a delightful array of cold dishes and snacks. All tickets include snacks, depending on the type of ticket purchased. Souvenirs are also available for guests to remember their experiences.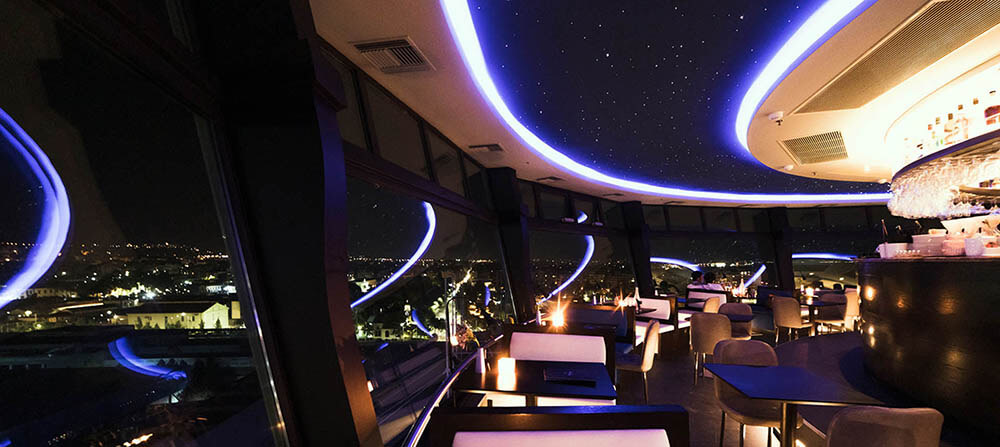 In the evening, Skyline Café-Bar morphs into a romantic ambience. As the night settles in, the café-bar is enlivened by the tunes from a live piano performance. The combination of music, the view, the atmosphere, and the exceptional service culminate in a truly unforgettable experience.
4. Oberon Cafe · Bar · Restaurant
Oberon Cafe, Bar, and Restaurant, located on Nikis Avenue, offers a grand new entry to the culinary scene in Thessaloniki. Oberon enjoys a privileged location with a scenic view of the Thermaikos Gulf, making it a popular spot for locals and tourists. Oberon has made a strong mark with its speciality coffee. Expert baristas meticulously prepare each cup, ensuring patrons enjoy a top-notch brew from the first sip. Along with coffee, the venue also offers various other beverages. The selection includes classic and signature cocktails prepared by skilled bartenders using the latest techniques and rare ingredients to cater to sophisticated palates.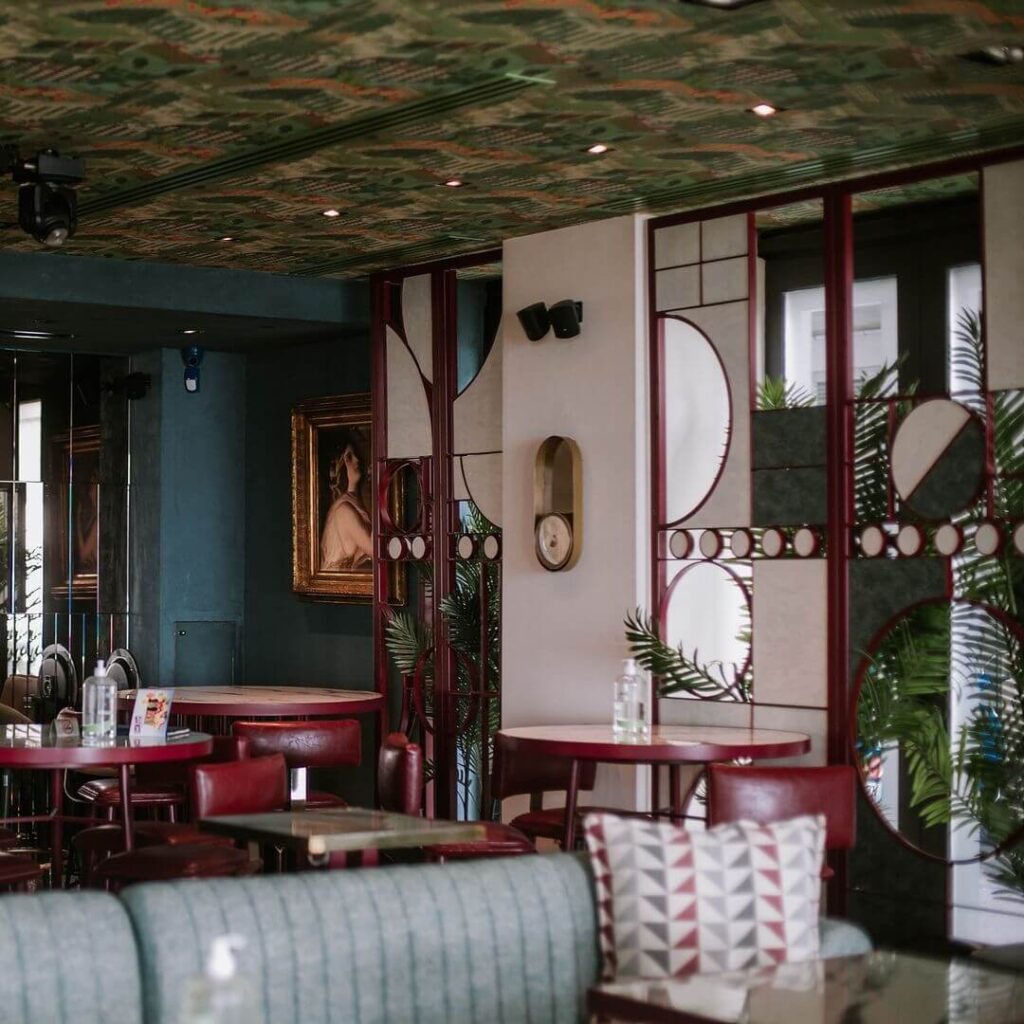 The food at Oberon complements its drink menu. Guests spoke highly of the wide range of breakfast options and tasty snacks. Special mention goes to the Oberon omelette and raves about the mozzarella pizza and club sandwich for lunch. The atmosphere at Oberon adds to its appeal. An outdoor seating area allows patrons to make the most of warm days and offers a front-row seat to the setting sun. Oberon is conveniently located just half a mile from the White Tower of Thessaloniki. A walk from the White Tower to the restaurant is relatively short and offers a chance to soak in the city's vibe.
5. Brunchsin
Brunchsin is a brunch spot sitting in the heart of Thessaloniki. Located on Paleon Patron Germanou, it has become a favourite among locals and tourists. Known for its innovative take on brunch, Brunchsin mingles British brunch traditions with Greek culinary artistry. Serving from early morning to late afternoon, this venue offers a diverse menu built around fresh ingredients sourced from selected Greek farms. Customers praise the restaurant's creative approach to brunch, with both sweet and savoury options available.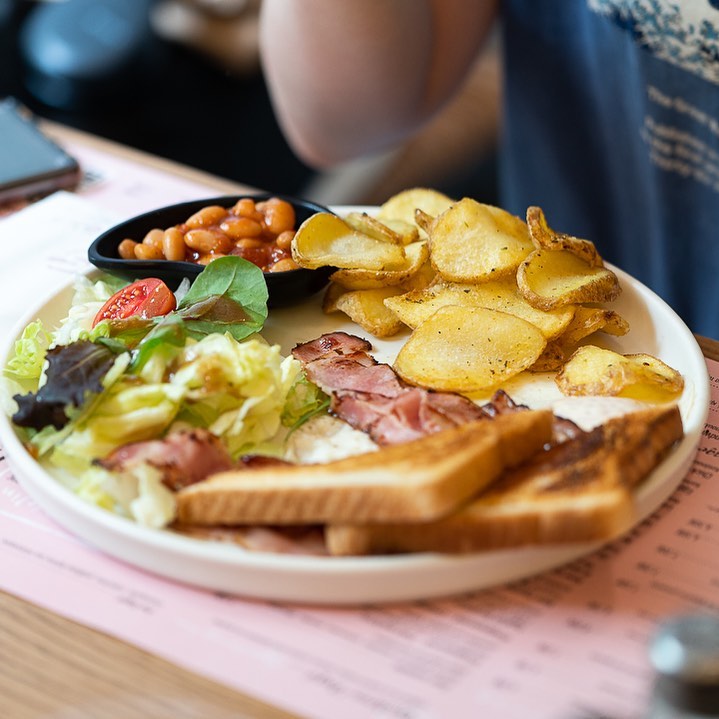 Brunchsin also stands out for its cocktail selection. Some customers suggest skipping the coffee and opting for an Aperol Spritz. The restaurant encapsulates a lifestyle, a place for food, entertainment, and socialising, underlining the significance of brunch as a holistic culinary experience. Due to its city centre location, it's easily accessible, especially for those exploring the local attractions. The popularity of Brunchsin might lead to a busy dining experience, especially during peak brunch hours. For a more relaxed visit, planning a trip during a weekday might be a good idea.
6. Le Nouveau Café
Le Nouveau Café enjoys a prime location right on Aristotelous Square in Thessaloniki. Le Nouveau Café, with its picturesque sea view and the hustle-bustle of Aristotelous Boulevard, offers a perfect ambience for guests to enjoy a relaxing break. Its comfortable outdoor seating provides a great vantage point to watch the world go by. Moreover, the café caters to all patrons, including those who require wheelchair access. One of the unique services at Le Nouveau Café is the complimentary bottle of water provided as customers settle in before placing their orders.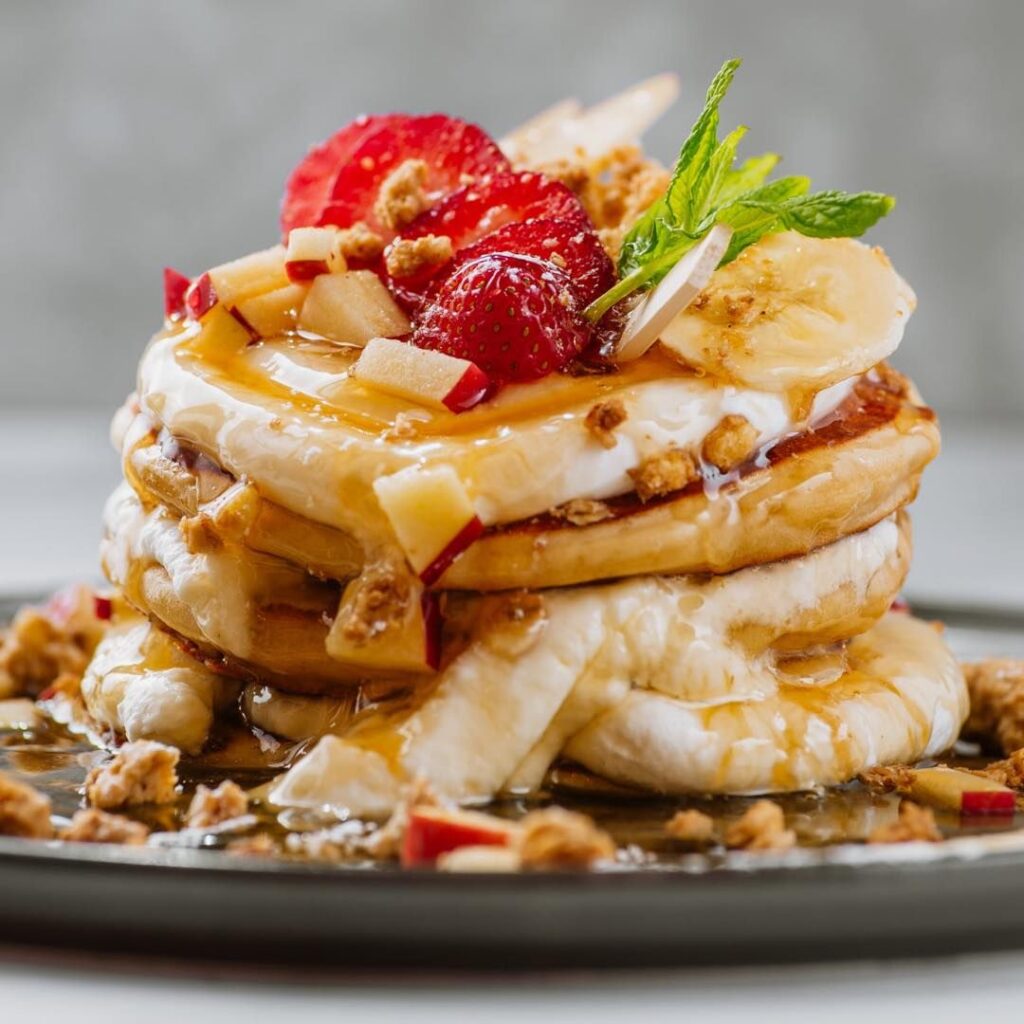 The menu at Le Nouveau Café includes unique dishes like the mushroom sandwich. This scrumptious sandwich comprises lobster bread, porcini cream, and roasted mushrooms, topped with Graviera cheese. It's served with a fresh Mesclun salad on the side. The café also prides itself on its unique desserts and excellent Aperol Spritz, a favourite among many visitors. Although the prices might seem a bit high, many consider it a fair trade-off for Le Nouveau Café ideal location and quality offerings. Given its popularity, planning a visit during off-peak hours is a good idea for a more leisurely experience.
7. Lena's Bistro
Lena's Bistro, with its family history, offers a unique and charming atmosphere in the heart of Thessaloniki. Its central location makes it a perfect spot for people-watching over a glass of wine. The owner of Lena's Bistro goes the extra mile to remember the preferred drinks of regular visitors, providing a personal touch to customer service. This attention to detail extends to all aspects of the bistro's operation, including its cosy decor and the jazz and lounge music selection that sets a relaxed and inviting ambience.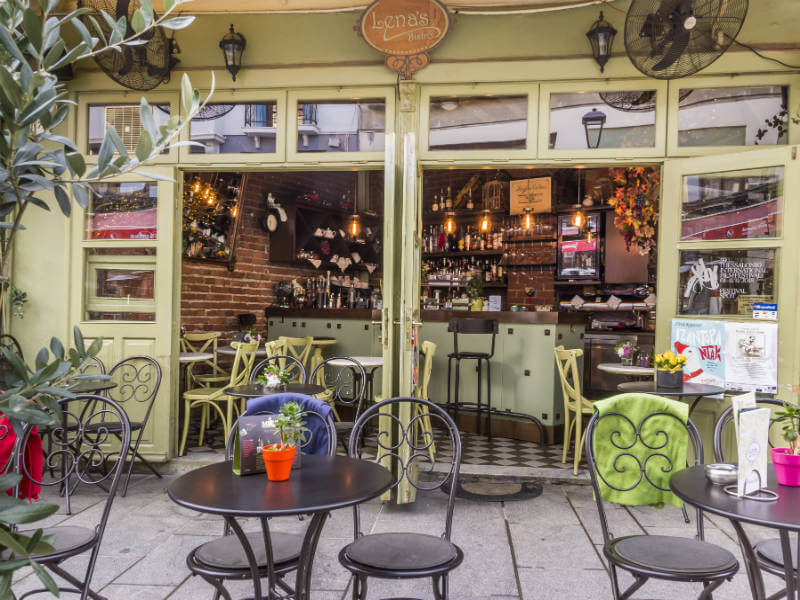 Lena's Bistro offers a wide variety of fine wines and spirits. However, they also serve more casual drinks. A trendy choice is the homemade lemonade, infused with a hint of cinnamon. The bistro is close to a local attraction, the Ladadika District. With its unique cultural vibe, this lively neighbourhood is worth exploring when visiting Lena's Bistro. Tasty biscuits are also highly recommended as a perfect combination for a cup of coffee or wine. Whether for a quick drink or a leisurely afternoon, Lena's Bistro offers an authentic taste of Thessaloniki's vibrant café culture.
8. Byzantio Skybar & Bistro
The Byzantio Skybar & Bistro, a family business since 1979, has made a name for itself as a significant culinary spot in Thessaloniki. It's known as the city's first rooftop café and bistro, offering stunning panoramic views of the city and Thermaikos Bay. Located close to the Church of Agioi Anargyroi, this bistro is an excellent place to relax after sightseeing, offering a variety of dishes made from fresh, high-quality ingredients. A popular choice includes their fluffy, delightful pancakes, perfect for a morning treat.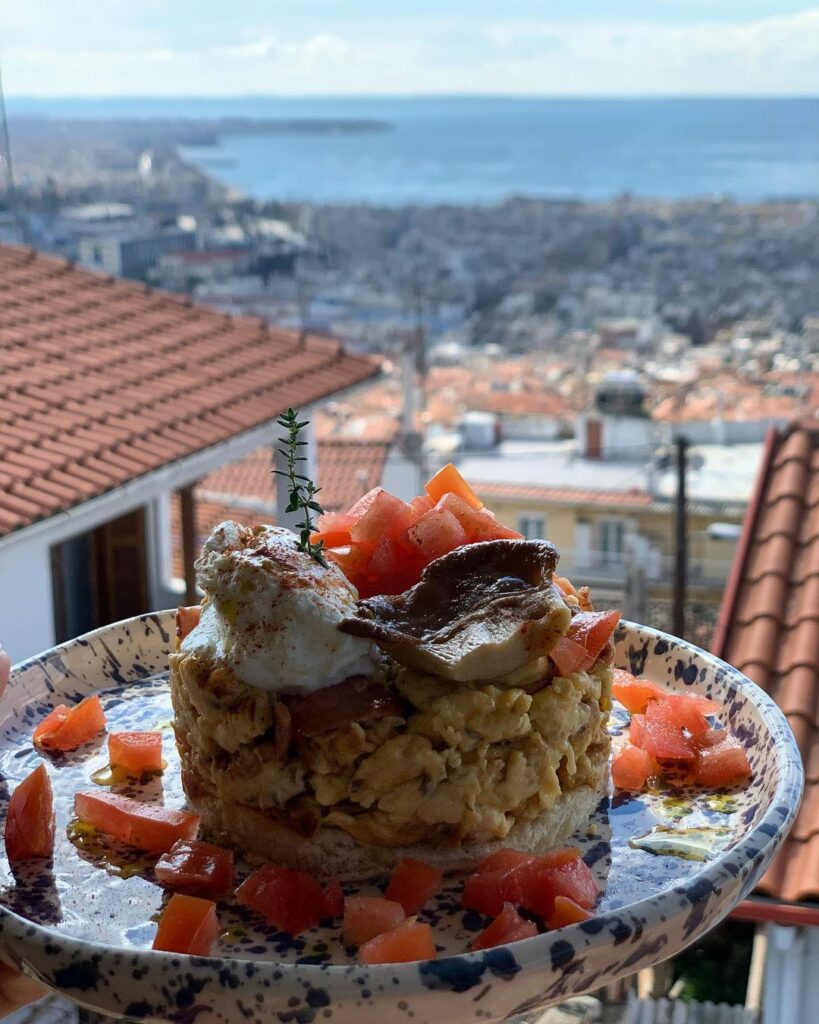 The bistro also offers a broad range of handmade delights for any time of the day, from aromatic coffees and a diverse selection of drinks to a wide variety of appetising meals. These include burgers, pizzas, risotto, club sandwiches, salads, and various appetisers. The view from the bistro is one of its standout features. Patrons can enjoy an unobstructed view of the city's skyline, adding an extra layer of enjoyment to their dining experience.
9. La nina Frida
La nina Frida is a quaint, artistic coffee shop hidden behind a 5th-century Byzantine masterpiece in Thessaloniki. This hidden gem provides an ambience one might expect in Paris, Berlin, or London, making it a unique spot in Thessaloniki. The coffee shop serves coffee and breakfast, with praise often given to the bread. In addition, La nina Frida offers homemade sweets, with the chocolate tart with salty hazelnuts earning high praise. The menu also features delicious sandwiches; a special mention goes to the Banoffee pie.
Apart from the food and drinks, the atmosphere of La nina Frida adds to the overall experience. Located just two minutes from Agias Sofias Square, the cafe is easily accessible. If walking from the square, a quick stroll leads to this cafe, making it an easy addition to any itinerary. Nearby, visitors can explore the Church of Agios Panteleimon, another highlight of Thessaloniki.
10. Menta
Menta, a café-bar-restaurant in the heart of Thessaloniki, offers an enjoyable experience from breakfast to dinner. Its location on Komninon 20 presents a landscape view, with thoughtfully designed interiors and terraces, creating a refreshing escape in the city's centre. From the first hour of the day, Menta serves breakfast, offering a variety of dishes complemented by Hausbrandt espresso, and fresh orange juice. When it's time for lunch, the menu introduces finger food options and fresh salads that guests can pair with a bottle of wine. In the evening, Menta's bartenders create signature cocktails from premium labels, while DJs deliver the best music, adding to the venue's lively ambience.
11. Donkey Garden
Donkey Garden, a vibrant brunch spot, opened in the heart of Thessaloniki, on Skra Street, in June 2020. Its beautiful garden and terrace make it an inviting place to dine, offering shelter in unique igloos, a novel concept in Thessaloniki's catering scene. The food philosophy at Donkey Garden is built on a love for local products and handmade items. Bread is always fresh, and the ingredients, such as eggs, come from small farms and local producers.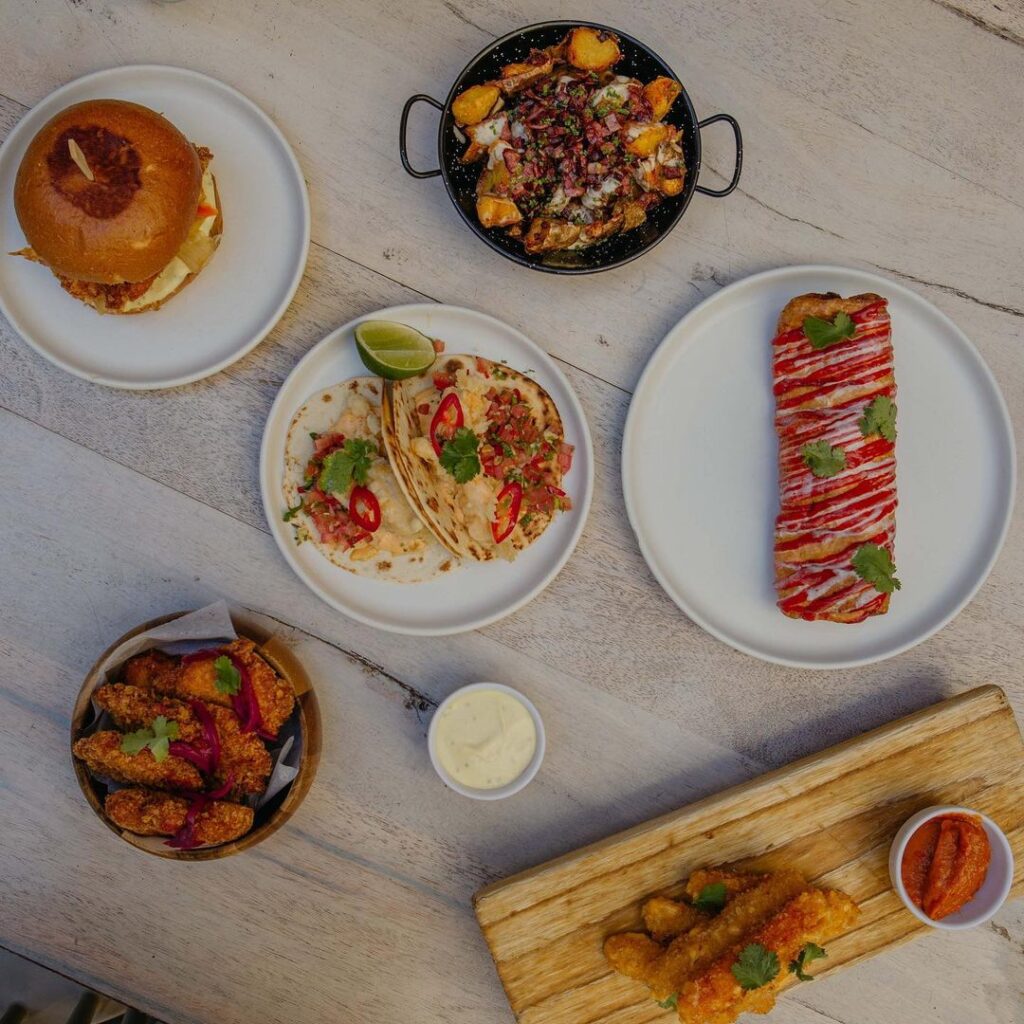 The menu at Donkey Garden covers all kinds of coffee and speciality drinks. Among the notable ones are their pink lemonade, various matcha flavours, blue-spirulina drink, and a wide array of hot and cold beverages suitable for any time of the day or year. These drinks pair well with their selection of sweet and savoury dishes. Instead of classic pancakes and omelettes, Donkey Garden takes a creative spin on traditional recipes. A dish to try is their scrambled eggs served with sourdough bread, mashed sweet potatoes, mushrooms, bacon, onion chips, Verdicousia cheese, and aromatic oil. Standout choices like the French toast – egg fritters from a bun with patisserie cream, red fruit jam, and berries. Other options include red velvet, brownie, and carrot cake. Breakfast lovers can opt for one of the shop's healthy bowls with fruit and nuts or the savoury salmon's benedict.
12. Mon Frère
Mon Frère, a bistro and coffee shop, serves a blend of Cafe and European cuisines in Thessaloniki. Noted for its special brunches and cosy atmosphere that evokes the feel of a traditional Parisian café, hidden in the city's heart. Mon Frère offers outdoor seating, table service, and the option to enjoy alcoholic beverages.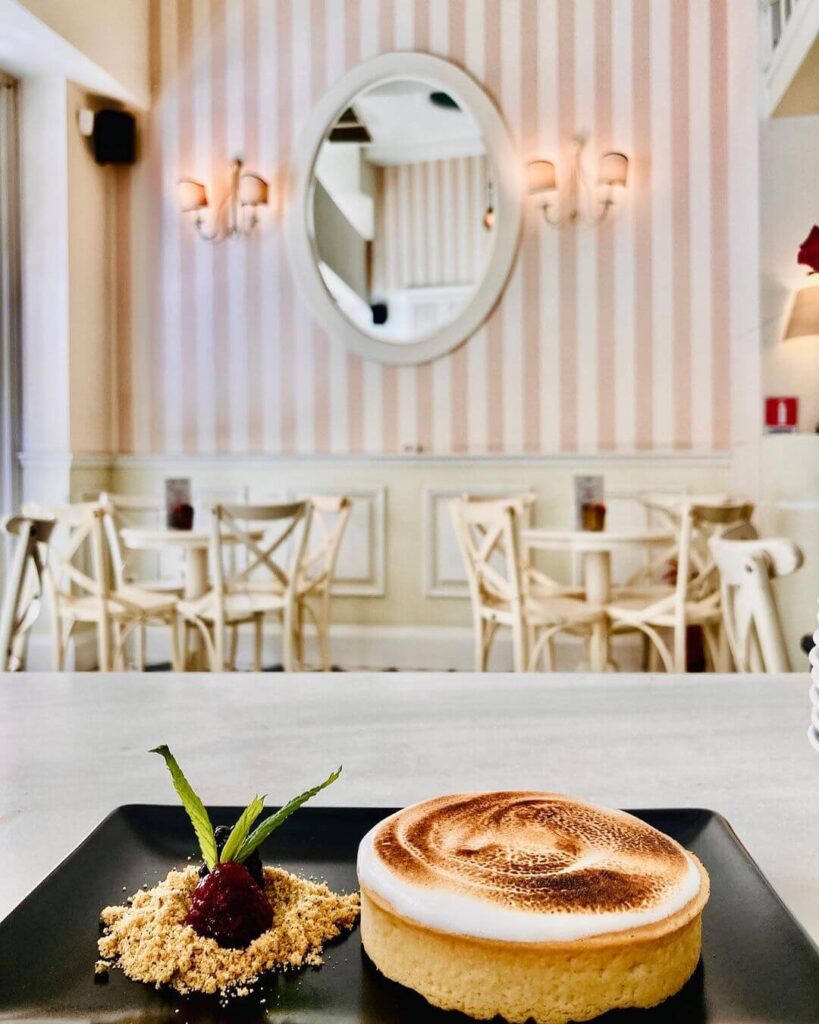 Mon Frère's menu offers a selection of dishes, such as the bacon, cheese, and mushroom omelette, a dish noted for its flawless preparation. Despite its small size, the café gives a sense of comfort and style, with its white interior design and a smoke-free environment. Outdoor tables cater to those who prefer to dine al fresco. Mon Frère's convenient location near the Statue of Aristotle makes it easily accessible, even during busy hours. The café's affordability, quiet atmosphere, and pleasant decor contribute to its appeal.
13. The Garden Bar
The Garden Bar, an urban oasis on the street of Agios Minas, offers an array of culinary delights in a lush, green atmosphere. With a laid-back ambience, The Garden Bar welcomes the international crowd with its all-day service. It begins with a buffet breakfast at 7:30 am, and extends to brunch, lunch, dinner, and evening cocktails until it closes at 12:30 am.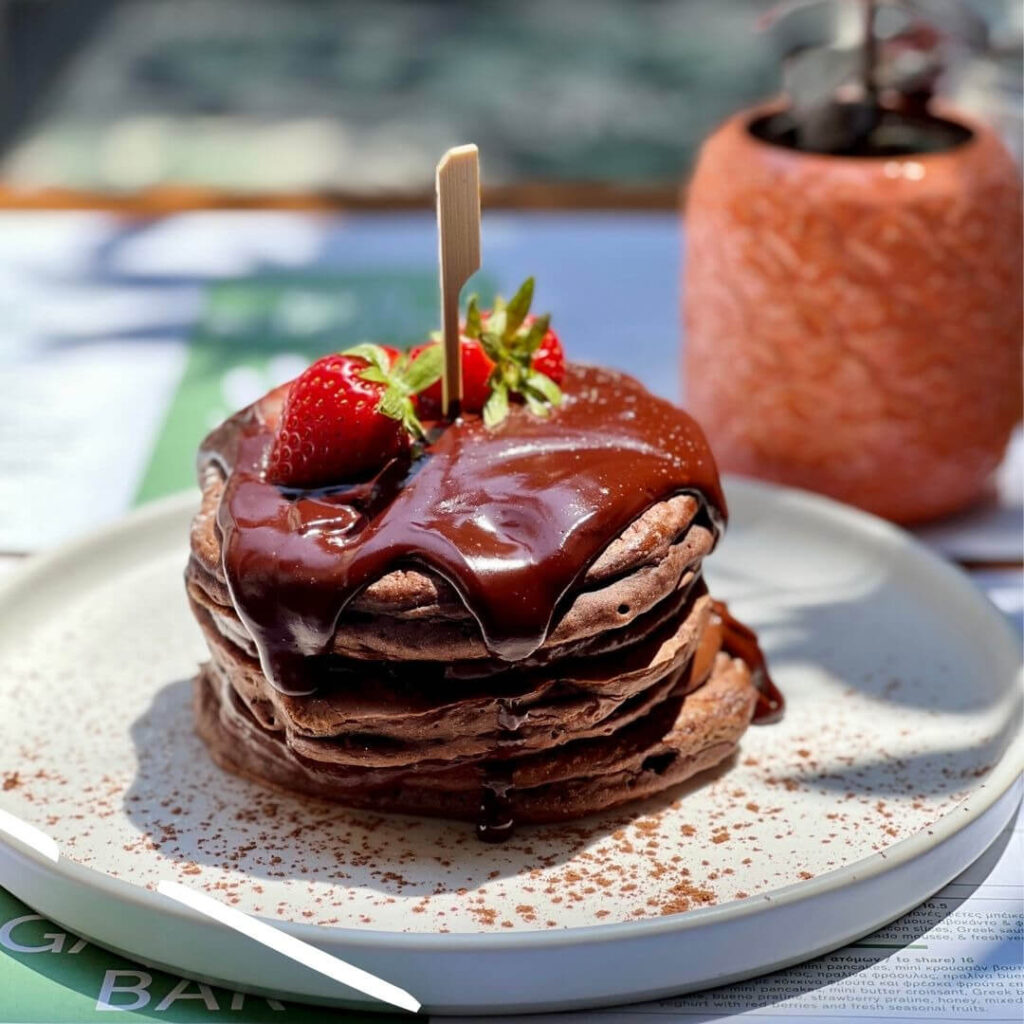 The Garden Bar is an excellent destination for all occasions, whether for a leisurely meal with friends, a business meeting, or a private party. The establishment also accommodates guests who wish to work on their laptops while enjoying a warm cup of coffee. Notably, it's a pet-friendly location, allowing visitors to bring their dogs along. For accessibility, the central area of The Garden Bar near shopping districts makes it easy to visit, particularly for those already in the city centre. Its proximity to shops and other city landmarks also means a short walk for most visitors.
What are the best places for breakfast in Thessaloniki?
Listed below are the top breakfast place in Thessaloniki:
Paradosiako Bakery: Paradosiako Bakery makes a strong impression. With a reputation for being one of the best bakeries in Thessaloniki, it boasts fresh, warm pastries available every morning. The bakery serves an array of sweet and savoury delights, capturing the hearts of its patrons. Notably, it offers personalised services like filling butter croissants with chocolate upon request.
Spoon: Spoon serves Greek and Mediterranean cuisine. This confectionary restaurant is ideally located for a refreshing break after a leisurely walk around the Church of Agia Sophia. The menu ranges from tasty salads and sandwiches to pasta. Spoon is particularly known for its waffles and cheesecakes.
Estrella: Estrella caters to all tastes. Signature dishes include the bougatsan, a croissant served with hot bougatsa cream, and pizza made with yeast from Thessaloniki's famous koulouri. Complementing its diverse food menu, Estrella serves healthy seasonal fruit juices, specialty third-generation private-roasting coffee, and a variety of Greek herbs.
What time is breakfast served in Thessaloniki?
Breakfast in Thessaloniki typically gets served from 7:00 until 12:00 noon. This timing is a common practice among the best Thessaloniki restaurants and cafes. Patrons can enjoy a wide variety of breakfast options during these hours. From freshly baked pastries at local bakeries to more elaborate breakfast and brunch menus at sit-down restaurants, Thessaloniki offers a vibrant and diverse morning dining scene.
What are the best places for brunch in Thessaloniki?
Three top places for brunch in Thessaloniki include Brunchsin, Estrella, and The Garden Bar.
Brunchsin: Brunchsin is known for its exceptional all-day brunch menu, delightful cocktails, and excellent coffee. The place provides a warm and inviting atmosphere for sharing meals with friends. Patrons have praised Brunchsin's delicious food, citing the sweet mimosa drinks as an added highlight. The location provides an interesting dining experience, allowing guests to enjoy restaurant-quality food in a busy street-side setting.
Estrella: Estrella has captured the attention of both locals and visitors with its brunch menu. Red velvet pancakes layered with cheesecake cream are among the must-try dishes here. The establishment offers various vegetarian options, making it an inclusive spot for all dietary preferences. Reviews note the generous portion sizes, perfect for sharing, and the friendly staff, adding to the overall enjoyable dining experience.
The Garden Bar: The Garden Bar stands out as a top choice for brunch in the heart of Thessaloniki. It offers a wide selection of options at reasonable prices. The savory dishes are trendy among visitors, but the Light Lemon Pancakes are recommended if you're in the mood for something sweet.
What time is brunch served in Thessaloniki?
Brunch is typically served in Thessaloniki from 10:00 in the morning until 2:00 p.m. However, it's worth noting that several restaurants in the city offer all-day brunch options, accommodating those who prefer to enjoy this hybrid meal at unconventional hours.
What food is popular to eat in Thessaloniki?
Bougatsa, a pastry filled with custard, cheese, or minced meat, holds an important place in the culinary landscape of Thessaloniki. Locals often enjoy Bougatsa as a breakfast dish. Thessaloniki offers Saragli, a type of Baklava rolled into a tube and soaked in syrup for a sweet treat. It perfectly blends flaky pastry, nuts, and sweet syrup. Another popular dessert is Trigona Panoramatos, a triangle-shaped pastry filled with cream and soaked in syrup, which originated from a pastry shop in the Panorama district of Thessaloniki. These delicious dishes reflect the city's rich culinary tradition and the locals' love for flavorful food.
What is the most popular area to have breakfast in Thessaloniki?
Leoforos Nikis Street, also known as beach road, is the most popular area for breakfast in Thessaloniki. This vibrant avenue, lined with various cafés and bars, offers an enchanting sea view, making it an ideal spot for early morning meals. Here, locals and tourists alike can enjoy an array of breakfast options while soaking in the serene beauty of the waterfront. The area buzzes with energy and presents a delightful mix of traditional and modern culinary delights. Whether you're craving a traditional Greek Bougatsa or a classic English breakfast, Leoforos Nikis Street has you covered.
Do bars serve breakfast in Thessaloniki?
Yes, cafe bars in Thessaloniki do serve breakfast services. These venues cleverly merge the relaxed atmosphere of a café with the dynamic vibes of a bar, making them perfect spots to enjoy a morning meal. Diverse breakfast menus in these eateries range from traditional Greek pastries to more international dishes. Some even provide all-day breakfast options, allowing late risers to enjoy their first meal at their own pace. With a delicious breakfast accompanied by a freshly brewed coffee or a morning cocktail, Thessaloniki's café bars set a lively and inviting tone for the day.
Can you have breakfast in the museums in Thessaloniki?
No, museums in Thessaloniki do not offer breakfast services. Typically, cultural sites focus on showcasing historical artefacts, art pieces, and exhibits and do not include food services. Visitors planning to start their day with a visit to Thessaloniki museums consider eating breakfast in one of the many nearby cafes or restaurants before entering the museum. This is a common practice as it allows people to enjoy Thessaloniki's rich culinary scene as part of their cultural exploration of the city.
How to get around for breakfast in Thessaloniki?
Walking proves to be an efficient and enjoyable way to get around for breakfast in Thessaloniki. The city has many pedestrian-friendly zones, and its cafes and restaurants are often within short walking distance of each other. Walking allows for a leisurely exploration of the city, taking in its historical landmarks and vibrant street life along the way.
Alternatively, renting a car offers more mobility and the chance to visit locations further away from the city center. Numerous car rental services are available, providing a range of vehicles to suit various needs and budgets. Potos Car Rentals is a reliable option for individuals looking to rent a vehicle in Thessaloniki. The service offers a wide selection of vehicles, from small city cars to larger, more spacious options, catering to various travel needs and budgets.
Do you require a car rental to get around in Thessaloniki?
Yes, it is highly recommended to rent a car in Thessaloniki. Especially for visitors who plan to explore areas outside the city center or wishing to travel at their own pace. A Thessaloniki car rental offers flexibility, and convenience, and can save time when moving from one place to another. It is particularly recommended for those who plan to visit the surrounding regions of Thessaloniki, where public transportation might be less frequent or convenient.
What are the things to consider while renting a car in Thessaloniki?
Here is a list of things you must consider while renting a car in Thessaloniki:
Insurance. It is necessary that you have a working debit or credit card and Collision Damage Waiver insurance while renting a car to guarantee that the owner will get it back in the same condition. If you do not have either of them, then you have to pay extra money to guarantee safety. Also, any insurance does not cover the glass and mirror destruction, so if it happens, we would suggest that you call for help and stay there.
Drivers Age. The driver must be over 21 years old and have a valid driver's licence to drive the car. There are some companies as well whose age limit starts from 23 years.
Driver's Gender. Thessaloniki does not discriminate between a man and a woman. Both men and women can drive or rent a car in Thessaloniki.
Car Type. You must look at how many people and luggage you have before renting a car. You can inform the rental service provider about it, and then they will send the car which will be suitable for all of you.
Required Documents. The rental car provider will need your credit card details and driver's licence under the name of the driver to avoid any unnecessary disaster. If the first driver does not have a valid driving licence, the second driver's licence must be needed.
How much does a car rental cost in Thessaloniki?
On average, renting a standard car for a week in Thessaloniki would cost around €280. However, it's important to note that prices can range from €154 to €595 per week, depending on factors such as the size of the car, additional features (like automatic or manual transmission), and the number of people it can accommodate. Thessaloniki Airport serves as the main pick-up and drop-off location for car rentals. Most rental packages include unlimited mileage, allowing customers the freedom to explore the region without additional charges. It's worth mentioning that rented cars typically need to be returned with the same amount of fuel to avoid extra fees.