Thessaloniki is a city with vibrant culture. It is a place best known for its different celebrations and festivities, which happen all year. Thessaloniki is a perfect spot if you wish to experience different cultures in one place. The mixed culture of the city has a great influence on the type of food that is available at the restaurants. The weather in Greece is mostly mild, which is why Thessaloniki has a number of open restaurants so you can enjoy your food with a good view. People from all over the world visit Thessaloniki to try some of the most delicious dishes.
Some of these restaurants are a little distance from Thessaloniki, so you would need a ride to get there. You can travel on a local bus, but if you are not traveling on a tight budget, then you can rent a car and drive yourself to these restaurants. It will also give you the freedom to explore the island on your own. One of the best things about Thessaloniki food is that they use homegrown spices. Also, the island produces a large number of excellent olives, which are later on used in the majority of the dishes. So, the best restaurants in Thessaloniki are listed below:
Maiami Seafood Restaurant
Vregmeni Gata Restaurant
The Backroom
Coquille Seafood Restaurant
Takos Restaurant
To Manitari Restaurant
Grada Nuevo Fine Restaurant
Kioupia Cuisine
Platanakia Natura Coffee Restaurant
Anestis Restaurant
1. Maiami Seafood Restaurant in Kalamaria, Thessaloniki
It is one of the oldest restaurants in Thessaloniki. It started in 1945 in one of the most beautiful spots at Kalamaria Beach in Thessaloniki. The 4th generation of the family is now running the restaurant. The kitchen is overlooked by the talented Sofia Teftsi, who has crafted a menu that is filled with a bunch of classic recipes.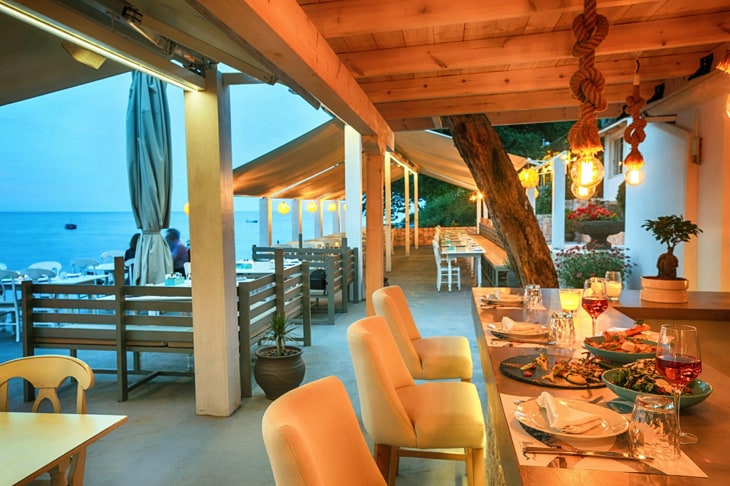 Their specialty is in seafood, and Sofia ensures that her way of making fish and other seafood is different from the rest of the islands. Some of the most running dishes of the restaurant are their octopus, eggplant salad, cabbage rolls, anchovies, and mackerel.
Talking about the interior of the restaurant, it has a beautiful seaside patio which is only open in summer, and two indoor lounges, which are open all year. Also, the decoration of the restaurant will take you back into the vintage times with a touch of modern architecture. The restaurant is, however, 22 minutes away from Thessaloniki by car.
2. Vregmeni Gata Restaurant, Thessaloniki
It is a traditional Greek café which is located in the center of Thessaloniki. The intimate, cozy restaurant is easily accessible by the people as it is closer to many tourist attractions. So, if you feel hungry, you can easily take a break from wandering in Greece and enjoy some good food. The restaurant is overlooked by a team of expert cuisine artists, who have delicately designed the menu using a combination of modern and old Greek cuisine.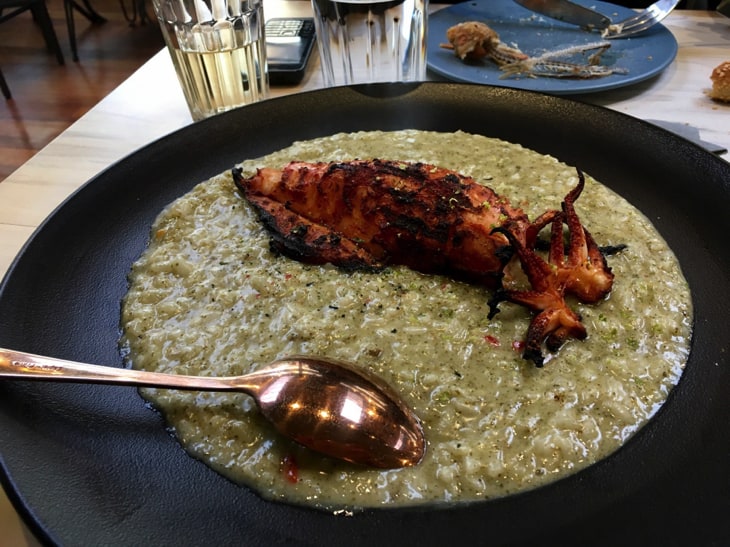 The restaurant serves some of the finest meat, sliced and cut, and a delicious range of seafood for the guests. Some of their most in-demand dishes are grilled meat, traditional meze dishes, and fresh salads. The customers love the restaurant for its reasonable prices and generous serving size.
Vregmeni Gata is a 15-minute drive from the Church of St. Demetrios. To talk about the interior of the restaurant, it has an intimate, cozy vibe, with rustic decorations like wooden tables and chairs. The walls of this restaurant are decked with paintings, photographs, and old Greek artifacts. Also, the restaurant has an open kitchen which is a great attraction for tourists to see their food as it gets prepared.
▶ ALSO READ: Prices in Thessaloniki: Is Thessaloniki Expensive?
3. The Backroom, Argentinean, and Italian Cuisine
Also, built at the center of Thessaloniki, around 10 minutes away from the Church of St. Demetrios, Backroom SKG has expertise in bringing Italian and Argentinian cuisines to the Greek island. The restaurant serves some of the best Argentinian and Italian breakfast items in the morning, such as pancakes, omelets, waffles, and crepes. The chef has put a deep insight into prepping the menu so the guests would not completely feel out of place but also get to have a touch of international cuisines in Greece.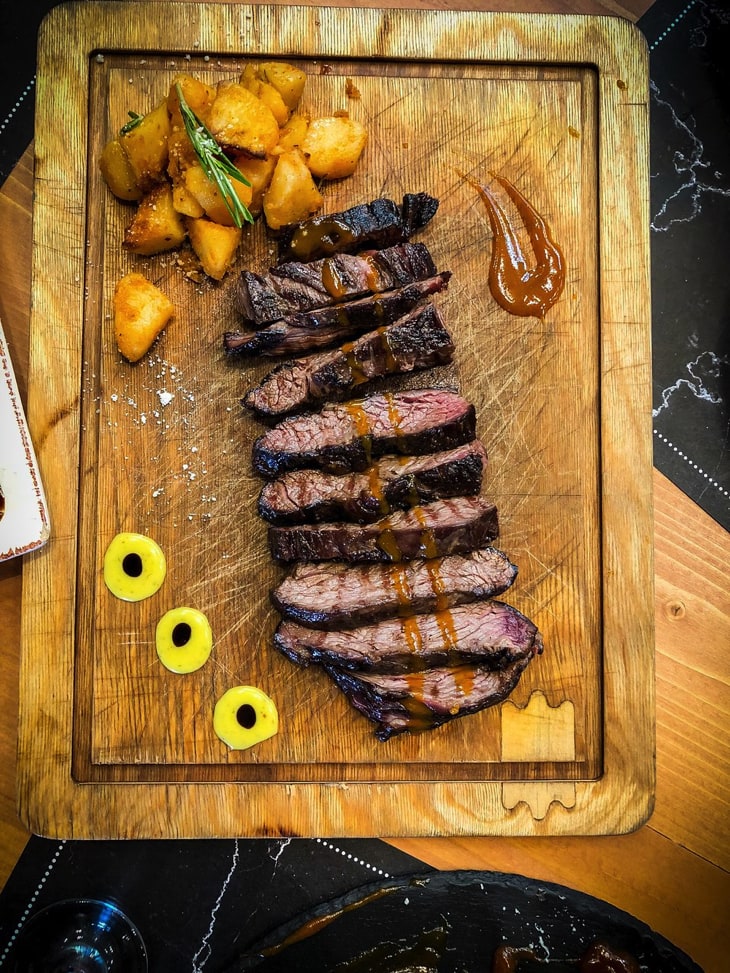 They also serve some of the best mouthwatering and grilled meats, steaks, seafood, and homemade pastas. Backroom SKG also serves a variety of salads and dessert items to provide you with a proper three-course meal. The menu also has some of the finest and most extensive local and international wines you can indulge in with your food.
Lastly, if you are a person who likes to click a lot of pictures, then Backroom SKG is one of those places where you would like to sit with a loved one, holding their hand in the intimate, cozy ambiance, with relaxing music and dim lights. The decoration is pretty simple, with elegant tables and chairs supported by mirrored walls and head chandeliers.
▶ ALSO READ: 10 Best Wineries in Thassos & Thessaloniki
4. Coquille Seafood Restaurant, Thessaloniki
Adding another popular seafood restaurant to our list, Coquille Seafood Restaurant is located in Thessaloniki City at walking distance from Aristotelous Square. The restaurant is built at a prime location, providing guests with a breathtaking view of the sea while they munch on their meal. The chef at Coquille has ensured that the menu serves every person be it a vegetarian, a non-vegetarian, or a vegan.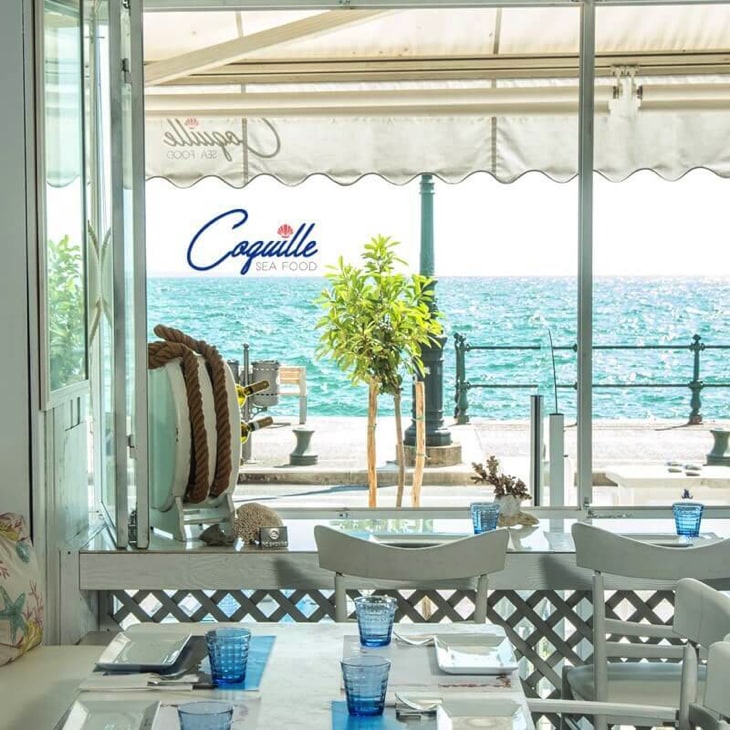 Coquille guarantees to serve fresh seafood dishes, which are cooked just the right way to indulge the guests. The menu also features a wide range of dishes like shrimp, octopus, mussels, and a variety of other seafood, which is cooked in different styles as baked and fried. The restaurant also has an extensive list of local and international wines, which are a perfect combination with seafood.
The overall vibe of the restaurant is more upscale and modern, with a blue and white interior that compliments the view of the sea. The modern lighting and comfortable seats are placed at enough distance to ensure privacy and a beautiful view of the waterfront from every table.
5. Takos Restaurant, Thermi, Thessaloniki
If you are craving Mexican food in Thessaloniki, then Takso Restaurant is your place. Located in Thermi town, 23 minutes away from Thessaloniki by car, the restaurant is all you can expect from a modernized café. The vibe, the color scheme, and the food. But would it shock you if we say that it is one of the oldest restaurants in Thessaloniki, and it has been serving for 18 years now.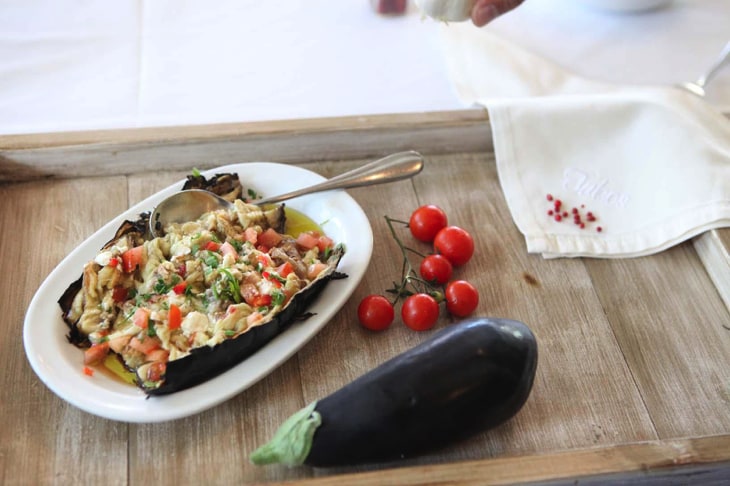 Takos restaurant started in 1997 and has been one of the most visited restaurants in Thermi since then. One of the best things about this place is how the owners keep renovating it over time to match the era. Their main focus is to provide their guests with traditional Mexican dishes such as burritos, nachos, quesadillas, and tacos. The customers love this restaurant for its affordable pricing, variety of food, and generous serving size.
The overall ambiance of the restaurant is designed in a way to represent Mexican culture. The colorful interior, with vibrant decoration and a cozy seating area.
6. To Manitari Restaurant in Kalamaria, Thessaloniki
To Manitari is one of the traditional Greek traditional restaurants, which is located in Kalamaria. It is a perfect place to have that cozy romantic dinner with your partner. The ambiance of the whole restaurant will arouse the lover within you. The menu is also designed in a very sophisticated manner to ensure that the guests enjoy the old Greek cuisine in a modern way.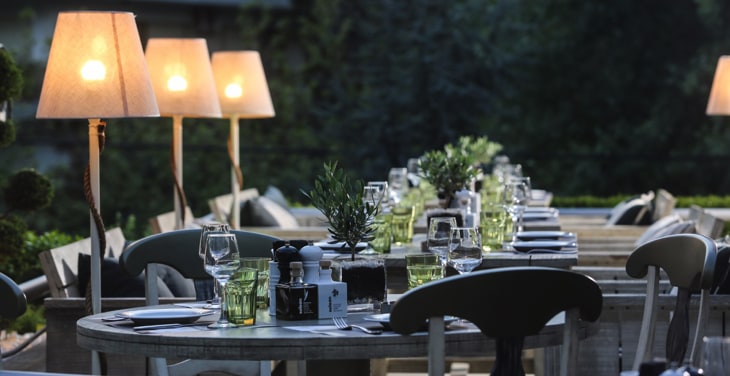 The restaurant is near Thessaloniki Concert Hall, which makes it a perfect dining place after you have just attended a beautiful musical in the heart of Thessaloniki. The menu greatly focuses on classic meals prepared using all local and fresh ingredients. People visit the restaurant to try their grilled meats, prepared to perfection, and served with classic Greek sides like fresh salad and roasted potatoes.
The overall setting of To Manitari is designed while keeping the traditional Greek style in mind, with outdoor seating and long wooden tables which are nicely decorated with colorful tablecloths and rustic pottery to make you feel closer to the Greek culture.
7. Grada Nuevo Fine Restaurant in Thessaloniki
Built at a short distance from Aristotelous Square, Grade Nuevo Fine Restaurant is the place for you if you are looking to have some high-quality upscale time. The restaurant mainly focuses on fine dining, which explains the whole calm and top-notch ambiance of the place. The menu is also crafted in a way to provide the customers with top-quality service and food.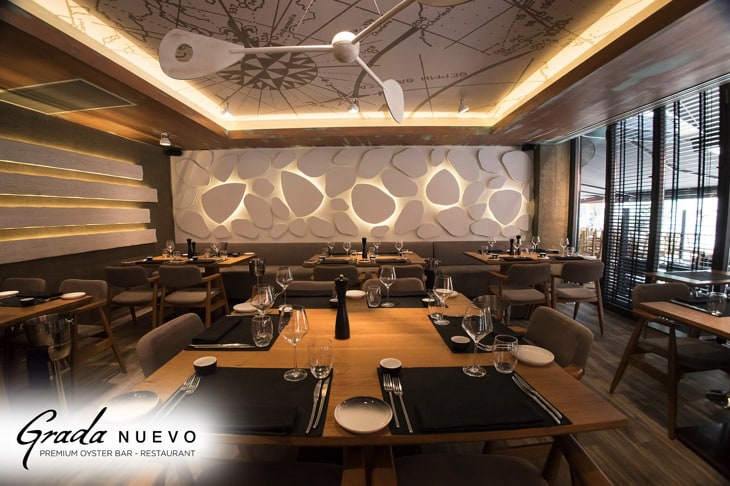 Grada Nuevo cares a lot about how its food is prepared and served, so the management has hired the best chefs in Thessaloniki to ensure good quality. The food has a mixed flavor of international and Mediterranean style, with a bit of emphasis on using only high-quality ingredients. They also have a collection of some of the finest wines in Thessaloniki, which you can indulge in with your finely prepared meat and salad.
The overall ambiance is built with dim lighting, a modern and elegant interior, and a mixed wooden furniture look with the finest crockery and a welcoming staff.
▶ ALSO READ: All about Thessaloniki Airport: Car rentals, Shop, Stay, Eat, Drink
8. Kioupia Cuisine in Ladadika, Thessaloniki
Located in the historic neighborhood of Ladadika, Kioupia Cuisines is a classic Greek restaurant with a nice cozy ambiance. The restaurant is built next to Ellis dance club, which makes it an ideal place to have dinner and night plans afterward. The chef puts a wide range of cuisines on the menu to ensure guests have a great time and leave with a happy belly.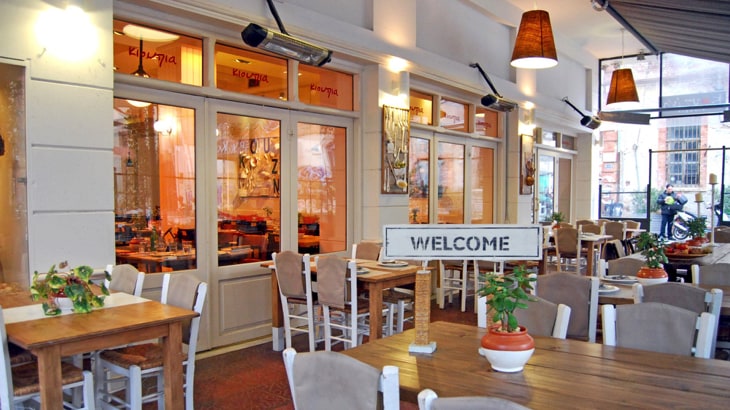 Almost every meal is prepared with locally sourced, fresh ingredients, which are used in just the perfect amount to create the most exquisite grilled meats, steaks, seafood, and other vegetable-based dishes. Kioupia is best known for its meze plates. It is basically a large plate with small portions of different dishes. So you can taste it all.
The ambiance of Kioupia is extremely classical, with blocked flooring, wooden tones, rustic decoration, and stone walls. The dim lighting and soft music also add to the beauty of this great restaurant.
▶ ALSO READ: Prices in Thessaloniki: Is Thessaloniki Expensive?
9. Platanakia Natura Coffee Restaurant in Thessaloniki
Platanakia Natura Coffee restaurant is a perfect place to spend your evening. Situated at a 23-minute drive from Thessaloniki Center, the café is said to be one place that serves locally sourced, high-quality coffee and food items in a natural setting. The lush area of Seich Sou perfectly complements the café's theme to provide the guests with a sense of tranquility in this beautiful greenhouse.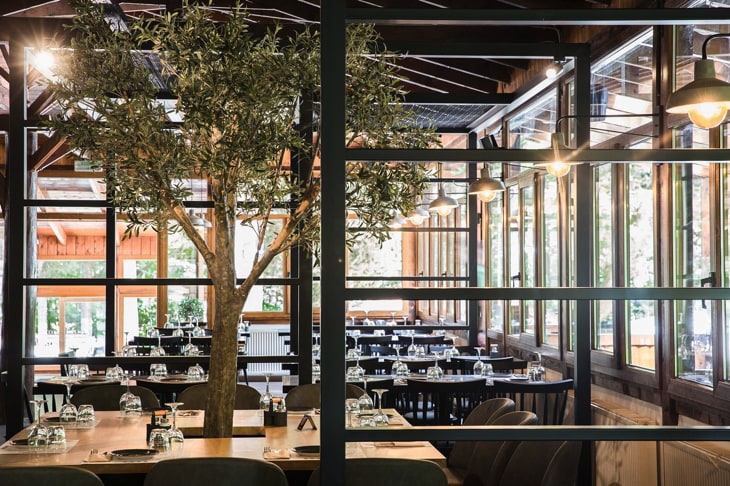 The chef has crafted the menu so it can serve the main purpose of being a coffee shop and a café at the same time. All the ingredients used in the food are freshly picked and preserved to keep their natural essence. Some of their famous dishes are moussaka, souvlaki, and Greek salad.
To top it up, Platanakia uses freshly picked coffee beans to prepare the most delicious, delicate, and mild coffee in all of Seich Sou. The overall interior of the café is mainly based on green plants, attractive wooden furniture, and mirrored walls for a beautiful view.
10. Anestis Restaurant, Peraia, Thessaloniki
Situated near Perea Beach, Anestis restaurant is here to provide guests with a beautiful view and an exquisite collection of food. The stunning interior and classic look perfectly complement the rushing waves of the Aegean Sea. Anestis is famous for its seafood, and everyone who has been to the restaurant in the past has loved the experience.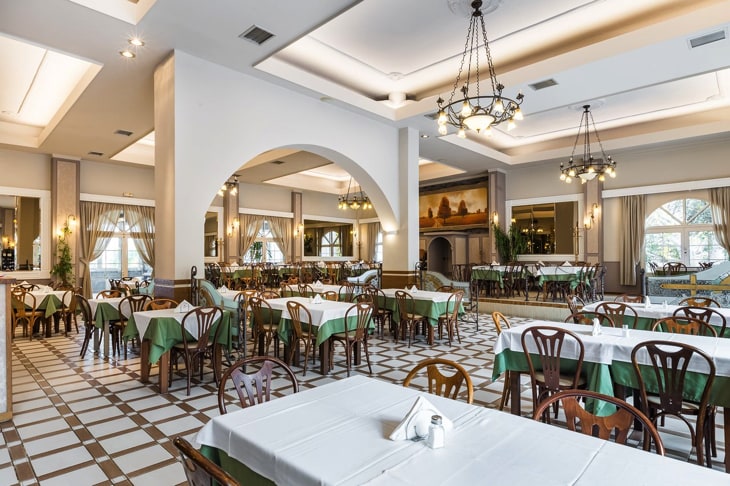 The menu is diverse and filled with different fish cooked in a variety of ways. Some of their most popular dishes are shrimp saganaki, seafood pasta, and grilled octopus. They also offer a wide range of vegetarian, vegan, and for those who love to indulge in freshly cut meat.
One of the top features that help Anestis stand out from the rest is its beautiful large outdoor terrace. Having dinner by the seashore with the cold winds breezing into your body is one of the best life experiences. The restaurant is also known for its top-notch service and friendly staff.
▶ ALSO READ: Top 10 Attractions in Thessaloniki
Can you rent a car and visit the best restaurants in Thessaloniki?
Thessaloniki is a big island with a number of tourist attractions, such as museums, historic places, monuments, and restaurants. So, renting a car seems like a smart choice if you want to see it all. Also, it is necessary to have the freedom to go wherever you want, and for however long you want. But there are a few things which you must look into before you rent a car in Thessaloniki. These things will ensure your safety and good experience in Thessaloniki.
Things to consider while renting a car
Here is a list of things you must consider while renting a car in Thessaloniki:
Insurance. It is necessary that you have a working debit or credit card and Collision Damage Waiver insurance while renting a car to guarantee that the owner will get it back in the same condition. If you do not have either of them, then you have to pay extra money to guarantee safety. Also, any insurance does not cover the glass and mirror destruction, so if it happens, we would suggest that you call for help and stay there.
Drivers Age. The driver must be over 21 years old and have a valid driver's license to drive the car. There are some companies as well whose age limit starts from 23 years.
Driver's Gender. Thessaloniki does not discriminate between a man and a woman. Both men and women can drive or rent a car in Thessaloniki.
Car Type. You must look at how many people and luggage you have before renting a car. You can inform the rental service provider about it, and then they will send the car which will be suitable for all of you.
Required Documents. The rental car provider will need your credit card details and driver's license under the name of the driver to avoid any unnecessary disaster. If the first driver does not have a valid driving license, the second driver's license must be needed.
▶ ALSO READ: How to Get Around Thessaloniki? Walking, Bus, Car Rental & Taxi
How much does a car rental cost in Thessaloniki and Thessaloniki airport?
Thessaloniki Airport is the designated pick-up and drop-off spot for all car rentals in Thessaloniki. Also, renting a standard car for a week would cost you around €280 on average. The prices vary for each car and float between €154 to €595 per week, depending on the distance and number of people. You can easily fit 4 people in a standard car and also choose between automatic and manual, air conditioned or no air conditioning. The rental package also includes unlimited mileage to ensure that the customer has the freedom to explore the region on their own. Also, the rented cars must be returned with the same amount of fuel. This policy will not be beneficial for the car rental company, but it is also beneficial for you so you do not have to pay any extra money.
▶ ALSO READ: Top 10 Attractions in Thessaloniki