Over the past couple of months, Potos Transfers has been working hard to develop a solid plan for the prevention of the spread of COVID-19. We value all our partners, visitors, and employees' lives, and we are pleased to announce that we have our plan ready to roll. The measures that we have taken will ensure drivers provide a safe car transfer service simultaneously, minimising the risk of passengers and chauffeurs against coronavirus.
Why measures?
We value customers' comfort, and we'd want to make their travel as safe as possible. The effects of covid-19 are not pleasant, and we are committed to ensuring everyone enjoying our services is safe and sound.
Also, we follow the guidelines provided by the Hellenic National Public Health Organization and use them as benchmarks for our protocols.
Passenger Safety
First off, the passengers will be seated at the back side of the vehicle of choice. We will not be hosting any passenger at the driver's seat. Only the driver will be in front of the car reducing respiratory droplets passing from one individual to another. This could be in the form of talking, sneezing, or coughing. We also provide alcohol-based sanitiser for single use and / or masks if required.
Driver Safety
We value all our drivers, and we'll make sure they are secure and safe to drive you around. All our chauffeurs will be in full gear and wear a mask and gloves during the whole journey. Typically, drivers load your luggage into the vehicle. But this time we recommend you to do this yourself. Of course, if you require assistance, the driver will be gladly available to help. Just make sure you ask first. All our drivers are temperature-checked before and after the journey.
Vehicle Safety
We disinfect and sanitise all vehicles during the cleaning process with alcohol-based sanitisers and other cleansing products. The cleaning process is done for as soon as the car returns from a transfer route and both the driver and passengers are safe. Our team cleans the areas prone to human touches such as seating surfaces, steering wheels and door handles.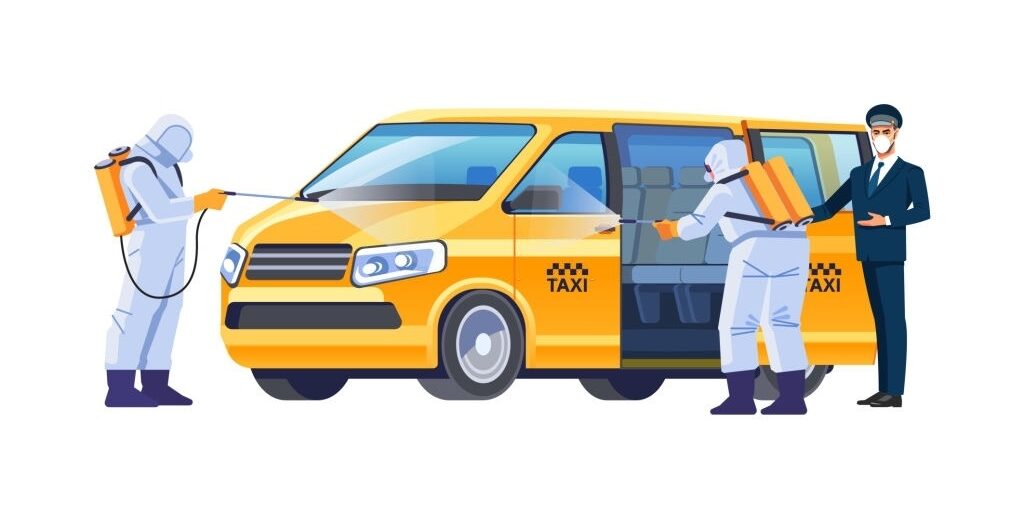 Social Distancing
By now, it is clear that social distancing is the most effective way of preventing the spread of COVID-19. It keeps you far from getting respiratory droplets that may have the virus. In our new regulations, we have reduced the number of people allowed in a car. Our seat arrangement ensures each passenger is roughly 1.5 meters from the next person, even during loading/unloading moments. Here is how we've shifted our car seating arrangement.
Economy: 1-3 passengers (instead of 4)
Large: 1-4 passengers (instead of 6)
Minivan: 1-6 passengers (instead of 8)
We advise everyone to make as little contact as possible, even when making queries at the office. Our chauffeurs will self-isolate in case they have come into contact with persons infected with COVID-19.