Exploring the ancient edges of history can be a captivating experience for any traveller. Journey to the secluded Greek island of Thassos, and uncover the story of its iconic Acropolis of Thassos, an archaeological site spanning nearly two millennia. Constructed in the 5th century BC as a citadel against invaders, this marvellous complex has withstood hundreds of years to remain one of Greece's most impressive treasures today. Take a step back in time and discover the secrets kept safe within the walls – from churches where martyrs once worshipped to centuries-old fortifications still standing guard over what remains!
What is the Acropolis of Thassos?
Located on the North-Eastern side of Thassos, the Acropolis of Thassos was built at an ideal spot on a 137-metre high rectangular plateau, perfect for observation. Showcasing a range of incredible features, the archaeological site consists of stone walls, an amphitheatre and several caves and temples which originated from both mediaeval and 5th century BC times. One corner still remains where the ancient sanctuary of Pythian Apollo used to be, proven by inscriptions referring to its worship. During the Byzantine period, a castle was constructed in place of the temple. Despite war damages, explorers today can still appreciate this once-great settlement and its secret spots.
The Remains of the ancient temple of Athena are preserved to this very day on the second peak of the Acropolis. Constructed in the 5th century BC, this relic is a testament to the advanced building techniques and engineering used by the great Athenian civilization. Just west of the grand temple, nestling within the nearby rocks of Acropolis' third peak, lies an enthralling sanctuary for Pana – the goat-footed god worshipped by many during antiquity. Within these hallowed walls rests a captivating raised design which pays homage to its historical significance.
At the highest point of the Acropolis in Thassos, near the southern peak, there is a relic that has stood the test of time. It is a large stone with a pair of eyes and a nose. This was once part of the wall that led to the Gate of Parmenion and dates back to 510-490 BC. Close by is another large stone with an inscription also from this period. Furthermore, on the western slope of the Acropolis, you will find an impressive amphitheatre which, unfortunately, has lost its absolutely geometric shape on one side as it leans against an ancient city wall. Visiting this site, visitors can step inside the history to take in its remarkably preserved remains, mesmerised by its grandeur from ages past.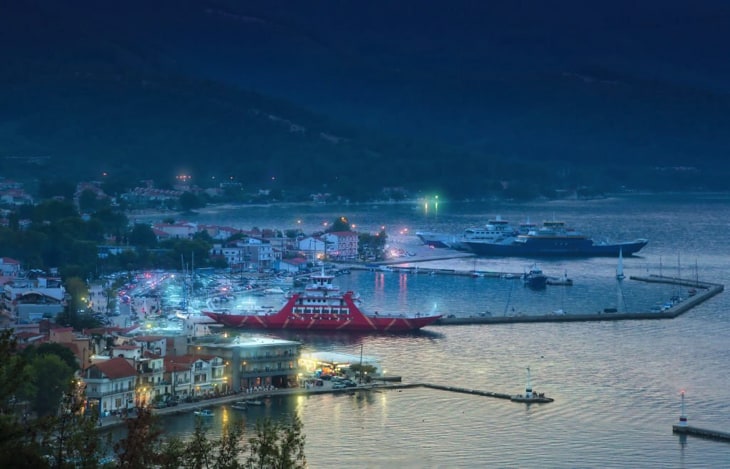 A navigation through the Acropolis of Thassos
Perched atop the hillside above Limenas, the Acropolis of Thassos is a treasure trove of history and ancient architecture. As you make your way up the winding path, you'll be transported back in time as you discover the remains of this ancient settlement.
As you approach the site, the first thing you'll see is the 5000-year-old amphitheatre, a horseshoe-shaped area that would have once hosted duels and other spectator events. Today, it has been partially renovated, with wooden seating, and still plays host to local festivals and events.
As you continue your journey, you'll come across the remains of the castle, which would have been used for protection from pirates and other threats. With incredible panoramic views, a couple of towers, and a church, this section of the Acropolis is not to be missed.
Further up, you'll find the remains of a temple dedicated to the Greek goddess Athena. Believed to be even older than the amphitheatre, this temple dates back to the 5th century BC.
Finally, as you reach the highest point of the Acropolis, you'll come across a cave built out of the rock and dedicated to the Greek god Pan. Carved out of stone, the goat-like figure of Pan is a sight to behold. This is also the spot where you'll find the best views, so don't forget to bring your camera.
While the Acropolis of Thassos is currently undergoing restoration and maintenance, it's still worth visiting to catch a glimpse of what could be. And with a bit of a walk to get there, be sure to take supplies and plan to avoid visiting during the mid-day heat.
Excavation
The Acropolis of Thassos was a sight to behold in its heyday! From the excavation conducted by the French Archaeological School in 1921, it is clear that the auditorium, orchestra, and stage were all ornately designed. What's especially fascinating is that its look today is still reflective of its appearance when it served as a venue for naval and hunting performances during Roman times; this can be seen from features such as the gallery at the orchestra and two-storey monumental stage. It's impressive to think that excavations over a century ago still tell us never-before-heard stories about our past.
Where is the Thassos Acropolis?
Located on the golden coast of the Aegean Sea, Thassos is a stunningly beautiful island in Greece. The majestic Acropolis of Thassos is an incredible sight to see as it overlooks the capital town of Limenas from its perch high atop a hill. Its sprawling remains serve as a reminder to all who visit about the immense history of this area and all it has been through over centuries and millennia past.
Also read: Best Historical Sights and Landmarks In Thassos
Is the Acropolis of Thassos Open For Public Visits?
The Acropolis of Thassos is unique among ruins in that it has been nearly completely renovated and allows its visitors a peek into ancient times with guided tours. Although it is currently closed for a short period of time for more renovations, it will be worth the wait. Once reopened, the Acropolis of Thassos can make for a fantastic visit. Here you'll be able to explore vibrant ancient architecture from centuries ago and witness firsthand the ruins that many have marvelled at throughout time. It's sure to leave you speechless and provide memories that will last forever.
How can the Acropolis of Thassos be accessed?
Access to the Thassos Acropolis is made convenient for all visitors with a stone staircase winding from "Dionysio" the hillside, as well as a natural path running parallel to the outer wall, leading from the port directly to "Evreokastro". In light of the potential risk of fire, a forest road has been created which leads up to the monument while bypassing the hill. Now, this road serves exclusively as an access point for equipment related to performances and special vehicles bringing the elderly or disabled on-site. It's important that everyone should be able to experience this renowned landmark without obstacles, and thankfully these efforts ensure that it remains possible.
Can You Visit the Acropolis of Thassos With the Kids?
The Acropolis of Thassos is an amazing place to take your kids. It is filled with ancient stories, artefacts and a breathtaking view. Though the site is currently closed, once it reopens, you can be sure of an educational experience they'll never forget! From archaeological remains to a splendid view and significant monuments, visiting this ancient site with kids provides a unique and rewarding opportunity to explore history firsthand. Prepare yourself for some exciting self-guided tours and even better memories when the Acropolis of Thassos reopens its doors!
How to visit the Acropolis of Thassos?
You can get to the Acropolis of Thassos site either by car, scooter or by taxi. The most popular option is to rent a car or scooter, which will give you the flexibility to explore the island at your own pace and make it easy to reach the Acropolis. Potos Car Rentals offer both ways through their website. Parking is available just at the site.
Can visit the Acropolis of Thassos with a car rental?
Yes, actually this is the ideal way to visit the Acropolis of Thassos. You can check car rental prices and availability online. Potos car rentals offers delivery and collection all over Thassos island.