Don't miss out on a unique piece of island history while visiting Thassos! The "Kalogeriko" that dominates the centre of the ancient harbour is a trademark of the island's capital, yet surprisingly little is known about its origins. An investigation by Thassos historian Thanasis Dialektopoulos confirmed that this grand building has roots that date back to the second half of the 19th century. Not only will visitors get to appreciate a magnificent part of the local culture, but they also take away a newfound knowledge of its interesting past – so make sure to pay this building a visit on your next trip to Thassos!
What is Kalogeriko?
When visiting the old port of Thassos, one of the most populars sights in Thassos is Kalogeriko, a beautiful two-storey building in the harbour's centre. Its 19th-century architecture will take your breath away and is an excellent example of Thassian design. Intriguingly, it has a connection to local monks; its name comes from being a part of the Monastery of Vatopedi, located on the nearby Mount Athos! Exploring this picturesque location will be an exciting experience for anyone seeking out traditional culture and beauty.
Where is Kalogeriko located on Thassos?
The Kalogeriko of Thassos is an impressive 19th-century two-storey building located in the island's capital, Limenas. The Kalogeriko truly stands out among other buildings on the island – not only for its architectural beauty but also for its historical importance – providing visitors with an opportunity to learn more about Thassos' culture and past.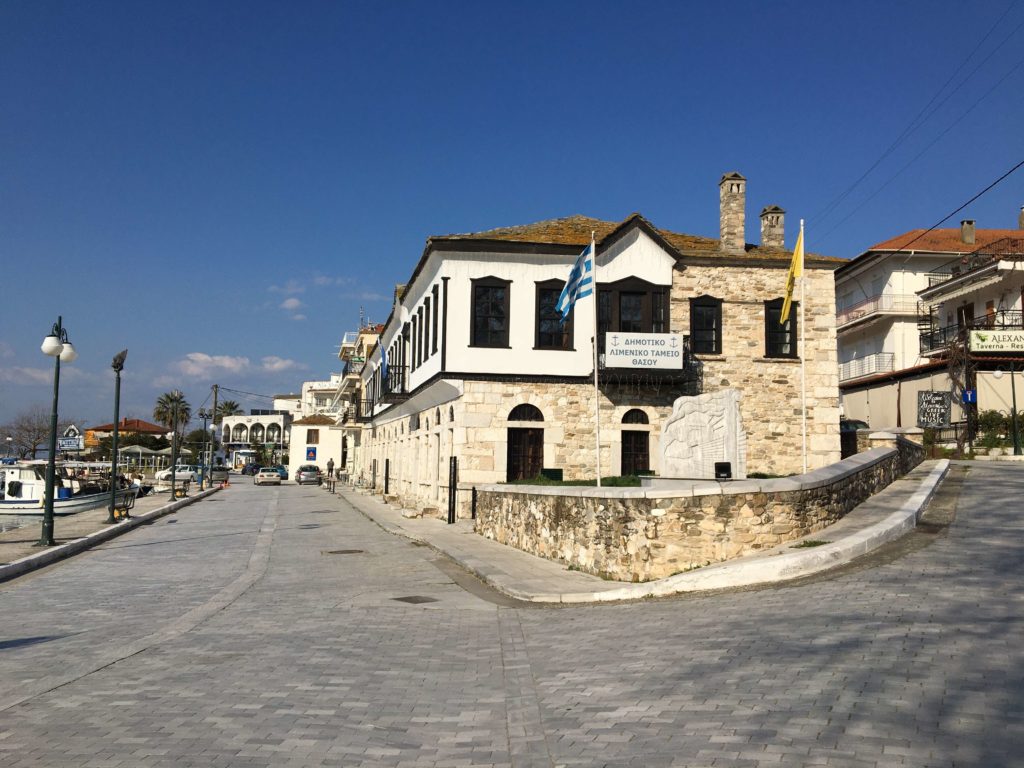 When was Kalogeriko it Built?
The "Kalogeriko" is a mystery regarding its age. Archaeological evidence shows that it must have been built in the second half of the 19th century, at least after 1858. This conclusion is based on records from a visit of Alexander Conze to Thassos in 1858. Conze was a German classical archaeologist, University professor and director of the Berlin Archaeological Collection who reports that there were six houses on the beach of the settlement, the church of Agios Nikolaos and two huts near the church. No mention was made of the "Kalogeriko", thus leading to the conclusion that it had not yet been built at that time. However, there is an image taken in 1904 which shows that it did exist then. The exact year when this historical building was constructed remains unknown, but its importance as part of Thassos' coastal architecture cannot be understated.
Architecture
Thassos, a Greek island in the Northern Aegean Sea, has geomorphology, climate and vegetation similar to mainland Macedonia. As such, its architecture is also governed by the same traditional principles that are used throughout the region in pursuit of affordable and practical solutions. Hence, Kalogeriko is an exquisite example of Thraco-Macedonian-type architecture due to its construction materials – stone and wood – as well as its distinctive features. The roof is covered with slate, the chimneys are tall and striking, and it boasts a pair of large double doors, complete with an impressive internal staircase leading to the first floor. All these intricate details can be clearly seen from the outside and make this building a unique contribution to the surrounding landscape. Kalogeriko stands proud at the entrance of the historical city and invites people in to explore its wonders.
A visit to the Kalogeriko is a unique and coming experience. Making its way up a wooden staircase, visitors are invited to explore the traditional house on the first floor. Guests can take in the diverse interiors, from the "odas" with the minaret to the chambers with a fireplace and mantras, as well as windows without shutters. Small gems such as utensils, clothes and embroidery decorate this time capsule with timelessness. The most imposing piece of the house is undoubtedly the "birth stool", used for ages in old houses across Thassos. On the ground floor of Kalogerikos, people can come together for lectures and other cultural events provided by the municipality. Exploring one's cultural heritage can be both meaningful and entertaining when done in this amazing home setting.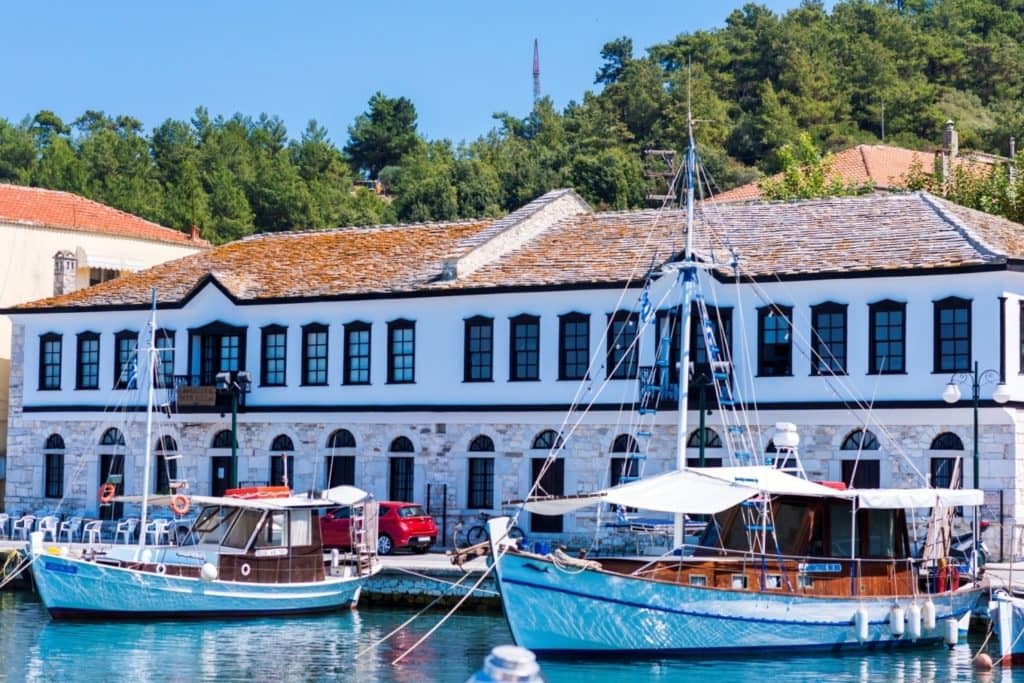 History of the Building
The history of Kalogeriko building is long and very interesting.
The Metochia of Mount Athos in Thassos
The islands location is near the renowned Athos peninsula, renowned for its monasteries. This close proximity has led to the creation of many metochia on Thassos originating from the monasteries in Mount Athos. To ensure that the monasteries had access to resources such as oil, olives, wax and wine, one or more monks-housekeepers were sent to each metochi. These housekeepers also acted as carriers of the Athonite monastic tradition, influencing the lifestyle and culture on Thassian island.
The Vatopedi Monastery's metochion in Limenas, located in the present-day house of Kalogeriko, has a long history stretching back to 1807. Documented deeds of sale and donation from this time onwards indicate that the monastery was able to purchase and expand its presence in Thassos, leading to a larger local community embracing the 'Agia Zoni' of the Virgin Mary. It was further maintained through donations made by the citizens themselves, highlighting their loyalty and reverence for the holy relic held at Vatopedi. This devotion would become firmly entrenched until 1926, when immovable records last show evidence of its productivity.
Charitable Activities
The archival letter of 14 July 1884 from the Provost, Elder, and Governor of Thassos, Ibrahim Asaffa Bay, illuminates how active Vatopedi Monastery was in proffering charitable activities to the citizens of Limenas. Not only did they donate a generous sum of thirty Ottoman pounds towards the reconstruction of the harbour, but they also marked their contribution with an additional ten Ottoman pounds for improvements. Ultimately their commitment culminated with calligraphy as a means to "settle and cease the trouble". It is clear that Vatopedi had a strong rapport with its people at the time and played an integral role in maintaining peace and prosperity in Limenas.
Housing refugee families after the Asia Minor disaster
In the period between 1926 and 1927, within the framework of Thassos MP Augustos Theologitis' actions and Minister of Agriculture Alexandros Papanastasiou's ministerial decision, most of the allotments at Mount Athos in Thassos were confiscated in order to assist the Asia Minor and East Thassian refugees as well as landless Thasians. Around this time, the Monastery of Vatopedi offered its building to the Municipality of Thassos in order to act as a Primary School – although it was only used for a short duration.
Restoration of the building in 1975
As time passed, the building of modern Greek architecture fell into neglect and came under the ownership of the Thassos Primary School's administration. After being almost dilapidated by the mid-1970s, a refugee family continued residing in part of it. Fortunately, the endeavours of the Ephorate of Classical Antiquities prevented this building from dying out completely. They took on its restoration and maintenance in 1975 and made it an annexe to the Thassos Museum. As ownership was transferred to this cultural authority, it served as a warehouse for storing some of the precious antiquities found on Thassos Island.

The 1989 occupation by the Municipality of Thassos
In December 1989, Limenas' residents joined forces with the Mayor of Thassos and the Municipal Council in an effort to occupy "Kalogeriko" and use it as a KAPI, or Municipal Library. This act of civil disobedience was met with resistance from the Prefect of Kavala, but ultimately in February 1990, the Ministry of Culture ceded to Limenas' wishes, granting permission for antiquities to be transferred to the Museum of Kavala and the "Kalogeriko" being put at the disposal of the Municipality of Thassos. The occupation displayed a unified commitment from Limenas' citizens to obtain their desired outcome, which serves as an enduring example for others seeking change.
The Current Use of the Building
The Kalogeriko has a central location in the historical harbour of Thassos, making it a recognizable landmark of the capital city. After extensive renovation, the building has become a hotspot for cultural events like art exhibitions, lectures, conferences and musical performances. Local folklore is featured prominently – visitors can get an insight into traditional living with a full-scale representation of a typical Thassian house. In this way, the Kalogeriko provides an important platform for cultural exchange within and outside of Thassos.
Is Kalogeriko Open for Public Visits?
The Kalogeriko is a unique and captivating place to behold. As part of the local culture in the area, it has remained open for public visits from 7 pm to 11 pm.
Can You Visit Kalogeriko with the kids?
If you are travelling with your kids, you do not need to worry about kids not being allowed in this museum. The Kalogeriko museum offers an educational experience for the entire family, where kids can explore history, culture, and arts and crafts. With interesting questions to answer, they will be eager to show off their newfound knowledge when they get home. Spend a day at the museum and let your children develop a deeper appreciation of Thassos!
Can You Visit Kalogeriko with a rental car?
Visiting Kalogeriko with a Thassos car rental is the most convenient way to do. Alternative ways are with a thassos taxi, which could be more expensive if your base is not in Limenas, and bus.