What is Giola and where is located in Thassos?
Giola Thassos is a natural pool which has been carved out of the rocks over millions of years. It can be found in Astris which is located in the south of Thassos.
How to get to Giola in Thassos?
If you are coming from Potos, drive for 9.5 km's (easterly direction – anti-clockwise) where you will find the gas station Thassos Oil. From here continue for another 2 km's until you see a sign 'Giola'.
Can I go with a normal rental car to Giola?
There is a new asphalt road down to Giola Thassos where you can park your normal car. Then you will have to walk a couple of hundred meters from the parking to get to Giola.
Walking to Giola
Another option would be to park your car on the main road and walk approximately 30 minutes down to Giola. Flip Flops are not a good idea, wear comfortable shoes!
When is the best time to visit Giola?
Giola has become one of the most popular tourist attractions on Thassos and can get crowded, particularly during the high season (July and August). May, June or October are the best months to visit Giola if you want to avoid crowds, it is also a good idea to get there as early as possible in the morning!
Why is Giola number one attraction in Thassos?
When you arrive at Giola you will be greeted with the most amazing views from this miracle of nature, an amazing unbroken view across the Aegean Sea to Mount Athos and over to the Monastery of Archangel Michael.
Giola expectations vs. Giola reality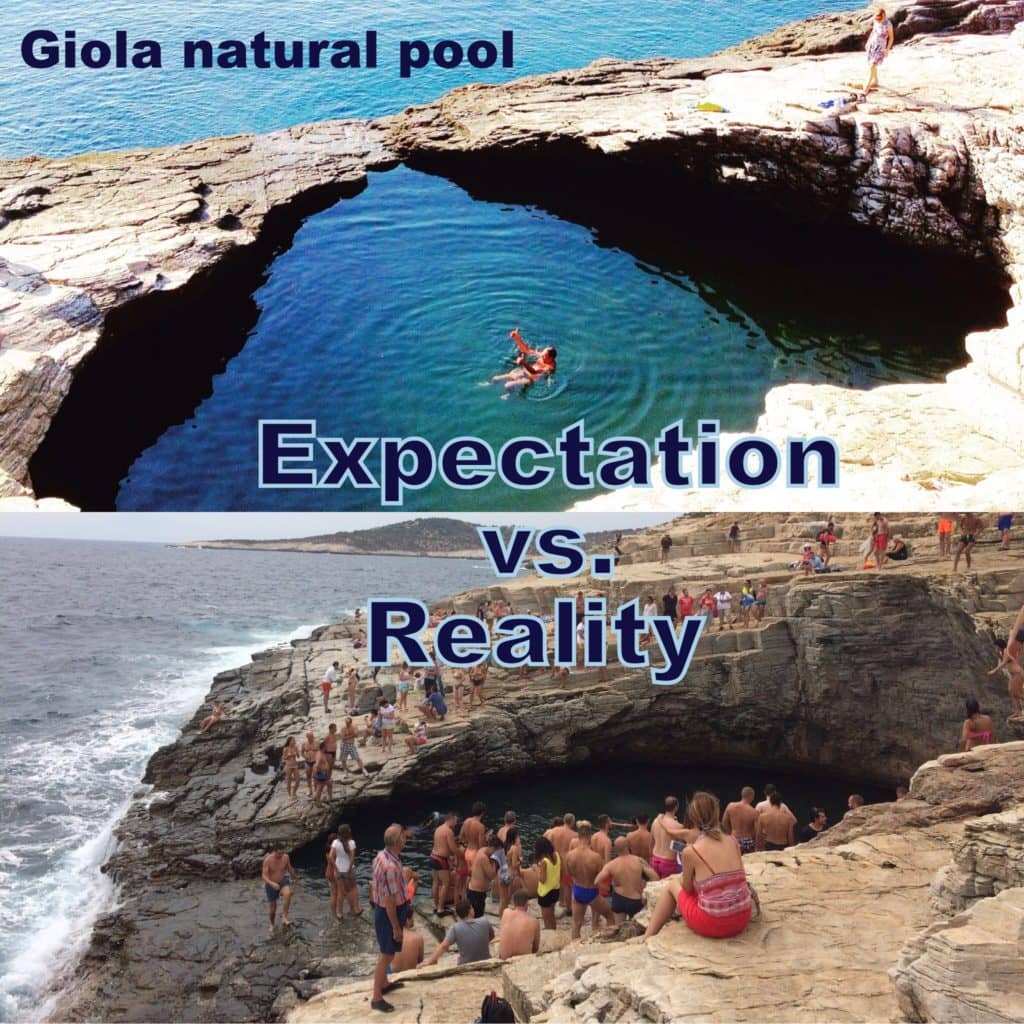 Please note the following: Giola is not as big as it sometimes looks in photographs and swimming can be difficult there simply because of the number of people.
It has become a tradition for some people to jump from the rocks at the top of the pool into the water, be warned, it can be dangerous! Please also note that it is not so easy to get out of the pool, there are no steps, so keep a close eye on your children when they are in the water and make sure you are there to help them out of the water.
All that said, Giola is an amazing place to watch a sunrise or sunset, it is one of the most photographed places on Thassos!
What you should know about Giola before visit?
There are no sunbeds or umbrellas at Giola, there is no beach, it is completely surrounded by rocks and small cliffs.
If you don't want to use the recently opened tavern, make sure you take drinks and food with you!
To conclude, Giola is just one of hundreds of beautiful and breathtaking places to visit on Thassos, enjoy it and respect it, please leave it as you found it, don't litter! If you have not so much time left, try to get in a boat from Potos or Limenaria and make a cruise so you can see in one day many places and include Giola in your bucket list!
Visit Giola by boat
You can also see Giola from the sea! Take a boat trip from either Potos or Limenaria, they always stop at Giola for a swim and a break. You can find and book your cruise for Giola Lagoon here:
Tell us your opinion about Giola
If you have visited Giola in Thassos, it would be great to hear about your experience and see some of your photos, please leave a comment.
Thank you for reading!