Psili Ammos is a beach located in the southern region of the island of Thassos, close to Potos. Its name says a lot about the beach, which means fine sand. The colour of the crystal-clear seas and the smooth white sand there perfectly complement each other. Pine trees and rich foliage make up the area's stunning surroundings. Many people come to the beach to sunbathe and make use of the facilities and water activities available due to its natural beauty.
Where is Psili Ammos Beach?
The amazing beach Psili Ammos is located 40 km south of Limenas, Thassos's capital, and 5 km from the city of Potos. The beach is also close to the charming village of Astris. The beautiful beach lies along the southern coast of the island of Thassos.
History Behind Psili Ammos Beach
The Psili Ammos beach is a coastal area close to the Astris village, giving it historical significance. Astris is a rural community with stone-built homes that Theologos people formed and built for their agricultural activities. According to rumours, the abode of sirens charmed sailors with their odes. Because of the ruins that were discovered here, particularly those of the 'linoi' (wine warehouses), it is interesting to note that the region is of historical and archaeological relevance.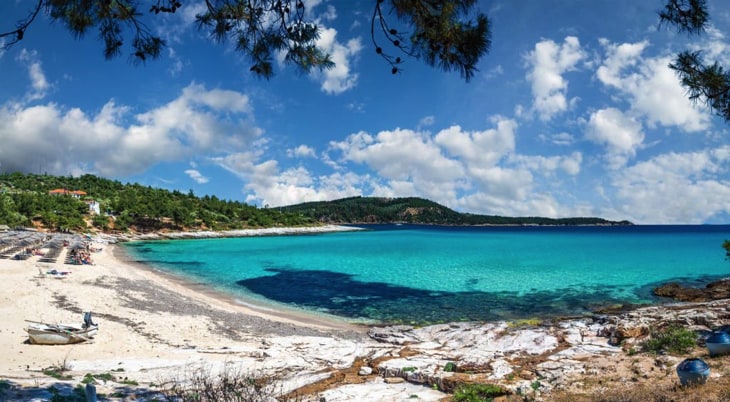 Facilities in Psili Ammos Beach
As an organised beach, Psili Ammos offers a variety of amenities, such as pubs, deck chairs, and table boards. There is a volleyball court on the beach for those people who enjoy playing sports. In addition to this, there are also restrooms and showers. There are several pubs and taverns that serve everything from coffee to beverages and traditional meals. If you feel like sunbathing in Psili Ammos, sunbeds are easily available for visitors. The fact that the beach offers water sports and is family-friendly makes the trip fun for the whole family. For those of you who are planning on driving to this beach, you do not need to worry about parking since it is also easily available.
How to get to Psili Ammos Beach?
You will not have an issue reaching Psili Ammos since you can take a bus, hire a taxi, or rent a car.
By Foot
If you can find a place to stay close to the beach, getting to Psili Ammos by foot will give you the chance to experience the island's true beauty. You may eat the traditional cuisine that the street sellers are selling while mingling with the locals and understanding their traditions and culture.
By Car
You can opt to drive to the beach instead of taking public transport. It might be wise to rent a car if you plan to be travelling for an extended time or on a family vacation. Renting a car is the best option for those of you who do not like the hassle of public transport. By renting a car, you can go straight from the airport to Psili Ammos, enjoying the view along the way at your own pace.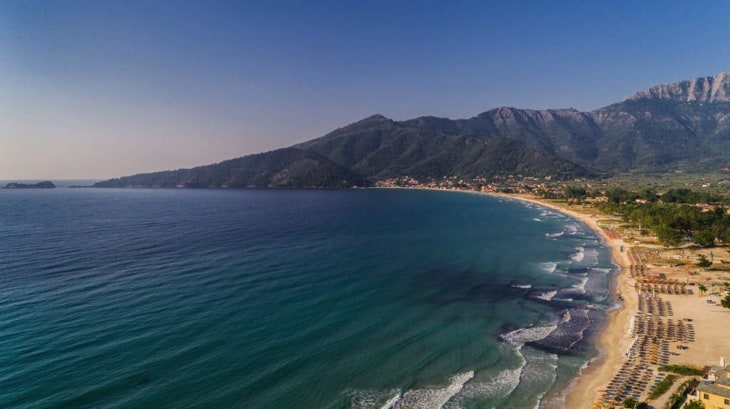 By Bus
There are many buses going from Limenas to different places in Thassos. If you plan on travelling by bus, it would be a good idea to first check the bus schedule and prices so that you may plan your trip accordingly. Unfortunately, there is no direct bus from Limenas to Psili Ammos, and you will first have to take a bus to Potos, and then travel to this beach by taking a taxi.
Where to stay near Psili Ammos Beach?
If you end up having to stay in an inadequate place, any trip, no matter how good the location, becomes intolerable. Therefore, it is essential that you do your homework on where you will be staying before you visit the island. Thassos offers a variety of hotels and lodges, allowing you to choose one according to your own requirements and budget. You won't have any trouble finding a location that meets your demands and is affordable. The following are some suggestions that you might find helpful if this is your first time visiting Psili Ammos beach.
Studios Amfitriti
The Studios Amfitriti offers very attractive and spacious studios, around 2 km from Pilis Ammos beach. It has a breathtaking view of the sea and has unique decor, huge balconies, and kitchenettes. If you stay here, you will also get a traditional and delicious breakfast. Not only Pilis Ammos, but other lovely beaches are also close by, allowing you to visit different places. The studios are open from April through the end of October. For booking and details:
Address: Skala Sotiros, Thassos
Phone: (0030) 25930 71870
Website: http://www.amfitriti.gr/
Maistrali Hotel
For those looking for clean, spacious, quiet, and comfortable studios-apartments that have been tastefully furnished and decorated with attention to detail and are fully equipped with all modern amenities, Mistral Studios and Apartments, which were built in front of the deep blue sea, is the ideal location. It is the ideal blend of tranquillity and vibrant summer activity and is only a few kilometres from the island's most gorgeous villages and cosmopolitan resorts, including Psili Ammos beach, which is less than 2 km away. For further queries:
Address: Livadi, Greece
Phone: (0030) 6973412977
Website: http://maistrali-thassos.gr/en/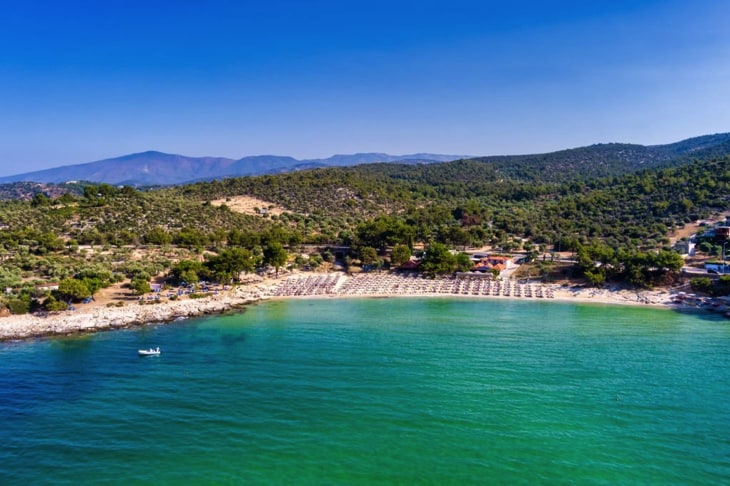 Can you rent a car and visit Psili Ammos Beach?
Yes, you can easily rent a car in Thassos. It will allow you to travel and move around the island freely, and you will not be constrained by the timetables of public transport. Additionally, if you are travelling with your family, it will be more pleasurable to opt for a rental car.
How much is the cost to hire a car in Thassos?
To stay within your spending limits, consider choosing inexpensive car rentals. In Thassos, renting an economy car will cost around € 18.00 a day and roughly € 130 per week. On the other hand, you will need to spend about €70 per day and about €500 per week for a larger SUV.
Also read:
▸ Metalia beach: Highlights, Access, Accommodation & Rental Cars
▸ Paradise Beach: Highlights, Access, Accommodation and Car rental
▸ Atspas beach: Highlights, Access, Accommodation & Rental Cars
▸ Skala Prinos beach: Highlights, Accommodation & Rental Cars
▸ Skala Rachoni Beach: Highlights, Access, Accommodation & Rental Cars
▸ Skala Kallirachi: Highlights, Access, Accommodation & Rental Cars