Named after of its exotic beauty and mesmerising scenic views, Paradise Beach is one of the most renowned beaches in Thassos. It has a soft sandy shore with shallow waters. Similar to the beaches in movies, the frequent waves and beautiful turquoise water make this picturesque beach look like a tropical island beach.
Where is Paradise Beach?
The beach is located about 20km southeast of Limenas (Thassos Town) and 28km from Potos. The closest village, Kinira, is 2 km away. The access to the beach is particularly easy. If you wish to travel by your own vehicle, you can follow the two ground paths connecting to the main ring road of Thassos. You can also travel via public commute by taking a bus from any village in Thassos. The beach itself has three parking spots. You can park next to the main road. But if you wish to reach the closest to the beach by car, you can follow the earthen paths leading to the beach.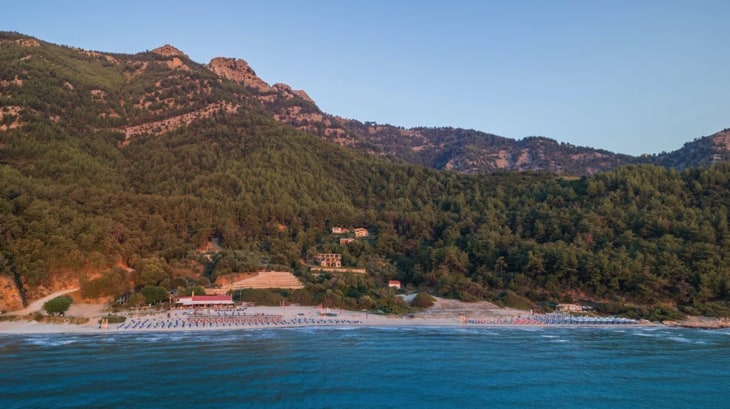 History Behind Paradise Beach
Before getting its present name, Paradise beach and its adjoining areas were called Makriammos Kiniron. This name evolved over time informally from Makriammos Kiniron to Paradise Beach Thassos when a refreshment store was opened under the name Paradise Beach Thassos in 1983. The place was then referred to as Paradise beach. The beach was not easily accessible to visitors back then. However, after the construction of the first road on the north side of the beach and later on the south side, the beach became easily reachable for tourists.
Facilities in Paradise Beach
Being an organised beach, it has many facilities, including deck chairs, table boards, and taverns. For sports enthusiasts, the beach has a volleyball court. Apart from that, showers and toilets are also available on the beach. Sun beds are readily available, and there are a couple of bars and taverns serving everything from coffee drinks and traditional meals. The beach is children-friendly which makes the tour enjoyable for the entire family. If you are driving yourself to the beach, three parking spots are available on the beach, and you would not have to fret about the parking space.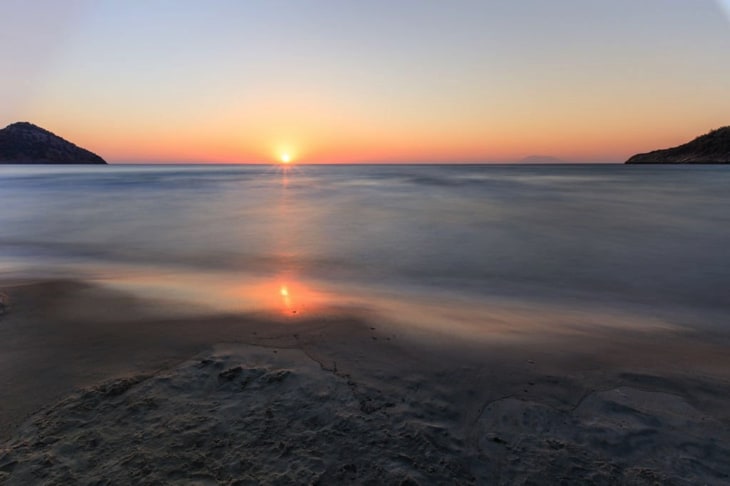 How to get to Paradise Beach?
Reaching the beach is quite easy. You can either travel by bus, hire a car or a taxi, whatever suits you and is convenient.
By Foot
If you find yourself accommodation near the beach, then walking to the beach will provide you with the opportunity to Thassos on your way there. You can indulge in traditional foods being sold by street vendors and will be able to interact with the locals and learn about their cultures.
By Car
You can also choose to travel by car to the island. If you are not in town for a longer period of time or are travelling with a family, hiring a car would be the right decision. If you need an airport transfer or explore the island without a care in the world, renting a car will be the solution. You can drive down the south path and park in the parking spots available near the beach.
By Bus
There are frequent buses going from different villages in Thassos to Paradise beach. You can check bus schedules and prices and book online to avoid any hassle. This option will be your best friend if you are travelling on a budget and looking for cost-effective options. The bus will stop at the entrance of the south path, and from there, it is a 5-minute walk to the beach.
Where to stay near Paradise Beach?
Any trip can become unbearable if decent and comfortable accommodation is not sought. It is, therefore, imperative that you invest a little in the place you choose to stay while on the island. Thassos has many luxurious yet affordable options. You will have no issues looking for a place that suits your needs and is pocket-friendly. Following are some of the recommendations that you might find useful if you are travelling to the beach for the first time:
Dimitreli Studios
Located 2 kilometres away from Paradise beach, Dimitreli Studios provide affordable yet luxurious accommodation options. The rooms are built to provide visitors with a breathtaking sea view and mountain views. Clean bathrooms and a kitchenette with good traditional foods are available. You can opt for a double room with a sea or mountain view or an apartment with a mountain view. For booking and details:
Address: Kinira, Thassos
Contact: 0030 698 765 8500
Website: https://www.dimitrelis.gr/
Efi's & Regina's Sea View Apartments
These apartments are located in Kinira and provide maisonettes with a panoramic view of the sea. This option will be easy on your pocket but will be worth staying in. Every maisonette has three bedrooms, a kitchen, a living room, and private bathrooms. Apart from that, parking is available. If you are in the mood for BBQ, you will be provided with the facilities for that as well. For further queries:
Address: Kinira 640 04, Greece
Contact: 0030 698 765 8500
Also read:
▸ Atspas beach: Highlights, Access, Accommodation & Rental Cars
▸ Metalia beach: Highlights, Access, Accommodation & Rental Cars
▸ Psili Ammos Beach Thassos: Highlights, Access, Accommodation & Rental Cars
▸ Skala Prinos beach: Highlights, Accommodation & Rental Cars
▸ Skala Rachoni Beach: Highlights, Access, Accommodation & Rental Cars
▸ Skala Kallirachi: Highlights, Access, Accommodation & Rental Cars
Can you rent a car and visit Paradise Beach?
Yes, renting a car in Limenaria is not a problem on the island. With a car, you can easily navigate and commute around the island and would not be required to stick to a certain schedule or time frame. And when travelling with family, using a car to travel around would be more enjoyable.
How much is the cost to hire a car in Thassos?
You can opt for cheap thassos car rentals in order to stay within your budget. If you want to rent an economy car in Thassos, it will cost you € 18.00 per day and approximately € 130 per week. For a bigger SUV, you will have to pay around € 70 per day and approximately €500 per week.