Thassos is an island known to be visited by many tourists each year. It's one of the places in Greece where you can find a wide range of beaches certain to fit your needs and interests. However, one, in particular, has the grandeur that separates it from others — Golden Beach.
Golden Beach, a hidden oasis surrounded by lavish green mountains and vegetation, is an ideal spot to take a walk or just relax while enjoying the sun. It has crystal clear waters and soft golden sand that's certain to make your stay more enjoyable. If you're planning to visit the area, here's a guide on everything you need to know about Golden Beach in Thassos!
Where is Golden Beach
Golden Beach is a 3km-long beach found in the area of Chrysi Ammoudia on the east side of the island. It is located about 12km from Limenas, which is the capital of Thassos. Golden Beach is considered to be the largest resort on the island, stretching along the coast between the beaches of Skala Potamias and Skala Panagias.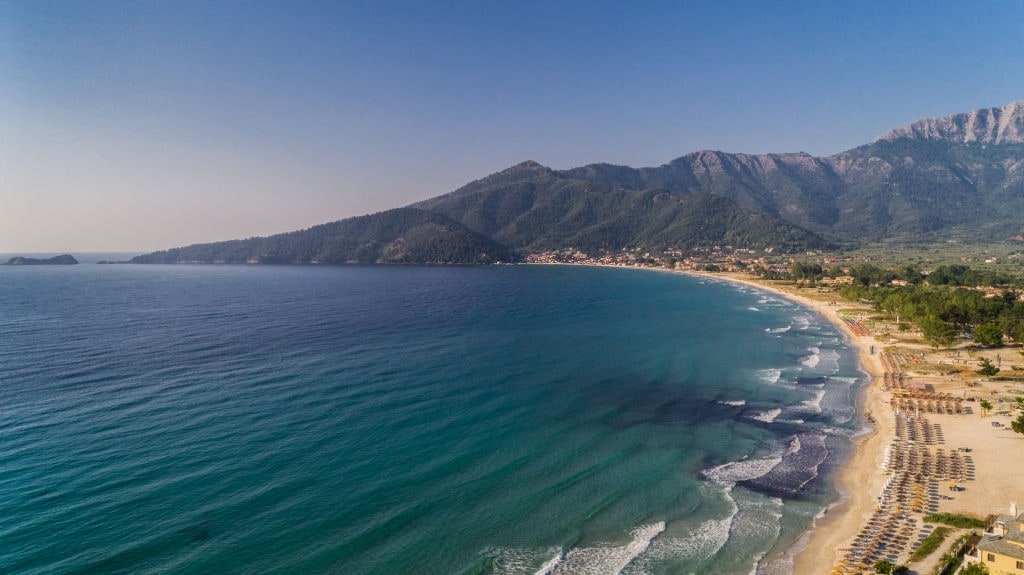 How to Get to Golden Beach
Getting to Golden Beach by Car
One of the easiest and best ways to get to Golden beach is by renting a car in Thassos. Our cars are available in the center of Thassos and the port as well. The distance between Limenas and Golden Beach is roughly 12 kilometers. Once you get your rental car, drive through the island's main road and follow the signage for Panagia / Skala Panagias until you reach Golden Beach.
Renting a car is easy and convenient since you can drive the streets of Thassos at your own pace and set your itinerary as you wish without having to follow any fixed schedule. In addition, renting a car in Golden Beach is beneficial if you plan to explore the rest of the island.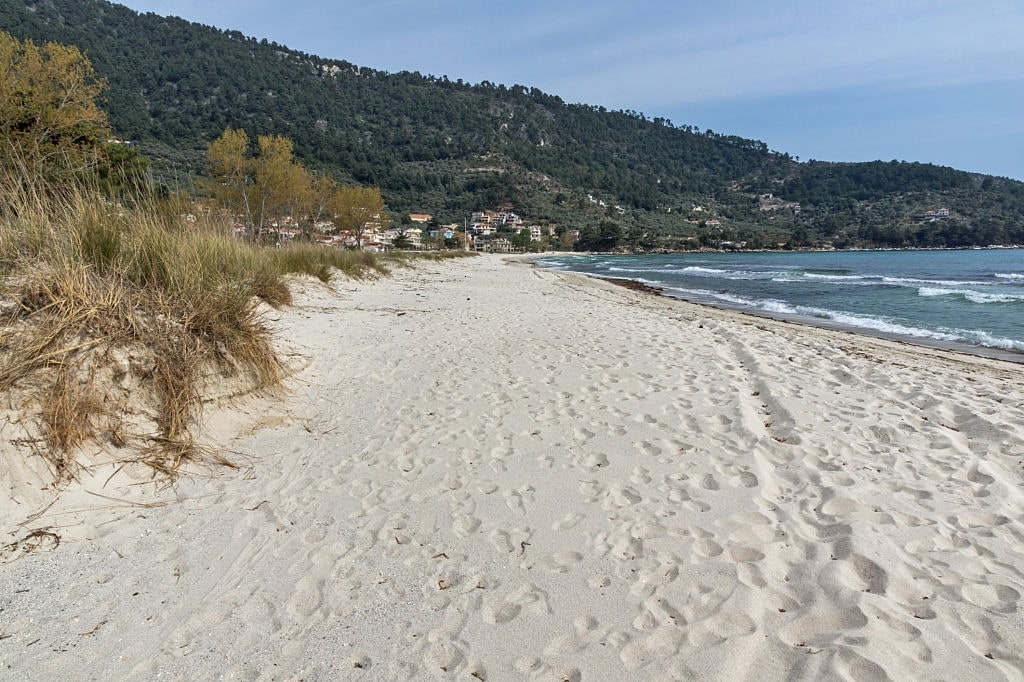 Getting to Golden Beach by Taxi
While taking a taxi is not as cost-effective as renting a car, it is certainly an option when you're in a rush or simply want to get to your destination without having to drive yourself. You can quickly find your way to Golden Beach by taxi since most taxis know the area. Taxi or transfer services can easily be obtained once you arrive at the port of Limenas.
Getting to Golden Beach By Bus
The central bus station of Thassos is found in Limenas. Once you reach the port of Limenas, you can easily catch a bus to Golden Beach since the bus stop is just near the area. Buses from Limenas take about 20 minutes to reach Golden Beach. When riding the bus, be sure to take note of timetables and schedules since these vary from bus to bus.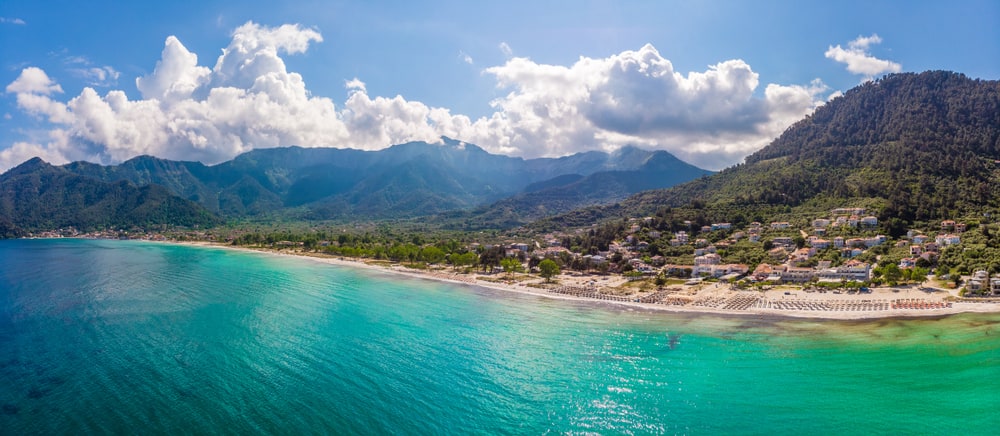 Things To Do In Golden Beach
There are many things to do in Golden Beach, making it a top destination for tourists to visit. Here's a guide on what you can enjoy once you get there!
Snorkeling
Golden Beach's waters are just beyond what you can expect from other beaches in Greece. The water is pristinely clear that it's easy to spot the colorful fishes swimming through the area. Snorkeling or swimming during your visit will surely be worthwhile, especially since the waters are shallow, making it great for beginners who want to try this out.
Sun Bathing
Golden Beach has countless sunbeds and sun loungers scattered along its shore. As a result, sunbathing is one of the most popular activities here.
Kayaking
Golden Beach is perfect for kayaking since it has calm waters great for beginners. You can easily paddle across its shallow waters to see its rocky formations up close. There are plenty of shops that rent out kayaks near the beach, so renting one should not be an issue during your visit to the area.
Diving
While snorkeling is good to do here as well, diving will give you a more intimate experience with underwater marine life. Golden Beach is an excellent place for this since the underwater terrain here is different from other beaches in Thassos. It has rocky formations and tunnels that can be explored.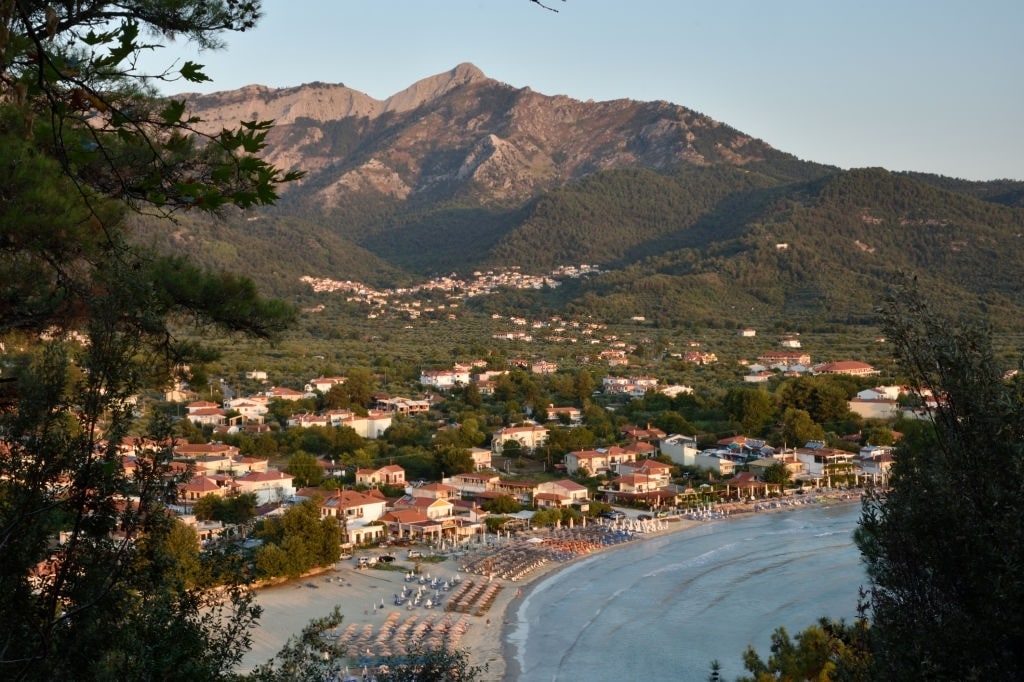 The Beaches Nearby Golden Beach
Although Golden Beach is a major destination in itself, you can also visit the beautiful surrounding beaches in the area.
Porto Vathy Beach
Porto Vathy is only 2.3 km away from Golden Beach, this lovely area is also a great place to enjoy the beach. The surrounding landscape here offers great views making it an ideal spot for photography enthusiasts.
Saliara Beach
A white-sand beach that's known for its crystal clear waters, Saliara Beach is also a great option if you want to go swimming or snorkeling since it's less crowded than Golden Beach. It's also surrounded by trees, plants, and rocky terrains — a perfect spot for people who love exploring nature.
Marble Beach
Marble Beach is only 2.8 km away from Golden Beach. This place is great to visit when you want to get away from the crowds in Golden Beach and just enjoy the sun, sand, and sea all by yourself.
Where to Stay Near Golden Beach
When you head to Golden Beach, you have the option to stay in a nearby hotel if you prefer. There are plenty of affordable hotels and apartments near Golden Beach, so this should not be an issue.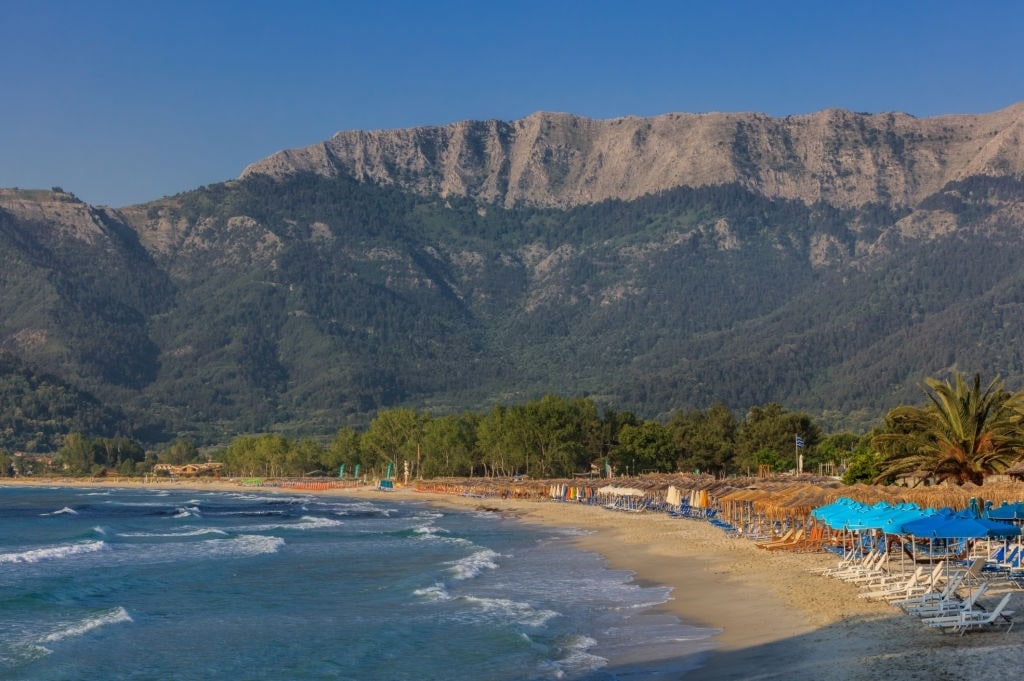 Alexandra Golden Boutique Hotel
If you're looking for a luxury and adults-only hotel, then you should consider staying in the Alexandra Golden Boutique Hotel. Located only a few kilometers away from Golden Beach, this hotel is perfect for couples and friends who can appreciate privacy, intimacy, and exclusivity. A pool, bar, and restaurant are found on the site as well.
Address: Skala Panagias, Golden Beach, Thassos
Contact: +30 261 118 0302
Website: https://www.alexandragoldenhotel.com/
Princess Golden Beach
Another great hotel to stay in when you're visiting Golden Beach is the Princess Golden Beach Hotel. This hotel has various room types that suit different needs and preferences. In addition, beautiful pools and gardens can be seen in the area.
Address: Skala Panagias, Golden Beach, Thassos
Contact: +30 2593 061700
Website: https://www.princessthassos.com/
OliTerra
Only 0.6 miles away from Golden Beach, OliTerra is a place to stay if you prefer your hotel close by. This hotel has an outdoor pool, restaurant, and bar that's perfect for treating guests after a day of sunbathing. Plus, their rooms are decorated with island-style sophistication, which gives it a great atmosphere.
Address: Skala Potamias, Thassos
Contact: +30 25930 62388
Website: https://oliterra.gr/
Where to Eat Near Golden Beach
If you're hungry after a day of fun in Golden Beach, checking out these top restaurants in the area will give you that great meal you need to replenish.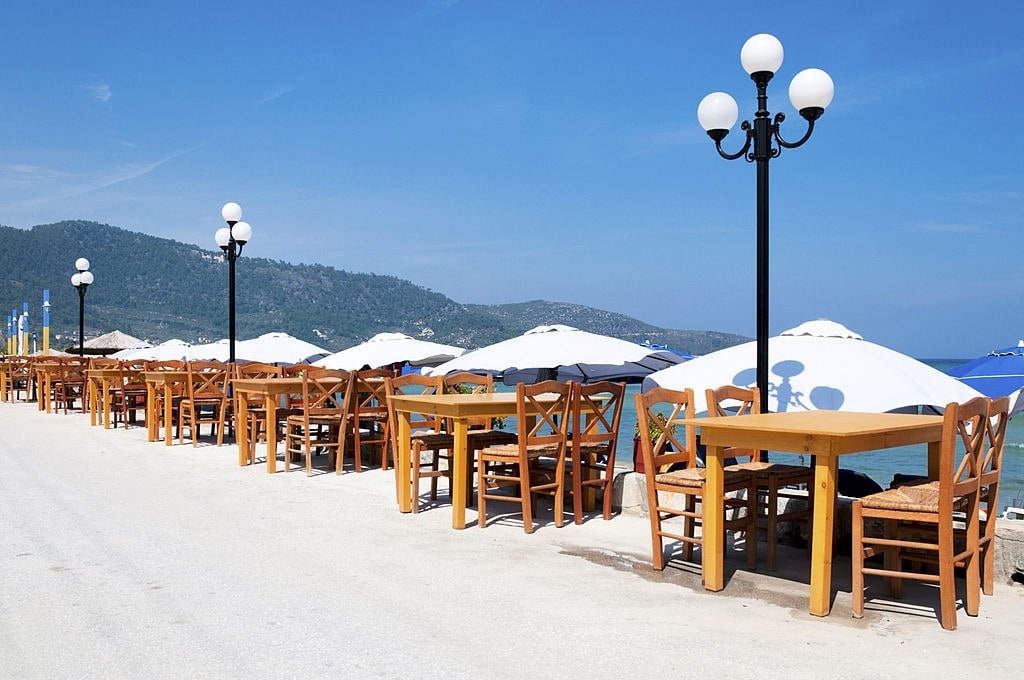 La Terrasse Restaurant
A haven for seafood lovers, this restaurant has an extensive menu of delectable dishes such as octopus, mussels, and various types of fish. This restaurant is also known for its relaxing ambiance, which will make your meal here even better.
Address: Golden Beach
Contact: +30 2593 058222
Website: https://www.enavlionhotel.com/restaurant/
Palude Taverna
If you're up for Greek cuisine, then Palude Taverna is the place for you. Here, you can enjoy pasta and grilled kebabs as well as fresh seafood and lamb chops. The cozy and rustic atmosphere of this restaurant is a nice change from the hustle and bustle of tourist spots in Thassos.
Address: Golden Beach, Thassos
Contact: +30 2593 062143
Website: https://www.facebook.com/Palude-Taverna-990756620948449/
Playa De Oro
A romantic restaurant surrounded by green vegetation, Playa De Oro is the perfect place to spend your dinner with that special someone. This restaurant has Greek and Mediterranean dishes that will surely tickle your taste buds. You can also enjoy calming music here so you'll definitely have an unforgettable experience in this restaurant.
Address: Opposite the Camping entrance, Golden Beach, Thassos
Contact: +30 2593 061440
Website: https://www.facebook.com/PizzeriaPlayadeoro
▶ ALSO READ: Potos in Thassos – Best Things You Need to Know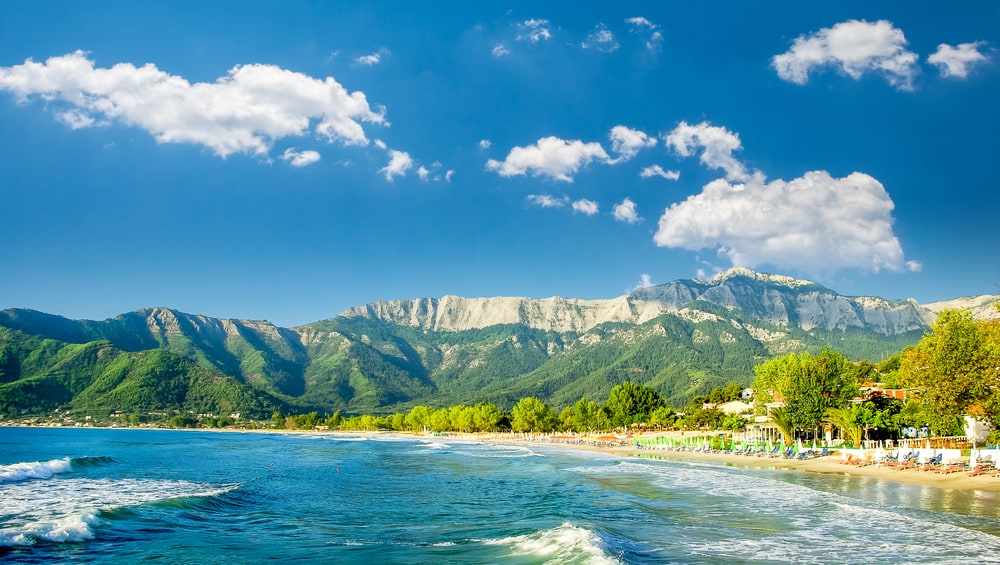 Best Time to Visit Golden Beach
Although you can visit Golden Beach any time of the year, there are some months that are recommended if you want to enjoy the island to the fullest. For example, months between June and September can be your best time to visit Golden Beach since the weather is generally temperate and pleasant.
Also read: Nudist beaches in Thassos