Skala Prinos beach has clear water and has been awarded a blue flag. The sea is shallow, with white sand in and out of the water, making it ideal for children to swim and enjoy their vacation. The beach at Skala Prinos is easily accessible and long, making it suitable for long walks. Dasyllio pine forest is well known in the region.
It is located 14 kilometers northwest of Limenas. This breathtaking beach is a sight for sore eyes, with its pliable sand and pebbles. The gradual and gentle descent into the crystal-clear waters of the sea and the tranquil atmosphere will make every second spent on this beach worthwhile.
Where is Skala Prinos beach?
It is the main beach of Prinos village and is located 12 kilometers southwest of Limenas, Thassos' capital. Ferries leave from the small port of Prinos for Kavala. The sandy beach is shaded by trees and boasts emerald, shallow waters. There are facilities and accommodations for people of all ages. The beach is well-organized and easily accessible, with numerous transportation options.
History Behind Skala Prinos beach
The beach of Skala Prinos has a long history and is well-known for the caves carved into the cliffs that line the coast. The community of Prinos, with its five beautiful villages, is located on the northwestern side of the island of Thassos. Big Prinos (Big Kazaviti) and Small Prinos (Small Kazaviti) are found next to the forests of the mountain Ypsariou, look far away from Aegean, and offer the visitor the beauty of the hill as well as an unrivaled view of the vastness of the sea. The pines in the region, known as "Dasyllio", an old fishing village developed into a settlement, emerge literally from the sea. Skala Prinos is home to the island's second ferry port, which connects the island of Thassos to the city of Kavala on the mainland.
Facilities in Skala Prinos beach
There is a wide range of accommodations available, including newly built luxury hotels, self-catering apartments, and beachfront restaurants. one can choose whatever suits to taste and budget, as well as trendy cafés and uplifting beach bars. The beautiful green grove of Dasilio Prinos can be reached by walking along an elegant walkway alongside the main road. This is a small and charming evergreen wood on the right edge of the bay that appears to grow directly out of the sea in some places.
Prinos is divided into recreation areas, which include a barbecue, a playground, and, of course, swimming pools. This beach has held a Blue Flag of excellence since 2004 and will undoubtedly keep it for many years. The sand is fine, the sea is rarely rough, and the beach shelves very gently into the water, creating a shallow area ideal for small children. This is also one of the best places to watch the breathtaking sunsets on Thassos.
How to get to Skala Prinos beach?
The island of Thassos is well connected to the mainland, and ferry transportation is well-organized and frequent. Because Thassos is Greece's northernmost island, the ferry ride takes only 40-75 minutes, depending on which port you depart from. To get to Thassos, fly into one of the two international airports on the nearby mainland. The arrival airport is determined by your origin; however, Kavala International Airport "Alexander the Great" (KVA) is the closest to Thassos.
There are two ways to get to the island of Thassos. The first option is to take the ferry from Keramoti to Limenas (the island's capital), while the second is to take the ferry from Kavala to Skala Prinos. The journey from Kavala to Skala Prinos takes approximately 75 minutes.
Attention: The ferry from Kavala runs only 3-4 times per day. And for that, we recommend using the port of Keramoti, which is 30 kilometers from Kavala and from which ferries depart for Thassos in about 45 minutes.
By Foot
Skala Prinos beach is easily accessible and long, making it ideal for long walks. The area is well-known for its pine forest. Walking to the beach will be a pleasurable experience because it will expose you to the local culture and cuisine.
By Car
The easiest and quickest way to get to the beach is by car. The drive from Kavala to Skala Prinos takes about 75 minutes. Once you arrive, you can park your car in the shade on the beach or the main road.
By Bus
You might be in a pickle if you want to take the bus from Kavala International Airport to the ferry ports. There are no bus connections along this route. If you're on a tight budget and flying into Thessaloniki International Airport, you can catch a bus from the airport to the city's central bus station. You can then buy a ticket to Kavala's main bus station. And get to the main Skala Prinos beach.
Where to stay near the beach?
There are countless options for cost-effective accommodations providing quality facilities.
Elektra Comfort Hotel
Elektra Comfort Hotel, located just a few steps from Ormos Prinou Port, is a beachfront property with a pool, a sea-view terrace, and a bar. It has free WiFi throughout the property and air-conditioned rooms with balconies; all Hotel rooms have a TV and a fridge. Each unit has its own bathroom with a shower. Guests can begin their day with a breakfast buffet in the lounge.
Coffee, drinks, and cocktails can be enjoyed at the bar, along with traditional and homemade delicacies.Elektra lies within 100 m from Ormos Prinou Port and 16 km from Limenas Town and Port. Staff at the front desk can help arrange car rentals to explore famous places, such as Chryssi Ammoudia Beach at 26 km. Free parking is possible on-site.
Address: Skala Prinos, Limenas Thassos, Greece
Website: https://www.elektrathassos.gr/
Phone: +30 2593 071374
Thassian Riviera Hotel
Thassian Riviera Hotel is located in Skala Prinos, 400 meters from Aphrodite Beach, and features a seasonal outdoor swimming pool, free private parking, a bar, and a shared lounge.
Address: Skala, Prinos 640 10, Greece
Website: https://thassianriviera.gr/
Phone: +30 697 215 5683
Hotel Medusa
Hotel Medusa is located in Skala Prinos, 300 meters from Aphrodite Beach, and features a bar, free private parking, a shared lounge, and a terrace. The hotel was spotless and extremely comfortable, and the staff and owner were both extremely pleasant. There is designated parking.
Address: Kriopigi 630 77, Greece
Website: https://www.facebook.com/HotelMedusaKriopigi
Phone: +30 2374 052224
Can you rent a car and visit Skala Prinos beach?
If you want the freedom to enjoy the beautiful scenery on your way to the beach, then renting a car in Prinos is best. Potos Car rentals is available to provide the best car rental services and has the main branch in Skala Prinos. Our office in Skala Prinos is located to the port's left, less than 50 meters from where the ferry docks, allowing you to easily collect your vehicle and continue on to your final destination comfortably and stress-free.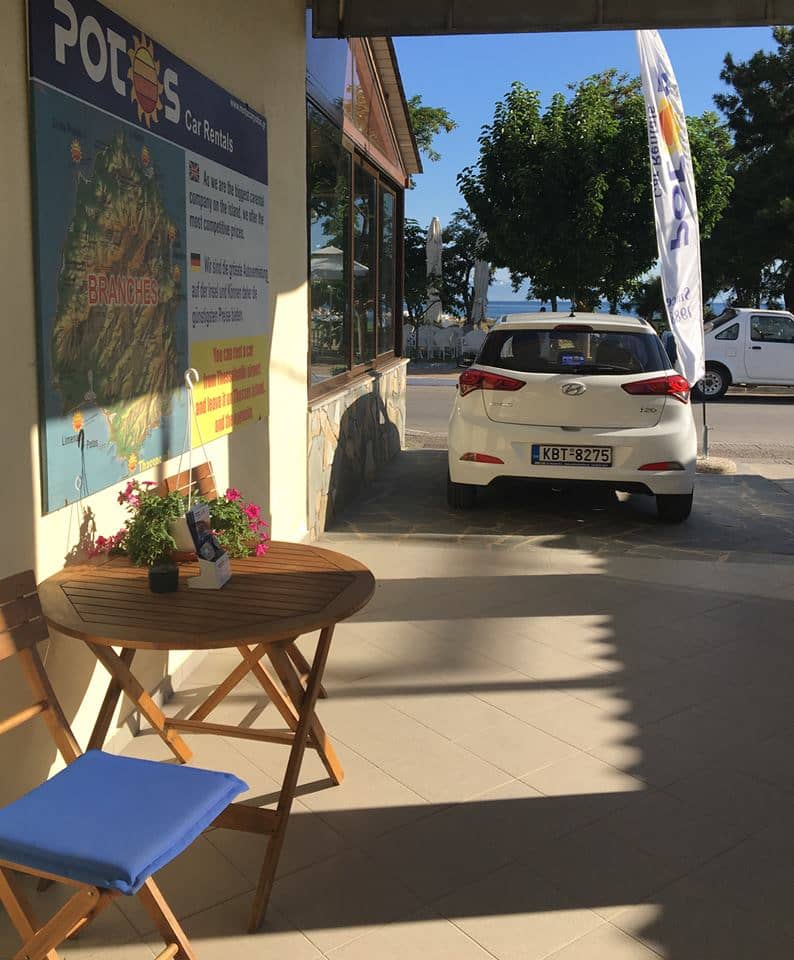 How much is the cost to hire a car in Skala Prinos?
Do you want to enjoy the comfort of traveling by car with no hassle? If yes, then renting a car is the best option for you. There is a broad range of vehicles to select from, providing you the flexibility to hire a car that appropriates your budget. As far as payments are concerned, an economy car will cost around €18 per day and about €130 per week. While a medium vehicle will cost about €28-35 per day and around €200-220 per week. You will pay approximately €70 per day and about €500 per week for an SUV or a minibus.
Also read:
▸ Metalia beach: Highlights, Access, Accommodation & Rental Cars
▸ Paradise Beach: Highlights, Access, Accommodation and Car rental
▸ Atspas beach: Highlights, Access, Accommodation & Rental Cars
▸ Psili Ammos Beach Thassos: Highlights, Access, Accommodation & Rental Cars
▸ Skala Rachoni Beach: Highlights, Access, Accommodation & Rental Cars
▸ Skala Kallirachi: Highlights, Access, Accommodation & Rental Cars