Are you dreaming of a lovely cottage house or traditional villa in Greece?
Are you looking for a "home away from home" accommodation on the beautiful island of Thassos?
Are you a family or group of friends that are looking for privacy and enjoy your own independence on holiday?
Would you like to experience "living as a local" and avoid mass tourism and large hotels?
Thinking about booking a "home away from home" accommodation rather than a room in a large hotel for your next holiday in Thassos! Here, we present a small yet charming, traditional and peaceful home in Skala Potamia "Lucia's Home"!
Thassos Homes For Rent – Lucia's Home
(TOP) Location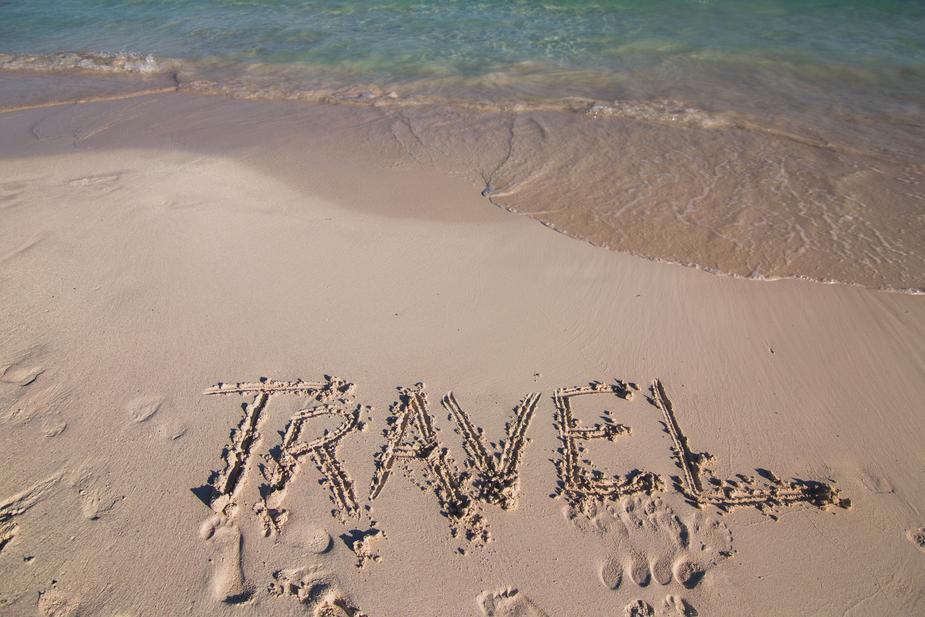 Lucia's Home takes its name from the grandmother of the family, Lucia, who was born and lived in Thassos. The house was completed in 2019 and is a brand new, 50-square-metre house in a peaceful neighbourhood on the upper side of Skala Potamia with great views to Ipsarion Mountain. Lucia's Home is easily accessed from the port of Limenas, just 15 minutes by car, with two supermarkets and a petrol station on your doorstep!
The wide sheltered, smooth and sandy blue bay of Golden Beach, one of the most famous beaches of Thassos can be reached within 5 minutes by car. The crystal clear waters, water sport facilities, beach bars and restaurants nearby create an attractive and welcoming atmosphere everyone!
Other famous beaches such as Makryammos, Porto Vathy, Paradise, Aliki and Monastery of Archangel are also close to Skala Potamia and easily accessed by car. In addition, the traditional settlements of Potamia and Panagia villages, which will provide an insight into some of our traditions, are also nearby!
Thassos Homes For Rent – Facilities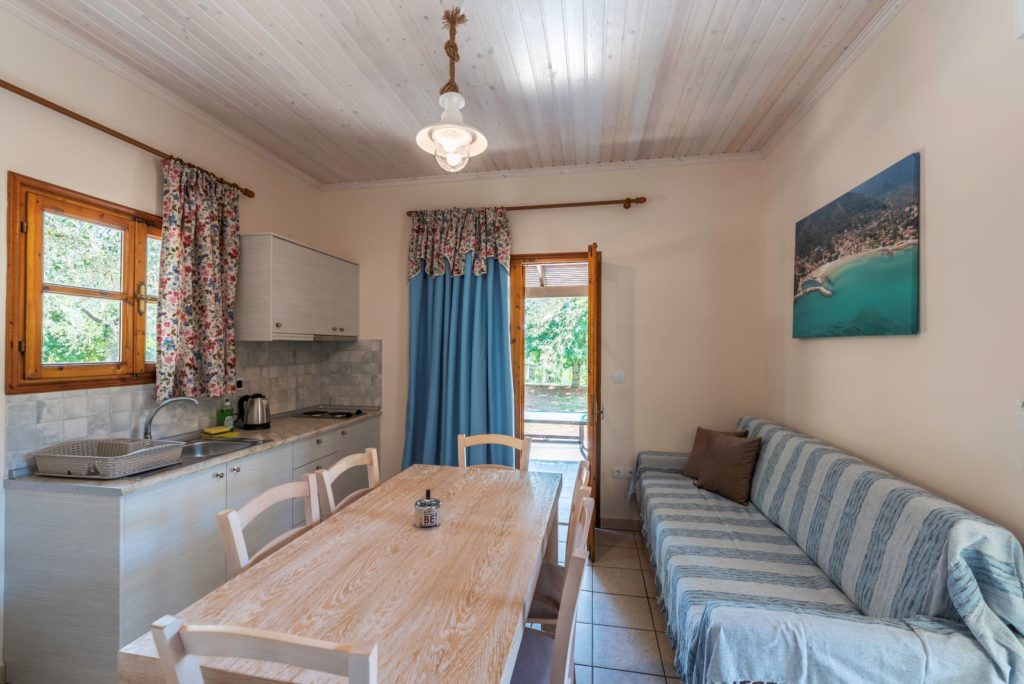 Lucia's Home can host up to 6 guests. It has two spacious bedrooms with rustic decor with stunning views to a lovely garden, a well-equipped bathroom, a comfortable sitting room with a fully equipped kitchen and two balconies.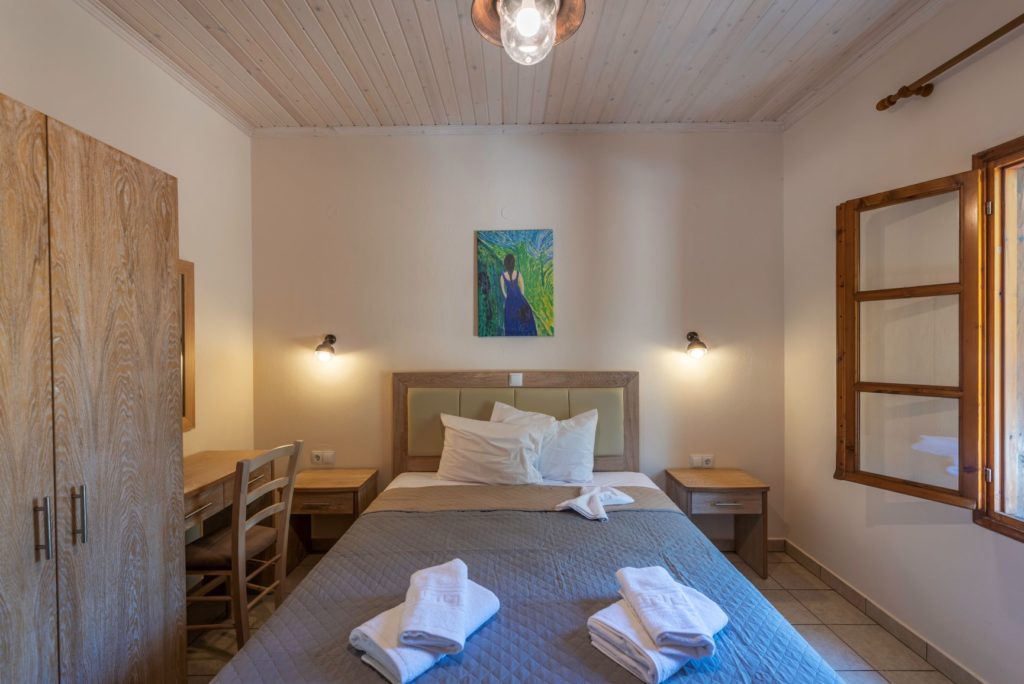 A fast Wi-Fi connection is also provided together with a smart TV with Netflix streaming and YouTube access. The house also has air-conditioning and for those travelling with babies, a baby cot can be provided free of charge. We kindly advise pets are not allowed.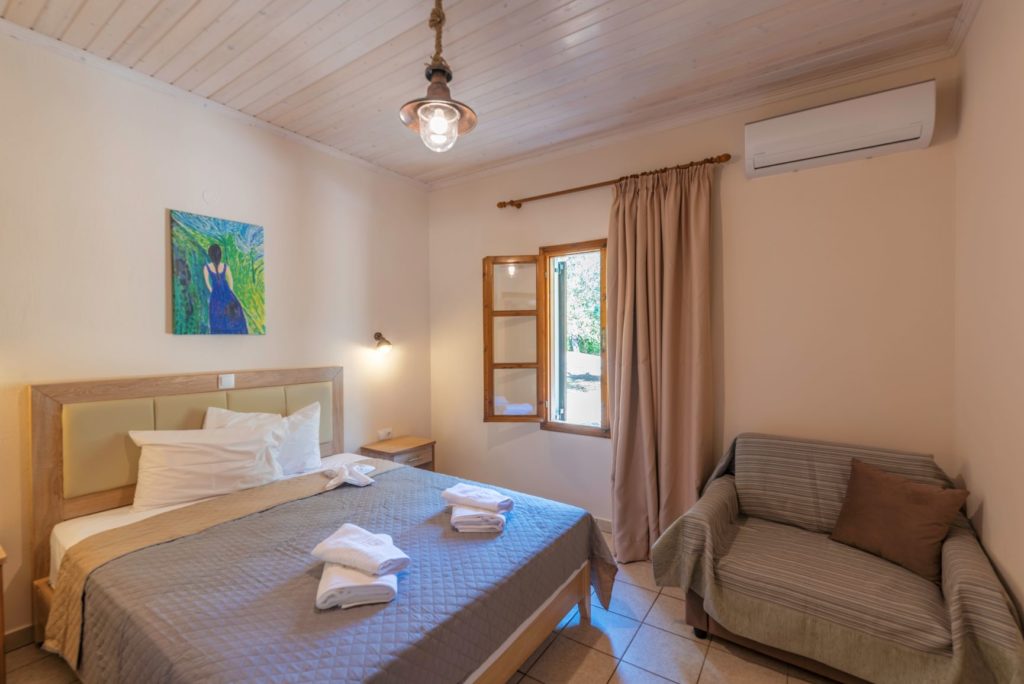 Lucia's Home is surrounded by a lush, shaded yard with beautiful century old olive trees and a spacious outside area for relaxing. The property is completely private and the facilities are not shared. Secured access to the yard is available through an automatic door opening mechanism. A spacious parking area and playground for the little ones are also available.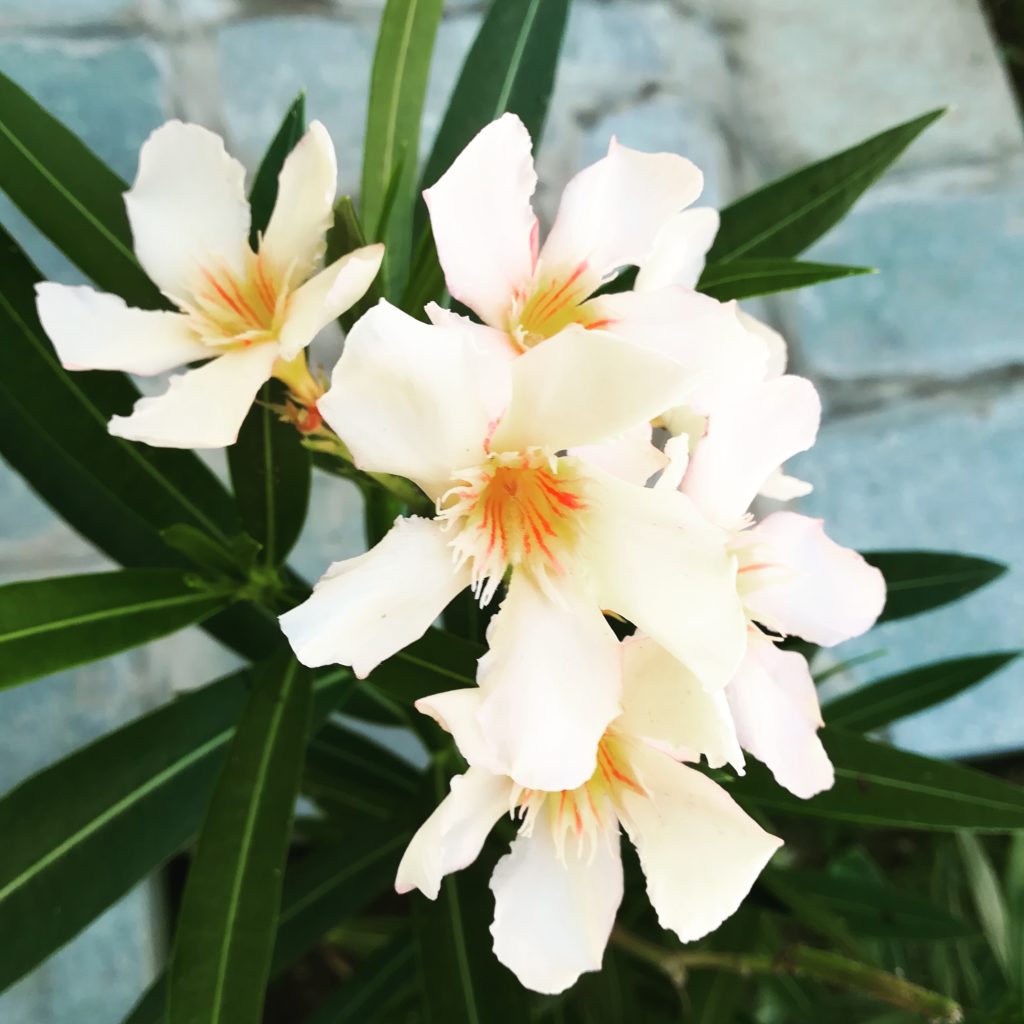 Along with serenity, the guests can enjoy the view of spectacular natural surroundings, including the view of Ipsarion; the imposing mountain standing at 1204m in height in the centre of the island. Olive, arbour, peach, walnut and cherry trees are just a few of typical Greek plants found in the spacious yard.
For the energetic, you can find several jogging routes within the natural surroundings around the property. Natural beauty is at its finest during spring, summer and autumn with intense blossom due to the large variety of flora and fauna.
Thassos Homes For Rent – When to come?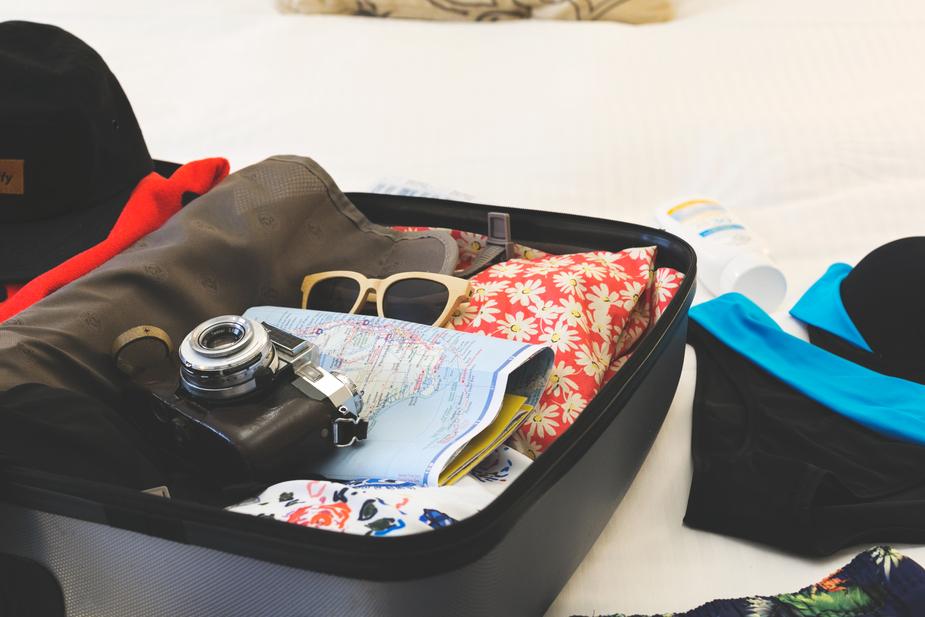 Available from 1st May until 31st October.
Due to high demand during the June – September period, early booking is strongly recommended. Please note that a deposit is required.
Even though the main period for Thassos is the summer months due to the temperature, there are other national holidays and events that are vital for the local community. During spring, Carnival Festivals (an ancient Greek custom) are organised across our Island where locals celebrate the coming of spring with traditional music, delicious local delicacies and drinks.
Easter is the most important celebration for Greece. The weather is warm and sunny, plants flourish and the locals get emotionally prepared for summer. Overall, there are plenty of local events, and it is not uncommon that you may even enjoy the first swim of the year! Although there is some demand during this period, prices are lower in comparison to the summer period. This is also the case for mid-September through to and including October.
Thassos Homes For Rent – About the Host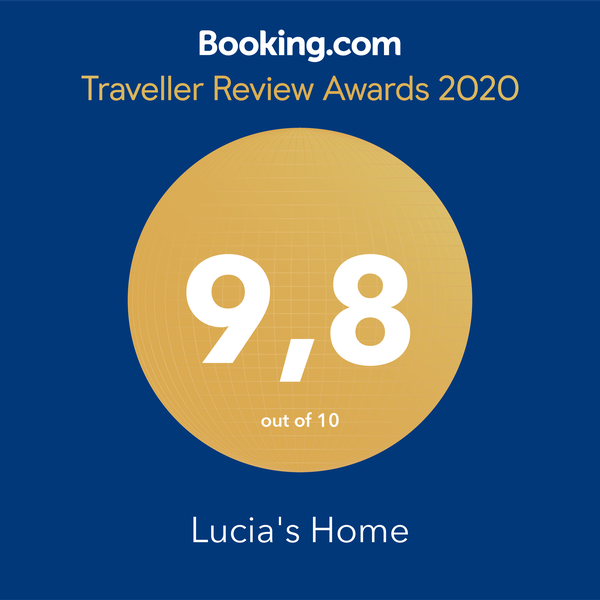 Alex is the grandson of Lucia. He completed his studies in Chemistry and Economy at Edinburgh University and decided to return back to the island and is now running the property. He is the perfect host, born and raised on the island, therefore, knows all the "ins and outs" of Thassos. Alex will make you feel like you are at home and ensure you have an unforgettable holiday!
Thassos Homes For Rent – How to book?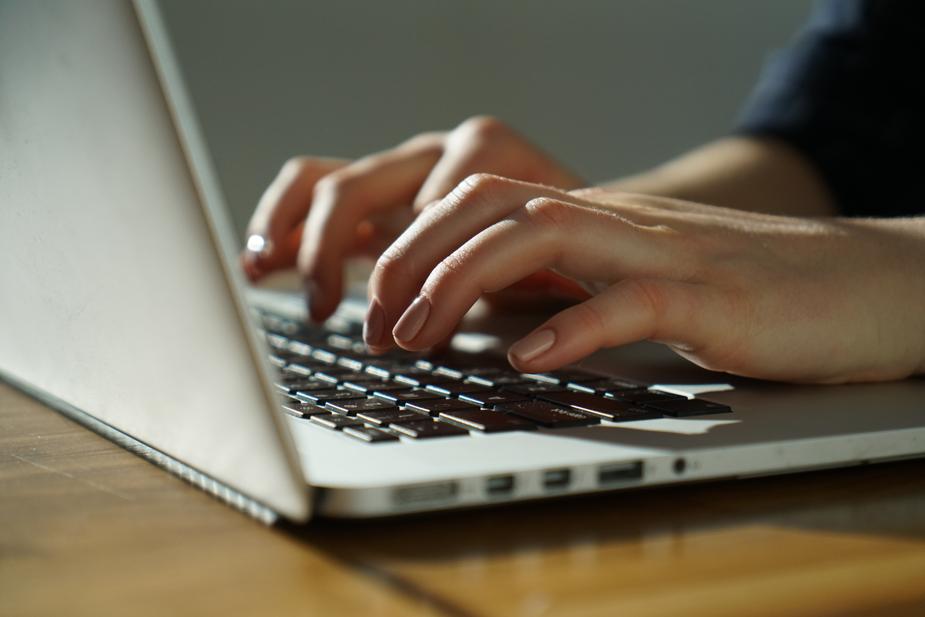 For any inquiries and bookings, please contact Alex directly:
Facebook: https://www.facebook.com/Lucias-Home-428531334668358
Instagram: https://www.instagram.com/homelucias/
Lucia's Home is also bookable and reviewed from guests through Airbnb (rating: 5/5) and Booking (rating: 9.8/10).
Last but not least, please contact Alex for all special offers available throughout the period they are open for business. Preferred languages for communication are English and Greek.
Thassos Car Hire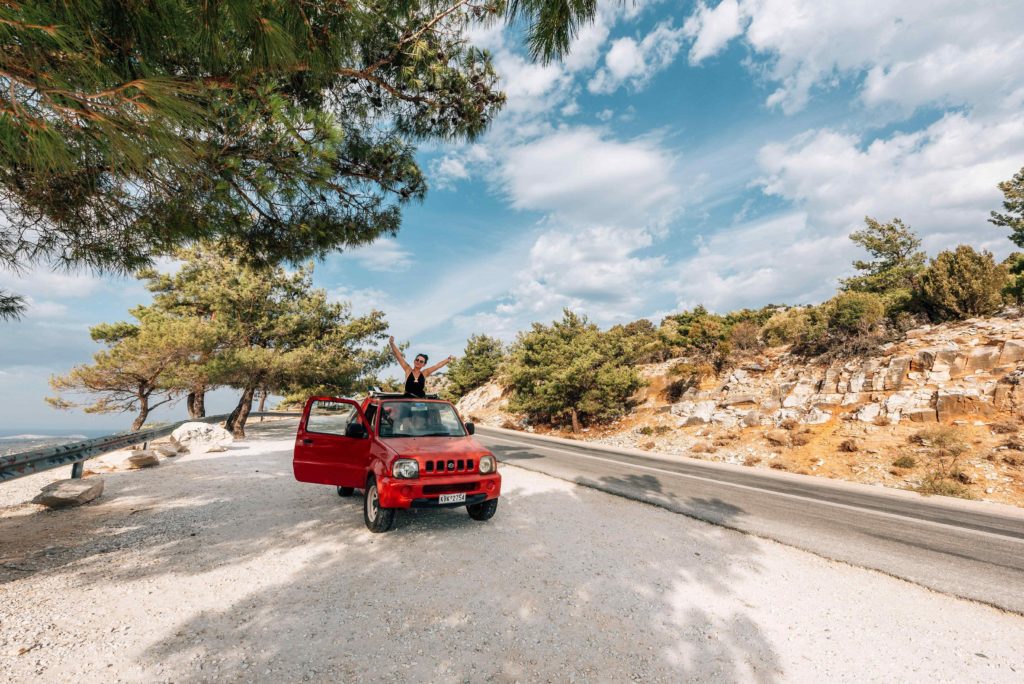 Car hire collection is available from Thessaloniki Airport. Driving time to the port of Keramoti is approximately 2.5 hours. The ferry crossing to Thassos is 35 minutes.
For arrivals at Kavala Airport, a member of our team will be waiting in front of the arrivals hall or alternatively you can take a taxi to the port of Keramoti and pick up your car from our local office in the port of Limenas. Car hire is more economical as a taxi from Limenas port to Skala Potamia costs approximately 30 Euros.
You can also find our branch offices in Skala Potamia and Golden Beach. From Lucias Home, our closest branch office is in Skala Potamia approximately a 20 minute walk, alternatively, call us on +30 25930 52071 and we can collect you and drive you to the office free of charge.
To sum up below you can find the top 5 reasons why you should consider booking a house instead of a hotel for your next holiday!
Top 5 reasons to choose a guest house vs a hotel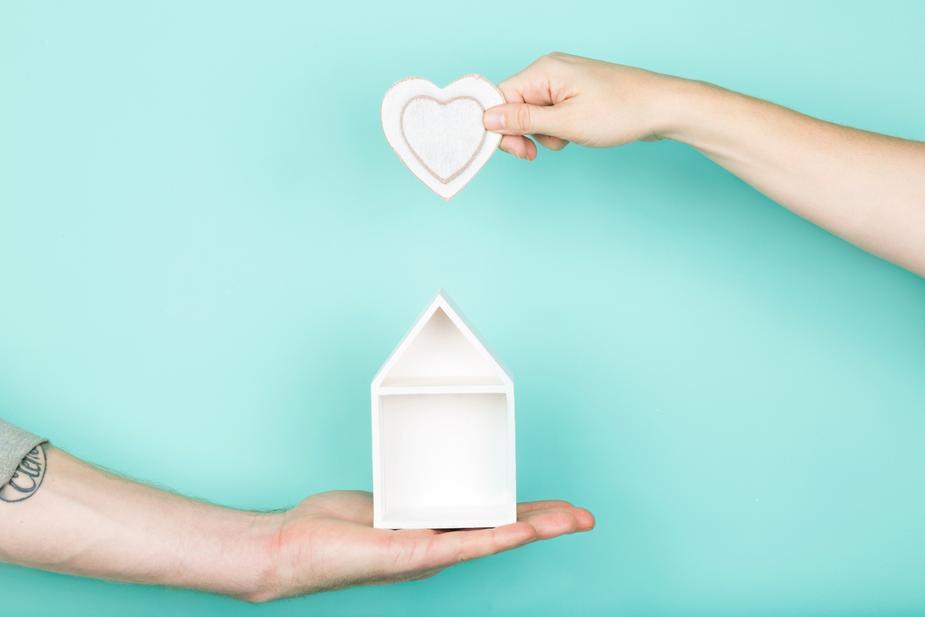 Independence and full privacy
Make use of all areas of the accommodation in full privacy.
More space for a smaller budget
Save money by booking a spacious house.
Ideal for a longer holiday
Stay longer for less.
More contact with the locals
Mix and mingle with the locals.
Support local small businesses
Support small independent businesses! Think local!
Let us know what you prefer? A large, luxury hotel or a small cottage house for your holidays?
We wish you a relaxing stay at Lucia's Home!
Potos Car Rentals Team