Are you looking for a unique and fun-filled way to explore Greece? Look no further than wineries in Thassos and Thessaloniki. Here, visitors can treat themselves to some of the most diverse wine varieties. From traditional dry whites to fruity rosés, these wines come alive when tasted in their natural environment. So why not take an adventure through wine country today with our guide on some of the best wineries in Thassos and Thessaloniki?
The Greek wine industry is known for producing high-quality wines that are enjoyed all over the world. Some of the most notable vineyards in Greece include Lazaridis Estate, Ktima Kyr-Giannis, Porto Carras Estate, and Gerovasiliou Estate.
Here is a list with the best wineries in Thassos, Thessaloniki and Northern Greece
Lazaridis Estate: Lazaridis Estate is also known as Chateau Julia, is a 2200-acre vineyard in Adriani, Greece. It's one of the largest vineyards in Greece and offers a variety of products to visitors.
Ktima Kir-Yianni: Ktima Kir-Yianni a boutique winery and part of the Boutaris family. Founded in 1997 by Yannis Boutaris, the winery is renowned for its bold white wines, such as Roditis, Assyrtiko, and Gewürztraminer.
Porto Carras Estate: Porto Carras Estate is the largest vineyard in Greece and Europe, with 500 hectares of vineyards and olive groves.
Gerovassiliou Domaine: Gerovassiliou Domaine is a unique success story that started in 1981 when Vangelis decided to revive the family vineyard in the Papamola region.
Whether you're an experienced sommelier or an enthusiastic taster, check out these impressive wineries that will make your visit memorable: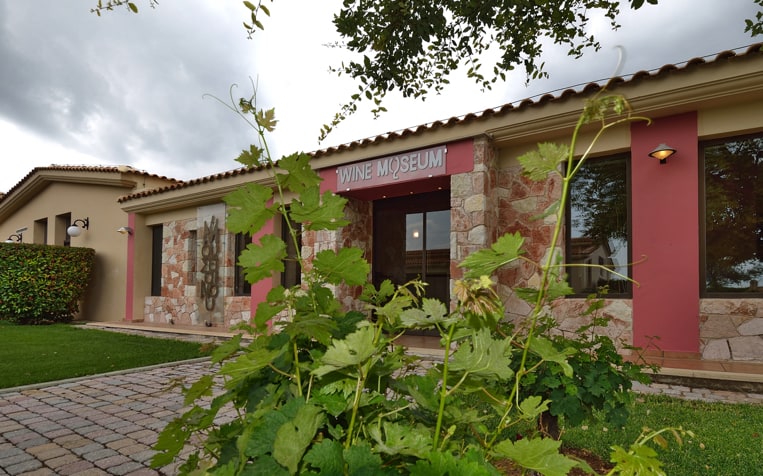 Lazaridis Estate
Costas Lazaridis Estate, otherwise known as Chateau Julia, was established in 1992 in Adriani, Greece. Consisting of 2200 acres of low-yield crops, which are home to some of the finest Greek and International grape varieties, it is one of the largest vineyards in all of Greece. Tourists and locals alike can visit the winery located in Kapandriti and explore its 10,500 square-meter facilities. It possesses various halls, such as aging cellars and tasting rooms, as well as social spaces fit for hosting conferences or other organized events.
In addition to a modernly equipped winery, the estate also holds an organic vineyard of 200 acres. The in-house distillery produces various types of beverages such as the classic tsipouro 'Idoniko,' fresh grape distillates' Methexis' made from Muscat of Alexandria, Chardonnay, and Cabernet Sauvignon grapes, as well as the elegant 'Methexis Cigar' made from Sauvignon Blanc grapes. Their place in the industry has been reinforced with the launch of their Aceto Botanico Adriani line in late 2006 due to long-standing research into balsamic vinegar production standards. Finishing off this unique brand experience are beautiful bottle labels designed by Yannis Nanos, a painter from Drama.
Location: Adriani, Drama, 661 00, PO BOX 157
Contact Number: +30 25210 82 231
Website: https://www.domaine-lazaridi.gr/en/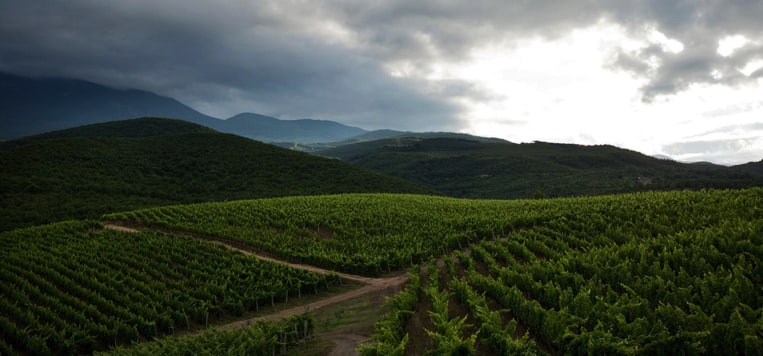 Ktima Kyr-Giannis
Ktima Kir-Yianni is a boutique winery and is part of the esteemed Boutaris family. Founded in 1997 by Yannis Boutaris, the winery is continuously innovating its production process and striving for excellence in all areas of viticulture. In addition to experimenting with various clones, Ktima Kir-Yianni has become renowned for its bold white wines, such as Roditis, Assyrtiko, and Gewürztraminer – a variety that hails from Germany but only recently became popular in Northern Greece. Through dedication and creative experimentation here at Ktima Kir-Yianni, they are transforming the way we view white wines from the area and paving the way for further success and growth within this sector.
Located in the Naousa region of Greece, Ktima Kir-Yianni has two vineyards that offer a varied range of wines. The principal one, Gianakohori, consists of fifty hectares spread across east-facing slopes and is planted with both international and local varieties. This includes Xinomavro, Syrah, and Merlot. The soil is composed of clay over marine limestone rocks, adding complexity to the flavors of the varietal wines produced from this location. A second twenty-hectare estate in Amyndeo is dedicated entirely to white varieties where hundreds of vines have been growing since 1970. One unexpected treat from this vineyard is their bubbly brut rosé made from Xinomavro grapes. On your visit, you can take a tour of the vineyards and also taste their exquisite wines. In total, both vineyards offer an original selection of wines special to Ktima Kir-Yianni that could never be replicated elsewhere.
Location: Yianakohori, GR – 59200 Naoussa
Contact Number: +30 23320 51100
Website: https://kiryianni.gr/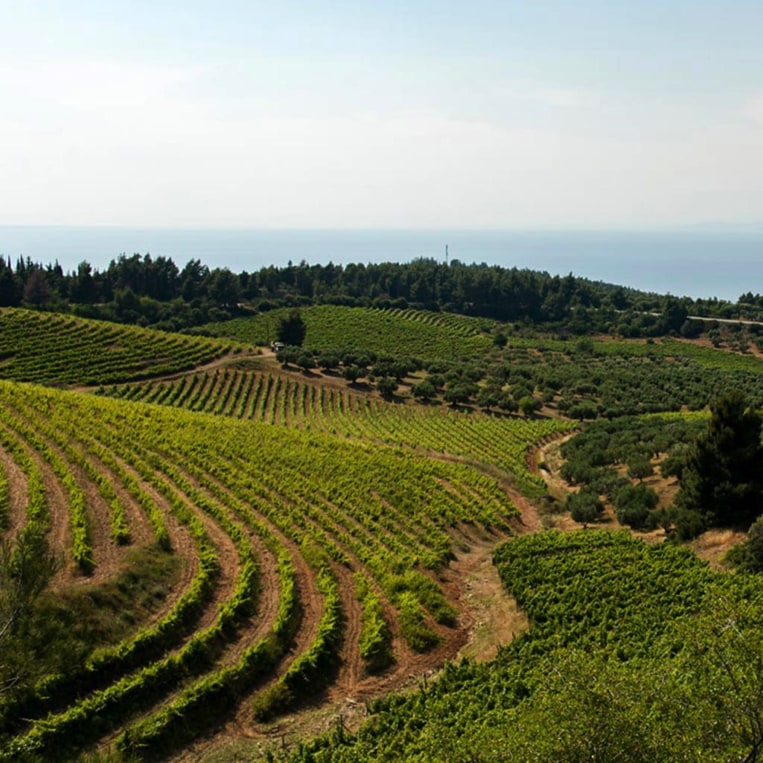 Porto Carras Estate
Domaine Porto Carras is a unique Greek vineyard, being the largest not only in Greece but in all of Europe, with a total area of 500 hectares. The history behind the vineyard dates back to 1965 when the first vineyards and olive groves were planted in the Khalkidhiki region. This soil has been renowned for centuries for producing traditional wines like Toroni, Acanthus, and Olympus, which even today are considered highly esteemed.
The Winery at Porto Carras is an awe-inspiring anomaly of the natural and human elements, blending seamlessly into a beautiful combination. Built-in 1970 and surrounded by pristine vineyards, it stands as a milestone in the history of Greek winemaking. With its renowned selection of vintages such as Chateau, Limneon, Ruby Heart, Malagousia, and Assyrtiko, it's no surprise visitors flock to attend daily wine-tasting sessions at the charming Melissanthi Wine Tasting Room. Furthermore, visitors can enhance their experience with an unforgettable tour of the vineyard grounds. Enjoy breathtaking panoramic Aegean sea views while exploring the Sithonia peninsula, rolling vineyards along the Meliton slopes, and incredible picturesque coves framing Porto Carras.
Location: Neos Marmaras, 63081, Sithonia – Chalkidiki, Greece
Contact Number: +30 2310 253758
Website: https://www.portocarraswines.gr/en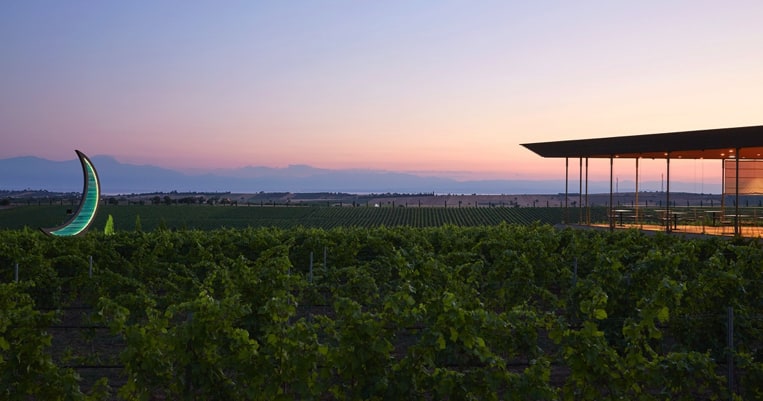 Gerovassiliou Domain (Estate)
Gerovassiliou Domaine has been a unique success story since its inception in 1981, when Vangelis decided to revive the family vineyard in the Papamola region, 25 km from Thessaloniki. After constructing a modern winery, Vangelis began to plant both Greek and foreign grape varieties on 2.5 hectares of land. This remarkable effort became even more impressive as time went on, and the acreage stretched to 56 hectares, with all wines produced from grapes hand-cultivated on their own vineyard. It is through these amazing feats that Domaine Gerovassiliou has become one of the most renowned wineries in Greece today.
The Gerovasiliou Domain / Estate is now home to a range of ancient and modern grapes. Ancient Greek varieties, such as Malagousia, Assyrtiko, Limnio, and Mavroudi, have been carefully cultivated at the vineyard for some time – in fact, the winery provided an opportunity for Vangelis Gerovassiliou to vinify Malagousia for the first time. The winery also boasts a wide selection of foreign grape varieties from France, including Chardonnay, Sauvignon Blanc, Viognier, and Grenache Rouge for reds and Syrah and Merlot for whites. Gerovassiliou Domaine continues to strive towards innovation by experimenting with cultivating an array of Greek and foreign grapes. Domaine Gerovassiliou is a leader in the area of winery tours, offering guests an all-encompassing experience. Attendees take a journey through the vineyard, winery, and museum before culminating in a visit to specially designated wine-tasting halls.
Location: P.O. Box 16, 57500 Epanomi Thessaloniki
Contact Number: +30 2392044567
Website: https://www.gerovassiliou.gr/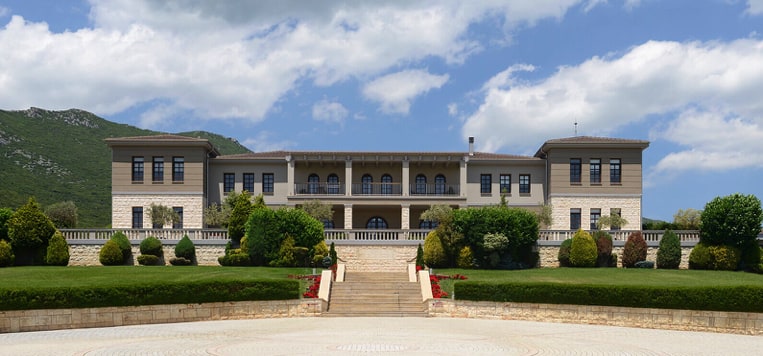 Estate Vivlia Chora
The Vivlia Chora Estate is a remarkable vineyard and winery that was established in 2001 by two respected winemakers, Vassilis Tsaktsarlis and Vangelis Gerovassiliou. Perched at an altitude of 400 meters above sea level, the vineyards stretch across infertile and rocky soil, with organic farming being employed for cultivation. All viticultural tasks, such as leaf thinning and harvesting, are done without any high-tech means, as the priority of the estate is to stay true to traditional methods. The modern winery is built in the middle of the vineyard and covers an impressive 5,500 m2 area. It contains several sections, including vinification, bottling, barrel and bottle aging, wine-tasting rooms, reception areas, and hospitality for visiting guests. Finally, a multi-purpose hall makes this estate even more unique.
A visit to the Biblia Chora Estate in Greece promises a peek into excellence. Not only can you take in the scenic views of the lush, privately-owned vineyard, but you will also be able to experience some of their world-renowned wines. Their Ovilos White 2003 was proudly awarded "Best Dry White Wine in Europe" at Neustadt, Germany 2004; Ovilos White 2005 and Biblia Chora Estate White 2004 both garnered the International Trophy from Decanter; and their Ovilos White 2008 made it onto the cover of Decanter's December 2009 issue as one of the best seven wines in the world. To learn more about this incredible winery, visitors can partake in an estate tour with a guide, during which they will be able to walk around the grounds, observe the privately owned vineyard, witness the fermentation process, and explore underground cellars before ending their tour with a wine tasting session.
Location: 64008 Kokkinochori, Kavala
Contact Number: +30 25920 44974
Website: https://bibliachora.gr/en/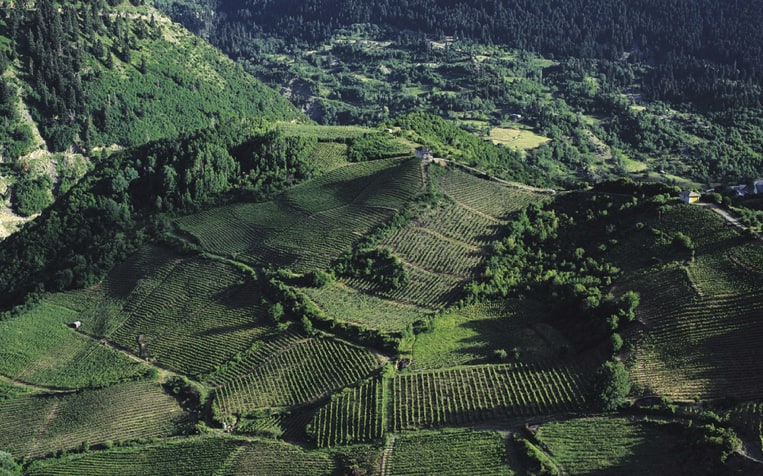 Katogi Averoff
The Katogi Averoff Winery is an impressive example of a modern winemaking facility. Strategically located in the village of Metsovo at a high elevation, the winery benefitted from the earlier vision and efforts of Evangelos Averoff, who planted Greece's first Cabernet Sauvignon vines more than 60 years ago. The result is an array of spectacular wines sold in over 40 countries worldwide. Since its inception, Katogi Averoff has undergone several expansions and renovations to become fully equipped with all the necessary technology to produce and bottle quality wines. In addition, the winery boasts twelve hundred oak barrels for aging its red wines, as well as a shop that offers rare and collectible bottles from vintage 1974 onward.
Katogi Averoff Winery is a world-renowned integrated wine tourism facility offering so much more than just luxurious overnight stays in its 4-star hotel. Visitors simply can't miss the exciting audio-visual media tour showcasing the estate's rich history, including famous alumni such as Noni Karapiperi and painter Spyros Papaloukas. Nor can they overlook the unique opportunity to learn more about crafting wines in the production area. Of course, an unforgettable experience at Katogi Averoff must also involve sampling some of their fine products, such as Tsipouro Alba di Munte, Cabernet Sauvignon, Rossiu di Munte Vlachiko, and Katogi Averoff Red. With signature luxury hospitality and an extraordinary tour of its distinguished wines, it is certainly not difficult to see why Katogi Averoff Winery translates into a perfect getaway destination.
Location: Marathonodromou 59, TK 15452, Psychiko, Greece
Contact Number: +30 210 67 782 44
Website: https://katogiaveroff.gr/en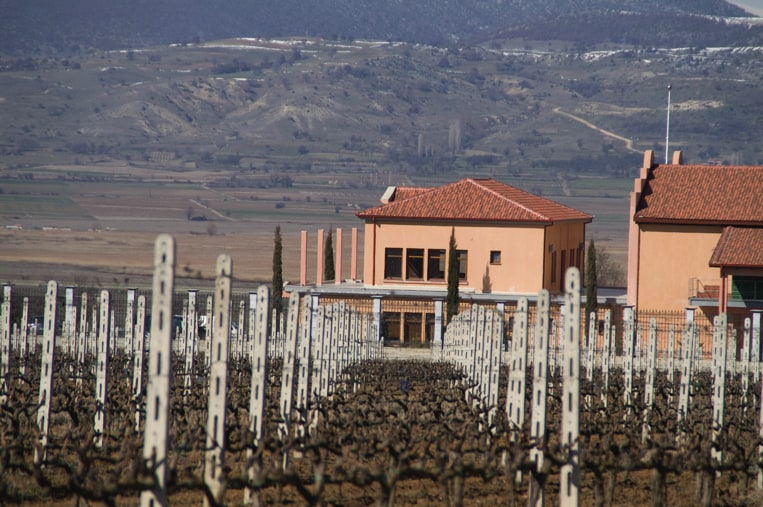 Alpha Estate
The Alpha Estate, situated in the Amynteo grape-growing zone of northwestern Macedonia, provides a stunning view of Petres and Vegoritida lakes. It was created by two inspiring individuals, Makis Mavridis and Angelos Iatridis. The Estate produces some incredibly notable wines, such as Alpha Xinomavro Reserve Vieilles Vignes (PDO Amynteo), Alpha Xinomavro Skantzohiros ("porcupine") (PDO Amynteo), Alpha Estate Red (PGI Florina) made from Syrah, Merlot, and Xinomavro varieties, as well as Alpha Estate White (PGI Florina) made with Sauvignon Blanc grapes. The estate offers a one-hour tour followed by wine tasting for a maximum of six people per group.
Location: 2nd Km Amyndeon – St. Panteleimon
Contact Number: +30 23860 20111
Website: http://alpha-estate.com/homepage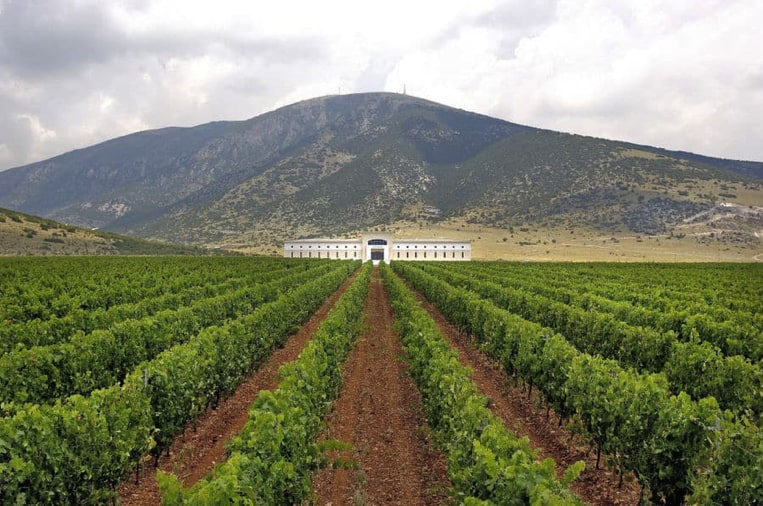 Pavlidis Estate
Pavlidis Estate, located in Kokkinogeia, is an exceptional winery site made possible by the dedication of founder Christoforos Pavlidis. Taking advantage of the local climate and lush surroundings, his vineyards thrive to this day. With Perichora in Drama also producing wines for the Estate, both sites are familiar to locals on account of their long history with vineyards and winemaking. Surely it's no surprise then that some of Pavlidis's most acclaimed wines include the Thema White, Thema Red, Thema Rose, and Emphasis Assyrtiko – all praised for their delicate flavors and pleasant subtleties.
A visit to Ktima Pavlidis is a truly unique experience that allows visitors to gain insight into how robust wines are made. Visitors will start their journey in the privately-owned vineyard of Kokkinogeia before taking a tour of the production facilities, which include an impressive 3,000 square meter winery that was built with contemporary and minimalist architecture inspired by New World style. At the end of the tour, visitors can quench their thirst for knowledge with a wine-tasting session and take home something special, like books or wine accessories available for purchase at Ktima Pavlidis.
Location: Kokinogia, 66100 Drama, Greece
Contact Number: +30 25210 58300
Website: http://www.ktima-pavlidis.gr/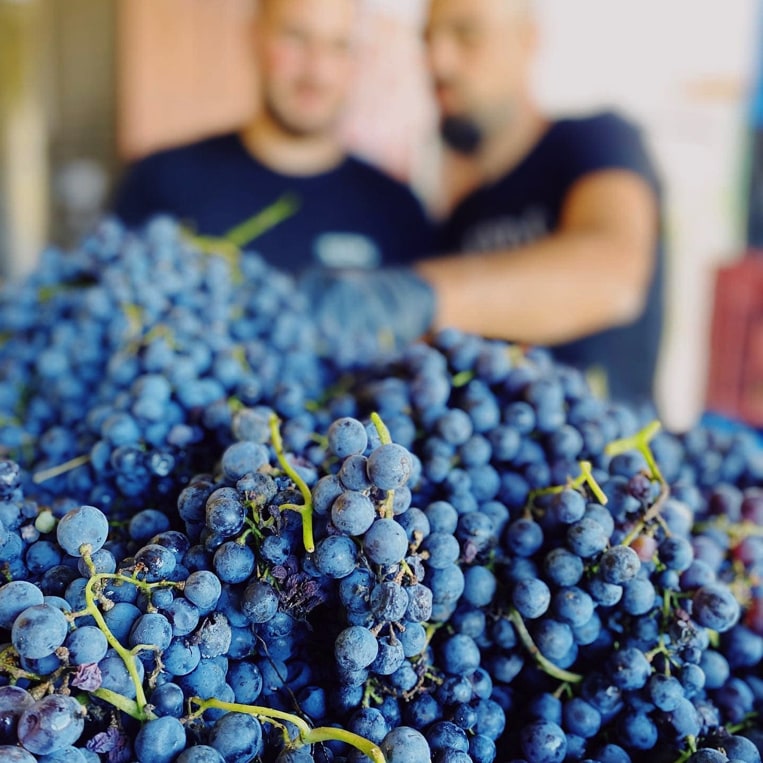 Argatia Winery
Located in the Greek province of Macedonia, Argatia Winery is a small family-owned business that has been producing high-quality wines since 2004. Located in the quaint village of Rodochori, located at an altitude of 450 meters near the city of Naoussa, this winery specializes in a range of wines, including their Xinomavro 2007, Regional Wine of Macedonia, Argatia Xinomavro, and Naoussa, as well as their whites and reds. With careful attention to detail and expertly crafted blends, Argatia Winery has become a reputable name in the wine industry and is beloved by oenophiles everywhere.
Upon arrival, guests will experience a tour of our unique experimental vineyard on the park-like grounds around the winery. These sprawling vines, many of which are pruned by hand, are home to meticulously produced wines from our family-run business. Next, visitors can make their way indoors to learn more about our production process and view the captivating wine cellar. It's an extraordinary experience that culminates with the chance to taste some of those delicious wines while sampling local specialties. Every detail along the tour reflects classical traditions combined with a modern flair that brings out the best flavors in every sip.
Location: Kokinogia, 66100 Drama, Greece
Contact Number: +30 25210 58300
Website: https://www.argatia.gr/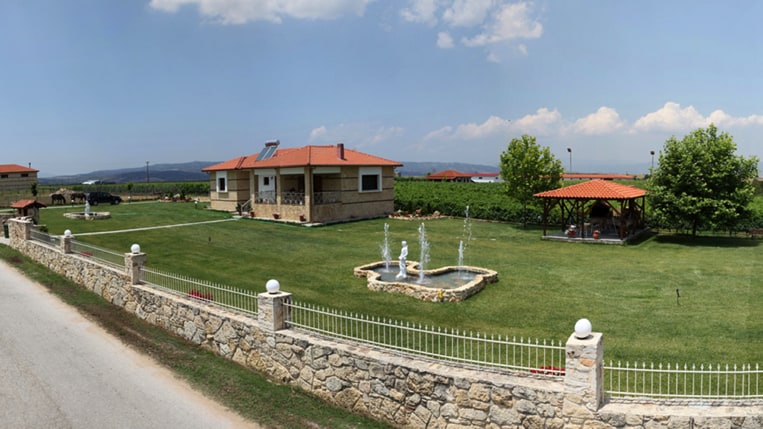 Livadioti Estate
The Livadioti family had long been aware of the region's legacy in winemaking and intended to restore its former glory. With this aim in mind, they planted 110 acres of vineyards in Livadioti Marathousa of Chalkidiki featuring Greek and international grape varieties like Assyrtiko, Malagouzia, Chardonnay, Sauvignon Blanc, Syrah-Cabernet Sauvignon, and Merlot. Thanks to organic cultivation methods with low yield per hectare and modern mechanical winery equipment, the family has been able to maintain high production standards yielding premium quality wines.
Visitors to the Livadioti Estate will enjoy a unique and immersive experience. They can take a casual stroll through their sprawling vineyards, admiring their diverse selection of grapes and the understated beauty of the natural landscape. There is much to learn at their winery and distillery, where they prepare some of the finest wines and spirits in the land. A comprehensive tasting experience awaits, featuring such iconic varieties of grapes as Sauvignon Blanc, Assyrtiko, and Malagouzia. The estate even provides an accompanying restaurant that serves up delicious local dishes to pair with these exquisite wines and spirits.
Location: Marathousa, Chalkidiki, P.C.: 57012
Contact Number: +30 2371095455
Website: https://ktima-livadioti.gr/en/homepage
▶ ALSO READ: How to Get Around Thessaloniki?
Popular Wine varieties in North Greece
The North Greece wine region is one of the most premium growth regions in Greece and covers areas from Thrace in the east all the way to Drama and Kavala. Even though it only accounts for ten percent of all Greek vineyards, the wines grown here are known for their exceptionally high quality. Grapes like Xinomavro, Limnio, Mavroudi, and Roditis provide a great variety of red and white wines, while more prominent international varieties such as Sauvignon Blanc, Chardonnay, Merlot, and Cabernet Sauvignon dominate further north in Drama and Kavala. The region's mild climate is also a major factor in its success; these vineyards are shielded by the Rodopi mountain range, which provides them with both stability and protection from harsher climates. Here are the most popular wines this region gives to the world:
White Wines
Assyrtiko, Muscat of Alexandria, and Chardonnay are three popular white wines of this region that each offer their own unique flavor characteristics. Assyrtiko offers intense aromas of fresh citrus fruits, such as lemon and grapefruit. The taste is full-bodied with notes of sweet, honeyed fruit flavors. Muscat of Alexandria is a sweet white or pink Muscat grape wine that has vibrant floral scents and hints of apricot jam. This delicious wine has a light sweetness balanced by an acidic sharpness. Finally, Chardonnay is one of the most popular white wines in the world. Produced from green-skinned grapes, this robust yet light-bodied white wine displays aromas and flavors of their many variants, ranging from creamy vanilla to tropical fruits when aged in oak.
Red Wines
Northern Greece produces some amazing red wines as well. Limnio is a unique and lesser-known Greek variety with a potent aroma of fig and dripping honey. A full-bodied red wine, it has flavors of strawberry, raisin, dried plum, rosemary, and oregano mixed into its base of juicy tannins. Cabernet Sauvignon is perhaps the most famous grape variety around the world. This iconic variety offers aromas of dark fruit, tobacco, and cedarwood. Its flavor profile consists of ripe red fruits such as cherry and blackberry, along with herbal notes like eucalyptus or mint. Finally, Merlot is a perfect stepping stone between big red wines to light ones. This medium-bodied variety offers up flavors of plums and anise while boasting an inviting bouquet of chocolate, violets, bell pepper, tobacco smoke, and coffee beans.
Rose Wines
North Greece is renowned for its stunningly delicious rose wines. Made from the same varieties of grapes used to produce both white and red wine, rose wines offer a unique flavor profile found nowhere else in the world. Blending together both fresh and tart flavors, expert vintners in North Greece have mastered the art of combining classic grapes like Mourvedre and Grenache to craft an exquisite flavor that keeps people yearning for more.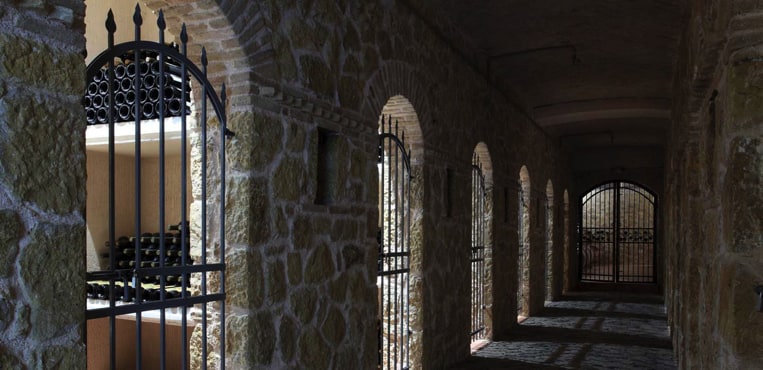 Greek wine in History
Ancient Greece
Viticulture in Greece has a rich history that stretches back to the early Neolithic Age, with its peak of development occurring during the 13th and 11th centuries B.C. Ancient Greeks were renowned for their export of wine and olive oil and for importing valuable goods such as cereals, gold, copper, and ivory from across the globe. Wines from the Aegean Islands were particularly renowned – even today, they are recognized as having special qualities that set them apart from others. In keeping with this long-standing tradition regarding premium wines, attempts to protect Appellation of Origin wines began as far back as the 5th century B.C. This resembles modern-day E.U regulations remarkably closely, emphasizing that valuable lessons about viticulture have been passed along through generations of Greeks over many hundreds of years.
The Byzantine Era
In Byzantium, wine was a mainstay of culture, mediating between biblical and Greek traditions. Through the symbolism of Dionysus, Christ and the Emperor were often depicted as vineyards with vines and grapes representing Apostles & true believers. These biblical ideals were joined by Homeric heroes in their symposia attended by the nobility, who drank sweet wines from golden goblets. The wine was also a staple at taverns and shops all around Constantinople – an association so strong even the Anglo-Saxons associated it with the city, referring to it as Winburg, meaning "City of Wine."
Middle Ages and the Turkish Era
The spread of Christianity in medieval Europe brought with it a cultural and spiritual appreciation for the cultivation of vineyards and winemaking that proved to be vital for preservation purposes. Wine plays an integral role in the Holy Communion, offering a sense of grace through acts of celebration. It is believed to be a gift from God, a pleasure that can uplift hearts and bring joy. Monastic societies embraced these beliefs, leading them to enact Regulations around the viticultural development of their properties alongside food production. This included careful storage, use, and management practices for wine—testimony to just how important this beverage was considered by monks from ages past.
Saint Triphon is a revered saint in the winemaking regions of Thrace and Macedonia, where vines are traditionally pruned on the 1st of February to honor him. His power as a protector of wine goes back centuries; during the 13th century, he was established as a protector of sorts. Unfortunately, his influence could not prevent the destruction of many vineyards in the Middle East and Greece due to the rise of Mohamed's followers. Despite this long period of upset, Saint Triphon remains proudly held close to these regions' hearts and continues to stand guard over their wine production today.
Modern Era
During the times of independence and national liberation, Greek vineyard production lacked any real organization. As a result, the vineyards gradually grew in size as small pieces of land were taken up for cultivation. Many of them had developed under different conditions, and this was ultimately reflected in the outcome – quite a wide variety of products were created by these fragmented vineyards. The Second World War, unfortunately, disrupted this development and put a stop to an industry that was slowly but surely establishing itself in Greece.
Following the conclusion of World War II, the destructive phylloxera insect further stressed the already struggling Greek vineyards. Large numbers of varieties were no longer planted, contributing to a scarce presence of high-end quality wines in the area. On an international level, Greek wine had been relegated to the category of 'Mediterranean' – denoting strong alcoholic concentrations with little to no aroma or acidity. The only notable exception was sweet Muscat from Samos, making it the most sought-after Greek wine with a geographical point of origin on the global market.
▶ ALSO READ: 10 Best Restaurants in Thessaloniki
The Revival of Greek Wine
Greek viticulture and the development of 'bottled' wine began in the sixties with serious investments in buildings and equipment. The vineyards were partially re-established with select grape varieties based on evaluations made by the Greek Institute of Wine. In addition, legislation was passed to specify areas suitable for wines with an Appellation of Origin in the seventies.
The human factor played a key role, specifically in Greek enologists who transferred their scientific knowledge into production as well as wine producers sensitive to new developments. This recovery happened within a few years showing dynamic growth within the viniculture sector part of the agricultural economy. Since then, there has been no going back.
▶ ALSO READ: Prices in Thessaloniki: Is Thessaloniki Expensive?