Thessaloniki is a city that has something for every visitor. You get to have different experiences like trying amazing food, visiting old palaces and monuments, reliving the old times in the museum, and hitting the fun, beautiful, and clear beaches. But like every other vacation trip, Thessaloniki also carries an expense, and you do not want to overspend on something. Of course, visiting another country is expensive, but you can still control the overall spending and plan the trip within a budget.
We do not want you to think before spending every single time, but it does not mean that you spend blindly without considering anything. So, in this blog, we shall talk about the basic expenses of Thessaloniki, which will help you determine how much money you will need to plan the trip and whether it falls under your budget or not. So, here is a list of things that are going to affect your expense in Thessaloniki:
Cost of traveling to Thessaloniki
Before we talk about how much it is going to cost you to roam around Thessaloniki, we first have to consider how much money you are going to need to get to Thessaloniki in the first place. Of course, the cost will vary considering where you are coming from, but for a rough idea:
Traveling by boat
The cost of traveling to Thessaloniki depends on a number of factors, such as where you are coming from, the departure port, the type of cabin, the duration of the trip, and the time of year. Also, there is no direct boat service that will take you to Thessaloniki from any other country. So, you will have to first travel to a nearby port in Greece, like Athens, Patras, or Igoumenitsa, and take the bus, taxi or rent a car to Thessaloniki.
You must understand that the prices for the boat can greatly vary depending on the time of the year you plan to visit. So, we would suggest that you check with the ferry companies and your travel agent to have the latest information on the schedule and prices.
Traveling by plane
Thessaloniki has one of the biggest international airports in Greece. So, you can easily book a direct flight to Thessaloniki Airport and save some money. But still, the cost can get affected by some factors such as where you are traveling from, the airline, the time of booking, and the time of year.
For example, if you are traveling from Athens to Thessaloniki, a one-way ticket can cost you from €30 to €100, depending on the airline, the booking time, and whether it is a connecting or direct flight. A one-way ticket from other European countries can range from €50 to €200, depending on the same aspects.
You must understand that the prices can change with time and fluctuate depending on demand. So, we would recommend that you book the ticket in advance and as early as you can to save money. Also, we insist on checking for additional fees for stuff like checked baggage and make sure whether it is included in the ticket or not. The overall trip to Thessaloniki via a plane would be faster.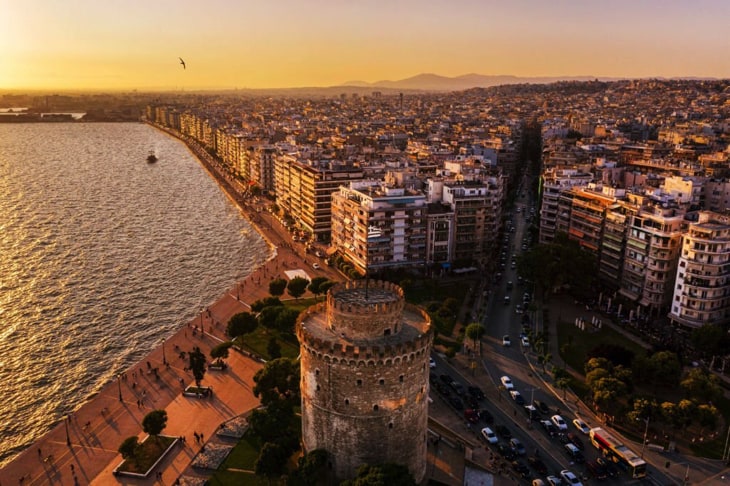 The cost of traveling around Thessaloniki
Once you land in Thessaloniki, the next thing you have to do is plan your transportation. There are many ways to travel around Thessaloniki, such as traveling by bus, a rental vehicle like a car, scooter, bicycle, or you can also take a taxi.
Getting around Thessaloniki in a taxi
Traveling in a taxi is one of the easiest and most convenient options, especially when traveling to another country and you have no idea of the roads or do not want to walk your way to a far-off destination. Finding a taxi in Thessaloniki is very easy. You can catch one on the road, or you can contact the taxi service and call the taxi to your hotel.
The taxi fares, however, are set by the city and are based on a meter. It calculates the cost of the ride and calculates it with the time and distance. The starting fare is €3.50, but if you want to pay per kilometer, then it goes around €0.74 during day time and €1 during the nighttime.
One thing you must be careful about is that the taxi drivers are required to turn on the meter when the ride begins and provide the customer with a receipt by the end in Thessaloniki. Also, if you are traveling with luggage on a public holiday, then you will have to pay additional fees.
Traveling by taxi is convenient and an easy way to go to the city, but it can get a little expensive when compared to other means of transportation such as a metro or a bus. So, if you do not want to compromise on your ride, we suggest you learn some negotiating tricks or use an online taxi to Thessaloniki Airport to get a fixed fare.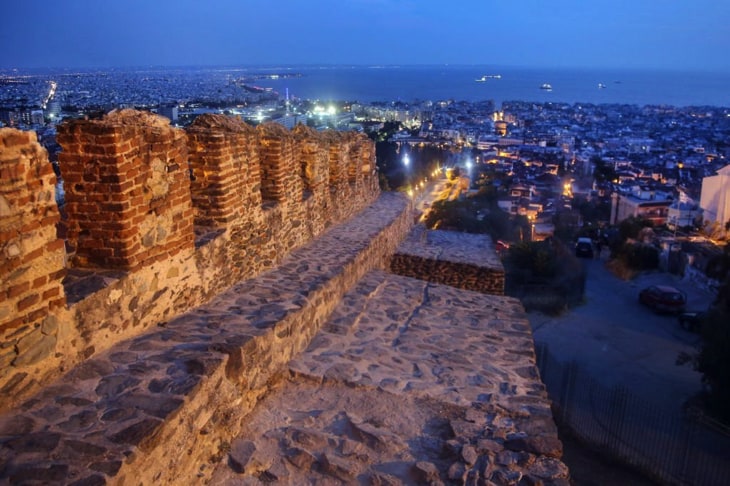 Getting around Thessaloniki on a bus
Suppose you are traveling on a restricted budget and do not overspend on the commute. In that case, going around Thessaloniki by bus seems like an affordable and convenient option for visitors and locals. Thessaloniki has a wide network of buses that run throughout the day and night on different routes. These buses will take you to almost every part of the city. A single ride on a local bus will cost you €1, and you can easily buy the ticket from the ticket booth at the bus station.
Also, the bus services offer different travel deals for those who use these local buses to travel daily from home to work and other places. These daily and weekly passes offer unlimited travel for a specified timeframe.  These passes can come in handy if you plan to stay long.
It is also important to understand that buses in Thessaloniki can get crowded during some hours. Also, some routes' schedules are not locked, and they can vary for weekends and holidays. You should also know that even though the bus drivers can be extremely helpful, it can still get difficult to communicate if you do not speak Greek.
For longer routes, you can travel using the KTEL buses. These long-route buses can easily be found around the city, and you can catch one from a nearby spot. Also, the ticket to a KTEL bus can be bought directly from the bus stop. The cost depends on your destination and can vary from €6 to €15 per ride.
▶ ALSO READ: How to Get Around Thessaloniki? Walking, Bus, Car Rental & Taxi
Getting around Thessaloniki in a rental car
Traveling around Thessaloniki in a rental car is also a good idea. It provides you with more flexibility and freedom to explore the city and other places at your own pace. Many car rental companies, like Potos Car Rentals, are ready to serve you and provide you with the most comfortable and affordable rides. You can easily find these centers near the airport and in the city center as well.
In order to rent a car in Thessaloniki, you will need to have a valid driver's license from your country and an international driver's permit. Every country has different driving rules and regulations, so it would be best to understand them before hitting the road. Also, you should be aware that Thessaloniki is a crowded city which makes it difficult to drive for a newbie, especially in the city center.
Before driving, you must learn about the local traffic laws. For example, it is mandatory for a driver to wear a seatbelt all the time and drive on the right side of the road. You should also know that the speed limit is 50 km/h in urban areas, 90 km/h in rural areas, and 120 km/h on highways. Lastly, renting a car from our service will cost you from €20 to €60 per day, depending on the car you pick.
Things to consider while renting a car
Here is a list of things you must consider while renting a car in Thessaloniki:
Drivers Age. The driver must be over 21 years old and have a valid driver's license to drive the car. There are some companies as well whose age limit starts from 23 years.
Insurance. It is necessary that you have a working credit or debit card for Collision Damage Waiver insurance while renting a car to guarantee that the owner will get it back in the same condition. Also, CDW insurance does not cover the glass and mirror destruction, so if it happens, we would suggest that you call for help and stay there.
Driver's Gender. Greece does not discriminate between a man and a woman for drivers. Either a man or a woman can drive a car in Thessaloniki and Greece.
Required Documents. The rental car provider will need your credit or debit card details and driver's license under the driver's name to avoid any unnecessary disaster. If the first driver has no valid driving license, the second driver's license must be needed.
Car Type. Before renting a car, you must look at how many people and luggage you have. You can inform the rental service provider about it, and then they will send the car which will be suitable for all of you.
▶ ALSO READ: Prices in Thassos
Cost of accommodation in Thessaloniki
Thessaloniki is one of the busiest cities in Greece. It also attracts a large number of tourists which means that the city must have different kinds of accommodation options suitable for every traveler's need and budget. You can easily find a budget-friendly guest house, hostel, and hotel in Thessaloniki. All you gotta do is do your research beforehand. There are some villas, apartments, and cottages as well, which you can rent and enjoy your trip in luxury.
However, the cost of living in Thessaloniki is different for every hotel, and it depends on some factors like the type of accommodation, season, availability, service, and location. To give you an idea, here are some hotels with different accommodation fees:
Hostel and Hotels
Prices for a hotel or hostel accommodation in Thessaloniki can vary from €10 to €30 per night, depending on the area and services they offer.
Mid-range hotels
For a mid-range-quality hotel, the fees can lie between €50 and €100 per night. The high prices of these are mostly higher because they offer extra amenities and are located in a pricier area of the city.
Luxury hotels
If you do not want to compromise on your accommodation, then Thessaloniki also has some of the best luxury hotels in all Greece, which will cost you around €200 a night. These hotels offer a number of high-end facilities like fitness centers, restaurants, spas, and other interesting amenities.
You also need to know that the prices of hotels get higher during peak tourist season, which starts in June and lasts till September. So, if you want to save some money over there, you can do so by planning the vacation in the low season, from November to March.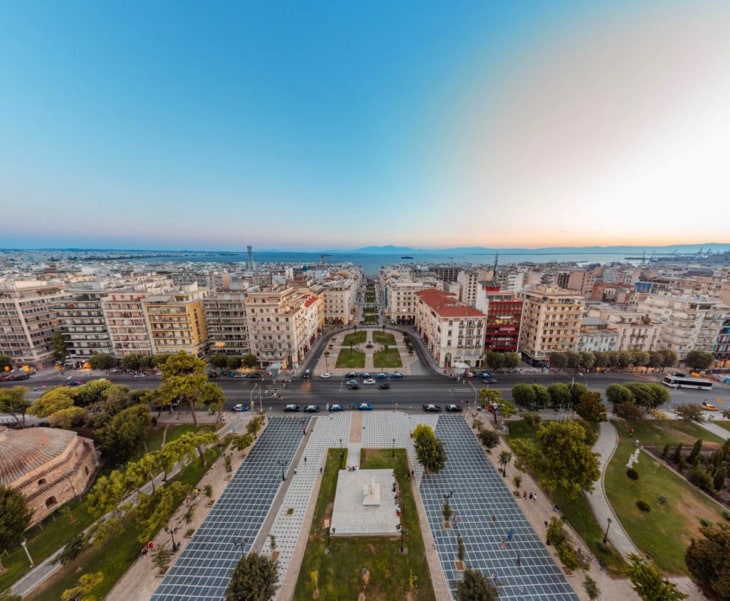 Cost of food in Thessaloniki
Once your accommodation is sorted, the next big thing you need to manage is food. Thessaloniki is the ultimate hub for good quality, excellent food in all of Greece. You will find different varieties of food items in Thessaloniki.
However, the cost of food is different depending on your food type and the restaurant's location. But whether you dine at the finest hotel in Thessaloniki or from a street cart, the prices are comparatively more affordable than in other European countries. Here is an estimated price range for different food places in Thessaloniki:
Street food and fast food
The cost for street food and fast food items in Thessaloniki, such as Garbanzo, Creperie Souzet, Gyros, Souvlaki, and Pita Wraps, can range from €2 to €7.
Mid-range restaurants
For mid-range restaurants, the price can vary from €10 to €25 per person. These restaurants serve a wide range of international and Greek cuisine and are spread throughout the whole city.
Fine dining
Thessaloniki has some of the best fine dining restaurants with a mesmerizing view of the Aegean Sea, and dining at these restaurants can cost you around €30 to €60 per person. These restaurants offer a wide range of different cuisines, such as seafood, traditional Greek food, and more.
▶ ALSO READ: 10 Best Restaurants in Thessaloniki
Coffee and drinks
Buying a classic coffee in Thessaloniki is around €2 to €3, while a soft drink or beer will cost you around €3 to €5. You must understand that these different prices completely depend on a restaurant's location. Places located in the areas with the most tourist footfall in the city are more expensive compared to the ones in residential areas. Also, the mixed culture of Thessaloniki has blessed the city with a vast variety of food, so it is a good idea to explore your options and try these dishes from the authentic local food spots and the finest dining places.
▶ ALSO READ: 10 Best Wineries in Thassos & Thessaloniki
Cost for activities in Thessaloniki
Whether you plan on visiting some of the historic places, going café hopping, or visiting the nearest villages, Thessaloniki offers many different, interesting, fun activities that you can do to make your trip memorable. However, these activities will also have different price ranges depending on the activity. There are some free and fun things that you can do in Thessaloniki as well. But to have an idea, here is a list of things with their fees:
Visit the White Tower
The White Tower is one of the most popular places in Thessaloniki, and people from all over the world visit Thessaloniki to see it for themselves. The entrance fee for adults is €4. For students and senior citizens, it is €2 and free for children under 18 years.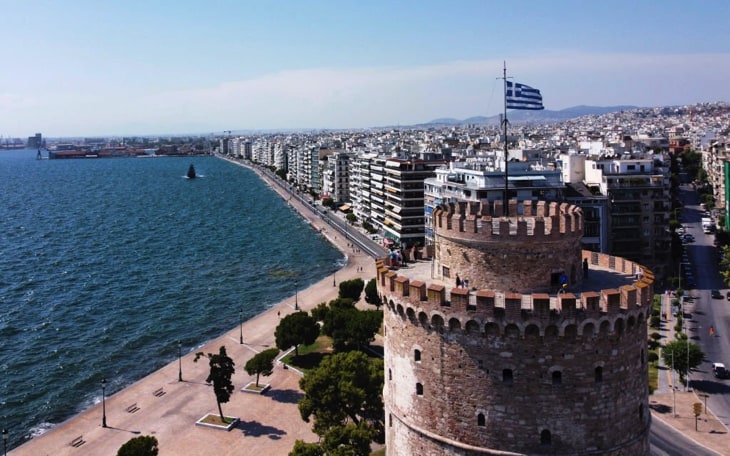 Exploring the Archeological Museum of Thessaloniki
The museum holds a great collection of some of the oldest artefacts from Macedonian times. So, if you want to visit the museum, the entry fee will be €8 for adults and €4 for seniors and students.
Walking along the waterfront promenade
The waterfront promenade gives you a stunning view of the beautiful blue sea and is one of the most popular spots in all of Thessaloniki. Also, there is no entrance fee, so you can roam around and stay for as long as you want.
Trip to Byzantine Walls and the Old Town
The Old Town and Byzantine Walls are two of the most popular historic landmarks of Thessaloniki, and these places also offer a glimpse into the past. The Walls and Old Town are also free and open for tourists and people to walk around and explore.
A boat tour of the city
A boat tour of Thessaloniki allows you to experience a unique view of the city from the sea. The price, however, depends on the type and duration of the tour, but a typical boat tour costs around €20 to €30 per person.
Attend a cultural event
Thessaloniki is a city with different cultures, which means that the city organises some of the most vibrant and fun cultural events throughout the year. However, the price for these events depends upon the duration and type of each event, but typically it goes to €20 per person.
Visit the Aristotle University of Thessaloniki Botanical Garden
The botanical garden is a free place to visit and is open to everyone. The garden gives you peace with its mesmerizing collection of greenery and flowers.
Attend a food tour of Thessaloniki
If you want to try some of the best local cuisines of Thessaloniki, joining a food tour is a good idea. The price for the tour depends upon how big it is and how many restaurants it includes, but typically it will cost you around €40 to €60 per person.
Trip to Thassos
Plan a day trip to Thassos, either with a car rental or with a private tour. Get a Thassos Island tour or a boat trip to sail around Thassos in summer. The tour is highly rated both in Tripadvisor and Google Maps.
▶ ALSO READ: Top 10 Attractions in Thessaloniki City