Thessaloniki is the second biggest city after Athens in all of Greece. The island is at a beautiful waterfront in the Macedonia region at Thermaic Gulf. The city is rich in history and culture and is a great place if you want to explore northern Greece. Thessaloniki is also a business, transport, and commercial hub for other nearby countries. The island is also home to a mixed cultured civilisation, making Thessaloniki one of the liveliest places in Greece.
If you are visiting Thessaloniki, then you will most likely stay at the center of the city so you have easy access to everything and every place there is in the city. A seven day trip is ideal for exploring a city with such a variety of offerings. The city offers an easy way to commute from one place to another, as none of the famous city spots are any farther than 30 minutes from the center. You can easily walk to the market, explore UNESCO monuments, visit some old traditional taverns, and have a romantic walk by the coastline while the sun sets and the golden hour hits the land.
If you do not like walking, there are other options available such as taking public buses, hiring a taxi, or renting a vehicle. While people have started cycling around the city as well, making it a more popular and cheap means of transport, the list cannot be completed without adding beautiful boats and Segways.
Getting around Thessaloniki city center
These are the best ways to travel around Thessaloniki city for those who want to explore it independently:
Walk around the city center to explore the historic centers
Join a walking tour
Explore the hop-on/hop-off buses
Use the public bus
Travel to distant archeological sites with KTEL buses
Take a taxi
Drive a car rental
Walk around Thessaloniki city center
Thessaloniki city center is situated at the Thermaic Gulf and is home to a number of beautiful and attractive tourist landmarks. Some of the places that would interest you are the White Tower, Aristotelous Square, the Archeological Museum of Thessaloniki, the Church of St. Demetrios, The Ladadika district, Rotunda, and Modiano Market.
The city center is the busiest place in Thessaloniki, with people hopping from one place to another. So, to walk around is the best and most suitable option. You can cover more area, mingle with the locals, and make the most of your trip. All you need is a good pair of comfortable shoes and a water bottle so you do not get dehydrated.
Distance from one place to another in the city center
To give an idea, here is how much time it will take you to walk from one place to another in the city center
The White Tower to The Aristotelous Square – 14 minutes
Aristotelous Square to the Archeological Museum of Thessaloniki – 18 minutes
The Archeological Museum of Thessaloniki to the Church of St. Demetrios – 23 minutes
The Church of St. Demetrios to Ladadika district – 13 minutes
Ladadika district to Rotunda – 15 minutes
Rotunda to Modiano Market – 16 minutes
While you can simply buy a paper map to explore the city center, if you do not want to, Google Maps is your best friend while exploring Thessaloniki city center on your own.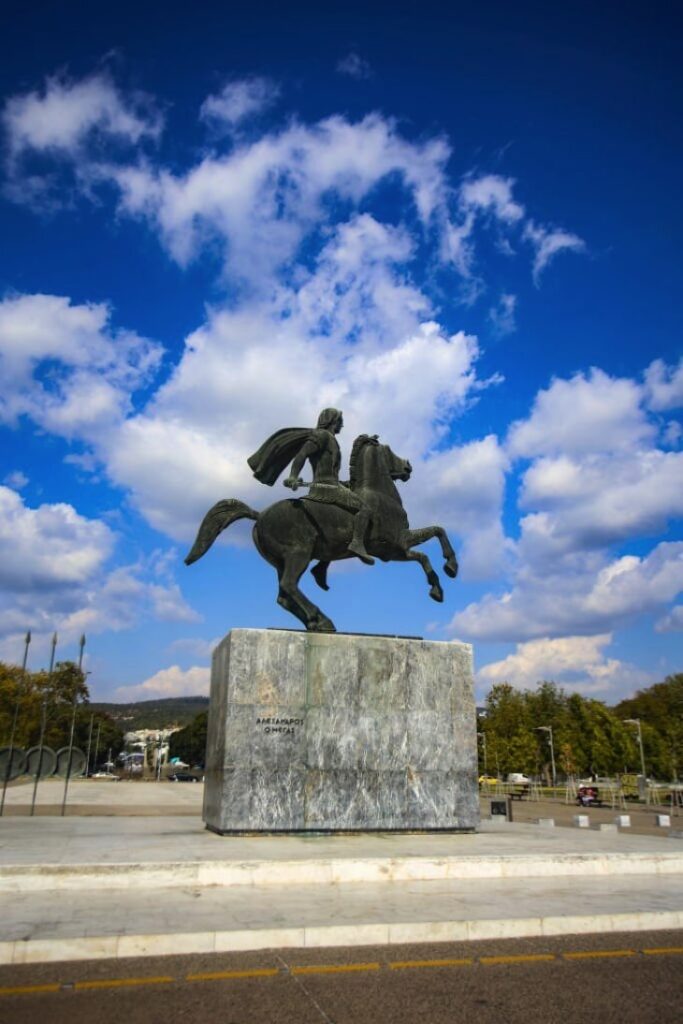 Join a walking tour
There are many walking tours that you can join if you want to explore Thessaloniki with people. These tours cover a different variety of interests and themes, such as:
Jewish Heritage Tour
Thessaloniki is a land with rich Jewish culture and history. So, if you join this tour, you will be able to explore the Jewish landmarks and neighborhoods of the city, such as the Monastirioton Synagogue and Jewish Museum.
Historical Walking Tour
The tour covers the places which have been in Thessaloniki since ancient times and are still present to date. It will take you to places like the Rotunda, the Roman Forum, the Archeological Museum, and the White Tower.
Byzantine Churches Tour
This tour is best known for covering churches and places from the Byzantine era. You will get to explore some of the most historic and beautiful places, such as the Church of Saint Sophia, the Church of Acheiropoietos, and the Church of Saint Demetrios.
Food and Wine Tour
Thessaloniki is known for serving its guests the most delicious cuisine and delicious local wines. On this tour, you will go on a culinary journey and hop from one city tavern to bars and wine shops.
Street Art Tour
Thessaloniki is home to a number of street artists. The streets are filled with colorful graffiti and murals scattered around the city wall. On this tour, you will get to explore some of the most artistic places and streets in the city.
Is it safe to walk around Thessaloniki Street at night?
You will get different answers from everyone when you are going to ask this question. The majority of people will advise you not to walk around the streets alone at night. So it is better to be mindful and near well-lit areas to avoid accidents.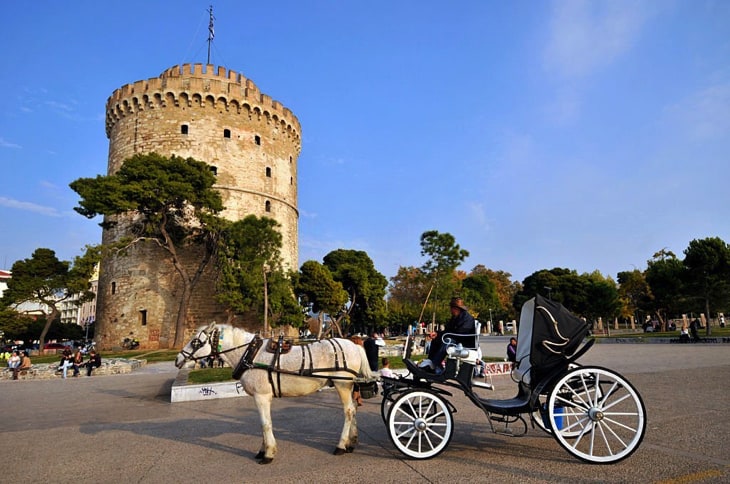 Hop-on/hop-off buses
Hop-on and hop-off buses are one of the most popular ways to explore Thessaloniki. These buses allow visitors to visit the city's attractions at their own speed. There are a number of hop-on and hop-off bus tours available that will take you around Thessaloniki. Some of them are as follows:
Thessaloniki Hop-on Hop-off tour
This tour takes you to the city's main attractions, such as the Roman Forum, the White Tower, the Church of Saint Demetrios, and the Aristotelous Square. You can book the ticket, which is valid for one day.
City Sightseeing Thessaloniki
This tour has two routes, The Red Line and the Blue Line, and each tour covers the city's top attractions, such as the Archeological Museum, the Rotunda, and the White Tower. The ticket is only valid for 24 hours.
Thessaloniki Open Tour
The open tour takes one route that covers a number of the city's attractions, such as the Aristotelous Square, the Museum of Byzantine Culture, the White Tower, and many more. The tickets are only valid for 24 hours.
▶ ALSO READ: Top 10 Attractions in Thessaloniki
Use a public bus
Thessaloniki also has a local bus service besides metro trains and hop-on-hop-off buses. These buses start operating in the early morning and are functional until late at night. They also cover almost every part of the city and the suburbs of Thessaloniki. A public bus is more convenient and affordable, but it can also get very tricky to understand the bus route and schedule if you are on a short trip.
But if you plan on staying for long, then you must explore these buses and enjoy the experience at least once. If you want to travel far from Thessaloniki, like Athens, then KTEL buses are a good option as well. The KTEL bus service takes people on a longer route.
How much is the bus fares in Thessaloniki?
The bus ticket for a single trip in Thessaloniki is €1.10. Whereas if you buy a night bus line ticket, it will cost you €2.20. There are different discounts available as well. For example, a daily ticket for unlimited travel on all buses is €4, and a monthly pass is €30. It is also possible that these fares can change with time.
▶ ALSO READ: Prices in Thessaloniki: Is Thessaloniki Expensive?
Distant travel with KTEL bus
For long-distance commutes, we suggest that you use KTEL buses, this bus service operates all over Greece, so if you want to travel to some other city from Thessaloniki, then the KTEL bus is the best choice. The fare for the KTEL bus from Thessaloniki depends on your destination and the type of ticket you have. For example, if you travel to Athens from Thessaloniki, then the ticket will be €25, whereas traveling to a nearby town like Veria or Katerini will cost you from €6 to €10.
It is important to understand that the fares, schedule, and routes may change with time, depending on the time of the year, weather, and other things. To be sure of the schedule and route, you can check the KTEL Thessaloniki website, or you can visit the city terminal for updates.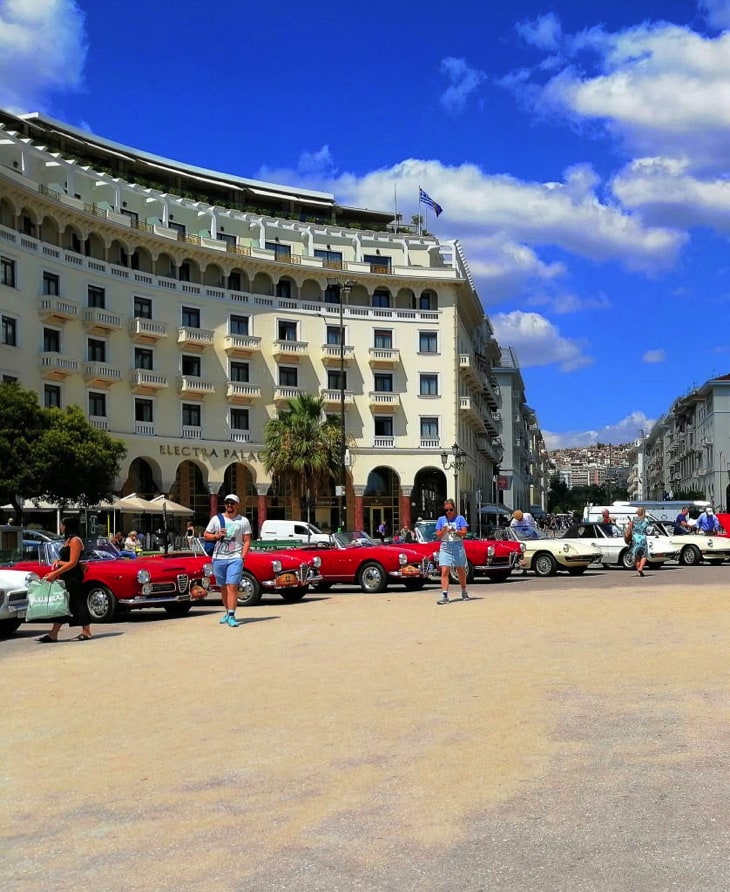 Take a taxi
You can always take a taxi and move around the city and even to other places like nearby villages and archeological sites. Taxi service is easily available in Thessaloniki, Greece, and you can easily catch one on the street or by calling the taxi service helpline. On the other hand, the fares are regulated by the government, and most of the fares are based on a metered system.
The initial fare in Thessaloniki for a taxi ride is €1.30, as the rate per kilometer is €0.74 during the daytime, which is 5:00 am to 12:00 am. At the same time, the fare per km for nighttime, from 12:00 am to 5:00 am, is €1.30. Also, if you are traveling with heavy luggage, then you have to pay an extra €0.40 for each piece.
One thing you must know is that there might be some extra charges if you take a taxi to Thessaloniki airport or port, which includes the waiting and toll charges. There are some drivers who offer fixed fares, so it is better to confirm this with them before you are on your way to the destination.
Also, the taxi fares can change with time depending on the time of the year you visit, the weather, and other factors. So, it is best to check it with the taxi service companies before you book a taxi.
▶ ALSO READ: All about Thessaloniki Airport: Car rentals, Shop, Stay, Eat, Drink
Drive a Car Rental
Driving by yourself is a good option if you want to go about the city on your own terms, without mingling with people or waiting for your group to be done with a place so you can move to the other. It also gives you the freedom to travel and stay in one place for as long as you want without worrying about the time. Car rental in Thessaloniki allows you to pre-book a ride with and without a driver. You can also cancel the ride 24 hours before the time, and we shall not charge any cancellation fee.
Where the fare is concerned, it depends on multiple factors, such as the type of ride, how many days you want the car, and the time of the year. But in general, the fare can go from €154 to €595 for a 7-days trip. So, if you are planning to visit Thessaloniki soon and want to book a car, you can easily do it from car rental in Thessaloniki (Potos Car Rentals). You need to have a valid driving license and a working credit card or debit in order to rent a car and avoid any problems on the road.
Also, the rental package includes unlimited mileage to ensure that the customer can explore the island without any worries. Also, the rented cars must be returned with the same amount of fuel they had at the time of pickup. This policy will not be beneficial for the car rental company, but it is also good for the person renting the car. Otherwise, they have to pay extra money for the fuel.
Things to consider while renting a car
Here is a list of things you must consider while renting a car in Thessaloniki:
Drivers Age. The driver must be over 21 years old and have a valid driver's license to drive the car. There are some companies as well whose age limit starts from 23 years.
Insurance. It is necessary that you have a working credit card and Collision Damage Waiver insurance while renting a car to guarantee that the owner will get it back in the same condition. If you do not have either of them, then you have to pay extra money to guarantee safety. Also, any insurance does not cover the glass and mirror destruction, so if it happens, we would suggest that you call for help and stay there.
Driver's Gender. Thessaloniki does not discriminate between a man and a woman. So, if you are renting a car with a driver, then you can inform the company if you need a rider of a specific gender.
Required Documents. The rental car provider will need your credit card details and driver's license under the name of the driver to avoid any unnecessary disaster. If the first driver does not have a valid driving license, the second driver's license must be needed.
Car Type. You must look at how many people and luggage you have before renting a car. You can inform the rental service provider about it, and then they will send the car which will be suitable for all of you.
▶ ALSO READ: 10 Best Restaurants in Thessaloniki
How to get around in Thassos?
Thassos, an increasingly popular tourist destination, is known for its beautiful beaches, crystal-clear waters, and lush green landscape. To fully enjoy this island, visitors need to consider their transportation options. The two main transportation options in Thassos are taxi transfers and car rentals as the two main choices.
Taxi transfers offer convenience and comfort, as they provide door-to-door service, picking you up from your accommodation and dropping you off at your desired destination. Although this option can be pricier, the cost is often justified by the convenience. To find a reliable taxi service in Thassos, research providers online and check reviews before booking.
Car rentals, on the other hand, provide more freedom and flexibility, allowing travellers to explore the island at their own pace. This option is generally more affordable, especially for groups, and offers privacy as there are no other passengers. However, be prepared to have a valid driver's license, be over 21, and potentially acquire an international driving permit. To find a reliable car rental agency, book online and read reviews.
Ultimately, the choice between taxi transfers and car rentals depends on your needs and preferences as a traveler. Taxi transfers are ideal for convenience, comfort, and affordability, while car rentals provide more freedom and flexibility. Regardless of the option chosen, thorough research will ensure a smooth and enjoyable experience on Thassos.