Agia Triada Beach is a pristine coastal place on Crete's northern coast that offers a serene escape from daily life. Agia Triada Beach is a place for those searching for a retreat in nature's embrace, featuring soft golden sands, clear waters, and a backdrop of lush greenery. One of its outstanding attributes is its awe-inspiring scenery. The gently sloping shoreline is bordered by pine trees, forming a setting ideal for leisurely walks or lying under the sun. Visitors can enjoy the soothing sound of waves caressing the shore while taking in wide-ranging views of the Aegean Sea. Agia Triada Beach retains its natural beauty and remains less crowded than other beaches, making it a preferred destination for those who prefer a peaceful and intimate coastal experience.
For the more adventurous, Agia Triada Beach offers a range of water activities. Swimming in the crystal-clear waters, snorkelling, and paddleboarding are popular options for those looking to connect with the sea. Its calm waves make it suitable for novice swimmers and families with children, while nearby rental facilities ensure visitors can enjoy the waters. In addition to its natural beauty, Agia Triada Beach provides convenient amenities that enhance the overall experience. Beachfront tavernas and cafes serve authentic Greek dishes with a view of the sea. Fresh seafood, traditional Greek meze, and refreshing drinks are on the menu. Sunbeds and umbrellas are also available for rent, ensuring comfort for beachgoers. Plus, Agia Triada Beach is easily accessible, with enough nearby parking, making it a hassle-free destination for locals and tourists.
What is Agia Triada Beach?
Agia Triada Beach is a serene resort village near Thessaloniki. It is a wonderful coastal destination celebrated for its natural beauty. Agia Triada Beach is popular for its stunning transformation during sunset when the pristine blue waters take on a golden hue while the sky reflects vibrant shades of red and yellow. It has earned the prestigious Blue Flag designation, a testament to the high-quality experience it offers to beachgoers. Agia Triada Beach features pristine sandy shores and crystal-clear waters, making it a place for those seeking relaxation and wanting to connect with nature with its breathtaking panoramic views, with one side overlooking the sea gulf and the other featuring a scenic forested cape, providing a stunning background for sunbathing and leisurely walks. Fishermen predominantly inhabited the village of Agia Triada, and the small but charming Saint Trinity Church stands at its centre. It has a range of amenities, including umbrellas, sun loungers, showers, changing cabins, and even a camping site. In addition to traditional beach activities like swimming and sunbathing, visitors can engage in water sports, scuba diving, snorkelling, and evening strolls to neighbouring areas. Beachfront taverns and bars offer a warm and inviting atmosphere with affordable prices, making it an ideal destination for families, couples, and solo travellers.
Where is Agia Triada Beach located?
Agia Triada Beach is situated in a resort village near Thessaloniki, offering a serene escape for beachgoers and nature lovers. Thessaloniki is the nearest major urban centre to this coastal destination. Travellers can easily access Agia Triada Beach from Thessaloniki, which is located a bit north of the village. For those seeking directions to Agia Triada Beach from Thessaloniki, there are convenient transportation options available. Visitors can take a bus, hail a taxi, or rent a car. The trip from Thessaloniki to Agia Triada typically takes around 15 minutes, making it an accessible and enjoyable day trip for those in the city. Upon arrival at Agia Triada Beach, travellers are greeted by the mesmerising beauty of the shoreline, featuring delicate sand and crystal-clear waters. It offers a range of facilities, including showers, changing cabins, umbrellas, and sun loungers, ensuring a comfortable and enjoyable visit. Along the 1 kilometre(0.6 mile) stretch of Agia Triada Beach, numerous stores and taverns cater to tourists' needs, providing everything from refreshments to beach essentials. The village streets contain colourful flowers, creating a lovely atmosphere that complements the natural beauty of Agia Triada Beach.
How does the Agia Triada Beach Map look?
Find below on the image a map of Agia Triada Beach.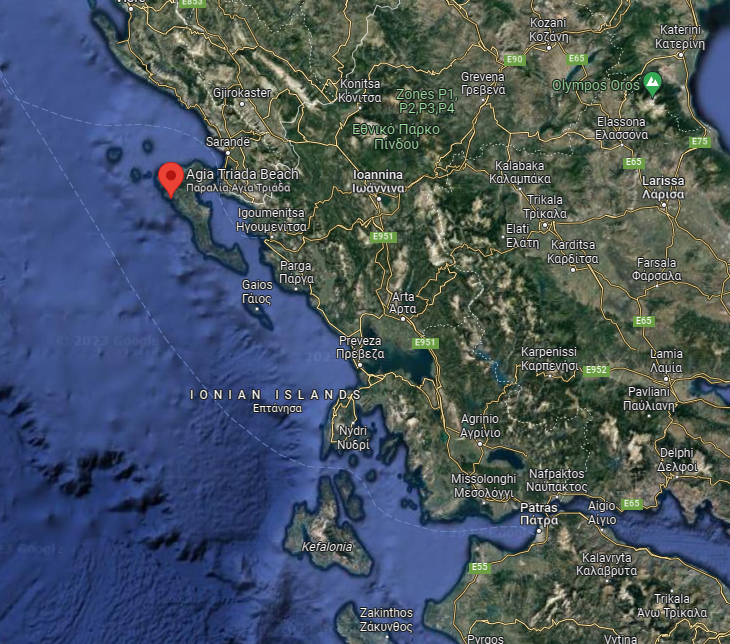 What are the activities in Agia Triada Beach?
Agia Triada Beach offers diverse activities that cater to various interests, making it an ideal destination for a relaxing and fulfilling beach experience. Firstly, one of the most popular activities is swimming due to the inviting crystal-clear waters and the gentle slope of the shoreline. Visitors can enjoy a refreshing swim in the calm sea, perfect for both experienced swimmers and those looking to enjoy a leisurely dip. The gradual increase in water depth makes it safe and suitable for families with children, providing a worry-free environment for everyone to enjoy the water. Secondly, snorkelling is another enticing activity at Agia Triada Beach for those interested in exploring the underwater world. The transparent waters offer excellent visibility, allowing snorkelers to discover the vibrant marine life and underwater landscapes beneath the surface. Snorkelling is a fantastic way to connect with nature, observe colourful fish, and immerse oneself in the serene beauty of the Mediterranean Sea. Lastly, Agia Triada Beach presents opportunities for hiking and exploration beyond the shoreline. The natural surroundings and the nearby cape covered with a forested area create an inviting environment for outdoor lovers. Hiking along the coastline or venturing into the lush greenery allows one to admire the breathtaking sea gulf view and the region's scenic beauty. The peaceful atmosphere and natural landscapes make Agia Triada Beach a place for outdoor activities, ensuring a memorable experience combining relaxation, adventure, and appreciation of nature's wonders.
When is the best time to visit Agia Triada Beach?
The best time to visit Agia Triada Beach is during the late spring and early summer months, which typically span from May to June. During this period, the weather is warm and pleasant, and the sea is comfortably cool. The advantage of visiting during this time is that Agia Triada Beach is less crowded compared to the peak summer months of July and August. With fewer tourists, visitors can enjoy a more peaceful and serene beach environment. The temperature is typically milder, ranging from the mid-70s to low 80s Fahrenheit (around 24-29 degrees Celsius), making it suitable for sunbathing and outdoor activities. Another favourable time to consider is the early autumn, particularly September and October. The weather remains pleasant during these months, with warm temperatures and a gentle breeze. The sea is still inviting for swimming and snorkelling, and the reduced number of visitors ensures a more secluded experience. Additionally, the fall season offers a unique charm with fewer crowds and the changing colours of the surrounding vegetation, creating a great backdrop for a beach getaway.
How was the preservation of Agia Triada Beach?
The preservation and environmental quality of Agia Triada Beach have been commendably maintained, earning it recognition with the prestigious Blue Flag Award. The Blue Flag Award is a globally recognised eco-label that is awarded to beaches and marinas that meet strict criteria regarding water quality, environmental management, safety measures, and educational initiatives. Agia Triada Beach was awarded this honour due to its dedication to preserving its natural beauty and ensuring the well-being of both visitors and the environment. The local authorities and beach management have implemented various measures to achieve and maintain the Blue Flag status. These include regular water quality testing to ensure the sea is safe for swimming, providing clean and well-maintained restroom facilities and proper waste disposal systems, and promoting environmental awareness among beachgoers. Additionally, lifeguards are often present to ensure the safety of swimmers, adding an extra layer of security to Agia Triada Beach's visitors.
What are nearby attractions in Agia Triada Beach?
Listed below are the best attractions near Agia Triada Beach:
Agia Triada Monastery: Agia Triada Monastery, also known as the Monastery of Agia Triada or the Holy Trinity Monastery, is a significant religious site near Agia Triada Beach. This historic monastery is known for its striking Byzantine architecture and serene surroundings. Visitors can explore the monastery's beautiful courtyard, adorned with colourful flowers, and its elegant church. The monastery also offers stunning panoramic views of the Aegean Sea and the surrounding landscape, making it a peaceful and spiritually enriching destination.
Nea Moudania: Nea Moudania is a nearby coastal town that offers a delightful blend of culture and seaside charm. Visitors can explore the town's harbour, where fishing boats and sailboats float in the clear waters. Nea Moudania is known for its lively atmosphere, with various shops, restaurants, and cafes lining the waterfront promenade. It's an ideal place to stroll, enjoy a meal with a sea view, and immerse oneself in the local culture.
Petralona Cave: Petralona Cave is a fascinating geological and archaeological site close to Agia Triada Beach. This cave is famous for its impressive stalactites and stalagmites formations, which create an otherworldly underground landscape. However, what makes Petralona Cave truly remarkable is its historical significance. It has yielded important fossil finds, including the famous Petralona Skull, which is estimated to be around 200,000 years old. Visitors can take guided tours to explore the cave's chambers and learn about its rich history and geology.
Potidaea: Potidaea, also known as Potidaia or Nea Potidea, is a historic town located nearby and offers a unique blend of history and natural beauty. This town is popular for its scenic peninsula that connects the Kassandra and Sithonia peninsulas, creating a narrow land bridge between the Aegean Sea and the Toroneos Gulf. Visitors can explore the ancient ruins of Potidaea, which include remnants of city walls and fortifications. The town also features beautiful beaches and waterfront promenades, allowing leisurely walks and relaxation.
How do you get to Agia Triada Beach?
Travelling from Thessaloniki to Agia Triada Beach is a straightforward and convenient journey, offering multiple transportation options. The most common and efficient way to reach Agia Triada Beach from Thessaloniki is by bus. Buses depart from the city centre and the bus station IKEA approximately every 30 minutes. This regular schedule provides travellers with flexibility in planning their trips. The bus ride takes around 15 minutes, making it a relatively short and comfortable journey. Hiring a taxi or renting a car are also viable options for those who prefer more personalised transportation. Taxis are readily available in Thessaloniki, and travellers can easily find a taxi stand or use ride-hailing apps to book a ride. Taxis offer the advantage of a direct and private transfer to Agia Triada Beach, allowing passengers to enjoy a hassle-free and comfortable journey. Alternatively, renting a car allows one to explore the route at one's own pace. The journey from Thessaloniki to Agia Triada Beach is well-marked and follows well-maintained roads.  Travellers can head southwest on the E65 highway, the Thessaloniki-Nea Moudania Road, which takes approximately 30-40 minutes, depending on traffic conditions. Renting a car also offers the flexibility to make stops and explore the surrounding areas.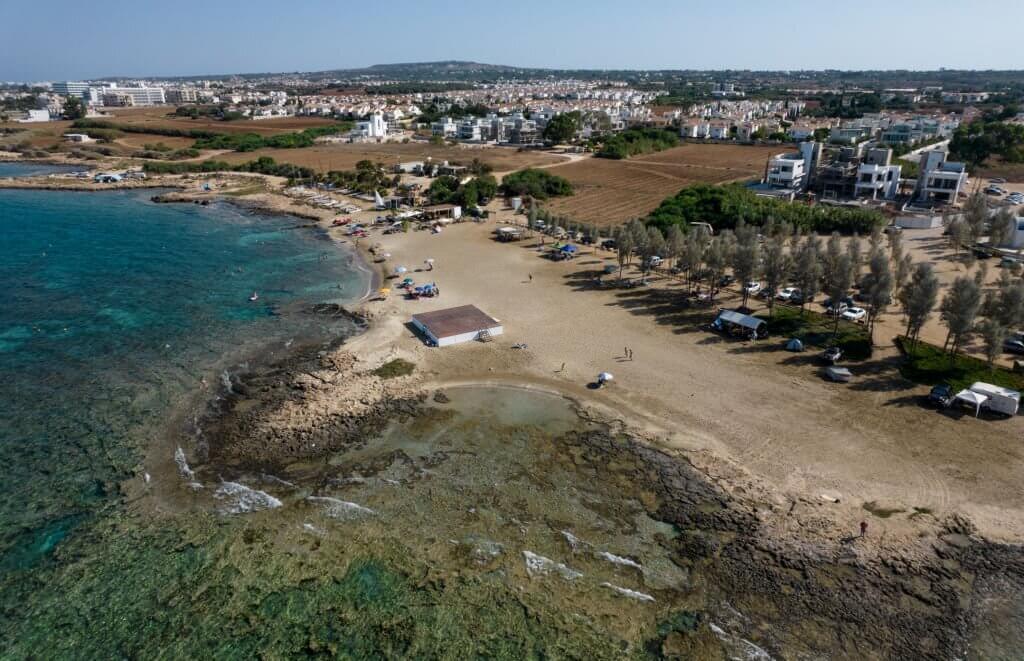 What are the factors to consider before renting a car in Thessaloniki?
Listed below are the factors to consider before renting a car in Thessaloniki.
Insurance: Car rental insurance is important, as it protects a passenger against the cost of damage when renting a car. Thessaloniki car rental includes insurance for collision damage waiver, and a driver's credit or debit card is required as a guarantee.
Driver's age: The legal age requirement when driving in Thessaloniki is 18. The driver must have a valid driving licence and essential documents like an ID or passport.
Driver's gender: Both women and men can drive in Thessaloniki. As long as the driver is of the legal age of 18, driving is permitted in Thessaloniki, regardless of gender.
Car type: Travelling with groups or family members requires a much bigger car. Car rental companies such as Potos Car Rentals in Thessaloniki offer a variety of vehicles to choose from. Selecting a smaller car is best when driving in Thessaloniki. The reason for that is that some Greek roads are narrow. The car type is one important factor in choosing the right car to rent in Thessaloniki.
Documents needed for renting a car: One important document required for renting a vehicle is a valid driving licence. However, a credit or debit card may also be presented, including a passport or an ID card.
How much does a car rental in Thessaloniki cost?
Thessaloniki is best travelled using a rented vehicle. Tourists may quickly get to Thessaloniki's top destinations using a rented car. Thessaloniki car rental costs vary depending on the number of persons, itinerary, car type, destination, and duration. The average car rental price in Thessaloniki is around €30 to €40 per day. A car rented for a whole week will cost an average of €250. Renting a vehicle for the weekend will cost around €78. Thessaloniki car rental rates differ depending on the car type. Thessaloniki Car rental companies offer a variety of cars depending on customers' liking. Most car rental shops in Thessaloniki provide an online booking system whenever customers want to book a car. Simply follow the process and instantly book a vehicle on their website. Before availing of a rental car service in Thessaloniki, check and secure all the requirements.
How much does it cost to get to Agia Triada Beach?
Agia Triada Beach has no admission fee, making it an excellent option for those seeking a budget-friendly day by the sea. However, visitors should be prepared to cover their expenses for food and refreshments. Along the 1 kilometre(0.6 mile) beach are numerous stores and taverns with various dining options. Prices for meals can range from €10 to €20 per person, depending on the choices. Parking near Agia Triada Beach is typically available, and while some areas may have free parking, others may charge a modest parking fee, usually around €3 to €5 per day. It's advisable to check for parking signs and regulations upon arrival to ensure a hassle-free experience.
Where to stay near Agia Triada Beach?
Listed below are the best hotels to stay near Agia Triada Beach:
CABO VÉRDE Cafe Bar Hotel: CABO VÉRDE Cafe Bar Hotel is a charming accommodation option near Agia Triada Beach. This boutique hotel offers a unique blend of comfortable lodging and a vibrant cafe-bar atmosphere. Guests can expect stylish and well-appointed rooms, some with sea views, ensuring a pleasant and relaxed stay. The on-site cafe bar serves a variety of beverages and snacks, making it a convenient spot to unwind.
Hotel Pithari: Hotel Pithari is a welcoming hotel, offering guests a peaceful and picturesque setting. The hotel features comfortable rooms and apartments, some with balconies overlooking the sea. Guests can enjoy the hotel's outdoor swimming pool and lush garden, providing a relaxing environment. The on-site restaurant serves delicious Greek and Mediterranean cuisine, allowing guests to savour local flavours during their stay.
Hotel Anemos: Hotel Anemos is a seaside accommodation option near Agia Triada Beach, offering a relaxing and family-friendly atmosphere. The hotel provides comfortable rooms and apartments featuring balconies with sea views. Guests can enjoy the hotel's outdoor swimming pool and sun terrace, providing a perfect spot for leisure and relaxation. The on-site restaurant serves various Greek and international dishes, catering to diverse tastes.
Where to eat near Agia Triada Beach?
Listed below are the best restaurants near Agia Triada Beach:
Nice View Tavern: Nice View Tavern is a delightful dining establishment located near Agia Triada Beach, known for its seafront location and delicious Greek cuisine. Visitors can enjoy a variety of traditional Greek dishes with a focus on fresh seafood. Some delicious options include grilled octopus, fried calamari, and flavorful fish dishes. Its inviting atmosphere and stunning sea views create a memorable dining experience, making it an ideal spot for those seeking a taste of local flavours with a view.
Taverna Andreas: Taverna Andreas is a charming tavern near Agia Triada Beach, offering a warm and welcoming environment. This family-owned establishment serves a range of Greek and Mediterranean dishes, including classic Greek souvlaki, moussaka, and freshly prepared salads. Guests can enjoy hearty meals in a cosy setting, complete with friendly service. Taverna Andreas provides an authentic taste of Greek cuisine, making it a great choice for those looking to savour traditional flavours.
Almira Beach Bar: Almira Beach Bar is a beachfront dining option known for its laid-back atmosphere and beachside location. The menu at Almira Beach Bar features a variety of dishes, including burgers, sandwiches, and grilled options. Visitors can also find refreshing cocktails and beverages to complement their beach experience. The relaxed ambience and proximity to the sea make Almira Beach Bar a perfect place for casual dining and enjoying beachside cocktails while enjoying the coastal views.
Is Agia Triada Beach worth visiting?
Yes, Agia Triada Beach is worth visiting. Agia Triada Beach is undeniably one of the best beaches in Thessaloniki, and it holds a reputation as a family-friendly destination. Its serene atmosphere, clear blue waters that turn to gold at sunset, and the picturesque view of the sea gulf and forest-covered cape offer a delightful escape for those seeking relaxation. The pristine sand, awarded with the Blue Flag for its quality, and the gentle, gradually deepening sea make it an ideal spot for families and solo travellers. Alongside swimming and sunbathing, visitors can engage in snorkelling, scuba diving, and even walking to the nearby Nei Epivates. The presence of nearby stores, taverns, and comfortable facilities ensures a convenient and enjoyable experience, making Agia Triada Beach a highly recommended destination for beach lovers.
Is Agia Triada Beach safe?
Yes, Agia Triada Beach is safe for visitors. It's a popular destination with clear and gradually deepening waters, which is suitable for families with children. The presence of facilities such as showers, changing cabins, and the availability of lifeguards during peak seasons further contribute to the safety of beachgoers. However, visitors must exercise caution and adhere to safety guidelines, such as paying attention to any posted warnings or flags indicating sea conditions.
Do you need to book in advance to visit Agia Triada Beach?
No, visitors do not typically need to book in advance to visit Agia Triada Beach. It is a public beach accessible to all, and no specific reservations are required. Visitors can usually arrive at Agia Triada Beach and enjoy its amenities and natural beauty without prior booking. However, if visitors plan to stay in nearby accommodations, such as hotels or vacation rentals, it is advisable to make reservations for their stay in advance. Beach facilities, such as umbrellas and sun loungers, may be available for rent on a first-come, first-served basis at Agia Triada Beach, but these do not typically require advance booking.
Are children permitted at Agia Triada Beach?
Yes, children are permitted at Agia Triada Beach. It is a family-friendly beach where visitors of all ages, including children, can enjoy the sun, sea, and sand. The gradual increase in water depth and clear sea make it suitable for kids to swim and play under supervision. Families often visit Agia Triada Beach to relax and have a pleasant time together, making it a welcoming destination for children. However, parents and guardians must monitor their children, especially in the water, to ensure their safety.