Perea Beach is a captivating Mediterranean destination nestled near the charming village of Perea, just a short drive from the vibrant city of Thessaloniki. With its pristine sandy shores and inviting clear waters, this beach has become a favoured spot for locals and tourists seeking relaxation, recreation, and a taste of Greece's coastal beauty. Perea Beach stretches for nearly 2 kilometres(1.2 miles), offering enough space for beachgoers to soak up the sun and enjoy the gentle lapping of the Thermaikos Gulf. Perea Beach has fine dark sand, which is a comfortable base for beach towels and sunbathing. What truly distinguishes Perea Beach is its calm and exceptionally clear waters, which provide an ideal setting for swimming and water activities. The gradual depth increase near the shoreline ensures that children and adults can safely enjoy the sea.
Perea Beach is thoughtfully organised to cater to the needs of its visitors. Essential facilities such as washing rooms and water closets are readily available, enhancing the overall comfort of a day by the sea. Those seeking refreshment will find a variety of options right on Perea Beach, including cafes and tavernas serving local delicacies and refreshing drinks. Families will appreciate the children's entertainment options, making it an ideal destination for a day of family fun. Moreover, the convenience of internet access, coupled with the wonderful pier, offers beachgoers the opportunity to relax, unwind, and savour the seaside atmosphere.
The best time to visit Perea Beach varies depending on personal preferences. However, to avoid the peak summer crowds and enjoy comfortable temperatures, late spring (May, June) and early autumn (September, October) are often recommended. These months offer warm weather without the scorching heat of midsummer, providing an ideal climate for beach activities and exploration. Perea Beach is easily accessible from Thessaloniki by various means of transportation. Whether one prefers to drive by car, take a taxi, catch a bus, or even arrive by boat, reaching this coastal place is convenient and well within reach.
What is Perea Beach?
Perea Beach, situated near the village of Perea, approximately 22 kilometres(13.6 miles) from Thessaloniki, is a popular coastal destination in Greece. This nearly 2 kilometre(1.2 miles) beach features fine dark sand and clear, inviting waters, making it a favourite among locals and tourists. Perea Beach is renowned for its family-friendly environment, with shallow waters near the shore gradually deepening to accommodate swimmers of all ages. Lifeguards are on hand to ensure safety. Although shade can be limited, Perea Beach offers a calm setting for sunbathing and water activities such as snorkelling, swimming, and fishing.
Visitors to Perea Beach can enjoy various amenities, including well-maintained washing rooms, water closets, and easy access to food and beverages on the beach. Beachgoers can also rent surfboards and scooters for added entertainment. The area surrounding Perea Beach is dotted with cafes, taverns, and seafood restaurants where guests can savour the fresh local cuisine. Perea Beach is well-illuminated in the evenings, creating a lively atmosphere for evening gatherings and parties. Its convenient location near Thessaloniki's airport makes it an excellent choice for travellers looking to relax while awaiting their flights.
As for pricing, the cost of a sunbed and umbrella at Perea Beach typically ranges from €5 to €10 for the entire day. Food and drink prices at the nearby cafes and taverns vary but are generally reasonable, with a meal for one costing around €10 to €15. Rental prices for water sports equipment like surfboards or scooters may vary, so it's advisable to check with the rental operators for the most up-to-date rates.
Where is Perea Beach located?
Perea Beach is near the small village of Perea, which is conveniently located a short distance from Thessaloniki. Positioned just 22 kilometres(13.6 miles) from the centre of Thessaloniki, this beach offers an accessible and peaceful escape from the city's urban atmosphere. Travellers have several transportation options to reach Perea Beach. Private transportation by car, taking a scenic drive that typically takes around 30 minutes from Thessaloniki's city centre. Alternatively, a bus service is available, providing an affordable and convenient mode of transportation to Perea Beach. For a more thrilling journey, visitors can even choose to access Perea Beach by boat, providing a unique and delightful approach. Additionally, those who enjoy the outdoors can go for a scenic walk or hike to reach this coastal spot, as Perea is well-connected and offers a range of accessible routes. Whether by car, bus, boat, walking, or hiking, reaching Perea Beach is a straightforward and enjoyable journey, making it an attractive destination for locals and tourists.
How does the Perea Beach Map look?
Find below on the image a map of Perea Beach.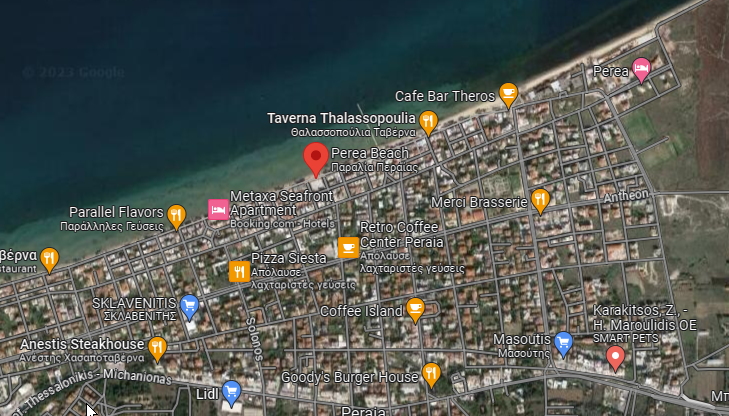 What are the activities in Perea Beach?
Perea Beach offers a delightful array of activities, such as swimming, snorkelling, and hiking. Firstly, swimming is the primary attraction in its clear and inviting waters. With its fine dark sand and gradual depth increase, Perea Beach is an excellent spot for children and adults to take a refreshing dip, paddle along the shoreline, or enjoy leisurely swims in the calm sea. For those who seek to explore the underwater world, Perea Beach presents an ideal opportunity for snorkelling. Its crystal-clear waters provide a fascinating view of marine life, making it a popular spot for snorkel experts. Snorkelers can delight in discovering the underwater treasures and vibrant sea creatures that inhabit this coastal area. Lastly, Perea Beach offers more than just aquatic activities. Nature lovers and hikers can explore the surrounding area by starting on scenic hikes. The landscape around Perea Beach, featuring trees, sea shells, and seaweed, provides a stunning background for hiking adventures, offering a chance to connect with nature, capture the beautiful scenery and savour the beauty of the coastal environment.
When is the best time to visit Perea Beach?
The ideal time to visit Perea Beach is May, June, or September and October. The temperatures are warm but not excessively hot, making outdoor activities like swimming and hiking comfortable. Moreover, during these periods, tourist numbers tend to be lower than in the peak summer months of July and August, so visitors can enjoy a more peaceful and serene beach experience. In contrast, the summer months of June, July, August, and early September tend to bring higher temperatures and more significant crowds to Perea Beach. While the beach remains a popular destination throughout the summer due to the appeal of its clear waters, visitors should be prepared for warmer weather and potentially larger crowds during this period.
How was the preservation of Perea Beach?
Perea Beach has been preserved and maintained in a commendable manner, ensuring that its natural beauty and recreational amenities remain intact for the enjoyment of both locals and tourists. One key aspect of its preservation is the proactive efforts to keep Perea Beach clean and safe. Facilities such as washing rooms and water closets have been provided to ensure visitors have access to essential amenities, contributing to the beach's cleanliness. Moreover, lifeguards on duty add an extra layer of safety for beachgoers. Additionally, the well-organized setup of Perea Beach plays a role in its preservation. The availability of cafes, taverns, and restaurants offering fresh seafood and refreshments on the beach encourages visitors to enjoy local cuisine without venturing far from the shoreline, which not only enhances the overall beach experience but also helps sustain the local economy, supporting the livelihoods of those in the hospitality industry.
What are the nearby attractions in Perea Beach?
Listed below are the best attractions near Perea Beach:
White Tower: The White Tower is a historical and cultural landmark not far from Perea Beach. This cylindrical stone tower offers a glimpse into the city's rich history and is known for its intriguing exhibits, including artefacts and exhibitions that narrate Thessaloniki's past. Visitors can also climb the tower to enjoy panoramic views of the city and the Thermaikos Gulf, making it a must-visit attraction for history lovers and sightseekers.
Agia Triada Beach: Agia Triada Beach is another delightful coastal destination worth exploring. It is known for its serene ambience, clear waters, and soft sandy shores. It's an excellent choice for those seeking a quieter, less crowded alternative to Perea Beach. Visitors can unwind, swim, or take leisurely walks along the shoreline, making it an ideal spot for a peaceful day by the sea.
Neoi Epivates Beach: Neoi Epivates Beach is another neighbouring beach offering a different coastal experience. It is known for its natural setting, with a mix of sandy stretches and pebbly areas. Neoi Epivates Beach is well-organized and offers amenities such as sunbeds and umbrellas, making it comfortable for sunbathing. Visitors can also explore the nearby tavernas and cafes for refreshments and local cuisine, making it an appealing option for those who enjoy relaxation and cooking.
How do you get to Perea Beach?
Getting to Perea Beach is a straightforward journey with several transportation options to suit different preferences. Travellers opting for private transportation by car can take the most direct route from Thessaloniki's city centre. The drive involves taking the E90 road southbound, following signs toward Perea. This scenic drive of around 30 minutes offers the flexibility to enjoy the coastal views along the way. Plus, renting a car can benefit travellers seeking flexibility and convenience. A rented car allows exploration beyond Perea Beach, making it easy to discover other attractions at one's own pace. For those who prefer a taxi service, reliable options are available in Thessaloniki to take visitors to Perea Beach. Taxi rides offer the convenience of a direct journey and can be a suitable choice for those looking for a hassle-free trip. Travelling by bus is a budget-friendly and eco-friendly option. A bus service conveniently connects Thessaloniki with Perea Beach, providing a comfortable and reliable mode of transportation and ensuring a smooth ride to Perea Beach. Visitors can even consider reaching Perea Beach by boat for a unique approach, which offers a scenic and enjoyable way to access Perea Beach. However, checking the availability and schedule of boat services in advance is recommended.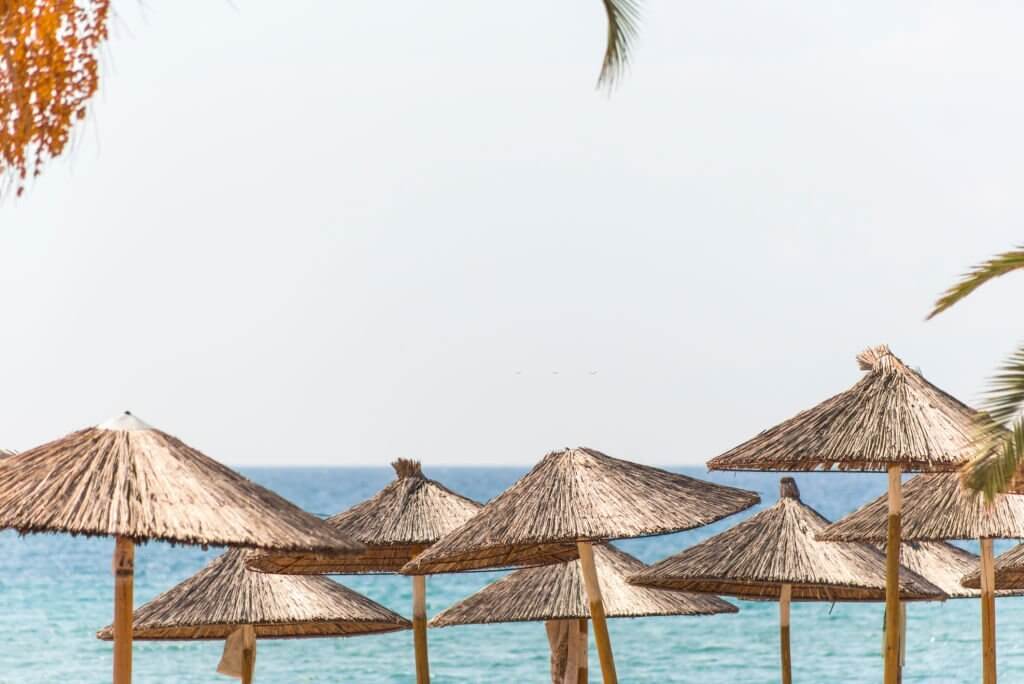 What are the factors to consider before renting a car in Thessaloniki?
Listed below are the factors to consider before renting a car in Thessaloniki.
Insurance: Car rental insurance is important, as it protects a passenger against the cost of damage when renting a car. Thessaloniki car rental includes insurance for collision damage waiver, and a driver's credit or debit card is required as a guarantee.
Driver's age: The legal age requirement when driving in Thessaloniki is 18. The driver must have a valid driving licence and essential documents like an ID or passport.
Driver's gender: Both women and men can drive in Thessaloniki. As long as the driver is of the legal age of 18, driving is permitted in Thessaloniki, regardless of gender.
Car type: Travelling with groups or family members requires a much bigger car. Car rental companies in Thessaloniki offer a variety of vehicles to choose from. Selecting a smaller car is best when driving in Thessaloniki. The reason for that is that some Greek roads are narrow. The car type is one important factor in choosing the right car to rent in Thessaloniki.
Documents needed for renting a car: One important document required for renting a vehicle is a valid driving licence. However, a credit or debit card may also be presented, including a passport or an ID card.
How much does a car rental in Thessaloniki cost?
Thessaloniki is best travelled using a rented vehicle. Tourists may quickly get to Thessaloniki's top destinations using a rented car. Thessaloniki car rental costs vary depending on the number of persons, itinerary, car type, destination, and duration. The average car rental price in Thessaloniki is around €30 to €40 per day. A car rented for a whole week will cost an average of €250. Renting a vehicle for the weekend will cost around €78. Thessaloniki car rental rates differ depending on the car type. Car rental companies offer a variety of cars depending on customers' liking. Most car rental shops in Thessaloniki provide an online booking system whenever customers want to book a car. Simply follow the process and instantly book a vehicle on their website. Before availing of a rental car service in Thessaloniki, check and secure all the requirements.
How much does it cost to get to Perea Beach?
Perea Beach does not typically have an admission fee for access to the beach. Visitors can enjoy the sandy shores and clear waters without a direct cost. However, it's always a good idea to check for any updates or changes in policies regarding admission fees before planning a visit. When it comes to dining and refreshments, there are various food options available near Perea Beach. Prices can vary depending on the type of establishment and the menu items. For instance, a meal at a local cafe or taverna could range from around €10 to €25 per person, depending on the dishes ordered. Refreshments like beverages might cost around €2 to €5. Exploring different food options and checking the menu prices is advisable to find something that suits the preferences and budget. Car rental rates from companies like Potos Car Rentals typically start from about 35-45 euros per day. Taxi or private transfers cost more, averaging 100 euros for a one-way trip. Regarding parking fees, many visitors opt to use the available parking spaces near the beach. Parking fees might vary but generally cost around €3 to €8. Inquiring about parking fees at the specific parking area chosen before leaving the vehicle is recommended.
Where to stay near Perea Beach?
Listed below are the best hotels to stay near Perea Beach:
Hotel Avra: Hotel Avra is a well-regarded accommodation option near Perea Beach. Situated along the waterfront, it offers stunning views of the Thermaikos Gulf. This hotel provides comfortable rooms, some with balconies overlooking the sea, and is known for its warm and welcoming staff. Guests can enjoy a buffet breakfast and dine at the on-site restaurant, which serves a variety of Mediterranean dishes. Hotel Avra's proximity to Perea Beach and its relaxing atmosphere make it a popular choice for beach lovers and travellers seeking a coastal escape.
Golden Star City Resort: Golden Star City Resort is a beachfront hotel near Perea Beach, offering direct access to the sandy shores. This hotel features modern and elegantly designed rooms, some with sea views. Guests can use the outdoor swimming pool, fitness centre, and spa facilities to rejuvenate. The on-site restaurant serves a range of Greek and international cuisine.
Perea Hotel Thessaloniki: Perea Hotel Thessaloniki is another excellent choice for accommodation. It features comfortable rooms and suites, many of which offer sea views. Guests can unwind at the hotel's rooftop bar while enjoying panoramic vistas of the sea and city. The on-site restaurant serves Greek and international cuisine. Additionally, Perea Hotel Thessaloniki is conveniently located within walking distance of Perea Beach and various attractions, making it a convenient base for exploring the area.
Where to eat near Perea Beach?
Listed below are the best restaurants near Perea Beach:
Gyrovolies: Gyrovolies is a popular dining spot near Perea Beach, known for serving delicious Greek gyro and other Mediterranean dishes. Visitors can expect a casual and inviting atmosphere, making it a great choice for a quick and satisfying meal. The menu includes a variety of gyro options, including chicken, pork, and beef, as well as vegetarian choices. Prices are around 10 to 20 euros, making Gyrovolies an excellent option for those seeking authentic Greek flavours without breaking the bank.
Plateia: Plateia is a charming restaurant offering a menu that celebrates Greek cuisine. Its cosy and welcoming ambience, Plateia, is ideal for those looking to savour traditional Greek dishes in a relaxed setting. Its menu includes various options, from fresh seafood to grilled meats and vegetarian selections. Visitors can expect friendly service and the opportunity to enjoy a delightful meal with friends or family while exploring the local culinary delights.
Paso: Paso is a Mediterranean restaurant known for its diverse menu and inviting atmosphere. It offers a mix of Greek and international dishes, catering to various tastes. Whether one is craving seafood, pasta, or grilled specialities, Paso provides a range of options to choose from. Its warm and hospitable ambience makes it an excellent choice for those seeking a diverse culinary experience and a place to unwind after a day at Perea Beach.
Is Perea Beach worth visiting?
Yes, Perea Beach is worth visiting. Its clear waters, fine sandy shores, family-friendly atmosphere, and amenities offer locals and tourists an enjoyable and convenient coastal experience. Whether looking to swim in the calm sea, explore underwater life while snorkelling, or simply relax by the shore, Perea Beach has something to offer. Its proximity to Thessaloniki, ease of access, and availability of various activities make it a delightful destination for a day by the sea.
Is Perea Beach safe?
Yes, Perea Beach is safe. Perea Beach has lifeguards on duty, adding an extra safety layer for beachgoers. Additionally, Perea Beach is well-organized and equipped with essential facilities, including washing rooms and water closets. While common safety precautions such as watching over personal belongings are advisable, Perea Beach is known for providing visitors with a secure and enjoyable environment, making it a family-friendly and welcoming destination for all.
Do you need to book in advance to visit Perea Beach?
No, there is generally no need to book in advance to visit Perea Beach. Perea Beach is an open public beach that does not require reservations for entry. Visitors can typically arrive and enjoy the beach without any prior booking or registration. However, checking for specific requirements or policy changes, especially during peak tourist seasons, is advisable to ensure a smooth and hassle-free visit.
Are children permitted at Perea Beach?
Yes, children are permitted and welcome at Perea Beach. Perea Beach is undeniably one of the best beaches in Thessaloniki, and it holds a reputation as a family-friendly destination, with shallow waters near the shore, making it safe and suitable for children to swim and play. Additionally, Perea Beach offers various amenities, including facilities for children's entertainment, making it an excellent choice for families looking to spend quality time together by the sea.