Vrasna Beach is an enchanting coastal place located near Thessaloniki, standing as a captivating destination that attracts travellers seeking a perfect blend of natural beauty and relaxation. With its extensive 10 kilometre(6.2 miles) shoreline, Vrasna Beach has the distinction of being the longest beach in Europe. Vrasna Beach's shoreline alternates between soft sandy stretches and areas containing small pebbles, offering a diverse terrain to beachgoers and its crystalline turquoise waters that afford an astounding visibility of up to 30 meters from the shore, inviting visitors to immerse themselves in its refreshing embrace.
Vrasna Beach's dedication to standards is evident through its Blue Flag status, a prestigious award recognising exceptional quality, safety, and environmental protection. This commitment is reflected in the meticulous daily upkeep, ensuring the pristine condition of Vrasna Beach. Alongside the serenity of the sun-kissed sands and pristine waters, Vrasna Beach presents an array of facilities, including restaurants, bars, and shops, catering to the diverse needs of visitors. Some areas provide organised sunbeds and umbrellas, while others offer the freedom to set up one's spot, accommodating preferences. Vrasna Beach, beyond its visual splendour, provides a canvas for various activities. Whether it's the beauty of swimming in its inviting waters, snorkelling to uncover the vibrant underwater world, or embarking on a challenging hike amidst lush vegetation and secluded coves, Vrasna Beach caters to relaxation and adventure seekers.
Access to Vrasna Beach is facilitated through multiple transportation options. A leisurely drive presents a personalised exploration of the surroundings, while taxis offer convenience and directness, although at a higher cost. Buses from Thessaloniki provide an affordable alternative, allowing travellers to enjoy the scenic journey. Notably, renting a car is beneficial, offering flexibility and the chance to explore nearby attractions at one's own pace.
What is Vrasna Beach?
Vrasna Beach is a captivating coastal destination located near Thessaloniki in Greece. This extensive shoreline stretches for an impressive 10 kilometres(6.2 miles), making it the longest beach in Europe. It features a diverse landscape, offering both sandy stretches and areas filled with small pebbles. Its most distinguishing feature is the mesmerising turquoise water, remarkably clear, allowing visibility to a depth of up to 30 meters from the shoreline. Vrasna Beach holds the prestigious Blue Flag award, which is a testament to its high-quality standards, safety measures, and environmental preservation efforts. It is carefully maintained daily to ensure a pristine atmosphere. Visitors to Vrasna Beach can enjoy the convenience of nearby restaurants, bars, and a few shops. Some parts of the beach are organised with sunbeds and umbrellas, while others allow visitors to bring their beach gear. Vrasna Beach is ideal for leisurely romantic walks along its extensive shore, although caution is advised for families with small children due to the steep drop into deeper waters. While Vrasna Beach is family-friendly, it doesn't offer an active nightlife, ensuring a peaceful experience. Furthermore, Vrasna Beach's proximity to Asprovalta Village and Beach and Akrogiali Beach offers additional options for beachgoers and explorers. Vrasna Beach is easily accessible from Thessaloniki by bus, taxi, or car, and it lies only 80 kilometres(50 miles) away from major cities in Central Macedonia, such as Thessaloniki, Kavala, Serres, and Drama. With its stunning natural beauty, clear waters, and vibrant atmosphere, Vrasna Beach is a sought-after destination for those seeking a serene yet fulfilling beach experience.
Where is Vrasna Beach located?
Vrasna Beach is a coastal setting near Thessaloniki. Positioned in the region of Central Macedonia, it is conveniently accessible from major cities in the area, including Thessaloniki, Kavala, Serres, and Drama. To reach Vrasna Beach, travellers can take a bus from Thessaloniki, with a journey time of one and a half hours. Alternatively, one can take a taxi ride, which takes around 50 minutes but is relatively more expensive. For those seeking flexibility and the opportunity to explore the surrounding area, renting a car is a favourable choice.
How does the Vrasna Beach Map look?
Find below on the image a map of Vrasna Beach.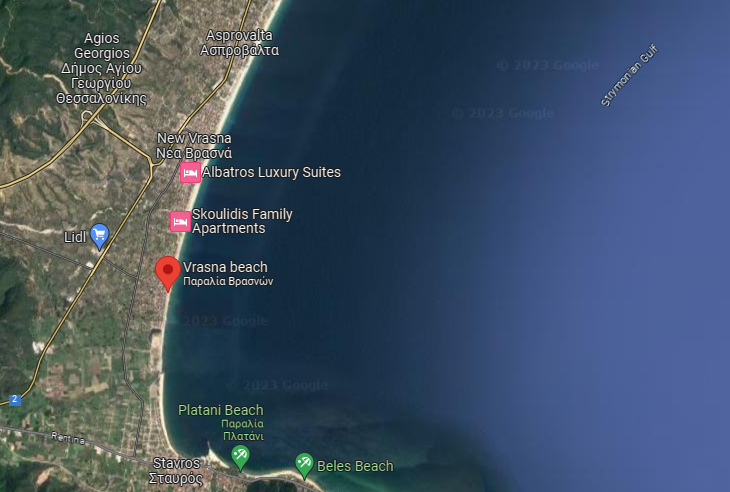 What are the activities in Vrasna Beach?
Vrasna Beach offers a range of engaging activities, making it an attractive destination for visitors. Firstly, swimming is a popular pastime due to Vrasna Beach's extensive shoreline and the remarkable clarity of its turquoise waters. Whether one seeks a leisurely dip or a refreshing swim, the deep and impressively clear waters of Vrasna Beach provide an ideal environment for aquatic enjoyment. Secondly, snorkelling experts are drawn to this coastal gem, as the crystal-clear sea allows for exceptional underwater visibility. Snorkelling along the Vrasna Beach coastline provides the opportunity to explore the diverse marine life and underwater terrain, making it an exciting activity for nature lovers. Lastly, hiking is a favoured pursuit due to the scenic beauty of the surrounding landscape. With magnificent forests, lush vegetation, and secluded coves nearby, Vrasna Beach is an excellent starting point for picturesque hikes, immersing visitors in the area's natural beauty. These activities offer enjoyment and create memorable experiences, making Vrasna Beach a versatile and captivating destination for travellers seeking relaxation and adventure.
When is the best time to visit Vrasna Beach?
The best time to visit Vrasna Beach is in the summer, typically from late May to early September. This period offers the most favourable weather conditions and ensures a delightful beach experience. The choice of summer is primarily because of the region's Mediterranean climate, which brings warm temperatures and plenty of sunshine, creating ideal conditions for sunbathing, swimming, and enjoying the coastal surroundings. During these months, the sea is pleasantly warm, inviting visitors to take refreshing dips in its clear waters. Additionally, the summer season aligns with the peak tourist period, which means that most facilities, including restaurants, bars, and accommodation options, are fully operational, offering a wide range of amenities and services.
How was the preservation of Vrasna Beach?
The preservation of Vrasna Beach has been commendable, as evidenced by its prestigious Blue Flag status, awarded for maintaining high standards of quality, safety, and environmental protection. Vrasna Beach is carefully maintained on a daily basis to ensure its cleanliness and pristine condition, which extends to the surrounding environment. Vrasna Beach benefits from the efforts to safeguard Strimonikos Bay's crystal-clear waters and natural beauty, contributing to preserving its aquatic ecosystem. Moreover, the responsible management of facilities and activities on Vrasna Beach helps minimise environmental impact. This dedication to preservation ensures that Vrasna Beach remains an inviting and sustainable destination where visitors can enjoy the natural beauty while respecting and protecting its delicate coastal ecosystem.
What are nearby attractions in Vrasna Beach?
Listed below are the best attractions near Vrasna Beach:
Asprovalta: Asprovalta is a nearby coastal town that offers a range of attractions for visitors to explore. Known for its sandy beaches and crystal-clear waters, Asprovalta is a favoured destination for beach lovers. Visitors can also discover the town's lively atmosphere with various shops, cafes, and restaurants, making it a delightful place for strolls and dining. Additionally, Asprovalta hosts cultural events and festivals, providing opportunities to immerse in the local culture and traditions.
Amfipoli: Amfipoli is an archaeological site located in proximity to Vrasna Beach. The ancient city of Amfipoli features remnants of city walls, a bridge, and the famous Lion of Amfipoli statue. History lovers can explore the archaeological site and gain insights into the rich past of this region, making it an intriguing day trip from Vrasna Beach.
Kerkini Lake: Kerkini Lake is a stunning natural attraction within reach of Vrasna Beach. This lake is a place for birdwatchers and nature lovers. Visitors can take boat tours on the lake to observe a wide variety of bird species, including pelicans and herons. The serene environment of Kerkini Lake offers opportunities for relaxation and immersion in the natural beauty of the area, making it a peaceful escape from the coastal scene.
Strimonikos Gulf: Strimonikos Gulf, also known as Strymonian Gulf, is a coastal region that stretches along the northern Aegean Sea. It offers a scenic coastline with beautiful beaches and charming seaside villages. Visitors can explore the coastal towns, indulge in water sports, or simply relax on the sandy shores. The gulf's inviting waters and coastal ambience make it an attractive destination for those seeking coastal adventures and a taste of Greek seaside life.
How do you get to Vrasna Beach?
Getting to Vrasna Beach is a straightforward journey, and visitors have several transportation options. Firstly, those who prefer the freedom to travel at their own pace and explore the surrounding areas may go for a car. To reach Vrasna Beach by car from Thessaloniki, travellers should head east on the E90 motorway. The journey takes approximately 50 minutes and offers flexibility, allowing stops to explore points of interest along the way. Secondly, taxi services are readily available for the journey from Thessaloniki to Vrasna Beach for a more convenient but pricier option. This route typically takes around 50 minutes and provides a comfortable and direct transfer to the destination. Thirdly, the bus is the most cost-effective and convenient way to reach Vrasna Beach. Travellers can catch a bus from Thessaloniki, which takes approximately an hour and a half to reach Vrasna Beach. Buses are a reliable mode of transport as it allows passengers to relax and enjoy the scenery during the journey. While all three transportation options are viable, renting a car is particularly beneficial for those who wish to explore the surrounding areas at their own pace. Nevertheless, regardless of the chosen mode of transportation, Vrasna Beach's accessibility ensures that visitors can easily enjoy its scenic beauty and amenities.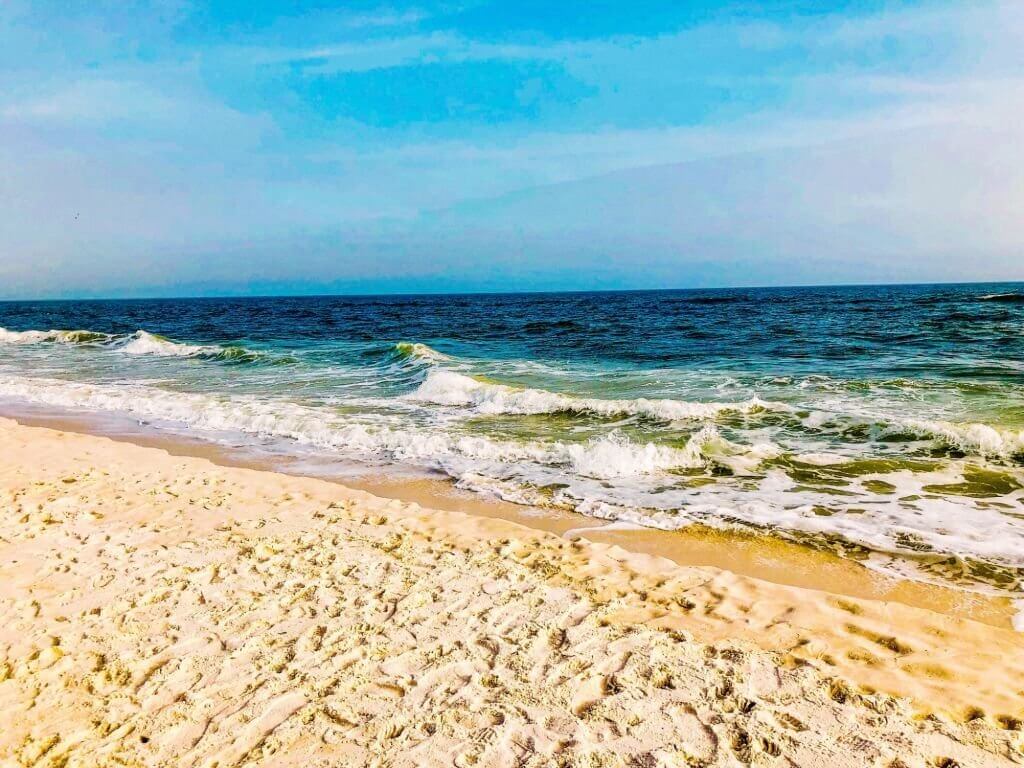 What are the factors to consider before renting a car in Thessaloniki?
Listed below are the factors to consider before renting a car in Thessaloniki.
Insurance: Car rental insurance is important, as it protects a passenger against the cost of damage when renting a car. Thessaloniki car rental includes insurance for collision damage waiver, and a driver's credit or debit card is required as a guarantee.
Driver's age: The legal age requirement when driving in Thessaloniki is 18. The driver must have a valid driving licence and essential documents like an ID or passport.
Driver's gender: Both women and men can drive in Thessaloniki. As long as the driver is of the legal age of 18, driving is permitted in Thessaloniki, regardless of gender.
Car type: Travelling with groups or family members requires a much bigger car. Car rental companies in Thessaloniki offer a variety of vehicles to choose from. Selecting a smaller car is best when driving in Thessaloniki. The reason for that is that some Greek roads are narrow. The car type is one important factor in choosing the right car to rent in Thessaloniki.
Documents needed for renting a car: One important document required for renting a vehicle is a valid driving licence. However, a credit or debit card may also be presented, including a passport or an ID card.
How much does a car rental in Thessaloniki cost?
Thessaloniki is best travelled using a rented vehicle. Tourists may quickly get to Thessaloniki's top destinations using a rented car. Thessaloniki car rental costs vary depending on the number of persons, itinerary, car type, destination, and duration. The average car rental price in Thessaloniki is around €30 to €40 per day. A car rented for a whole week will cost an average of €250. Renting a vehicle for the weekend will cost around €78. Thessaloniki car rental rates differ depending on the car type. Car rental companies offer a variety of cars depending on customers' liking. Most car rental shops in Thessaloniki provide an online booking system whenever customers want to book a car. Simply follow the process and instantly book a vehicle on their website. Before availing of a rental car service in Thessaloniki, check and secure all the requirements.
How much does it cost to get to Vrasna Beach?
Vrasna Beach is known for being a welcoming and affordable destination for visitors. In terms of admission fees, there is typically no charge for access to Vrasna Beach. Visitors can enjoy the long sand and pebble shoreline stretches without any entry fee. When it comes to food, the cost can vary depending on individual preferences and choices. Dining at one of the nearby restaurants or cafes along the beachfront may range from €10 to €20 per person for a meal, including a main dish and a beverage. However, more budget-friendly options, such as grabbing a quick snack or sandwich for around €5 to €10, are available. Car rental rates from companies like Potos Car Rentals typically start from about 35-45 euros per day. Taxi or private transfers cost more, averaging 100 euros for a one-way trip. Parking fees at Vrasna Beach are generally reasonable. Many areas offer free parking, while some organised parts of Vrasna Beach may have designated parking areas that charge a nominal fee, usually in the range of €2 to €5 for the day.
Where to stay near Vrasna Beach?
Listed below are the best hotels to stay near Vrasna Beach:
Pfaffenhofen: Pfaffenhofen is a charming accommodation option located near Vrasna Beach. This family-friendly guesthouse offers comfortable rooms and apartments with modern amenities, providing a pleasant and relaxing stay. Guests can enjoy the serene garden and outdoor terrace, making it an ideal spot for unwinding. The guesthouse's proximity to the beach and nearby attractions ensures a convenient and enjoyable experience for travellers seeking a tranquil coastal retreat.
Aelia Boutique Apartments & Rooms: Aelia Boutique Apartments & Rooms is a boutique-style accommodation known for its elegant and stylish design. The apartments and rooms are well-appointed and offer a comfortable stay, some with balconies offering sea views. Guests can relax by the outdoor swimming pool or in the garden area. The property also features a cafe bar, perfect for enjoying refreshments. With its chic ambience and proximity to the beach, Aelia Boutique Apartments & Rooms provides an upscale option for those seeking a luxurious coastal getaway.
Lily's House: Lily's House is a welcoming guesthouse offering a friendly and comfortable environment. The guesthouse features cosy rooms with modern amenities, ensuring a pleasant stay. Guests can enjoy the outdoor terrace and garden area, providing a serene setting for relaxation. Lily's House is conveniently located, allowing easy access to the beach and nearby attractions, making it a suitable choice for travellers looking for a cosy and convenient stay.
Where to eat near Vrasna Beach?
Listed below are the best restaurants near Vrasna Beach:
Profil Beach Bar: Profil Beach Bar is a popular beachfront dining spot known for its stunning sea views and relaxed atmosphere. Visitors can enjoy a variety of dishes, including Mediterranean cuisine, fresh seafood, and refreshing salads. It also offers a selection of cocktails and beverages. With its relaxing setting right by the sea, Profil Beach Bar provides an excellent choice for beachgoers looking to dine with a view and savour a range of flavours.
Taverna O Serreos: Taverna O Serreos is a charming tavern offering a warm and welcoming environment. This family-owned restaurant specialises in traditional Greek cuisine, including classic dishes like moussaka, souvlaki, and grilled meats. Guests can expect hearty and flavorful meals, along with friendly service. Taverna O Serreos provides an authentic taste of Greek flavours, making it a great option for those seeking a taste of local cuisine.
Cafe Poseidon, Deutsches Stamm Cafe: Cafe Poseidon, also known as Deutsches Stamm Cafe, is a beachfront cafe-bar near Vrasna Beach. This cafe bar offers a casual setting for visitors to relax and enjoy light snacks, coffee, and refreshing beverages. It's an ideal place to unwind and soak in the beachside atmosphere. With its relaxed ambience and proximity to the sea, Cafe Poseidon, Deutsches Stamm Cafe, provides a laid-back option for beachgoers looking to enjoy casual dining and drinks by the shore.
Is Vrasna Beach worth visiting?
Yes, Vrasna Beach is worth visiting. Its stunning 10 kilometer(6.2 miles) coastline, clear turquoise waters, and Blue Flag status for quality and environmental preservation make it a highly appealing destination. Visitors can enjoy swimming, snorkelling, and leisurely walks along the shore, surrounded by beautiful natural landscapes. With convenient access from major cities in Central Macedonia, Vrasna Beach offers a peaceful and enjoyable beach experience for all types of travellers, making it a worthwhile destination for those seeking a tranquil seaside getaway.
Is Vrasna Beach safe?
Yes, Vrasna Beach is safe. Vrasna Beach has been awarded the Blue Flag for high quality and safety standards, including measures to ensure visitors' well-being. However, visitors should exercise standard safety precautions, such as supervising children closely in the water due to the steep drop-off into deeper areas. Additionally, keeping an eye on personal belongings and practising general safety awareness is always recommended.
Do you need to book in advance to visit Vrasna Beach?
No, you do not need to book in advance to visit Vrasna Beach. Vrasna Beach is a public beach, and no admission fees or reservations are required for access. Visitors can freely enjoy the beach, its amenities, and the surrounding area without needing prior bookings. Whether you arrive by bus, taxi, or car, you can arrive at the beach and explore it at your leisure. However, for accommodations in nearby hotels or camping sites, making early reservations, especially during the peak tourist season, is advisable to ensure availability.
Are children permitted at Vrasna Beach?
Yes, children are permitted and welcome at Vrasna Beach. Vrasna Beach is undeniably one of the best beaches in Thessaloniki, and it holds a reputation as a family-friendly destination, and families with children often visit to enjoy the beach and its amenities. However, parents and guardians must exercise caution and supervision, particularly in the water, as the beach has a steep drop-off into deeper areas. Ensuring the safety of children while they swim or play is essential, as it is at any beach. Vrasna Beach provides a serene and relaxing atmosphere, making it suitable for families to have an enjoyable and memorable time together by the sea.