Asprovalta Beach is a stretch of shoreline wrapped in golden sands and caressed by the crystal-clear waters of the Aegean Sea. Popular for its exceptional beauty and commitment to environmental excellence, Asprovalta Beach proudly holds the prestigious Blue Flag award, a hallmark of its dedication to cleanliness, water quality, and top-notch facilities. With its wide expanse, stretching 200 meters in width and several kilometres long, Asprovalta Beach offers visitors the gift of space, preventing overcrowding even during the crowded summer months.
Along its inviting seaside of Asprovalta Beach, bars, restaurants, and confectionery shops cater to every palate, offering a delightful array of culinary specialities. Water sports experts can find their paradise in the Aegean Sea, where a variety of activities such as windsurfing, jet-skiing, and parasailing await. Moreover, Asprovalta Beach has amenities, including complimentary umbrellas and sunbeds, providing comfort and convenience to its visitors. For families, the beach has a range of child-friendly features, from playgrounds to beach volleyball courts and lifeguard services, ensuring a safe and enjoyable experience for all ages.
Asprovalta village, which is in between the sea and a lush forest of pine and plane trees, serves as the charming gateway. The village square features parks, fountains, and benches, creating a perfect moment for strolls. Beyond Asprovalta Beach, the scenic surroundings create an exciting exploration. Three mountains provide a dramatic backdrop, while nearby villages like Nea Vrasna and Paralia Vrasna add to the area's attraction.
What is Asprovalta Beach?
Asprovalta Beach is a popular coastal gem defined by its wide sandy shoreline and crystal-clear waters. This Blue Flag award-winning beach is a testament to its excellence, assuring visitors of its cleanliness and top-quality facilities. It spans 200 meters wide, stretching several kilometres to prevent overcrowding during peak seasons. Asprovalta Beach offers a diverse range of amenities, including complimentary umbrellas and sunbeds for beachgoers. It caters to water sports lovers with an array of thrilling activities. Along the seaside, many bars, restaurants, and candy shops serve reasonably priced culinary specialities.
Asprovalta Beach's fame originates in its natural beauty, accentuated by three majestic mountains. Its golden sands and pristine waters have attracted visitors for generations. Asprovalta village, situated between a lush forest of pine and plane trees and the sea, further enhances the beach's beauty. The village square, located along the seafront, offers a charming promenade featuring parks, fountains, and benches, complemented by cafes, taverns, and restaurants.
With a history steeped in tourism, Asprovalta Beach has evolved into a family-friendly destination equipped with playgrounds, beach volleyball courts, showers, and changing rooms. Visitors can indulge in sun-soaked relaxation, water sports excitement, and delectable dining while enjoying stunning views of the nearby mountains and the crystal-clear sea. For those seeking accommodation, the tourist resort area surrounding Asprovalta Beach provides a range of options, from hotels to camping sites.
Where is Asprovalta Beach located?
Asprovalta Beach is situated in Thessaloniki, along the country's northeastern coastline. It is nestled between a lush forest of pine and plane trees and the blue waters of the Aegean Sea. To reach Asprovalta Beach, travellers typically start from Thessaloniki and follow the E90 highway heading east. After driving approximately 70 kilometres(43 miles), they will arrive in the village of Asprovalta, where the beachfront is located. For those embarking on this journey, parking facilities are generally available near Asprovalta Beach, ensuring a convenient visit for beach lovers. Asprovalta Beach's location is characterised by its stunning natural beauty, featuring golden sandy shores and the calming embrace of the Aegean Sea. With a backdrop of verdant trees and clear waters, it offers a serene coastal escape, making it an appealing destination for travellers seeking sun, sea, and relaxation.
How does the Asprovalta Beach Map look?
Find below on the image a map of Asprovalta Beach.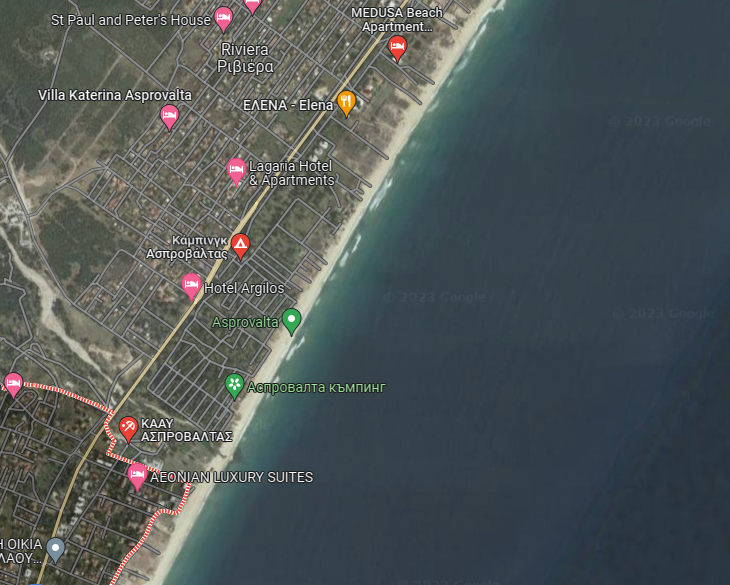 What are the activities in Asprovalta Beach?
Asprovalta Beach offers diverse activities such as swimming, snorkelling, and hiking. Firstly, swimming in the crystal-clear waters of the Aegean Sea is a popular and refreshing activity. The gentle slope of the shoreline and the generally calm sea conditions create an ideal environment for swimmers of all levels to enjoy. Best of all, this activity comes at no additional cost, as access to Asprovalta Beach and swimming is free for all. For those interested in underwater exploration, snorkelling is another enticing option at Asprovalta Beach. The pristine waters teem with marine life, providing snorkellers a fascinating glimpse into the underwater world. Renting snorkelling equipment, including masks and snorkels, is typically affordable and readily available at nearby beachfront shops. This allows visitors to fully immerse themselves in the vibrant marine ecosystem, making for a memorable aquatic adventure. Lastly, nature lovers and hikers will enjoy the nearby natural landscapes. Asprovalta Beach is surrounded by three majestic mountains and lush greenery, offering scenic hikes and walk opportunities. Exploring these trails allows hikers to connect with nature and take in breathtaking views of the Aegean Sea and the natural surroundings, which is great for physical fitness and provides a sense of relaxation and connection with the beautiful natural environment.
When is the best time to visit Asprovalta Beach?
The best time to visit Asprovalta Beach and enjoy a serene, less crowded experience is typically during the shoulder seasons, which fall in the spring and early autumn. The weather is pleasantly warm during these times, and the sea is still suitable for swimming and water activities. Prices for accommodations and beach amenities are more reasonable than in peak summer months, making it a budget-friendly choice for travellers. Conversely, the peak tourist season in Asprovalta Beach typically occurs during the summer months of July and August. While this period offers the warmest weather and a vibrant atmosphere, it also tends to be the busiest and most crowded time. Due to the increased demand, prices for accommodations and beachfront amenities, such as sunbeds and umbrellas, can be higher during this peak season. Travellers seeking a more relaxed and cost-effective experience may prefer to avoid the peak summer months and opt for the quieter shoulder seasons when Asprovalta Beach exudes a more serene charm.
How was the preservation of Asprovalta Beach?
The preservation of Asprovalta Beach is a testament to its commitment to maintaining its natural beauty and environmental integrity. As a recipient of the prestigious Blue Flag award, Asprovalta Beach adheres to strict environmental and sustainability standards. This award recognises the beach's dedication to clean water, top-notch facilities, and responsible coastal management.
Asprovalta Beach is exceptionally well-maintained, with regular clean-up efforts to ensure the cleanliness of the shoreline. These preservation efforts allow beachgoers to enjoy its pristine sands and crystal-clear waters. The presence of complimentary umbrellas and sunbeds helps to organise the beach efficiently and prevents overcrowding, enhancing visitors' overall experience. Prices for beachfront amenities, like renting sunbeds and umbrellas, are generally affordable, further promoting accessibility while contributing to Asprovalta Beach's upkeep. In addition to cleanliness, the beach provides a variety of amenities, including water sports, playgrounds, beach volleyball courts, and showers, all of which contribute to the overall enjoyment and preservation of Asprovalta Beach.
What are nearby attractions in Asprovalta Beach?
Listed below are the best attractions near Asprovalta Beach:
Vrasna Beach: Just a stone's throw away from Asprovalta Beach lies the equally inviting Vrasna Beach. With its serene atmosphere and pristine sands, Vrasna Beach offers a more relaxing alternative to the crowded Asprovalta, making it an excellent spot for relaxation and sun-soaked leisure.
Mount Athos: For those seeking a cultural and spiritual experience, the legendary Mount Athos is within reach. This monastic community, a UNESCO World Heritage Site, has a rich history dating back over a millennium. While visitors are not allowed on the main peninsula, boat tours along the coastline provide breathtaking views of the monasteries and the majestic landscape.
Strimonikos Gulf: The Strimonikos Gulf is a place for nature lovers. Its pristine waters and diverse marine life offer opportunities for boat riding, fishing, and aquatic exploration. The surrounding area showcases a scenic landscape of hills and forests, making it a serene backdrop for outdoor activities.
How do you get to Asprovalta Beach?
Getting to Asprovalta Beach is convenient, and travellers have several transportation options. One of the most popular and flexible ways to reach Asprovalta Beach is by car. From Thessaloniki, travellers can take the E90 highway heading east. The journey typically takes around 1.5 to 2 hours, covering a distance of approximately 70 kilometres(43 miles). Gasoline prices in Greece vary but are typically around 1.50 to 2.00 euros per litre. Daily parking rates near the beach typically range from 5 to 10 euros. A car offers flexibility, allowing visitors to explore nearby attractions and villages. Taxis are readily available in Thessaloniki, and the approximate cost of a one-way trip to Asprovalta Beach can vary but is typically between 80 to 100 euros, depending on the exact starting point and any additional surcharges. While convenient, this option is generally more expensive than driving oneself. Public buses also serve the Thessaloniki-Asprovalta route. The ticket price for a one-way journey typically ranges from 10 to 15 euros per person, depending on the bus company and the type of service. The bus journey takes approximately 2 to 3 hours, and the schedule may vary, so checking the latest timetables is advisable.  Having a car rental in Asprovalta can be beneficial, especially for exploring nearby villages and attractions. Car rental prices in Greece vary depending on the type of vehicle and the rental duration but generally range from 30 to 60 euros per day, excluding fuel costs. Having a car allows visitors the freedom to explore the beautiful surrounding areas and enjoy a more flexible and personalised travel experience.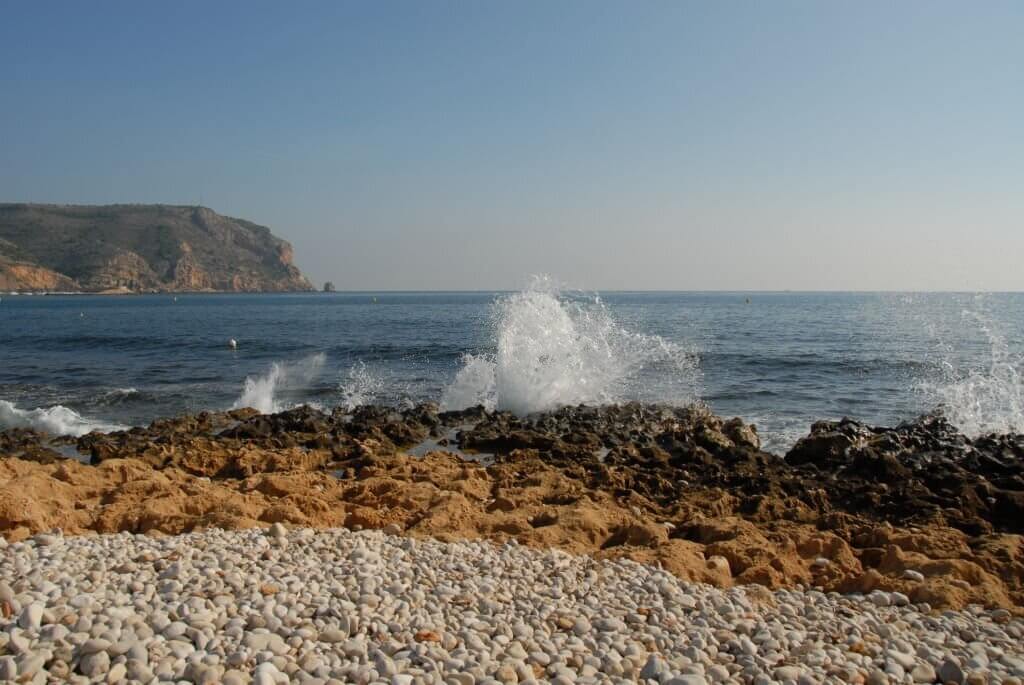 What are the factors to consider before renting a car in Thessaloniki?
Listed below are the factors to consider before renting a car in Thessaloniki.
Insurance: Car rental insurance is important, as it protects a passenger against the cost of damage when renting a car. Thessaloniki car rental includes insurance for collision damage waiver, and a driver's credit or debit card is required as a guarantee.
Driver's age: The legal age requirement when driving in Thessaloniki is 18. The driver must have a valid driving licence and essential documents like an ID or passport.
Driver's gender: Both women and men can drive in Thessaloniki. As long as the driver is of the legal age of 18, driving is permitted in Thessaloniki, regardless of gender.
Car type: Travelling with groups or family members requires a much bigger car. Car rental companies in Thessaloniki offer a variety of vehicles to choose from. Selecting a smaller car is best when driving in Thessaloniki. The reason for that is that some Greek roads are narrow. The car type is one important factor in choosing the right car to rent in Thessaloniki.
Documents needed for renting a car: One important document required for renting a vehicle is a valid driving licence. However, a credit or debit card may also be presented, including a passport or an ID card.
How much does a car rental in Thessaloniki cost?
Thessaloniki is best travelled using a rented vehicle. Tourists may quickly get to Thessaloniki's top destinations using a rented car. Thessaloniki car rental costs vary depending on the number of persons, itinerary, car type, destination, and duration. The average car rental price in Thessaloniki is around €30 to €40 per day. A car rented for a whole week will cost an average of €250. Renting a vehicle for the weekend will cost around €78. Thessaloniki car rental rates differ depending on the car type. Thessaloniki car rental companies offer a variety of cars depending on customers' liking. Most car rental shops in Thessaloniki provide an online booking system whenever customers want to book a car. Simply follow the process and instantly book a vehicle on their website. Before availing of a rental car service in Thessaloniki, check and secure all the requirements.
How much does it cost to get to Asprovalta Beach?
Visiting Asprovalta Beach is generally budget-friendly, as there is typically no admission fee to access the beach. This means that beachgoers can enjoy the pristine sands and crystal-clear waters without incurring any entrance charges. As for food prices, dining options along the seaside promenade in Asprovalta village vary, but they are known for being reasonably priced. Visitors can find a variety of cafes, taverns, and restaurants offering culinary specialities at affordable rates. A typical meal at a local restaurant may range from 10 to 20 euros per person, depending on the menu and restaurant. Snacking at beachfront confectionery shops or enjoying a drink at one of the beach bars is also relatively affordable, making it convenient for visitors to enjoy refreshments without breaking the bank. Car rental rates from companies like Potos Car Rentals typically start from about 35-45 euros per day. Taxi or private transfers cost more, averaging 100 euros for a one-way trip. Regarding parking fees, many parking facilities are available near Asprovalta Beach, particularly during the peak tourist season. Daily parking rates usually range from 5 to 10 euros, depending on the proximity to the beach and the time of year. Parking may be more readily available and cheaper during the off-peak season or less crowded days.
Where to stay near Asprovalta Beach?
Listed below are the best hotels to stay near Asprovalta Beach:
Ilion Luxury Studios: Ilion Luxury Studios is a stylish and modern accommodation option near Asprovalta Beach. These well-appointed studios offer a comfortable stay, with amenities such as fully-equipped kitchens, private balconies, and free Wi-Fi. It is known for its friendly staff and convenient location, making it a popular choice for travellers.
Saint George Hotel: Saint George Hotel is a charming beachfront hotel offering cosy rooms with sea views. Guests can enjoy the convenience of an on-site restaurant, bar, and garden terrace. Its proximity to Asprovalta Beach makes it an excellent choice for those looking to be steps away from the sea.
Assamaris Accommodation: Assamaris Accommodation provides a range of apartment-style accommodations in the Asprovalta area. These spacious apartments come with well-equipped kitchens and private balconies. It features a garden and outdoor seating areas for guests to relax. It's a good option for those seeking a more self-catering style of accommodation.
Where to eat near Asprovalta Beach?
Listed below are the best restaurants near Asprovalta Beach:
Botsalakia: Botsalakia is a charming tavern known for its Greek cuisine and seafood dishes. Their menu features an array of fresh seafood, including grilled fish and calamari, as well as traditional Greek meze (appetisers) like tzatziki and grilled halloumi cheese. Visitors can savour these delectable dishes while enjoying the relaxed seaside atmosphere.
Dimitris Kitchen: Dimitris Kitchen is a popular spot for quick and delicious bites. They offer a menu filled with Greek street food classics like souvlaki (grilled meat skewers), gyro wraps, and pita sandwiches. It's an ideal choice for those looking for a casual and satisfying meal.
Mythos & Thalassa: Mythos & Thalassa is a beachfront restaurant that combines Greek and Mediterranean flavours. Their menu includes a variety of seafood options, pasta dishes, and fresh salads. Diners can enjoy their meals while gazing out at the picturesque sea view.
Is Asprovalta Beach worth visiting?
Yes, Asprovalta Beach is worth visiting. Its stunning Blue Flag status, expansive golden sands, crystal-clear waters, and amenities offer an exceptional beach experience. Whether seeking relaxation, water sports, family-friendly activities, or a scenic coastal escape, Asprovalta Beach delivers on all fronts. Its commitment to cleanliness and affordability makes it an appealing destination for travellers of all budgets. Additionally, the picturesque surroundings, nearby villages, and accessibility further enhance its charm, making it a must-visit destination for those exploring the Thessaloniki region.
Is Asprovalta Beach safe?
Yes, Asprovalta Beach is safe for visitors. Asprovalta Beach adheres to strict safety and cleanliness standards, as evidenced by its Blue Flag award status. The waters are typically calm and suitable for swimming, making it a safe environment for water activities. Additionally, Asprovalta Beach is well-maintained, and amenities like lifeguards, showers, and changing rooms further ensure beachgoers' safety and comfort.
Do you need to book in advance to visit Asprovalta Beach?
No, visitors do not typically need to book in advance to visit Asprovalta Beach. As a public beach, access is generally open to all without reservations or bookings. Asprovalta Beach is designed to accommodate both day-trippers and those staying in nearby accommodations, making it convenient for spontaneous visits. However, during the peak summer season, especially if you plan to stay in a specific hotel or accommodation close to the beach, making reservations in advance to secure your preferred lodging is advisable. Otherwise, no advance booking is necessary for a day visit to enjoy the sun, sand, and sea.
Are children permitted at Asprovalta Beach?
Yes, children are welcome and permitted at Asprovalta Beach. Asprovalta Beach is undeniably one of the best beaches in Thessaloniki, and it holds a reputation as a family-friendly destination. It offers various amenities and activities suitable for children, including playgrounds, beach volleyball courts, and shallow, calm waters that are safe for swimming. Additionally, the nearby village of Asprovalta features a lovely promenade with parks and benches, creating a pleasant environment for families to enjoy. Lifeguards are often present to ensure the safety of all beachgoers, including children. With its spacious and well-maintained surroundings, Asprovalta Beach is an excellent destination for families looking to have a relaxing and enjoyable beach experience.