Thessaloniki Airport is one of the busiest airports and a major holiday arrival point for tourists. It is only 15 km from Thessaloniki city, and it welcomes domestic flights from all over Greece and international flights from some well-known European countries. There are some other famous cities as well near Thessaloniki airport, such as Perea, which is 7km to the west of the airport and is famous for its beaches, and Nea Michaniona, which is a small town 10km on the southeast of the airport, famous for its fishing spots. You can easily get to these cities via National Road 67, which is on the northern side of the island and provides a direct link to Thessaloniki city and other cities.
What is the name of Thessaloniki International Airport?
Thessaloniki Airport is officially known as Thessaloniki Airport Macedonia. It is the second busiest airport in Greece after Athens International Airport and the only one serving in the area of Thessaloniki. The airport serves as a gateway to northern Greece, and it provides a direct entrance to popular tourist destinations like Thessaloniki and Halkidiki.
The airport has a single building with two levels. It serves both international and domestic flights. Thessaloniki Airport also offers a number of services for the travellers, such as restaurants and cafes, car rental depots, ATMs, currency exchange, and duty-free shopping. A number of International and domestic airlines, like Olympic Air, Aegean Airlines, Lufthansa, Turkish Airlines, and Ryanair, operate to and from Thessaloniki International Airport.
You do not have to worry about transportation, as you can easily find a taxi, bus, and rental cars at the airport. Also, the airport is well-connected to Thessaloniki city center and other destinations via the Egnatia Odos highway. The airport is also closer to some worth-visiting destinations, such as shopping malls, exquisite restaurants, cultural and historical sites, and some convenient options for accommodation. So, if you are wondering how to make the most of your time at Thessaloniki Airport, then continue reading to find out.

Shopping places near Thessaloniki airport
Have you reached the airport way too early? Now you have got a lot of time to kill but do not know how to? Well, how does last-minute shopping sound? Thessaloniki Airport is located at a prime location with several shopping options. Mediterranean Cosmos is one of the largest shopping centers in Greece. It is almost 3km east of the airport. There are more than 200 stores, with brands like Zara, Mango, and H&M. You can even watch a movie or go to a café.
One Salonica outlet mall is another good option with more than 100 boutiques, café, cinemas, and restaurants, which have quickly helped the shopping center gain popularity in a short time. The mall will be on your way to the Airport, but it is at a distance of 19km.
Visiting the IKEA store near the airport is also a good option. It is only 6km away, and the place also has some cafes where you can try that delicious Greek food one last time before you leave, drop your children at the play area, and shop from some well-known brands before you head back home. If you do not want to leave the airport and just stay and kill time, then you can explore the place, and you will find some nice duty-free shops with good products and reasonable pricing.
▶ ALSO READ: Prices in Thessaloniki: Is Thessaloniki Expensive?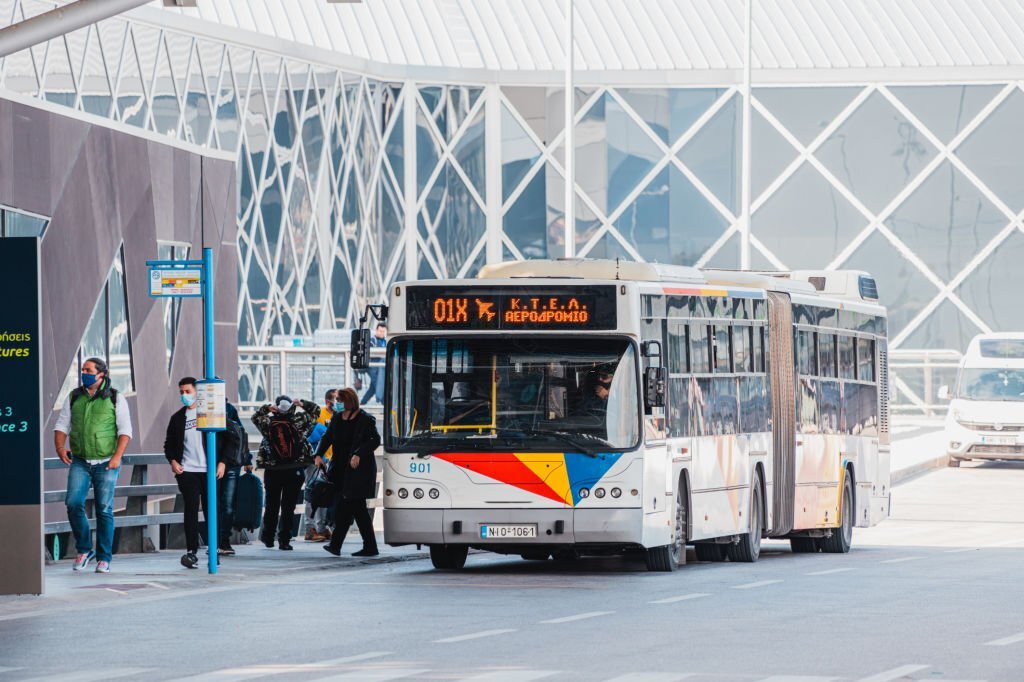 Where to park near the Thessaloniki airport?
Thessaloniki airport has a large parking area with four sections, but if you do not want to get into the hassle of looking for a parking spot or drop your rental car somewhere safe, you can head to Park and Fly, which is only 2 km east of the airport. It has both outdoor and indoor parking areas and also a shuttle service that will take you directly to the airport. You can easily park your car here for €6 per day.
There is another facility named Alphas Parking, which is also 2km east of the airport. It also has indoor and outdoor parking with a shuttle service. Alphas Parking charges you €5 per day for parking. You can park your vehicle at other nearby facilities as well, like Sky Parking and Park4Fly, which are 4km east of the airport, and charge €7 to €8 per day for parking.
These private parking facilities are a perfect substitute if you do not want to park your vehicle at the airport. The places are secure, safe, and under CCTV surveillance all the time.
▶ ALSO READ: How to Get Around Thessaloniki? Walking, Bus, Car Rental & Taxi
Where to eat near Thessaloniki airport?
Do you want to munch on the delicious Greek food one last time before you leave the island? Well, you can, on your way to the airport, at some of the finest restaurants near Thessaloniki Airport. A good restaurant named Platanos is only 3km from the airport, and you get to indulge in some good Greek food like seafood and grilled meat. Another restaurant, To Perasma, is also 3km away from the airport and serves some exquisite Greek dishes like Grilled meat dishes, souvlaki, and a variety of salads.
You can also go to Ouzeri tou Maki, which is only 2km away from the airport. The restaurant serves Greek cuisines like salad and meze. If you want to try some good seafood, then you can head to Kritikos, which is in a nearby village, Filyro, and indulge in some of the well-cooked Greek-style fish dishes.
▶ ALSO READ: 10 Best Restaurants in Thessaloniki
Where to stay near Thessaloniki airport?
If you have a late-night arrival in Thessaloniki, your hotel is booked for the next day, and you want to crash somewhere for the night, some good accommodation options are available near the airport. Hyatt Regency Thessaloniki is a luxury hotel just a few minutes from the airport. Hyatt offers a number of services to the guests, such as dining options, a spa, and an outdoor pool. Athina Airport Hotel is also a good option if you do not want to spend much on accommodation. The hotel has a restaurant, a bar, and a shuttle service to the airport.
Royal Hotel Thessaloniki, Hotel Nikopolis, and Iris Hotel are good, budget-friendly hotels not far from the airport, with services like dining options, spas, outdoor pools, and well-furnished rooms.
Where to have a drink near Thessaloniki airport?
As Thessaloniki Airport is a bit far from the city, that does not mean that you cannot enjoy a good drink on your way to or from the airport. There are some nice spots and bars near Thessaloniki airport that serve good quality drinks, such as Iolkos Café bar, which is only 1.5km away from the airport. The bar serves a variety of drinks, such as tea, wine, beer, coffee, and freshly prepared cocktails.
Kritikos Taverna is also a good place to grab a cup of coffee on the go, a chilled beer, or an ouzo. It is located in Filyro, which is 5km away from the airport. Other places like To Perasma Café Bar and Crystal Beach Bar also serve good quality beer, drinks, coffee, and cocktails, with Crystal beach bar offering a view of the sea and killing some time before leaving Greece.
Excursion and activities near Thessaloniki airport
Thessaloniki airport is not close to any of the cultural or historic places, so if you want to visit any, then the nearest sites you will find are in Thessaloniki City, which is around 16km away from the airport. In Thessaloniki city, there are a number of historic and cultural places such as museums, ancient ruins, churches, and more that will keep you busy for a good amount of time. For example, the White Tower is a famous landmark of the city. The White Tower also has a museum inside, with some artefacts from old times.
You can also go to the Archeological Museum of Thessaloniki and see the large collection of artifacts from ancient Roman and Greek times in person. Visiting the Royal Tomb of Vergina is also a good option. However, the tomb is at a great distance of 80km from the airport, but the contains ancient remains of some of the greatest kings of the past. Also, if you are interested in Greek mythology, then a visit to Mount Olympus will take you to the moon. 120km away from the airport, the mountain is a popular hiking destination, and it is said to be the home of ancient Greek gods.
Apart from these, you can also visit the beautiful Church of St. Demetrios, the Aristotelous Square, and the Vlatadon Monastery to experience the Greek history and beautiful architecture that is scattered all around the island.
▶ ALSO READ: Top 10 Attractions in Thessaloniki
Can you rent a car in Thessaloniki Airport?
Are you looking for a reliable car rental in Thessaloniki Airport that will deliver the car right outside the airport, so you can roam around the island easily and explore the island at your own pace? If yes, then Potos Car rentals is here for you. We provide our customers with the best quality ride. You can easily pre-book your car online, and our rep will be waiting for you outside the airport when you land. He will then hand over the car to you, and you can be off on your adventure.
Things to consider while renting a car in Thessaloniki Airport
Here is a list of things you must consider while renting a car in Thessaloniki:
Drivers Age. The driver must be over 21 years old and have a valid driver's license to drive the car. There are some companies as well whose age limit starts from 23 years.
Insurance. It is necessary that you have a working credit card and Collision Damage Waiver insurance while renting a car to guarantee that the owner will get it back in the same condition. If you do not have either of them, then you have to pay extra money to guarantee safety. Also, any insurance does not cover the glass and mirror destruction, so if it happens, we would suggest that you call for help and stay there.
Required Documents. The rental car provider will need your credit card details and driver's license under the name of the driver to avoid any unnecessary disaster. If the first driver does not have a valid driving license, the second driver's license must be needed.
Car Type. You must look at how many people and luggage you have before renting a car. You can inform the rental service provider about it, and then they will send the car which will be suitable for all of you.