Quiet beaches in Thassos: Thassos has always been one of the most authentic and quiet holiday destinations in Northern Greece.  
Over the last few years although the island has become a very popular destination, especially for travelers coming by car from the neighboring Balkan countries, the island nevertheless has kept its tradition and Greek character and has still plenty to offer.  
For those who want to avoid overcrowded places and are interested in discovering the hidden beauties of the island, we have picked the following Top 5 Secluded Beaches on Thassos!
The best way to visit the below places is to hire a car or even better a 4×4 vehicle like a Suzuki Jimny, as secluded beaches are often difficult to access by a normal cars. This of course might also be the reason why the places remain unrevealed and secluded.
Quiet beaches in Thassos: Fari Beach Skala Maries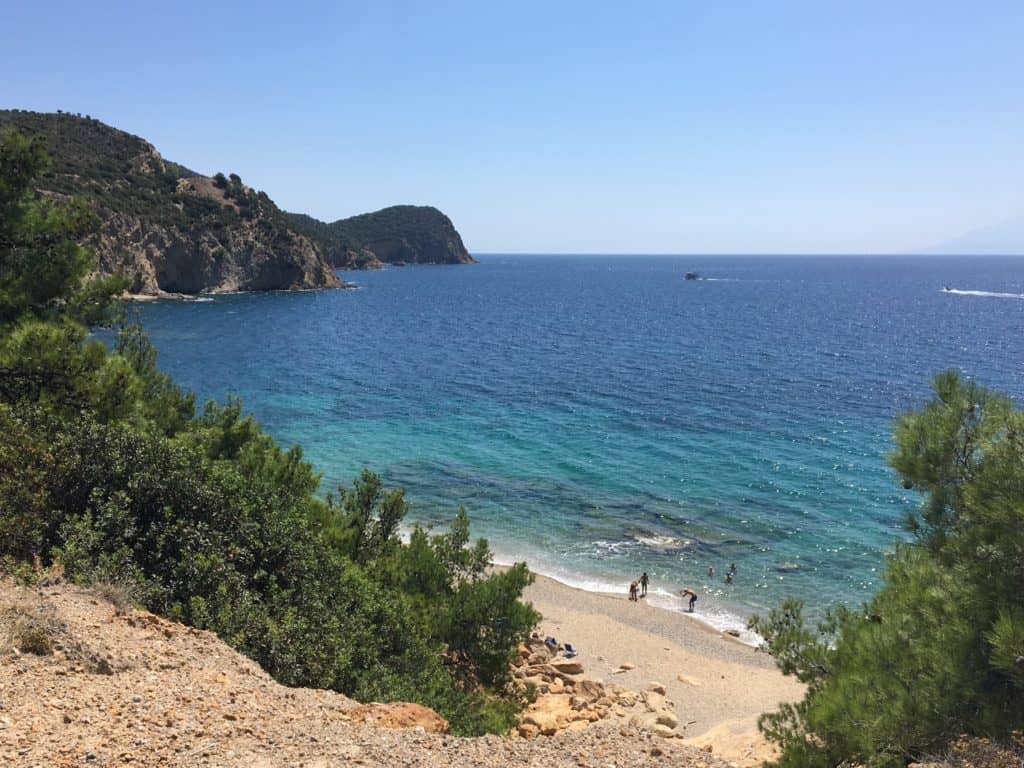 Our number one secluded beach is Fari, a stony beach with crystal turquoise waters, located a few kilometers away from Skala Maries village.
There is a sign "Archeological Site Fari" on the right hand  side of the main road coming from Limenaria to Skala Maries and here is where you need to turn to come down to the beach.
 As the access road is a dirt road you need a 4×4 vehicle or otherwise feel free to park your car on the road and walk down to the beach. It will take you approximately 15 minutes.  
The beach doesn't have any amenities such as sunbeds, umbrellas or any facilities to buy drinks so make sure you've got everything you may need to enjoy this beautiful relaxing beach. Fari is also a perfect spot to snorkel so don't forget to take your equipment with you!
Quiet beaches in Thassos: Agia Anna Astris

Another quiet and exotic beach is Agia Anna near Astris. For a long time this place has been one of the most secret beaches in Thassos as it didn't have any signs and no big promotion about this place even though it is one of the most beautiful and easy accessible beaches.  
The bay is relatively small with fine sand and clear waters surrounded by pine trees offering you the perfect spot to grab your book and relax under the shadows.   
Recently some studios have been built up above the beach but Agia Anna is still a peaceful place even during high season. There are some sunbeds and umbrellas for rent but no beach bar to buy drinks/food.
Quiet beaches in Thassos: Salonikios Beach Astris

Salonikios Beach is a place to visit especially to admire the magnificent sunset views! It is situated in Astris and is well signed from the main road. It is actually very close to the company's head office and gas station Thassos Oil.  
Although it has a cantina and sunbeds for rent, the place remains virgin and idyllic and attracts many campers and nature lovers. Salonikios Beach is also a paradise for snorkeling as it has big cliffs underwater. If we had to choose two words to describe this place they would be "wild and beautiful". 
For this reason you will need a 4×4 vehicle as the steep dirt road which takes you to the beach is not so easy to walk especially under the hot Greek sun of July/August.
Livadi Beach

The beautiful bay under the Monastery of Michael Archangelos is another secluded beach not to miss! Mostly with pebbles and stony parts it's ideal for snorkeling in the clean, deep blue waters. It does have sunbeds and umbrellas for hire but is far less crowded than other nearby beaches. The access road down is again a dirt road but definitely worth a visit by Jeep!
Kinyra Beach

Last but not least, is the beautiful settlement of Kinyra on the east side of the island, it has two lovely pebbly beaches with sparkling clean waters.  It does have some facilities with food and drink available and facilities for swimming and sunbathing (sunbeds, umbrellas). 
The beaches are easily accessible from the main road. We advise that you park carefully on the side of the road and walk down to the beach.
Secluded or not Thassos is a paradise on earth! We really hope that you have enjoyed our post and found it helpful! Please write to us below and tell us which is your favorite secluded beach on Thassos!
Also read: Nudist beaches in Thassos