Nudist beaches have been gaining popularity in recent years, as more and more people are seeking to experience the freeing and liberating feeling of being naked in nature. If you're visiting Thassos, you'd be happy to know the island has some of the best nudist beaches in Greece. People from all over the world come to these beaches to sunbathe, swim, and relax in the nude.
Below, you'll find everything you need to know about the naturism in Thassos as well as the top nudist beaches you should visit.
Naturism in Thassos
Naturism is the practice of going nude in nature. It is often associated with the promotion of body positivity and self-acceptance. Naturists believe that the human body is not something to be ashamed of, but rather something to be celebrated.
In Thassos, love for nature, simplicity, and respect for the environment are some of the values that naturism represents. The island's nudist beaches are beautiful and unspoiled, offering visitors a unique opportunity to experience nature in its purest form.
You can find tourists and locals alike enjoying the nudist lifestyle on many of Thassos' beaches. Nudism is generally accepted and tolerated on many beaches in Thassos and Greece.
Best nudist beaches in Thassos
From long sandy beaches with crystal-clear waters to secluded coves and hidden bays, Thassos has it all. Here are some of the best nudist beaches on the island:
Paradise Beach
The coastal road that circles the island takes you to Paradise Beach, which is about 23 kilometers from Thassos town. It has gone from being a hidden beach to a "must see" destination. Rocky cliffs, crystal-clear waters, and a serene atmosphere make this beach a perfect spot for those seeking to escape the hustle and bustle of everyday life.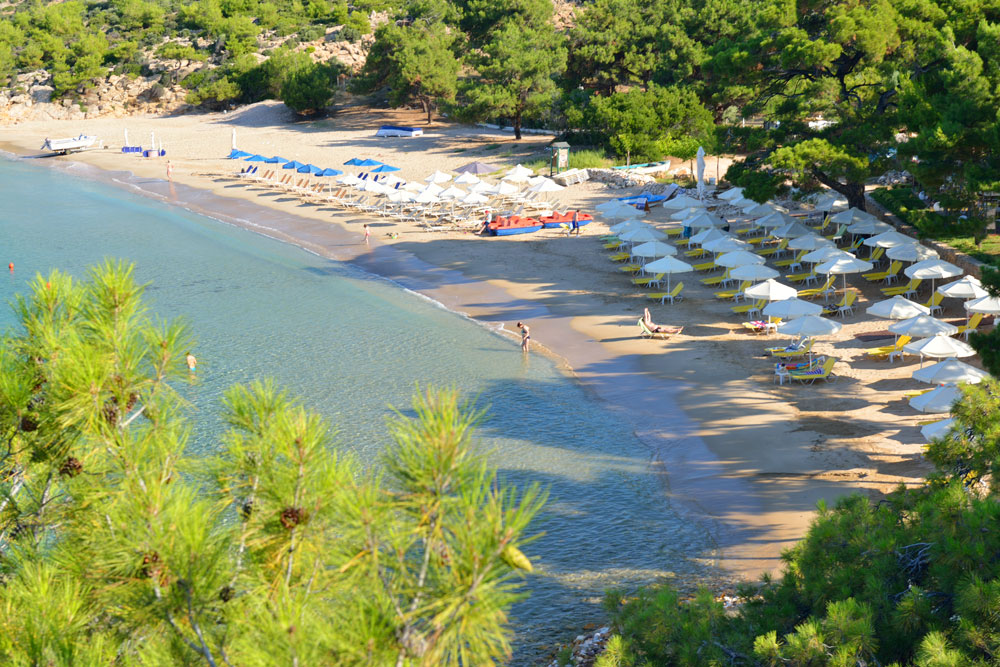 Since there are no sun loungers or parasols, visitors are advised to bring their own beach umbrellas. The beach is unorganized and not as crowded as the other beaches on the island. The nudist part is located on the left side of the beach, right next to the rocks that form a small cove.
Aliki Beach
Aliki Beach is located on the southeast part of Thassos. It is situated in front of the same-named picturesque village. Over the last few years, tourists have become increasingly interested in Aliki. It consists of two small white sand beaches set in a beautiful bay surrounded by olive and pine trees. There are some ancient sites and saltpans at Aliki Beach, too.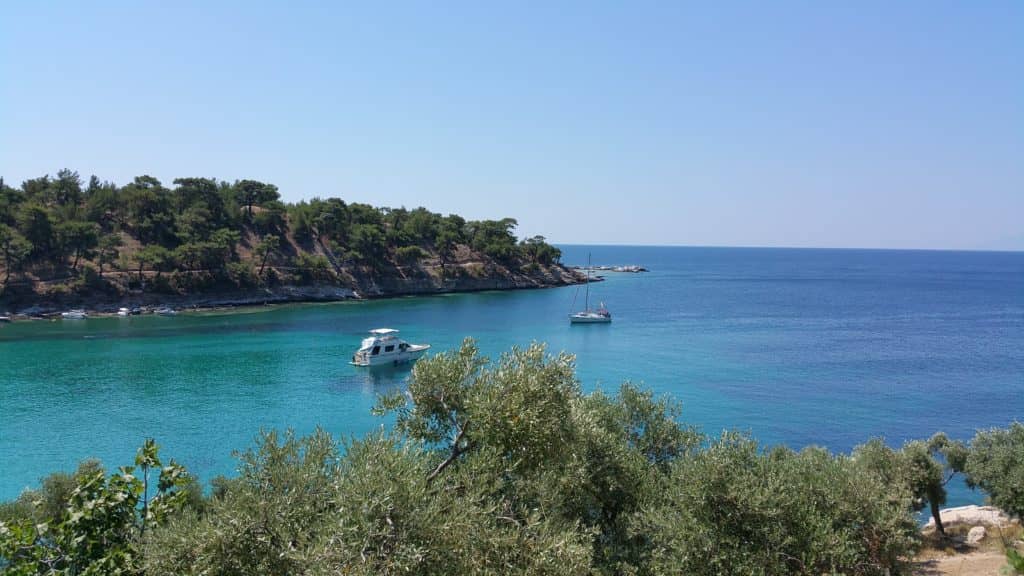 As for the nudist section, you can find a few secluded spots on each of the two beaches. There isn't a particular nudist section in Aliki as such, but rather some areas far from the more crowded central part of the beach where you can enjoy a more natural setting.
Livadi Beach
Livadi Beach is located on the island's northeastern coast, beneath the Archangel Michael monastery. Limenas is 38 kilometers away, and Potos is 12 kilometers away.
Because the beach is surrounded by high mountains, the landscape is quite different from that of the other beaches on Thassos. The beach has pebbles and sand, it is also well-organized and there are plenty of beach umbrellas and sun loungers.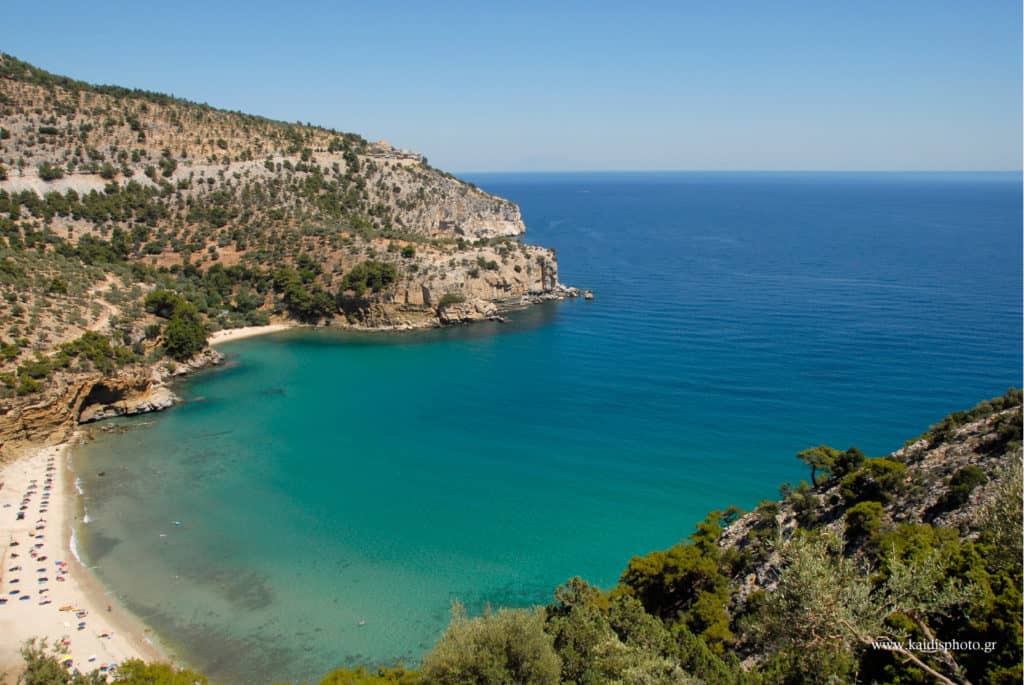 The nudist section of the beach is found on the furthest right side, next to the small coves. You can also find some secluded nudist spots on the left side of Livadi Beach. However, be sure it's far from the main beach area as there are many families with children that come here to enjoy the crystal-clear waters.
Also read: Geography of Thassos
Golden Beach
Thassos' largest beach is Skala Panagia, or Golden Beach. It is located on the island's eastern side, 12 kilometers from Limenas and 4 kilometers from Panagia. Chrisi Akti, a beach of Skala Potamia, is one section of the beach.
With lagoon-like clear waters, it is a popular and wonderful resort destination. It is well-organized and has a blue flag reward. It is known as "Chrissi", which means "golden," due to the color of the sand. Avlakia or Skala Panagia are other names for it.  On the sides where there are large rocks, people can go sunbathing nude or even skinny-dipping.
Golden Beach is popular with families so being discreet is advisable.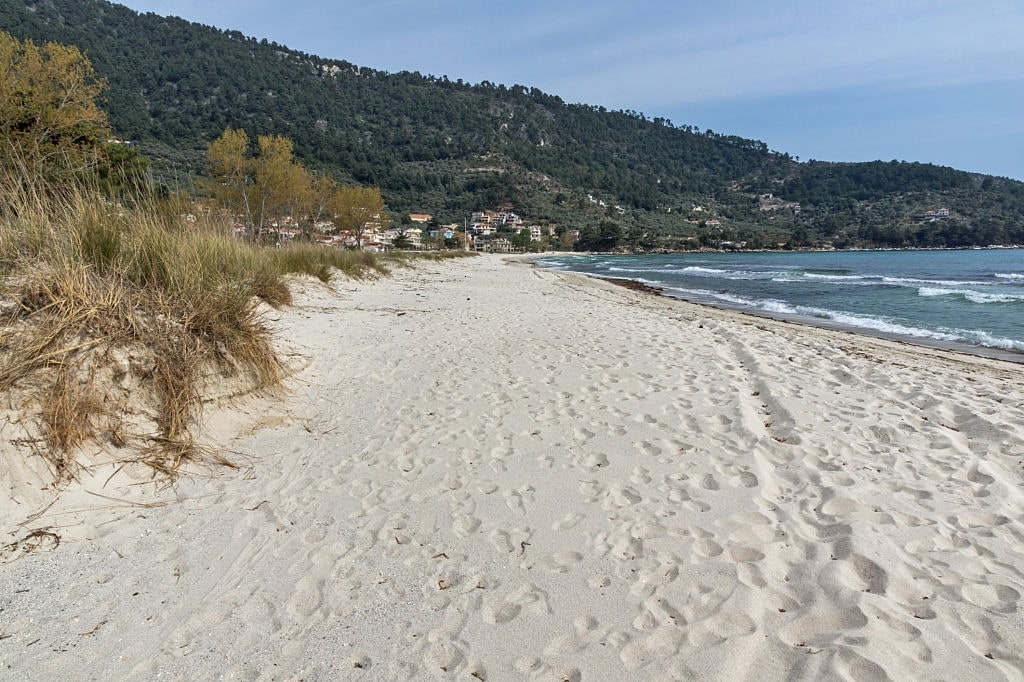 Astris Beach
The lovely Astris Beach is located on Thassos' southern coast. A tranquil and serene setting surrounded by olive trees! It's about 6 kilometers south of Potos and 8 kilometers north of Limenaria. The waters of the beach are calm, clean, and clear.
Astris Beach is one of the most beautiful beaches on Thassos and the landscape is quite unique. The beach is not that big, but it's perfect if you want to relax and enjoy the tranquility.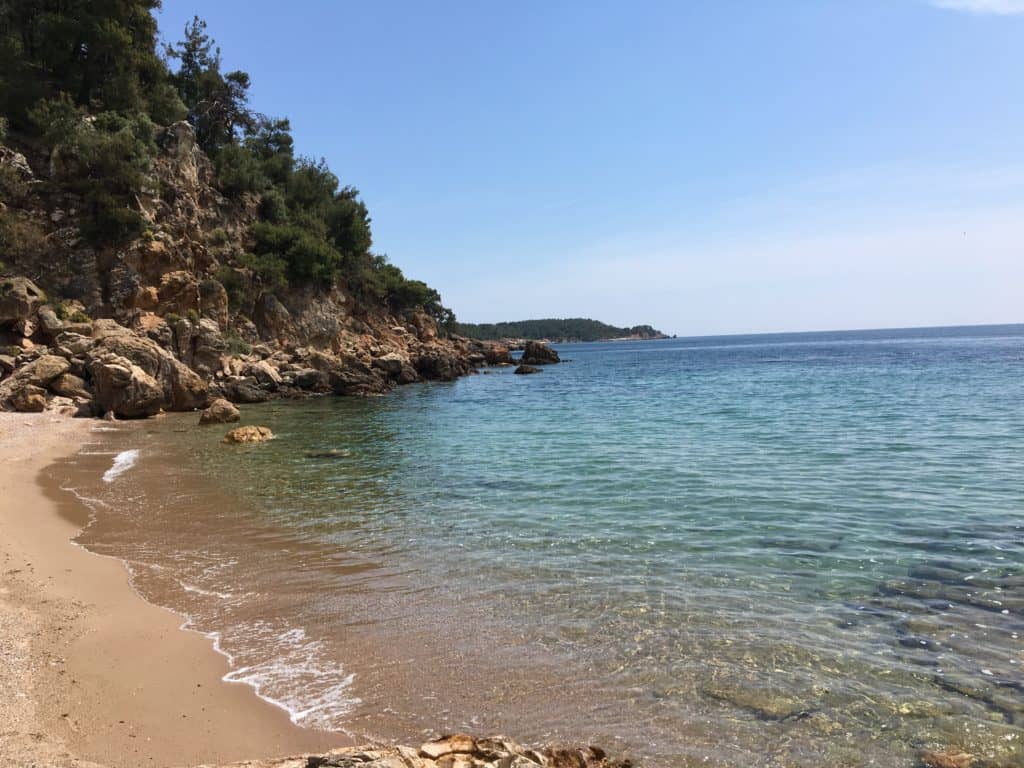 You can go nude mostly anywhere on the beach since it is not crowded. The best time to visit is early in the morning or late in the afternoon when the sun is not as harsh. But of course, being cautious is always advised since people who aren't into nudism might come at any time.
Rossogremos Beach
Rossogremos Beach is located in the south of the island of Thassos, approximately 2 kilometers from Potos village. The Beach is a good place for people who don't want to share the sand and the sea with a lot of other people because it is relatively unknown and quiet. It is made up of white sand and is surrounded by trees that provide some shade.
Because of its secludity, many people go nude on Rossogremos Beach. You can either go to the far left or right side of the beach where it is more quiet and secluded. Sunbathing, swimming, and reading a book in the nude is a great way to relax and enjoy the natural surroundings.
Tripiti Beach
Tripiti Beach is a huge beach located a few kilometers from Limenaria where you can swim, sunbathe, and participate in beach sports such as beach volley. Although going nude is not allowed in the main part of the beach, if you walk to the left side, you will find a few secluded spots where you can enjoy some nude sunbathing.
Just be sure to keep a low profile and be respectful of other people since there are families with children that come here. Still, it is a great beach to visit if you want to have some privacy and enjoy the beautiful scenery.
Also read: Best time to Visit Thassos