Skala Kallirachi is a small fishing village on the island's west coast. The town has a small harbor, a promenade, a small beach, several grocery stores, a bakery, a meat shop, and several taverns. All that is required for a calm and unwinding vacation will soon be available. Skala Kallirachi is an excellent fishing location; all fishermen will find it enjoyable.
The homonymous beach extends to the left of the port of Skala Kallirachi. It is a small sandy beach that is ideal for families. Sun-beds and beach umbrellas are available, and right on the beach is a lovely traditional coffee shop where you can unwind and forget about your worries.
Where is Skala Kallirachi Beach?
Skala Kallirachi is a delightful coastal settlement located 22 kilometers southwest of Limenas, Thassos' capital. Many fishing boats moor in the summer, creating a romantic atmosphere. The beach is surrounded by a beautiful environment. It is narrow and rocky, with an exotic setting of lush greenery and a vast plantation. Normally, it is not crowded. It is located a few kilometers from the village of Kallirachi. The area has beautiful beaches, fish taverns, restaurants, and various lodging options.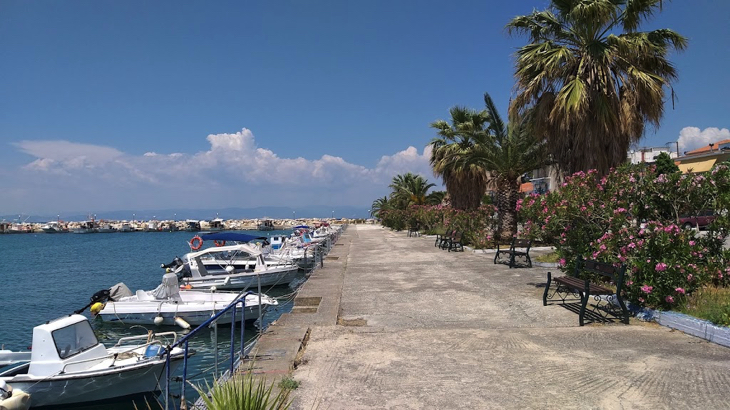 What is the history behind Skala Kallirachi?
In the beginning, this is where the local fishermen had constructed their huts right on the sand to protect their boats and fishing equipment. Later, these huts grew larger and grander, and the fishermen began to live in them, establishing the foundations of a coastal village that gradually expanded along the seafront and along the island's main ring road, laying the groundwork for what is now a small, typical Greek island fishing village.
The town of Prinos, which has a health center and a weekly market, is just a few kilometers away. Limenaria, the second-largest city on Thassos, with a population of just over 2000, is close by and easily accessible. Limenaria also has all the shops and nightlife that one could possibly want.
What are the facilities in Skala Kallirachi beach?
Even though it is a very calm and serene beach, Skala Kallirachi has all the basic amenities a visitor could want. The large sandy beach is well-kept, with sun loungers, umbrellas, and a few beach bars serving ice-cold drinks and food. Staying in the Skala Kallirachi area is ideal because it has everything you need for an unforgettable vacation.
The island's public transportation is excellent, with local taxis readily available and a regular bus route operating during the summer. You can easily visit any of the island's many beautiful and unique villages or take an enjoyable ride around Thassos' coast.
How to get to Skala Kallirachi Beach?
Before traveling to Thassos, you must arrive at one of the two international airports on the nearby mainland. Depending on your origin, Kavala International Airport "Alexander the Great" (KVA) may be your preferred arrival airport, owing to its proximity to the island of Thassos. Then, proceed to Keramonti's ferry port, which is only a 15-minute drive from the airport. You can easily catch a ferry to Limenas, the capital of Thassos. Now that you've arrived in Thassos, you can get to Skala Kallirachi beach by foot, car, or bus.  The other airport is Makedonia International airport of Thessaloniki.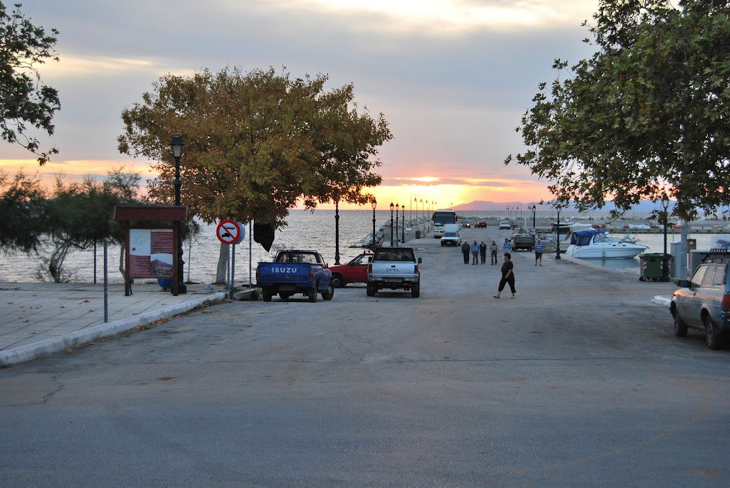 By Foot
Obviously, you cannot walk all the way from the capital to Skala Kallirachi beach. Instead, you must first travel to the nearby village known as the picturesque village. You can take a long 2 km walk to the beach, taking in the breathtaking scenery.
By Car
The quickest and most convenient way to get to Skala Kallirachi beach from Limenas is by car. You must first drive to the village of the picturesque town, and this 25 kilometers trip will take only 30 minutes. To get to Skala Kallirachi beach drive another 2 kilometers.
By Bus
Thassos has an extensive bus network to make transportation easier for locals and tourists. When you arrive in Limenas, the island's capital, you can take a bus that will take you directly to Skala Kallirachi. According to the bus schedule, buses leave Limenas for Skala Kallirachi five times per day, making public transportation an easy way to get to the beach.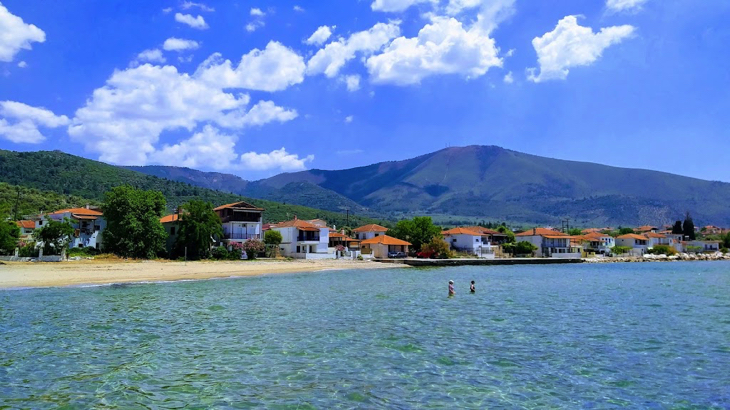 Where to stay near the beach?
Because Skala Kallirachi beach is a popular tourist destination, there will be plenty of options for lodging. Some of the best options are listed below:
Manolis Studios Thassos
Manolis Studios Thassos is located in Skala Kallirachi, 24.5 kilometers from Limenas Thassos and about 20 kilometers away from Potos town. The rooms are air-conditioned and have a TV with satellite channels. Some units have a terrace or balcony with views of the sea or mountains. A refrigerator kitchenette and a stovetop, and a kettle are also available. Each team has a private bathroom, shower, Towels, bed linen, and sun terrace. Manolis Studios Thassos is 11 miles from Limenas. Couples especially like the location, rating it 9.3 for a two-person trip.
Address: Skala Kallirachi, Thassos, Skala Kallirachi, 64010, Greece
Phone Number: +30 694 883 5881
Website: https://studiosmanolis.gr/en/MANOLIS-STUDIOS
Ilioni Studios
Ilioni Studios in Skala Kallirachi is an 11-minute walk from Skala Kallirachi Beach and offers air-conditioned rooms with free WiFi and access to a grill. The room was ideal. It had everything for your convenience! Even though it was shared with two other apartments, the porch was fantastic 🙂 The house is stunning. If you have a car, the location is ideal. There are some beautiful beaches within a few kilometers! Skala Kallirachi is a charming village with authentic restaurants and a lovely fishing port. With its sunset views, the nearby town of Kallirachi is ideal!
Address: Skala Kallirachi 640 10, Greece
Phone Number: +30 694 433 1168
Website: facebook page
Studios Plaka
Studios Plaka aims to provide a wonderful shelter of serenity and relaxation for the ultimate gateway. Friendly services and a sense of authentic Greek hospitality compose our principles, allowing us to offer all our guests at Studios Plaka a truly magnificent holiday experience. The unique design and relaxing atmosphere characterize our studios and apartment. Particular attention has been drawn to details and aesthetics, combining the local tradition with the modern style of living.
Address: Plaka Skala Kallirachi, Thassos, Greece
Phone Number: +30 6944429604 – +30 2593091488
Website: https://studiosplaka.gr/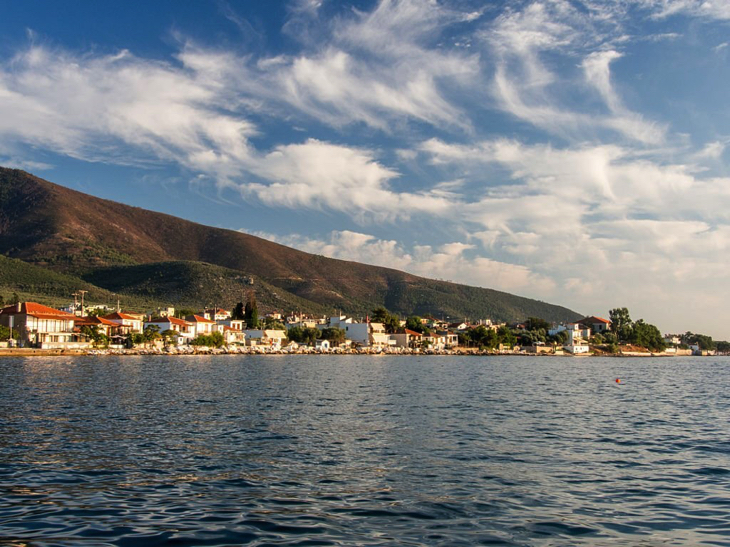 Can you rent a car and visit Skala Kallirachi Beach?
Driving can be one of the best ways to truly enjoy your vacation place since you are in charge. You don't have to worry about where to go or when to start. You can make as many pit stops as you want, stopping to take pictures and enjoy the scenery. When renting a car, you can save money on gas, especially on lengthy travels. Why buy all those bus tickets when you can just rent a car? Potos Car Rental is the best rental car company in Thassos. Book your car rental now and have it delivered at the door of your accommodation in Skala Kallirachi.
How much is the cost to hire a car in Skala Kallirachi?
Why do we all adore vacations so much? Because it is enjoyable and exciting, a change of scenery from the everyday routine, and time spent with family and friends. Whether you go within the country or overseas, each new place inspires and surprises you. Let's talk about the large selection of vehicles that allows you to rent one that fits your budget. An economy car will cost around €18 per day and €130 per week, while a medium vehicle will cost about €28-35 per day and €200-220 per week. You will also have to pay around €70 per day and €500 per week for an SUV or minibus.
Also read:
▸ Metalia beach: Highlights, Access, Accommodation & Rental Cars
▸ Paradise Beach: Highlights, Access, Accommodation and Car rental
▸ Atspas beach: Highlights, Access, Accommodation & Rental Cars
▸ Psili Ammos Beach Thassos: Highlights, Access, Accommodation & Rental Cars
▸ Skala Prinos beach: Highlights, Accommodation & Rental Cars
▸ Skala Rachoni Beach: Highlights, Access, Accommodation & Rental Cars