With its mesmerizing sandy beach and clear blue water, Skala Rachoni Beach offers a peaceful and serene environment for those who seek to get away from the hustle and bustle of life. If you are looking for an ideal family vacation spot, this beach checks all the boxes. Its shallow waters are perfect for families with children. The beach is organized and is surrounded by trees, mainly pine and olive trees, which provide natural shade to visitors on the beach. The water has sandy and rocky parts, but you can always find a piece of beach that suits your taste.
Where is Skala Rachoni beach?
Located in the north, having a view of the mainland of the country, Skala Rachoni Beach is situated 10 km away from Limenas. The village of Skala Rachoni is a stone's throw away, where you can find food and accommodation to your liking.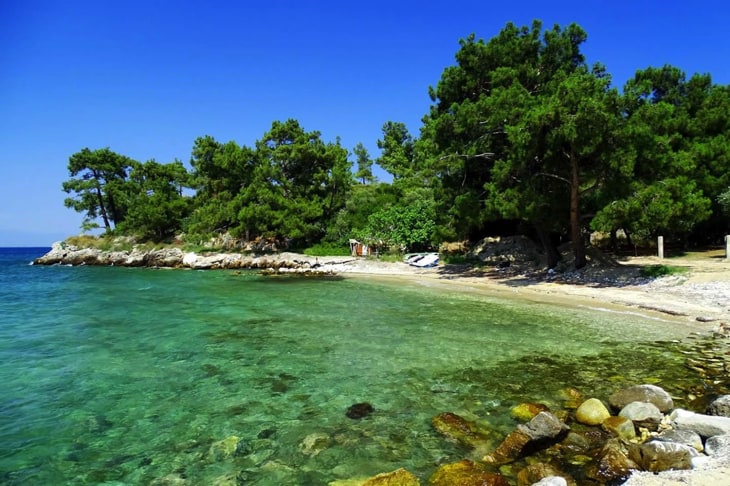 What is the history behind Skala Rachoni beach?
The town of Skala Rachoni has developed rapidly in recent years. For a very long time, it served as a harbor for the people of the mountain villages of Rachoni andAgios Georgios. Due to its breathtaking views and sandy beaches that stretch along the coast, it has become popular among tourists and has a large influx of visitors throughout the year. Residents of the Skala Rachoni earn a living from the production of olives. Apart from that, agriculture and fishing are practiced at large, while tourism has recently become an important means of earning in the area. Due to its shallow water, families tend to visit the beach often. A huge variety of water sports are also available on the beach.
What facilities are there in Skala Rachoni beach?
Besides basic facilities such as toilets, showers, food, and drinks, the beach also offers sun-beds and umbrellas for those who desire a calm, peaceful nap with the waves splashing in the background. A parking facility is also available close to the area. Close to the beach are several luxurious hotels for accommodation, which allows getting to the beach without hassle. Space is available for laying out beach towels and mats if you are planning to visit with family. In addition to this, lifeguard and first aid facilities are also available on the beach. Many water sports are being offered to make your trip more memorable and fun.
How to get to Skala Rachoni beach?
Since Thassos does not have an international airport, you will have to arrive at one of the two International Airports on the nearby mainland. The arrival airport you choose depends on where you are coming from. However, Kavala International Airport "Alexander the Great" (KVA) is the closest to Thassos island. From the airport, hire a taxi to reach the ferry port in Keramoti after a 15-minute drive. The ferry will take you to Limenas. Once there, you can reach Skala Rachoni Beach via a rental car or an intra-island bus.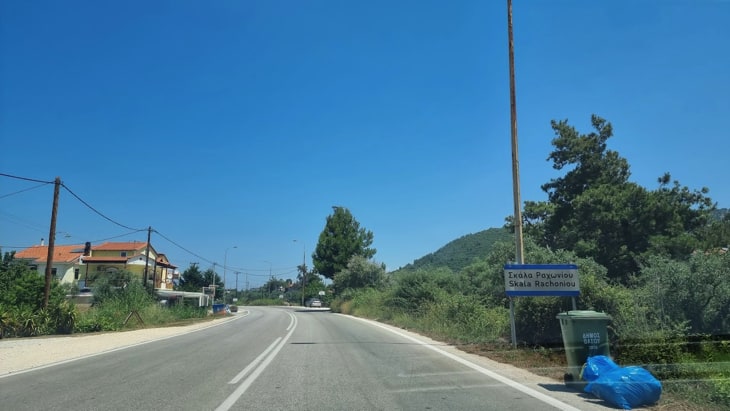 By Foot
If you have accommodation near the beach, it will allow you to walk on foot to the beach. The walk will merely be 5 minutes and will be an enjoyable experience, as it allows exposure to the local culture and cuisine.
By Car
You may hire a car to travel from Kavala Airport to Keramoti and again from there to your destination on Skala Rachoni Beach. This is the quickest and most comfortable method. Once you reach the beach, you will find ample parking spots; you can select a shaded one.
By Bus
You might want to hail a taxi or rent a car to travel from Kavala International Airport to the Keramoti ferry port since no bus service is available on this route. However, if you are traveling on a budget and coming via Thessaloniki International Airport, a bus service will take you to the city's central bus station, from where you can purchase a ticket for Kavala's central bus station. A 10-minute walk will take you to the ferry port in Kavala from the bus station.
Once in Limenas, you will find an extensive bus service on the island, which can take you to Skala Rachoni Beach for just €1.60.
Where to stay near the beach?
Due to an influx of tourists, the village is based around the beach. You will have a vast number of hotels and restaurants at your disposal in the surrounding areas. Ranging from small guest houses and apartments to large beachfront hotels, you will have a variety of options to choose from.
There are numerous options for cost-effective accommodations providing quality facilities.
Lazaridi Studio
Looking for cheap yet quality accommodation on Skala Rachoni Beach? With a free car park and a sun deck, Lazaridi Studio offers spacious apartments situated a few kilometers away from the beach. You will instantly love the breathtaking views from the apartments, making your stay exquisite. For queries and visit:
Address: Skala Rachoni, 640 10, Thassos, Greece
Phone Number: +30 694 571 7528
Website: http://summer-studio-lazaridi.com/
Rachoni Bay Resort Hotel
Featuring a pool with a pool bar and a private beach area offering water sports, Beachfront Rachoni Bay Resort hotel provides top-notch facilities and impeccable food services. Situated very close to the beach, you will love your daily walk to the clear-blue waters. For queries and visit:
Address: Skala Rachoni, 640 10, Thassos, Greece
Phone Number: +30 2593081150
Website: http://www.rachoniresort.com/en/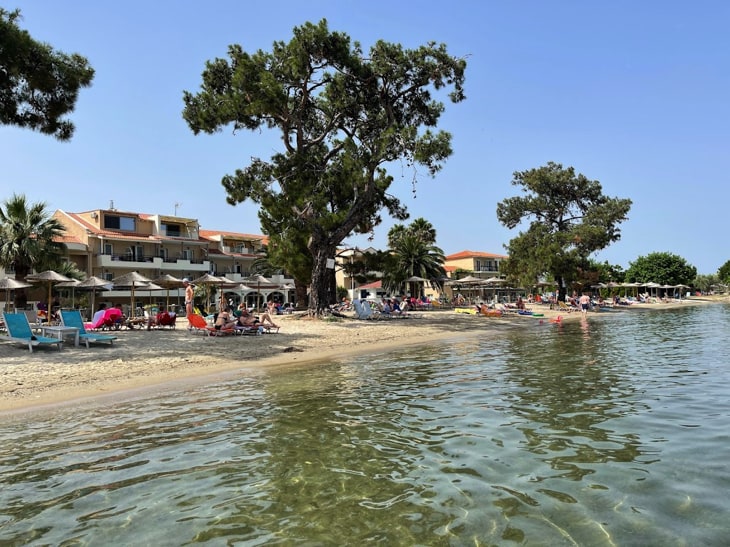 Rania Villa
Situated just 200m away from the beach, this villa, with its neat and spacious rooms and luxurious vibe, will definitely make your stay here with your loved ones enjoyable. The hotel provides every amenity, giving a homely and comfortable feeling. For queries and visit:
Address: Skala Rachoni, 640 10, Greece
Phone Number: 25930 81393
Website:https://www.villa-rania.com/
Can you rent a car and visit Skala Rachoni beach?
Yes, definitely. Renting a car in Limenaria is a great option for you if you like traveling with freedom and wish to enjoy a panoramic view on your way to the beach. Traveling with family? Get a car to travel around with convenience and comfort. However, if you want a pocket-friendly option, you can commute via bus from Limenas to Skala Rachoni Beach.
How much is the cost to hire a car in Thassos?
If keeping tabs on bus schedules is a tedious task for you, then hiring a car will be your best friend. And the process is extremely easy and quick! You will have a wide array of cars to choose from, so you will not have to worry about spending too much. For an economy car, you will be charged around €19 per day and around €100 per week. If you choose a medium car, providing more comfort and space, you will have to pay around €28-€35 per day and around €200-220 per week. However, an SUV or a minibus will cost you approximately €70 per day and about €500 per week.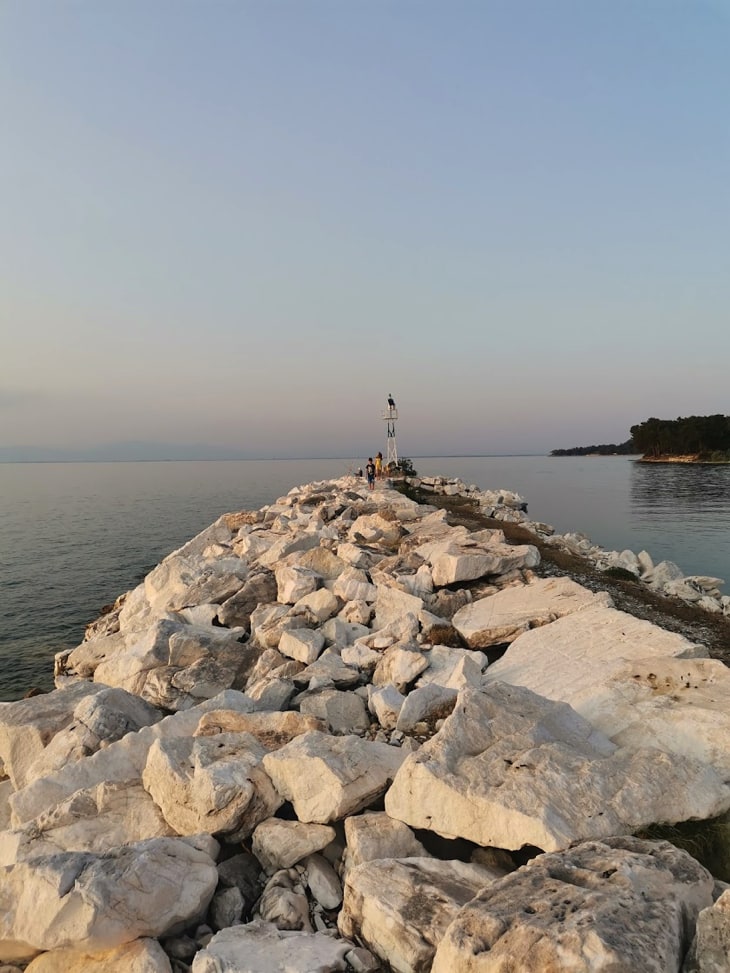 Also read:
▸ Metalia beach: Highlights, Access, Accommodation & Rental Cars
▸ Paradise Beach: Highlights, Access, Accommodation and Car rental
▸ Atspas beach: Highlights, Access, Accommodation & Rental Cars
▸ Psili Ammos Beach Thassos: Highlights, Access, Accommodation & Rental Cars
▸ Skala Prinos beach: Highlights, Accommodation & Rental Cars
▸ Skala Kallirachi: Highlights, Access, Accommodation & Rental Cars