Nature has bestowed Thassos with many mesmerising and breathtaking beaches. Skala Maries, a coastal village in the southwestern part of Thassos and 30 km from Limenas, has three amazing beaches. One of the finest beaches located in Skala Maries is Atspas Beach. Despite being a small beach, tourists flock to the beach for its calm environment, quietness, and crystal-clear water. If you want peace and quiet and are not interested in commercialised beaches, Atspas beach is your answer. Its gold sand glistens when the sun shines, making it appear majestic.
Where is Atspas Beach?
Also known as sugar beach, it is located 8km from Limenaria on the west coast. The beach is easily accessible via car or bus. When approaching Skala Maries, before entering the village to your left, you can feast your eyes on this small organised beach with umbrellas and sunbeds. It used to be a fishing port but is now a major tourist spot.
History behind Atspas Beach
Atspas beach is one of the three beaches that make up the seaside village of Skala Maries. Skala Maries is one of the oldest villages in Thassos. In earlier times, there were iron mines operating in this area. During the Middle Ages, houses were built close together for security reasons, and the houses that remain from that era have 'fourousia' on the balconies and carved ceilings, examples of brilliant architecture.
The legend behind the name is interesting: one story talks about the name given due to many mulberries in the village while another narrates the story of two Maria's who were the only survivors of a pirate raid during which the entire population of the village was slaughtered.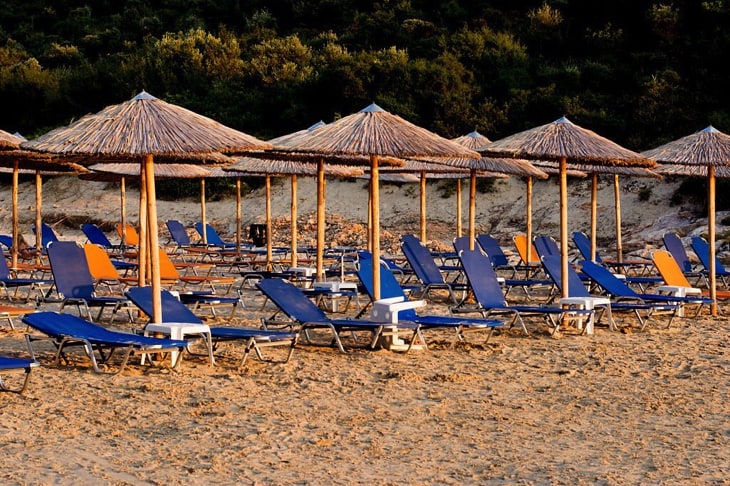 Facilities in Atspas Beach
In spite of its small size, the beach is well organised and has basic facilities available for the convenience of tourists and visitors. The beach has sunbeds and umbrellas available around the clock. It also has a volleyball net for those who seek excitement and physical activities on the beach. Many tourists say that this beach has the most beautiful sunset. Atspas beach has long, shallow water, so it is a children-friendly beach. If you have travelled to the beach in a car, you can park it on the road without worry. In the late afternoon, Atspas beach usually has no crowd, and the water warms up in the shallow area. You can find a supermarket 50m away from the beach.
How to get to the beach?
You can drive on your own or use a bus to reach the village of Skala Maries. Once in Skala Maries village, driving a car or walking towards the beach are the two best options. Make sure to explore other nearby villages as well in order to enjoy local cuisine and interact with the people on the island. This will enrich your experience of the place.
By Foot
From your accommodation in Skala Maries, you can simply walk down the stairs from behind the beach bar. This bar is located above the beach on the main road of the village so it would not be a problem to locate.
By Car
You can drive to the beach down a fairly steep hill and find a shaded area to park near the beach. There are countless options for you to hire a car either from the Port on your arrival or from village of Skala Maries. It all depends on the budget you have put down for travelling on the island.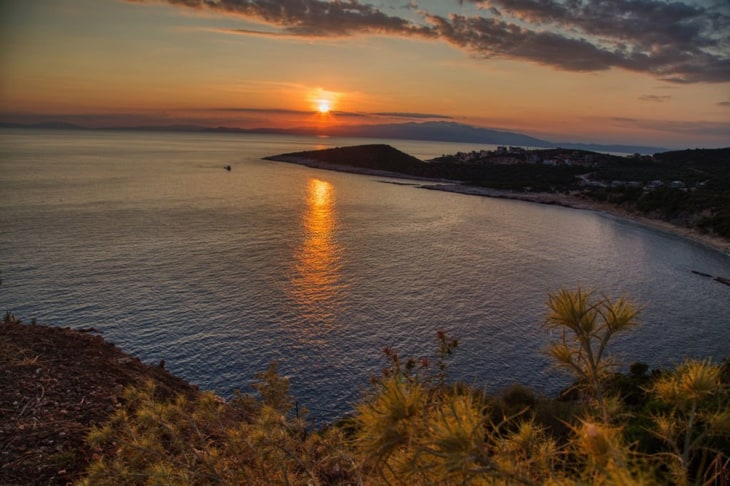 Where to stay near Atspas Beach?
As you reach the village, you will be surrounded by affordable and luxurious accommodations just a few miles away from the beach. Staying near the beach is always a wise choice since it allows you to save the money you will otherwise be spending on commuting from your hotel. Getting up in the morning with a scenic view in front is another added advantage. Following are a few suggestions for accommodations and hotels which might come in handy for you:
Hotel Blue Dream Palace
Surrounded by well-kept gardens, this beachfront Blue Dream Palace offers impeccable service and accommodation at reasonable pricing. The hotel has 2 outdoor pools and an indoor heated pool along with the facility of a spa. Apart from the modern furnishings in the room, the hotel rooms are equipped with the latest technology and gadgets such as flat-screen satellite, TV, etc. Most rooms face the sea and give a relaxing feeling early in the morning. Buffet meals are served, and the hotel has two bars. For further queries:
Address: Tripiti, Limenaria 640 02 Greece
Phone #: +30 2593 053520
Website: https://bluedreampalace.com-hotel.com/
Hotel Zoe
If you decide to opt for Hotel Zoe, you will have the Atspas beach stone's throw from here. A 5-minute stroll from the beach, this hotel is tucked behind a woodland on the outskirts of Limenaria and has a modern pool terrace. The hotel has a pool which is set on modern wooden decking, and a buffet restaurant provides food around the clock. The rooms are simple yet have a chic look about them. For more details, you can contact them here:
Address: Limenaria, Thassos 64002 Greece
Phone #: 0203 451 2688
Website: https://www.tui.co.uk/destinations/europe/greece/thassos/limenaria/hotels/zoe-hotel.html
Can you rent a car and visit Atspas Beach?
People on vacation are generally inclined towards exploring the islands and their hidden beaches. If you want something of this sort, the best idea would be to rent a car in Thassos and make your life easier. Especially if you are travelling with children, public transport or walking will not be a good choice. Renting a car will give you the freedom to make pit stops and stop along the main road to admire and absorb the beauty of this island.
How much is the cost to hire a car in Thassos?
For renting an economy car, you may be charged €18 per day and around €130 per week. Similarly, a medium car will cost you €35 per day and €250 per week. On the contrary, an SUV or a minivan for €70 per day and €500 approximately for a week.
Also read:
▸ Metalia beach: Highlights, Access, Accommodation & Rental Cars
▸ Paradise Beach: Highlights, Access, Accommodation and Car rental
▸ Psili Ammos Beach Thassos: Highlights, Access, Accommodation & Rental Cars
▸ Skala Prinos beach: Highlights, Accommodation & Rental Cars
▸ Skala Rachoni Beach: Highlights, Access, Accommodation & Rental Cars
▸ Skala Kallirachi: Highlights, Access, Accommodation & Rental Cars