Thassos day trips: If you come to Thassos and you don't visit at least one traditional mountain village for a Greek coffee at a kafeneio (café) or for a delicious meal of lamb or kid on the spit at a taverna then it's like you didn't come! But which villages to visit and what to expect from each place? …read our new post below to find out!
Thassos day trips – Kastro "the peaceful mountain village"
Kastro is to the north east of Limenaria on the south side of Thassos. A short 10 km drive on the newest paved road on Thassos will find you in Kastro. Kastro translates as castle and it is from an ancient castle built in 1403 which the village takes it's name from, the remnants of which are still visible. At an altitude of 450 metres Kastro is perched on top of a mountain giving panoramic views of the interior of Thassos but cannot be seen from the sea which afforded it protection from pirates and other raiders in times gone by.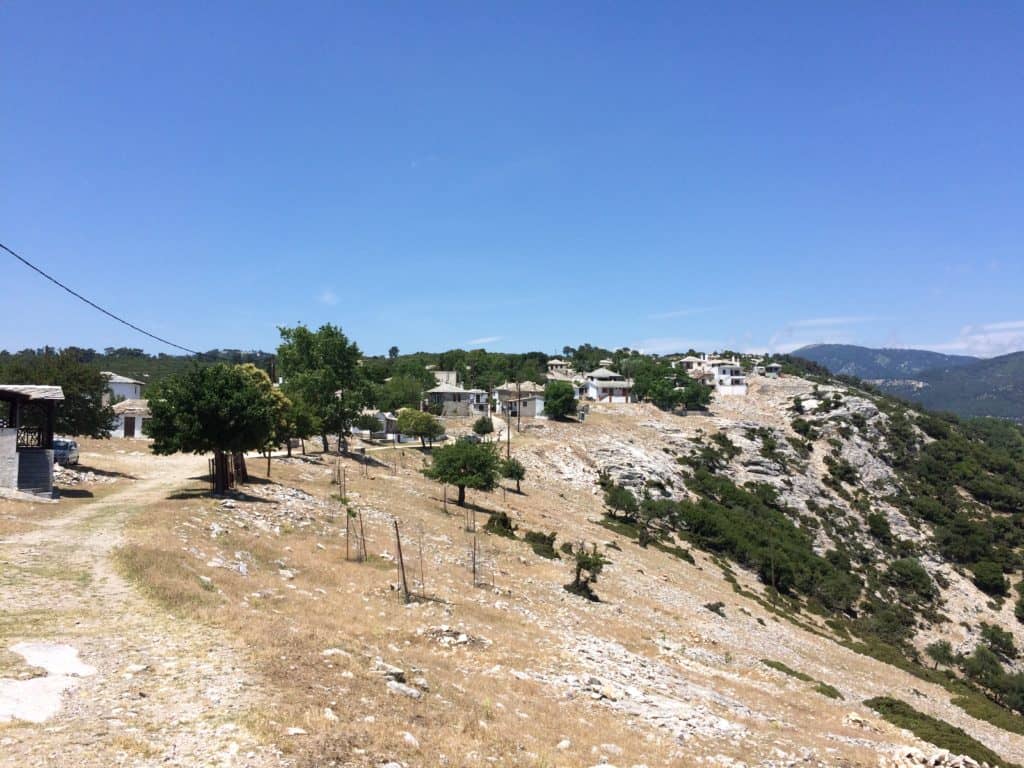 Many of the original inhabitants have left, but the village is not abandoned and comes to life during various celebrations, especially when the patron saint, Saint Athanasios, is venerated. The church dedicated to him was built in 1804 and is still a popular attraction which still has services on the last Saturday of every month.
Today, Kastro is a peaceful place where you can enjoy wonderful mountain views, admire the small picturesque, traditional houses and even pay a visit to the ossuary which overlooks a beautiful valley between Kastro and Theologos. Kastro is a great place to use as a base for hiking and trekking as it is virtually in the center of Thassos, it also is a good start point to explore the island in a jeep and meander your way up to Ipsarion (highest point on Thassos – 1204 m.)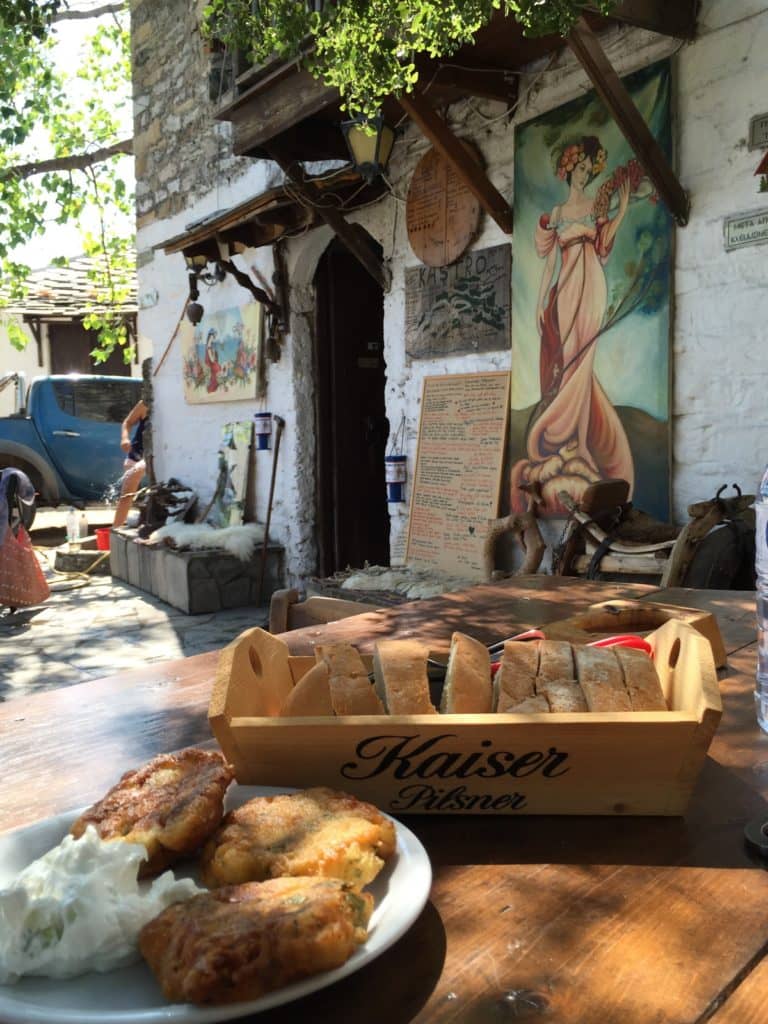 Highlight: Visit Kostas Old Tavern to enjoy local recipes made by his wife and magic tricks for kids and adults from the very friendly owner Kosta, he is also a mine of information!
Thassos day trips – Theologos "the old capital of Thassos"
10 km from Potos in the south east of the island lies the hidden gem Theologos, a traditional village with Macedonian influenced architecture and narrow cobblestone streets, it was, during the Ottoman and Egyptian occupation  the capital of Thassos.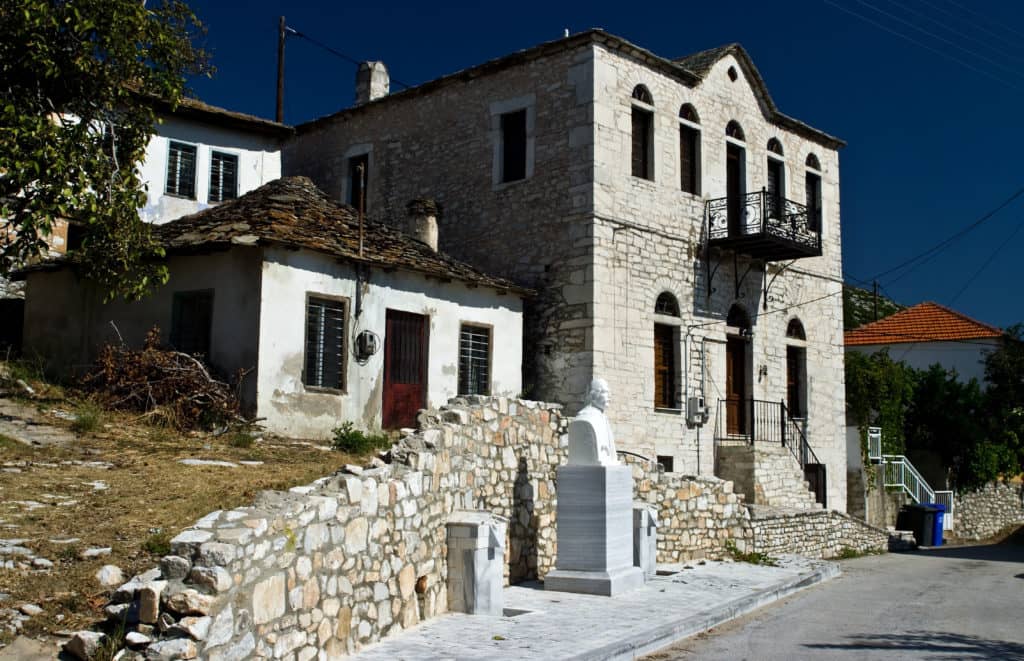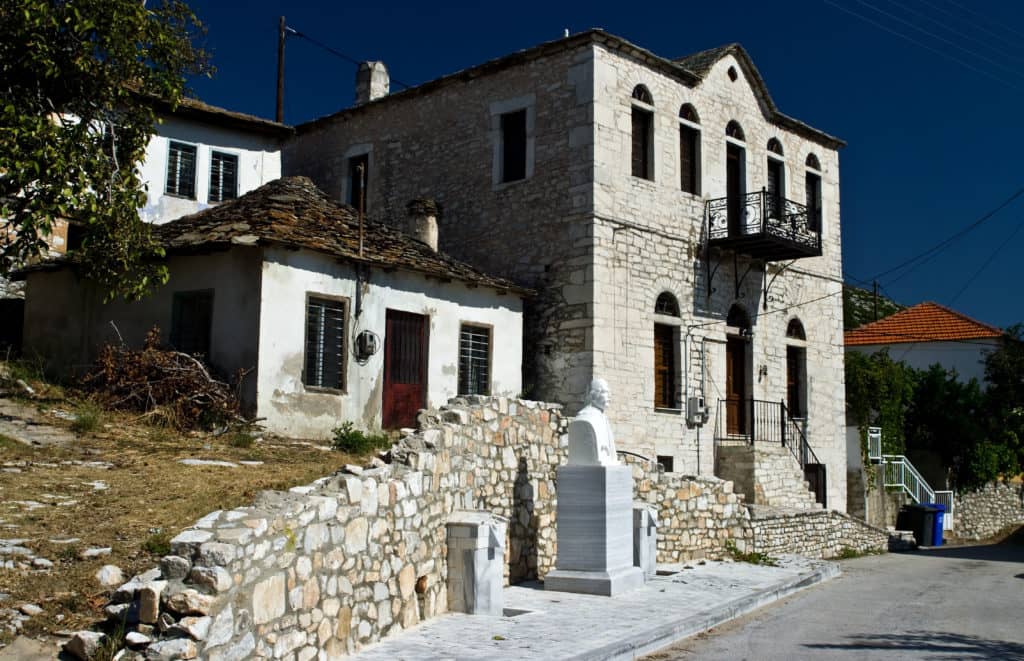 In 1979 it was named a Cultural Capital. One of the many charms of Theologos is the way that the traditional culture has been upheld, architecturally and through the re-enactment of folk culture like the annual summer revival of a Thassian folk. You can also pay a visit to churches, the Hatzigiorgi mansion, and the folklore museum.  The whole area is steeped in history, including an 8th century B.C. necropolis on the road from Potos to Theologos. Nowadays the inhabitants are primarily involved in tourism, agriculture and apiary. The village is also renowned for it's cuisine, especially meat dishes like lamb and kid on the spit.
Highlight: Stop for a meze or coffee at kafeneio Tsikna! If you are in the mood for some shopping you can find also delicious Thassian traditional sweets/preserves like syko (fig) and karidaki (walnut). It is also worthwhile to visit the Greek sandal shop in the center of the village, they hand make all of their products, many of which are styled on ancient Greek styles.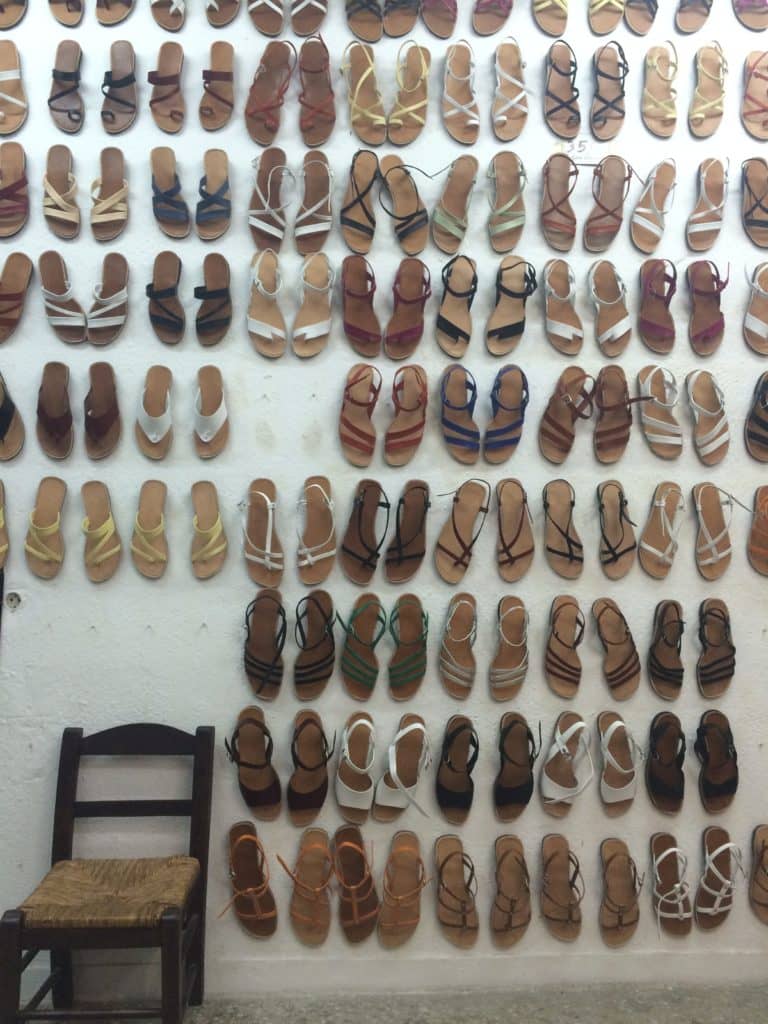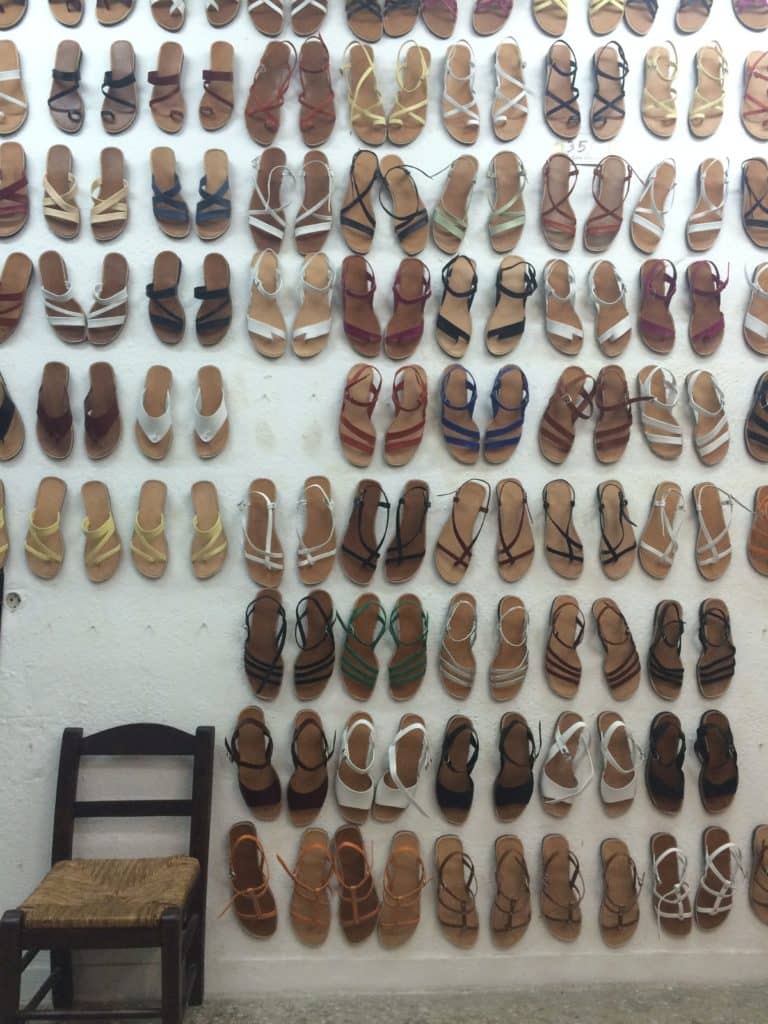 Tip: The roads are very narrow and get very busy and parking is difficult to find! Park at the beginning of the village and take a walk, this is the best way to discover Theologos, also get off the main roads and wander around the hundreds of small lanes which meander through the village, you never know what you may discover!
Thassos day trips – Panagia "the must visit mountain village"
Cradled in the beautiful Ipsarion mountain range of Thassos lies Panagia, only 8 km's away from Limenas (Thassos Town). This historically significant town was the island capital during the 1822 Greek Revolution. It suffered for many years from attacks by pirates and the population was decimated, happily those days are over and the village now has a population of over 900. Take a stroll along the narrow streets where you will find traditional houses, many with unique with wooden balconies. The village is criss-crossed with many small mountain streams running alongside ancient Plane trees which provide welcome shade in the summer months.
Panagia is known for its devotion to religion and spirituality, in addition to the main church there are 11 smaller churches in the village! Every 15th of August there is a large religious celebration accompanied a service after which traditional meat dishes are distributed to worshipers. During Carnival season in the winter, the residents and other islanders put on a parade which is largely satirical, poking fun at the government and other institutions.
Highlight: Visit the beautiful old church Panagia after a walk through the village and then down to the village square to sample some of the delicious lamb and kid delicacies!
Kazaviti "a place to be for the gourmands"
The charming villages of Kazaviti is 4 km from Prinos, although commonly referred to as Kazaviti, it is actually 2 distinct villages, Mikro (small) and Megalo (big) Kazaviti. Many of its narrow streets can only be accessed by foot, cars only have access until the main square. Kazaviti is known for its vineyards and meat. It is filled with authentic cafes and taverns. There are many historical structures in Kazaviti such as ruins dating to 400 B.C.  Kazaviti has been able to maintain much of its original architecture, you will find many stone houses with stone shingled roofs and wooden verandas. A short distance from Kazaviti is the quaint monastery of Saint Panteleimonas, it is a working monastery run by nuns.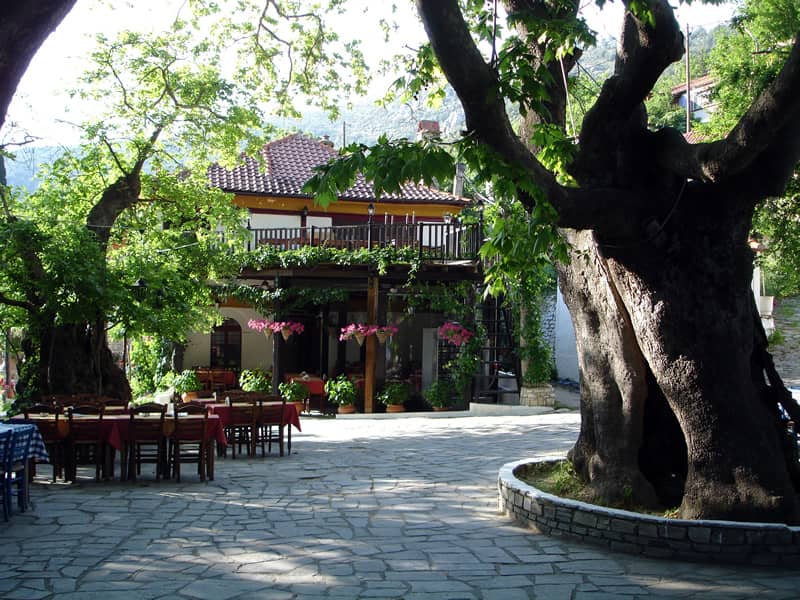 Kazaviti, unfortunately, suffered from the forest fires last summer (2016) we had on Thassos, nevertheless it's still a unique and beautiful place to visit!
Highlight: visit Kazaviti in the afternoon to enjoy the incredible sunset views while enjoying a glass of Greek wine.
Sotiros "the lovely square under the plane trees"
Last but not least the small unique village of Sotiros, a hidden treasure that few people know about! If you would like to avoid the tourist masses of August and you are looking for a peaceful, cool place to relax or to have a quiet meal, then Sotiros is for you! The village is small with mainly traditional houses (some of them also for sale!) and permanent residents only in the summer time. Visit the small church at the entrance of the village and walk to the old square Platana with the beautiful stone pond.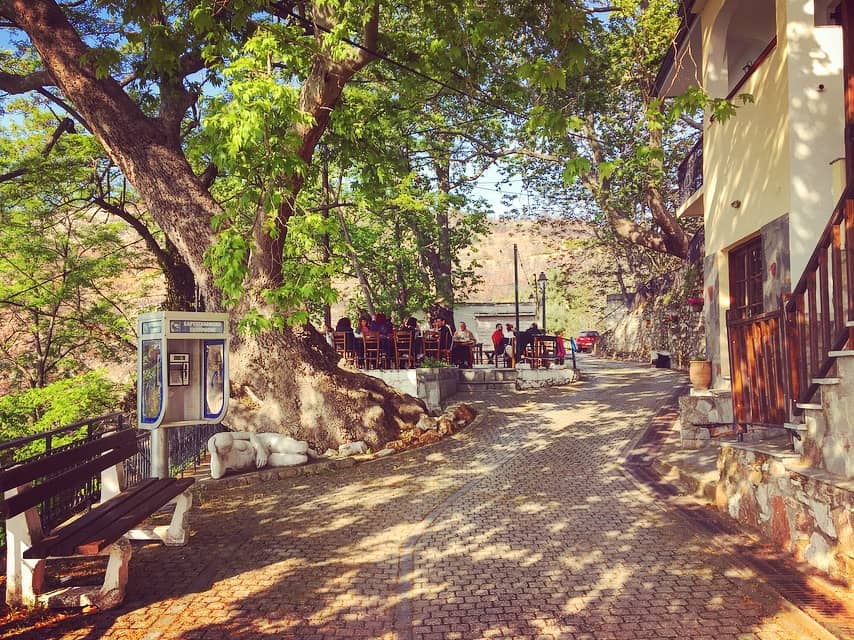 Highlight: Have a lunch or dinner at the small taverna Platana! The delicious food served on the veranda under the plane trees is something that you should not miss!
So, these were our top 5 mountain villages! Have you been in any of the above? If yes, please leave a comment below! We hope you found our post useful and that you visit at least one of the villages soon!
Hire a car from Potos Car Rentals and visit the mountain villages of Thassos! Book today!
Cheers!