Thassos has grown to be a more well-liked tourist destination over time. It is easy to understand why people are drawn to this unique island, with each of its numerous villages offering something new to the visitors. While some villages are famous for their stunning beaches, clean seas, and lush green surroundings, others are known for the activities they offer, like swimming, bicycling, hiking, and sunbathing. Apart from this, many villages in Thassos have great historical significance, which is why they are home for many famous landmarks.
While the most famous villages in Thassos are Thassos (Limenas), Limenaria, Panagia, Potamia, and Theologos, there are many others as well that must be visited if you can fit them into your schedule. Read ahead to find out about each of these villages, what they have to offer you, and how you can get there.
Listed below are the three famous villages in Thassos.
Thassos Limenas. Thassos can only be reached by boat. The largest port of Thassos is located in the little town of Limenas. The majority of its population is centred in the area where the ancient city of Thassos once stood.
Limenaria. It is situated on the southwest coast of Thassos. The vibrant and romantic ambiance is created by the cafe's, restaurants, and stores. The remnants of the ancient village can also be seen nearby.
Potos. It is located in Thassos' southernmost region. It is where the Theologos' primary harbor existed. The well-known beaches of Agios Antonios, Roso Gremos / Rossogremos, Psili Ammos and Pefkari are close by.
Thassos (Limenas)
The largest port of Thassos is located in the little town of Limenas, which is also the capital city of Thassos. The majority of its population is centred in the area where the ancient city of Thassos once stood, which is situated on the island's northern coast and is about 6 nautical miles from the Greek shore. It serves as the island's administrative and commercial hub and is home to several hotels, restaurants, stores, bars, and clubs.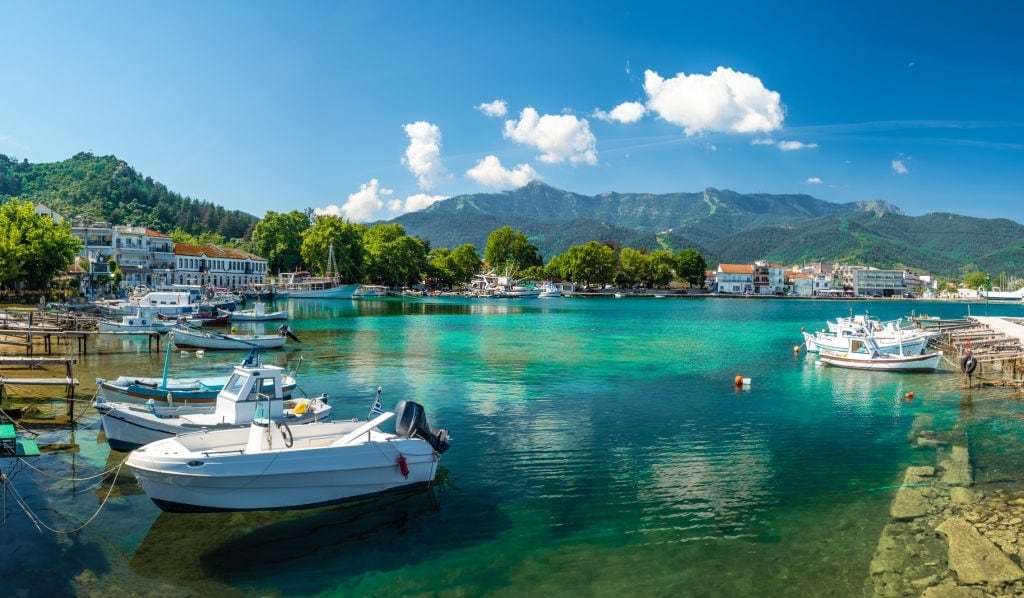 Although Limenas is now relatively modernised, it still maintains the old-fashioned charm that draws the majority of tourists. The old harbour, church ruins, and the ancient town of Thassos with remnants are a few of the famous historical sites. In the town's heart, there is also a fascinating museum for tourists to visit.
Although Thassos lacks an airport of its own, Kavala Airport, which is only 17 km from Keramoti port, provides excellent service. This is why Thassos can only be reached by boat. There are two ferry terminals on the island; the primary one is at Limenas, the island's capital. The preferred way to go to Thassos is via Limenas, which is accessible from Keramoti on the mainland. The trip only takes 35 minutes, and the boats operate every half-hour throughout the summer.
Limenaria
Limenaria, the second-largest town on Thassos, is situated on the southwest coast of Thassos and has developed into a well-liked tourist destination. Numerous fishing boats and luxury yachts anchor in Limenaria's harbour. Along with a few neoclassical structures that proudly stand in Limenaria's center, a few really spectacular and stunning houses constructed by Turks around the turn of the 20th century may be seen. The vibrant and romantic ambiance that all tourists like is created by the cafés, restaurants, and stores that line Limenaria's lengthy waterfront promenade. There are also hotels, rental rooms, and clubs that are easily available. Trypiti's fine-sand beach is conveniently close to the town. The remnants of the ancient village can also be seen nearby, like the crown of Limenaria and the palace.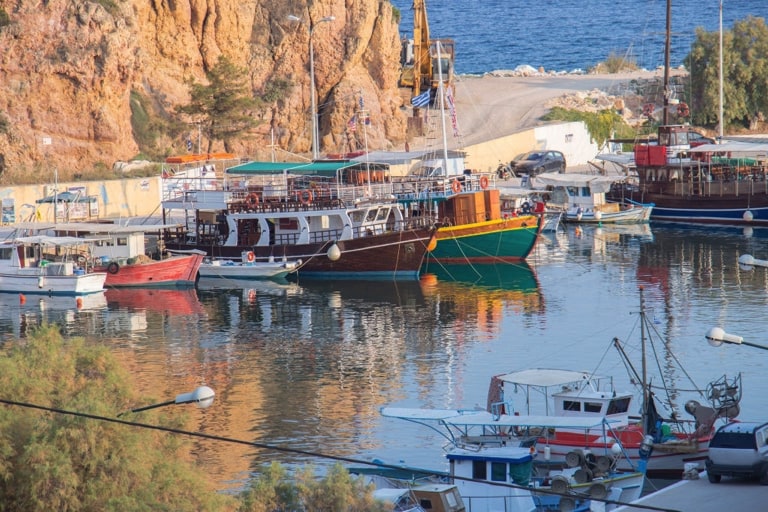 Limenaria is at a distance of around 38 km from the capital, Limenas. Taking a bus is the least expensive way to go to Limaneria. Tourists may travel easily because Limenas is home to the island's main bus terminal, and all through the day, buses run from Limenas to Limenaria. Taking a taxi is another option available. Numerous taxis are waiting to transport you around the island as you arrive at the port of Thassos. However, keep in mind that this choice is significantly more expensive because of the lengthy distance to Limenaria. Renting a car at the port is one of the easiest and most economical ways to go to Limenaria. Having a rental vehicle in Limenaria allows you to explore the island at your own pace and make stops anywhere you choose.
Panagia
Panagia, one of the most scenic settlements on the island of Thassos, is named after the Virgin Mary, who also serves as the community's patron saint. It offers breathtaking views of the sea, the bay, and the mountains beyond. This island village is exceptionally charming and traditional, still upholding many of the earlier traditions and ways of life.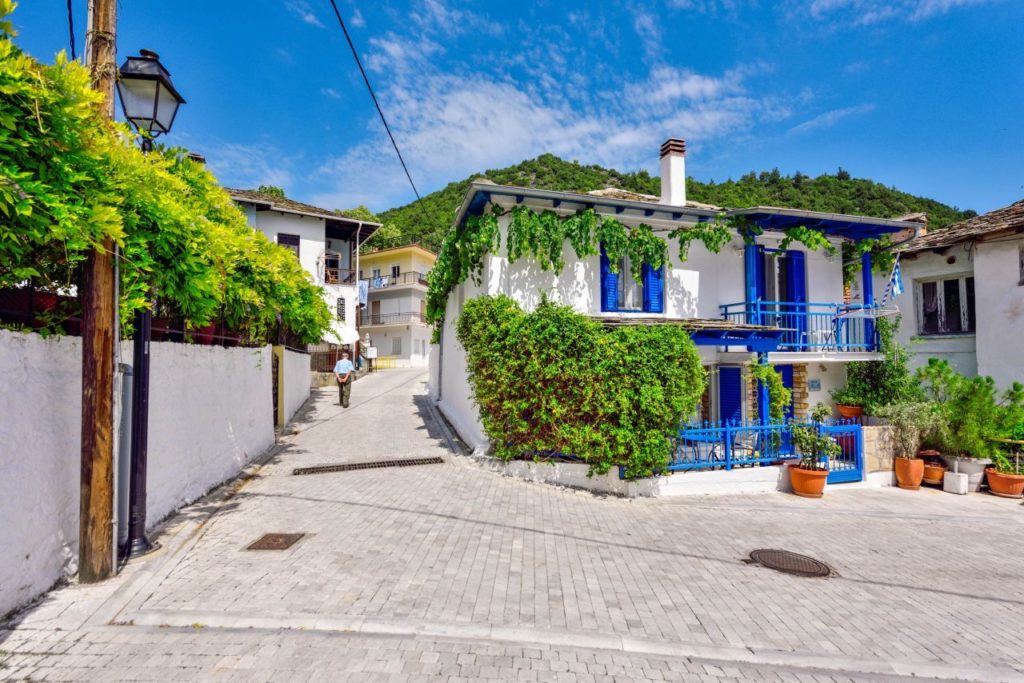 The village provides a distinctive sight for visitors and is crossed by several waterways. While taking a stroll through the village, you will see plenty of classic stone faucets. Panagia is notable for its simple way of life and deeply devout people. There are 11 other minor churches in the area in addition to the primary church. Additionally, there are several regional events that attract tourists. On August 15, the church and the entire village celebrate, and tourists get to witness their unique culture. Another significant celebration is held in the village's streets on Ash Monday, the first day of Lent and the final of Carnival. Panagia is only 10 km from the capital of the island and can easily be accessed by the local bus service, taxi, or car.
Potamia
A few kilometres away from Panagia on the eastern side of the island of Thassos is the village of Potamia. It was established near Mount Ypsarion, Thassos' highest summit, from which you can have a spectacular panoramic view. One of Thassos' most well-known villages, Potamia, is encircled by a lush forest. The town is full of historic homes with stone walls and wooden roofs, creating a memorable experience for visitors.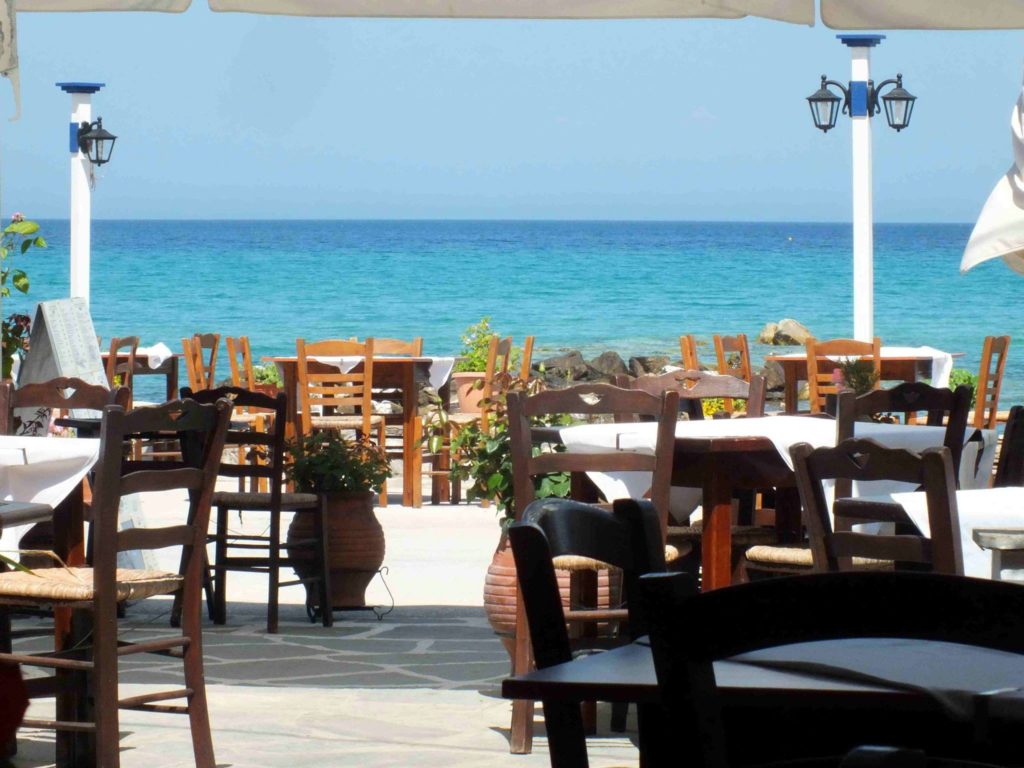 There are cafés, hotels, and rental rooms in Potamia. From the hamlet, two pathways branch off; one leads to the beaches below, while the other, which is covered in vegetation, leads up the mountain. Visitors who are interested in history can also go to and visit the Vagi's Museum. Potamia is only 10 km away from Limenas, the capital of Thassos, and can be reached by bus on the same route that goes to Panagia. Since the roads to this village are well-built, they can also be accessed by taxis and cars.
Theologos
Theologos is a stunning village with opulent homes and mansions. The Greek government designated Theologos, one of the oldest settlements in Thassos, as a traditional settlement in 1979 due to its outstanding architecture. Many residents were unable to rehabilitate their homes as a result of this decision, so they sold them to foreigners—Germans and English—who transformed them into magnificent establishments. These charming palaces and exquisitely painted homes make this village stand out to tourists.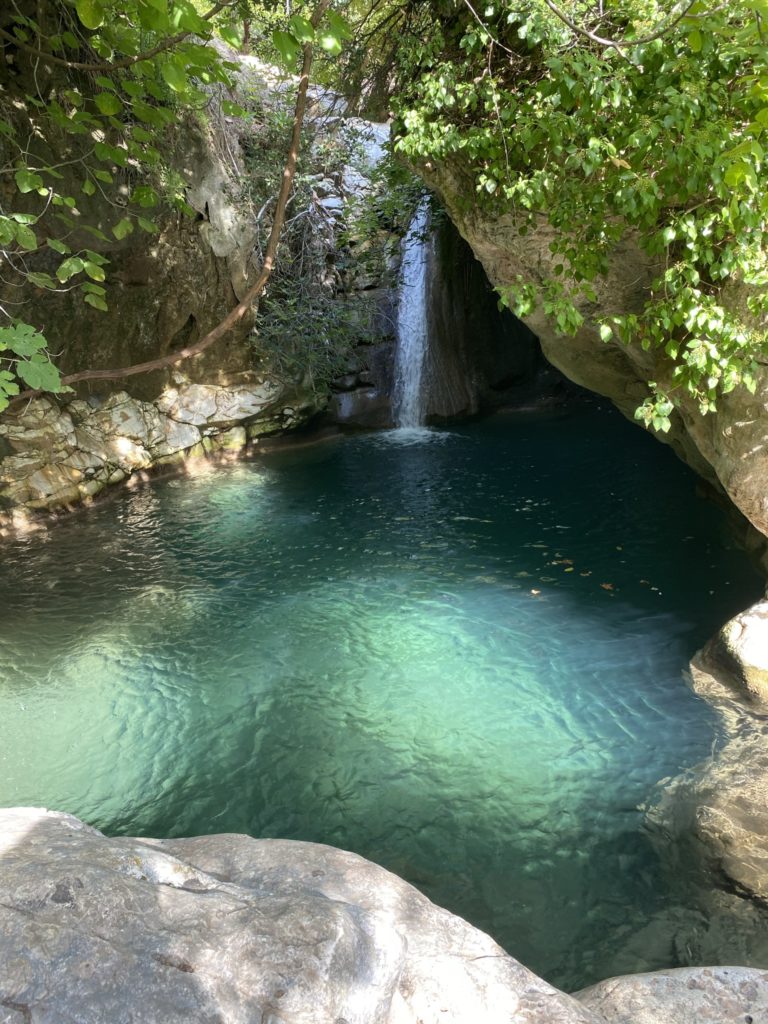 The broached goat is one of the village's delicacies, and Theologos is renowned for its top-notch restaurants. There are also cafes and places to rent a room. In this community, a fascinating and lovely recreation of a regional wedding is held in the middle of August. Archaeologists have also found the remnants of an ancient prehistoric village in the surrounding area, adding to the attraction of this village. Theologos is a historic village located 52 km south of Limenas, halfway between Kastro and Kinira. You can reach this village by bus from different major cities on the island, as well as by private transport.
Agios Georgios
Agios Georgios is the sister town of Rachoni, and it is tucked into the forested hillside just across from Rachoni. Originally considerably higher and deeper in the mountain, where one can still see the ruins of the chapel of Saint George, which can be visited along the mountain trail, this town was only recently relocated to its current location.
Mehmet Ali Pasha of Egypt is said to have been born there and spent his early years in this village, according to legend. Original local architecture, such as the village church's paved courtyard and homes with red and grey brick roofs, give the little village a distinct atmosphere and entice visitors to walk through its streets. Tourists are welcomed by the coolness of the crystal clear waters flowing through the village and the abundance of shade provided by the many planes, pine, and olive trees. Then, they can start the downhill walk to the sea, which is about 4 km away, and where Skala Rachoni, the beachside resort of this idyllic community, is located.
The village is at a distance of 16 km from the island's capital. Unfortunately, it cannot be accessed directly by bus, so the only way to get here is by hiring a taxi or renting a car.
Astris
Astris, which is also known as Astrida, is a small village in the southern part of the island of Thassos. Long sloping beaches, olive trees, and little fruit orchards may be found in this village, a stunning location of untouched natural beauty. It offers spacious fields where visitors may sit and take in the magnificent views of the main constellations of stars in the starry night sky. The village is 45km from the capital Limenas and 7 km from Potos. If you plan on travelling by bus, you first need to arrive at Potos from Limenas. From here you will have to hire a car or a taxi to take you to Astris village. The other option is to hire a taxi or rent a car from Limenas instead of having to change vehicles at Potos.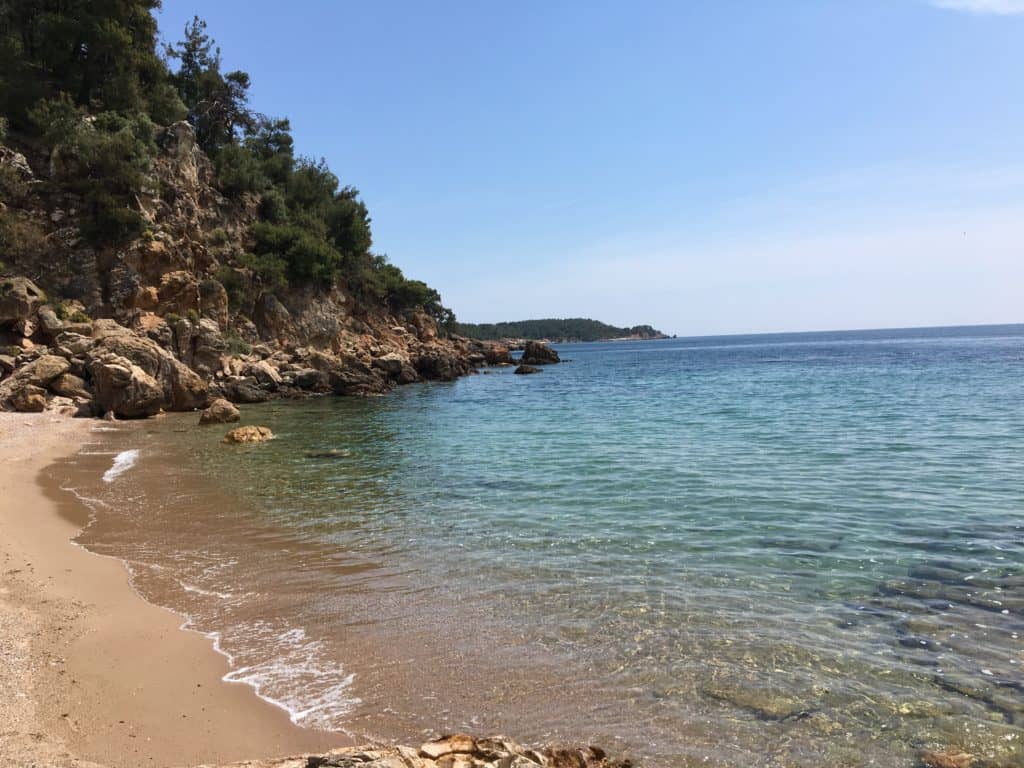 Kallirachi
The large village of Kallirachi is located on the western side of Thassos and offers views of Kavala City. After being sacked by pirates, it was rebuilt in 1750 by the people of Kakirachi. The 600 residents work in tourism, agriculture, and fishing. Narrow lanes and traditionally built homes may be found in Kallirachi, where peace and calm are the norms. Tcenteredhe central square is adorned with a traditional faucet. There are several stone bridges in the region, and one connects the village to Kakirahi and Metamorfosi. The folkloric museum in Kallirachi, which is housed in a mansion-house built in 1800, is a favourite destination for tourists. On display are traditional tools, embroidery, weaving art, and pictures. Limenas is 24 km away, while Skala Kallirahi is only 2.5 km away. You can reach this village directly by car or taxi from Limenas, but if you want to travel by bus, the closest stop is at Skala Kallirahi. From there, you will have to walk to the village or get a taxi.
Kastro
The oldest village on the island of Thassos, Kastro, is in the center of the island and lies 12 km northeast of Limenaria. It is 500 metres high and cannot be seen from the downland. It was given that name after the remains of a castle that formerly stood and whose wall was built in 1403. It started its evacuation in 1905 when the inhabitants were moved to the seaside region. In recent years, the homes' owners have refurbished the houses and turned them into cottages which is a great site for tourists. You can also visit the Saint Athanasios church, which was constructed in the settlement in 1804. There, you can see the Divine Service, which is held on the last Saturday of each month, as well as a celebration that takes place on January 18. To reach Kastro, you will first have to come to Limenaria, either by bus or private transport. From there, you must travel 12 km on private transport to reach Kastro.
Kazaviti
The village of Kazaviti is situated on the northwestern part of the island and is separated into Mikro and Megalo Kazaviti, which are only 500 metres apart. The ceramics and castles that were discovered show that people had lived there from 400 BC, giving the village great historical significance. This area is a great destination for tourists and is well known for its delicious organic beef as well as its local wineries. Traditional pubs and coffee shops may be found there, hidden behind the thick planes. The village is also traversed by several waterways. The village of Prinos is 4 km away, while Limenas is at a distance of 20 km. The closest bus stop is at Prinos, and from there, visitors have to travel on their own. They also have the option of hiring taxis or renting cars.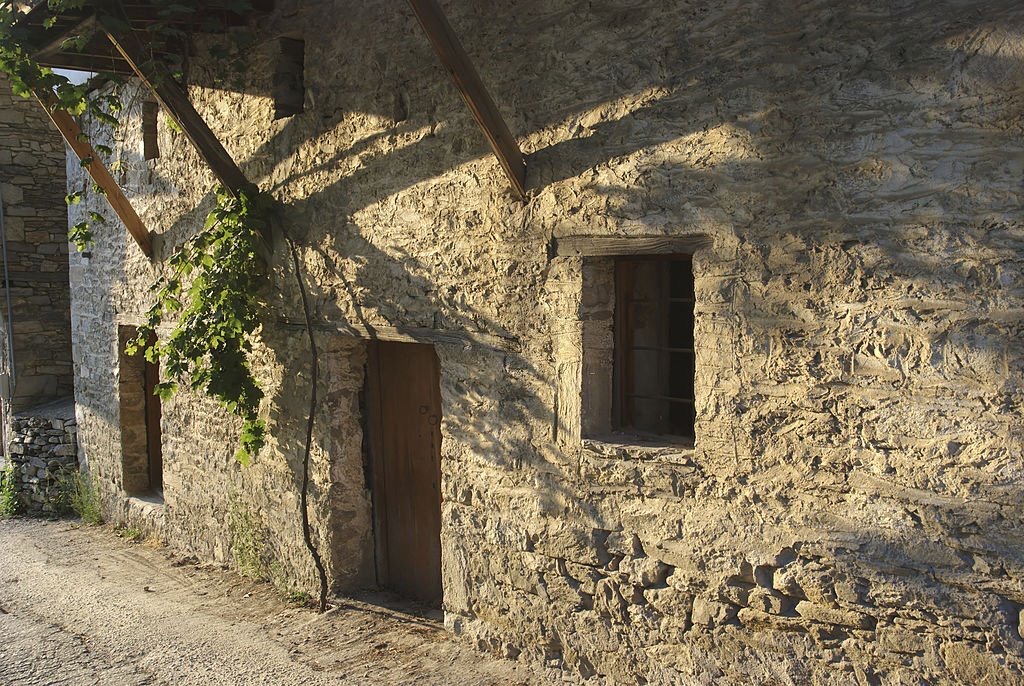 Kinira
On the island's stunning east coast sits the little, picturesque town of Kinira. Because it is one of the most tranquil areas of Thassos and has amazing natural beauty, it catches the hearts of its tourists, who return time and time again. Despite being more tranquil than the rest of the island, you can still find everything you need for your vacation here. The island is at a distance of 22 km from Limenas. Luckily, since this village is near the coast, it can be accessed by bus directly from Limenas, and as the roads are well-built, taxis and rental cars are also a good option.
Maries
There are roughly 200 residents in the hilly village of Maries, which is located on the mainland at an elevation of 200m. It was established during the Byzantine era. Maries is encircled by thick forests, and 3 km higher is where the island's special reservoir lake was built. Evidence of human existence dating back to 1000 B.C. has been found in this valley. Thassos was then joined to the country's mainland even though it had not yet developed morphologically. Besides the natural beauty of the area, tourists can also visit the nearby 1813-built church. On November 8, the church holds a celebration in honour of the Synaxis of the Archangels, which is who the church was built dedicated to. The village is around 40 km from Limenas and 11 km from Skala Maries. Despite its location, it can easily be accessed by bus, taxi, and car.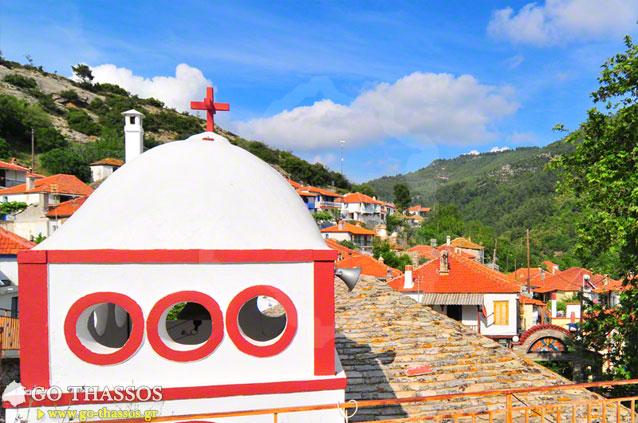 Potos
The popular beach community of Potos is located in Thassos' southernmost region. It is significant since it is where the Theologos' primary harbour existed. It is a sophisticated, popular resort and tourist destination with vibrant nightlife. The well-known beaches of Agios Antonios, Roso Gremos / Rossogremos, Psili Ammos and Pefkari are close by. If you go to certain beaches, you can experience a unique sunset. Potos is 2 km from Limenaria, and Limenas is 40 km away. There are several bus routes linking Potos to Limenas, as well as other major destinations on the island. The village is also connected to a good road network so you can also choose to travel here by car or taxi.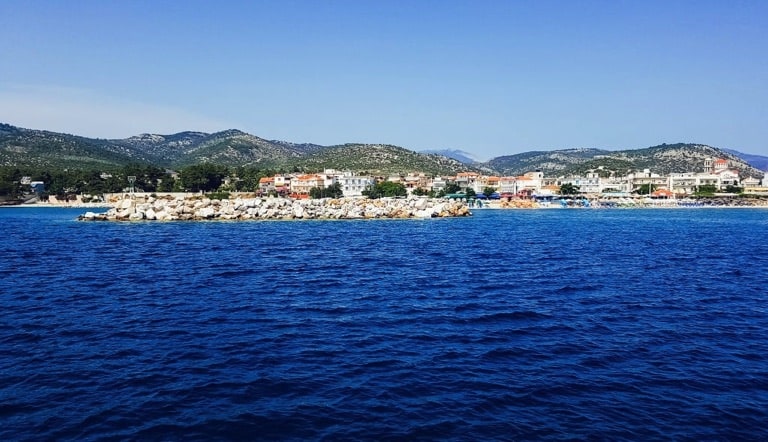 Prinos
One of Thassos's biggest villages is the village of Prinos. It is situated on the island's northwest coast. Given that it is situated in the midst of the road connecting Limenas and Limenaria, its placement is quite important. Since the region of Prinos is primarily covered in olive trees, the 1800 or so people also work professionally in agriculture. Many of the olive groves are said to be more than 900 years old.
An outdoor market, the only one of its kind on Thassos, is a well-liked year-round attraction for tourists and locals alike. Visitors are also welcome to participate in planned mountain hikes, excursions, and other outdoor activities throughout the year. The village is 16 km away from Limenas and can be reached directly by bus, car, and taxi.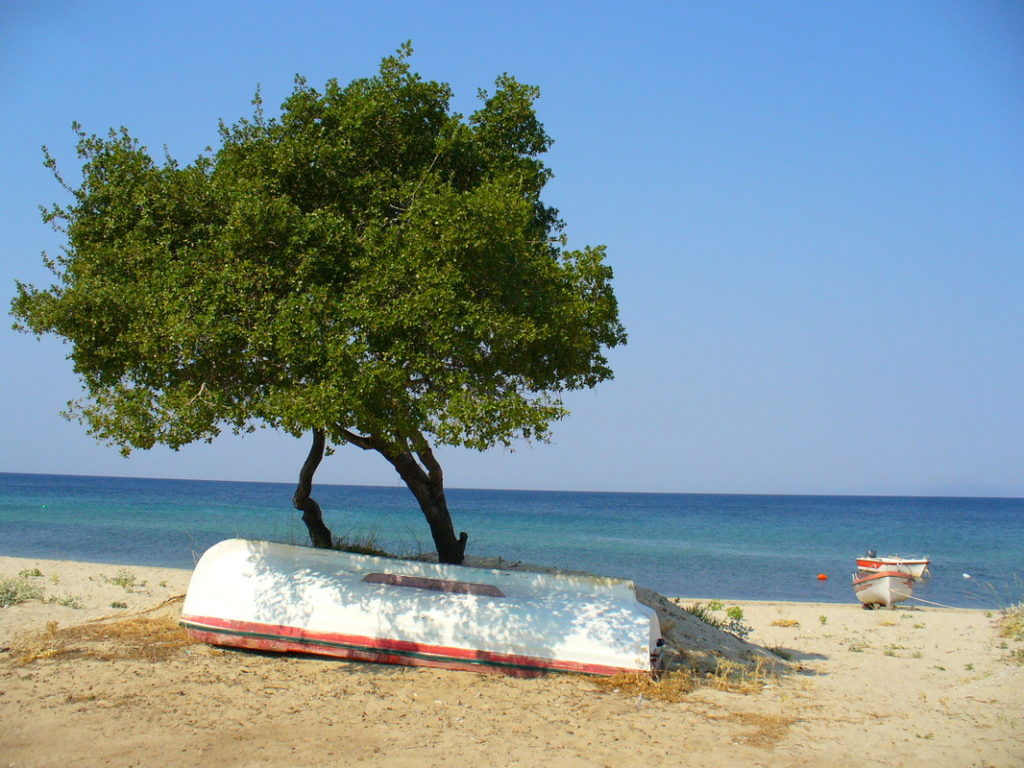 Rachoni
Rachoni is located in Thassos' breathtaking northern region. Four communities make up this agriculturally productive region, which is home to the second-largest olive plain after Prinos. There are two tranquil mountain villages named Rachoni and Agios Georgios, as well as two beach resorts named Skala Rachoni and Pachis.
Given that Rachoni is a community that is actually situated on the brink of a mountain, visiting it is a fantastic experience for tourists. Amazing and diverse vegetation, including trees and olive trees, every type of fruit tree, bushes, and shrubs, surround it. Many of the courtyards nearby display the beautiful, thick foliage that surrounds the area. Tourists can also visit the temple of Madonna's Dormition. The village is 17 km from the capital. The nearest bus station is in Skala Rachoni, which is around 5 km away. Taxis and rental cars are also viable options.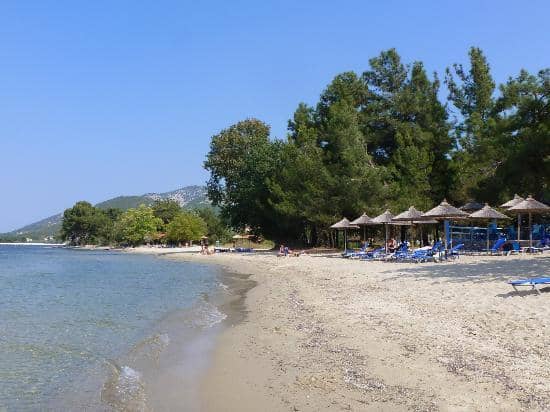 Skala Kallirachi
On the island's west coast, Skala Kallirachi offers a breathtaking vista of the mountains of Kavala and Agios Oros. It also offers a straight view of the glistening sea and the mainland of Greece, and you can find the beaches Klysma, Plaka, and Lagkada close by. For those who love fishing, it's a terrific location, and it's also a great getaway from other larger cities and resorts for those who want some peace and quiet. Skala Kallirachi is 23 km from Limenas along the coast. There are several buses that visit this location, and you can easily find taxis and rental cars to take you there as well.
Skala Maries
Skala Maries is a seaside community in Thassos' southwest and serves as the harbour for the mountainous community of Maries. Three bays make up the lovely tiny harbour community of Skala Maries. Platanes Beach, the first and largest bay at the village's entrance, boasts fine shingle sand and a view of the Aegean Sea.
Then, after ascending the street that circles the entire village, one arrives at Skala Maries Beach, a little harbour that serves as the community's focal point. All different types of local boats may be seen moored at this beach, where they are used to capture the fresh fish that is served to the public at the neighbourhood's traditional tavernas. As one travels farther down the same road, they reach the third bay and the incredibly small and sandy Atspas Beach.
Skala Maries is at a distance of 30 km from Limenas and can be reached following the coast. This village can be reached by bus, car, and taxi.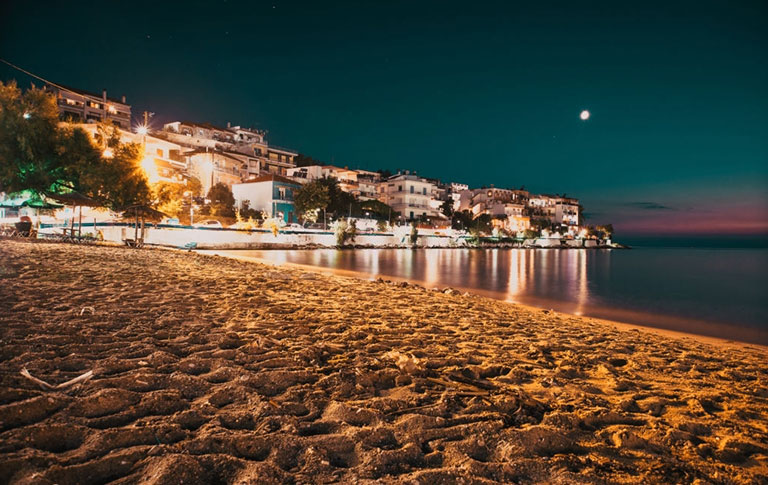 Skala Potamia
The harbour of Potamia was in Skala Potamia, which is 3 km away. The area is seeing rapid tourism growth and is a well-liked destination. Both the length and width of its Chrisi Akti beach are impressive. It is described as being golden by the colour that the sun reflects.
You will find the typical attractive Tarsana building at the haven's edge, in the settlement. It used to be a haven for Athos (Agio Oros) fisher monks, but now it organises cultural events, which is why this village should be visited. Skala Potamia is 14 km from the capital Limenas, and there are several buses connecting the two places. Visitors can also rent cars or hire taxis to visit this place.
Skala Rachoni
Skala Rachoni, Rachoni's harbour, is a village situated on Thassos' northwest coast. Due to a few factors, this community has recently seen an increase in tourists. The first is the stunning coastline, which is made up of fine white sand and a number of lovely bays that are all bathed in the shallow, clear water. The second is the abundance of olive trees that cover this rich plain in all directions. Visitors looking for a peaceful escape are welcome in this very rural setting.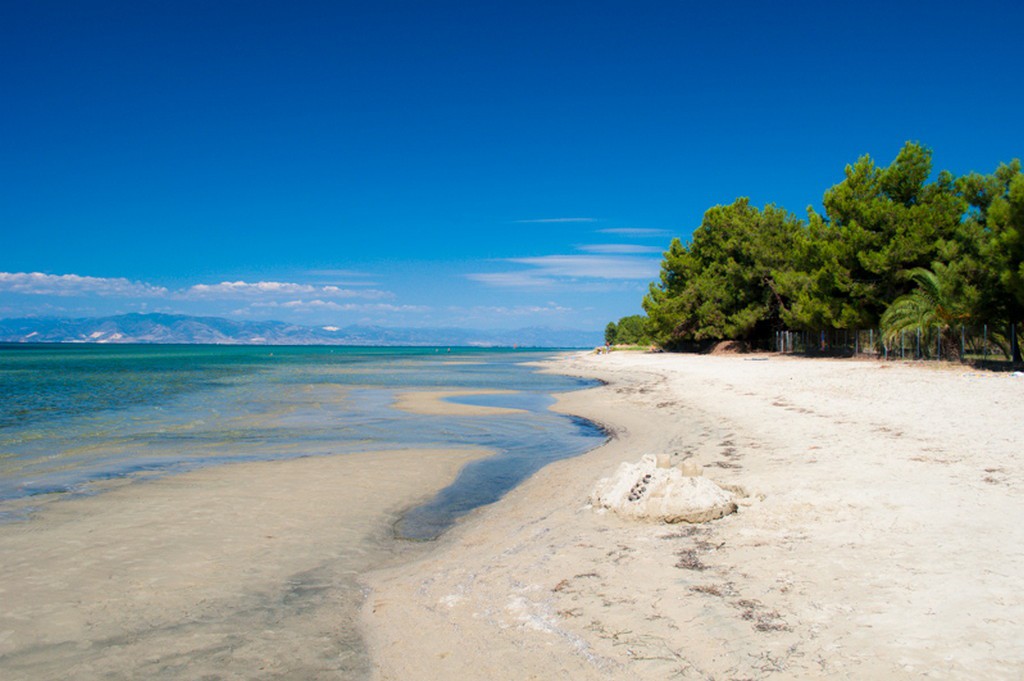 Skala Rachoni is at a distance of 11 km from the capital, Limenas. There are buses linking Limenes with Skala Rachoni and Pachis beach, making it a good and affordable way to travel. The village can also be reached by car or taxi, as to get here, one simply has to drive west along the coastline from Limenas.
Skala Sotiros
Skala Sotiros is a seaside community in the western part of Thassos. It became famous when ancient artefacts dating back to 2500 BC were discovered during excavations on the Prophet Elias hill. Skala Sotiros was originally a fishing community for the people of Sotiros, giving a seafront site for their fishing boats and shacks. After 1976, the development of this little village slowly started to transform into a vacation resort in an effort to draw tourists and allow them to experience a tranquil yet traditional fishing village society.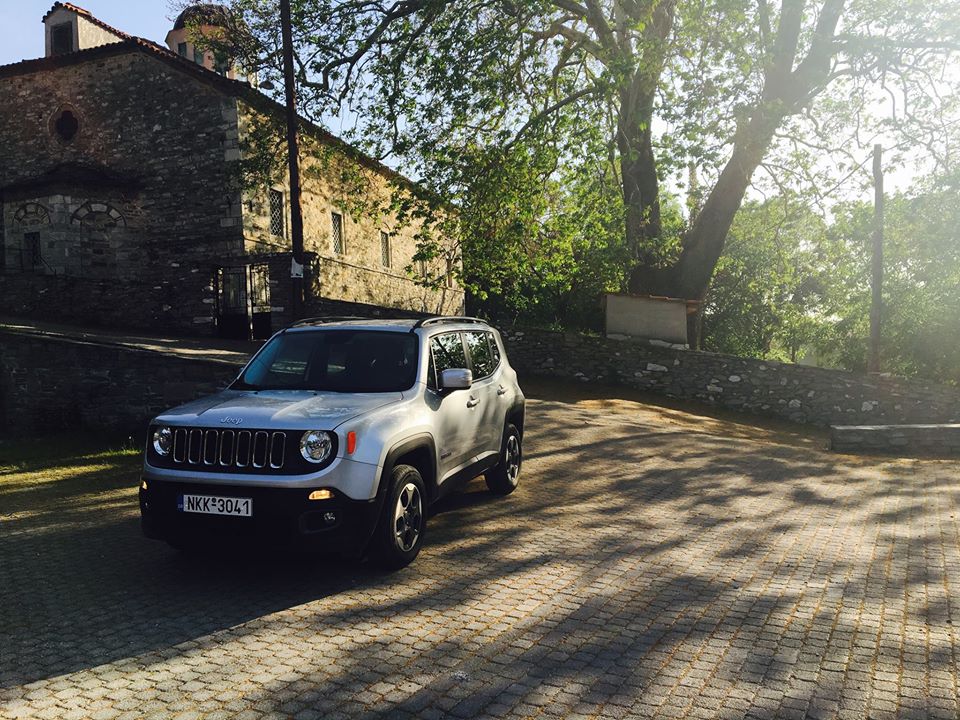 The village is spread out along a stretch of beautiful and serene beaches. The modest but exquisitely kept marina offers berths for hundreds of small boats and opportunities for fishing for both novice and experienced fishermen. Apart from this, in the center of the island's olive growing zone, visitors may also find Thassos's oldest olive press.
Skala Sotiro  is 20 km away from Limenas toward the west, and the two villages are directly connected by a bus, making this a feasible way of getting there. Other than this, tourists also have the option of renting a car or hiring a taxi as this village is connected through the island's well-laid-out road network.
Sotiras
At the height of 300 metres, the little mountain village of Sotiras can be found. In the past, both Katirahi villagers and miners lived there. The homes were, however, far apart, and only a few individuals stayed there over time. It provides a unique experience for visitors since the village's original homes are surrounded by small, car-inaccessible alleyways that are paved with slabs. An 1890 marble faucet may also be seen in the town square, underneath the planes.
The village is renowned for its fresh air. According to locals, the air has healing qualities and is beneficial for people who have respiratory issues. The natural splendour of the nearby forest and mountain springs, along with this fresh air, create another area of heaven just waiting to be discovered.
Sotiras is 3 km from its Skala and 22 km from Limenas. You can easily reach its Skala by bus, after which you must travel on your own for 3 km to reach Sotiras. Keeping this in mind, it would be a better option to rent a car from Limenas so that you have a smooth and uninterrupted journey to this village.
Rent a car and Visit the Villages of Thassos
While Thassos has developed an extensive public bus network, allowing you to visit many of its famous villages, there are places that, unfortunately, cannot be reached by bus. Apart from this, planning your trip around the bus schedule can be tricky and inconvenient, especially if you have to end up waiting for hours. While hiring a taxi is a more comfortable option, it brings with it a lot of expense.
The best option for travelling across Thassos is, hands down, renting a car. And here at Potos Car Rentals, we have been providing tourists and visitors to the island of Thassos with dependable and inexpensive vehicle rentals since 1988. Offering a wide range of services and a variety of rental options based on your budget, book with us and make your visit to Thassos comfortable, affordable, and convenient.