Throughout the years, Greece has become a popular tourist destination for people worldwide. While the southern part of Greece is known for its scenic islands and stunning beaches, the north is home to some equally unique attractions. One place you shouldn't miss visiting is Halkidiki.
Famous for its protruding peninsulas, Halkidiki is a region in northern Greece with Mediterranean woodlands that give way to sandy beaches in protected coves. If you want to learn more about this beautiful tourist spot and the best things to do there, read on below.
Where is Halkidiki
Halkidiki (also known as Khalkidhiki or Chalkidike) is a vast peninsula in northern Greece. It is formed in the shape of a trident and a major tourist destination. It covers a total area of 2886 km and a distance of more than 550 miles. The capital of the region is a town called Polygyros. It is located in the center of the island, while the largest town is Nea Moudania.
How to Get to Halkidiki
Getting to Halkidiki By Car
If you want to experience the most out of Halkidiki, renting a car would be your best option. A rental car will allow you to explore the region at your own pace and discover its many hidden gems. The roads in Halkidiki are generally in good condition, so you shouldn't have any trouble getting around.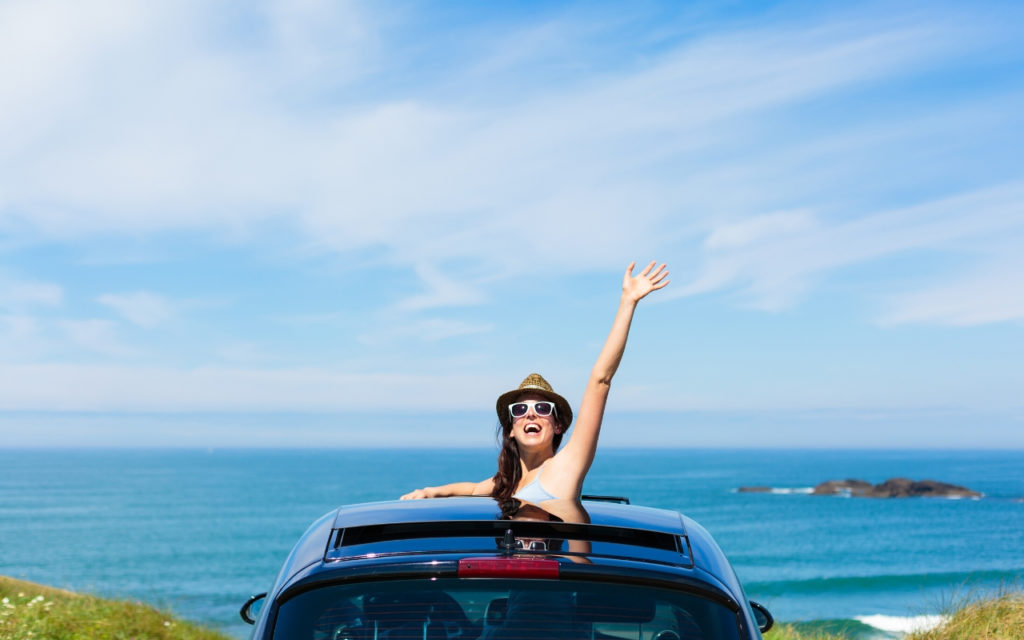 Since Halkidiki doesn't have any airports or rail stations, you'll first have to reach Thessaloniki, which is located just an hour away. Once you're there, you may rent a car in Thessaloniki and head to the peninsula through Thessaloniki's national road.
Getting to Halkidiki By Bus
Traveling by bus to Halkidiki is a great option if you're on a budget. For you to reach the peninsula, you'll first need to take a bus in Thessaloniki. Daily buses run from Thessaloniki to various Halkidiki locations, including Ouranoupolis, Polygyros, Nea Moudania, Arnea, Pefkohori, Kallithea, and others. KTEL Station, at the 9th mile of the New National Road Thessaloniki-Nea Moudania, is where buses leave.
The duration of the trip varies depending on the area. However, it usually takes an hour and 30 minutes to reach Halkidiki.
Getting to Halkidiki By Taxi
If you don't want to travel by bus due to stopovers or heavy luggage, riding a taxi will be your next best option. Many taxis in Thessaloniki are willing to take you to Halkidiki for a fixed price. You can find taxis at the airport, railway station, or in any of the city's squares. The trip will take an hour but will depend on the traffic.
Best Things to do in Halkidiki
There are plenty of things to do in Halkidiki, no matter what your interests may be. Here are some of the top attractions and activities you should check out during your visit:
Visit Ammouliani island
If you're up for some adventure, visiting Ammouliani island will be a great experience. It is tucked away in Halkidiki's port of Athos and boasts crystal-clear waters, beautiful beaches, and a charming village. You can visit the beaches here or even go tavern-hopping. It's also an excellent starting point for a voyage to Mount Athos, where you can view the famous monasteries atop the mountain.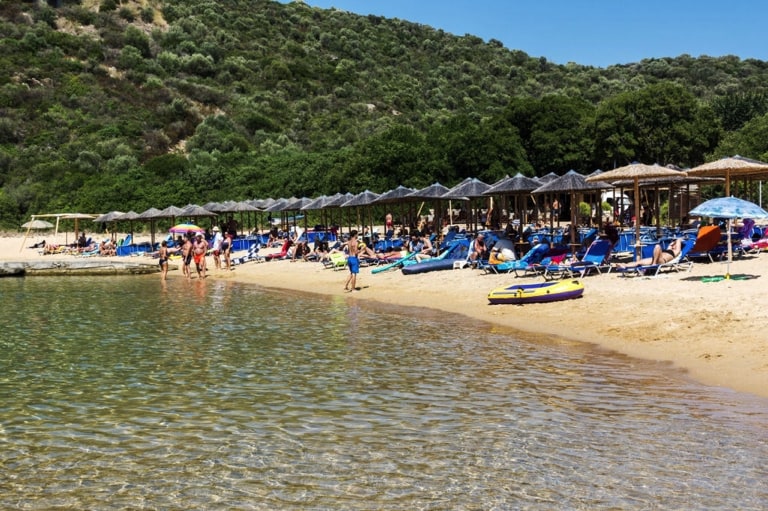 Go Sea Kayaking
Halkidiki is known for its scenic beaches and beautiful islands. You can't go wrong if you decide to spend your day out on the water, exploring all of its natural treasures with kayaking. Kayaks are perfect for people who want to get close to nature but aren't too keen on swimming in open waters.
Spend Some Time at the Spa
Spending a day at the spa is a great way to relax and unwind. There are a number of wellness centers in Halkidiki, but the best one is Thermal Spa Agia Paraskevi. It is placed on top of a hilltop overlooking the Aegean sea. It offers traditional massages and even body treatments.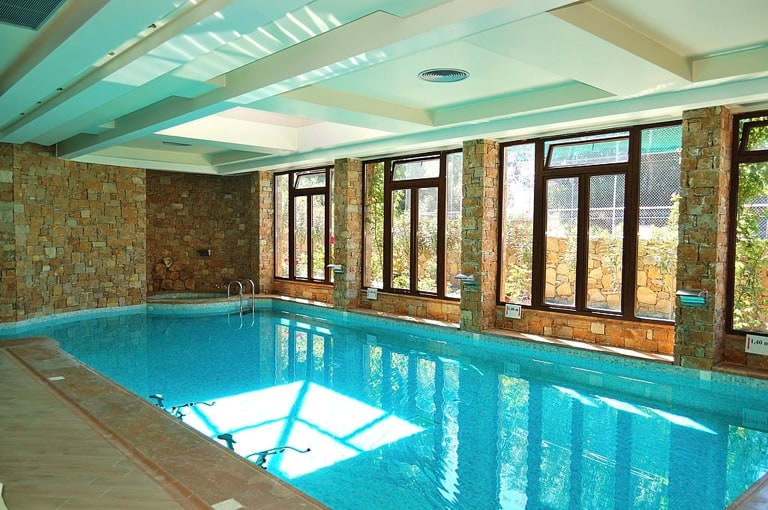 Go Clubbing
Ahoy is the most incredible location in Halkidiki to party and have a beverage (or two). Top DJs perform here regularly, so you'll never run out of music to dance to. Travellers of all ages also come here, so it's the perfect place to meet new people.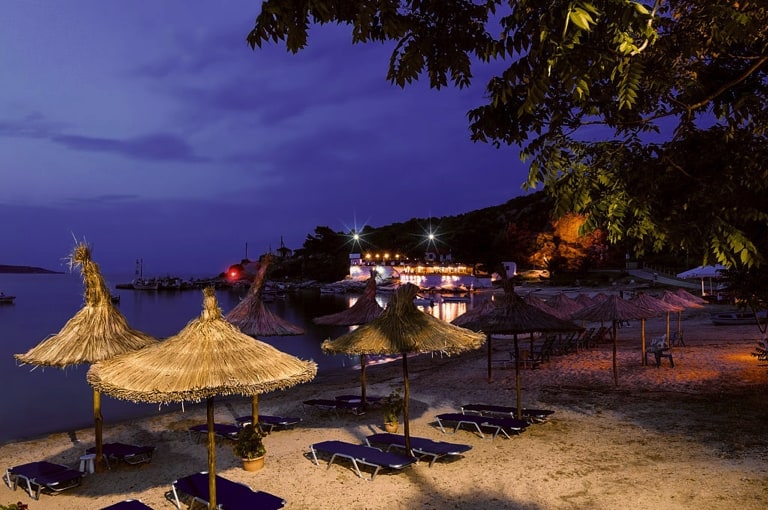 Beaches In & Nearby Halkidiki
When it comes to beaches, nothing beats the ones in Halkidiki. Some of the finest beaches are located here, so you can spend your entire vacation just lounging around on the sand.
Armenistis Beach
Armenistis is one of Halkidiki's most stunning beaches. It boasts an enormous sandy beach and exotic water. Armenistis is found on the Sithonia peninsula. Plus, it is family-friendly, organized and has all the necessary facilities.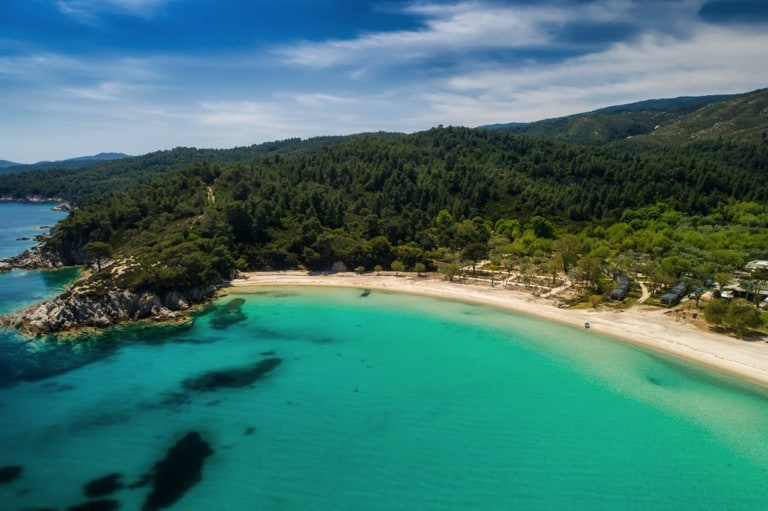 Sani Beach
Sani is one of Halkidiki's most popular beach resorts, with lush woods, beautiful beaches, and excellent tourist amenities. The sunsets in this location are among the nicest in the region.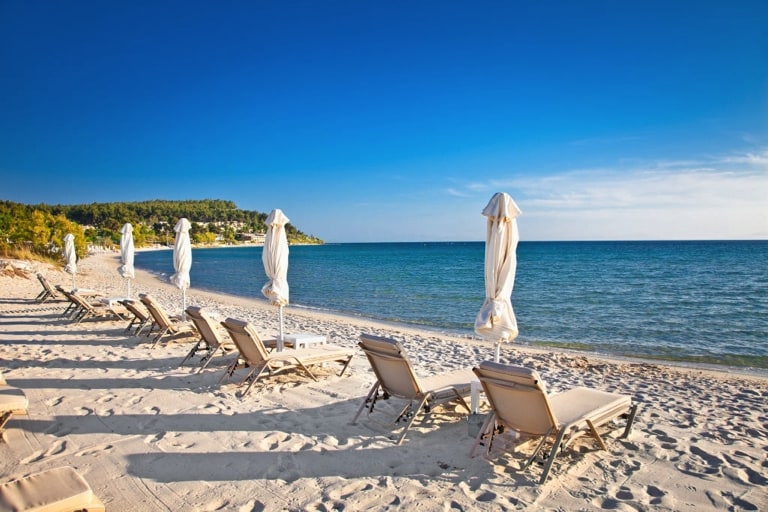 Hanioti Beach
Found on the southern side of Kassandra in Halkidiki, Hanioti is a cosmopolitan resort ideal for family vacations. Many people go to the lengthy promenades, lush parks, and vast sandy beaches.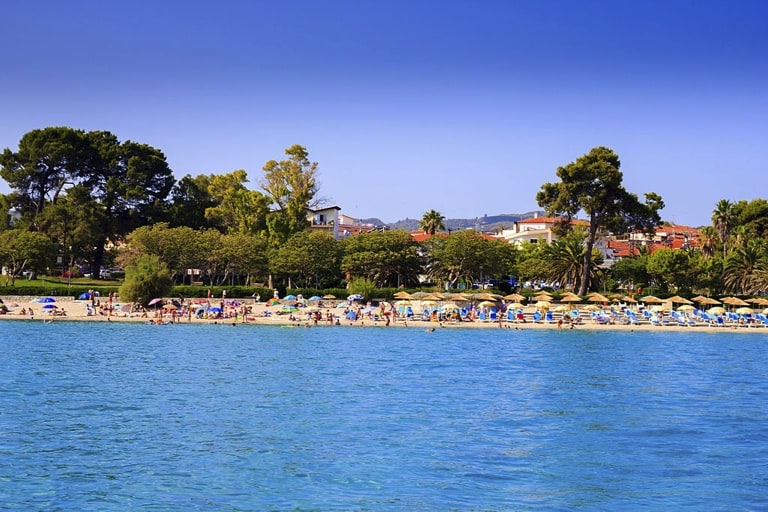 ▶ ALSO READ: All you need to know about Zagorochoria – Greece
Where to Stay In Halkidiki
Halkidiki is home to various accommodations, ranging from luxury to budget-friendly ones. Whatever your preference may be, you'll never go wrong with these top 3 hotels:
Afitis Boutique Hotel
The Afitis Boutique Hotel is a wonderful couples' getaway where committed visitors return for a combination of friendly service, local delicacies, and poolside relaxation. You can enjoy authentic Greek food while being surrounded by the kind of scenery you'd see in a postcard.
Address: Afytos 630 77, Greece
Website: https://www.afitis-hotel.gr/
Contact: +30 2374 091233
Ikos Olivia
With a focus on precision and quality, as well as lots of grown-up sophistication, this beachside, family-friendly resort redefines the all-inclusive experience. The eating selections are excellent, the pools are stunning, and the warm, friendly service is second to none.
Address: Thesi Rahones, Gerakini, Halkidiki 631 00, Greece
Website: https://ikosresorts.com/resorts/ikos-olivia/
Contact: +30 2371 440000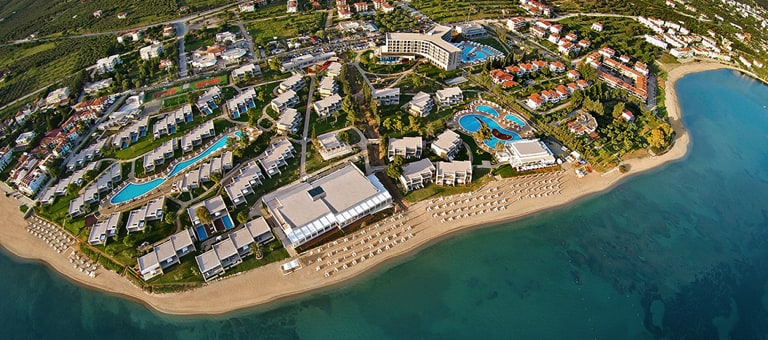 Rigas Boutique Hotel
This pleasant family-run hotel has a sleek, contemporary flair, as well as excellent sea views from its clifftop location. The beach is a little uphill walk away. However, there is a great pool on-site.
Address: Afytos 630 77, Greece
Website: https://www.rigas-hotel.gr/
Contact: +30 2374 091187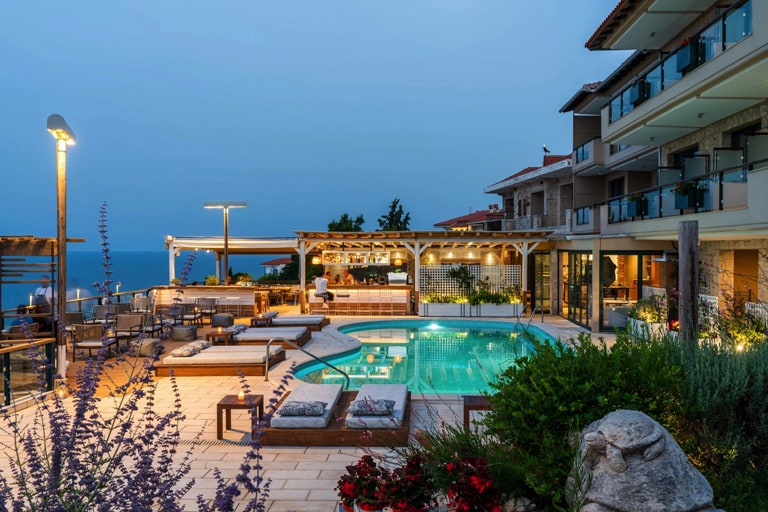 Where to Eat In or Near Halkidiki
Are you looking for a place to fill your stomach with some of the best food in Greece? Look no further because Halkidiki has got you covered. Here are some restaurants that will leave your taste buds wanting more:
Mouragio
Mouragio is a traditional taverna in the coastal village of Gerakini. It has been operating for 25 years and its specialties are often seafood. They serve tasty dishes such as stuffed or grilled calamari and mussels with a creamy white wine sauce. You'll love the service here and the beautiful views it offers.
Address: Halkidiki 631 00, Greece
Website: https://www.gerakini-mouragio.gr
Contact: +30 2371 054060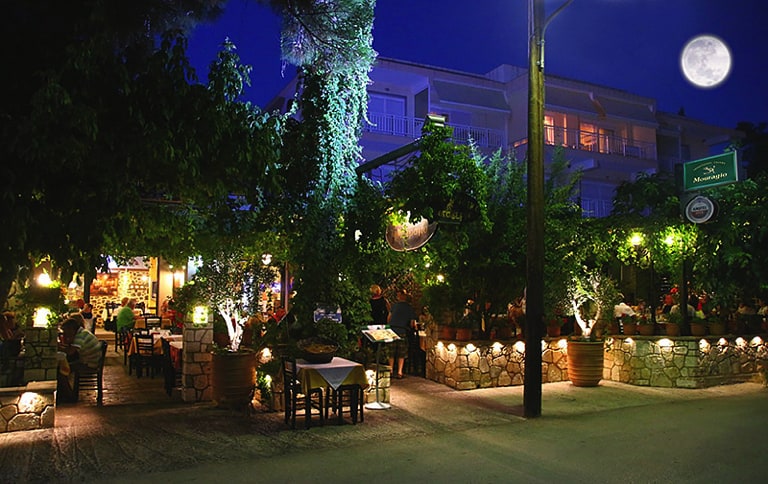 Kalamatianos
Kalamatianos, a magnificent seashore restaurant with excellent views, can be found on the route leading to Mount Athos. Traditional Greek cuisine is served at this restaurant, giving you a chance to taste some of the best flavours that Greece has to offer.
Address: 2nd km Stavros-Olympiada Road
Website: https://kalamatianos.restaurant/en/
Contact: +30 2397 061073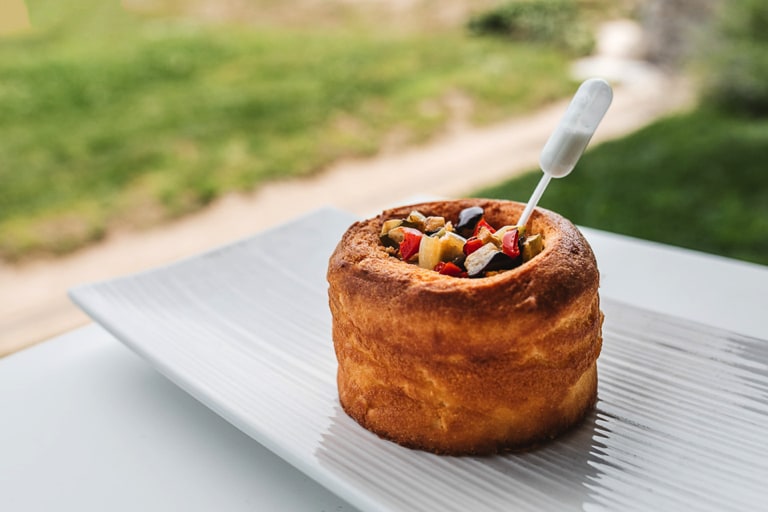 Kritikos
If you want a laid-back yet aesthetic atmosphere while enjoying delicious seafood, Kritikos is the best choice for you. The restaurant is family-owned and has been in business for more than 40 years. Their dishes are of high quality, and you can choose from a wide range of seafood.
Address: Venizelou 5Β, Ouranoupoli 63 075 Greece
Website: http://www.okritikos.com/
Contact: +30 231 033 2810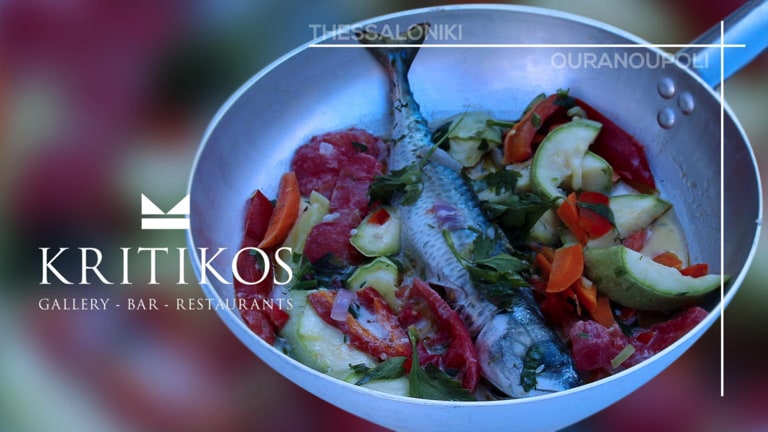 Best Time to Visit Halkidiki
Although you can visit Halkidiki anytime, the best months to do so would be between June to September. Halkidiki has a Mediterranean climate with warm, dry summers and clement winters. However, if you don't want to deal with hot temperatures, then spring (April-May) and fall (October-November) would be the best time to visit.
▶ ALSO READ: All you need to know about Meteora – Greece