The geography of Thassos is lush with lovely beaches that blend the sea and the mountains in a unique way. Its natural beauty and scenery are breathtaking. The prominent pine trees blanket the island and as you come down to the coastlines, you'll be in awe of its golden sand. and turquoise waters. As such, it earned the name "Emerald Island."
Learning about the geography of Thassos will help you plan your trip accordingly, such as the clothes you'll need to bring, what kind of shoes you should wear, and the areas you can go to. Below, you'll find everything you need to know about Thassos' geography.
Where is Thassos?
Thassos is located in the Eastern Aegean Islands and is the group's northernmost island. The island of Thassos contains volcanic soil and a hilly environment, with its highest peak rising to 1,142 meters.
Because Thassos is so close to the Greek mainland, barely 10 kilometers from Keramoti Kavala, its history is intertwined with that of northern Greece.
Thassos is around 400 square kilometers in size, with a length of 24 kilometers and a breadth of about 20 kilometers. It has an almost round form.
Map of Thassos
Thassos have a rounded shape with no deep bays or nearby peninsulas. From the shore to the center, the landscape is mountainous but not extremely rugged.
Thassos is characterized by rich greenery, unique beaches, and magnificent mountains. The capital of Thassos is Limenas which is also the largest city on the island. Other major villages are Limenaria, Skala Potamia, Skala Panagia, and Potos. Several other villages are scattered throughout the island.
Caves, waterfalls, gorges, and even beautiful beaches can be found in Thassos.
Beaches in Thassos
Whether you're traveling in the north or southern part of Thassos, you're in for a treat. The island is flocked with many beaches from end to end, giving you plenty of choices to spend the day. Here are some beaches worth mentioning:
Beaches in South Thassos
If you're planning to tour the southern part of Thassos, be sure to include these top beaches in south Thassos:
Kalami Beach
Kalami is a small bay with rocks and pebbles. It is found in the region of Astris, the southern part of Thassos. It is quiet and secluded, ideal for those looking to escape the crowds. It has clear and calm waters as well so snorkeling is a common activity to do.
Potos Beach
The village of Potos has a beautiful beach that's known throughout Thassos. It is an organized area with clear, blue waters that are shallow enough for children. Access to the beach is easy and there you will find all amenities you need such as taverns and beach bars.
Rosogkremos Beach
A nice, secluded beach in Thassos is found in a small gulf that is not hard to access. It is a small sandy beach, with blue water and rich marine life. It is suitable for families with children.
Psili Ammos Beach
Psili Ammos is an accessible beach that provides car parking in an olive yard above it. The beach is a hot spot for many young people and is well-organized with many facilities such as bars and restaurants. The waters are shallow with white, fine sand. Many believe the sand even has curing capacities.
Beaches in North Thassos
While the beaches in the south are enough to take your breath away, beaches in north Thassos don't disappoint. Here are some that are a must-see:
Glikadi Beach
Glikadi is a magnificent beach located 4km far from Limenas. The beach is organized and is easily accessible with a huge parking lot for vehicles. The beach is sandy with a few taverns and sun loungers.
Platana Beach
Hidden in the flora of pines with a seaside scenery that's bound to make your heart melt, the Platana beach is one of the best beaches in the north. It's popular with tourists due to its white sands and crystal clear waters. Beach bars can also be seen in the area.
La Scala Beach
La Scala Beach is near Limenas. It is a unique place where everything is established in order to imitate nature. You are surrounded by fauna and flora. With eye-calming sceneries of trees and sand ready to make the most of your holiday time. Amenities are available in the area, so finding something to eat or drink shouldn't be a problem.
Glyfoneri Beach
Glifoneri is a little picturesque gulf surrounded by a lot of pine trees. It is situated in the northwestern part of Thassos next to Pachis beach. It's a good spot for people who want privacy since the area isn't always crowded.
Mountains in Thassos
Other than beaches, you can find mountains in Thassos. Hiking is a common activity on the island and spending a few hours admiring the green-environment Thassos possess is a great idea for lovers of nature.
In the middle of Thassos rises the gorgeous Ipsarion mountain. The village of Potamia is the greatest point to start walking to reach the summit of the mountain. It will take you about 3 hours to walk to the peak at a typical pace. The path is well-marked, but the roads are tiny and steep, so go with caution.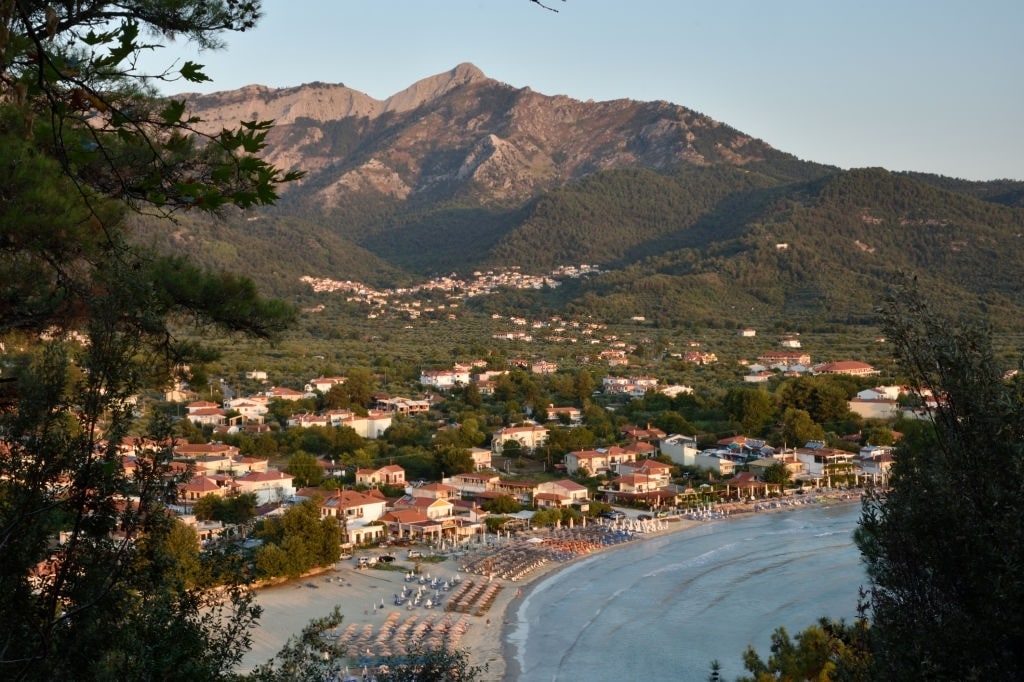 What is the tallest mountain in Thassos?
The tallest mountain in Thassos is Mount Ipsarion. It has a peak standing at 1204 meters above sea level.
The woodland roads cut through gentle mountain crests. The vegetation adorns the mountain slopes like a cloak, softening the hardness of the mountains. You'll see a great abundance of pine, plane, cedar, fir, olive, dogwood, and bay trees in the area.
Thassos underground
Many people aren't aware of this but Thassos was once rich in underground minerals. The island of Thasos has a long and illustrious history of mining and ore smelting. This spans the Neolithic through the 2nd millennium of our era.
Mining was an activity practiced by people years ago. Therefore, you can expect to see several caves on the island.
You may see caves with stalactites and flowstones on Thassos. Two renowned caves are those of Drakotripa in Panagia and another one in Rachoni.
Thassos Climate
Thasos has a transitional Mediterranean climate (this is due to its northern location) with rainy, chilly winters and bright, hot, sunny summers. The island is exposed to outbreaks of cold air from the Balkan Peninsula during the winter. It also experiences thunderstorms on the mainland in the late spring and summer.
The month of July is the hottest time in Thassos with a temperature averaging to 24°C (75°F) and the coldest one is the month of January at 5°C (41°F)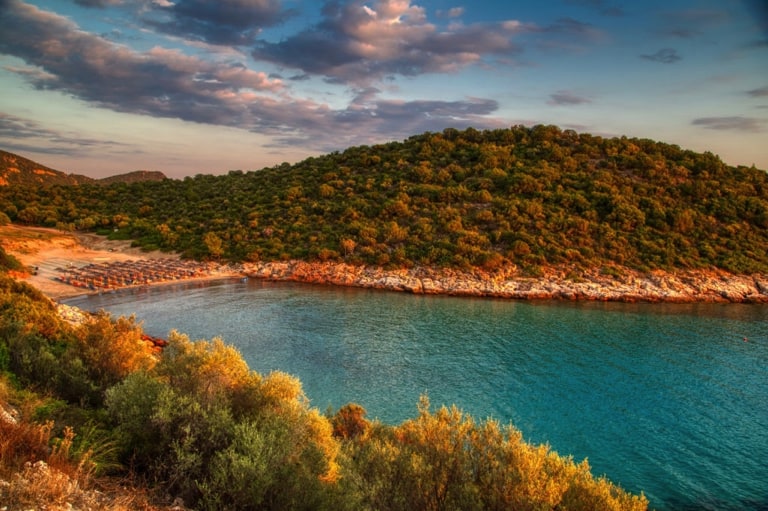 Access to Thassos
Thassos can only be reached by boat. It is connected by boat only with Keramoti and Kavala. Trips are done daily, with ships sailing almost every hour.
Thassos has no airport. As such, taking a ferry is the only way you can access the island.
Access by ports and where
Limenas and Skala Prinou are the two harbors on Thassos. Both ports are located on the island's northern shore. The port of Limenas accepts ferries from Keramoti and is located right in the city center. The port of Skala Prinou, on the other hand, accepts boats from Kavala and is also found in the city's center.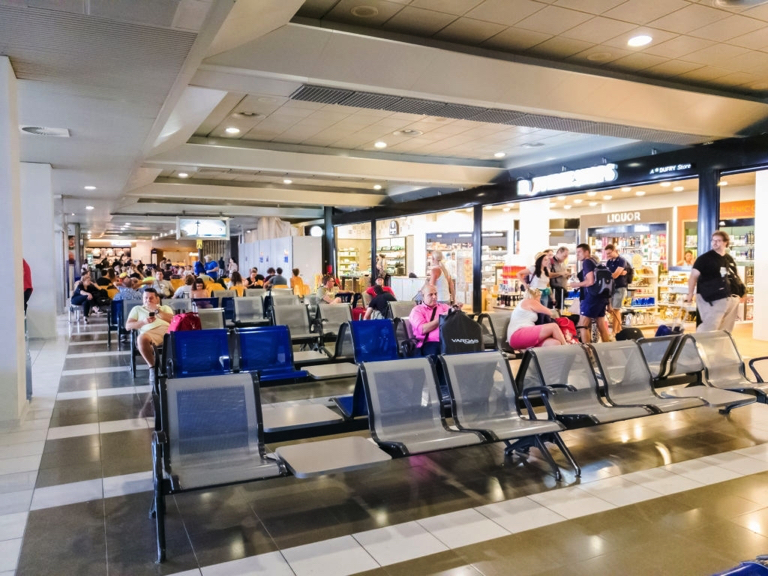 Also read: Thassos Architecture: Distinctive Features & Influences