Monastery of Archangel: The nunnery of Archangel Michael is the largest monastery in Thassos with 30 nuns living there. Annually, it attracts many visitors, especially during the peak months of July and August, when many Saints are also celebrated. Τhe monastery is located between Astris and Aliki and is built on a cliff edge providing visitors with breathtaking views of both the Aegean Sea and Mount Athos. Hire a car from our nine incredible convenient locations and visit this wonderful place!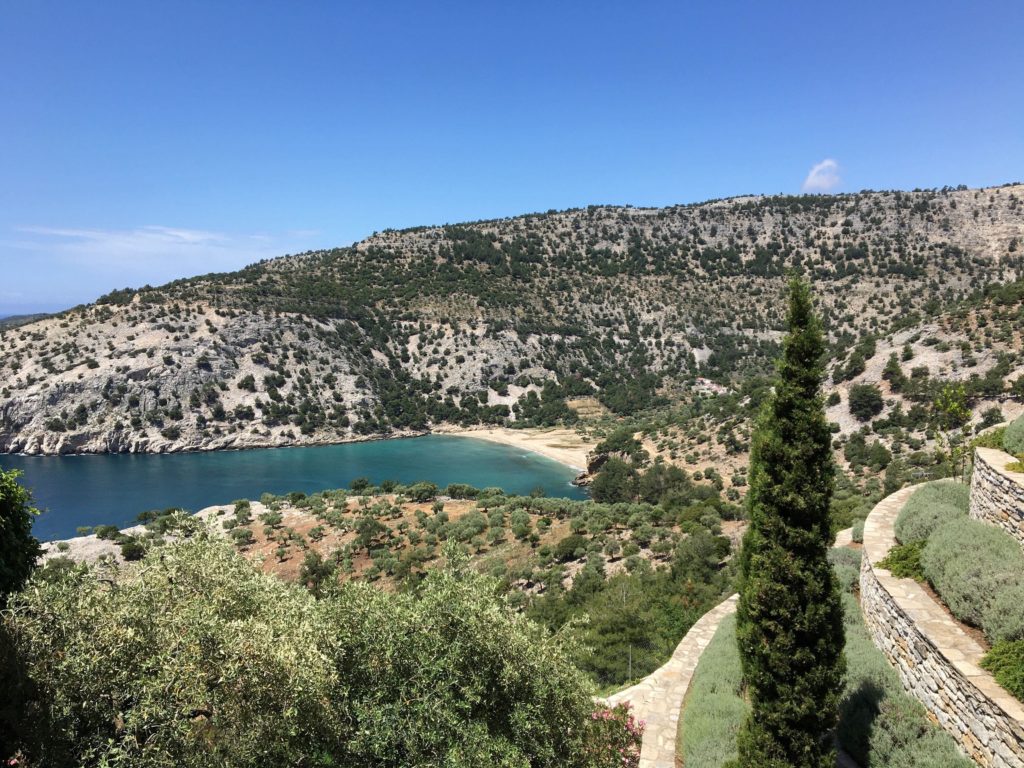 As the story goes, the ascetic Lukas, obeying the order of the Archangel Michael, built a small church in this location in 1110 AD within which there was a water source (spring) which he sanctified. According to tradition, infidel Turks once wanted to stop this spring from producing. It temporarily dried up but then miraculously the water began to flow again and gush out from within a cave near the sea under the Archangel monastery. It was known as "Agiasma".
To this day, Agiasma, the spring in the cave still exists and visitors can reach it by following a path close to the entrance of the monastery. It is a lovely walk not only for seasoned walkers and hikers but for anyone who loves nature.
▶ ALSO READ: All you need to know about Meteora – Greece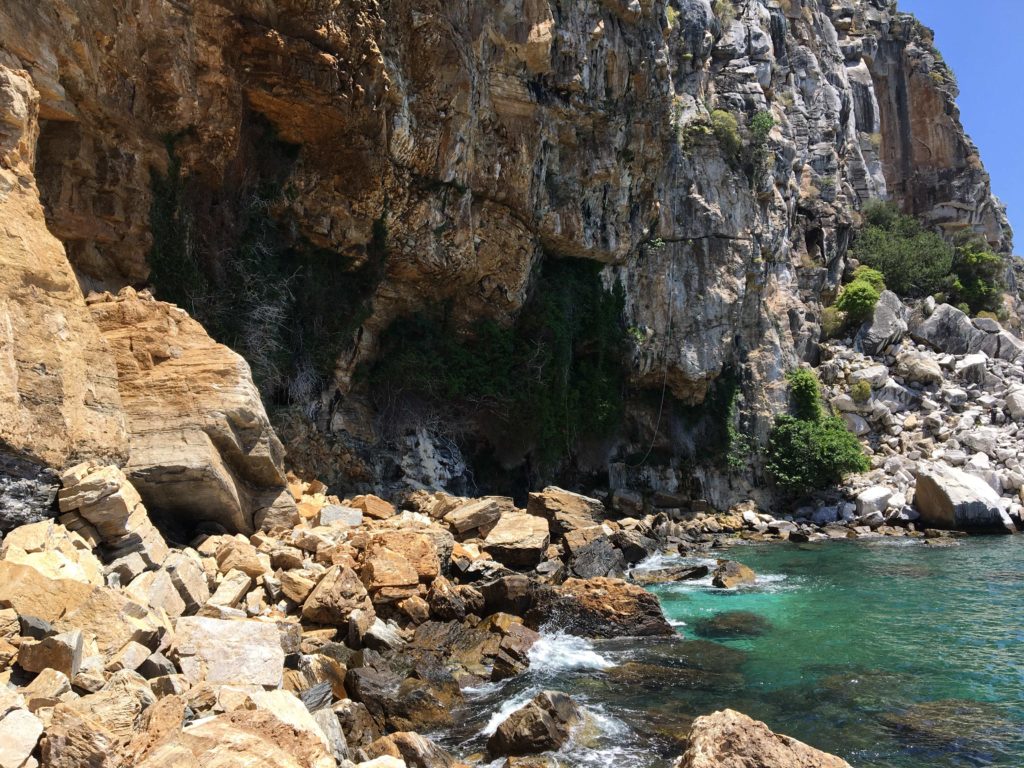 In the following post, we will detail the route down to Agiasma and inform you about the most important things you should know before setting off on this ramble!
First of all, we got all the information we needed to know about the path from a lovely nun who even showed us pictures and gave us the proper directions. So, if you are unsure about how to tackle this walk or have any questions feel free to ask the nuns. They will be happy to help you!
The path starts from the main gate of the Monastery, on the right hand side, where you will see a small door. On opening this door you will be led to the path under the monastery. On the way, there are some small marks with plastic bottles and red painted crosses on the rocks, which show you the right direction.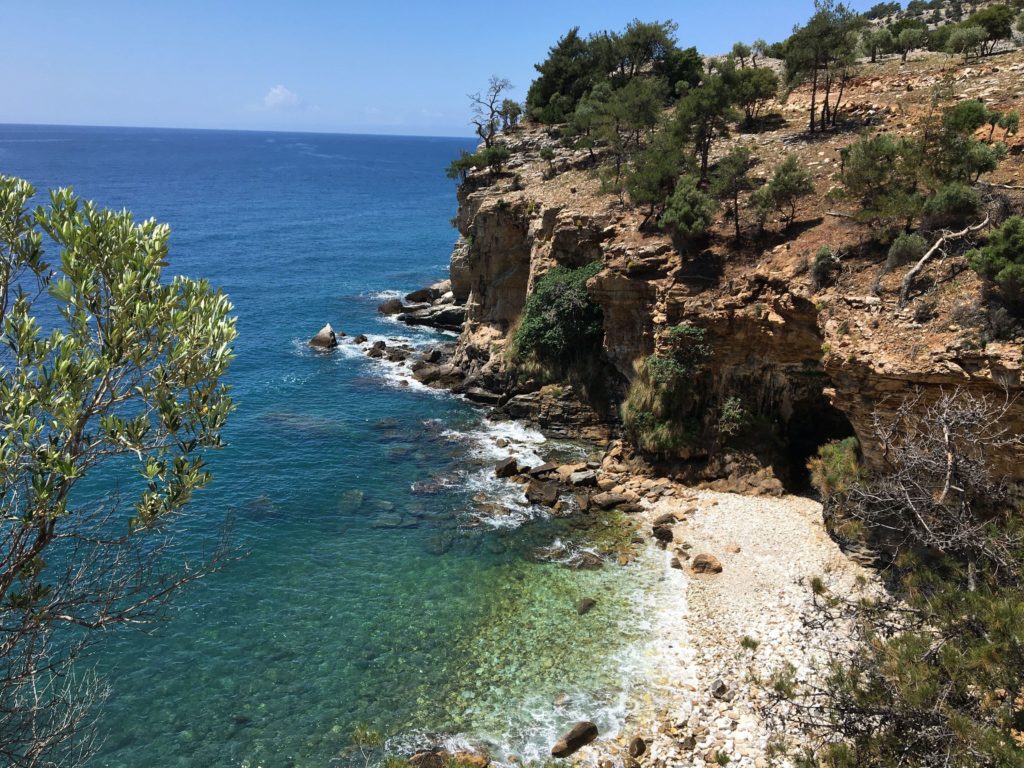 After approximately 20 minutes walking time, you will reach a small, pebble beach where you need to take a right turn. Up until this point, the path is easy. Everyone is capable of making it down to the bay below – even if it takes a bit longer than a normal stroll. However, at this point, the "difficult" part begins!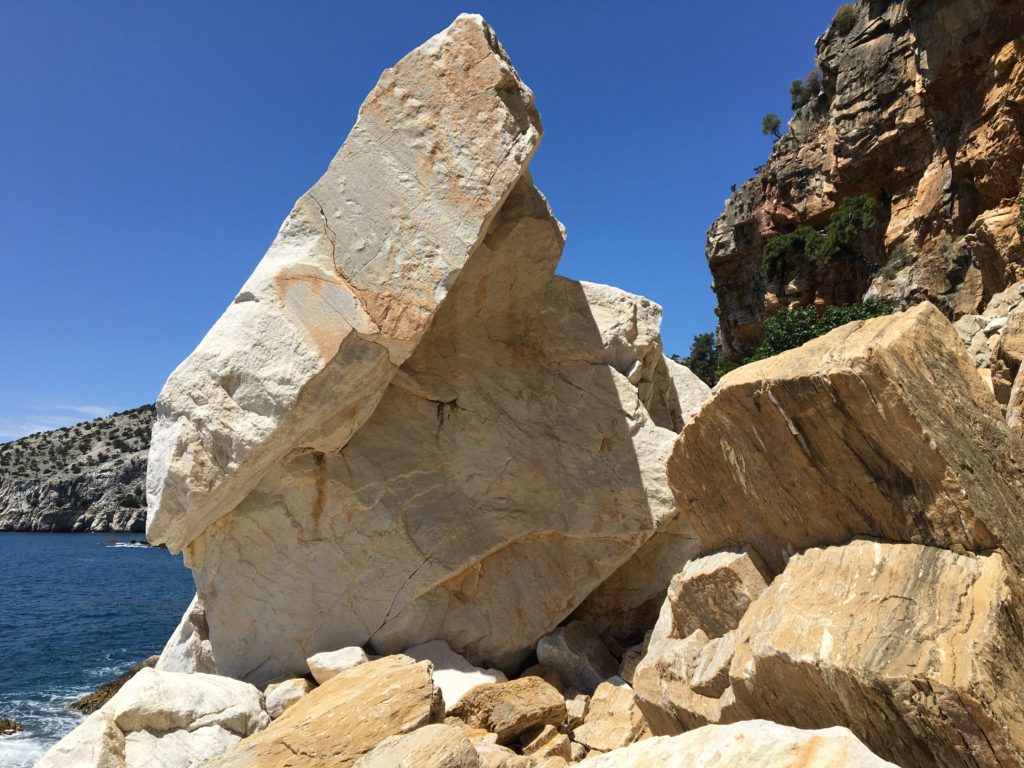 You need to tread carefully when walking over and scaling the rocks…. many rocks are slippery. Walkers will sometimes be required to climb and in some parts even jump in order to move forwards.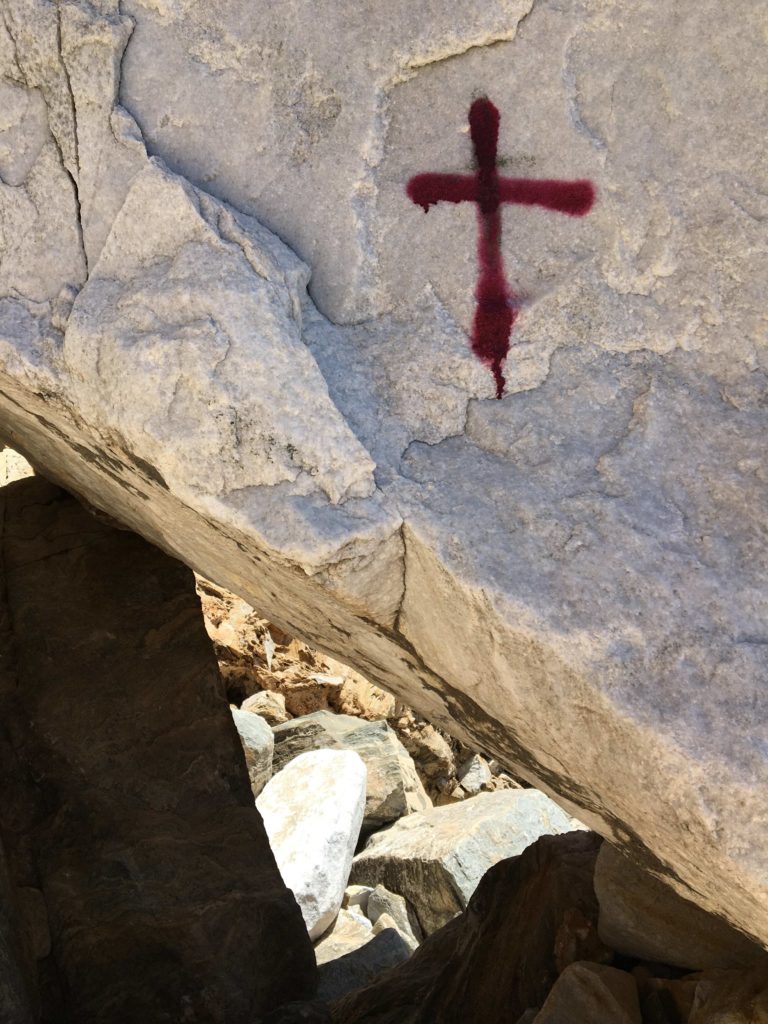 In spite of this, if you take small breaks and you are careful, you will be rewarded by reaching the spring and having spectacular views!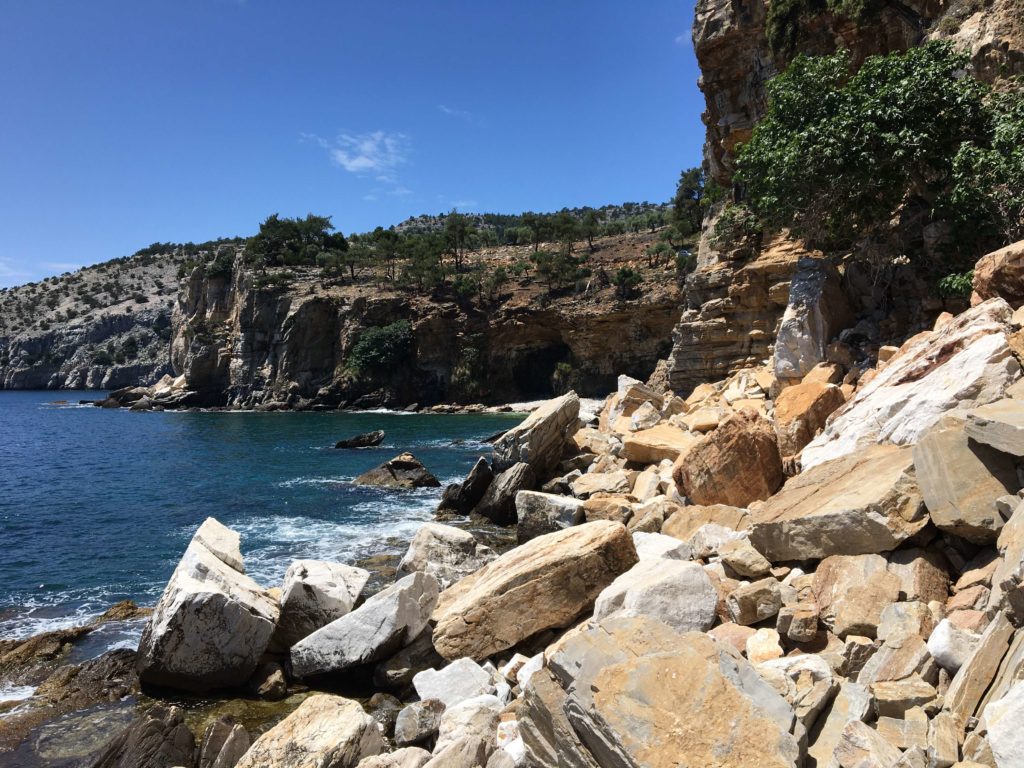 In one area, you also have to cross a small, improvised, wooden bridge where your footwear might get wet so it is advisable to have slip-resistant shoes with you.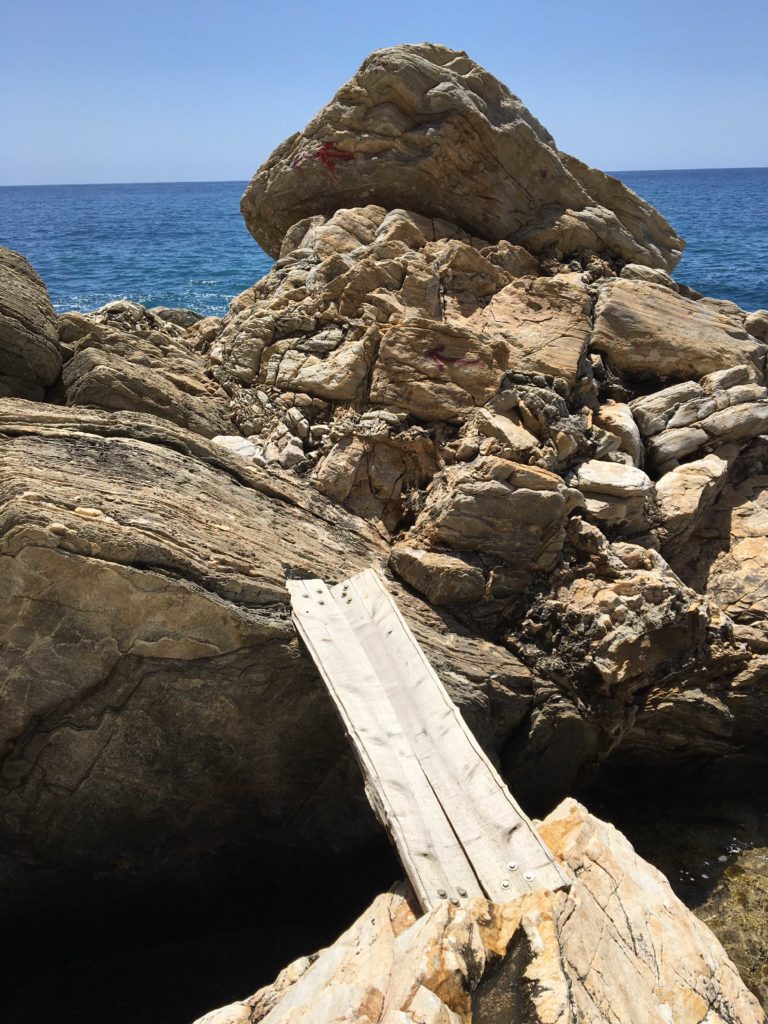 After 30 minutes of wandering amongst the rocks, you will see a small Greek flag. This is where you will find the gushing spring!
We were advised by "our" nun to take a bottle with us and fill it with the holy spring water. You are permitted to drink the water as well as to take it home with you for good luck and to promote good health. At the time when we visited the spring (at the beginning of June) the water was only trickling rather than gushing but we still managed to fill our bottle! One thing which must be stressed is that you need to climb and roll into the rock in order to reach the holy water so obviously good physical fitness and flexibility are required!
After you drink water from the holy spring and you have enjoyed the fantastic sea views, you should follow the same signs in order to find your way back to the monastery.
Monastery of Archangel – Our experience
As we started our walk from the monastery late morning (around 11:30hrs) we found that on our return, at around 14.00hrs, the sun was very strong and it was uncomfortably hot for the walk back up to where we had left our car.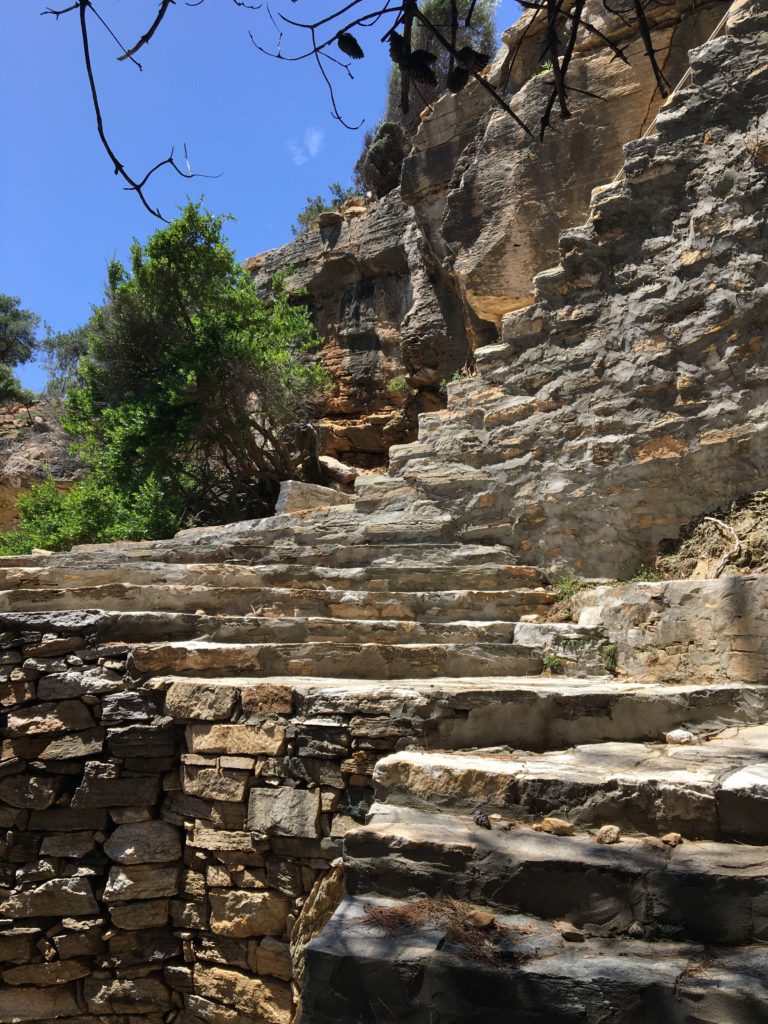 The last part of the walk was especially challenging since it was pretty steep and we were already tired. When, however, we eventually reached the monastery, we were rewarded by the breathtaking view. Our friendly nun very kindly invited us to join her table for lunch! Unfortunately, since we were already sweaty and tired, we had to decline but we thanked her politely for the invitation before setting off for home!
All in all, it was a fantastic experience and perfect work out 🙂 so we would recommend anyone who loves walking and hiking adventures to try it!
▶ ALSO READ: Potos in Thassos – Best Things You Need to Know
Tips for visiting Monastery of Archangel:
You need to be in good physical condition.
It's recommended to have sturdy, non-slip shoes as you may damage lightweight sneakers.
Take plenty of water, a hat, suntan lotion and sunglasses with you.
Start as early as possible in the morning, it took us 2 hours to reach Agiasma and then return to the monastery.
Stop and enjoy the views and take as many beautiful pictures as possible!
We hope we have persuaded you to visit Agiasma! Don't forget to tag us so that we can see your beautiful holiday memories!
Stay active and enjoy your holidays in Thassos!
Potos Car Rentals Team