Top 5 beaches in Thassos: There is no doubt that Thassos has some of the most beautiful and clean beaches in the Aegean Sea! Whether you are looking for sandy exotic beaches or rocky coves for snorkeling and diving to get a glimpse of the fascinating marine life on offer, Thassos has something for everyone! Small or large, organized or secluded, sandy or pebbles, the beaches of Thassos make for a perfect long day under the Greek sun. We have selected 5 beaches which we love, of course there are dozens of others!
Which are the Top 5 beaches in Thassos?
Does Thassos have sandy beaches?
Golden Beach
Paradise Beach
Aliki
Psili Ammos
Notos
Read on to see why…….
Golden Beach
Golden Beach is located about 12km south east from Limenas (Thassos Town). As it is named, so it is! This amazing beach has golden/white soft sand which stretches for nearly 3 km's all the way to Skala Potamia. The sea is crystal clear and shallow with no currents making it ideal and safe for families with small children. The whole bay is overlooked by the Ipsarion mountain range, with the highest mountain, Ipsarion 1209 m., forming the centrepiece.
Parts of the beach are organised with sunbeds and umbrellas, there are also a huge selection of bars, taverns and cafes to choose from. For those who are looking for adventure and activity there are watersports and beach volleyball. Parking is plentiful throughout the summer.
Insider tip: Choose a place in the middle of Golden Beach. The beach is at it's widest there and you will always find a sunbed and umbrella or a space to put your own umbrella. Many of the cafes and bars offer free sun loungers and umbrellas if you use their services.
Paradise Beach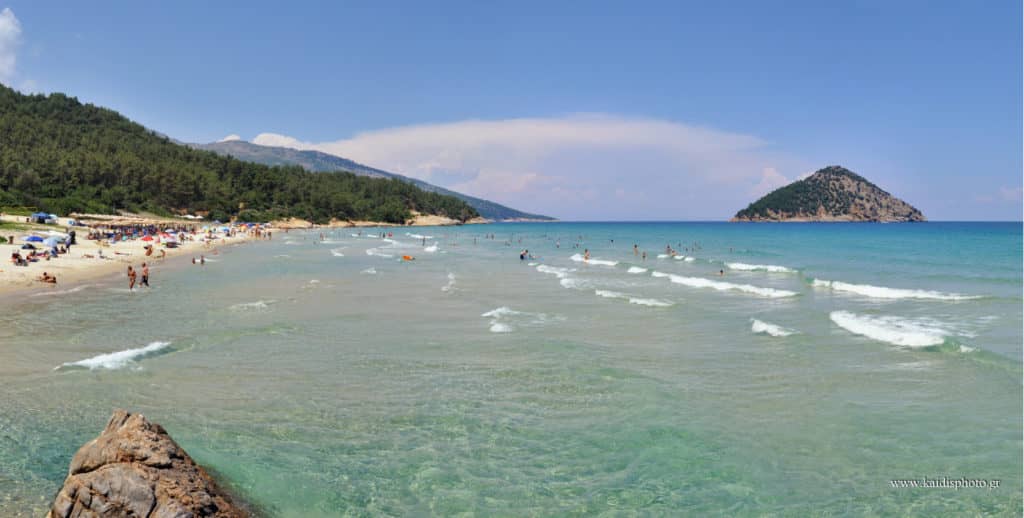 Paradise Beach which is about 20 km south east of Limenas (Thassos Town), past Golden beach and very close to Kinira. This amazing place is like a tropical island beach! It is perhaps one of the most beautiful beaches of the island, with beautiful turquoise water, soft white sand looking over to the private Kinira island.
It is also ideal for families with kids, it often has small waves which makes for great fun for the whole family! Paradise Beach has a couple of bars and taverns serving everything from coffee, drinks and snacks to full traditional meals. Sunbeds are readily available.
Insider tip: The road down to Paradise Beach is not asphalt if you have a Potos rental car (jeeps excluded!), you must park the car off the main road and walk (approximately 10 minute walk) down the unmade road to the beach. There are 2 roads down, the first (signposted) road coming from the north is the shortest and easiest route down.
Aliki Beach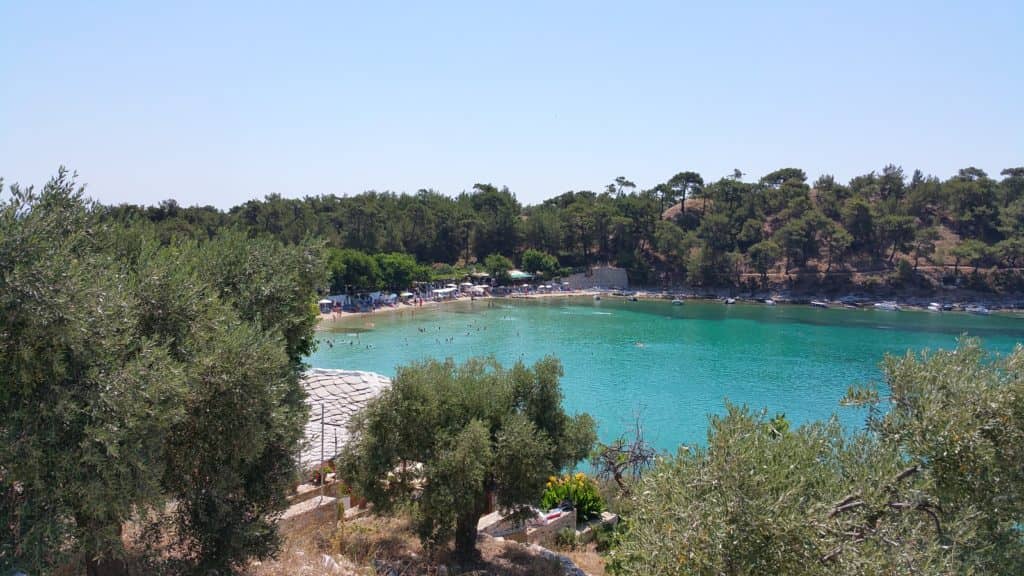 Aliki is about 32km from the capital, it is a magical place not to be missed while you are on Thassos. It has 2 beaches, one is organised with sunbeds, umbrellas, seaside taverns – many serving delicious local fish and a fascinating archaeological site!
The beach is relatively small and can get crowded, nevertheless Aliki attracts many visitors who come by land and sea with sailing boats, all come to enjoy the clean emerald sea surrounded by nature and of course the archaeological ruins. For those who love snorkeling, it is definitely a place to be! If you visit Aliki during high season it will be crowded, however it is worth a stop to see the ruins and maybe have a drink while taking in the astounding surroundings!
Insider tip: Parking can be difficult as it is also a place where the coach tours stop. Get there early in the morning to make sure you don't have to park too far away!

Psili Ammos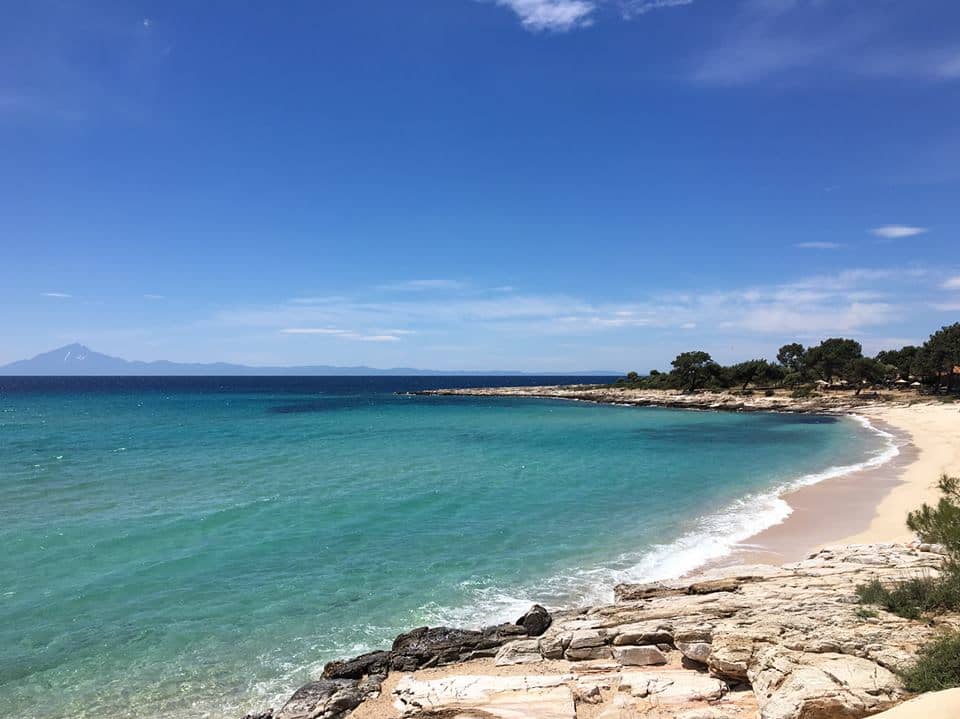 Psili Ammos is about 40 km from Limenas, the capital. This beach is close to Astris and 5 km's from Potos and because it is literally on the road is one of the most popular beaches. It has various sea sport facilities – including scuba diving, sun beds and umbrellas, fine sand (that is how psili ammos translates to English) and clear waters.
There are some beach bars which are very popular with teenagers and young people, during August it has a reputation as a 'party beach'! Despite this there are other cafes bars nestled in the pine trees at the end of the beach where those wanting peace and quiet can relax in the deep shade of the pines. A major plus point is that there is ample free parking within a few meters of the beach.
Insider tip: If the beach is crowded the smooth rocks at each end of the beach are excellent places for sunbathing and swimming.
Notos Beach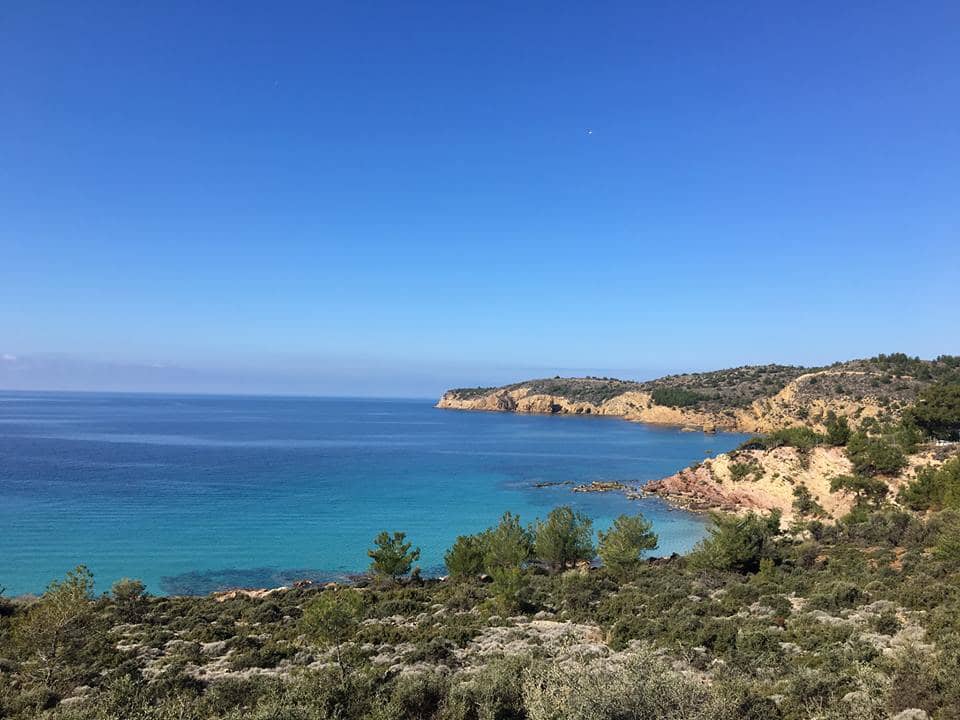 ▪ Notos (South beach) is about 42 km's from Limenas. It is a small beach which makes up for it's size with it's spectacular setting, far away from noisy bars and crowds. It has a few sunbeds and umbrellas, Notos beach has soft fine sand and crystal clear water. The sea here is always a little cool which is a relief during the sweltering months of July and August!
Please note that path down is a bit steep but not too long, it will take you a maximum of 5 minutes to walk down. Unfortunately parking is limited, so to avoid a longer walk, get there early! Also please be careful how and where you park, make sure your car is well off the main road and that you are not parked on the (blind) bend.
Insider tip: As there is no beach bar, make sure you take with you some refreshments and snacks!
These are our top 5 beaches for Thassos which we assure you will stick in your memory, all are unforgettable!
Which are your favorite beaches on Thassos? Comment below!
Thank you for reading!
Also read: Nudist beaches in Thassos