Traveling to a new destination without being prepared for the weather may not be such a smart move. Like most other places, the weather in Thassos varies greatly throughout the entire year, which can affect your vacation. In this article, we have gone over everything you need to know about the weather in Thassos so that you don't regret visiting this great Greek island!
Climate In Thassos
The beautiful Greek Island Thassos is located in the North Aegean Sea. It has a very pleasant and sunny climate, and because of its position in the northeast of Greece, it has a warmer climate than other Greek Islands. Make sure you check the weather forecast before you visit so that you know what is in store for you, giving you the chance to plan accordingly.
How Is The Weather In Summer
From June to August, the summer months in Thassos are hot, sunny, and dry. In July and August, the highest temperatures often range around 28 °C, although there are also hotter spells when they reach up to 36 °C. Luckily, there are sea breezes that make it slightly pleasant.
How Is The Weather In Spring
The spring months of mid-March to May are generally moderate, although there are a few chilly, windy, and wet spells that gradually decrease in frequency.
How Is The Weather In Winter
Winters in Thassos, which last from December to mid-March, are typically very cold and wet, with the wind making it feel even colder. Additionally, snowfall is also common, and during particularly harsh cold spells, daytime temperatures might stay around freezing levels. Additionally, Thassos experiences mild and wet rainfalls in winter as well. There are pleasant days, nevertheless, with highs of 13 to 15 °C.
How Is The Weather In Autumn
Autumn, which lasts from September through November, starts off moderate and then gradually gets colder. Although there are still full weeks without rain in September, the rains progressively become more regular. The first days that are a little chilly and windy start to occur in November and occasionally even in October.
Temperatures In Thassos
Temperatures in Thassos vary greatly throughout the year, with the average annual temperature being around 14 °C. While the average annual high temperature of the island is around 18 °C, the average annual low temperature is around 9.5 °C. The average water temperature in the warmest months is roughly 26.1 °C in August, while in the colder months, it can go down to 11 °C.
Average Temperatures In Winter
The average temperatures throughout the winter in Thassos, which lasts from December to mid-March, are typically about 8 or 9 °C.
Average Temperatures In Summer
The summer months of June through August have the hottest temperatures in Thassos when the average temperature is around 24°C.
Is It Windy In Thassos?
Although there may be the occasional day when it is particularly windy, Thassos does not get as much wind as other regions of Greece. Because it is sheltered by mainland Greece, it is usually safe from the prevailing winds.
Weather In Thassos By Month
The weather in Thassos is different every month, and anyone who plans to visit this place must make preparations accordingly. Here is a month-by-month description of how the weather is in Thassos around the year.
Weather In Thassos In January
The coldest temperatures of the year are experienced at Thassos in January. While it's not the best time to tan flawlessly, it's perfect if you're planning a busy vacation that includes lots of day trips, check the historical sights, and shopping. In January, the days are nine hours long, and the nights are longer than in the summer. The nighttime temperature ranges from just 1°C to 7°C. Around 71% of the air is humid, and winds are blowing at 8 mph. There are heavy rains of 43mm distributed throughout the month, typically falling on nine days.
Weather In Thassos In February
Although February in Thassos is a little bit milder than earlier months, it's still quite chilly and certainly not the greatest season for a beach vacation. In Thassos, the average temperature in February is 9°C, which is a little higher than that of January. Each day will have at least ten hours of beautiful sunshine, and as winter comes to an end, the days will become even longer. There is 73% relative humidity and winds as fast as 11 mph.
Weather In Thassos In March
The weather in Thassos in March is fairly cold, but you'll still be able to enjoy a lot of sunshine while you're there, and there's a chance that it'll turn warmer near the end of the month. The average temperature for March is 13°C, which is significantly warmer than the previous months but is still not too hot yet. This month has 73% humidity on average and 9 mph winds in the direction of the coast. There is about 12 hours of  daylight per day so  there is plenty of time to move about the island and take fun day trips to explore it. It rains 57mm on average every month, falling on 11 days.
Weather In Thassos In April
The month of April in Thassos is generally moderate, with a few scattered wet days. Temperatures range from 8°C at night to 18°C during the hottest parts of the day. Humidity levels of 73% are maintained by breezes that can reach 8 mph. Over the course of 12 days in the month, there is an average of 54mm of rain. There is a possibility that you will experience a few rain showers while you are there, but you shouldn't be concerned because they are normally brief and mild. This is probably not a good time for a swim since although temperatures are rising, the water remains cold this month.
Weather In Thassos In May
The island's flowery and fragrant spring season ends in May; thus, temperatures are pleasant and gradually get higher with every passing day. Even though this month is supposed to have some rain, showers are typically brief, so your trip shouldn't be significantly impacted by the rain since there are many sunny days. At this time of year, Thassos has pleasant 17°C temperatures on average, with highs of 21°C typically occurring in the afternoons. Although showers are often brief and sharp, this month normally has around 50mm of rain, so it's likely that you'll have some rainy weather. When it becomes dark, the temperature drops to a low of 13°C, so bring additional clothing for evenings spent out at the neighbourhood pubs and restaurants.
Weather In Thassos In June
Thassos' summer truly begins in June, so you can anticipate plenty of warm, sunny days combined with the occasional rain. However, most wet weather is temporary and shouldn't interfere with your vacation. In Thassos, the month of June has an average temperature of 22°C with afternoon highs of 26°C. If you're going at this time, you might want to carry a lot of sun protection because these sunny days are perfect for spending the day at the beach. Over the course of around 11 days, there is about 40mm of rain, while the sea is at a pleasant 22°C during this month.
Weather In Thassos In July
The month of July is one of the warmest in Thassos, with the highest temperatures recorded during this time. In the warmest part of the day, the temperature rises to a high of 28°C from the normal 24°C. Although there are a few showers this month, there will be an incredible 13 hours of sunlight per day, making this a popular time to travel. The weather is ideal for taking wonderful boat trips, swimming in the warm water, and resting on the nearby beaches.
After dusk in July, the average low temperature drops to 19°C, which is just warm enough to spend lengthy evenings dining out or enjoying a few drinks on an outdoor deck. The Aegean Sea is a wonderful 24°C if you wish to have a swim.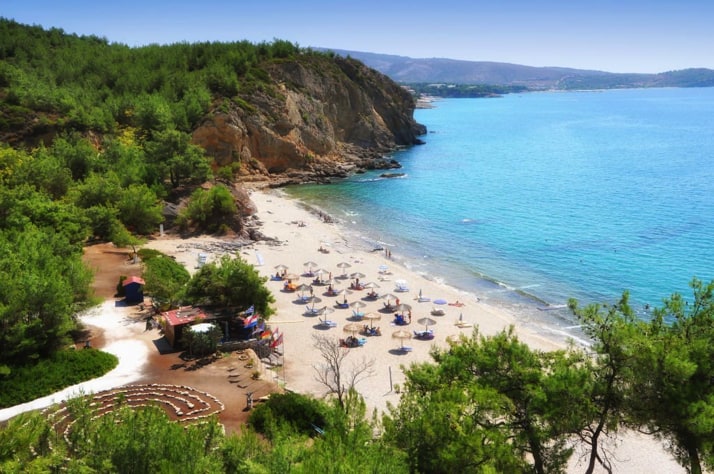 Weather In Thassos In August
The warmest month of the year is August when temperatures are typically high, and there is a lot of Mediterranean sunlight. If you want to experience Thassos' lovely beaches and pleasant weather before winter sets in, this is the perfect month to visit.
August in Thassos is a very lovely month, with highs in the daytime of up to 31°C. There are 13 hours of beautiful sunshine each day, and there is just 31mm of rain. If you want to cool down from the heat, you may have a relaxing dip in the water that has a high water temperature, which is about 25°C in August.
Weather In Thassos In September
After the summer months, Thassos is still sunny and warm in September, making this a nice time of year to travel there to enjoy the island's beaches and avoid the crowds of the busy tourist season. At this time of year, Thassos is beautiful in its own way and has an average temperature of 19°C, with afternoon highs of 24°C. For evenings out, you need to carry sweaters and a jacket because the low temperature reaches 14°C. Approximately 35mm of rain is forecast for September, but with just seven days projected to see showers, it's rare for the rain to ruin your vacation. If you wish to go swimming, the Aegean Sea is a pleasant 23°C this month.
Weather In Thassos In October
The weather in Thassos in October is absolutely lovely, and even though it's not as hot as it is in the summer, there are still lots of things to see and do while you're there. The average temperature in October is 20°C, making it the perfect time of year to fully explore the island and enjoy a day of sightseeing, shopping, and beach sunbathing. Enjoy a challenging hike up the mountainside while you explore the region's lovely vineyards. If you'd rather have a more laid-back vacation, travel inland to enjoy the regional food before taking a long stroll down the seafront.
Weather In Thassos In November
The island of Thassos has colder weather in November than it does in the summer, but it's still a good time to visit since it's less crowded and has a more authentically Greek feel. You may take advantage of the island's fantastic cuisine, rich culture, and festivities. When visiting Thassos in November, you can expect daytime highs of up to 13°C. Things get colder at night when the temperature drops to 6°C. You can also expect nine hours of lovely sunshine and 92 mm of rain each day.
Weather In Thassos In December
The weather in Thassos becomes colder, and it is more likely to rain as winter approaches. Given the chilly weather, exploring and shopping in town centers would be a better option than relaxing on the beach. December in Thassos may be quite chilly, with lows of just 2°C and highs of 7°C. Each day has nine hours of sunlight and a humidity level of 70%. It's probably not a smart idea to travel in December if you are trying to avoid getting wet while there since this month experiences very heavy rains.
Frequently Asked Questions About The Weather In Thassos
It is alright to feel overwhelmed by questions you may have about visiting this island. Rest assured, we have answered the FAQs about Thassos island for you.
What Is The Best Month To Go To Thassos?
The best months to visit Thassos are either June or September.
What Is The Hottest Month In Thassos?
The hottest months in Thassos are July and August, when the temperatures go as high as 31 °C.
What Is The Coldest Month In Thassos?
The coldest month in Thassos is January, when the temperature goes as low as 4.8 °C.
Does It Ever Snow In Thassos?
Thassos experience very mild winters when compared to other Greek islands. Although snowfall is not as common as in other places in Greece, the island does experience snow in winter.
Also read: Thassos Architecture: Distinctive Features & Influences