Sithonia is a peninsula in northern Greece that is blessed with breathtaking natural beauty. It lies between the Kassandra and Athos peninsulas forming the middle leg of the Halkidiki region. It has a diverse landscape, from forests to mountains, making it an attractive destination for travellers. Moreover, the beaches of Sithonia are known for their natural beauty, filled with golden sands and crystal-clear waters that draw visitors to swim, snorkel, and relax in the sunshine. Beaches in Sithonia are one of the major highlights. There are 11 beaches that stand out for their unique appeal. Starting with Porto Koufo, the largest natural harbour in Greece, is perfect for quiet relaxation. Trani Ammouda impresses visitors with its long stretch of golden sand and crystal-clear waters. Then, beaches like Karidi, Kalogria, and Elia each bring a unique mix of turquoise waters, golden sands, and scenic beauty that feels almost untouched. Armenistis and Platanitsi, two of the larger beaches, are well-organised and offer many amenities. Finally, Klimataria, Kriaritsi, and Tigania are some of the less explored gems offering calm natural beauty.
Renting a car to explore these best beaches in Sithonia is a great choice. It allows freedom of movement and the convenience to travel at one's own pace. Several car rental services are available that offer a range of vehicles to suit different needs. Whether one is looking for a compact car for a small group or a larger vehicle for a family, these services cater to all requirements. It's advisable to book a car in advance, particularly during peak travel season, to ensure availability. By choosing to explore Sithonia and its beautiful beaches by car, the journey becomes an adventure, full of breathtaking views and memorable experiences.
Listed below are the best beaches in Sithonia:
Kalogria Beach: Kalogria Beach is a popular sandy beach known for its clear waters and natural surroundings. The beach is surrounded by lush pine trees that provide shade and a sense of relaxation. Kalogria Beach is well-equipped with sunbeds, umbrellas, and beach bars, making it a convenient spot. The shallow waters make it suitable for families with children, while water sports lovers can engage in activities like snorkelling.
Vourvourou Beach: Vourvourou Beach is a hidden gem on the eastern side of Sithonia. It is a remote beach with a natural setting with rocky formations, green-blue waters, and a peaceful atmosphere. Vourvourou Beach is less developed than other popular beaches, so visitors should bring their supplies.
Kalamitsi Beach: Kalamitsi Beach is a sandy beach known for its crystal-clear waters and impressive underwater landscape. It is a place for snorkelers and divers, with abundant marine life and lively coral reefs to explore. Kalamitsi Beach is surrounded by rich vegetation, creating a homely atmosphere.
1. Kalogria Beach
Kalogria Beach is a beautiful destination in Greece, named after the Greek word for "a nun." It has gained popularity for its extraordinary beauty and romantic sunsets that attract romance seekers and creative individuals. The beach caters to a diverse range of visitors, with a section suitable for families due to its gentle entry into the water and absence of strong waves. The beach offers a diverse terrain, with most of the coast covered in fine, clean sand. Kalogria Beach is also dotted with tall emerald pines, providing shade for sunbeds and adding to the beauty of the coastline.
Kalogria Beach offers several beach bars with sun loungers, umbrellas, showers, and toilets. The central part of the coast is occupied by Mango Beach bar, known for its modern dance music and a menu offering food and beverages. For those seeking adventure, renting a catamaran or boat allows for exploration of the lagoon near Kalogria Beach. Snorkelling experts will be delighted by the clear waters of the Toroneos Gulf, offering a glimpse into the beautiful underwater world. To reach Kalogria Beach, one must travel approximately 7 kilometres from Nikiti, following the road towards Neos Marmaras and turning right at the sign indicating the way to Kalogria. The beach is easily accessible, with parking available along the route, although arriving in the morning is recommended during high season to secure a parking spot.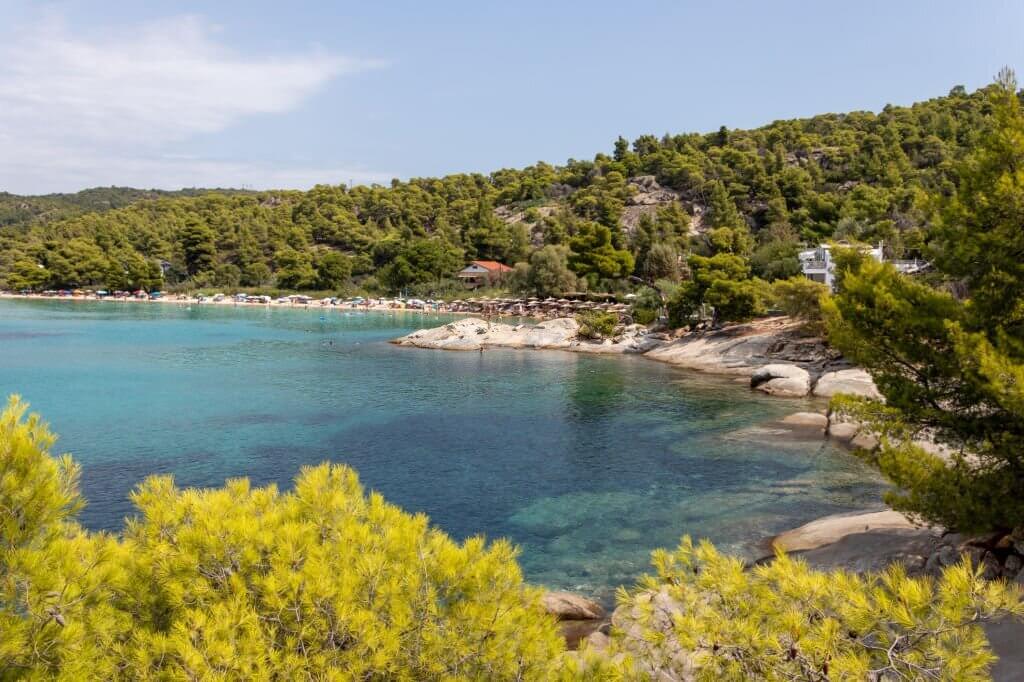 2. Vourvourou Beach
Vourvourou Beach is located on the eastern side of the Sithonia peninsula in Halkidiki. It is a small sandy beach between Ormos Panagia and Sarti villages. The beach is characterised by tiny rock islands, sea caves, and enchanting coniferous forests, which create a natural setting. It is a popular destination for water sports, where visitors can rent surfboards, water bikes, and sailboats from the sports centre located on the beach. Additionally, boat rides to Diaporos, the largest island in the bay of Vourvourou, allow tourists to explore the island's golden sandy coves.
Near Vourvourou Beach is a fishing village where visitors can enjoy fresh fish at the local taverns. The nearby Mount Itamos offers fantastic walking trails and panoramic views of the Vourvourou Bay, allowing nature lovers to immerse themselves in the beauty of the surroundings. Visitors will find a beach bar, mini-market, and restaurant within walking distance from the beach, ensuring convenience and provisions for a day by the sea. Vourvourou Beach is accessible by car, and parking options are available along the street.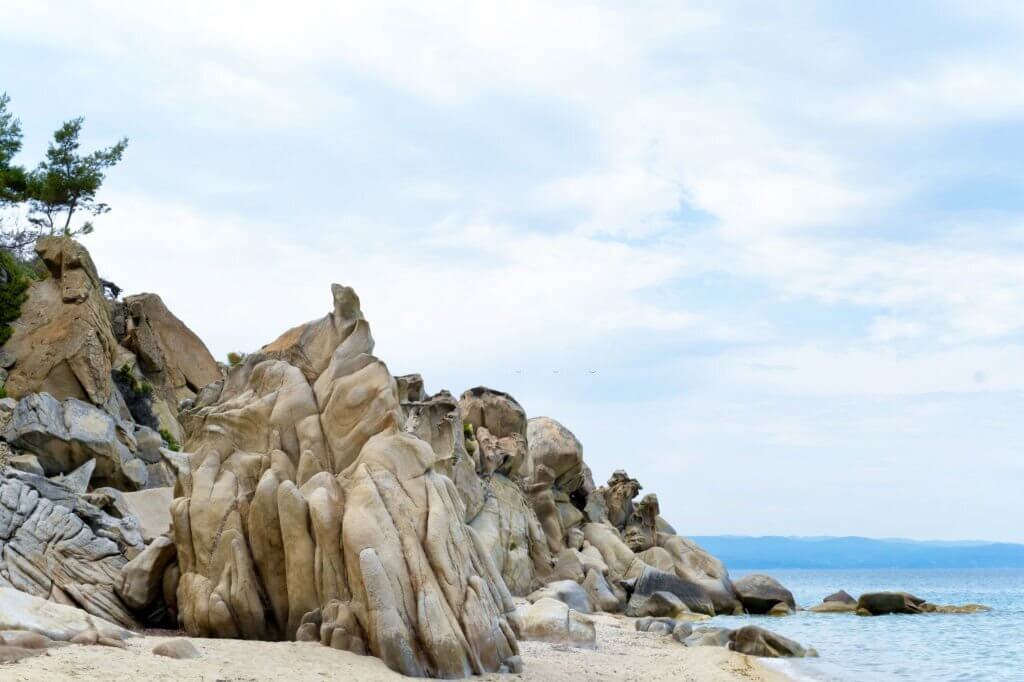 3. Kalamitsi Beach
Kalamitsi Beach is a must-visit destination known for its semi-circle shape and finest sand. The beach is adored for its beautiful waters, which can be enjoyed with owned beach accessories or by renting a chair, sunbed, and umbrella from the nearby beach bar, which is covered by ordering something from the bar. Kalamitsi Beach features deep waters that gradually increase in depth, making it suitable for all ages. The beach is also kid-friendly, with a lifeguard on watch to ensure safety. An organised parking space is available, but in case it fills up, street parking is also an option. The beach is easily accessible by car, and various amenities are offered, including a beach volleyball court and water sports facilities, adding to the recreational options available.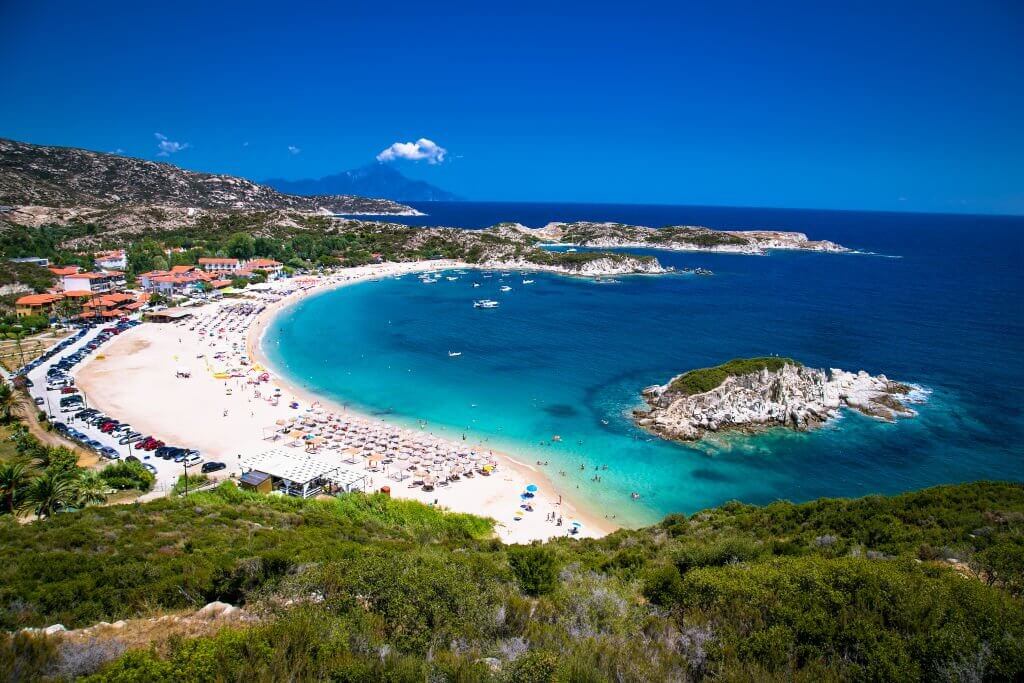 4. Armenistis Beach
Armenistis Beach is widely regarded as one of the most magnificent beaches in Sithonia and throughout Greece. The beach unfolds as an open bay with white sand and lively blue waters, offering a picture-perfect setting. Recognised with a prestigious Blue Flag award, Armenistis Beach features moderate-depth waters and pleasant temperatures. The presence of a lifeguard and the absence of strong waves make it an ideal choice for families with children.
Despite its popularity, Armenistis Beach's considerable length ensures that it always feels well-spent, accommodating the needs of every visitor. It seamlessly combines natural beauty with numerous amenities, including beach bars, restaurants, restrooms, and a convenient mini-market within walking distance to cater to additional needs. The beach features designated areas with sunbeds and umbrellas, which are typically complimentary for visitors of the beach bars. Moreover, Armenistis Beach's expansive length makes it possible to find less crowded spots.
Travelling to Armenistis Beach is straightforward, and a free parking area is available along the street. Campers highly favour the location, as the beach offers excellent camping opportunities amidst the natural landscape. Additionally, Armenistis Beach ensures accessibility for people with disabilities, as they can pass through the nearby camping site to reach the beach.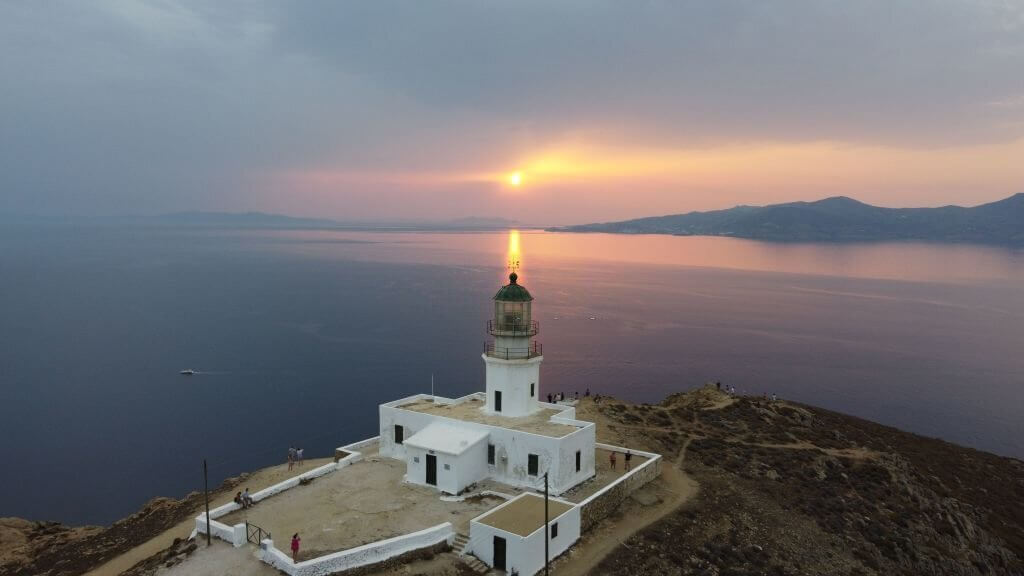 5. Koviou Beach
Koviou Beach is located in Sithonia and is one of the top beaches in the area, with an uncrowded environment. Koviou Beach features soft sandy shores and clear waters with the unique characteristic of blue-tinted pebbles, giving the coast a bluish colour. The beach has been awarded a blue flag, indicating its untouched landscape and high water quality. Koviou Beach has no amenities, so visitors should come prepared with their supplies. However, there is a hotel located right on the beach that provides sunbeds for its guests. The beach is suitable for families as it offers shallow waters, allowing children to play and have fun safely. Koviou Beach is convenient by car, and parking is available along the street. Visitors can follow the concrete path directly to the beach, ensuring easy access.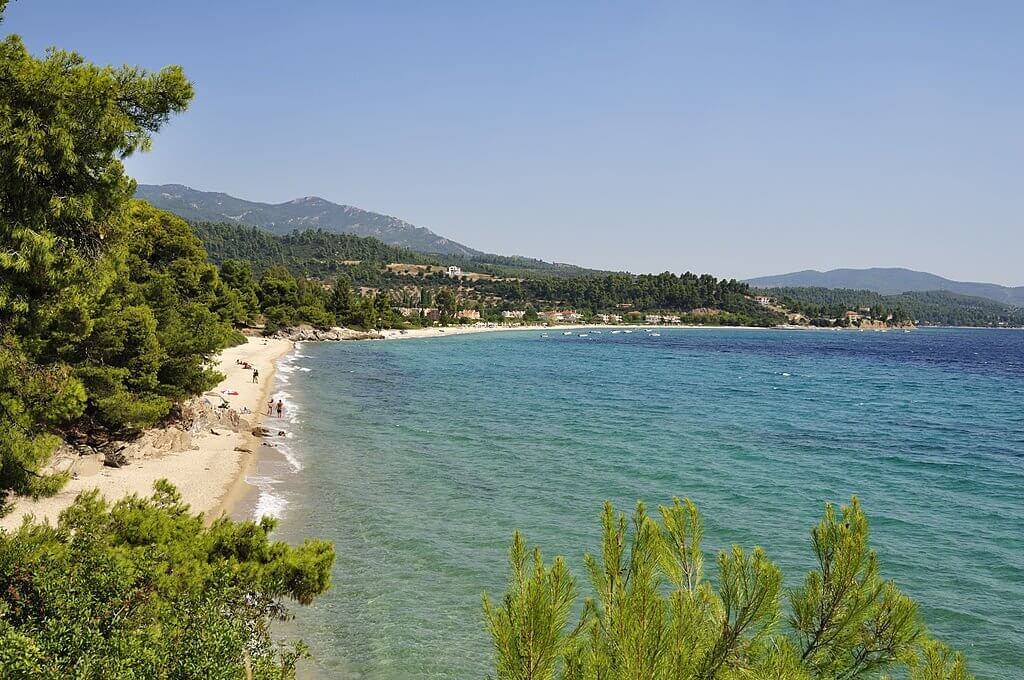 6. Paradisos Beach
Paradisos Beach is in Neos Marmaras, which is well-organised and narrow, with a range of accommodation options of hotels and apartment resorts lining the seaside. The beach provides enough choices of bars and restaurants, allowing visitors to select their preferred spot to relax on the arranged sunbeds and parasols. Most Paradisos Beach is sandy, although small pebbles are onshore and at the seabed. The waters are not deep, and a lifeguard ensures the safety of swimmers, making it a suitable beach for families with children. There is also a mini-market within walking distance, allowing visitors to access necessary needs. For those arriving by car, it is recommended to park in the village and then proceed to the beach on foot.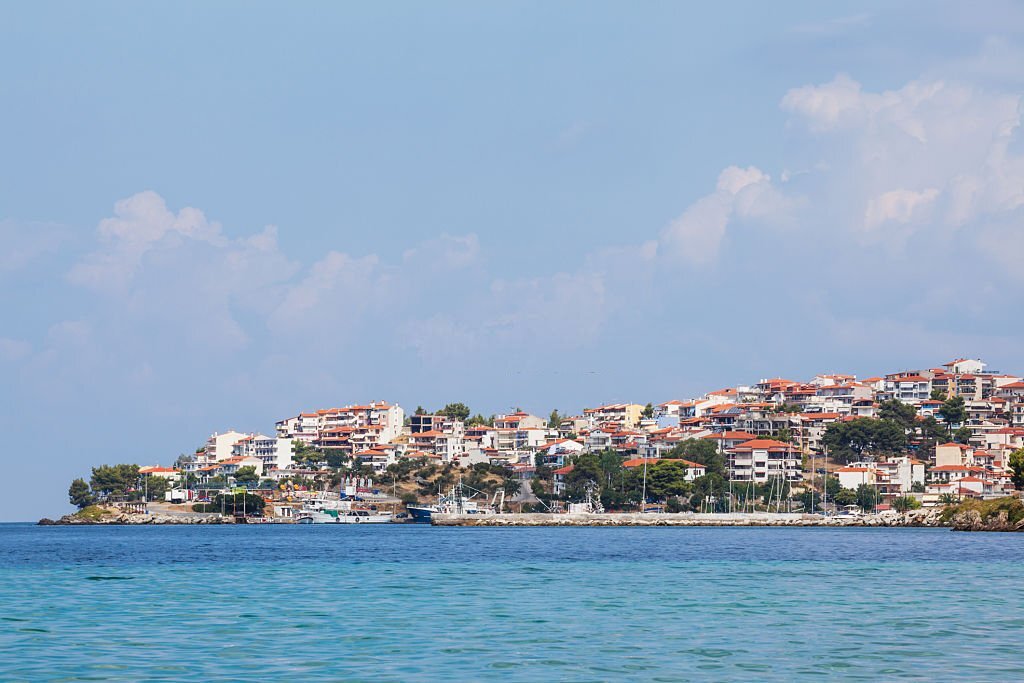 7. Porto Koufo
Porto Koufo is a known enclosed bay in Sithonia that resembles a lake from an aerial perspective. It is one of Greece's largest natural harbours, with a narrow, circular, sandy coastline. The bay is nestled between rocky hills, where secret caves are waiting to be explored. Due to its enclosed nature, Porto Koufo experiences minimal waves, having a calm environment. While the waters are relatively deep for a beach with lagoon-like characteristics, it remains suitable for children. Many campers are drawn to this destination, appreciating the wonders of nature and being captivated by the breathtaking sunsets, known to be among the best in Halkidiki. Porto Koufo lacks sunbeds, parasols, and beach bars. However, visitors can find a traditional Greek tavern offering local cuisine within walking distance with a nearby mini-market catering to basic needs. Car access to the beach is possible, and parking is available in the village above the beach.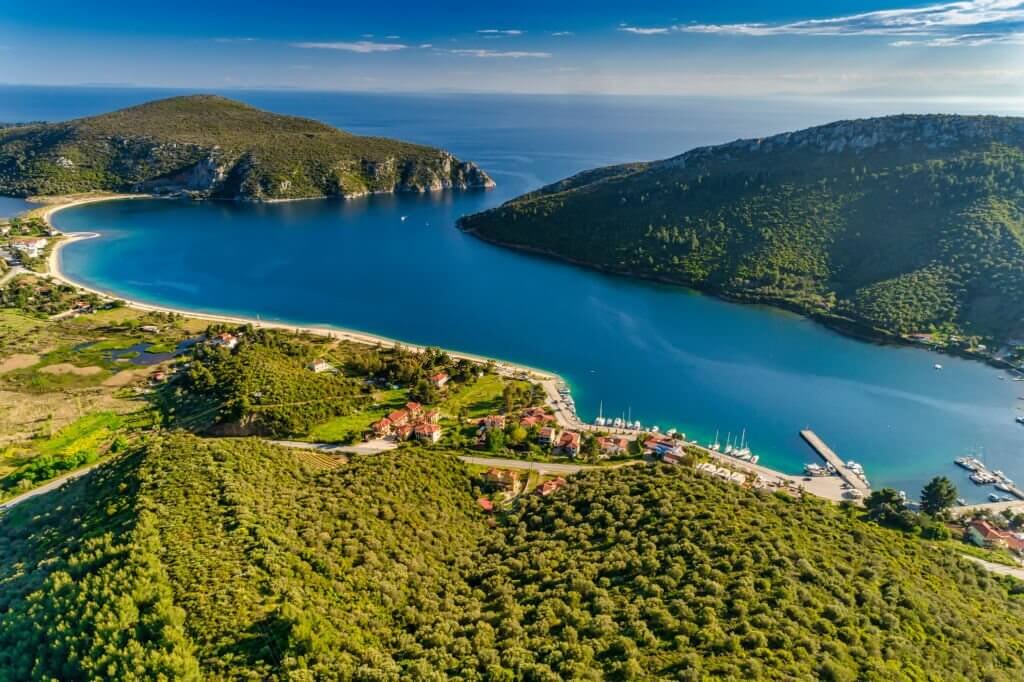 8. Nikiti Beach
Nikiti Beach lies at the beginning of the Sithonia peninsula. It is a captivating seaside destination located just 100 km outside of Thessaloniki. Nikiti Beach primarily consists of soft sand onshore and beneath the clear waters. It is enveloped by a dense pine forest, providing natural shade and a refreshing breeze. The beach offers a well-organized setting with facilities, lifeguards, and a beach volleyball court, and nearby beach bars also provide free sunbeds and parasols to their clients. The exceptional quality of the waters has earned Nikiti Beach a prestigious blue flag certification. The beach can be accessed by car, and parking spots can be found in the village of Nikiti. It is highly recommended to stay longer and witness the awe-inspiring sunset, which is considered among the most captivating in Halkidiki.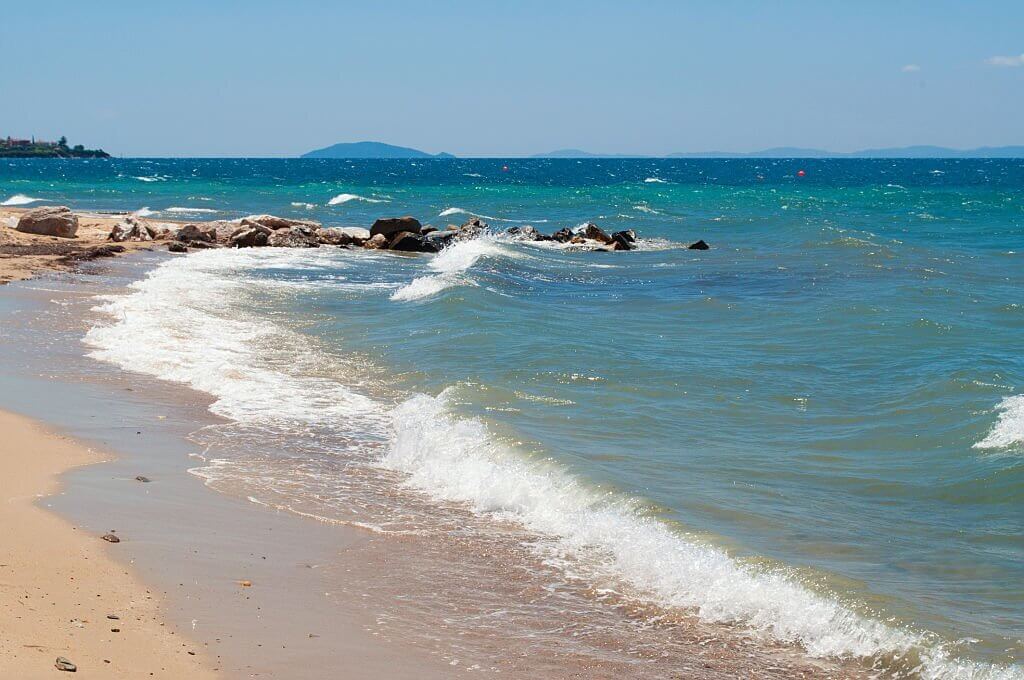 9. Platanitsi Beach
Platanitsi Beach is a breathtaking coastal gem characterised by its white sand and crystal-clear waters, earning it the prestigious Blue Flag certification. Divers and snorkelling lovers will be captivated by the beautiful seabed surrounding the beach, attracting exploration of the underwater world. The beach is well organised, featuring beach bars equipped with umbrellas and sunbeds, a mini-market, and the presence of a lifeguard, ensuring a safe and enjoyable experience for families. Platanitsi Beach also offers accessibility for people with cars and those with disabilities, allowing everyone to enjoy its beauty. For those seeking an active beach experience, Platanitsi provides a beach volleyball court, inviting visitors to take in some fun and friendly competition. The beach is also part of a camping area, making it an ideal destination for campers looking to immerse themselves in nature. The majestic views of Athos Mountain on the third peninsula of Halkidiki serve as a stunning backdrop to Platanitsi Beach.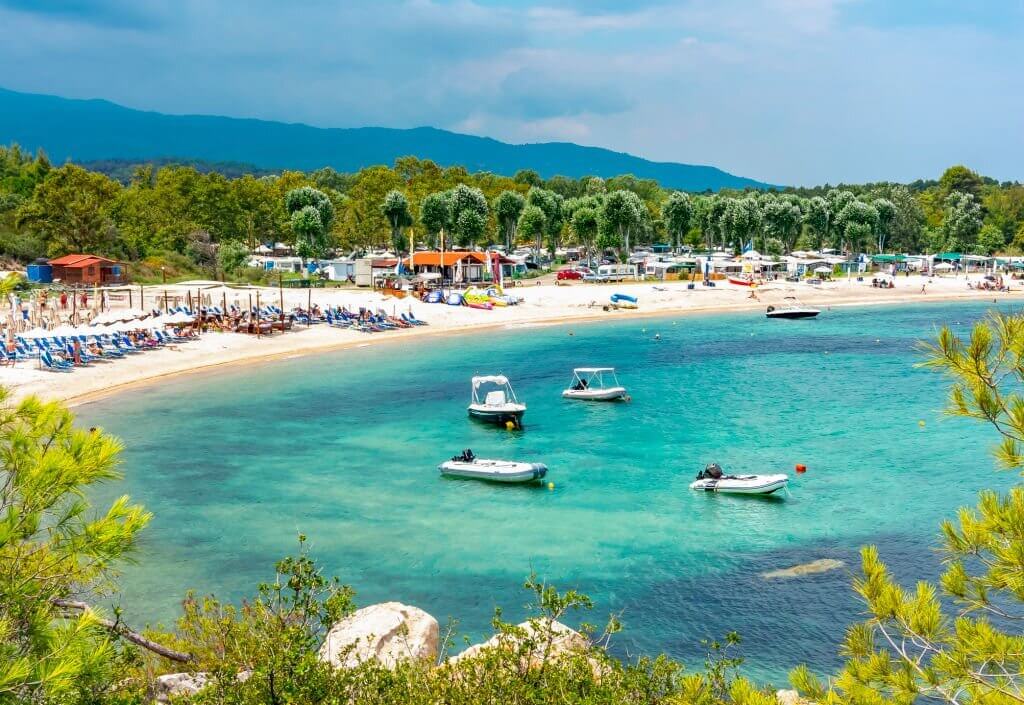 10. Lagomandra Beach
Lagomandra Beach is regarded as one of the finest beaches in Sithonia. It is highly praised for its Blue Flag certification, which serves as a testament to the exceptional quality of its waters. The beach is looked up to for its natural beauty, with the thick trees providing enough shade as a delightful spot for visitors and campers to enjoy. The waters of Lagomandra Beach are calm and shallow, creating a safe environment for families with children. Divided into two parts, the northern section is particularly popular, with pine trees and excellent amenities, including beach bars, sunbeds, and umbrellas, ensuring a comfortable and enjoyable stay. For those seeking activities, Lagomandra Beach provides a beach volleyball court and water sports services for rental, allowing visitors to engage in exciting water-based adventures. A lifeguard is also present to ensure everyone's safety.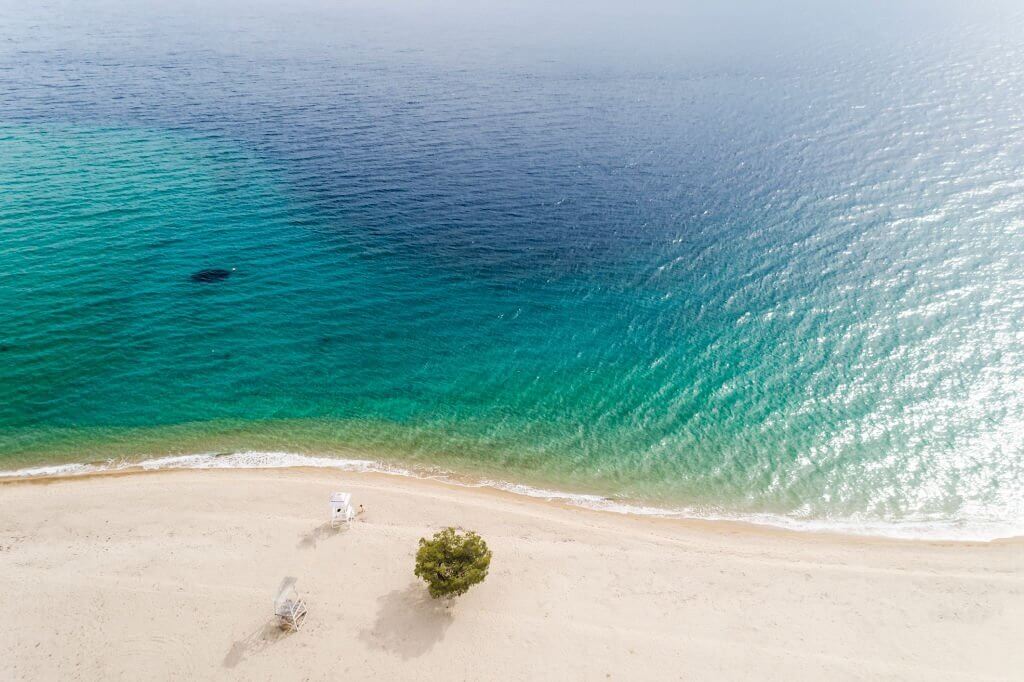 11. Kavourotrypes Beach
Kavourotrypes Beach lies in Halkidiki with a lovely view of Mount Athos. It is often compared to the exotic coastlines of the Maldives or the Caribbean. The beach showcases a striking contrast between the lively blue waters and the white-coloured rocks and pine trees that shades the shoreline. The beach's calm and wave-free nature suits families with children as it is also well organised with free sunbeds, umbrellas and a small bar nearby. Travelling by car to Kavourotrypes Beach is the most efficient, with parking spaces available along the road, which may be limited during peak hours. From the road parking area, a trail leads through the pine forest, guiding visitors to the beach. Due to its popularity, Kavourotrypes Beach tends to be crowded with limited space. However, there are nearby small bays that are rockier but offer a certain sense of privacy.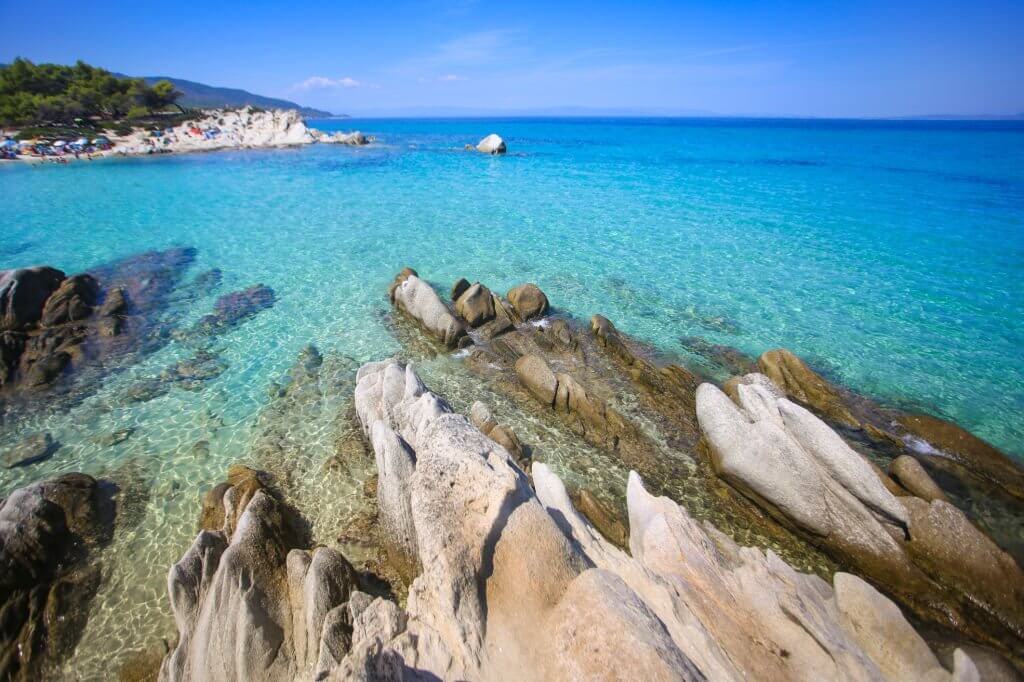 What is the most famous beach in Sithonia?
Listed below are the most famous beaches in Sithonia:
Nikiti Beach: Nikiti Beach is considered one of the most famous beaches in Sithonia. Its popularity stems from its convenient location at the beginning of the Sithonia peninsula, attracting locals and tourists. The beach features a combination of soft sand, clear waters, and a backdrop of historical significance. With its well-organized facilities, lifeguards, and stunning views of Mount Athos, Nikiti Beach offers a memorable beach experience.
Kavourotrypes Beach: Kavourotrypes Beach has gained fame for its exotic and picture-perfect coastline, often likened to the beaches of the Maldives or the Caribbean. The beach captivates visitors with its cyan waters, white rocks, and surrounding pine trees. Despite its popularity, Kavourotrypes Beach retains a natural and unspoiled beauty.
Porto Koufo: Porto Koufo is renowned for being one of the largest natural harbours in Greece. The bay resembles a lake and is surrounded by pine-covered hills. Visitors are drawn to Porto Koufo for its calm waters and association with historical events. The beach, although unorganised, appeals to nature lovers, campers, and those seeking a coastal escape.
Which is the most scenic beach in Sithonia?
Listed below are the most scenic beaches in Sithonia:
Kavourotrypes Beach: Kavourotrypes Beach is often considered the most scenic beach in Sithonia. It showcases a striking contrast between its cyan waters, white rocks, and surrounding pine trees. The beach's exotic appeal and picturesque landscape resemble the coastlines of Maldives or the Caribbean.
Vourvourou Beach: Vourvourou Beach is another contender for the most scenic beach in Sithonia. Its landscape features tiny rock islands, sea caves, and a backdrop of emerald-green pine forests. The crystal-clear waters and the unique rock formations create a natural setting that is visually stunning.
Armenistis Beach: Armenistis Beach is known for its scenic beauty. The beach offers visitors a stunning coast of fine white sand and blue waters which is surrounded by pine trees and panoramic views of Mount Athos.
Which is the best period to visit Sithonia?
The best months to visit Sithonia are typically the end of May, June, and September. During this time, the weather is pleasant and warm, creating ideal conditions for beach activities and exploration. These months also offer the advantage of fewer crowds, allowing visitors to enjoy the beaches and attractions. Visiting Sithonia during this period may lower accommodation prices than the peak summer season.
What are the top things to do in Sithonia besides the beaches?
Sithonia offers a range of activities and attractions for visitors to enjoy besides its beaches. One popular activity is exploring the coastal towns and villages that dot the peninsula. Places like Nikiti and Neos Marmaras offer a glimpse into traditional Greek life with their historical streets, lively markets, and local tavernas serving delicious cuisine. Another must-do experience is hiking through the natural trails that wind through Sithonia's forests and rough landscapes, which lead to breathtaking viewpoints, hidden waterfalls, and ancient ruins, providing an excellent opportunity for nature lovers. Sithonia is also home to several fascinating historical sites, such as the Agios Athanasios Tower and its imposing fortress dating back to the Byzantine era.
What do you need to know about Sithonia as a tourist?
Listed below are the things a tourist must know:
Weather: Sithonia experiences a Mediterranean climate, with hot summers and mild winters. The peak tourist season is during the summer, from June to August, when temperatures range from 25 to 35 degrees Celsius (77 to 95 degrees Fahrenheit). Spring (April-May) and autumn (September-October) offer pleasant temperatures with fewer crowds and lower accommodation prices. Winter (November-March) is generally quiet, with cooler temperatures and some businesses and attractions operating on a seasonal basis.
Accommodation: Sithonia offers a variety of accommodation options, including hotels, resorts, apartments, and camping sites. The coastal towns and villages have a range of choices to suit different budgets and preferences. It is advisable to book accommodation in advance, especially during the peak summer season, to secure the best options.
Transportation: The most convenient way to reach Sithonia is by flying into Thessaloniki International Airport (SKG) and then travelling by car or bus. Renting a car is recommended for exploring the peninsula and accessing different beaches and attractions. Potos Car Rentals offers a diverse range of well-maintained vehicles, granting visitors the freedom to explore Sithonia and its stunning beaches with ease. With access to top-notch rental options from Potos Car Rentals, like Sarti Beach, Porto Koufo Beach, Toroni Beach, Kriaritsi Beach, and Afytos Beach become easily accessible. Public transportation in Sithonia includes local buses that connect the main towns, but schedules may be limited. Taxis are available but can be more expensive for longer distances.
Attractions: Sithonia is famous for its beaches with crystal-clear waters, but the peninsula also offers other attractions worth exploring. Historical sites like Byzantine towers, churches, and ruins provide insights into the region's rich past. Hiking trails in the forests and mountains offer opportunities for nature lovers to discover natural landscapes, hidden waterfalls, and panoramic viewpoints.
Do you need to rent a car to visit the Beaches in Thessaloniki?
Yes, renting a car is highly recommended to visit the best beaches in Thessaloniki. While some local bus routes connect the main towns, they may have limited schedules and only reach some lesser-known beaches. Having a car allows visitors the flexibility to visit multiple beaches in a day, discover hidden gems off the beaten path, and enjoy scenic coastal drives. It also provides convenience for carrying beach essentials, such as towels, umbrellas, and picnic supplies.
What are the factors to consider before renting a car in Thessaloniki?
Listed below are the things a tourist should consider before renting a car.
Insurance: Cars should have a Collision Damage waiver to save the renters from paying for the car if an accident happens. However, the insurance does not cover the damage to the mirrors and glasses of the vehicle. Moreover, a driver's credit or debit card, as well as his or her licence, is required to be approved for rental.
Driver's Age: To operate a rental car in Thessaloniki, the driver must be at least 21 years old and hold a valid driver's licence for at least 12 months.
Driver's Gender: Anyone who wants to rent a car can easily rent one as long as all required documents are prepared.
Car Type: There are plenty of car types to choose from and transmissions, so it is important that renters rent a car suitable for the number of passengers, with extra room for luggage and other essentials.
Documents needed for renting a car: Renters must provide the following documentation for approval: driver's licence and credit card of the driver. It guarantees the vehicle's return and that the driver has a licence to drive in Greece.
How much does a car rental in Thessaloniki cost?
No matter what type of car, transmission, number of passengers, where to take the car, and how many days it will be rented. The price of Thessaloniki car rental usually starts at €30 to €40 per day and night. For a week's trip, it can cost about €250. However, the price of it came with a good deal for a car with four doors and fully air-conditioned. Tourists can fully use the car anywhere as it has unlimited mileage included with the package of the vehicle. However, renters must return the car to the rental company with the same fuel as when they rented it. If renters fail to return the car with the same amount of fuel, the company will charge them an extra fee.