Best family beaches in Thassos: Are you travelling with your children to Thassos and are you looking for nice beaches around the island?  Whether you're ready to build the ultimate sand castle, take on the waves or catch a sunset together, these top beaches have it all for families.
Golden Beach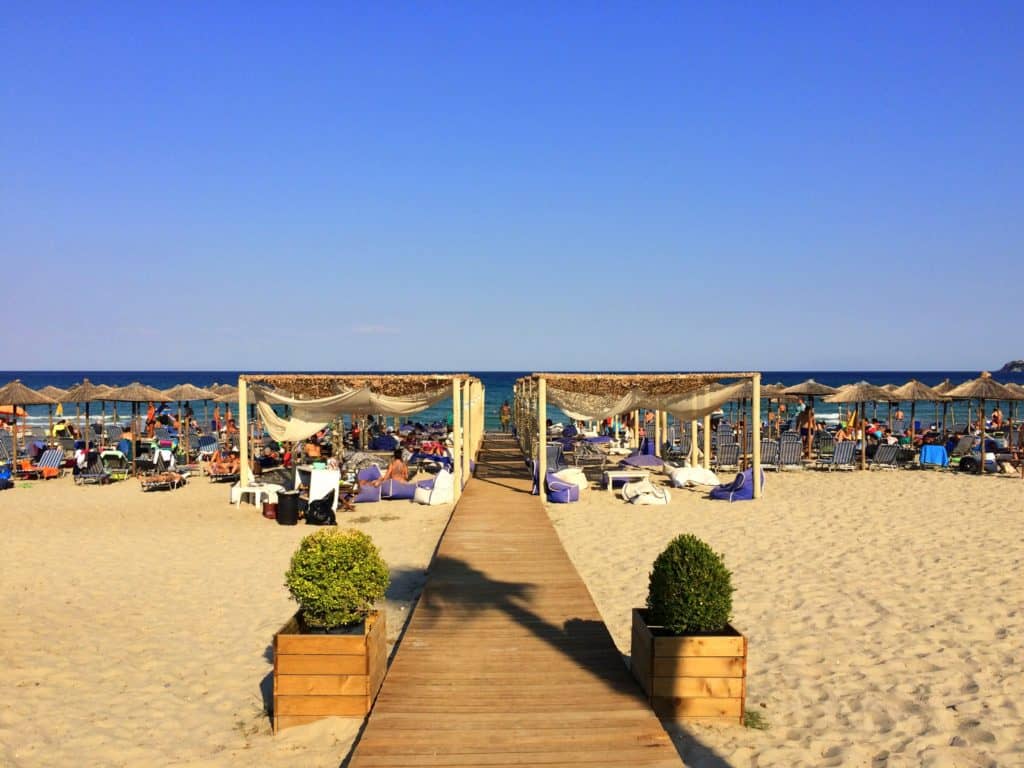 The 7 km long sandy beach with its clear crystal shallow water is the number one choice on the island if you are searching for an easy accessible beach with plenty of parking space and numerous beach bars and tavernas.
What is more convenient and relaxing than having everything near you and most importantly having enough space to play in the sand and swim in the safe shallow water?
At the beach you can find beach bars offering sun beds free of charge with a minimum consumption of drinks and snacks but for those of you who don't wish to use an organised sun bed/umbrella, you can always take your own umbrella and beach towels since there is plenty of space even during peak season July/August.
For the more adventurous, water sports can be found on the north side of the beach.  Regarding pricing, Golden Beach is considered as a 'good value for money' beach to visit. We recommend that you should always check the prices before you sit somewhere as different types of sun beds may incur charges.
Pachis Beach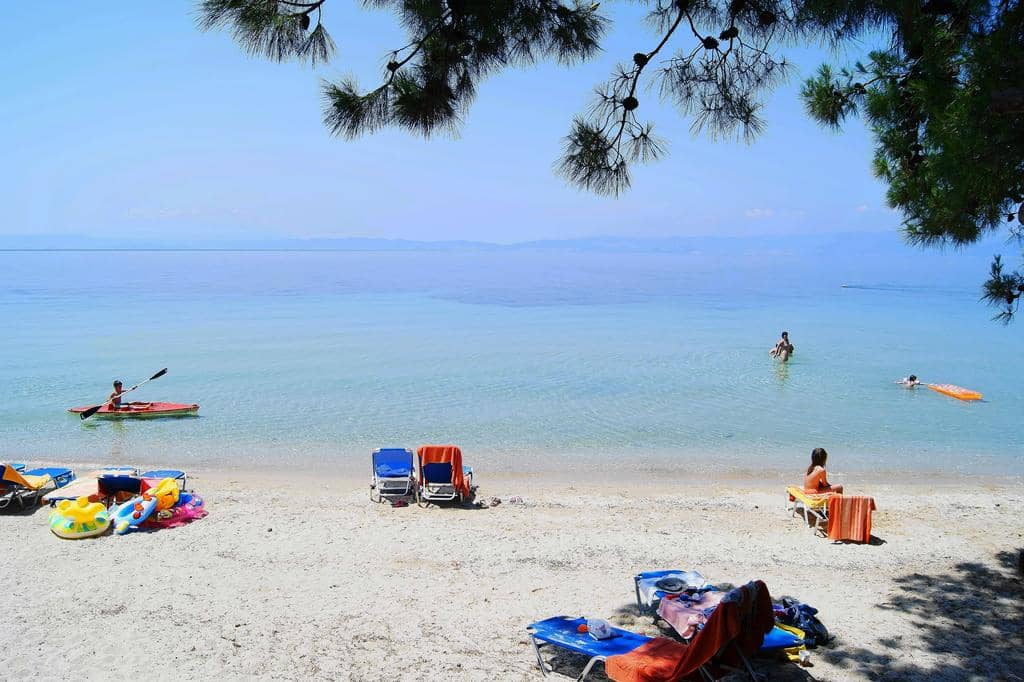 Another must visit sandy beach is Pachis Beach near Skala Rachoni, the water here is also shallow with fine sand and with a good choice of beach bars and tavernas.
Again here there are free of charge sun beds on offer given that you will consume a certain amount in drinks and snacks.  You can park above the beach under the pine trees and walk down to the beach, the distance is only 5 minutes' walk.
Last but not least, the pedalos with slides at Pachis will fascinate your children and make the day at the beach an unforgettable experience for the whole family! Pricing should be pretty much the same as Golden Beach.
Psili Ammos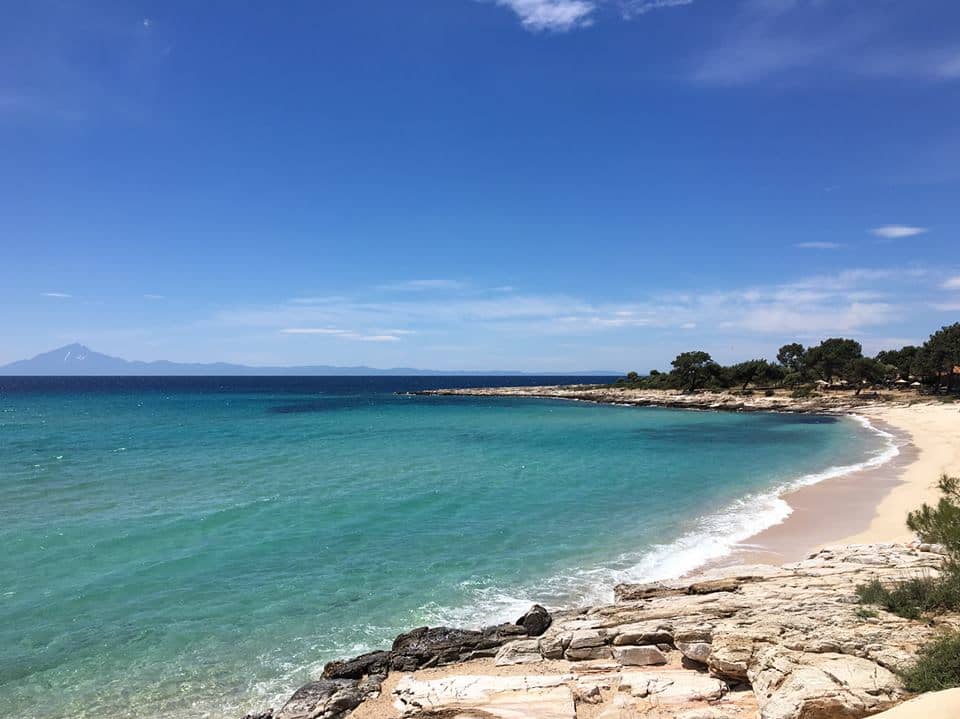 A few kilometers away from Potos you will find Psili Ammos, as its name reveals ("psili" means in English "fine") this beach has fine sand and turquoise clear water.
There is parking up on the road, where you can easily find a parking place even on July/August, we cannot say the same referring to sun beds as Psili Ammos is a very popular beach, therefore we suggest that you arrive in the morning if you want to find a sunbed in the front row. Some sunbeds here are free of charge as well but you are again required to purchase some drinks or snacks.
At the beginning/end of the season the beach is always more quiet and relaxing, while July/August it gets more crowded.  Again we recommend that you should always check the prices before you sit somewhere as different types of sunbeds may incur charges.
Aliki Beach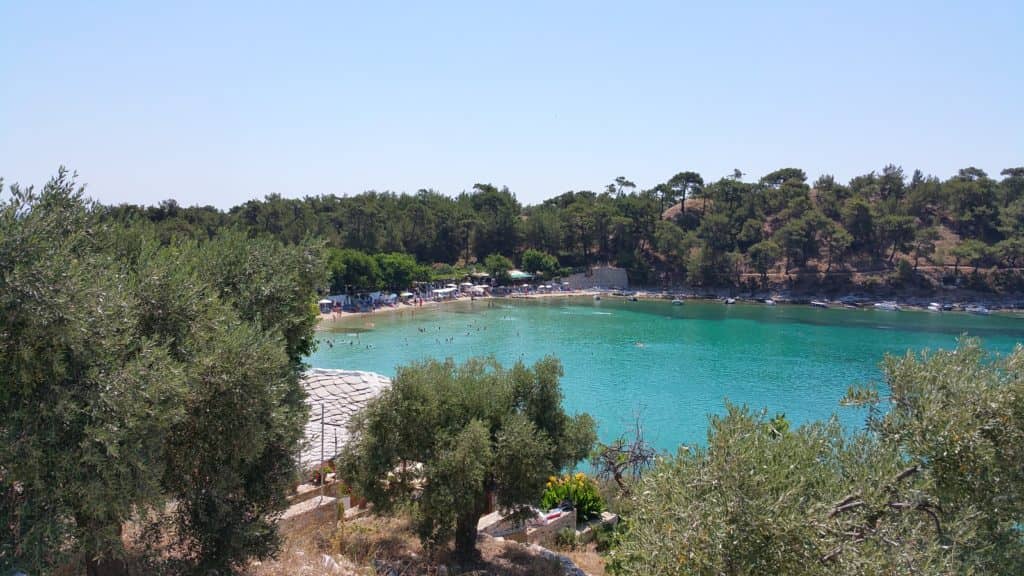 Aliki beach is located on the South East side of the island a few kilometers away from Monastery of Archangelos and is one of the most popular and picturesque beaches in Thassos!
Exactly for this reason and due to the small length of the bay the beach gets easily crowded. Nevertheless, it is well worth a visit not only for the beautiful emerald waters but also for the archeological sites as well. Also, this beach is a perfect place for snorkeling! Don't forget to take your equipment with you.
Regarding prices you should expect higher prices compared with other places even for just a sun bed and an umbrella.  At the beginning of the season the prices are of course cheaper while in July/August prices rise considerably.  Unfortunately there is no parking area in Aliki therefore try to park carefully on the main road and make sure you do not block the bus station.
Makryammos Beach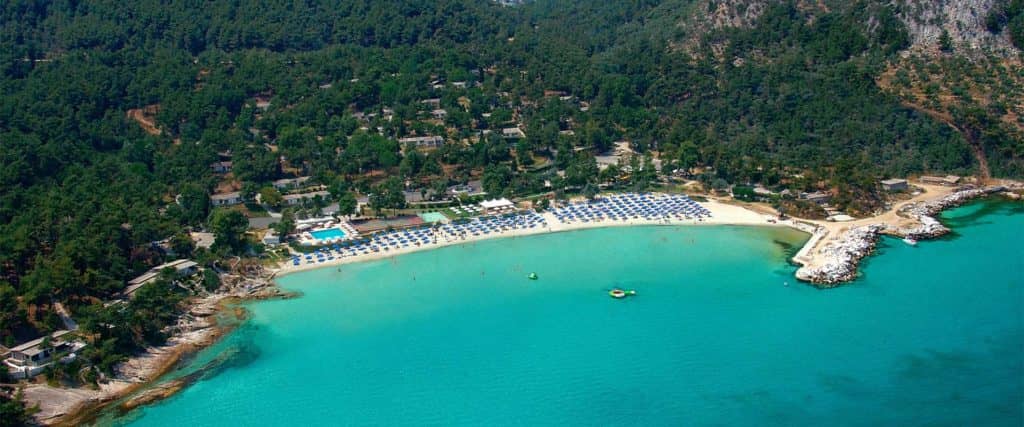 A four star hotel is located here and therefore an entrance ticket of 3 € is required to enter. The beach consists of a magnificent bay with a fine white sandy beach and crystal clear emerald waters, the hotel is harmoniously built within pine covered gardens.
Of course the resort offers different tavernas and plenty of children's activities. Highlight is definitely the deer and the peacocks which you can find wandering freely at the hotel. Make sure you have your camera with you! As it is a four star hotel expect prices of a four star hotel.
Concluding, Thassos has numerous beautiful beaches suitable for families to visit and enjoy and if you are travelling with children we are sure you would want to avoid dirt roads, long distances to the beach and general discomfort during your holidays.
For this reason, please try to avoid difficult accessible places like Giola lagoon, Marble Beach, Porto Vathi and Paradise Beach. We know you and your children will enjoy our recommended beaches much more and that you and your children will make the best memories ever!
We wish you a wonderful family holiday on our island!
Also read: Nudist beaches in Thassos