Eating out in Thassos: Is this your first visit to Thassos or have you chosen self-catering or bed and breakfast for the first time, well here is our guide to what's on offer in our wonderful restaurants, tavernas and cafes.  Thassos offers the visitor a wide variety of places to eat from prime seafront positioned restaurants, tavernas and cafes to those situated in quaint side streets, all offering a splendid array of dishes to suit all tastes.
Eating out in Thassos – How to choose where to eat?
Firstly when choosing where to eat the best advice we can offer is to take a good look at the restaurant, taverna or cafe you have chosen and check 'is it busy', 'does it have nice surroundings and the views you want' and 'can you see any locals eating there'?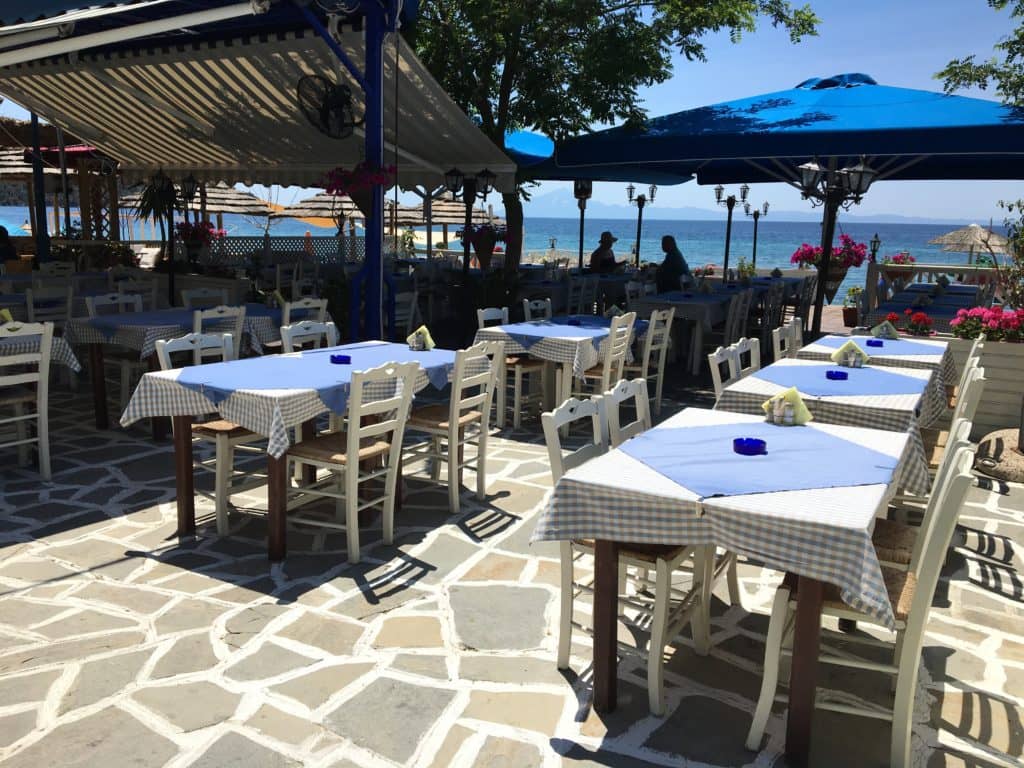 Eating out in Thassos – Check the menu and the prices
If the answer to one or more of these questions is yes then next check out the menu to see if you can find something you would like to eat and that you are happy with the prices. Many restaurants, tavernas and cafes have menus outside to help you choose. Some show pictures of how the meal is presented which can be very helpful as translation from Greek to English sometimes doesn't always go to plan (one instance is when ordering scampi, you may be surprised to be served king prawns in their shells).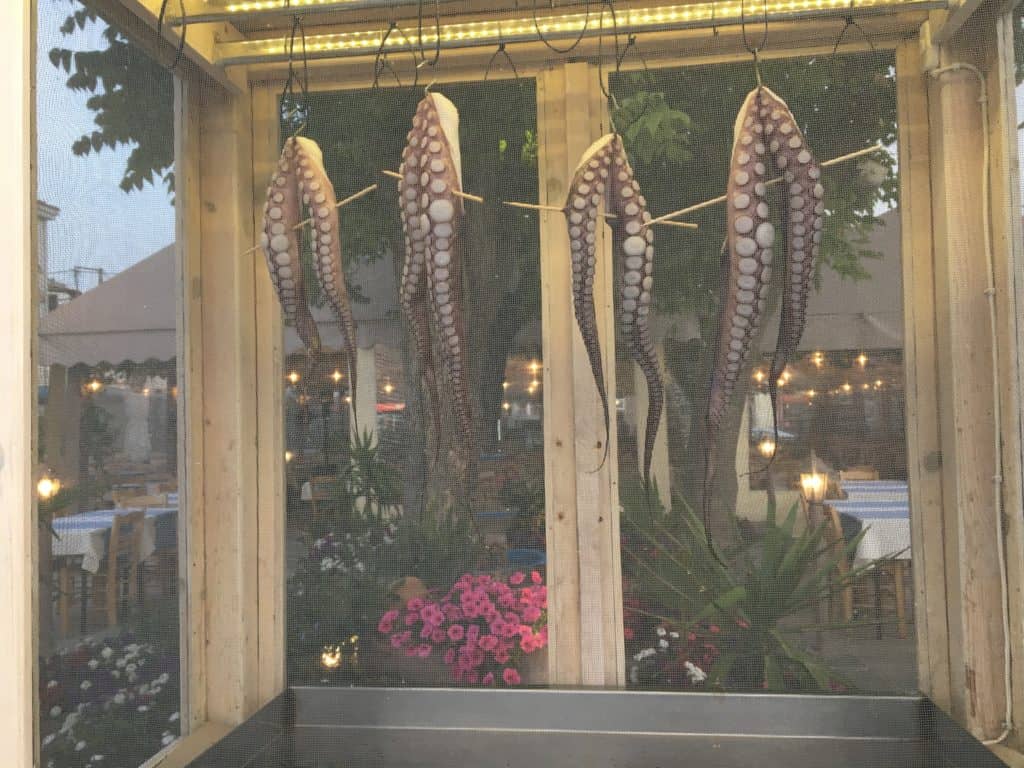 A typical Thassos menu will have a good selection of snacks, starters and main courses and although there are too many to mention them all, here is a selection of what you can expect.
Eating out in Thassos – Typical Greek dishes & starters
A traditional Greek snack served as a plate to share and eaten at any time of the day or night is a mezes which is similar to the Spanish tapas and can be made up of seafood, meats, vegetable dishes and dips and comes served with a glass of Ouzo.
Gyros is also a reasonably priced meal the meat can be either pork or chicken served in pitta, filled with fresh onion, tomato, chips, mustard and tomato sauce (the filling can be changed on request).
Starters
Salads are one of the most popular starters and the traditional Greek salad is made up of fresh tomato, cucumber, feta cheese, scattered with a few locally grown olives, dressed with a vinaigrette and sprinkled with oregano, however there are many other seasonal salad dishes on offer including fresh beetroot with garlic sauce, lettuce with dill and spring onion, tomato and cucumber and most kitchens also make their own 'chef's salad'.
To accompany your salad you then have the choice of tzatziki (cucumber, yoghurt and garlic), taramosalata (fish roe combined with breadcrumbs, oil and lemon juice) and cheese salad (crumbled feta, yoghurt with a hot peppery taste) all wonderful as a starter eaten with fresh bread or pitta, perfect if you decide you just want a snack.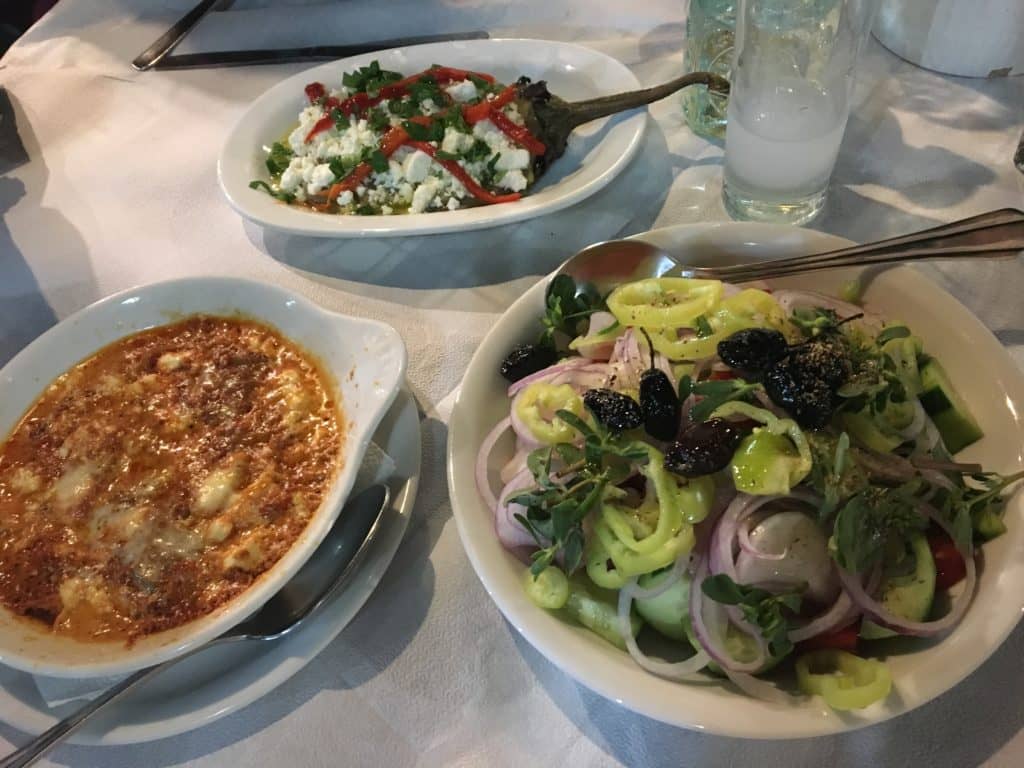 Hot starters include fried courgettes, courgette balls (grated courgettes and seasoning made into small patties), octopus balls (octopus mixed with herbs and made into small patties), grilled feta plain or covered in sesame seeds and drizzled with honey, mixed cheeses from the oven served from a clay pot or in paper.
Then you have the choice of fresh fish, sardines fried or grilled (either whole or butter flied), gavros (whitebait) shallow fried whole, octopus and calamari/squid (check menu for fresh or frozen).
Main courses
Well if all that has awaken your appetite then here are a few main courses which are very traditional on Thassos, all of which can be eaten at lunch or dinner.
There is a choice of meats 'from the grill' including veal (beef), chicken, lamb and pork served with chips and a little garnish and some restaurants and tavernas offer meat on the spit (goat, lamb and chicken) all traditionally seasoned and served with chips.
'From the oven' popular traditional Greek dishes included:
Moussaka: made with sliced aubergine, mince and topped with white sauce)
Kleftico: lamb or beef baked with vegetables in sealed parcels
Pastitsio: similar to lasagne but made with macaroni not pasta sheets
Stifado: casseroled beef or lamb with pearl onions in a wine sauce)
Juvetzi: beef or lamb served in a clay pot with pasta and veal in tomato sauce served with oven potatoes.
Oven meals are usually served as described either on their own or with oven potatoes/chips and are large portions however for those who may be feeling very hungry side orders can be added.
Seafood
Fresh fish of course is in plentiful supply and a must try from Red Snapper, Sea Bream, Sea Bass, Tuna steak, Salmon steak, mussels and lobster (lobster must be pre-ordered normally the day before).
Some restaurants and tavernas may offer line caught fish of the day and will offer you the choice of choosing which one you would like. When ordering fish please be aware that the price is by weight.
Desserts
Desserts vary and are normally complimentary if a main meal has been purchased you may be offered fresh fruit such as slices of watermelon, honeydew melon and/or apples and grapes (in season).
Sometimes a small selection of
traditional Greek cakes
a slice of walnut cake
baklava made with filo pastry filled with chopped nuts
kataifi (pronounced kah-tah-ee-fee) which is an almond and walnut filled pastry made with special thread-like strands (a bit like a shredded wheat)
galaktoboureko (pronounced gah-lahk-toh-boo-reh-koh)
Greek custard pie
These desserts are soaked in a sweet syrup and are only a sample of what's on offer.
Whatever your choice we feel sure that you will not be disappointed with the quality of your food.