Discover the best off road places in Thassos
Thassos has a paved (asphalt) road network, in the main in reasonable to good condition, which lets you get around the island and visit all of the mountain villages.
Of course Thassos has many other spectacular places to visit which are not accessible from the ring road or any of the paved arterial roads. There is a whole network of unpaved roads which gives you the chance to discover the 'other side of Thassos'!
To access these best places in Thassos you have a couple of choices, you can walk, or you can rent a Suzuki Jimny or Jeep Renegade from Potos Car Rentals and arrive safely and in comfort. Please note that Potos Car Rentals only allow 4×4 vehicles to go 'off-road'.
Here are our suggestions to make the most of a day or days out in a 4×4 jeep.
1. Marble Beach (Saliara Beach) & Porto Vathi
Best road to Marble Beach
Marble Beach during high season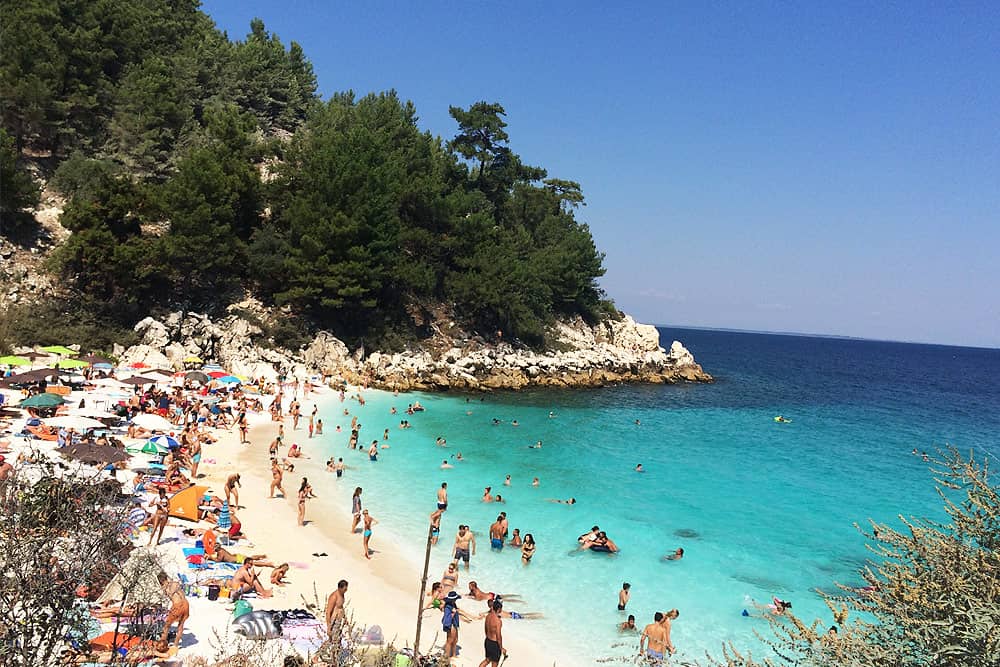 Perhaps the number 1 most visited (best) off-road place on Thassos is Marble Beach or in Greek – Saliara. It is accessible via 2 dirt roads, one from Panagia and the other from Makryammos. Both roads are bad but with a 4×4 vehicle driven carefully and slowly you will get there safely! If you take the Makryammos route it is about 9 kilometers from Limenas (Thassos Town).
What should I know about Marble Beach?
Marble Beach during winter time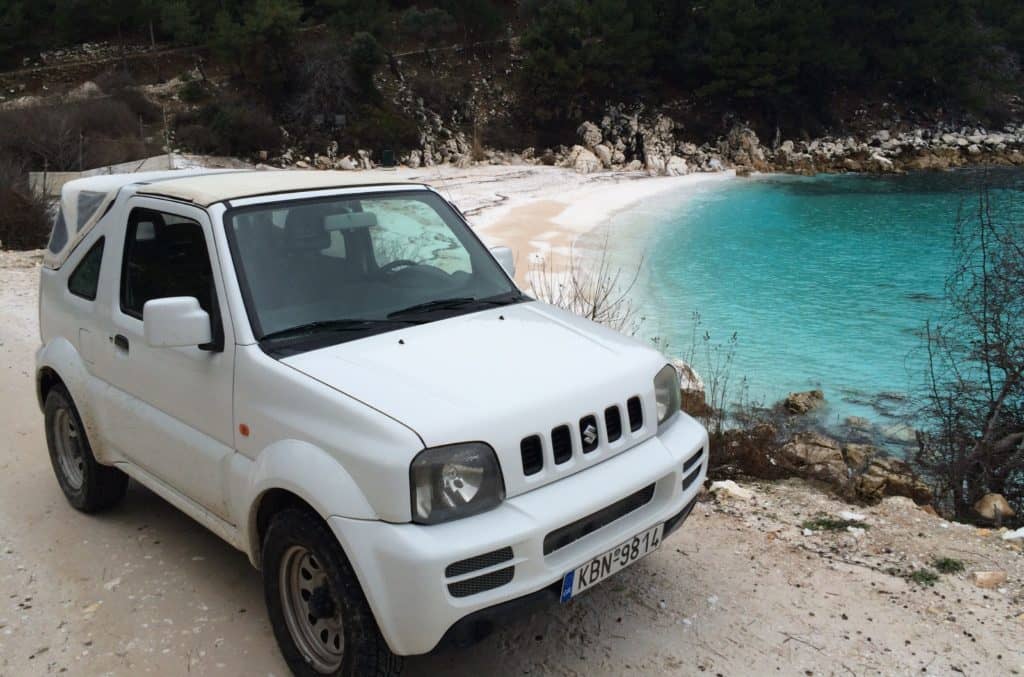 Please also note the roads to Marble Beach are covered in a fine, white powder like dust, be prepared to get dirty, especially if you are travelling in a group and have the top open on your Suzuki Jimny! From Makryammos you will reach Marble Beach first, Porto Vathi is a little further on.
Both places get very crowded during summer, and sometimes, especially Marble beach where it can be difficult to find a parking and even a place to put your umbrella and or towel!!
Please also note Marble Beach has no toilet facilities or beach bar. There is a mobile canteen with a small selection of refreshments and coffee. Prices are generally higher than other places, this also applies for the sunbeds. The beach at Porto Vathi is more organised. If you decide to visit Marble Beach and Porto Vathi, be patient and try and get there as early as possible.
If you don't have a jeep and you would like to visit Saliara or Porto Vathi Beach there is a water taxi service from the port in Limenas (Thassos Town). The service runs from 10:30am from Limenas Port, a return ticket costs 10 Euros. For more info visit please the new port in Limenas or call +30 6936889004!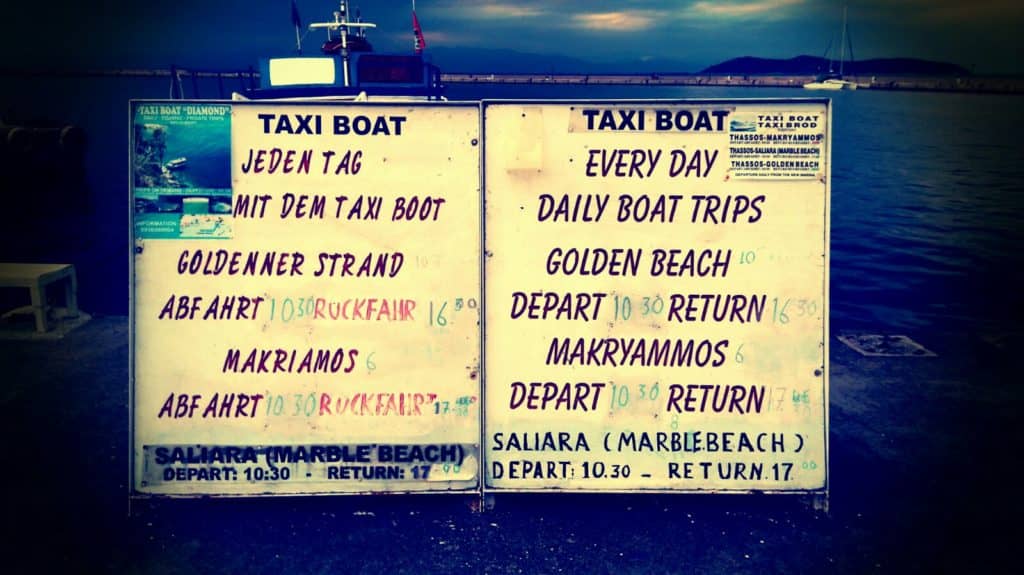 2. Best places in Thassos: Giola lagoon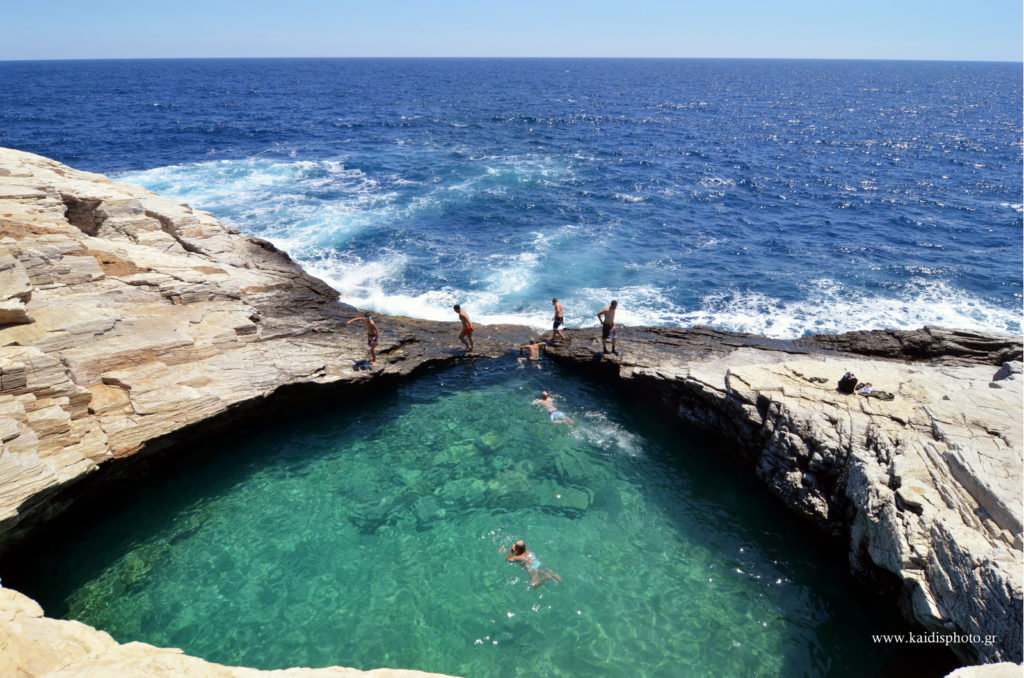 The second most popular off-road destination on Thassos is Giola. Today there is a new road to Giola. You can park your car on the main road and walk 15 minutes down to the lagoon. For more info read please our post about Giola here.
3. Best off road places in Thassos: Paradise Beach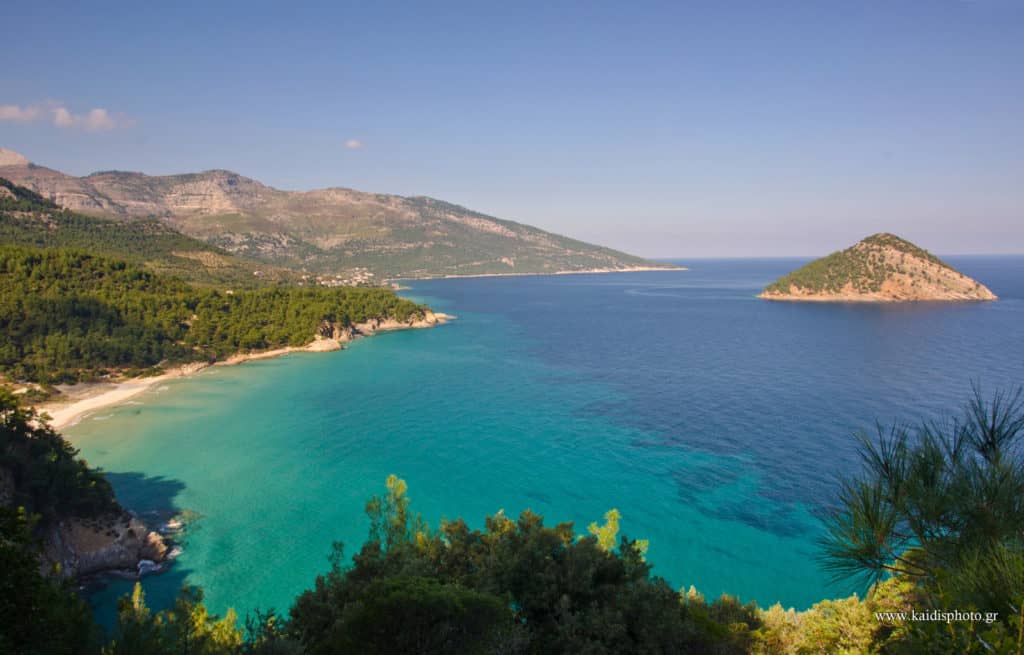 Many visitors say after a visit to this beach – "paradise exists and it's on Thassos island"! This wonderful exotic beach is close to Kinira and has two access roads from the main road. Both are unpaved and not suitable for our normal road cars.
If you don't have a jeep and have rented a normal car from us you must park at the parking place on the side of the main road and walk down (10 minute walk) to the beach.
For more information about Paradise Beach have a read of our recent blog on the subject! If you have rented a 4×4 vehicle from us and drive down to the beach there are two parking areas, one at each end of the beach. Be warned that they fill up quickly and do not block any entrances or other vehicles. Also note that it is illegal to drive or park on any beach in Greece.
4. Ypsarion Mountain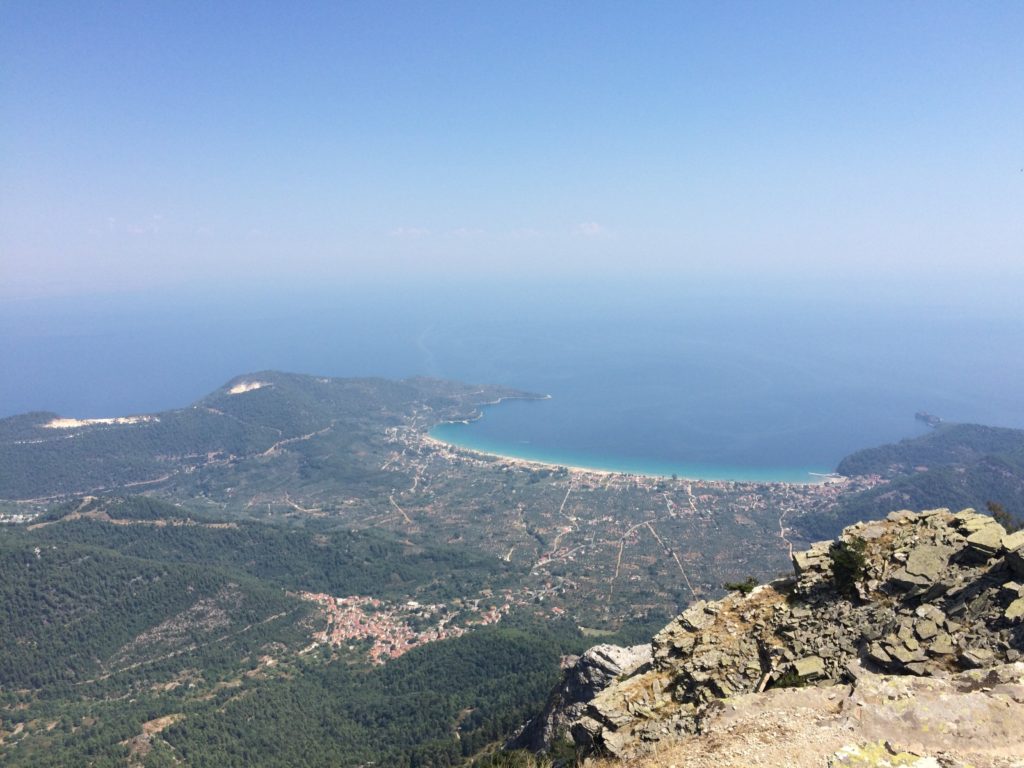 Don't forget the unforgettable interior of Thassos! There are dozens of amazing places to be found. The best of all is a trip to Ipsarion, the highest mountain on Thassos (1204 m).
Why should I visit Ypsarion?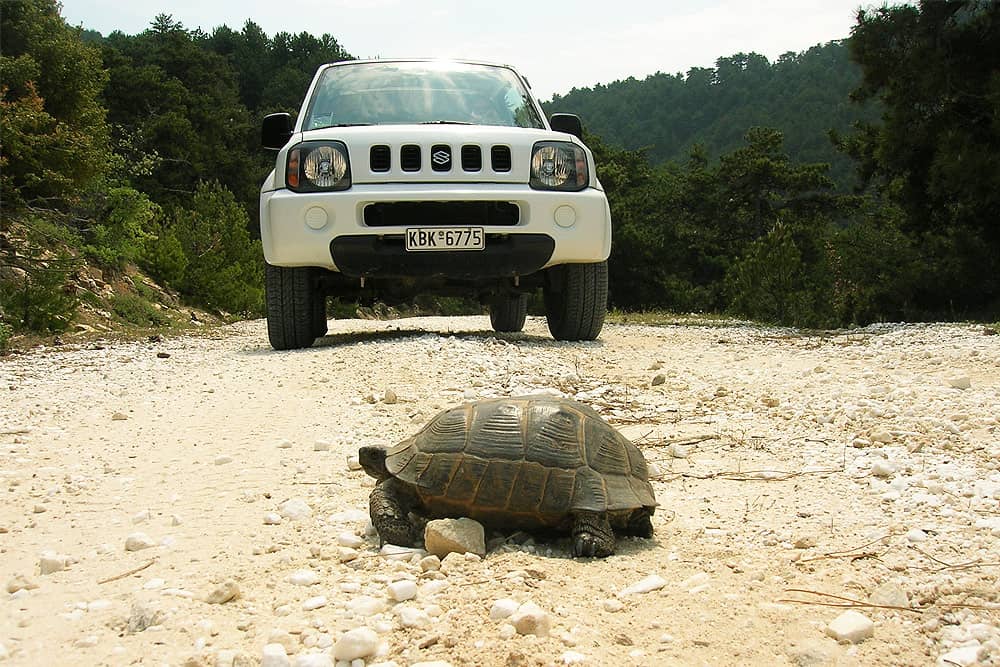 Prepare to be 'wowed' by the stunning panoramic views when you reach the peak, on a clear day you can see all the way to Limnos and Samothraki islands! You are also afforded a near 360 degree view of Thassos with a spectacular view over Golden Beach!
There are several roads which ultimately lead to Ipsarion, the most popular and scenic are from either Maries or Kastro, remember it is not just about the raw beauty of Ipsarion but the routes there are also beautiful, crisscrossing streams through shady pine forests with the occasional waterfall along the way for good measure!
Remember to take drinks and refreshments, there are no shops or taverns in the mountains! Also don't forget to sign the visitors book when you finally get to the top of our wonderful island!
5. Arsanas-Livadi Beach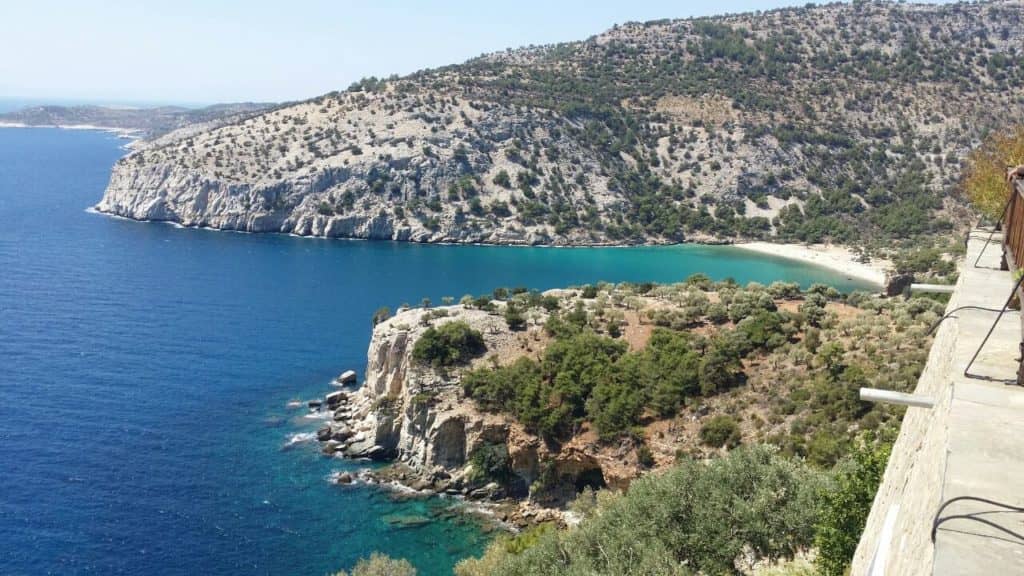 Last but not least, the wonderful unspoiled beaches nestled in the emerald waters in the shadow of the Archangel Michael monastery. Here you will find Livadi, which means meadow in Greek and on the left, the small beach Arsanas.
What should I know about Arsanas Beach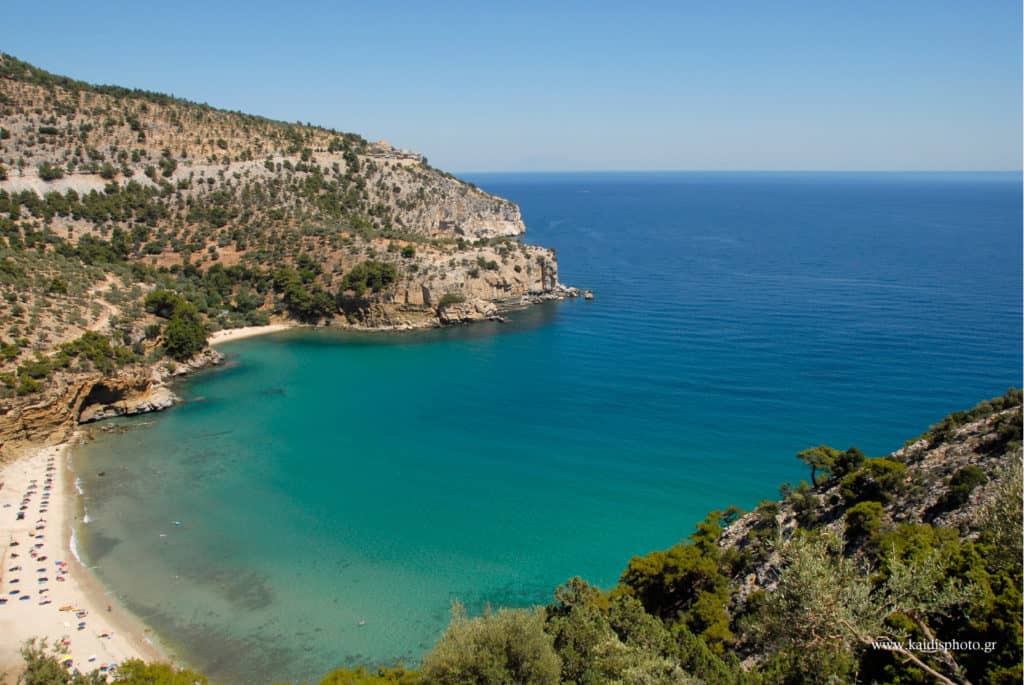 Arsanas is at the end of a steep decline and even with a jeep you will have to walk the last part, down the steps (approximately 10 minutes) The steps are quite steep but not too challenging. Arsanas does have also a small canteen and both beaches offer sunbeds and umbrellas for rent. Please also note that those beaches get dark very early as they are surrounded by high cliffs, so it is good to get there early in the morning!
As we said earlier there are dozens of places to enjoy the freedom a jeep gives you, these are just the top 5! The Suzuki Jimny models (cabriolet 4×4's) carry a maximum of 4 people, if your party is more than 4 you can rent the new Jeep Renegade diesel 4×4 for that added bit of comfort!
Enjoy your holiday and get the most out of your car rental with Potos Car Rentals!