Thassos Yacht: Once you arrive on the northern most Aegean island in Greece, also known as the emerald island you shouldn't miss out on the opportunity to plan a trip, make a tour, discover the beauties of the island, get to know the people and the culture, try something new!
Thassos Yacht
Why to take a wonderful trip by Aeolus Yacht
As Thassos is famous for the hundreds of beautiful bays with turquoise crystal clear waters to either swim, dive, snorkel or just sunbathe and relax under the Greek sun, we recommend you to take a wonderful trip by a fantastic brand-new HANSE 385 Yacht operating under the name Aeolus.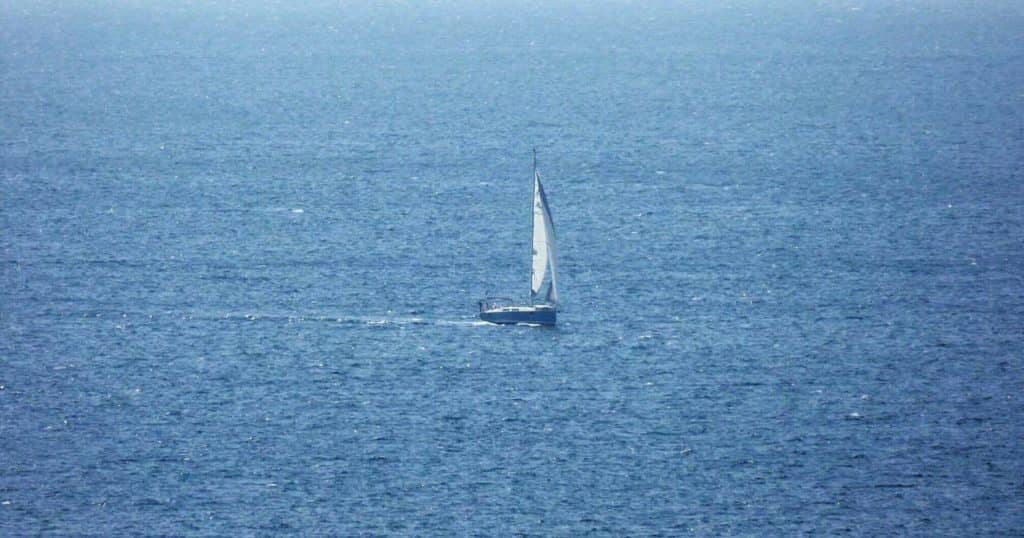 On board you will be able to discover the emerald coast of the island, its history and its secluded beaches from a different point of view in the most relaxing way, while you sit comfortably on the wooden deck admiring the magnificent landscapes of Thassos.
So not only will you admire secret parts of the island not easy accessible by car or on foot in only a half-day trip, but you will also avoid the crowds you might face on very popular beaches and especially during high season in July or August.
It's needless to mention also, the struggle to find a front row sunbed, the cost of drinks and food but most importantly the time you will save by just choosing to take the boat or even better a fabulous yacht to take you there! We can't think of any better way to arrive to the beach..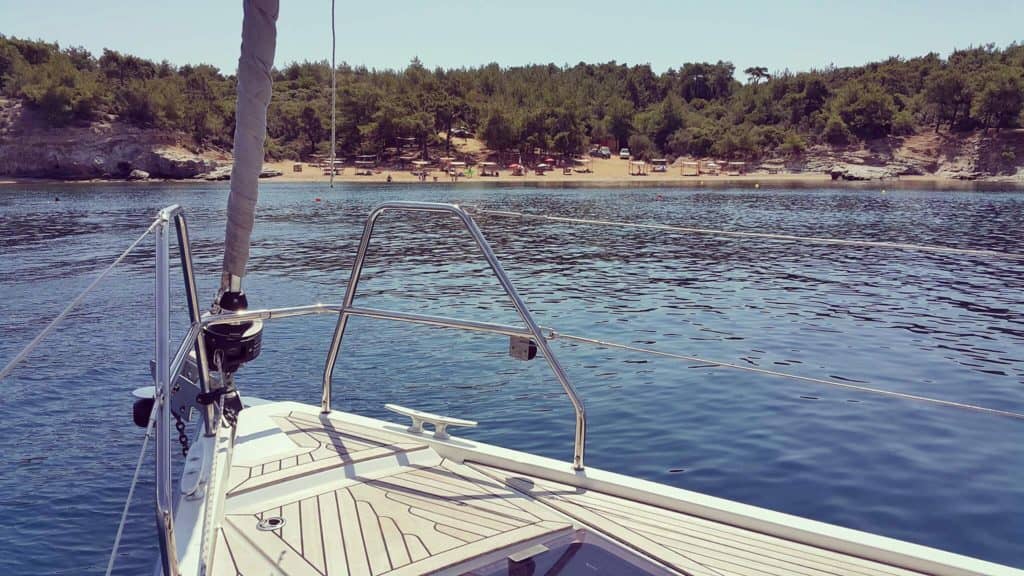 Thassos Yacht – How many people can take
Aeolus yacht offers personalised sailing cruises for maximum 7 people and its aim is to provide a memorable day at sea, whilst experiencing friendly Greek hospitality in an exclusive way for you and your family/group! During your summer holidays it is essential to spend quality time with your favourite people/ ones, make room for some "us" time in the most authentic and stress-free way, without any delays or inconveniences.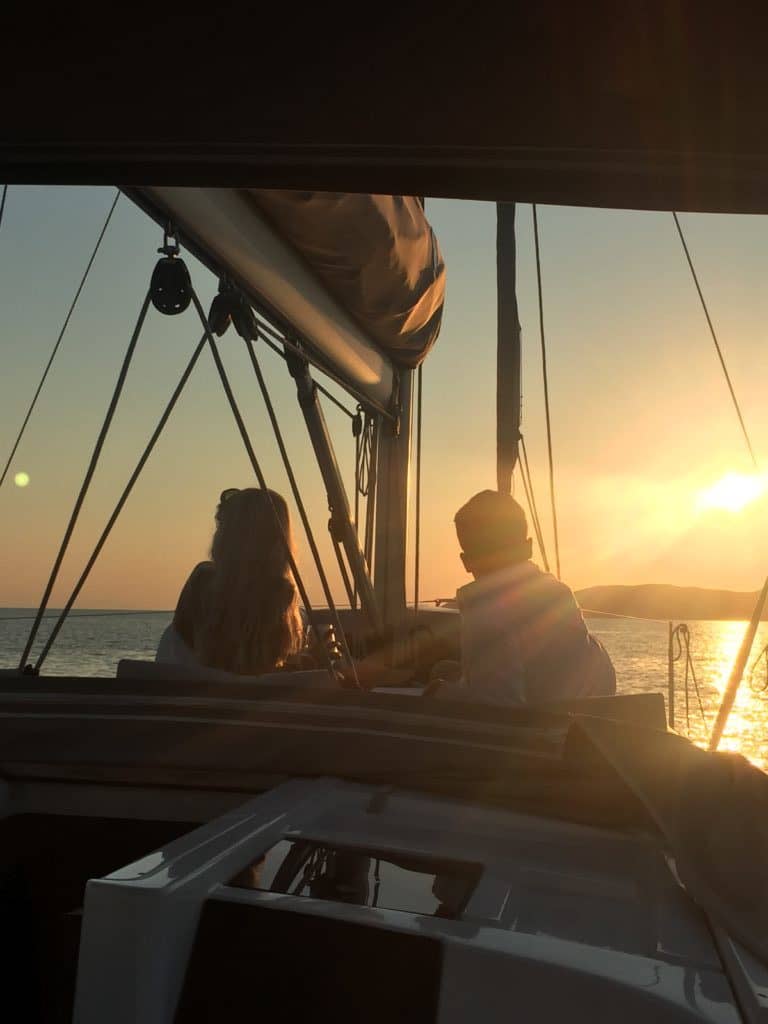 Thassos Yacht – On a special occasion
Do you also have a special occasion while you are on Thassos, like a birthday party, bachelorette, anniversary or even a wedding proposal? Then let Aeolus organize your perfect special day for you, all depending on your preferences and budget.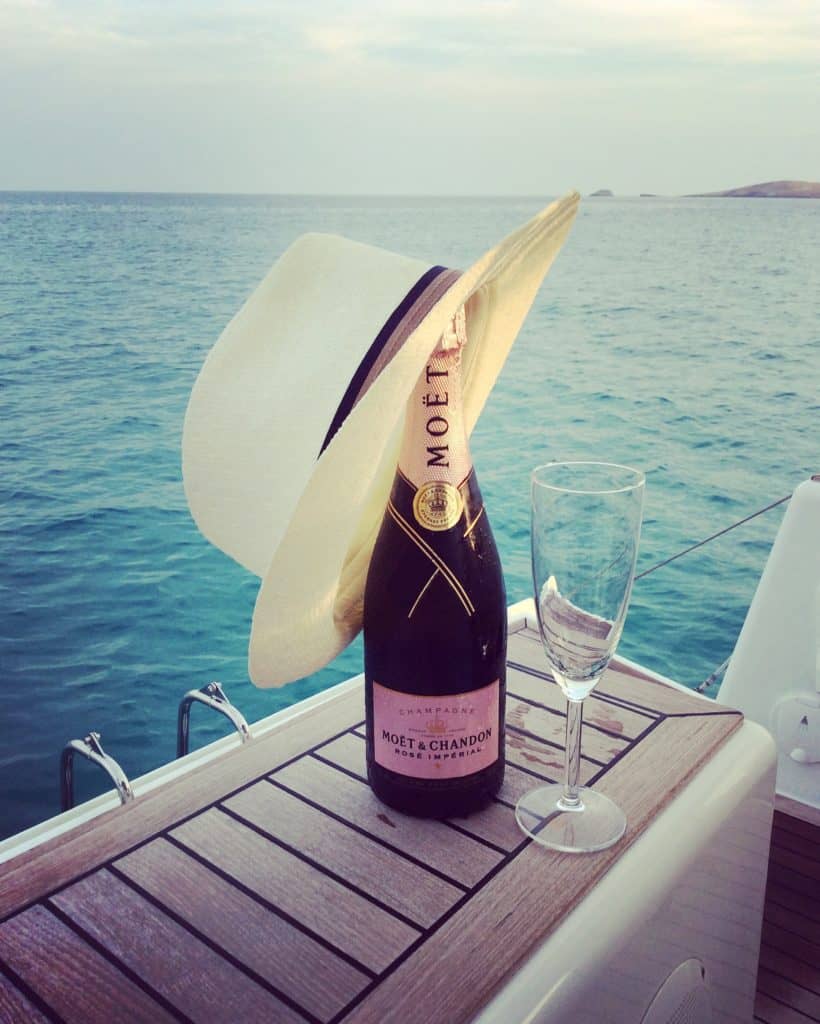 But even if you are just interested in discovering the island and sailing around Thassos, book a cruise with Aeolus in order to enjoy the unique experience of sailing in the North Aegean Sea by a luxury brand-new yacht and feel the serenity of the environment.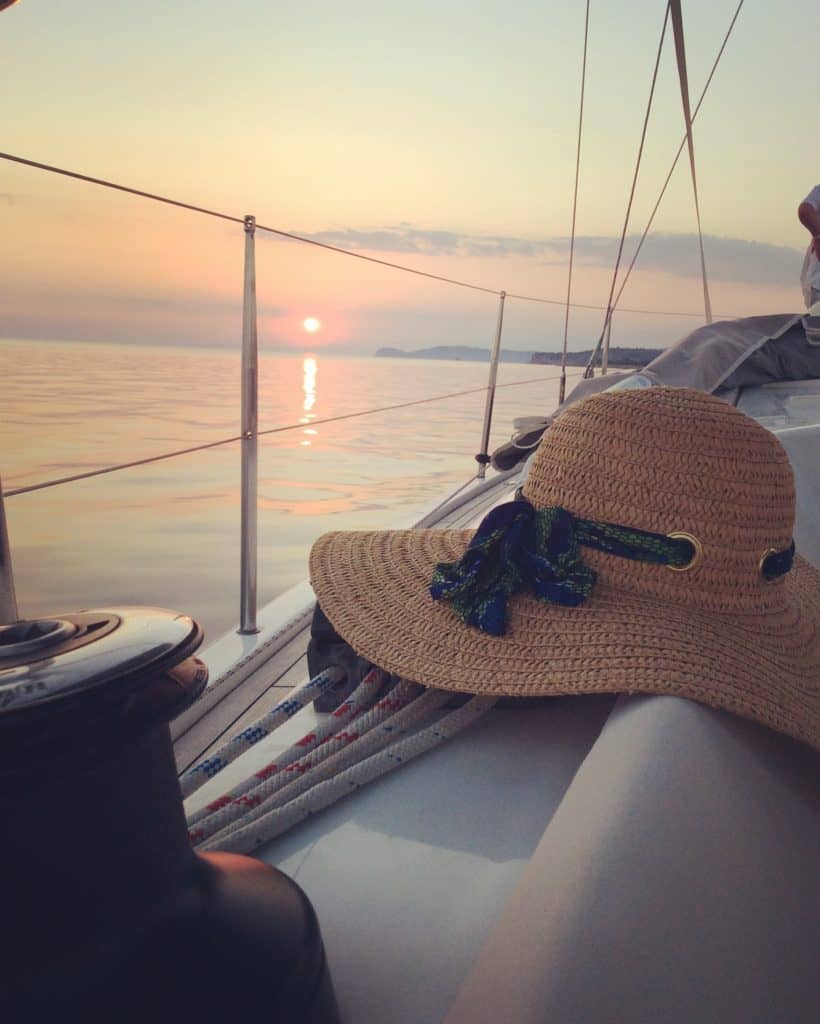 Thassos Yacht – Times of the cruise
Aeolus offers you two options regarding the time of the cruise. A typical morning cruise starts from Limenaria marina at 10:00am and ends at 17:00pm. Or you can join the sunset cruise, which starts at 18:30pm and ends at 20:45 pm.
Potos Transfers can drive you to the yacht
If you stay in another resort outside of Limenaria let Potos Transfers the local transfer company drive you to Limenaria marina. You can sit back and relax, while a professional, punctual driver will pick you up straight from your accommodation and drop you off right in front of the hotel after the end of the cruise. Send us your inquiry at transfers@rentacarpotos.gr as soon as you book your cruise with our partner Aeolus and get special offers by also booking the return.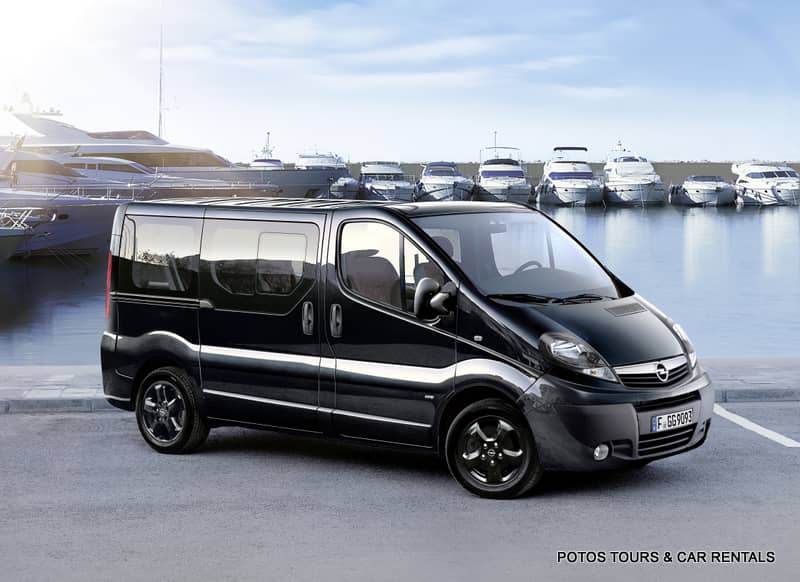 Drive with a rental car to the yacht
Or you can book your car online on www.rentacarpotos.gr and drive on your own to Limenaria. Limenaria is one of the biggest villages on the island, where you can find plenty of good fish taverns to try, bars, shops with unique souvenirs and of course the landmark of the village, the imposing building of Palataki. Feel free to park your car comfortably at the marina without any cost and get ready to sail away on the Aegean sea!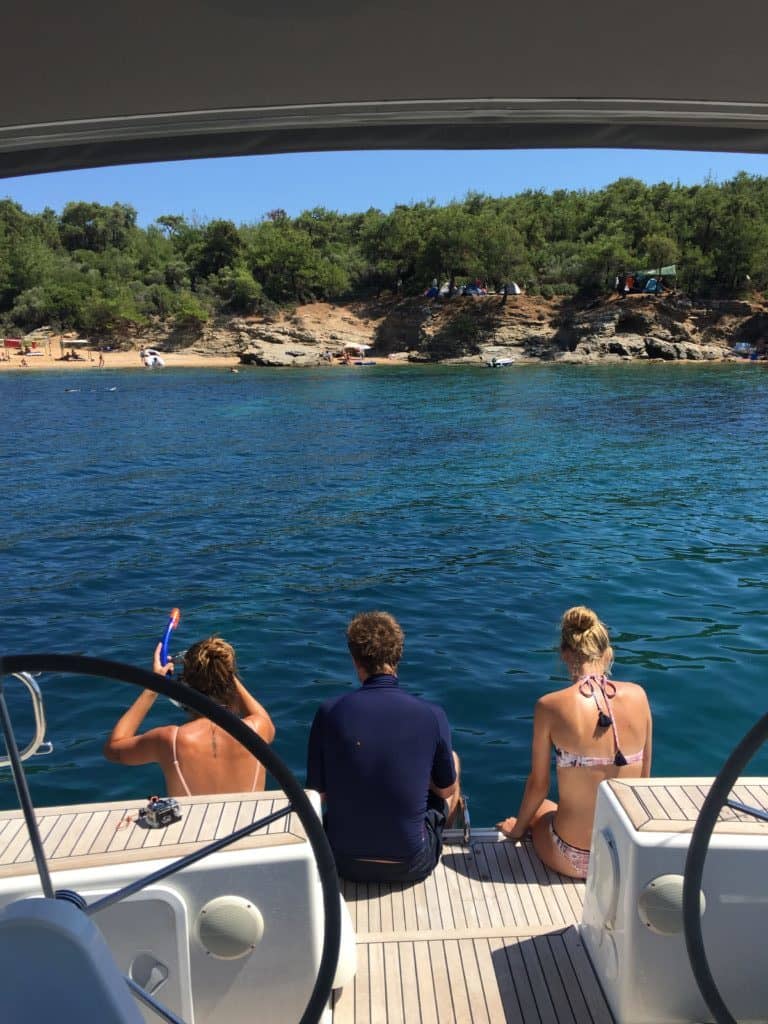 Thassos yacht – What to expect from the cruise
The daily charter includes sailing towards the south-eastern coast of the island. The first stop is Salonikios cape for swimming and breakfast.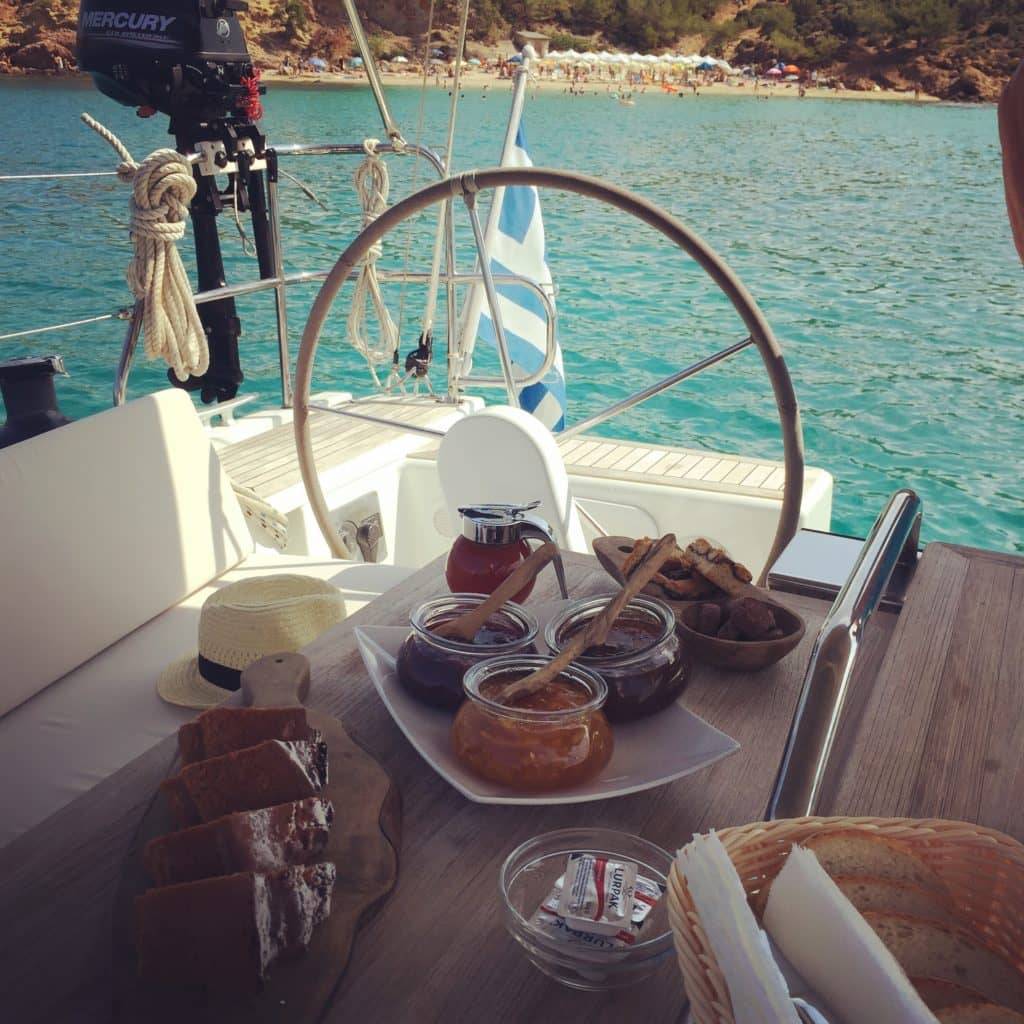 On the way there you will pass by the remote island of Panagia, a protected marine eco-system under the EU's NATURA 2000 policy. You will see seagulls and cormorants (Shags) build their nests on the coastline. It is even possible to see dolphins in their natural habitat. After the first stop, you set sail all way up the eastern coast of the island. The beautiful coastline and breath-taking views will make you relax and you will fall in love with the unspoiled nature of the island.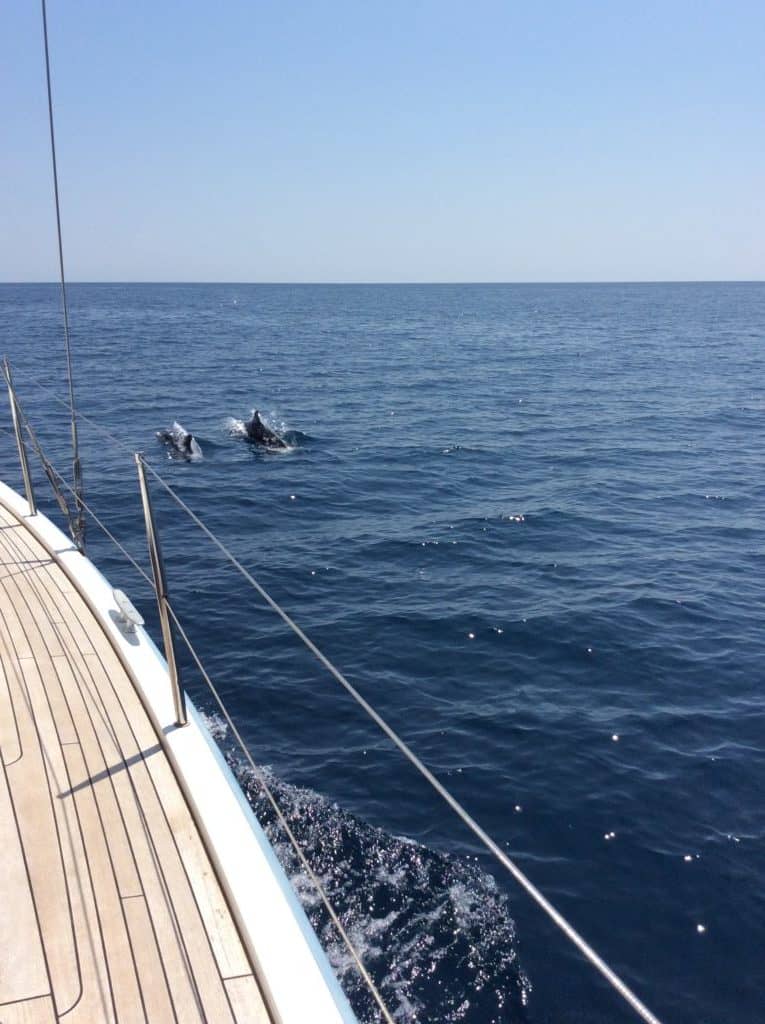 On the way to Archangelos Monastery the biggest Orthodox female Monastery of Thassos, you will sail by Giola, a natural shaped pool among the rocks. Don't forget to have your camera with you to capture all these beautiful yet crowded places. Then the journey will continue towards the Archangelos Monastery and its secluded beach, which was once the monastery's old port. Here you will have free time to enjoy the location's turquoise waters whilst the crew of Aeolus will prepare a delicious appetizer for you.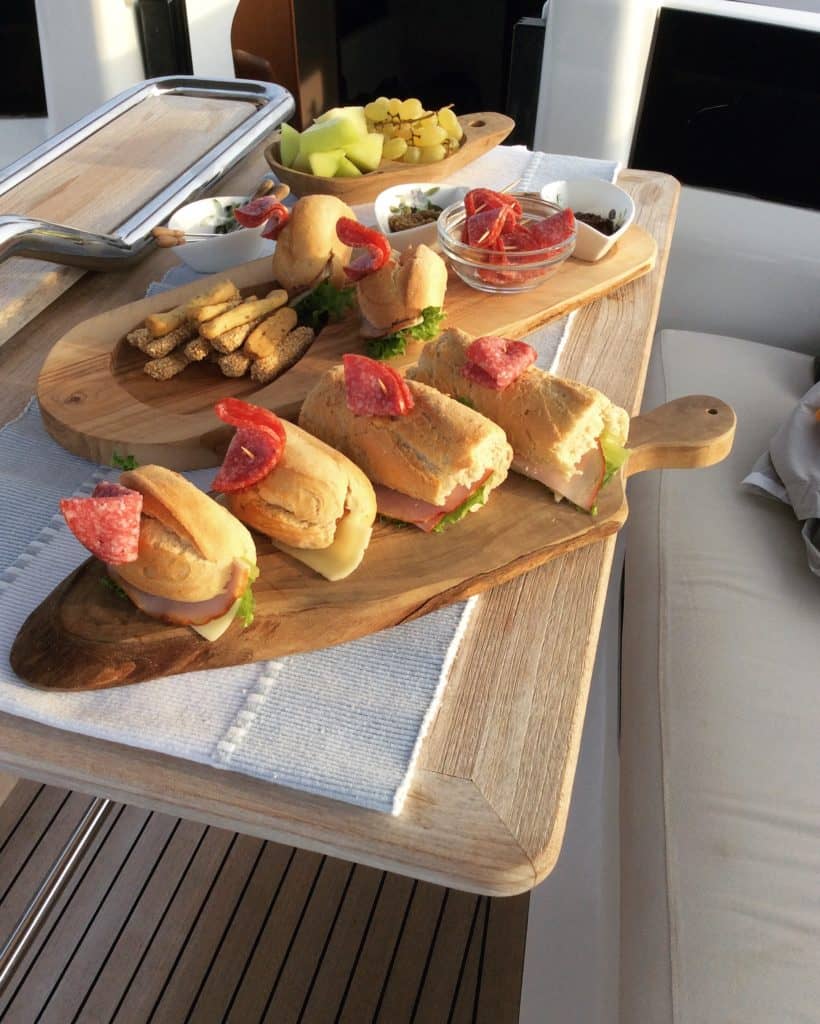 Then Aeolus will anchor in the famous beach of Aliki where Phoenicians used to quarry and load Thassian marble on their ships. Swim in the crystal clear water next to the sunken quarry where seawater is mixed with fresh water, visit the Roman theatre dating from 197 B.C, Byzantine church ruins built on roman temples and admire the view of the open sea of northeast Aegean.
After a walk on the beach, a tasty authentic Greek lunch prepared by the crew, only with local ingredients, will be waiting for you back on the yacht! You will then have some free time for relaxing, swimming, sunbathing and for those who wish, they may try some fishing as well (Aeolus will provide you with all the necessary equipment).
To conclude, we will retrace our steps towards Potos. On the way back you can stop for an afternoon dessert and swim in the small beautiful bay of Saint Anna beach or in the sandy Rosogremos beach.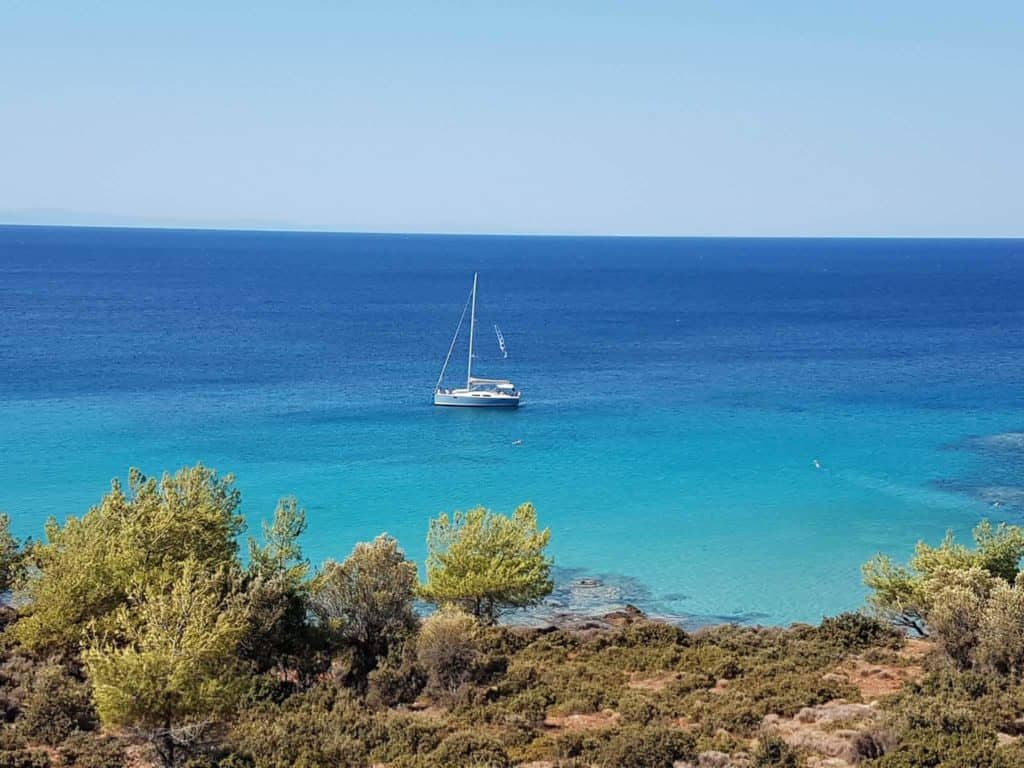 Thassos Yacht – Prices of the cruise & how to book
If you wish to book this fantastic trip with Aeolus yacht, feel free to send an e-mail with your preferred dates and number of people at info@aeolusyachting.com or simply call on +306997116056 (What's App / Viber available as well).
You can find the prices below:
A) For the morning cruise the price is 65,-€ /person and for kids between 2-12 years old 45,-€ p.p.
B) For the sunset cruise it is 35,-€/person and kids between 2-12 years old 25,-€ p.p.
Please note that the transfer is not included in the prices. Prices include:
English speaking skipper and co-skipper, diesel, breakfast (bread, butter, honey, marmalades, cookies, orange juice), lunch (Greek salad, appetizer, main course, beer, wine, refreshment) and afternoon dessert.
English speaking skipper and co-skipper, diesel, Local Greek Wine & fruit.
Please inform the crew on time in case of any allergy or food intolerance. Do you maybe have any other special request? Then please let us know via e-mail and we will try our best to fulfil your wishes!
Looking forward to having you on board on Thassos!