Thessaloniki is the second largest city in Greece. It is also the second most visited city in all of Greece after Crete. The city is as lively as it could be with its different entertaining attractions but one thing that Thessaloniki is best known for is its exotic, fun, and amusing nightlife. If you are a night owl, and you like to explore places at night, Thessaloniki is going to satisfy you to the core. The city offers a variety of ways to entertain oneself for a fun evening or night. There are many live music bars, clubs, discos, lounge bars, bouzoukia, and many other places. You will find everything from a decent drink to a trendy and flashy cocktail bar. Some even offer you instruments and live music sessions where you can sing, dance, and have the most fun time, or if you are too shy to take on the floor then you can simply enjoy a nice drink with your favorite music in the background, jazz, Latin, traditional Greek, and much more.
If you plan on visiting Thessaloniki for the coming vacation and want to know the best places to spend and enjoy the nightlife to its fullest then keep on reading as in this blog, we shall be discussing the best bars in Thessaloniki, with their best unique features and why you must visit them. The majority of the best bars in Thessaloniki are located in the center of the city and by the Beach. There are some that charge a specific entrance fee which can be later opted to buy your first drink, but then there are some with free entrance and free music to groove on. If you are looking for good bars and a bit away from the city then you can also check out Mylos and Ladadika. It is best to explore Thessaloniki's vibrant bar scene at your leisure by choosing to rent a car! This flexible option lets you set your own pace, allowing you to discover bars spread across the city without time constraints. Just remember – if your itinerary includes indulging in Thessaloniki's drinks, assign a designated driver. That way, you can enjoy your memorable Greek night out responsibly and safely! Now that we have talked about the best areas to find the bar, listed below find the 10 best bars in Thessaloniki.
Find the Top Bars in Thessaloniki listed below:
Kafodeio Elliniko
Dentro Sto Bar
Avgoustos
Pantheon
Pulp
Le Coq Tail Mix Bar
Archegono Draft
Mojo Bar
The Hoppy Pub
TYCO
1. Kafodeio Elliniko
A moment at Kafedeio Elliniko, and you will get the feeling that you are at the right place. Located at Eleftheriou Venizelou 45, this bar is heaven for people who like to drink all night. Here, at Kafodeio, you will find a different and the best variety of liqueurs, essences, and bottles from every corner of Greece. One thing that you must check before buying a drink though, is how much it costs because some of these traditional drinks come with a heavy price tag. The bar is known for its classic jazz music. You will see people grooving to the music, but it is ever too loud to communicate with your mates.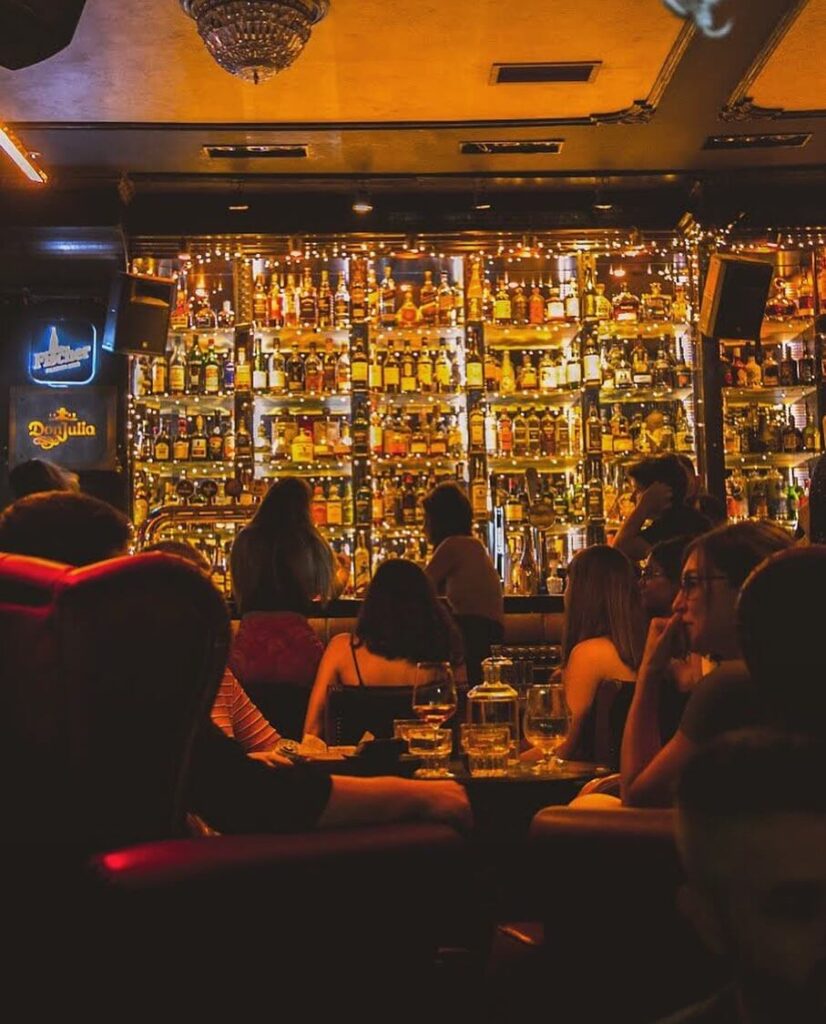 If you end up visiting Kafodeio, then you must try their Rhum, Zacapa, and black Gosslings. These three are one of the best and most in-demand drinks here. The bar has been loved by everyone who has visited it so far. People like the fact that a different music band plays every night, so they get to enjoy a variety of music. But if you are one of those people who like to just sit and enjoy a drink, then Kafodeio is a perfect fit for you as well.
2. Dentro Sto Bar
Located at 25 Leoforos Vassileos Georgiou, the Dentro Sto bar is the shade you need on a hot summer day in Greece, literally. The bar is based in a beautiful mansion with a massive courtyard filled with Sophora trees. The magnificent bar is close to the beach and the White Tower, so you do not have to worry about the view at all. Visiting the bar during the daytime will leave you with an authentic experience. You can have a nice coffee, and snacks and soothe yourself with the beauty.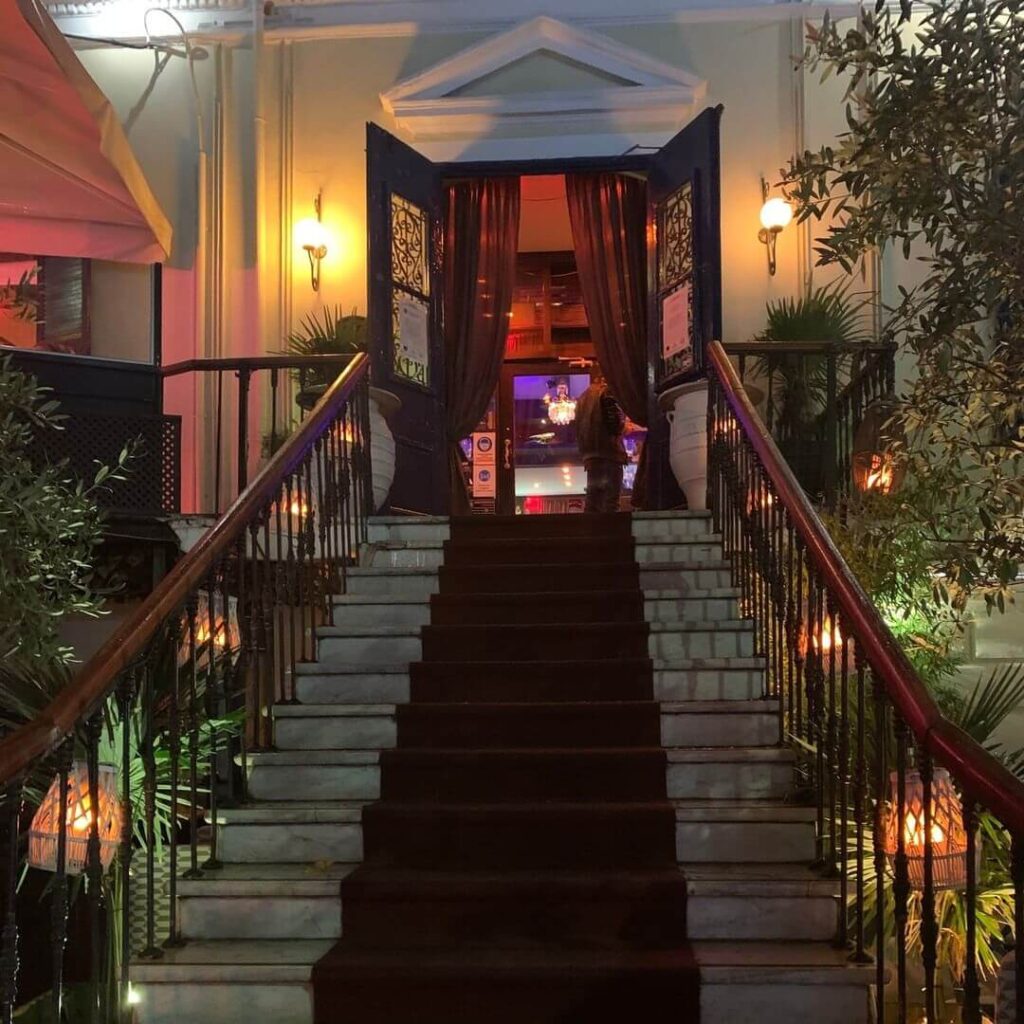 Whereas at night, the bar shines brighter than any other place in Thessaloniki. It gives a complete elite vibe, with almost 40 beer collections, each provided by the most exquisite breweries in Greece. The cocktails, on the other hand, are all fruit-based and will give you the feel as if this drink in your hand was brought for you from a fairy tale. One of the things that set Dentro apart from every other bar in Thessaloniki is its humble and friendly staff. They ensure that you have a great time, and the music that runs through your mind and makes you groove on the dance floor. People love visiting this exquisite bar all day. So, when in Thessaloniki, do not forget to visit Dentro Sto Bar.
3. Avgoustos
For all the British people, who are far away from home and missing it a bit way too much, Avgoustors will make you feel like you are sitting at a bar next door. The interior of this bar is just like an English pub. With different Guinness signs and red phone booths, this place is an English pub. Located in the Ladadika district, Avgoustos has a cozy, relaxed environment. The interior area has a serving bar, chairs, and seating area, also there is a spacious and fabulous terrace that allows you to enjoy the view of the whole area.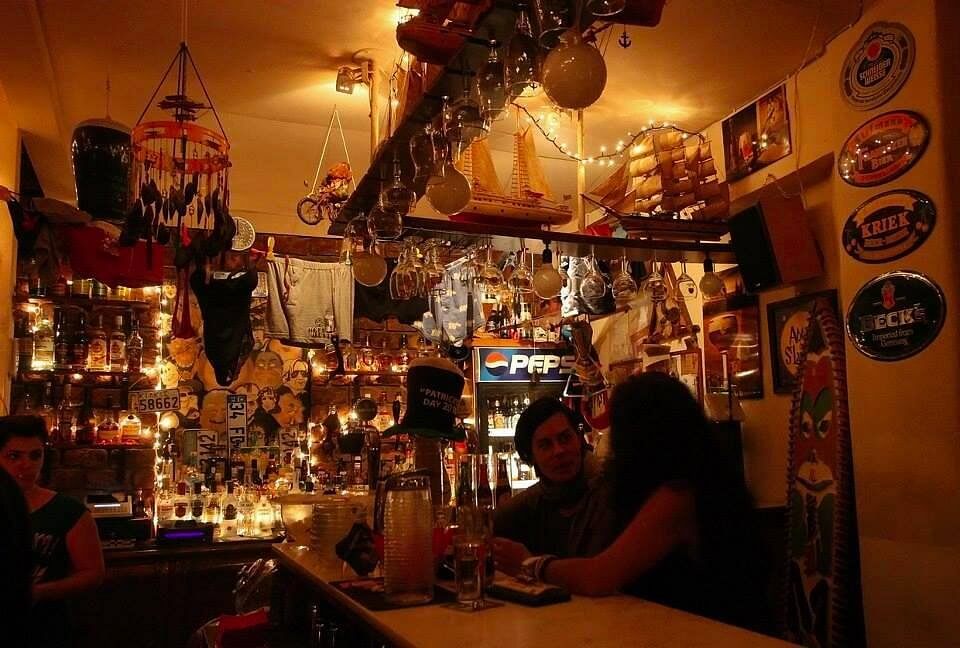 One of the best things about this place is that the owner, who shares the same name as the bar, is always present there, and he mostly manages the beer pumps, fill the glasses, and welcomes people. The bar is most known for its delicious, out-of-the-world beers, which are mostly by the local microbreweries. To talk about activities, the bar organizes cultural nights, and DJ nights, and has live music playing all night, which makes it a popular place filled by visitors and youngsters all the time.
4. Pantheon
If you are visiting Thessaloniki during winter, you must pay a visit to Pantheon. Located at Proxenou Koromila 8 Karolou Ntil, the place is open all day and is a café-cum-bar. The cozy environment, bare brick walls, polished concrete floor, exposed air ducks, and classic indoor and outdoor seating makes Pantheon a must-visit. The beautiful work of fairy lights, dangling bulbs, and wavy tree branches add up to Pantheon's beauty. Visit Pantheon during the day to have the best egg brunch, or show up at night to try their signature cocktails, spirits, and classic wines in the sparkling lights.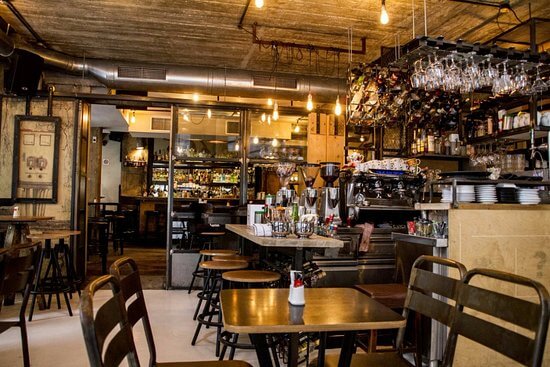 The outdoor terrace seating is an ideal spot during the hot days of summer as it provides a cool breeze coming from the sea. Pantheon is a bit high on the price but the ambiance, the perfectly blended drinks, and the beautiful view of the surrounding area make it all worth it. To top it all, Pantheon hosts live music and DJ nights every week so the guest does not get bored. Loved by all, the bar is open all year, so, whenever you decide to visit Thessaloniki, you must go to this lavish bar once.
5. Pulp
If you are in Thessaloniki and looking for a pub, there is only one name that is going to pop up and that is Pulp. Ruling the monopoly with being the only pub in all of Thessaloniki, Pulp is like a neighborhood bar. It has a funky, flashy theme with dark walls, posters, and a can bulb cover, Pulp is a must-visit place. Located at 8 Svolou Alexandrou, Pulp offers indoor and outdoor seating all day, if you are on vacation and want to grab the first drink of the day a bit early or just want to have a chilled beer, Pulp is your place to go.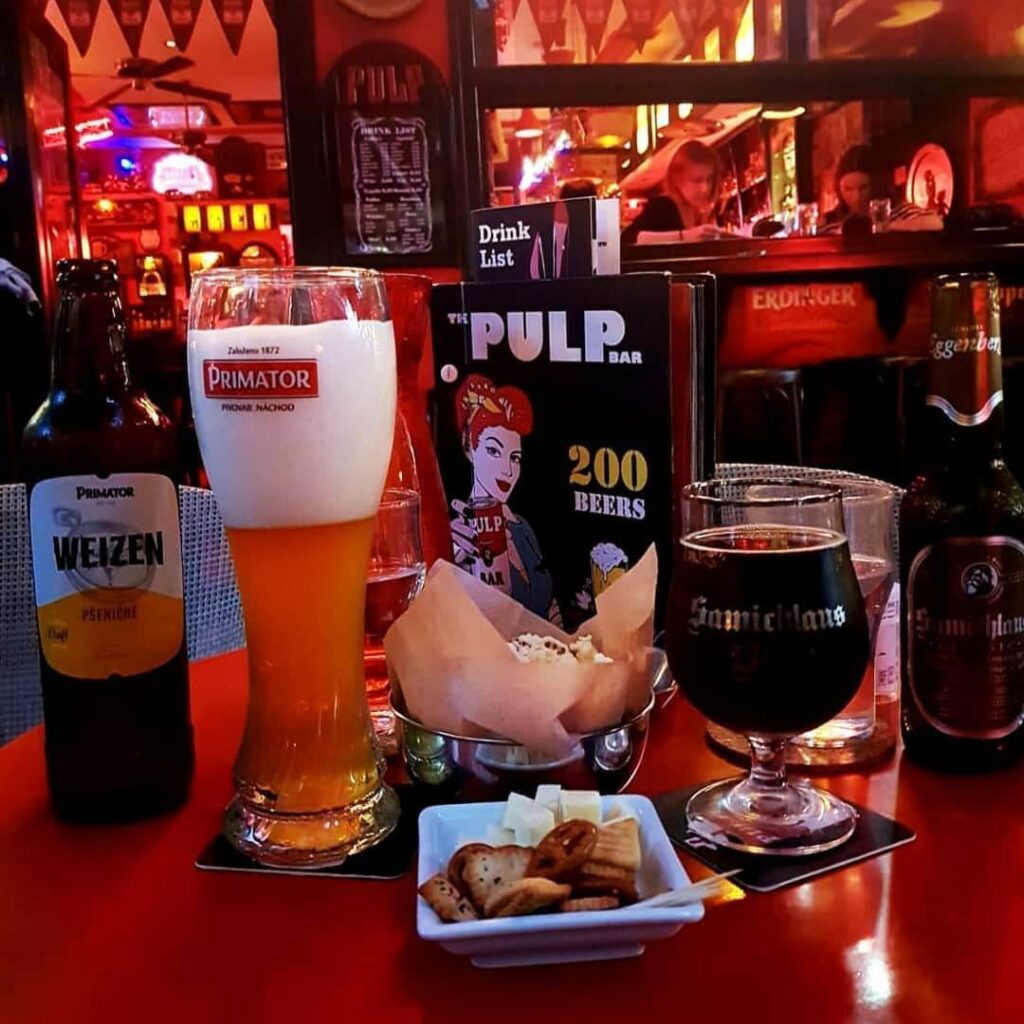 Most famous for its wide range of more than 200 beers. The lighting, the music, and the staff make it a great place to spend the night partying and drinking. Another good thing about Pulp is its welcoming and enthusiastic staff, they will make recommendations for what type of cocktail and drink you should go for. A clear American pub in the heart of Thessaloniki is something you would not want to miss at any cost.
6. Le Coq Tail Mix Bar
Located at Ectos Ton Teixon, Le Coq Tail Mix Bar is a must-visit place if you would like to taste the best cocktails in all of Thessaloniki. Based on a rooftop, it is also a café-cum-bar. If you want to have a very nice brunch with a view of the whole city then Le Coq Tail Mix is your place. You can also try their burgers, sandwiches, freshly brewed beverages, coffee, ice cream, and more. Visiting Le Coq at night is a completely different experience, the rooftop bar features dim lights which allow the whole city to twinkle below like a shining sky.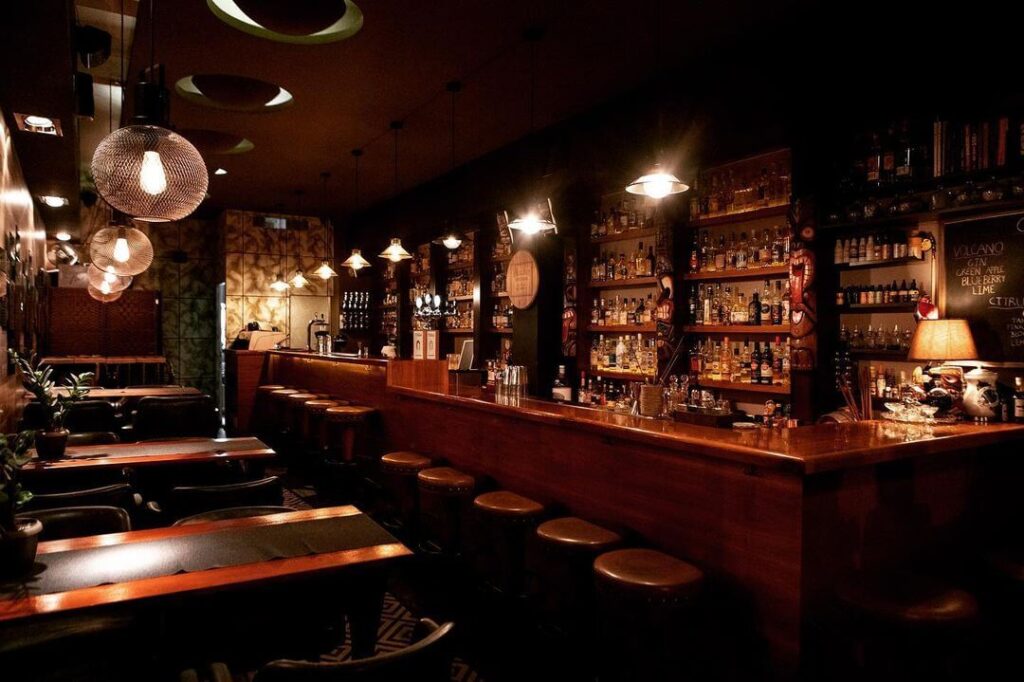 Every person that has been to Le Coq Tail Mix Bar has loved the atmosphere and the services. They all appreciate how the staff encourages the guests to try new things from the menu. The prices are also reasonable which makes this bar a crowded spot all year. So, whenever you plan on going to Thessaloniki, make sure that you visit Le Coq Tail Mix Bar once at least.
7. Archegono Draft
Located in the heart of Thessaloniki city, the Aristotelous Square, Archegono is a trending bar mostly occupied by youngsters and tourists. The interior of the bar is sleek with a modern touch to Greek architecture which provides a perfect space to take pictures for your Instagram grid. With old bikes hanging from the wall, a stage with a vintage piano, and trees sprouting out from the middle of the tables. The menu on the other hand is filler microbrewed beers that make Archegono a public favorite spot to hang out all day long. You can also find healthy snacking items here as well such as pancakes flooded with delicious chocolate sauce, freshly mixed milkshakes, and refreshing coffee. The prices are a bit high but considering the services and the environment, it is all worth spending. So, make sure that you go to Archegono when in Thessaloniki.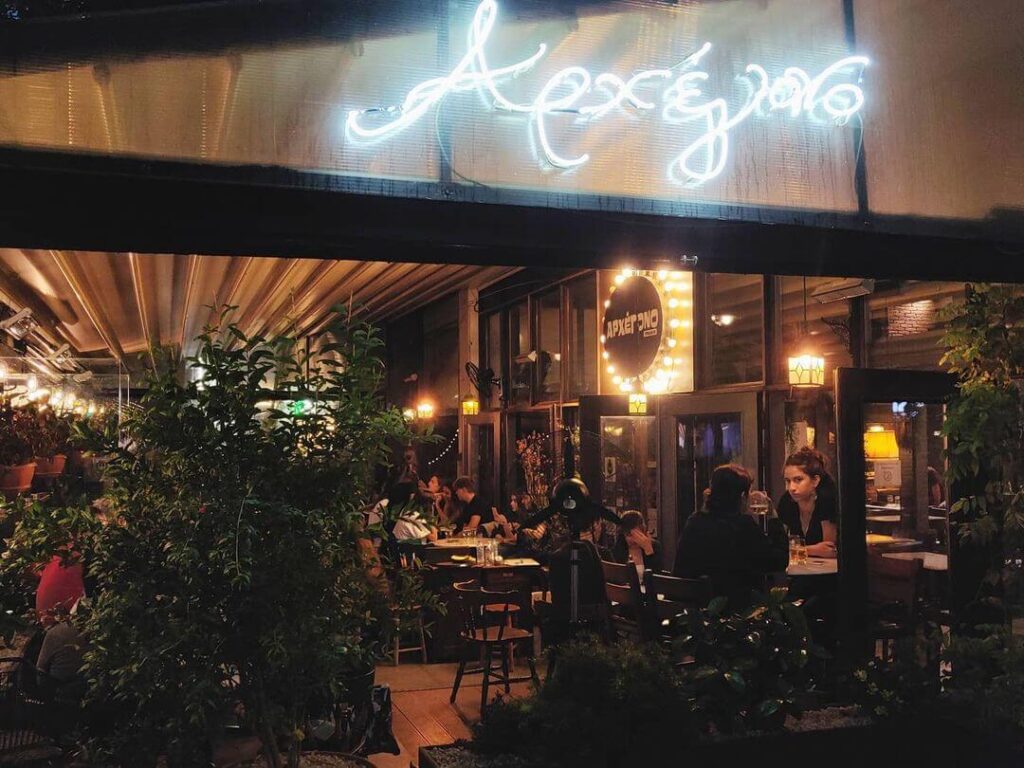 8. Mojo Bar
Located in the Ladadika district, if you are not traveling on a tight budget, and wish to have a good time at a bougie spot, then Mojo Bar is the place for you. The place has a parasol-shaded outdoor and lavish indoor seating area, with low lighting and a vibrant nightlife experience. If you are not a fan of stainless-steel bar chairs, then you are going to love the squishy sofa seating at Mojo Bar. The bar also offers a clear view of the Aristotelous Square from the inside. Their menu also features a wide selection of delicious cocktails, spirits, beers, and wines directly supplied by the finest breweries. If you like to munch on something with your drink, then you are going to love the appetizer menu which has nachos, chicken wings, bruschetta, and more. The bar is loved by the locals and most of the tourists as well. It is a great place to socialize, meet new people, and have a great nightlife experience.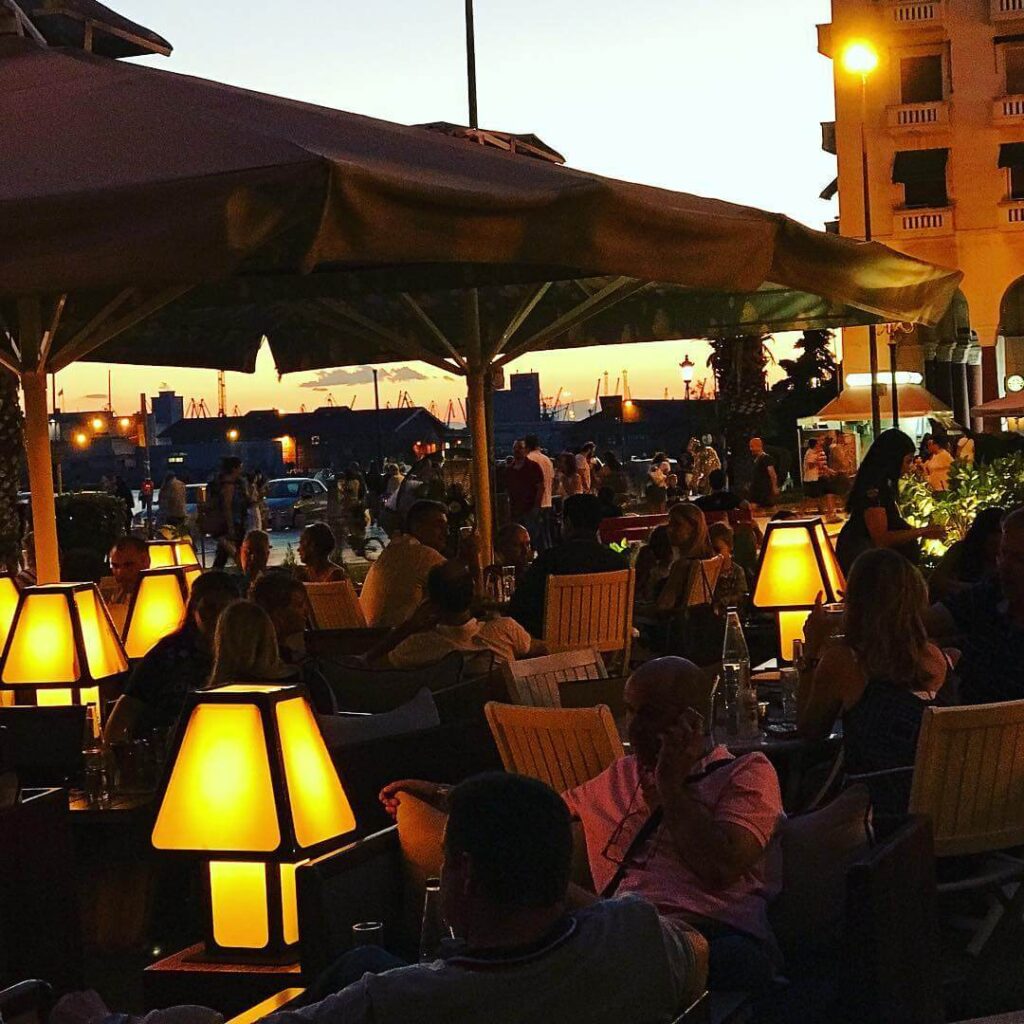 9.  The Hoppy Pub
This pub is the ultimate stop for all the beer aficionados. Located near the White Tower, this bar offers a wide range of beers suitable to every customer's taste. The bar's interior is extremely casual, with a seating area by the bar and a few bar stools with tables in the middle. There is no flashy lighting here. So, if you are looking for a place where you can sit and enjoy a beer with your friends and family without getting a migraine attack then The Hoppy Pub is a good place to be.  With classic rock music playing in the background, you can just chill here with your cold beer. The prices however are a bit high, but considering the variety and the area, the pub is worth all the money.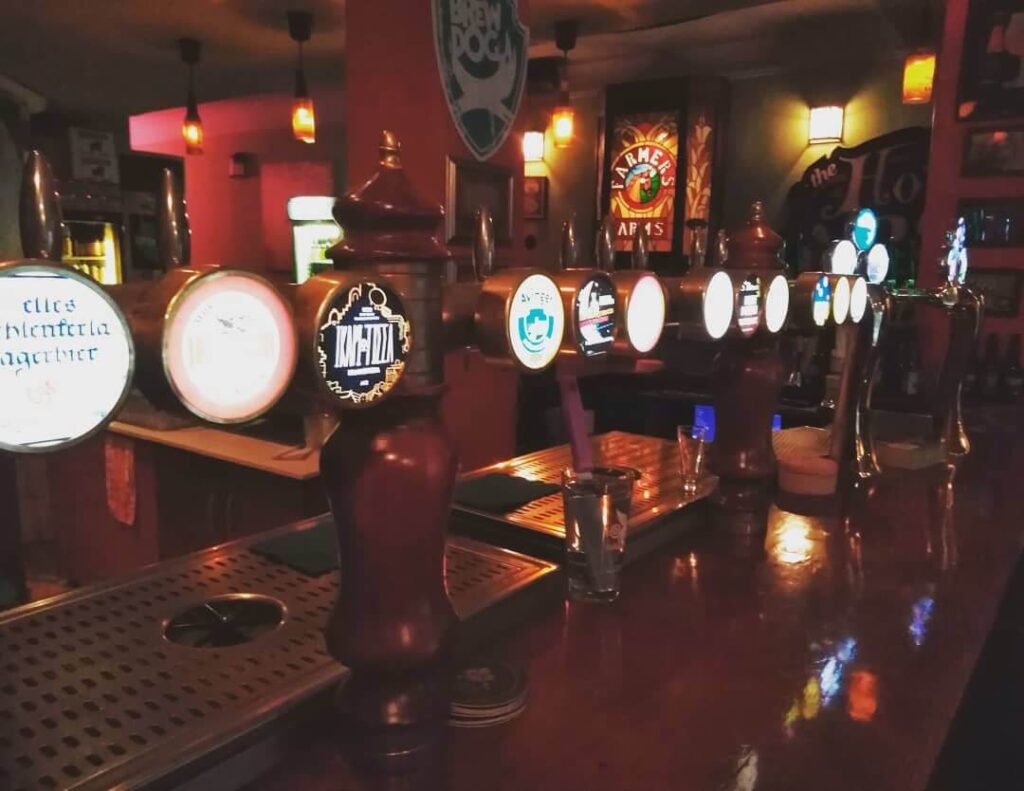 10. TYCO
TYCO is like a neighborhood bar, where you can relax with your kids, and have a nice, freshly brewed cocktail. Located at Kamvounion 8, TYCO is just like a regular bar, but the owner has done a great job at setting the vibe different from the rest of the pubs and bars available in the area. TYCO has a more electronic vibe with a neon lighting setup, a well-lit bar, and bar stools by the walls. Their cocktails are the best in all of Thessaloniki, with the fresh taste of nicely brewed beer and different cocktail syrups, the bartender knows how to mix the drinks and make the customer happy. Their staff is also extremely friendly, and they even make suggestions on which drink will suit your mood. Lastly, their menu is not restricted to adults only, they even have a non-alcohol section on their menu so you can also take your kids there and let them have their party.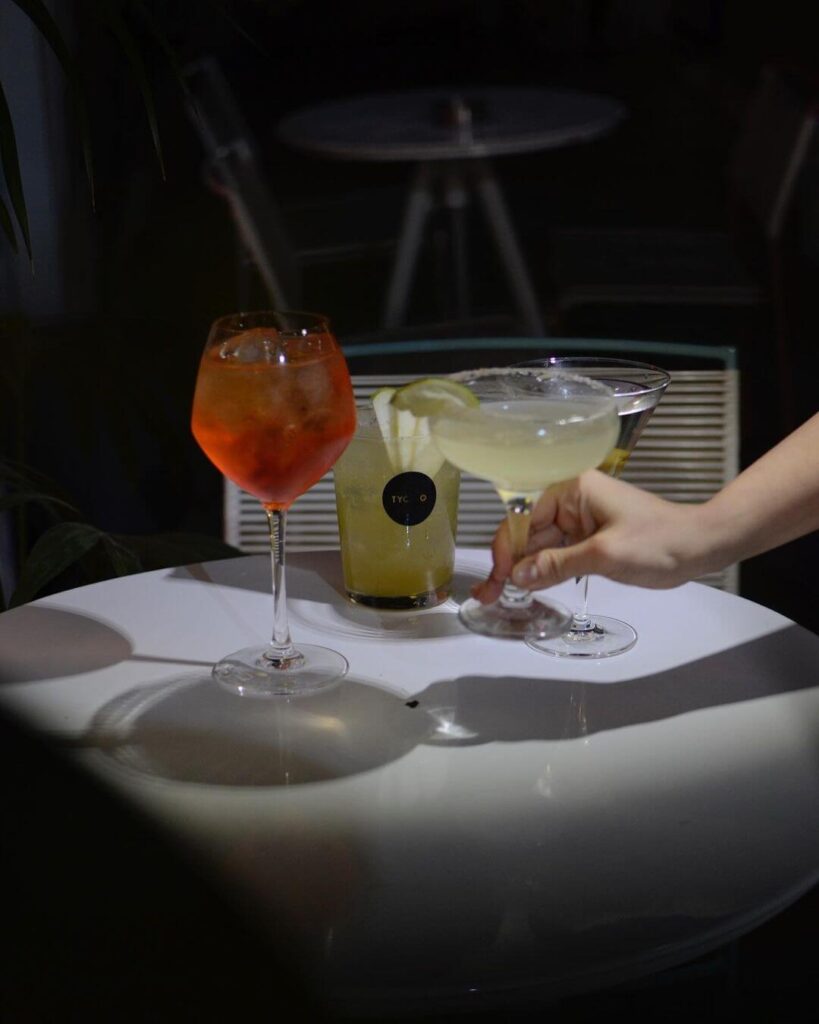 Which area in Thessaloniki has the best nightlife?
Here are some of the most popular areas for nightlife in Thessaloniki:
Ladadika: Once the commercial and trading district of the city, Ladadika is now one of the most famous areas for nightlife in Thessaloniki. It's packed with restaurants, bars, and clubs that offer everything from traditional Greek music to modern beats. The area is also known for its beautiful, colorful buildings.
Aristotelous Square: This area is full of life during both day and night. Along with a number of bars and restaurants, Aristotelous Square is also close to the city's waterfront, making it a great place to enjoy a drink while overlooking the sea.
Valaoritou Street: This area is known for its lively music scene and is often compared to the Gazi district of Athens. Valaoritou Street has a mix of bars, clubs, and music stages that cater to a wide range of music tastes.
Bit Bazaar: Located near the Aristotle University, Bit Bazaar is a favorite among students. It's home to numerous tavernas, bars, and ouzo restaurants. The area has a lively, casual atmosphere and is typically more affordable than other parts of the city.
Is there a dress code for bars in Thessaloniki?
In general, the dress code for bars in Thessaloniki is casual to smart casual, similar to many European cities. However, the exact dress code can vary depending on the specific Thessaloniki bar or club. Some upscale bars or clubs might enforce a more formal dress code, especially on weekends or for special events. For most casual bars, taverns, and pubs, there are no strict dress codes. Jeans, T-shirts, sneakers, or casual dresses are typically acceptable. For more upscale venues, smart casual is usually the norm. For men, this might mean a button-down shirt, dark jeans or trousers, and dress shoes. For women, a nice top with jeans or a casual dress can work. Some bars or clubs might have themed nights or special events where specific types of attire are encouraged. In the end, we would suggest that you check with the bar beforehand to avoid any inconvenience.
What time do locals visit the bar in Thessaloniki?
In Thessaloniki, the nightlife often starts late and goes on until the early morning hours. Many locals might not start their evenings out until around 10 or 11 PM, with some even later. Bars tend to get busier after midnight, and clubs can peak around 2 or 3 am. However, these times can vary depending on the specific venue and the day of the week. So, if you plan on mingling with the locals and socializing with them over a nice drink then 10 pm to 4 am would be an ideal time to visit these bars. It is the time when they get free from work, they have rested, had food and everything
Can you have dinner at bars in Thessaloniki?
Every bar in Thessaloniki offers food for dinner. Where some offer a lighter bite such as a snack or something to munch on, but there are many bars that have a full dinner menu for the customers. It is pretty common in Greece for people to have a light dinner in the evening, which is why the bars have started offering food options for the evening appetite. So, if you are feeling hungry and wondering if the restaurant in Thessaloniki is a good bar as well, we would suggest that you give them a call and ask them away, instead of getting to the bar and leaving with disappointment.
How to get around Thessaloniki?
There are several ways to get around Thessaloniki, buses are available for public transport, and you can buy tickets at kiosks. Taxis and ride-sharing apps provide convenient travel options. Renting a car offers flexibility If it is your first time in Thessaloniki and you are still trying to figure out a way to get around Thessaloniki without any inconvenience then we would suggest that you rent a car from Potos Car Rentals. They are considered as one of the best transfer services in all of Greece with good cars and low fare. Potos Car Rentals ensure that your travel experience is as comfortable as it could be while making sure that it does not affect your style and class either. They have a great collection of well-maintained cars. The staff is also extremely friendly and cooperative, so you do not have to worry about anything. All you have to do is book the car from the website and provide them with all the details for example, the pickup point, the drop-off, and for how many days you will need the car if you are renting it. One of the best things about Potos Car Rentals is that they hire local drivers to make sure that you are safe, and your journey is extremely comfortable without any inconvenience.
Can you rent a car in Thessaloniki Airport?
Yes, you can rent a car at Thessaloniki Airport. There are several car rental companies located at the airport, including both international chains and local Greek companies. Potos Car Rentals offers services at Thessaloniki Airport. They provide a range of vehicles to choose from, and you can reserve your car online in advance of your trip.
How much does it cost to rent a car in Thessaloniki?
Thessaloniki is a captivating city with various points of interest that can be conveniently explored by with a rental car. Car hire rates in Thessaloniki are influenced by factors such as the number of passengers, planned route, vehicle model, pick-up spot, and the rental period. The typical daily cost of a car rental in Thessaloniki is between €25 and €35. If you're considering renting a car for an entire week, you can expect an average total of around €220. A weekend car hire in Thessaloniki will roughly be €70. The options for car rental in Thessaloniki are diverse, with companies offering a wide range of vehicles to suit varying customer needs.
What Should I Consider When Renting a Car in Thessaloniki?
When renting a car in Thessaloniki, it's important to consider the following:
Rental Company: Check online reviews and ratings to ensure you're dealing with a reliable Thessaloniki car rental provider. Consider factors like customer service, the condition of cars, and the clarity of their policies.
Driver's Age: The driver must be over 21 years old and have a valid driver's license to drive the car. There are some companies whose age limit starts from 23 years.
Required Documents: When renting a car, you'll usually need to present a valid driver's license. If you're visiting from abroad, you may also need an International Driving Permit (IDP) or passport.
Drinking and Driving: Greece promotes safe and responsible driving by implementing strict rules against drink driving. If you are visiting bars and clubs in Thessaloniki, always designate a driver if you plan to drink.
Insurance: Having a valid credit or debit card for Collision Damage Waiver (CDW) insurance is essential when renting a car. This insurance guarantees that the rental company will receive the vehicle back in its original condition. However, note that CDW insurance usually does not cover damage to glass and mirrors, so in such instances, it's advisable to stay put and call for assistance.
Recommended Car Type: Before renting a car, you must look at how many people and luggage you have. You can inform the car rental company about it, and then they will offer the best car type which will be suitable for all of you.
Are drinks and bars expensive in Thessaloniki?
Thessaloniki offers a range of options that can accommodate different budgets. You can find cheaper bars and taverns where a beer or a glass of local wine might cost between 3-5 Euros, while a cocktail might be around 6-10 Euros. The local bars in the nearby areas like Ladadika and Mylos are comparatively cheaper than the ones located in the middle of the city. However the prices in Thessaloniki are comparatively higher than other European countries. It starts from €3 and can go up to €10 for a single drink.
There are also some bars that offer happy hours during a specific time of the day or week, so it would be best to check it with the bar and enjoy your time.
Do people tip in bars in Thessaloniki?
Giving tips is a sign of satisfaction, and is taken as a good gesture by the restaurant that they are doing a good job. So, be it a bar or restaurant in Thessaloniki, we would suggest that you should tip them at least 10%.
How can you pay in bars in Thessaloniki?
Paying at a restaurant or a bar in Thessaloniki is pretty easy these days with online payments, but there are times when the internet connection is not stable. So, we would suggest that you carry cash or a functional card with you so you can easily pay the bills at a bar without any inconvenience.
What is bouzoukia in Thessaloniki?
Bouzoukia is a venue in Thessaloniki and all of Greece where there is a band performing live music with Greek singers using traditional musical instruments such as a guitar, accordion, and bouzoukia, which is a long-necked stringed instrument. The music at bouzoukia is relatively more relaxing than the bars, here people sit in their chairs and enjoy their food and drinks while enjoying the melodies.
Is bouzoukia more popular than bars in Thessaloniki?
Both bouzoukia and bars are two of the perfect sources of entertainment in Thessaloniki, and picking one among the two solely depends on personal preference. Where bouzoukia is more of a traditional Greek music and bars are there with a more fun and raw music experience. Both have their unique charm and to pick one is all about personal preference.
Can I combine bar hopping with sightseeing in Thessaloniki?
Absolutely, combining bar hopping with sightseeing in Thessaloniki is an excellent way to experience the city's vibrant nightlife along with its rich history and culture. Many of the city's best bars are located in areas with significant historical Top Museums in Thessaloniki.