Thassos is an island filled with natural beauty and unique history which you cannot find anywhere else in Greece. While many tourists come to the island for its beaches, rural life, or nightlife, the southern part of this island offers you a great variety of activities to try. However, to experience the most out of your time on the island of Thassos, knowing the ins and outs of this region is a must. As such, here are a few things you should know about the south part of Thassos before you plan your trip.
How to get around in South Thassos
Getting Around in South Thassos By Car
Transportation is always an issue in any vacation destination. However, this is even more challenging in southern Thassos since there are many tourist spots you may want to visit, but they are often not close to each other at all. Luckily, renting a car in Thassos is not too difficult (you can even book online) and it is actually the best way to get around the island.
Car rentals offer freedom to see all the sights in southern Thassos at your own pace and with no restrictions. With a car, traveling between Potos and Limenaria will feel like a breeze and you can enjoy trips to places like Giola Lagoon, Notos Beach and Aliki beach. Plus, you're given the option to choose from a wide range of vehicles that best suit your preference and budget.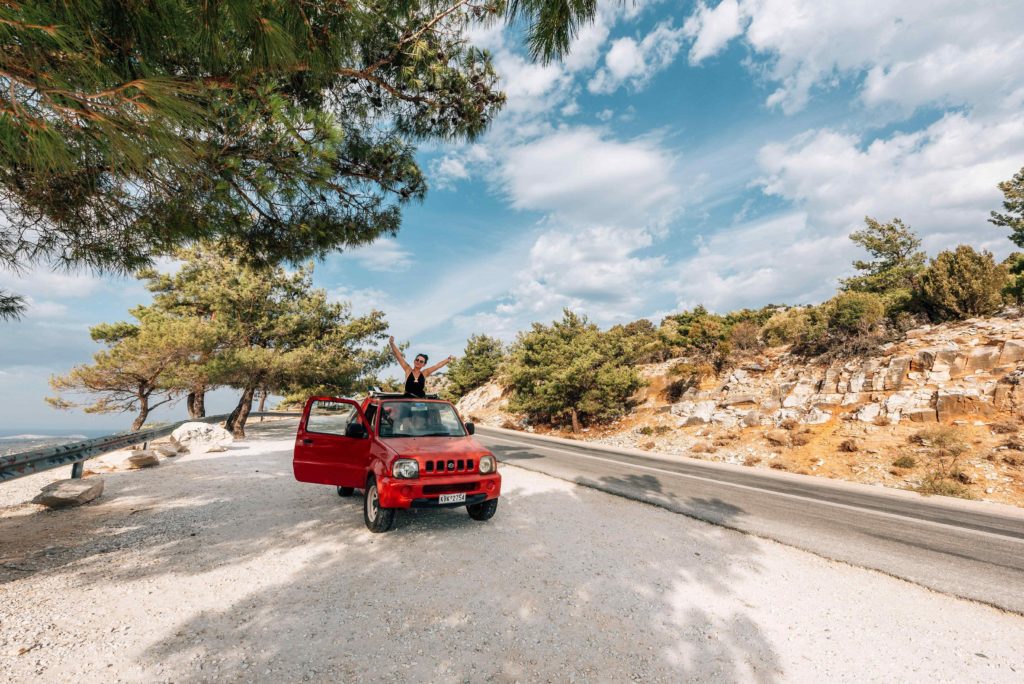 Getting Around in South Thassos By Taxi
Although this option may not be as cost-effective as renting a car, taxis are still a decent option. It's ideal for those who don't really plan to go to all the sights in southern Thassos. You can easily find a taxi by the city center or book a taxi transfer online to 22 different locations all over Thassos.
Getting Around in South Thassos By Bus
Another affordable way to get around in southern Thassos is by using local buses. There are several bus stations found in the region, therefore, you can always find the right route to take. The buses in Thassos are usually comfortable and air-conditioned. However, stopovers and delays may occur so this method may not be the most reliable.
Best Things to Do in South Thassos
There are many activities to do when in Thassos so you're sure to never run out of fun. Here are some things you should consider:
Visit South Thassos Beaches
Thassos is home to countless breath-taking beaches, each offering unique experiences. There are sand beaches, pebble beaches, and rocky beaches – all ideal for different types of preferences.
▶ ALSO READ: What Is the Best Way to Get Around Thassos?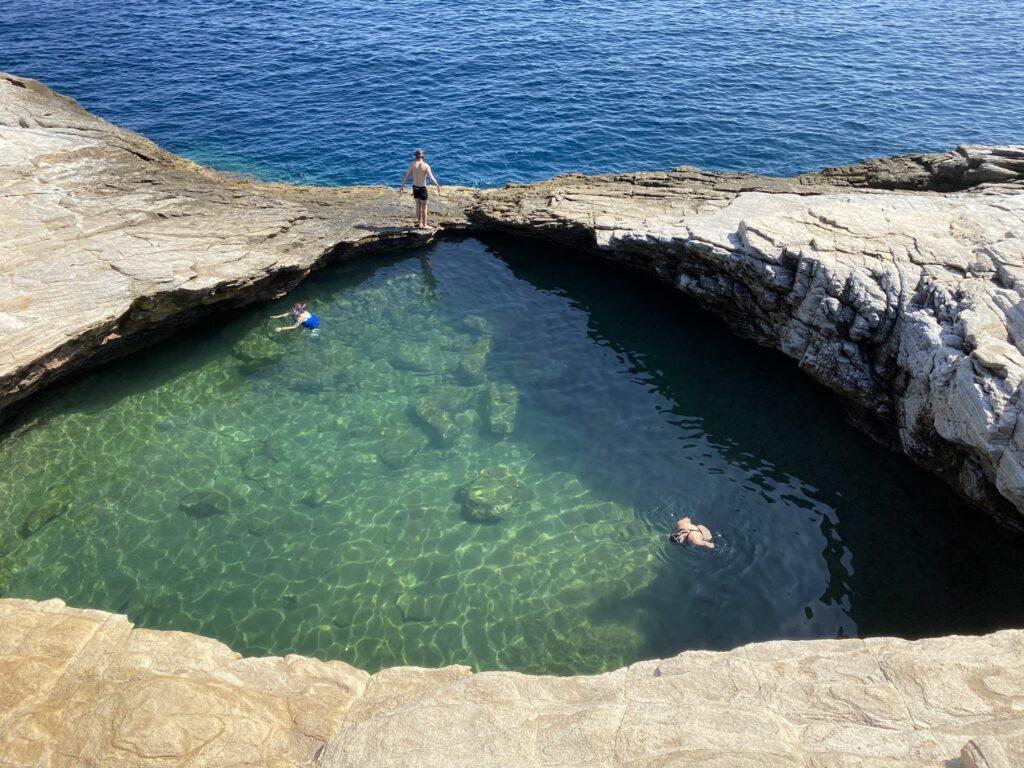 Check Out Archeological Sites
In Thassos, one can find several archeological sites and museums. Among the most popular ones are the Aliki Archeological Site and Monastery Archangel Michael.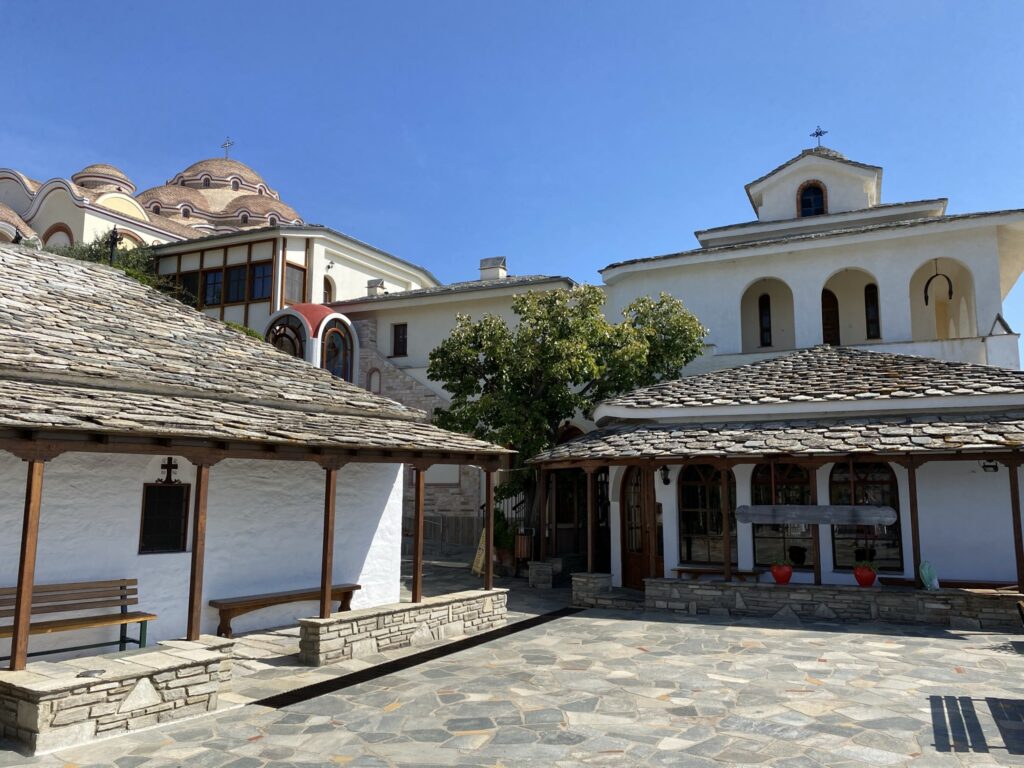 Engage in Water Activities
From snorkeling, diving, and kayaking to simply relaxing on the shores, there are endless activities to do when in Thassos during summer. The beaches of Pefkari and Potos offer excellent places for water sports while the rocky coastline of Limenaria presents a serene place for swimming and sunbathing.
Also read: All about North Thassos
Best Sights in South Thassos
Several historical landmarks in southern Thassos offer you a glimpse of what life was like during the early days. Therefore, if you prefer to experience what day-to-day life is like for local people, these places will be perfect for you.
Visit Potos town
If you're tired of the typical beach scene, head over to Kastro, an area in southern Thassos that is famous for its natural beauty. Potos village is ideal for shopping and beach enthusiasts who are looking forward to enjoying a cosmopolitan environment.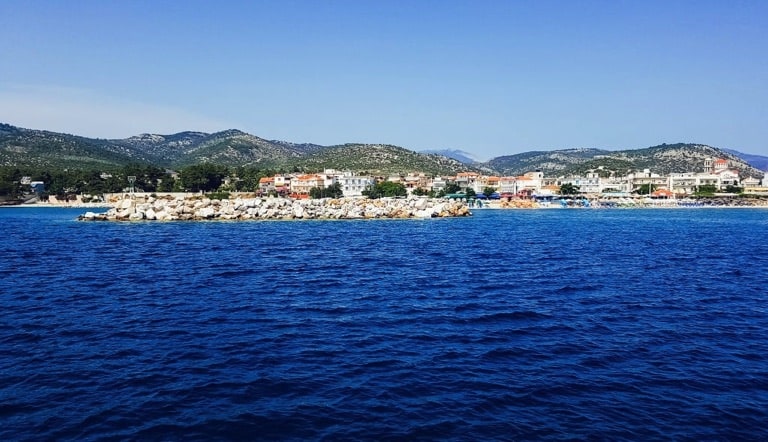 Theologos
This "traditional town" has been described as a tiny highland community nestled in a hollow between thinly wooded slopes. If you check Theologos today, you may not realize that it was the administrative center of the island throughout the Ottoman Empire for hundreds of years. The village's Macedonian-style stone homes have been preserved as a virtue of its status as a traditional community.
Aliki Old Port
Thassos had two harbors in the past, one for commerce and trading interests and the other for military ones. The old harbor, which was once a navy port, is now known as the old harbor. On the waterfront, the ruins of the historic harbor's round towers can still be seen.
Best Beaches in South Thassos
Beautiful is just an understatement when describing how wonderful the beaches of Thassos are. From Aliki and Limenaria to Thimonia and Potos, one is bound to find a spot they like as there's truly something for everyone, including those who prefer secluded spots or vibrant areas. Here are the best sites to check out:
Paradise Beach
Paradise Beach is a large strip of sand under pine-decked hills on a calm section of the east coast. The pyramidal silhouette of the little Nisida Kinira island, a few hundred meters to the northeast, can even be seen from the beach. The amenities, sun loungers, and natural make-up of the beach make Paradise Beach a popular choice for families.
Aliki Beach
Aliki Beach, one of southern Thassos' beautiful beaches, is an area with a sandy bay surrounded by breathtaking natural beauty. The beach is wide and showcases trees of all kinds creating a very cool and pleasant environment.  Aliki Beach is well organized, with sun loungers to rent, umbrellas, and deck chairs. You can also enjoy freshwater showers or a drink at the nearby bar.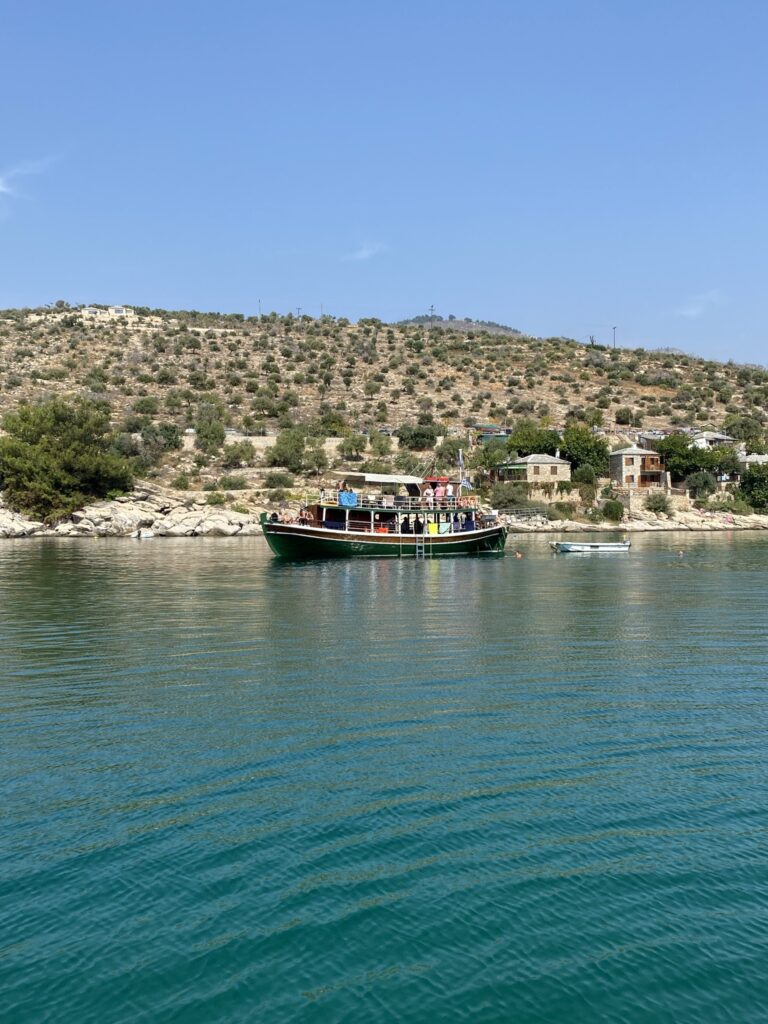 Psili Ammos Beach
A beach blessed with turquoise, clear waters, and surrounded by green trees, the Psili Ammos Beach is a top favorite of locals and visitors. You can go snorkeling and scuba diving at Psili Ammos while admiring the underwater beauty of the sea. In addition, sunbeds and umbrellas are available for you to relax and enjoy the scenery.
Also read: Nudist beaches in Thassos
Best Tours in South Thassos
If you want to spend the day exploring several attractions in Thassos, you can go on one of the tours offered in the southern part of the island. You might want to consider these packages:
Sailing Cruise in South Thassos
PotosTours (our sister company) offer custom day and multi day charter cruises on sailing yachts, motorboats, catamarans throughout Thassos. You'll be awed by the sheer beauty of the waters that surround Thassos while cruising through it on board a luxurious boat.
Thassos: Island Discovery Tour
If you want a full-packaged deal that lets you see more of Thassos, booking this tour will be your best decision. You can explore the city of Thasos, visit the traditional village of Panagia and even enjoy one of the most beautiful beaches and the archeological sites at Aliki Beach.
Where to Stay in South Thassos
Are you looking for a place to stay in South Thassos? If so, check these top-rated accommodations:
Hotel Diamond
Found right at the village of Limenaria, Hotel Diamond offers rooms that are perfect for those who want to spend a tranquil and relaxing vacation. All rooms come with balconies and views of either the sea or the garden, so guests can enjoy both natural sights while taking in fresh air.
Address: Limenaria 640 02, Greece
Website: https://hoteldiamond.gr/
Contact:  +30 2593 053451
Lydia Studios
Found right in Skala Maries, Lydia Studios provides lodging for travelers on a budget. There is free WiFi all through the hotel, as well as on-site private parking. Your stay here will be comfortable with the amenities provided, which include a TV and even a refrigerator.
Address: Skala Maries 640 02, Greece
Website: http://lydiastudios-thassos.gr/en/home/
Contact:  +30 697 404 7110
Where to Eat in South Thassos
Exploring southern Thassos can make anyone go hungry, so if you're looking for some delectable grub, check out these places to eat in Thassos: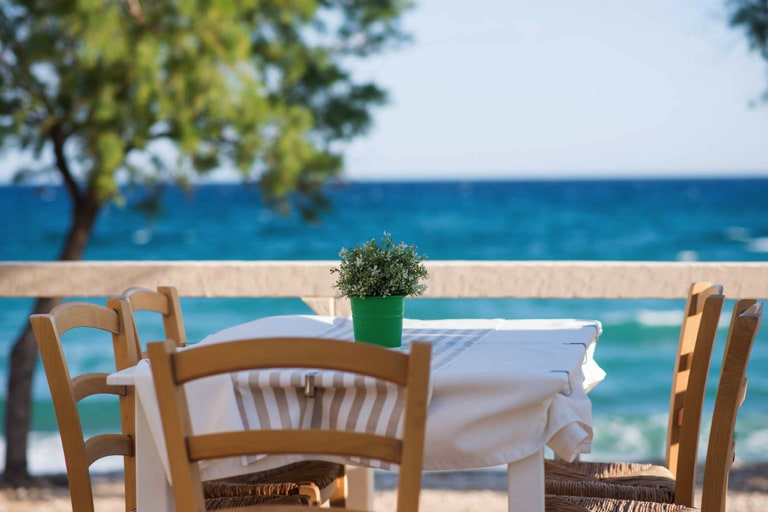 Limenariotissa Food House
Offering desserts, main courses, and refreshing drinks, this restaurant is a good choice for those who want to enjoy a bite while lounging in a laid-back ambiance. The restaurant's menu offers an array of options for all palates, ranging from traditional Greek cuisine, such as tzatziki and souvlaki, to pasta.
Address: Limenaria Thassos 640 02 Greece
Website: https://www.facebook.com/limenariotissa/
Contact:  +30 2593 052956
Boomerang Bar
Found in Potos Beach, Boomerang Bar is a good place if you're looking for an atmospheric restaurant with fresh seafood dishes and cocktails to enjoy. The view to the sea makes a meal here a truly relaxing experience.
Address: Potos Beach, Potos 640 02 Greece
Website: http://www.boomerang-bar.gr/
Contact:  +30 2593 052012