When driving in Thassos, knowing where to park is essential to avoid getting a parking ticket. Of course, you wouldn't want to pay a hefty fine just because you parked in the wrong spot. This isn't just a waste of money but also a huge inconvenience since you'll need to go to the Traffic police station to pay the fine.
So, where should you park when driving in Thassos, what are the parking rules you need to look out for and what happens when you park in the wrong spot?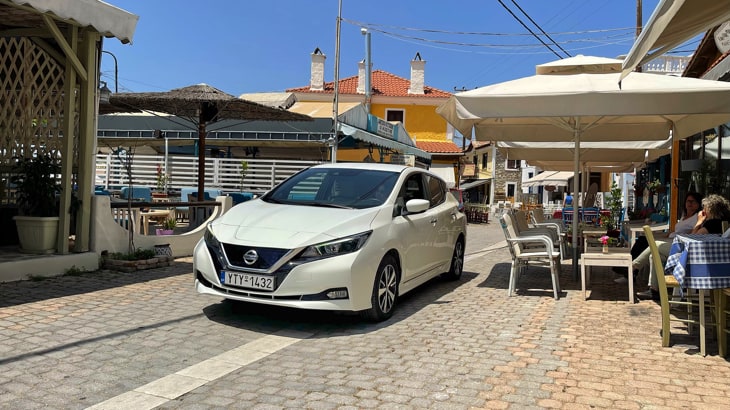 Find out everything you need to know about parking in Thassos and more helpful information by reading below:
Rules of parking cars in Thassos
As with any island  in Greece, Thassos has specific parking rules and regulations that must be adhered to. These are put in place for the safety of drivers and pedestrians as well as to keep the island's roads clear and congestion-free.
Here are the main things to keep in mind when parking your car in Thassos:
Parking in the street
It's common to see cars parked in the street on Thassos, especially in the narrower roads of the island's hillside villages. However, you should only park your car in a designated spot and not in the middle of the road or on the pavement.
There are usually white lines painted on the road to indicate where you can park your car. If there are no lines, you should park your vehicle as close to the curb as possible.
If you see signs that indicate "No Parking" on the side of the road, make sure to obey them as parking in these areas is not allowed.
When you do decide to park at the side of the road, it's best to ask a local if your chosen parking spot is safe. This is because some areas of Thassos are known for car break-ins, so it's best to be aware of your surroundings. Also, remember to close your side windows and lock your car doors when you leave it parked.
Other than lines painted on the road, color indications are also used when parking on the street.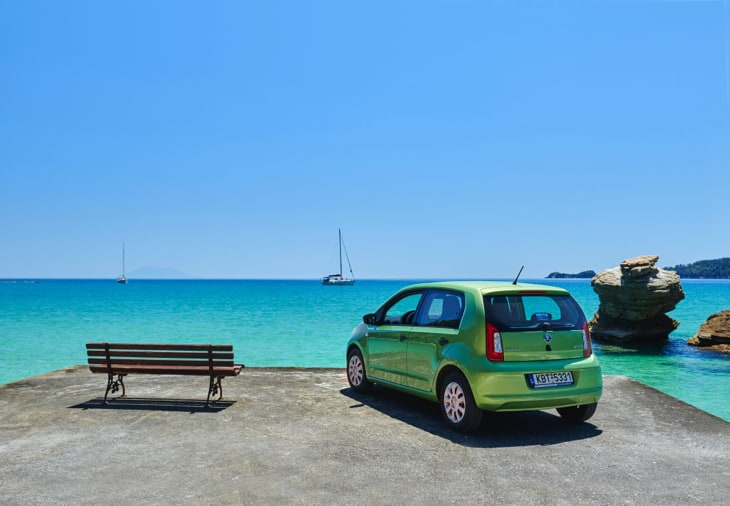 Color markings and parking spacing
White, blue, and yellow are the three colors used in Thassos to indicate parking spaces. Many European cities employ this parking strategy too:
Free parking is indicated by white markings.
Paid zones are highlighted in blue markings.
Yellow markings indicate special vehicle zones where parking is prohibited. This means people with disabilities can park in these spots. Government vehicles are also allowed to park in these areas.
When it comes to parking spacing, the following must be adhered to:
Cars must be parked in a single file.
The space in front and behind a parked car must be respected. This means that you shouldn't park your car too close to the car in front or behind you.
The space between two parked cars should be at least 1.5 meters.
When parking your car on the street, make sure that you're not blocking any driveways or sidewalks. You should also avoid parking in front of fire hydrants, so that the fire brigade can easily access them in case of an emergency.
In Thassos, there are designated outdoor and indoor parking spaces that you can use. These are usually found in the larger towns and villages of the island, as well as near popular tourist attractions.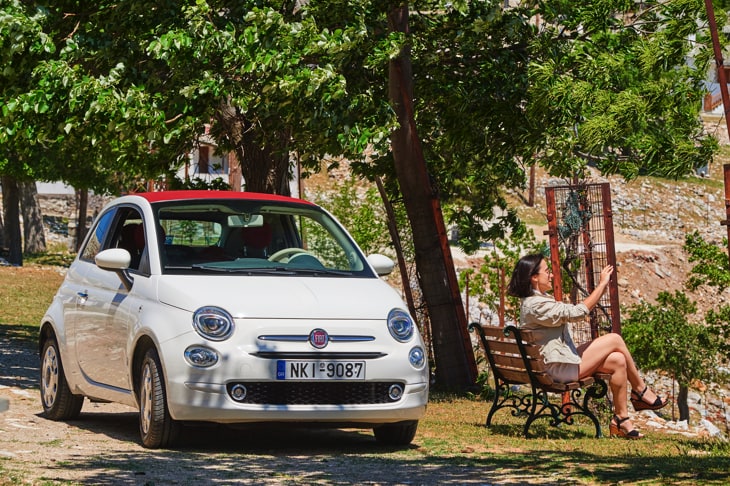 Outdoor public and private parking areas
Although many accommodations lack parking in Thassos, you will find that most villages offer some form of free parking. The marina in Limenas (Thassos Town), for example, has a large parking lot that is close to the town center, the ferry port, and a few hotels and other accommodations. This makes it a convenient place to leave your car when exploring Thassos Town on foot.
Besides street parking, Potos has two free car parks at the village entrance and exit, as well as a private car park in the village center next to the olive oil factory. Parking here costs 2 Euros per night.
Other parking areas in Thassos are run by the municipality and are free of charge. These can be found in various villages such as Skala Potamias, Kastro, Prinos, Limenaria, Pachis, and more.
Some private parking areas also exist on the island but these come at a fee. Those that offer these parking spots are usually accommodations such as hotels, restaurants, cafes, and so on.
Cost of parking in Thassos
The cost of parking in Thassos depends on the type of parking spot you choose to leave your car in.
As mentioned, street parking is usually free but there are a few exceptions to this rule. Some areas may ask you to pay a certain fee depending on the time of the day.
On the other hand, parking on a private lot will set you back a few Euros per day. The price is usually displayed on a sign at the entrance of the parking area. This can be anywhere from 2 to 5 Euros per day.
Keep in mind that the prices may change depending on the season, so it's always best to ask beforehand.
Public parking areas run by the municipality are usually free of charge but may also ask for a fee not more than 3 EUR.
Just prepare extra cash in case you need to pay for parking so that you won't have to worry about not having enough money.
When it comes to paying for parking, cards and cash are accepted.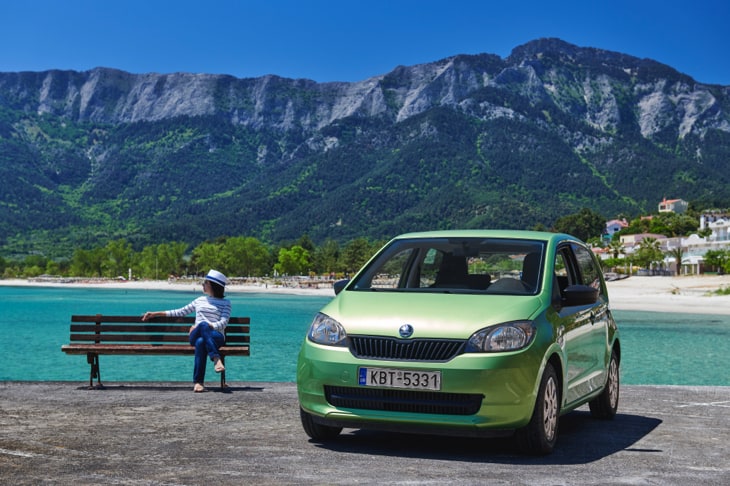 How to pay for parking in Thassos
Paying for parking in Thassos is pretty straightforward. You can pay by cash, which is commonly used, or you can use your debit or credit card.
In some private parking areas, there are booths in the entrance of the parking area run by an attendant who'll give you a parking ticket.
Paying by card is also possible in some parking areas. There's usually a machine where you can insert your card and pay the amount that's displayed on the screen. However, not all parking areas accept card payments so it's always best to have cash on hand just in case.
Parking violations and penalties
The least you want to happen while on vacation is to get a parking ticket. As such, it's important to be mindful of where you leave your car and to read the signs carefully so that you don't end up getting a fine.
If you do get caught parking in the wrong spot, the fine for illegal parking in Thassos is 80 euros, and the number plates of the vehicle will be removed by the Greek Traffic Police and returned after 20 days.
Seizure of license plates
Other than paying a fine, the worst thing about getting caught parking illegally is that your license plates may be seized by the Greek Traffic Police. This usually happens when you're caught parking in a handicap spot without a permit, or if you've racked up multiple parking tickets.
If your license plates are seized, you will have to go to the local police station to retrieve them. The process is daunting and time-consuming, so it's best to avoid getting in this situation in the first place.
You can only get your license plate back after 20 days, so if you're renting a car, you need to contact the rental company and let them know about the situation.
Apps for searching parking
Unfortunately, there is no specific app for searching parking in Thassos. However, there are general apps that can be used such as Google Maps and Waze.
Both apps will show you the nearest parking areas to your location as well as the fastest route to get there.
It's a good alternative if you 're not familiar with the area and you're looking for a specific parking spot.