There are several reasons to visit Thassos in winter time. The most important are listed below.
Weather is good
There is not much rain in the winter on Thassos, and the temperature rarely drops below zero. About 10 degrees is the typical wintertime temperature. The days are typically sunny in the winter, and the sky is clear. Winter on the island is still gorgeous even though it is very chilly. The scenery is gorgeous, and the trees are completely covered with snow. As Christmas draws near, holiday spirit gradually begins to permeate the air. Check this post for more about weather and climate in Thassos.
Less crowd
Although Easter is the most popular day to travel to Thassos, you should still go during Christmas. The island receives some snowfall in January and February. Even though the mountains are almost always covered in snow, there are those days when the entire island is closed due to sea-level snowfall. As strange as it may sound to some, schools are closed, transportation is limited when it snows. Because of this, snow on the island is a reason to rejoice, make snowmen, and enjoy the outdoors.
Prices are lower
Prices are way cheaper in winter for accomodation, car rentals, food and tours as well. Check this post about prices in Thassos to learn more. Prices in all season accommodation like Helia All Season Apartments is way lower during the winter.  Although it would seem like there isn't much to do in Thassos in the winter, which is untrue. Since many companies are closed in the winter, this is also an excellent time to find deals on lodging and meals.
Things to Do in Thassos in Winter?
There are many things to do to keep you occupied. For instance, visiting museums, shopping at gift stores, or dining locally.
Visit Thassos Archaeological Museum
One benefit of visiting Thassos during the winter is that there aren't any lineups or tourist crowds at the museums and archaeological sites. Consider the Thassos Archaeological Museum as an illustration. You can investigate the relics at your speed and have the entire area to yourself. You realize this is your chance to learn more about history when you contrast that with the typical summertime congestion. Additionally, Thasos will amaze you with its deep history and mythology if you are willing to read.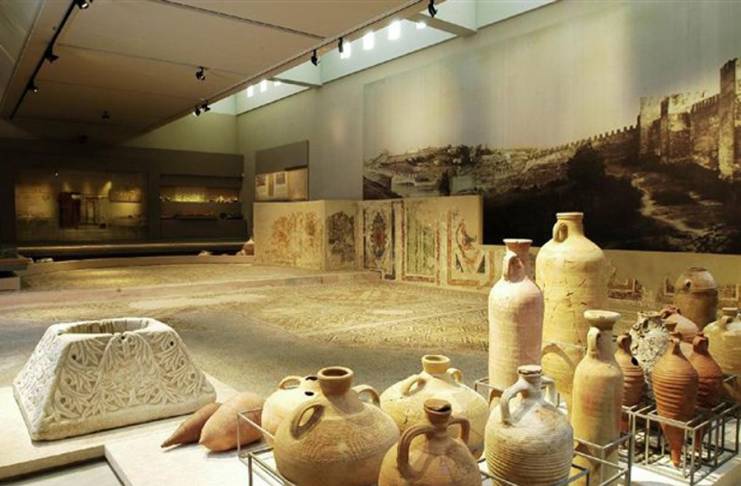 Hiking on Mount Ipsarion
You'll long for a walk in the outdoors after spending all day indoors or in a museum. Keep in mind that Thassos is one of Greece's greenest islands. Furthermore, since olive and pine trees provide foliage, there is never a season without flowers, grass, or leaves. Heading inland and hiking through the mountains of Thassos is the greatest way to soak in the island's natural splendor. Hiking in the winter will provide you with unmatched views and memories, regardless of whether your goal is to ascend Mount Ipsarion or you would rather take a more comfortable route through an olive grove or line forest.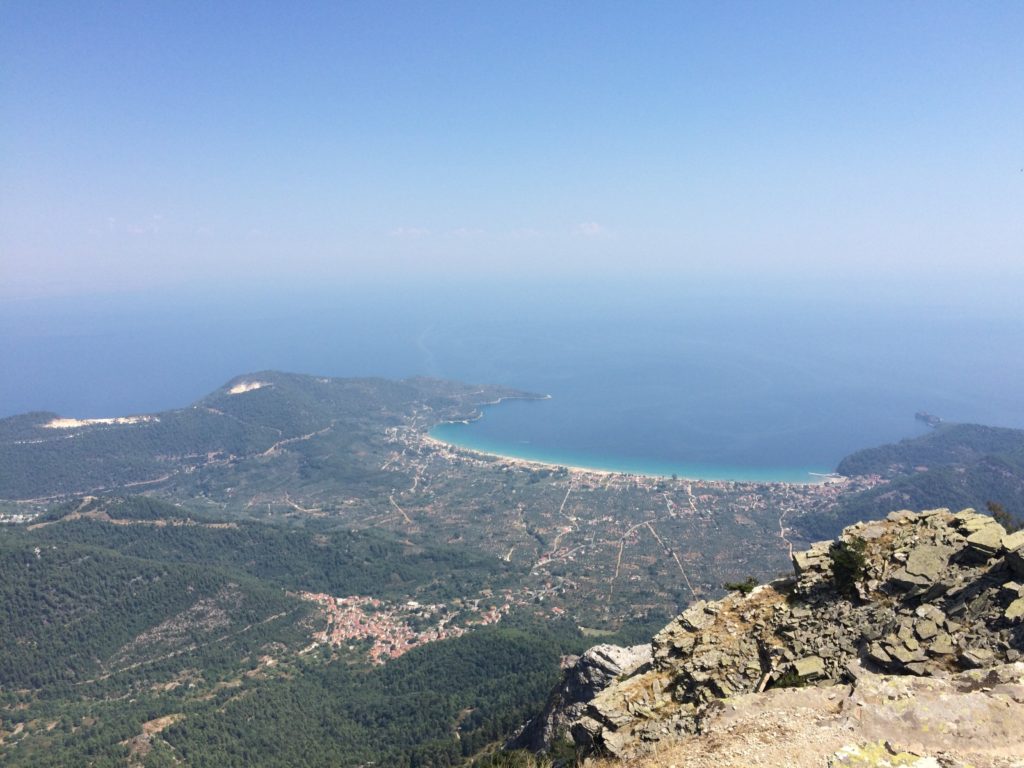 Taste the Traditional Greek Cuisine
Gyros, moussaka, souvlaki, and fresh seafood are among Greece's most well-known foods. In terms of sweets, you should sample the typical loukoumades, a delightful Greek donut, and the legendary kadaifi (sometimes spelled kataifi). Greek coffee is yet another type of specialty. Pizza and pasta are always options, but I urge you to try authentic Greek cuisine; you won't be sorry! Remember that Greek wine is exceptional, and any house red will improve any meal (although beer pairs well with gyros).
Apokries Carnival (The Greek Halloween)
The time of the Carnival, also known as Apokries, is another time of festivity in Thassos. It lasts for twenty days and starts ten weeks before the Greek Easter. The inhabitants dressed up and participated in various social events during that period. Almost every village holds a ritual to honor the carnival spirit openly. Some communities, like Kallirachi, produce comedy and other plays in front of an audience. Parades are more common in other towns, including Limenaria.  And on Tsiknopemti, the second Thursday of Carnival, everyone is instructed to cook and consume meat to prepare for the forthcoming fast.
Explore the Beaches
Even though Thassos beaches in the winter are very different from those in the summer, you can still go there and enjoy the area's untamed beauty. If you're in the appropriate frame of mind, you might not be able to enter the water, but you can still sunbathe on sunny days. And although it may surprise you to learn that winter has sunny days, it does. Set your towel down in an area with little to no wind and allow the Greek sun to work its magic. Even in December, you can never say no to a free tan.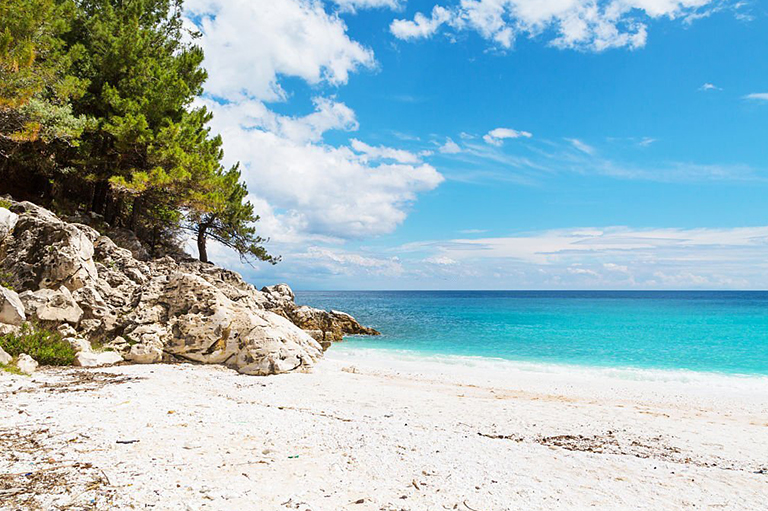 Where to Stay in Thassos?
Limenas, Thassos' principal port, serves as the island's commercial and administrative hub. Both natives and foreigners flock here to enjoy a stroll through the crowded, energetic streets. Everything is available here, including trendy cafe bars, nightclubs, pubs, and shops. There are countless possibilities for lodging, and Limenas is the place to be if you want to stay in a five-star hotel, a boutique hotel, or a contemporary apartment. And since there is so much competition, staying here won't break the bank.
Royal Paradise Beach Resort & Spa
The new five-star seaside hotel Royal Paradise guarantees a royal experience, as its name suggests! It is situated in the southern region of Thassos in a region known as "Rosogremos," which is well-known for its sandy beach and emerald-coloured waves and is close to the busy town of Potos.
Thassos Grand Resort
The most recent five-star resort constructed on the east side of Thassos is the Thassos Grand Resort, located at "Agios Ioannis" (name taken from the bay). Nearby lies the well-known peninsula of Aliki, which has an archaeological site and beachfront taverns.
Makryammos Bungalows (Limenas)
Makryammos Bungalows offers beachside accommodations within a pine grove with direct sea views. There is a sizable pool and a small zoo on the grounds of the 4-star complex.
Sentido Thassos Imperial (Skala Rachoniou)
Sentido Thassos Imperial is a hotel with a restaurant, free private parking, a seasonal outdoor pool, and a bar located in Skala Rachoniou, 200 meters from Pachis Beach. Each room at the four-star hotel offers a pool view, and visitors can access a garden and a terrace.
Atrium Hotel Thassos (Potos)
Amid luxuriant vegetation, 600 meters from Potos Village, sits the beachfront Atrium Hotel Thassos Hotel. A pool, exercise center, spa, sauna, and free Wi-Fi are available.
Staying in Southern Thassos
If you're renting a car to explore all the attractions in southern Thassos on your own time and without any constraints then you can enjoy to the fullest extent. You can enjoy excursions to locations like Giola Lagoon, Notos Beach, and Aliki beach when driving between Potos and Limenaria. Additionally, you have the choice of a variety of cars depending on your preferences and price range.
You can taste early life at several tourist attractions in southern Thassos. Therefore, these locations will be ideal for you if you want to see how locals live their daily lives. Some well-known tourist destinations are Potos Town, Theologos, and Aliki Old Port.
Staying in Northern Thassos
Some of the most stunning and well-liked tourist destinations on Thassos can be found on its northern side. This area is known to have traditional towns that are worth visiting in addition to the beautiful coastline. If you travel to North Thassos, you will undoubtedly have an unforgettable vacation.
Although hiring a car is more economical, using a taxi in Thassos to tour North Thassos is still an option. It's excellent for people who don't want to see every sight in North Thassos. You may easily locate a cab in any of the region's major areas or close to the city center. Skala Rachoni, Skala Prinos, and Limenas are just a few of the tourist-friendly settlements in Northern Thassos that give visitors an unforgettable experience of the island.
Moving Around Thassos
In Thassos, there is no airport. The closest one is Kavala, which has excellent internal air service to Athens airport and, during the summer, also receives flights from many European nations. Upon arriving, you must make it to Kavala's port before taking a ferry to Thassos. As there is 30km between the airport and the port, you can travel there by bus or taxi.
Your choice of arrival airport will mostly be influenced by your point of origin and the flight options from your home or another point of departure. The closest (and smaller) airport, Kavala International Airport "Alexander the Great" (KVA), guarantees you the quickest and most direct trip to Thassos island. Even though there aren't many direct flights to this location, Keramoti's ferry port is about 15 minutes away.
Heading to Thassos on a boat?
Another option is to travel by car from Thessaloniki to Kavala or Keramoti and then get a ferry to Thassos; however, this would be a slower and more time-consuming method. Unfortunately, making reservations for ferries through an online platform is impossible.
Access and transportation
If you do not own or rent a car while visiting Thassos, you can get around the island by using one of the buses that follow a set schedule. These buses are not like regular city buses; instead, they have a more upscale appearance and are air-conditioned, making them ideal for longer trips than you would often need on Thassos.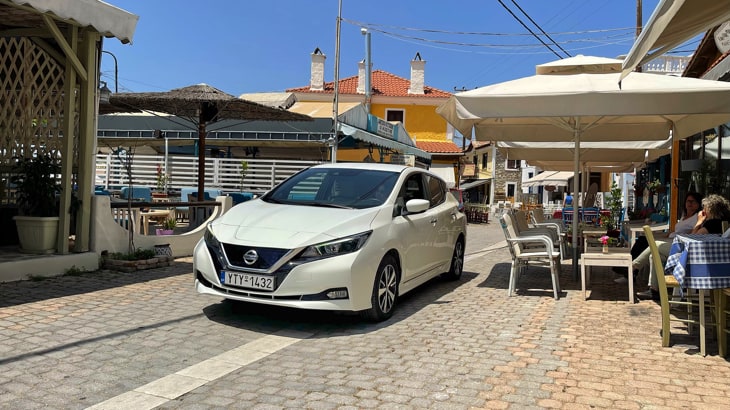 You can check the written schedule on the notice boards of larger hotels and villas or take help from locals. Timetables are also available at newsstands near stations. You should be aware that the schedule varies throughout the year and that various hours are available on Monday through Saturday and Sunday. During the summer, it also happens that the schedule is altered multiple times.
The only drawback to this island tour is that there are no evening or night departures to Limenas, which makes it impossible to travel from other parts of Thassos to Limenas for nightlife. The last departures to Limenas are scheduled for around 5 pm (local time), which is quite early to return from the beaches.
Should you visit Thassos in winter or summer?
Due to its Mediterranean climate, Thassos experience hot, dry summers and moderate winters. The best time to visit Thassos is between June and September if you like warm, bright days. In contrast, January is the coolest month of the year, with an average daily high temperature of 9 C and a moderately low temperature of 1 C. Thassos's spring season lasts from April to May, and the flora is in full flower as the weather begins to warm up. The island of Thassos is not overrun with tourists now, and the weather is still pleasant to offer you an unforgettable experience of a lifetime.