The places recommended are very close to each other so you could combine 2 sights or locations, a day, in a your daily trip. Hire a car from the local provider Potos Car Rentals and start your trip stress-free directly from Thessaloniki Airport.
▶ Day Trip to Pella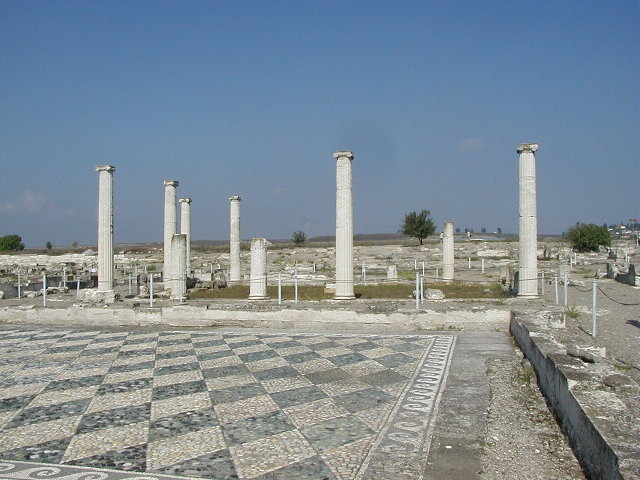 Pella is an ancient city located in Central Macedonia, Greece, best known as the historical capital of the ancient Greek kingdom of Macedon and birthplace of Alexander the Great.
On the site of the ancient city is the Archaeological Museum of Pella, where you will be able to see thousands of artifacts and the unique mosaics! In the information section, texts, photographs, maps, drawings, a model of the archaeological site and a short video, give the information of Pella to the visitors. In the entrance there are two important exhibits. A head considered as a portrait of Alexander the Great and a statuette of the god Pan.
Address:
Thessaloniki – Edessa national highway, GR – 580 05 Pella, Macedonia, Greece
Summer:
Monday: 12.30-21.00
Tuesday-Friday: 8.00-21.00
Saturday & Sunday: 8.30-17.00
Winter:
Monday closed
Tuesday-Sunday: 8.00-14.30
Information: (+30) 23820 32963
▶ Day Trip to Vergina (Aigai)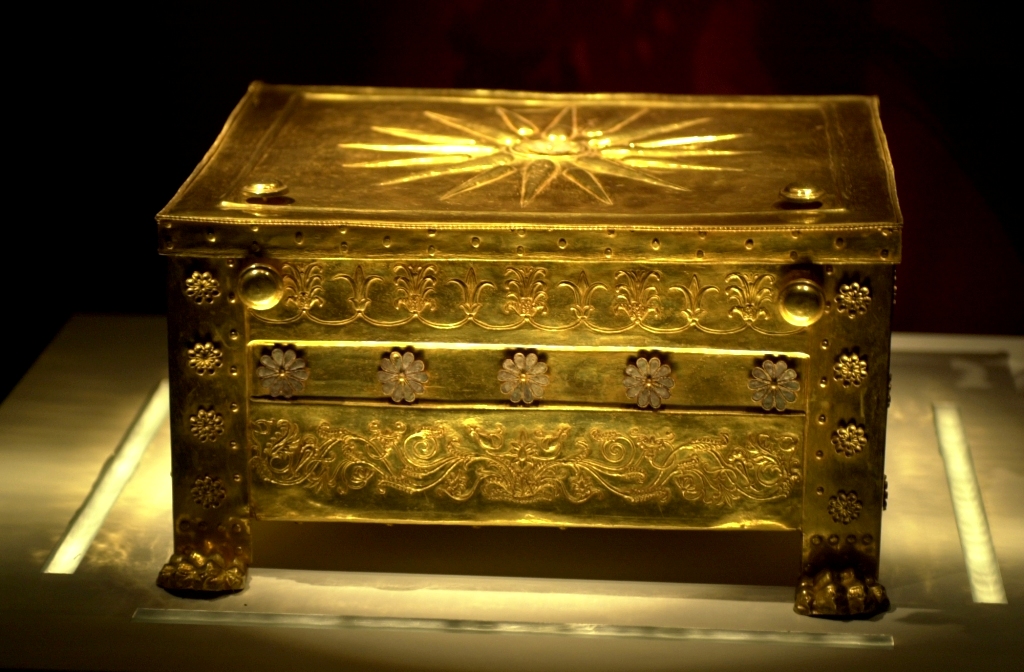 The site of Aigai consists of the Polycentric Museum, the palace, the city, the acropolis and the surrounding area. You can also enjoy exploring the stunning complex of the royal tombs in Vergina, including King's Philip II tomb and the famous golden urn.
It is an impressive underground construction; on the exterior it has the form of a clay tomb where the most important portable findings and the exquisite frescoes that had been found inside the royal graves, are exhibited to the public. The archaeological site is protected by UNESCO as a world cultural heritage monument.                
Address: Imathia, Vergina, 590 31, Greece
Closed on Tuesdays
Open from 9.00- 17.00
Information: (+30) 23310 92347
▶ Day Trip to Veria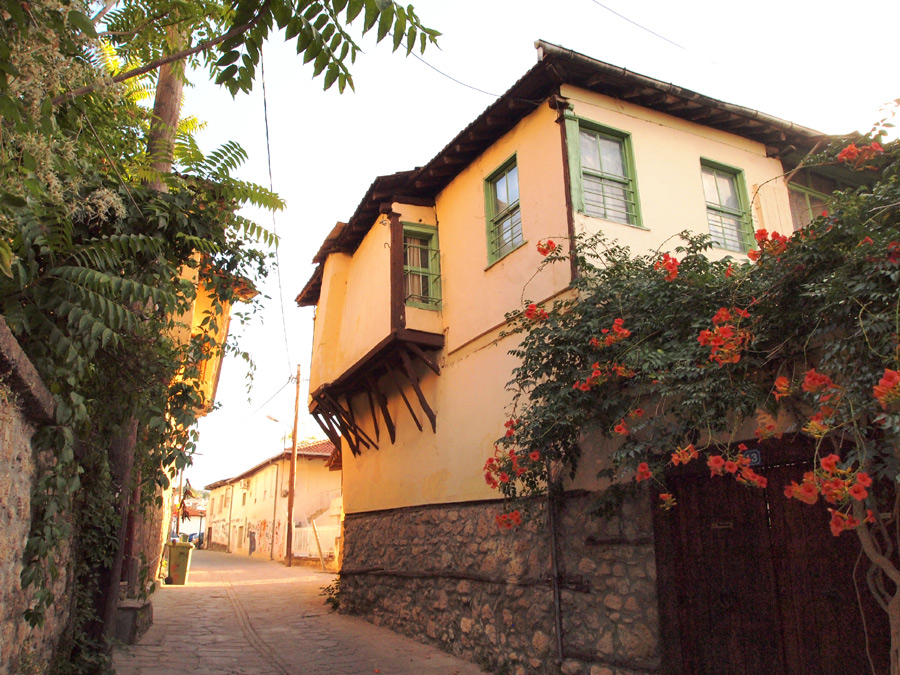 At the Archaeological museum of Veria you can see findings from the Late Stone Age till the Hellenistic Period. The majority of the exhibits come from the period of the acme of the Macedonian Kingdom. Go through time by discovering these exhibits, whether they are tombs of the Archaic, Classical and Hellenistic years, jewellery, small clay idols, weaponry or clay and metal pottery.
You can learn about the area's history too, by visiting the byzantine museum that offers a wide selection of portable icons, frescoes from the temples and secular buildings and mosaic floors. Manuscripts and statuettes can also be viewed so can pottery and miniature crafts, coins and wood carvings, burial finds, architectural sculptures and marble inscriptions.
Address: Imathia, Veria, Thomaidi 26,  591 32, Greece
Closed on Tuesdays.
Open from 9.00- 17.00
Information: (+30) 23310 25847 
▶ Day Trip to Pozar hot springs, waterfalls, thermal baths & Spas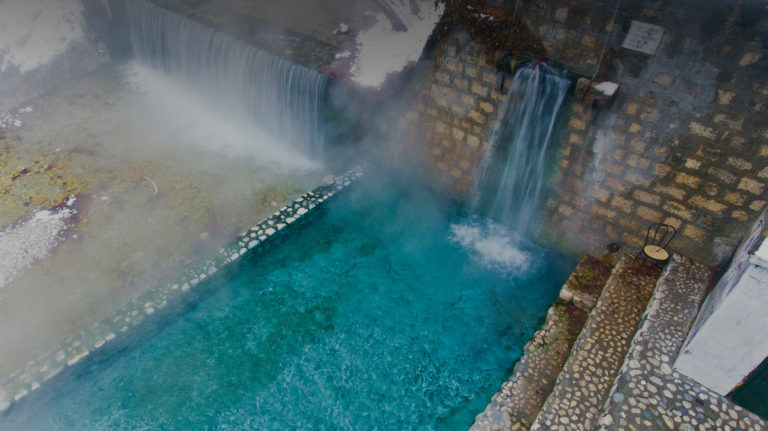 At the foot of mount Kaimaktsalan, lies the city of Loutraki Aridaias or else know as Pozar Springs, in the historic district of Pella, not far from Thessaloniki (110 km).
Activities:
It is a great short trip destination for nature lovers and definitely for those who want a day or few of wellness. There are 16 prehistoric caves hidden in the gorge to explore, the dark forest to walk through, you can go bird watching or hit the trail along Almopeos river or Mount Voras (Kaimaktsalan).
For the more adventurous, climbing or mountaineering, skiing or canoeing, rafting, trekking, horse riding, moto crossing or 4×4 off road driving, are always a great ways to fill your day with.
Hot springs and thermal baths:
Feeling a bit stiff after a long day full of activities? What a better way to relax, but to soak in the crystal clear water of the thermal baths or hot springs outdoors, amongst the trees, streams and waterfalls or even more privately, indoors.
Revitalise your senses here and let nature work its magic by taking away all that stress and strain from your body. The thermal bath facilities of Pozar comprise 48 individual baths, 6 outdoor pools, hamams, jacuzzis and spa-massage services.
The warmth of the water outdoors reaches 37⁰C and is recommended to people with rheumatism, arthritis, dermatological or gynecological problems, or respiratory and circulatory system conditions. It is a popular destination throughout the whole year!
Rates:
For the winter season the pools and spas operate around the clock individually and the cost is 15 euros from one to three people and from four people and above, the cost is an extra 5 euros per person. Bare in mind to book an appointment, because there might not be availability.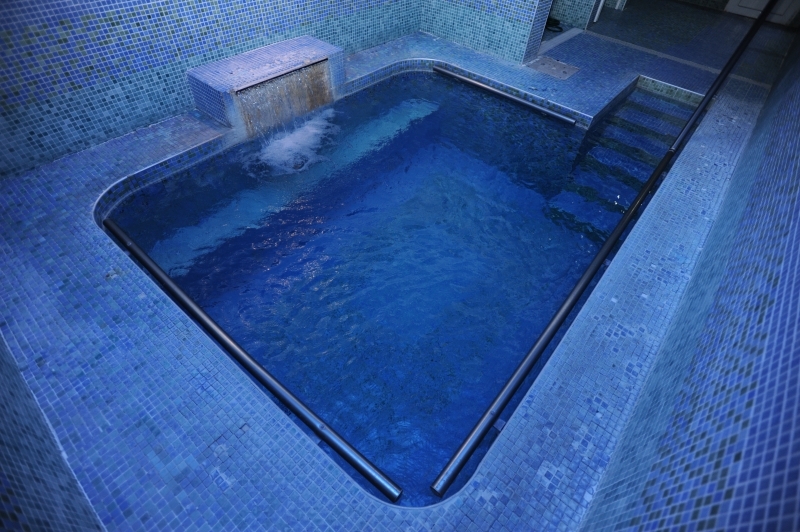 In the summer there is the spa that costs 4.50 Euros (first floor) and 3.50 euros (ground floor).
Natural Swimming Pools: The natural pools cost 15 euros from one to three people and from four people and above the cost is 5 euros extra per person and you need to book an appointment.
The four new hydrotherapy pools are operated individually, a pool for women at the cost of 5 euros per person and a pool of men at the cost of 5 euros per person.
Waterfall: The cost of the waterfall is 2 euros per person and the outdoor pool is 4 euros.
Museum:
There is also a museum to look around with many bones, ancient objects and tools, ceramics, wood and metal objects on display, giving you a better understanding of the area and the history of the place, followed by descriptions, photos and drawings, hung up near the findings.
Dobro Pole: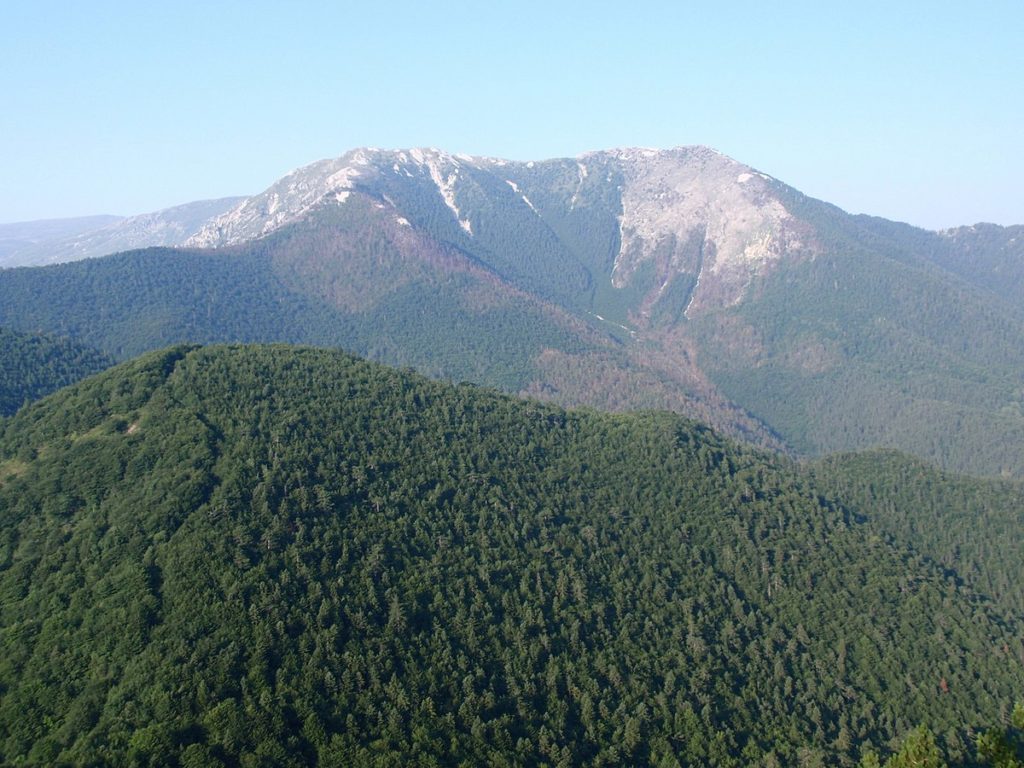 Dobro Pole is a plain, located in Ano Loutraki, at an altitude of 1750m, were you can only find an abandoned settlement there these days. It was built on a crater of the volcano that lies beneath it.
Shopping:
Apart from the beautiful memories you will be taking back with you, why don't you also wonder around the local shops to add souvenirs and traditional products to your collection.
Taverns/Restaurants:
There are plenty of choices when it comes to taverns or restaurants. In a cozy and warm environment, their friendly staff will help you choose between their daily specials, their traditional dishes, local beverages, fresh salads and meat.
▶ Day Trip to Edessa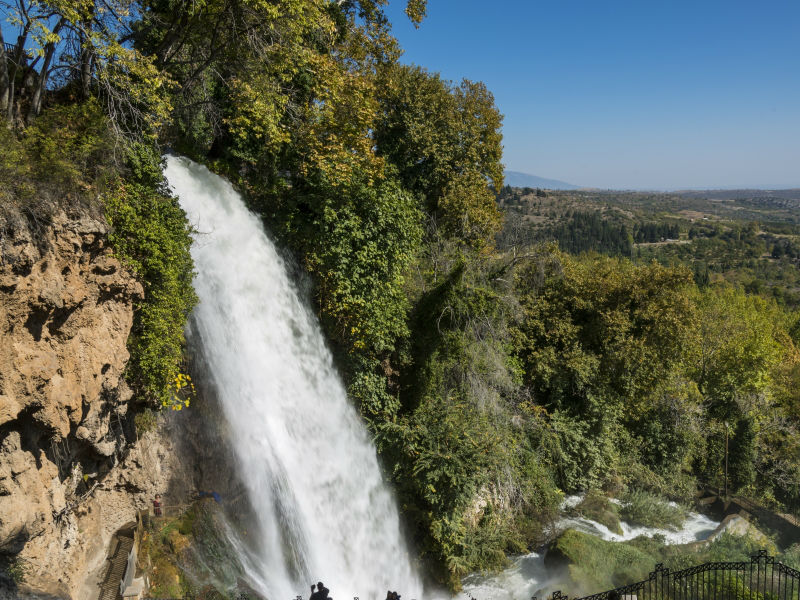 Located just 40km from Pozar and 91 km from Thessaloniki (an hour and a half), Edessa is the capital of Pella – one of the most beautiful cities in Macedonia.
It is a great place to visit, as there is that greek authentic landscape and atmosphere there, as well as a lot of history to discover around the city. It offers you a lot of sights that you can just walk around. In almost every corner of Edessa you will cross channels and small bridges that start from the river Edessaus, whose waters flows through the city.
Longos archeological site:
You will go back in time, while visiting this site of ancient Edessa, as you will view the foundations of various buildings which must have been shops at that time, residences and warehouses. Following the path you will be led from the ancient city to the monastery of Agia Triada, the waterfalls and the kanavourgio.
Waterfalls:
Edessa or else the "City of Water" is surrounded by many rivers producing spectacular waterfalls. The main attraction of the area, is Karanos waterfall of 70m height, with stairs and paths leading the way to it. At the bottom of the waterfall there is a small cave with rocks of great geological value.
The cave has impressive stalactites and a large entrance, which is mostly hidden by the waters of the waterfall. Further along you will be able to see another waterfall called Lamda that is divided in two, because of a rock that splits its waters. This waterfall forms two green lakes further down. This is not just it yet! You can continue your walk around the park and visit the Giannakis watermill, the Outdoor Water Museum, the Aquarium and Hydropower Museum.
Aquarium – Reptile House:
Have a fun day with your children here at the cost of 2 Euros only, per person. There are many species of snakes, turtles and other reptiles to see.
Byzantine Bridge Kioupri: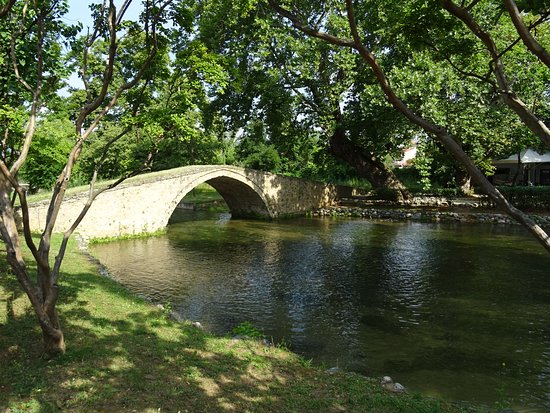 The bridge is one of the few remaining traces of Ottoman presence in the town. It arches over the river on your way to the waterfalls.
Geni Tzami: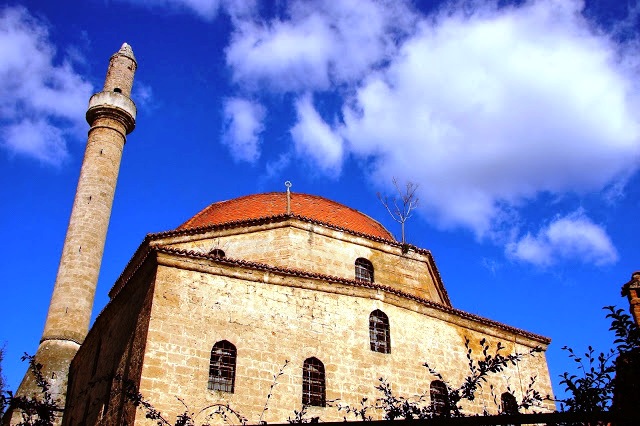 Is the only mosque, in Greece, that remains intact. It is of Byzantine style and it has been used as a museum since 1942.
Kannavourgio:
This is an industrial museum reflecting the history of hydro-power and it provides premises for recreational and cultural activities.
Traditional Street Varosi: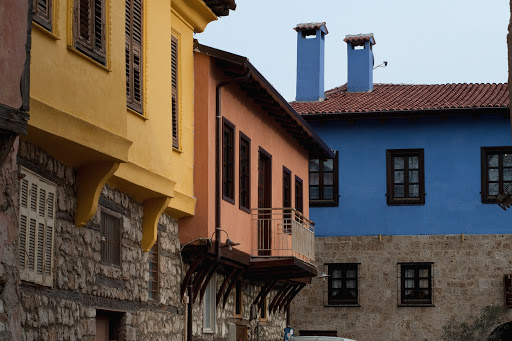 Varosi is the only functioning historical quarter, and it is from the Ottoman period. It has Macedonian architectural style houses, picturesque alleys and narrow streets…  An important Post-Byzantine building (15th-20th century AD) is the Old Girls' School built in 1877 which you can visit and next to it is the Folklore Museum.
Folklore Museum:
There is a unique collection of traditional costumes and everyday items that people of Edessa used to wear or use in the19th and 20th century in this beautiful neoclassical building.
The Edessa Girls' School exhibition:
This neoclassical building stands in the courtyard of the old Metropolis and was used for the "enlightenment of the daughters of Edessa".
Hemp factory:
The name stems from the fact that the building lies at the foot of the plateau. It was an industrial unit focused on the creation of ropes from Indian hemp twine. It was the largest of the four hemp factories in Greece, in production and facilities. It operated as a factory until 1967, and then it was abandoned. It is located at the site "Megalos Kremnos". There are only two ways to reach it. You can either use the glass elevator with transparent walls and floor, or if you feel fit enough you can take the stairs!
Wetland of Lake Agra:
This lake is near Edessa (only 8km way). Every year, about 250 species of birds visit this lake so you will see many nests around as well as otters and tortoises.
▶ ALSO READ: Prices in Thessaloniki: Is Thessaloniki Expensive?
▶ Day Trip to Kozani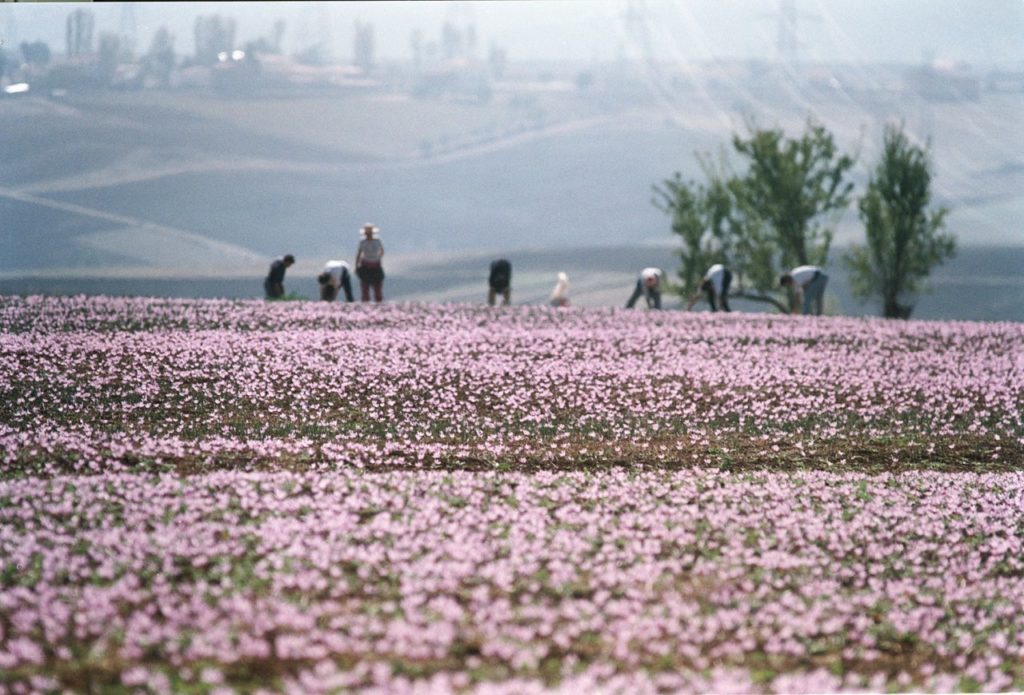 The name Kozani comes from the village of  Epirus Kósdiani, the origin of settlers of Kozani in 1392. The settlement was first named Kózdiani, which then, it was changed into Kóziani and now Kozani.
It is 120 km south-west of Thessaloniki and it is known for its lignite that produces electical power making it the largest power plant in Greece.
Most people though, know Kozani for its Saffron (Krokos Kozanis). It is considered one of the best varieties in the world, of excellent quality, aroma and color. Each flower has only three crimson stigmas, meaning that around 170,000 flowers are required to yield one kilo of saffron. Considering the patient process of harvesting it, it's no wonder this is one of the most expensive ingredients in the world!
Based on Greek mythology, Hermes, the son of Zeus, was practising discus throwing with his mortal friend Krokos, when accidentally Hermes hit Krokos on the head and wounded him fatally. It is said that three drops of Krokos' blood fell in the center of the flower, from which three stigmas grew.
Kozani is a beautiful city full of life, with many coffee places, restaurants and shops, but you can also plan a day trip there for the museums too (Natural History Museum of Milea and the Historical – Folklore and Natural History Museum).
Historical – Folklore and Natural History Museum:
The museum belongs to the Kozani Literature and Arts Association. It was founded in 1969 and has been housed in a six-storey building constructed in the traditional West Macedonian style in Kozani town centre since 1987.
A new four-storey building was erectedat around 1993. Through the museum, the Association hopes to preserve the monuments and other aspects of Greek heritage in the Kozani area and in Western Macedonia more generally.
In the basement of the main building are the natural history collections, which include 220 medicinal and aromatic plants, rocks, minerals, insects, petrified tree trunks, animals, and fossilised marine species, a representation of a small cave near Polymylos with stalactites and stalagmites, and various species of local flora and fauna. One showcase displays examples of teratogenesis in the animal world. On the ground floor, which is an interior courtyard, are a traditional oven, a well, and representation of the life of farmers and woodcutters.
Plan a day trip during carnival!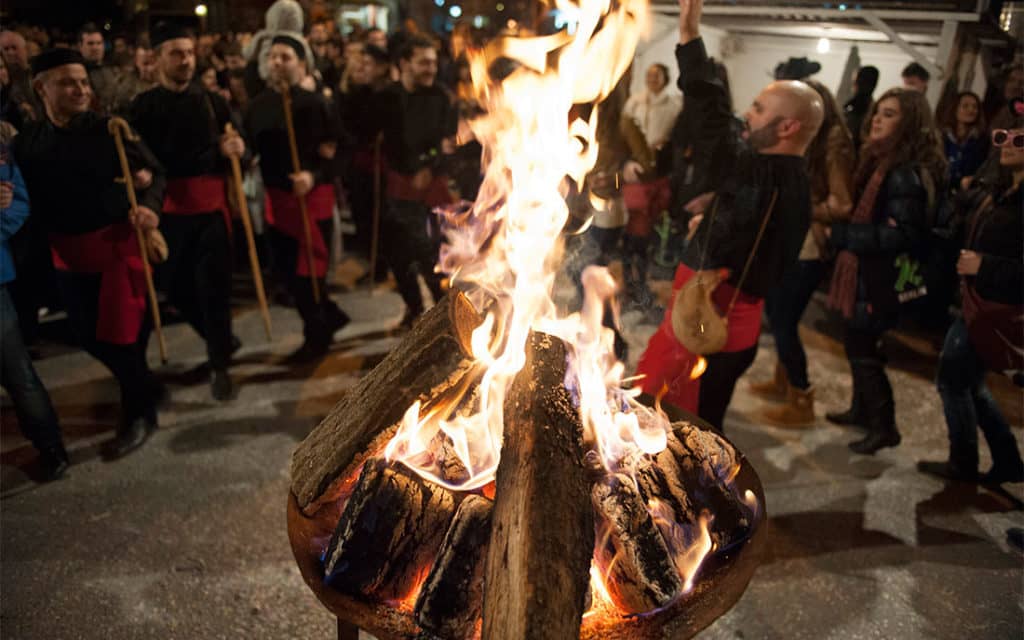 A very popular time to visit this city is during carnival. The traditional carnival of Kozani is called "Ragotsaria" and historicaly started in the mid 17th century. People were dressed with a mask of a mermaid and they carried bells on them too, while going up and down the city for 12 days, singing and gathering money in order to organise a HUGE party at the end of the carnival.
These days the carnival of Kozani has changed a bit and it is mainly about  people setting wood fires in each neighborhood and dancing around it, eating and drinking Tsipouro and Wine, but also organising theatrical shows that talk about history, mythology, travelling and their eveyday life.
▶ ALSO READ: Electric Car Rentals in Thassos
You should not confuse the carnival you have seen in European countries with this traditional carnaval called "Fanoi", because they have nothing in common. "Fanoi" is a very unique and rare tradition.
It is a big fiesta which takes place around the wooden fires of each neighborhood accompanied with delicious food, wine, singing, dancing and dirty and sexual talking. It demands a lot of preparation that is why people come together this days, they forget about their differences and they aim to have loads of fun.
You have to experience it, drink a lot, dance around the fire and taste the warm red wine you will be offered by the Leader of the group or else "Fanoi". Each day a different "Fanos" is lighted in each neighborhood and all the people from the other neighborhoods gather around it and start their fiesta under the sounds of Trumpets and other Bronze instruments, as they call it, until dawn.
During the last night of the Great Carnival, all the people have to participate in the great parade, all the "Fanoi" of the city are lit and people tend to get very drunk and crazy.
With a minimum budget and a good company, you will have the time of your life during the "Fanoi" tradition of Kozani. If you are young or feel young, you have to try this. You will never forget it.
▶ ALSO READ: Do I Have to Pay a Deposit when I Rent a Car in Thessaloniki Airport?